What to see and do in Dubai
Visiting Dubai for the first time? Not sure what to include in your must see sights or where to begin? Here's my guide to some of the must see sights to include in a trip to Dubai. After having a host of family and friends visit, I thought it was worth sharing some recommendations and visitors' favourites.
Despite some common misconceptions, Dubai offers a whole host of must see sights and activities for everyone. Whether you're looking to get to know more about the culture, love adventure, or want to sample the glitz and glamour of Dubai. Children are also really well catered for in Dubai with theme parks and water parks galore alongside all the other sights which for the most part are also perfect for kids.
Hopefully this post gives you a bit of everything so you can really get under the skin of this varied and vibrant Emirate.
Dubai must see sight 1: Explore the Marina and JBR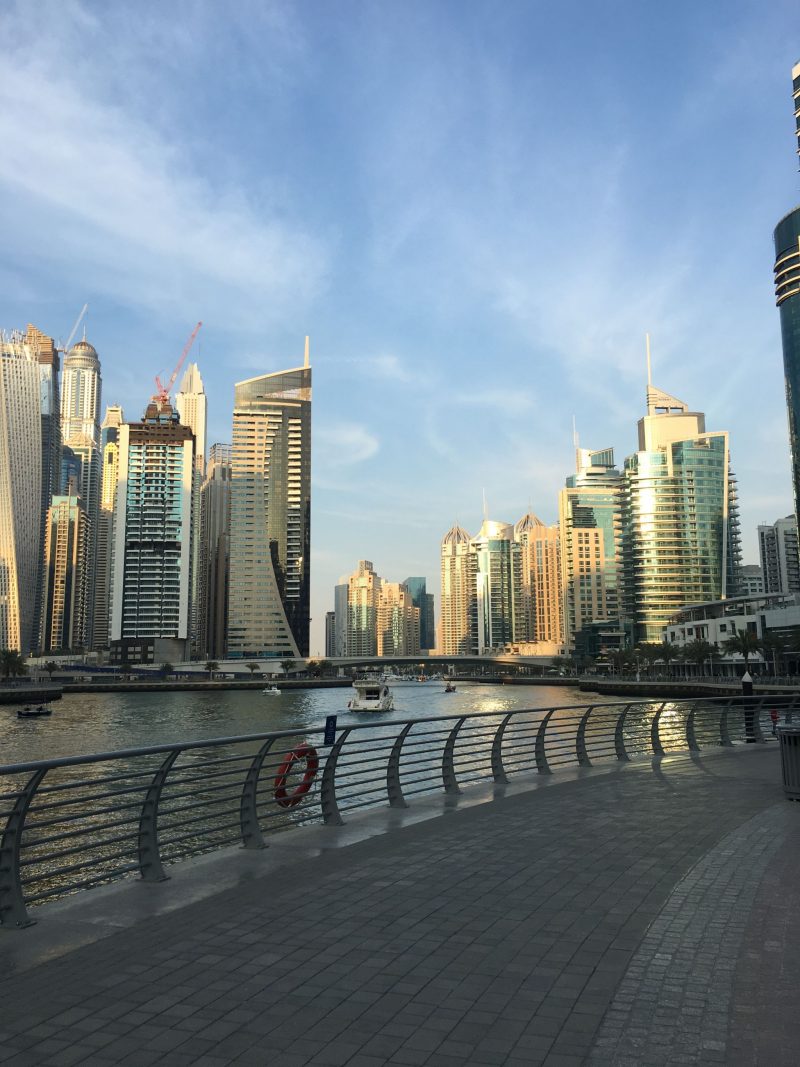 At the opposite end to the airport along the Sheikh Zayed Road, Dubai Marina is a must visit. It has a huge number of skyscrapers which might not compete with the Burj Khalifa in height, but give the Downtown area a run for it's money in terms of the wow factor they provide. The Marina Walk is a meandering walkway perfect for a stroll. I'd recommend either getting a taxi to the start of Marina Walk or arriving by Metro at Damac Properties. You can then walk along the front towards Dubai Marina Mall.
This walk way is full of restaurant options but I'd save yourself and try some of these options. The ones closest to the Marina can be a bit hard sell and hit and miss. Plus if you want a drink they are mostly unlicensed. Reward yourself at the end of your walk with amazing views and a drink in Pier 7. Or for other bars with a view close by see this post.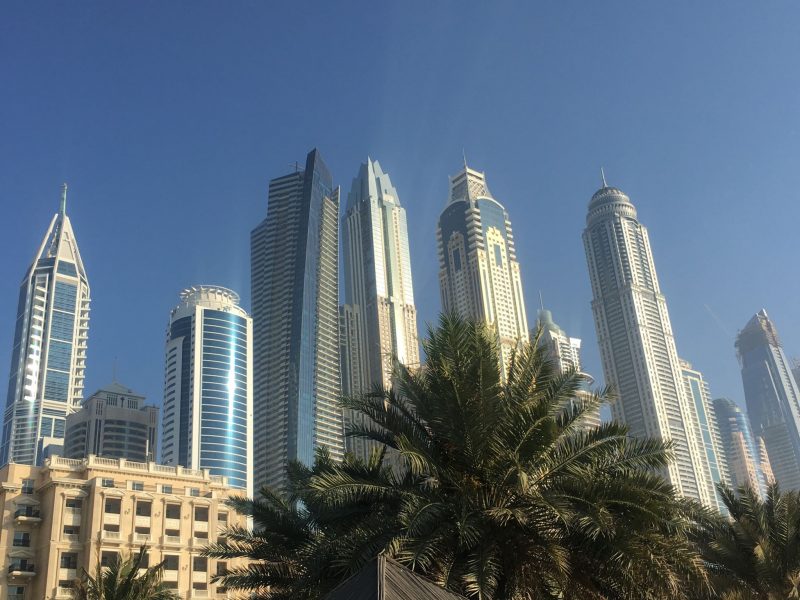 A separate post will be coming soon dedicated to the Marina with my highlights. It really is one of my favourite areas and a recommended must visit in Dubai (I'm biased, I live there!). Head down late afternoon before sunset so you can get views in both the daytime, as well as at night when the skyscrapers light up and there's many a Dhow cruise along the Marina. The Marina is the best place to catch a boat from too if you want to explore Dubai by water.
Jumeirah Beach Residences
Adjacent to the Marina is JBR (Jumeirah Beach Residences) which has a great public beach.  It also offers the family friendly "The Walk" filled with restaurants, a number of stalls and a small fair. The Walk is unlicensed but there's enough hotels close by that are if you fancy a drink. This area does get very busy at night especially at weekends, so avoid a taxi and opt for the tram if you can. The tram connects JBR to the main metro and loops around the Marina. It's reliable and cheap to use (plus air conditioned of course!).
Dubai must see sight 2: Be wowed at Dubai Mall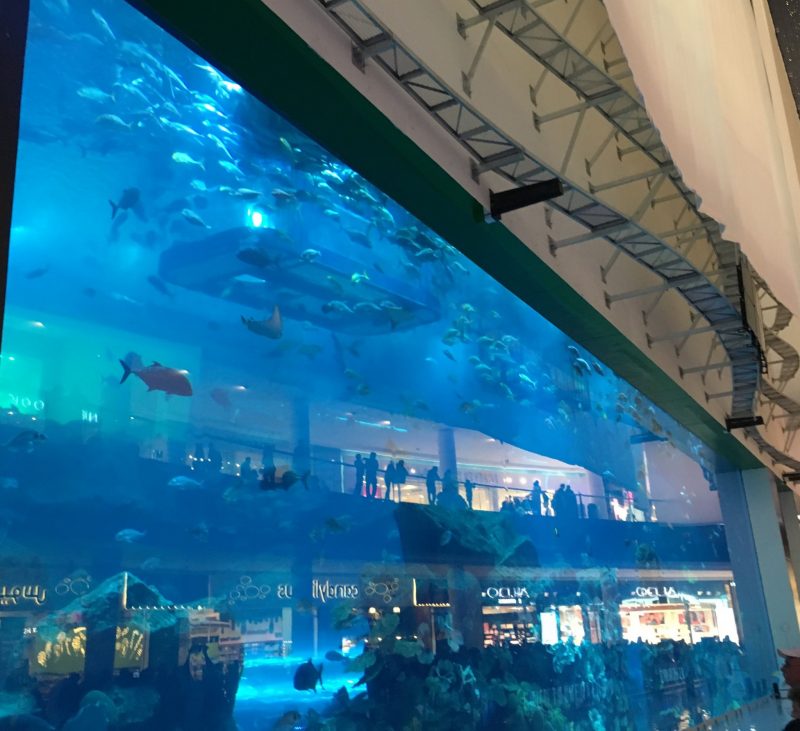 One of the places you might hear a lot about if you're planning a trip to Dubai is Dubai Mall. Quite rightly so – there's no hiding it! As one of the biggest malls in the world (with a recently opened extension!!) it's a shopper's dream. It doesn't need to be a non-shopper's nightmare though. There's plenty of things to see and do here even if you don't set foot in a shop. See this post for the top 10 (non shopping related) things to see and do in Dubai Mall.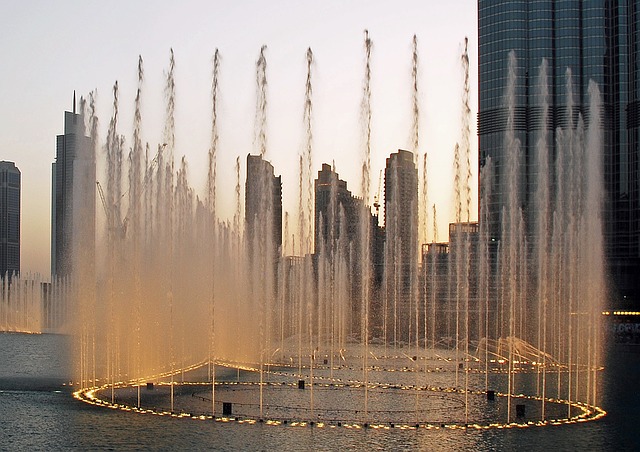 Whatever you do make sure you see the fountains. Touristy maybe, but they still amaze me having visited them many a time. Again your best bet is to aim for early evening before sunset so you can see the Burj Khaifa before and after sunset. Then you can really take in just how jaw droppingly tall it is. If you want to treat yourself then you could look to book drinks with a view at the top in the Burj  Khalifa's bar Atmosphere. Find out more in this post about what's on offer here.
For a fountain view, take a seat in one of the restaurants in Dubai Mall which back onto the fountains for great views. If you want alcohol with your dinner, head over to the adjacent Souk Al Bahar which is licensed and provides excellent views over the fountains. There's a range of options, but for the prime outdoor seats you'll need to book in advance. See this post for more on the best places to watch the fountains.
Dubai must see sight 3: See a different Dubai at Dubai Creek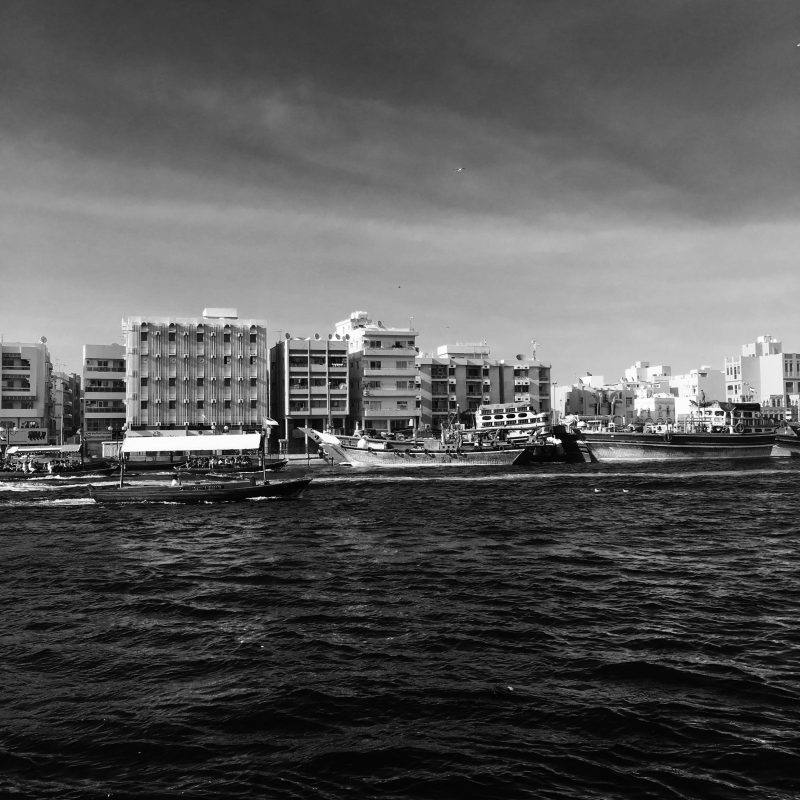 For a contrast to the skyscrapers and glamour of new Dubai head to Dubai Creek. This offers a refreshing break from the air conditioned malls and marble floors of the 5* hotels which are aplenty in newer Dubai. Each time I visit the Creek I always find somewhere new to explore with a range of free or very reasonable museums on offer.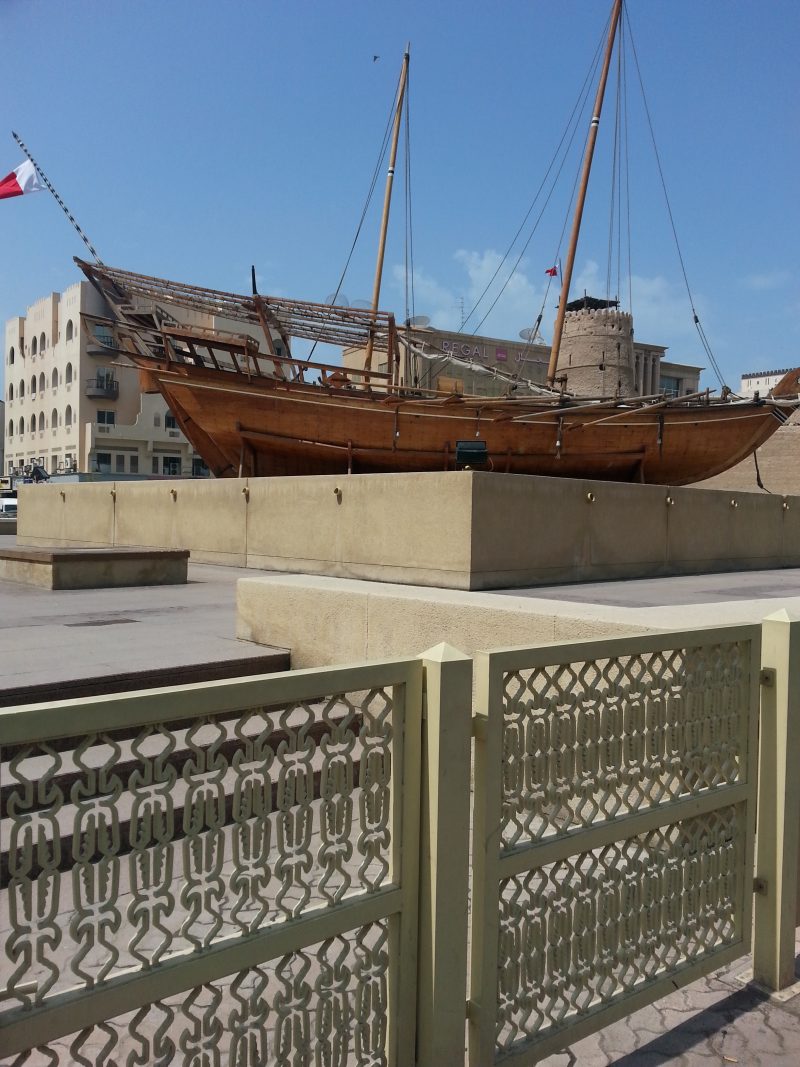 The vibrancy (and hecticness of the souks) can be escaped in nearby Al Bastikya (also referred to as the Al Fahidi District). This area offers a glimpse into what Dubai would have looked like many years ago. Watch the action and activity on the Creek with abras jostling for position. See this post for a full guide to planning your visit.
Top tip. If you want to see the Souks in full swing then head in the evening, if you're looking for a more relaxed setting then afternoon is often quieter.
Dubai must see sight 4: Sample the famous Dubai Brunch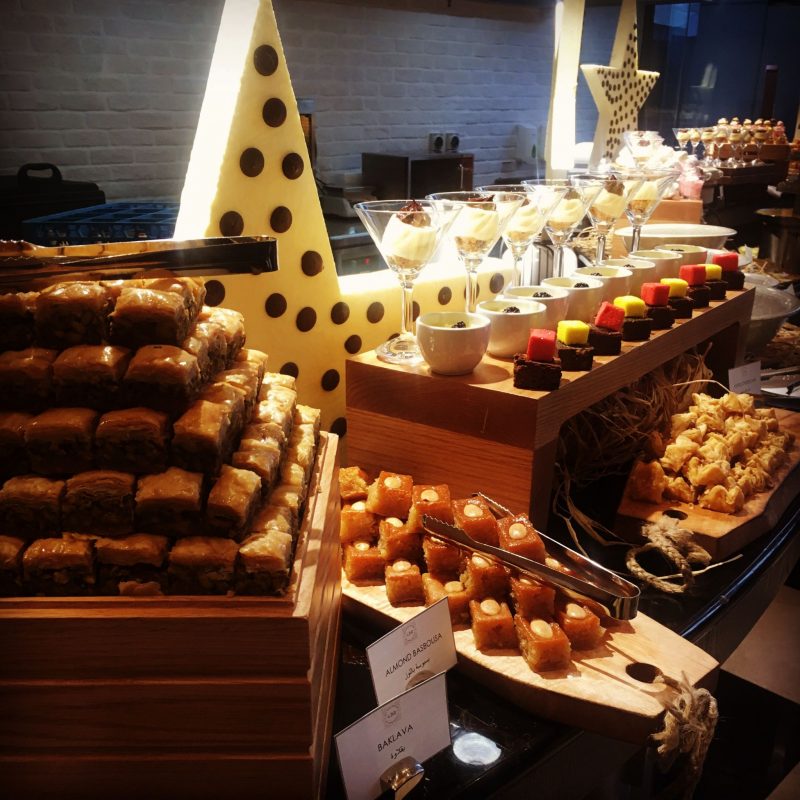 I really don't think a visit to Dubai is complete without the famous brunch. Forget all your ideas of what a traditional brunch includes, Dubai does brunch in complete excess. Think chocolate fountains, elaborate cakes, frozen ice statues – and that's just desserts. There's so many brunch options available so there really is something for everyone. From all out party, to chilled and relaxed  and family friendly offerings. There's also pretty much ever cuisine and brunches including traditional buffets, right through to set menus.
See this post for my first brunch experience (and lessons learnt) and this post for some brunch ideas. Make sure you also look up offers in advance. If you're likely to eat out a lot then it might be worth getting the Entertainer (see my guide for how to say a dirham or two in Dubai for more on this). There's lots of other apps available too such as ISME which is specifically for the Jumeirah hotel chain which always offers an excellent brunch.
Dubai must see sight 5: Visit the Desert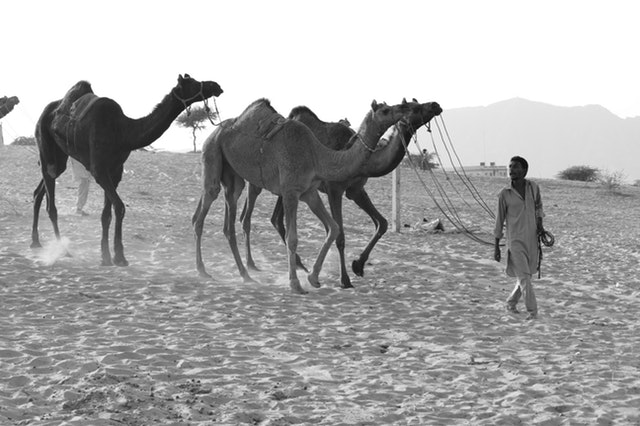 If you really want to see a different Dubai then head to the desert. The desert is closer than you think and if you happen to head up the Burj Khalifa you'll see just how small the built up area of Dubai is relative to the huge expanse of sand that surrounds it. It's still incredible to think what has been built in a desert.
There's a whole range of trips offered and tour providers who run desert safaris. Again there's something for everyone from the more adventurous dune bashing experience, through to the traditional dinners and performances. You can also opt for overnight stays too.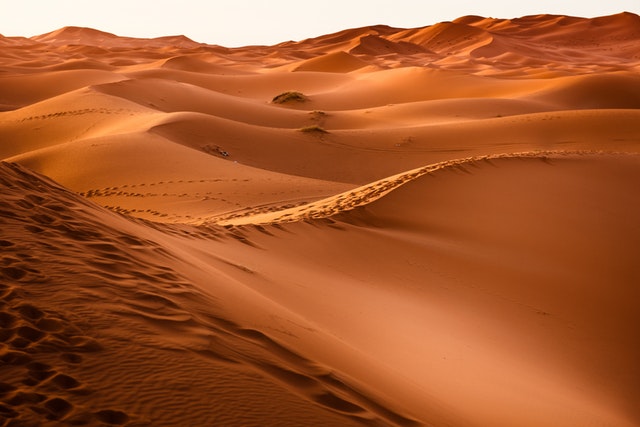 If you're visiting the desert then be aware of the temperature. Such visits really are a no go in the summer when venturing far at all gets quite limited. The winter months offer a perfect opportunity to explore the great sands though and really feel like Lawrence of Arabia.
Dubai must see sight 6: Get a view of the Burj Al Arab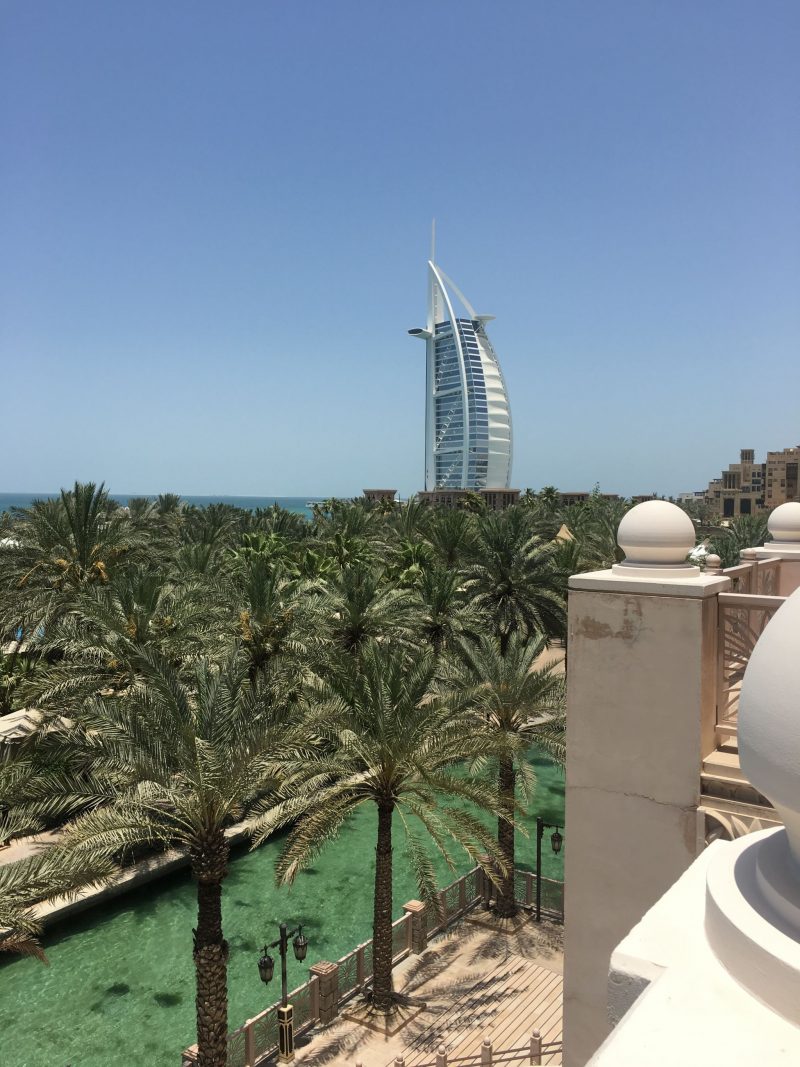 The Madinat Jumeirah is a complex of hotels on the coast with great views over the 7 star Burj Al Arab which is the other iconic Dubai building after the Burj Khalifa. The Madinat offers a small Souk which although more expensive and touristy, offers a more relaxed experience than the souks of Old Dubai and the Creek. There's lots of bars and restaurants here which are perfect for sundowners and dinner. It makes my list really for the views as I think seeing the Burj Al Arab is a must. If you really want to push the boat out then opt to go in the Burj itself. Reservations are essential here – see this post for more on the Burj Al Arab.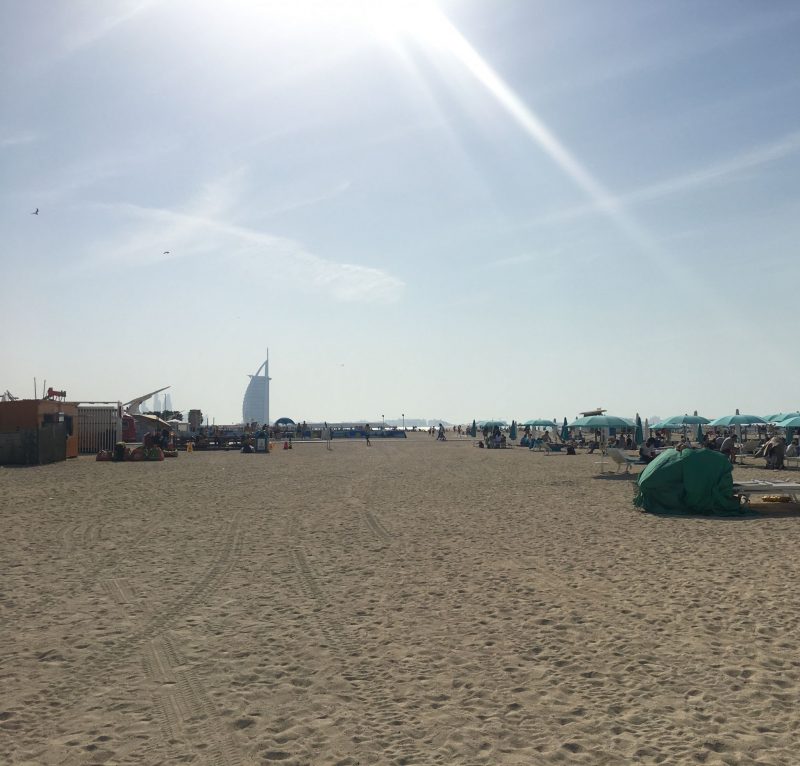 Want more of an outdoor option for seeing the Burj Al Arab? Then head to Kite Beach which is a public beach and offers amazing views making it a firm favourite beach. There's a lovely walk in cooler temperatures or early evening along the front. You can walk all the way down to the Jumeirah Beach Hotel (reopening in October 2018) and the Burj Al Arab. There's plenty of perfect photo opportunities on the way. Here's a guide if you opt for a walk here.
Dubai must see sight 7: See the Palm (from above)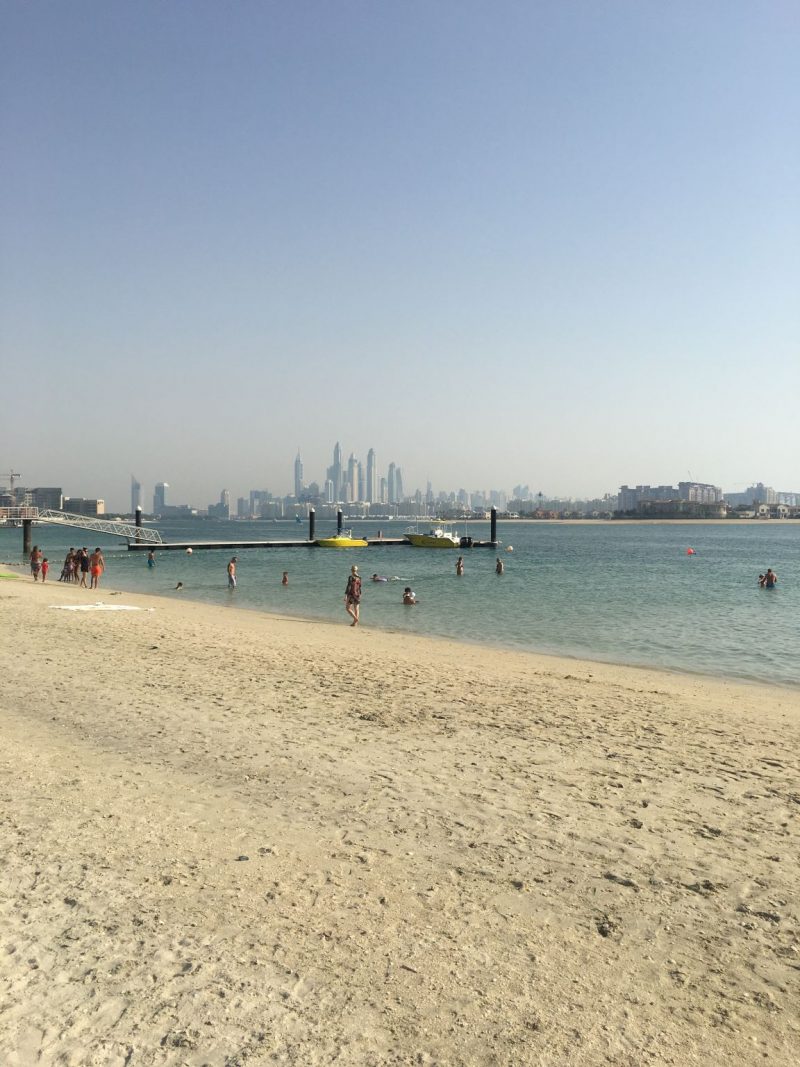 A lot of visitors (and myself included when I first arrived), want to visit the Palm. Having been here a while I've realised that whilst the Palm has lots of lovely hotels, if you're expecting it to feel any different from other places in Dubai then you will be disappointed. Although it's obviously an incredible achievement in itself, the Palm is so large you don't really feel like you are on the Palm if you visit it. The best way to really see it is from above, then you realise how impressive it is.
Whilst a helicopter ride would offer a pretty incredible experience, it's sadly not in everyone's price range. Another great option though is to head to a bar for a view. The Marriott in Dubai Marina probably offers some of the best views over the Palm from the 52nd floor Observatory bar. Get there before sunset for sundowners to marvel at this creation. Fancy trying other options? See this post for a few favourites bars that offer a great view over Dubai Marina.
More ideas…
So there you have it, many things are undoubtedly missed, but I think the above would provide any visitor with a taste of Dubai and I'm sure would leave you wanting to come back for more.
If you want more ideas for free or cheap things to see and do in Dubai see this guide with my 40 favourite activities. Hopefully proving that despite the glitz and glamour, you don't have to break the bank to do Dubai justice.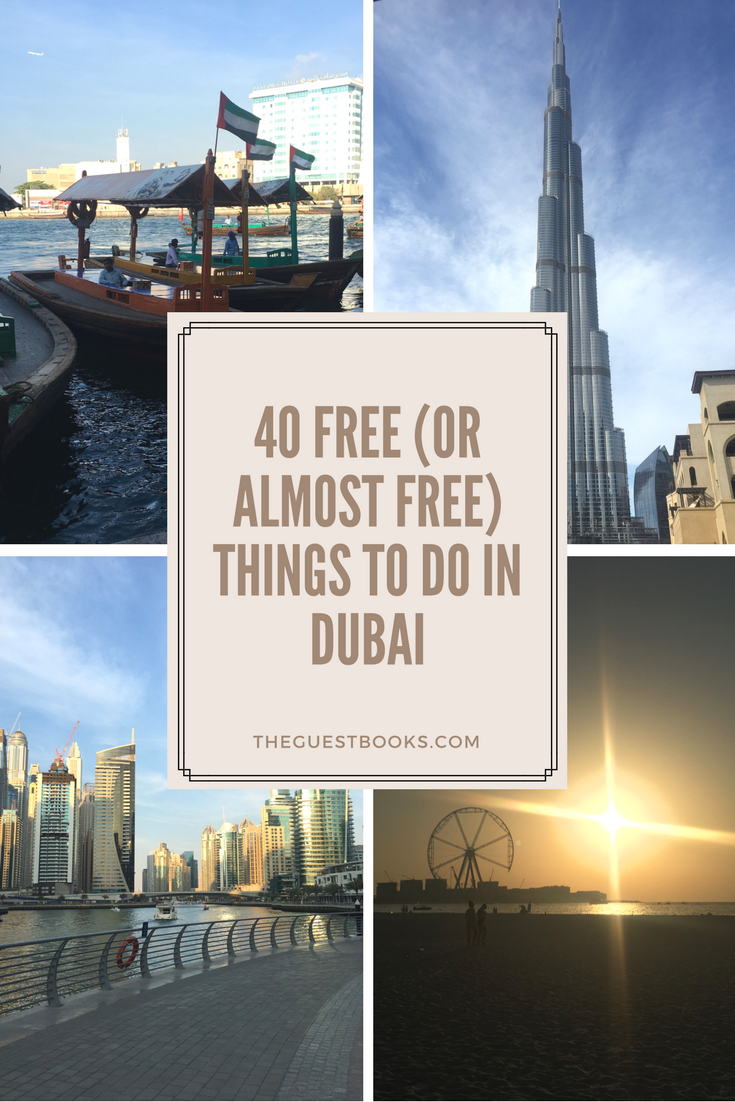 The Guestbook's comment: "Dubai has so much to offer and the above should provide a good variety to ensure you see some of the main sights. Watch out for a follow up post for more on specific sights and activities based on interests and tastes – there's something for everyone!"