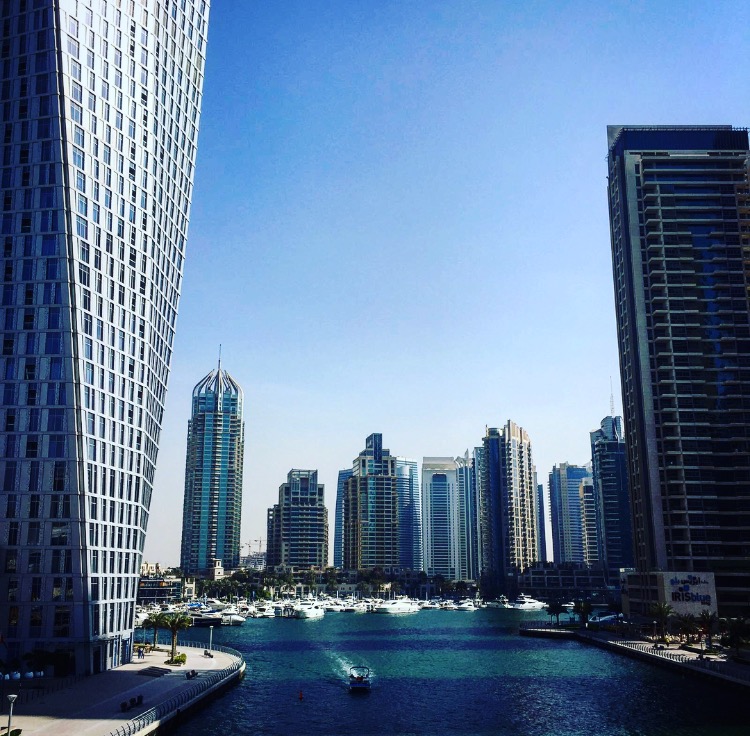 Whether you're looking to impress visitors or just fancy treating yourself, there's lots of options for bars in Dubai. Here's a few favourites in Dubai Marina and JBR to add to your list based on their views. I've also tried to impress on price too and prove that although Dubai can live up to expectation and be eye wateringly expensive, it also offers lots of good deals if you look for them.
Pure Sky Lounge, Hilton, JBR
The Pure Sky Lounge is on the 35th floor of the Hilton in JBR. Look for the entrance off the main road rather than the main reception on the beach side as it's then easier to find. It's relatively small but has a lovely indoor and outdoor seating area. If you're after the view though I'd definitely opt for outdoors.
There's a daily happy hour at Pure Sky Lounge for the early birds from 5-7pm when you'll also catch the sunset. Drinks are AED 45. Too early? There's actually a second happy hour from 7-9pm Sunday to Thursday and it's AED 35 for a range of drinks from cocktails through to spirits and mixers. Popcorn is provided with drinks (that's one thing Dubai is great at – generous bar snacks!). In the week you'll get a table early doors and it's pretty chilled but it really livens up in the evening and is popular on ladies night. Find out more about their latest offers here.
Bar 44, Grosvenor House, Dubai Marina
It's a real wow from the moment you walk into Grosvenor House which encapsulates 5* luxury everywhere you turn. Now the bars can be pricey generally here, but the happy hours are worth heading to. The one to head to for a view is definitely Bar 44 on the (you guessed it) 44th floor. It offers some excellent views over the Marina and the Palm in the distance. And here's the best bit – AED 35 for a drink in happy hour. I had their sparkling wine and can highly recommend (alongside their bar snacks of huge olives and a selection of nuts).
Again really quiet in the week with happy hour from 5.30-7.30pm. If you can't quite bring yourself to leave (I really don't blame you), then head down to Toro Toro or Rhodes W1 which also offer happy hours. If you're looking for another view then Siddharta Lounge is perfect, especially in cooler months. Drinks around the pool here come recommended with the skyscrapers of the Marina as your view.
The Observatory, Marriott Harbour, Dubai Marina
A great one for guests and not too pretentious or over the top, you can also eat here (it's on the Entertainer too!). The Observatory offers views over the Palm as well as the Marina and although you can't reserve seating unless eating, most seats have a good view. You can also have a good look around even if you don't bag yourself a prime spot. Happy hour is weekdays 5-8pm and prices vary but are pretty competitive. Great bar snacks as well with some VERY moorish nuts that are deadly and get topped up regularly.
Pier 7, Dubai Marina
A firm favourite for many due to the location as well as the variety and no one can argue with that view. Pier 7 might not be as high in terms of floors as the other bars featured, but it offers a stunner of a backdrop across the Marina both in the day and at night. Take your pick in terms of where to go. For laid back and casual drinks then Cargo fits the bill. There's a daily happy hour from 5-8pm where selected beverages are AED 27. The Scene is also a great option with happy hour Sunday – Thursday from 4.30 – 7.30pm.
BICE Sky Bar, Hilton, JBR
Back to the Hilton again but this time the BICE Sky Bar on the 10th floor of the Hilton building directly on the front of JBR (go through the main reception this time). We actually came here with friends in our second week when we were trying to find Pure Sky Lounge (Sky in both names doesn't really help!). We ended up here but it was actually a great find. It's quiet especially early evening so is perfect for sundowners overlooking the beach with discounts on selected beverages everyday from 5-7pm. See here for the happy hour menu.
The Guestbook's comment: "There's some great options for wow views in Dubai Marina and JBR, time it right and you can also be wowed on the price of your drinks too which is always a bonus in Dubai!" 

Looking for restaurant inspiration in Dubai Marina? Have a look at our list of favourite places on the Entertainer App here.
No freebies have been offered or provided by any of the establishments featured in this post!