Many people often say how expensive Dubai is, and whilst I'm not going to dispute that, I do think there's so many amazing free (or very cheap) things to do too. Whether you're visiting Dubai or live here like me, there's plenty of ways to do Dubai on a budget but still see lots of different sights.
I've put together my 40 favourite free (or almost free!) picks which should hopefully keep you busy whilst saving you some money!!
Free ways to discover the culture and traditions of Dubai…
1. Take in the sights at the Creek
Referred to as Old Dubai and a world away from Downtown glitz and glamour (but just as special). Although there's obviously lots of paid things you can do here, number one on my list (which is free) is to wander the Creek taking in the daily activity of the Abras busy ferrying people across the water. It's perfect for people watching and getting a glimpse of the activity at the the heart of Old Dubai. For a full guide on what to see and do here have a look at this guide.
2. Travel by Abra
But why just watch when you can go on an Abra? This isn't free but for a very small price of AED 1 (around 20p) you can make the short journey to the other side to explore more of Old Dubai and wander around the gold souks of Deira, a must visit.
3. Be dazzled by gold without spending a penny at the Gold Souks
If you do decide to get an Abra across the Creek you'll be rewarded with the chance to take in the gold souk. It's probably not going to be a cheap trip if you start look at buying something (although there are bargains of course), but it's still a great sight to see.
4. One for the senses at the Spice Souks
Near the gold souks you'll find the spice souks. You'll probably smell them before you see them. There are many stalls with piles of exotic spices for you to take in. It's a feast for the senses and good luck leaving empty handed here!
5. Barter in the Fabric Souks
Back across the water you'll find the fabric souk, as well as stalls selling lots of gifts from pashminas, to ceramic plates, and everything else in between. A trip to the Creek isn't really complete without the Souks, but they can be full on so bring your bartering skills. Whilst you're unlikely to get something for free, you can definitely negotiate some bargains. Remember to start at half the offered price to begin with and go from there, the haggling is part of the experience!
6. Explore the Historic area of Al Bastakiya
The oldest area of Dubai is the pretty and very peaceful area of Al Bastakiya (also referred to as the Al Fahidi Historical District). It's worlds away from the busy hustle and bustle of the souks next door so provides welcome relief and is great for photos with lots of amazing street art. There's also a number of free museums and art galleries that are definitely worth an explore as well as some lovely cafes.
7. Visit the Museums
There's a number of museums in this area (as mentioned above). Some require a small fee but I think that's a price worth paying and they are still very cheap. For AED 3 (60p!!) I'd definitely recommend the Dubai Museum which has lots of great exhibitions all about the history of Dubai as well as the impressive Al Fahidi Fort.
8. Visit Jumeirah Mosque
Jumeirah Mosque overlooks Kite Beach and as well as being stunning, it's also the only Mosque in Dubai open to non-Muslims. You can visit six days a week (not on Fridays). A must do is to take one of the tours organised and run by the Sheikh Mohammed Centre for Cultural Understanding. The tour isn't free, but for AED 25 (around £5) it's a small price to pay for an incredible experience (and also included is water, dates, arabic coffee, tea and pastries!). To find out more about this tour and the other tours run by the Centre visit their website.
To see that there's more to malls than just shopping (and without spending money!)…
9. Watch a movie at Wafi Mall
Wafi is a bit out of the way in Healthcare City but it is home to Raffles (but that's obviously not free). Next door, and continuing the Egyptian theme pyramids is Wafi Mall. It's a quiet mall which I probably wouldn't go out of my way to visit, but it does have a lovely Souk area (Souk Khan Murjan) underground so don't miss that. It also offers free outdoor movies during the winter months if you're looking for something a bit different for a date night. For what's on have a look at their website.
10. See the sharks at the Aquarium
Whilst you need to pay to go into the Aquarium, you can still see an amazing selection of underwater life for free from the main entrance to the Aquarium. It's well worth a visit. I really think Dubai Mall is so much more than shopping and there's lots of free things to see and do for all the non shoppers too – check out our guide for the top 10 things to have on your list when planning a visit.
11. Visit the world in Ibn Battuta Mall
Not so easy to get to now that the Metro has engineering works, that being said it's still worth a visit if you're that end of town. In true Dubai style, this isn't just any old mall, it's your chance to travel to six corners of the world with the interior (and exterior) designed to reflect the different countries the explorer Ibn Battuta travelled through. So there's a taste of Tunisia, India and China amongst many other locations to explore.
12. Watch the ski action at the Mall of the Emirates
Whilst we're on the theme of malls it would be wrong not to include the Mall of the Emirates. It's not as large as Dubai Mall (you might argue that's a good thing), but it does have the indoor ski slope! Whether you fancy taking to the slopes or just watching, it's great entertainment.
13. Be wowed by the Dubai fountains
Probably one of the most popular of attractions and it's free! Even for the repeat visitor, the fountains outside Dubai Mall are still wow. Head down from 6pm every evening to get a spot and be amazed. Top tip – walk around the lake a bit and there's plenty more room so you don't have to be stuck with the crowds who queue up 30 mins before. For more on where to get the best fountain views without the crowds see this post.
 14. Be wowed (again) by Burj Khalifa views
If the fountains aren't enough, you've also got the best views of the Burj Khalifa in the background. Ok going up is one thing, but it isn't cheap (look at Groupon if you are considering it as there's sometimes offers), but I definitely think the best view is the one of the amazing building itself that you get from outside Dubai Mall.
Or for some alternatives to wander around instead of the malls…
15. Visit Ripe Market
With a number of locations across Dubai, Ripe Market has a whole host of stalls to explore from the traditional organic fruit & veg, through to arts, crafts, jewellery and entertainment. If you're looking for something a bit different, then this could be just the thing. Full details on the Ripe Organic website.
16. The traditional Souks of Dubai
Ok this one is in twice but I think it's worth having under here too! If you're looking for a true Dubai experience then a trip to the Souks of the Creek are definitely worth it. If the haggling is just a bit too much though then have a look at Souk Al Bahar (above), Souk Madinat or Souk Khan Murjan. They will be more expensive but less chaotic!
17. Look out for markets and festivals
There's always something going on in Dubai so it's always worth having a look for activities such as markets and local festivals that are taking place and are often free or a minimum charge. For instance if you are in Dubai around Christmas time then there's some great Christmas markets. The one at the Madinat Jumeirah will get you in the Christmas spirit with a live band and fake snow!
18. Visit Souk Al Bahar
Across the way from Dubai Mall you'll find Souk al Bahar. A great place for restaurants (especially if you want an alcoholic drink with your meal as it's licensed). This place also has a number of traditional shops and small stalls throughout and it's less chaotic than Dubai Mall so is worth exploring.
If you're looking to keep fit for free…
19. Get fit in the outdoor gym
If you're looking for something a bit more energetic then visit the outdoor gyms along the Marina. There's a large one near the Habtoor Grand Hotel and Skydive Dubai that gets quite busy, or along the Marina outside the Intercontinental Hotel which is great and has the bonus of being very quiet.
20. Free yoga!
Sounds too good to be true? The drawback here is the time. Early birds only! A 7am start might be a bit off putting but then you've got to remind yourself it's free. This is held from October – May at JBR Beach and mats can also be rented there free of charge. For the times and schedule have a look here. Note. they do ask for your Emirates ID so this might be one for residents only I'm afraid but you can always check!
21. Go running
An obvious one maybe, but there's really no excuse not to run in Dubai (except in the Summer, then there's plenty!). And with areas such as Marina Walk and the Parks being perfect for this, there's also designated running tracks along JBR, as well as Kite Beach – perfect for that early morning jog.
22. Free entry to Aquaventure water park on your birthday!
This is probably a bit of a stretch for keep fit but I'm including it! The nice folks at Aquaventure will offer you free entry around the week of your birthday to the park. Find out more here as there's certain requirements such as registering in advance in order to redeem this offer.
Or if you just fancy relaxing with some sun!
23. Beach strolling – Kite beach and beyond
One of the many beaches in Dubai, this public beach is probably my number one free activity to do in Dubai! You can't get better than those views over the Burj Al Arab either. There's also a jogging track (as mentioned above) if you want more than a stroll! But if walking is more up your street then see our guide for further ideas on what to see and do and where to eat and drink here (unfortunately the latter aren't free!).
24. Get in on the secret at Secret Beach
Also known as Palace Beach, this beach is a bit hidden (hence the secret) , but drive through the sand dunes and you'll be rewarded with a lovely stretch of beach with views of many a super yacht in the distance. We can dream right?
For some green space to explore…
25. Relax in Al Safa Park
If you're craving green space then head to Al Safa park which has lots of it. Even though it borders the busy Sheikh Zayed Road, it feels like you could be miles away (although you've got some great skyscraper views to remind you that you're not too far!). There's different events held throughout the year at the park so have a look online before you visit. Its AED 3 entry but definitely worth it.
26. Have a break at Burj Park
Another small green space with amazing views is Burj Park. If the hustle and bustle of Dubai Mall is all a bit too much then walk around the lake and take a time out here. You'll be rewarded by less people but amazing views.
27. Walk around Al Barsha Pond Park
Who said Dubai didn't have green space? Al Barsha Pond Park provides 50 acres of it!  Ok the lake might be man made but it's still pretty and a great area to walk around. If you're feeling energetic there's also a jogging track to put you through your paces.
28. Take in the views from Zabeel Park
A green space near the business areas of DIFC and World Centre with skyscraper views is Zabeel Park. This large area has lots to offer from boat rides, sports courts, through to the Ripe Market mentioned above on a weekly basis. If you want to escape the city without travelling far then this is the place to do it. It's AED 5 entrance fee so not free but it makes for a very reasonable priced day out!
29. Flamingos at Ras al Khor Wildlife
Another chance for a change from the hustle and bustle of Dubai is a visit to the Ras Al Khor wildlife area where you'll swap the crowds of people for crowds of birds. Particularly popular are the flamingos, which are quite a sight in winter.
30. Go to the desert!
It isn't green but it's still outdoors and certainly wows! It would be wrong not to include the desert! If you don't have a car then you will have to pay to get there (look at tour options and excursions for this). But it's a must do to see the vast expanse of sand (and a camel or two!)
Explore Dubai by foot..
31. Take in the views on Marina Walk
A favourite walk of mine is along the Marina. A 5 mile loop in total, but just a small walk along any part of it can wow. You should make sure you do a day time as well as an evening stroll so around dusk is great to see the lights of the skyscrapers come on and the boats exit for their sunset cruises. I'm biased as I live here but I'd argue with anyone who didn't think this was impressive!
32. Walk The Walk at JBR
Your walk doesn't need to end on Marina Walk, The Walk on JBR has lots to offer. It can get busy but you are far better walking around here (avoid driving – it's a car park on busy nights!!) Explore the stalls, win a cuddly toy in the mini fair area, or just pick from one of the many restaurants on offer here. There's also a great beach with views over to the Palm and the new Ferris Wheel of Dubai.
33. Wander the pretty Madinat Jumeirah
Touristy maybe, but there's no denying that the Madinat Jumeirah is a great one to add to your list of free things to do. From the stalls of the souk (which are a lot less frantic than the Creek souks, but also more expensive!), to the canals that join up this pretty area. And then there's the views of the Burj Al Arab! Get here for sunset to see it at it's magical best.
Or give your feet a break with these low cost alternatives!
34. See the Marina from the water
This isn't free but if you fancy a short boat ride and a cheap option then you can get the water taxi for AED 5 (£1) from Marina Walk up to Marina Mall. This saves on walking and also allows you to see the sights from the water so is a great alternative to a full boat tour. There's also RTA boats that go all the way to the Creek. Although more expensive, they are still very reasonable – see here for the full guide.
35. Take the Metro or Tram
Perhaps a random one and again not free (but I think it's a bargain so I'm including!) is the metro and tram.  I think it's a great way to get around and gives you a good chance to view the city. As the metro is raised it's a good way to get your bearings too and see some of the sights. For AED 5 each way it's also so much cheaper (and cleaner!) then the London Underground. Note. The Monorail on the Palm is the exception to this rule! It is around AED 25 per person and runs every 15 minutes (rather than 5). So unless you really want to get it I'd opt for a taxi when visiting the Palm.
Discover a new area…
36. City Walk
Not too far away from Dubai Mall/Burj Khalifa metro station you'll find City Walk. It's a great area to explore with lots of shops and restaurants. Sounds similar to the other malls? The difference here is that you're not under cover and it's outdoors, so a bit closer to your traditional UK high street in this respect. It's perfect to explore in the cooler months and has some one off restaurants and cafes if you want to stretch the budget.
37. Have a coffee in trendy Al Quoz
Al Quoz is the "cool" area of Dubai, and previously a large industrial area. It's still very industrial (so very different from the Madinat or glitz of Downtown), but the area is welcoming lots of independent cafes, shops and galleries so is worth a visit if you want to  discover a completely different Dubai. Have a look at this website to plan your visit and aim for the happening Alserkal Avenue.
38. Explore fashionable D3
D3 is the glossier "cool" version of Al Quoz to many and is home to lots of design agencies and fashion brands, as well as magazines such as Vogue Arabia. As well as being a place for business, it's increasingly a destination to explore in its own right with a number of new restaurants and galleries. It's location, not far from Downtown, also makes it convenient.
39. Walk Dubai Canal
Who said you couldn't walk in Dubai? (I think I actually did in another post so I take that back!!) Another recent addition to the landscape of Dubal is the Canal. It's crazy to think this didn't exist when we moved here and just shows that there's nothing that's not possible in Dubai. To take in the skyscrapers of Business Bay and Downtown, a walk around the Canal is a great activity.
Want to finish with a free drink?
40. Drink at Ladies Nights
This had to make the list! If you thought Dubai was expensive for drinks then you're really not making the most of ladies nights (sorry boys!). Although some require a set amount to be paid for unlimited drinks (which is still excellent value), some go even further and offer free drinks to ladies all night! A ladies night has to be on the list for any visit to Dubai.
A free meal is beyond my list sadly, but there are lots of ways to save money on food and drink in Dubai more generally such as using the Entertainer app or looking out for offers on sites such as Groupon which has a whole host of options. For more information on how to save on dining see this post.
The Guestbooks Comment: "There's no denying that Dubai can be expensive, but there are so many ways to still enjoy it and see the sights on a budget."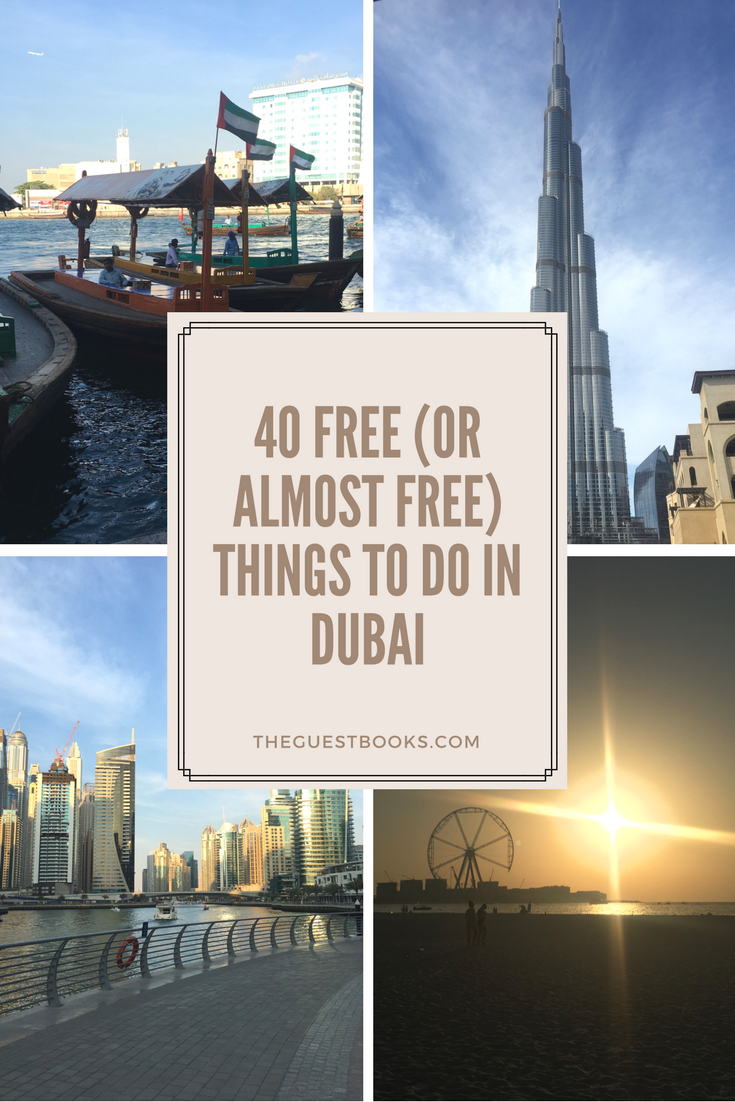 As everything was pretty much free anyway you don't have to worry about any freebies being offered or provided by any of the establishments featured in this post!