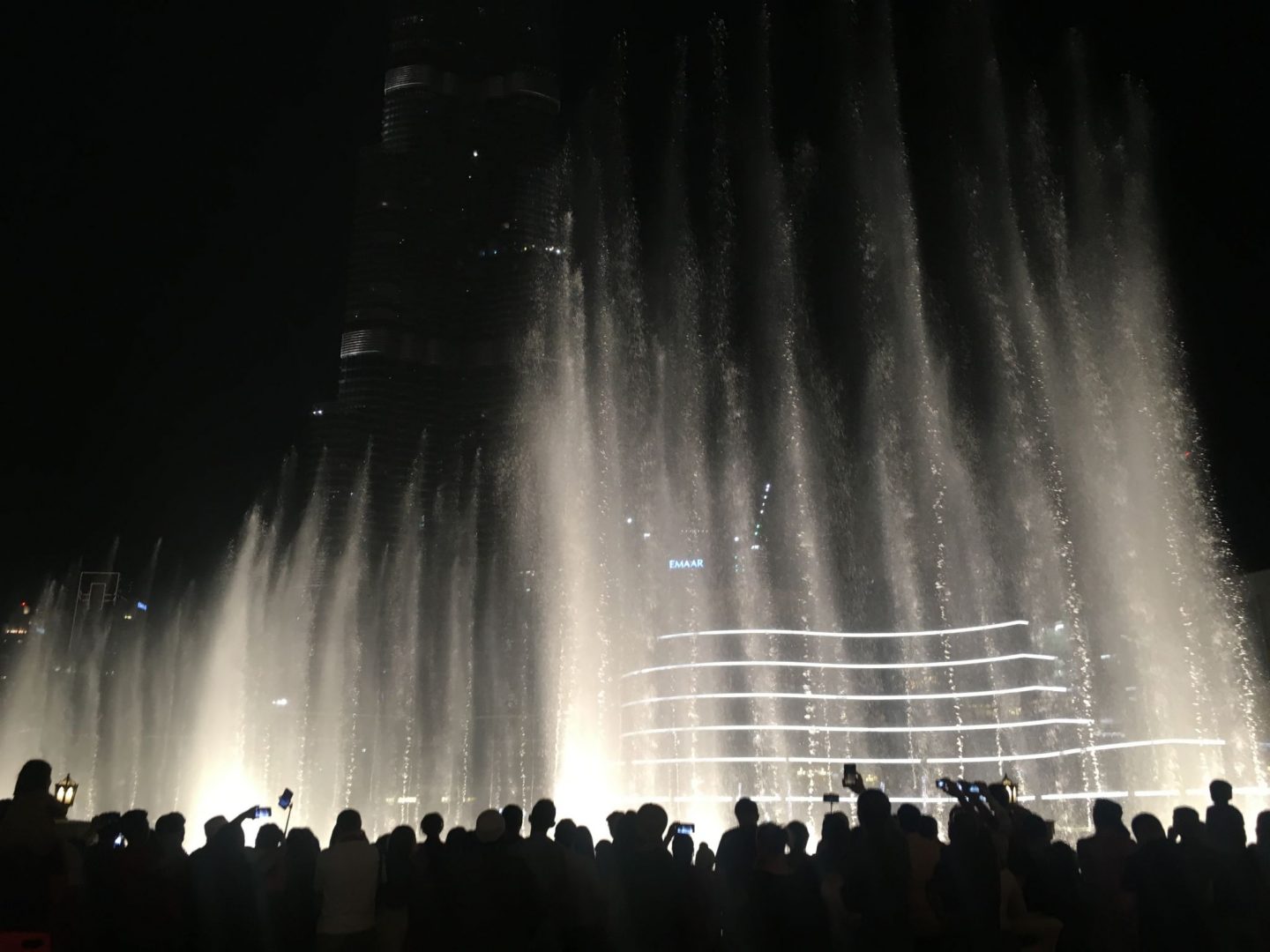 Updated: May 2020
One of the most popular sights in Dubai has to be the fountains in Downtown Dubai. With the title of the world's largest choreographed fountain system you can see why they are a popular choice. Set against the backdrop of the Burj Khalifa over a 30-acre manmade lake, they are impressive even for the repeat visitor or expat like me.
When to visit the fountains
To really see them at their best, it's definitely worth going in the evening. Although there is a daytime showing at 1.00 – 1.30pm (1.30 – 2.00pm on a Friday), the evening show from 6pm – midnight is really special. Wait until post sunset to see the fountains with their atmospheric lighting and of course the sparkling lights on the Burj Khalifa just behind.
The best places to watch the fountains
As one of the most popular attractions, as you might have guessed, getting a prime spot to see the fountains can be challenging – it gets busy!!
Best views…for free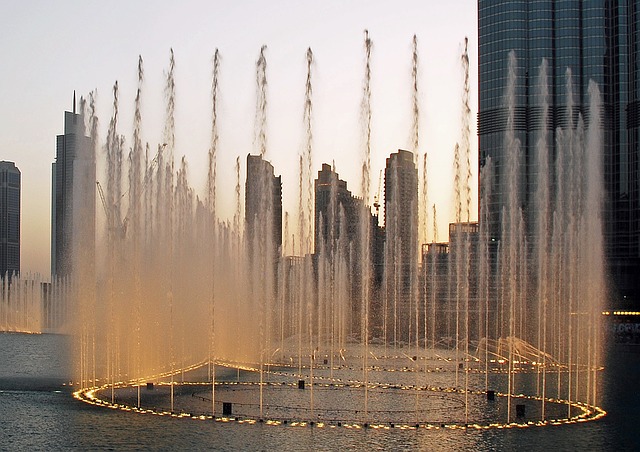 If you're just looking to pop along to see the Dubai fountains but not make a night of it, then around the lake is the obvious place to watch the fountains. Note though that people get there early! Especially directly outside the mall exits and on the bridge that connects the mall with Souk Al Bahar. You'll also get some not so polite last minute guests who try and squeeze in to the space you've been patiently saving for the last 30 minutes! To avoid this, try and move around the lake – either round the Souk Al Bahar walkway that provides great views and is a lot less busy, or towards the Dubai Opera. Both options mean you won't be stuck trying to get a view with the masses.
Other options that are popular include the Apple Store balcony inside Dubai Mall. People have got savvy to this though and it gets busy so you'd need to get there early and hold your position if you're looking to take advantage of this elevated view.
Best views…with food & drinks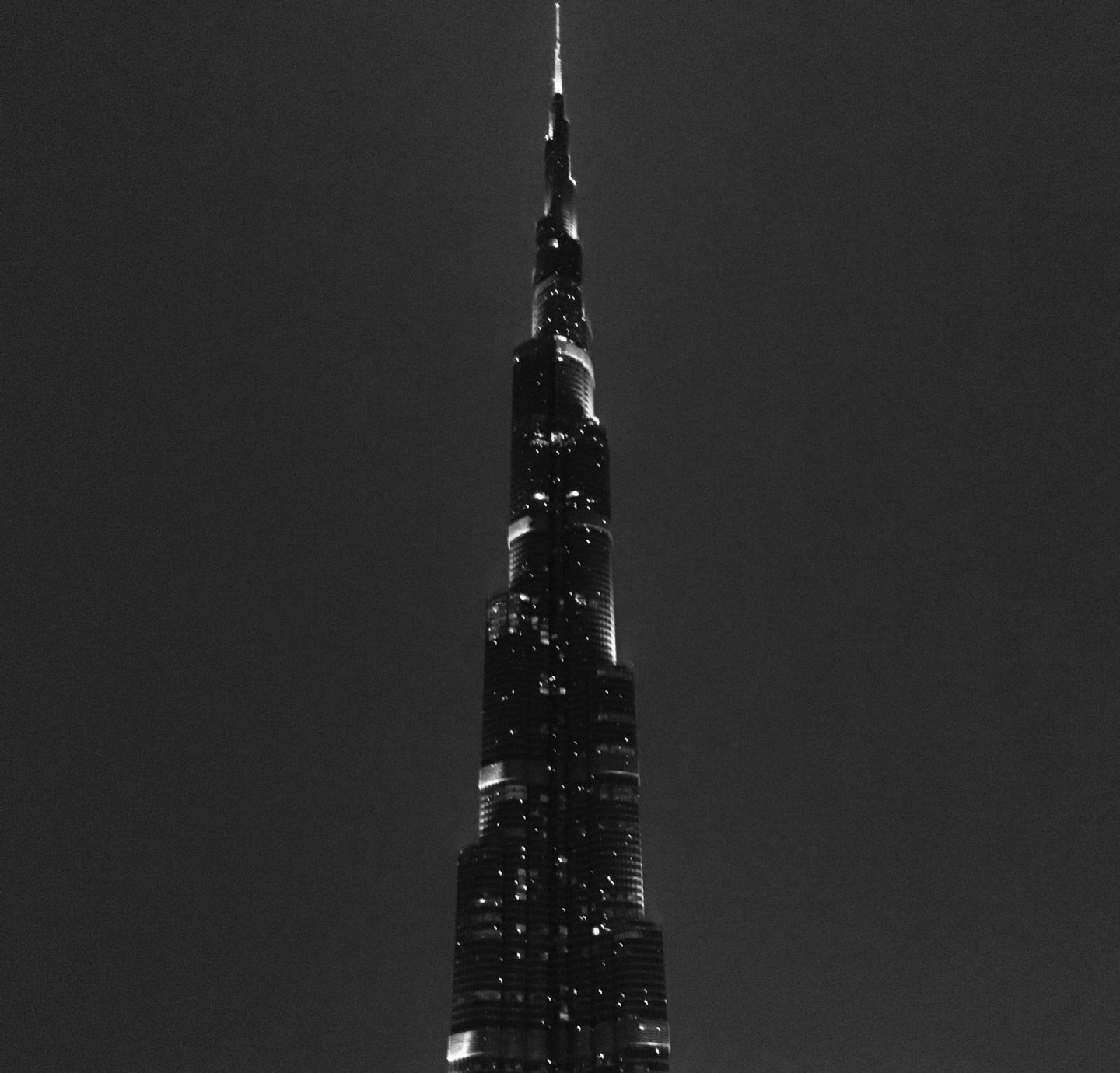 One of the best ways to enjoy the Dubai fountains is to have them as a backdrop for your dinner. This way you get to see the variety of performances (they change ever half hour from Michael Jackson, through to traditional Arabic tracks), without the chaos that can come with waiting in the crowds.
Souk Al Bahar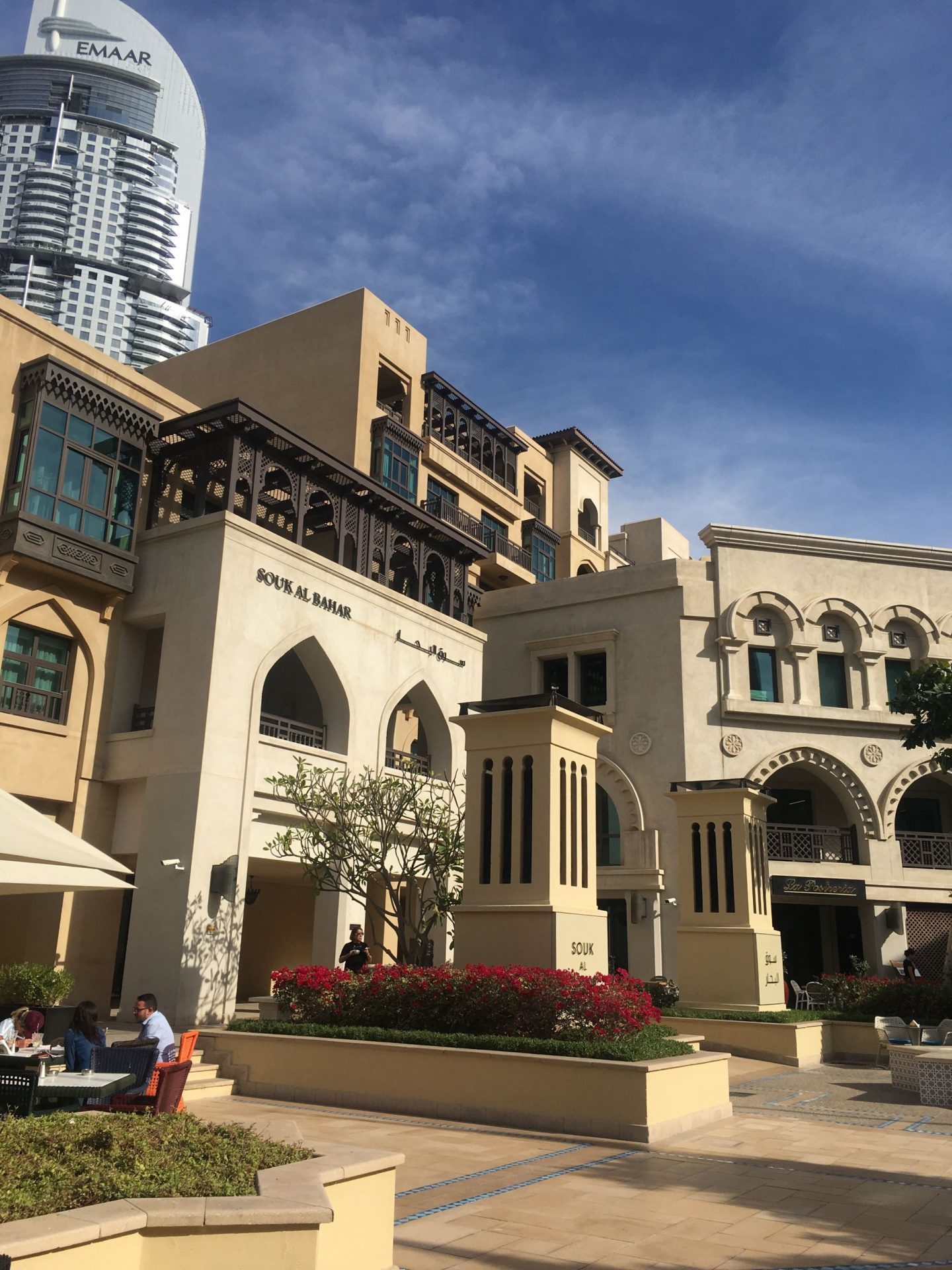 Just across from Dubai Mall, Souk Al Bahar probably provides the best views of the fountains and has a lot of choice. Make sure you book in advance to secure those all important outdoor tables though. If you don't get lucky with your table selection you can still pop out on the balconies for the shows and get to see the amazing view. Some of my favourites for views and food include….
Serrafina – on the ground level so perhaps not as prime position as the upper deck, but nevertheless still great views. The food is Italian and very good here with plenty of classics including a variety of pizza and pasta dishes (full menu here). The restaurant is also on the Entertainer (Fine Dining) which is a great bonus as you will pay a premium for the location.
Abd El Wahab Restaurant – a popular choice with visitors who are looking for a traditional Arabic restaurant serving local classics. Although you could find better Arabic food in Dubai,  this is an excellent all rounder and impresses with it's views of the fountains (make sure you ask for an outdoor table to really make the most of the views). For contact details click here.
Karma Kafe – slightly further round so not directly on the front, Karma Kafe still offers some excellent views of the fountains from it's outdoor terrace. It's pan-Asian here with great food options (full details here), as well as being a good place for a drink. It's also on the Fine Dining Entertainer app.
Dubai Mall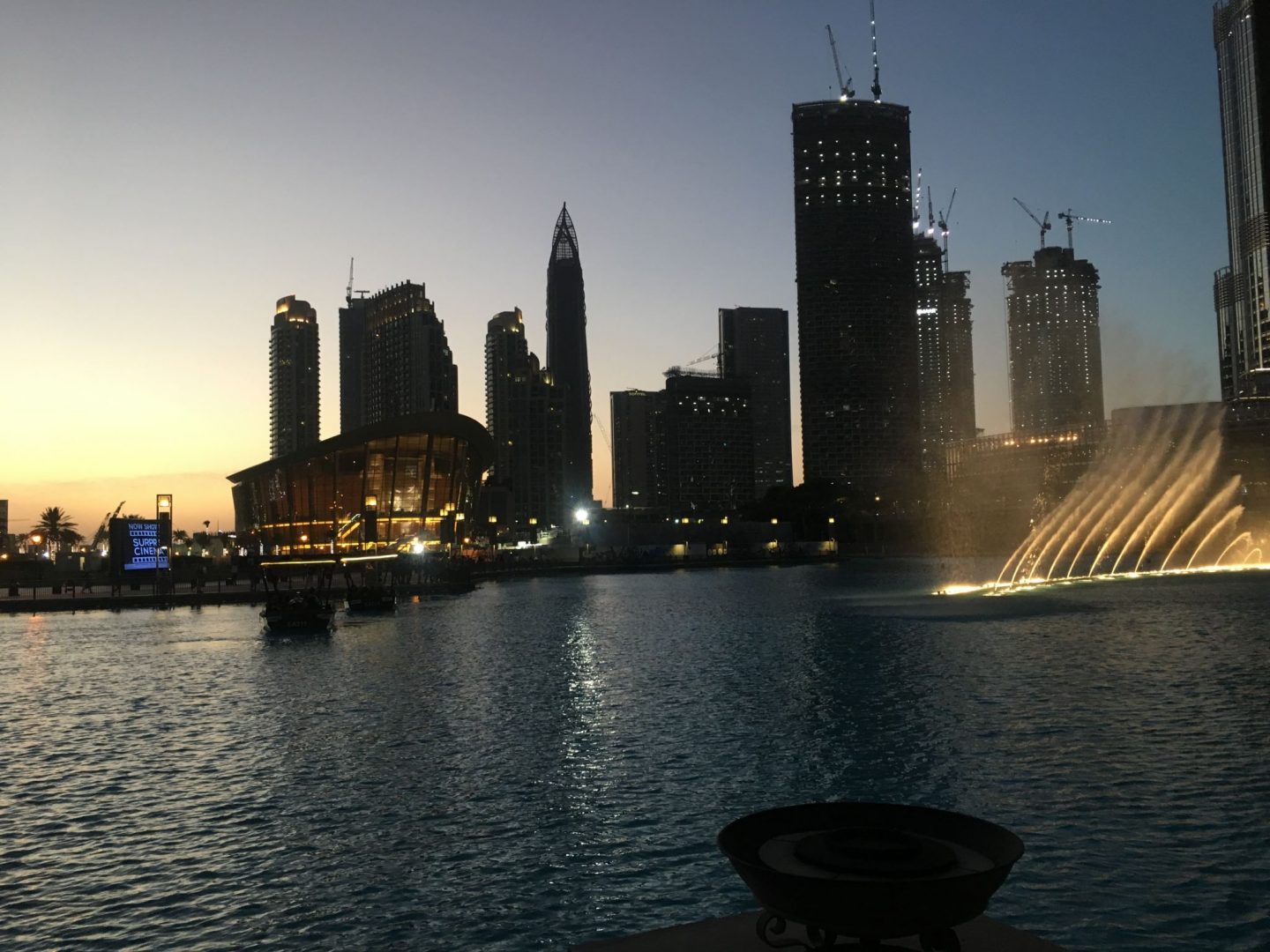 Dubai Mall also has a lot of options itself (bear in mind that there is no alcohol served so you'll need to go to Souk Al Bahar if you want a drink with your fountains views). For the best views opt for the restaurants closer to the Burj Khalifa and the new Fashion Avenue extension. Carluccio's has great views but at the time of my last visit you couldn't pre-book outdoor seating making it first come, first served. Other options nearby include Karam Beirut or Wafi Gourmet for a more relaxed affair with views.
Dubai Mall – Fashion Avenue extension
The new Fashion Avenue extension has a wide selection of restaurants which offers a great addition to the Mall food scene. A favourite is Todd English Food Hall with amazing views over the fountains. There's something for everyone here too, with a wide variety of cuisines at different pop up stations (sort of like a brunch but served to the table!).  Bear in mind that you won't get the Burj Khalifa views with this fountain view because you are pretty much under it!  Another popular choice is Bebabel in the Fashion Avenue Extension. This has some spectacular views too and serves Lebanese cuisine (in a very pretty setting). You can't reserve the outdoor tables though so it's a bit of pot luck here.
There's also a number of cafes, such as Joe's Cafe, on the upper level of the mall that have great views of the fountains if you don't fancy a big meal but still want to see the fountains without the crowds.
Best hotel dining and drinks options for the fountains…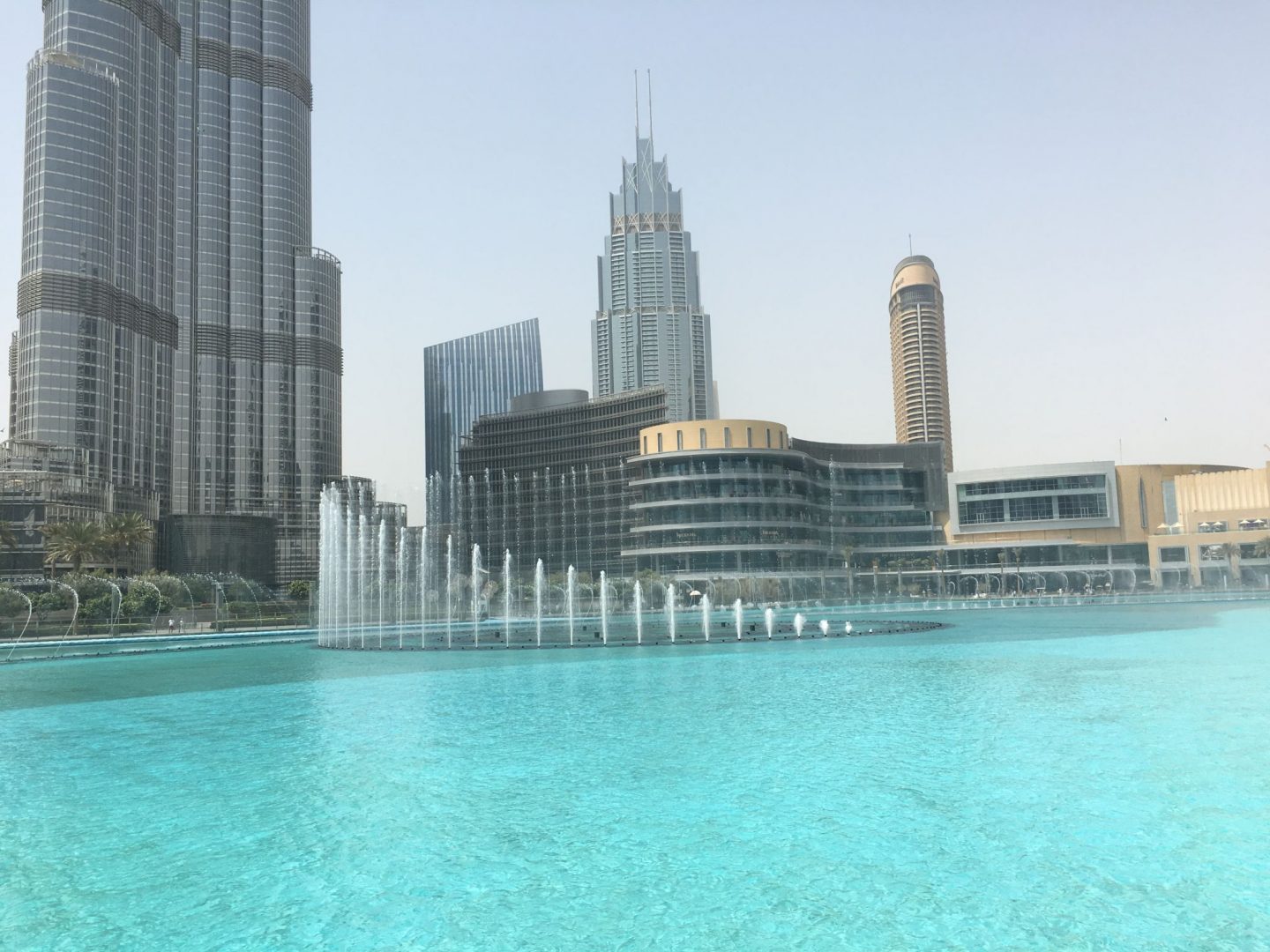 The Burj Khalifa – Armani Hotel
The Armani Hotel in the Burj Khalifa itself offers some of the best views with a terrace overlooking the lake. There's a range of options here with a number available on the Entertainer but opt for Armani Amal for the best views from the outdoor terrace. I still think the Souk Al Bahar is better as you get the views of the Burj Khalifa too, but for a special treat the Armani Hotel is an excellent alternative. If you're after something extra special then you can have drinks with a very impressive view from Atmosphere bar on the then read this guide – bear in mind though that the fountains look very small from up there!
The Palace Hotel
Thiptara is an excellent Thai restaurant (see my brunch review here) in it's own right and also offers great views of the Dubai fountains. It's not cheap so save this one for a special occasion, and bear in mind that you pay a premium if you want to sit outside. If you choose to sit inside you'll still have some great views though with the floor to ceiling windows. Thiptara is also on the Entertainer.
If you just want drinks to accompany your fountains views then Fai, a bar directly next door to Thiptara, is perfect. It's a bit of a hidden gem (see full review here), and offers a lovely respite from the hustle and bustle of nearby Dubai Mall. It doesn't provide a full fountains view, but it does provide a full Burj Khalifa view and great cocktails so it's definitely one to consider.
The Address Downtown
The Address Downtown reopened in 2019 and has to be a close contender for best locations for Burj Khalifa and fountain views. If you want to really impress then Zeta is the perfect spot (opt for winter months though when it's cool). You can just opt for drinks here too which is a great way to avoid the crowds below without having a full dining experience (unless you want that of course!) If you've got a head for heights then Neos on the 63rd floor is pretty special. The fountains might look a bit on the small side, but with the Burj Khalifa views too, it's an amazing view. Make sure you book a window seat. The only annoying thing (in my opinion anyway) about Neos is that smoking is allowed.
Overall: To make the most of your visit to see the fountains, plan and book in advance especially if you want front row seats with your dinner. Booking dinner to watch the fountains is the best way to really enjoy the experience and avoid the crowds.
The Guestbook's comment: "As well as the fountains, make sure you see the rest of the sights that Dubai Mall has to offer beyond the obvious shopping experience. See this post to plan your visit for the top 10 non shopping related things to do there!"