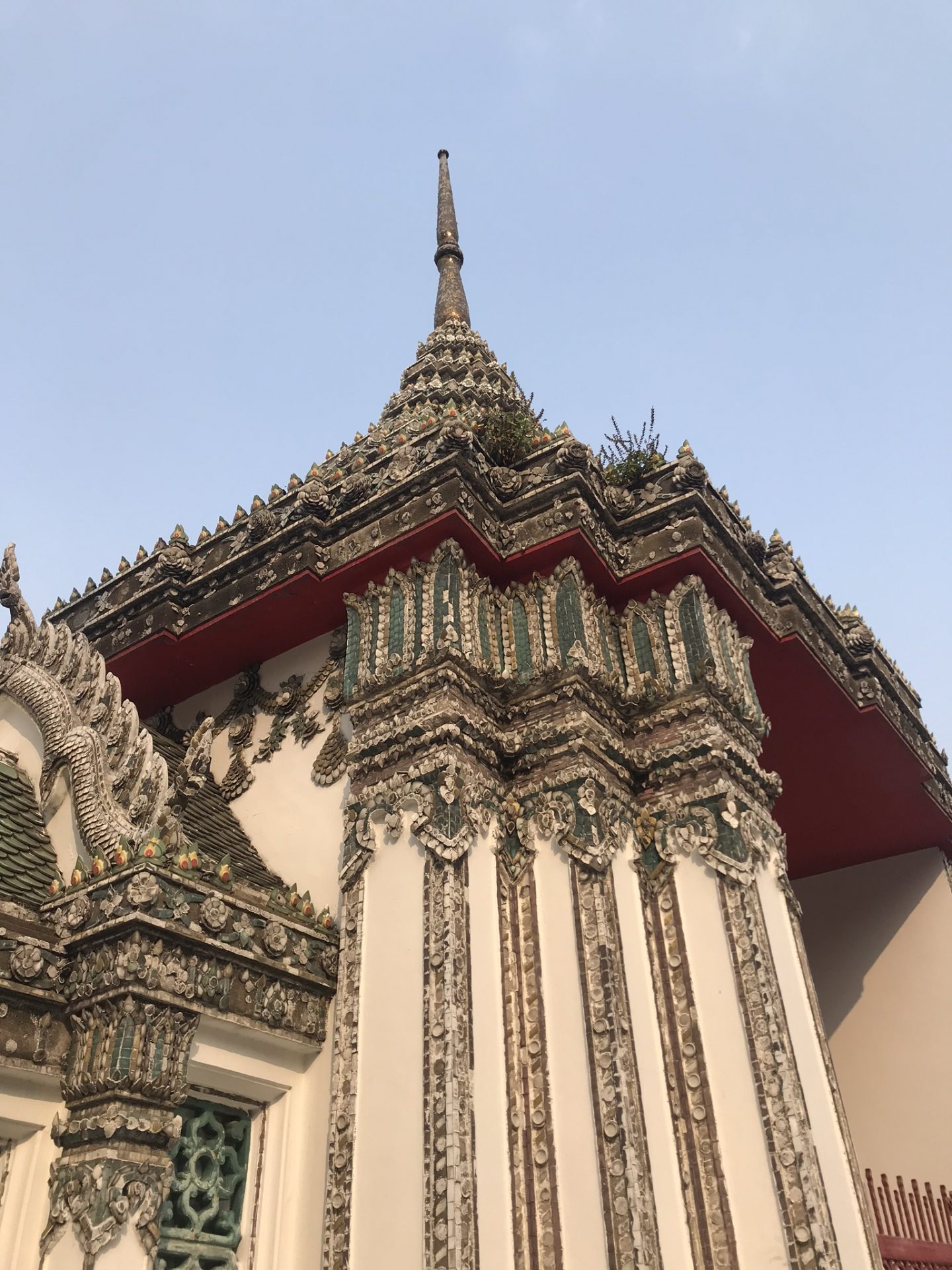 Our first destination for a long weekend break from Singapore was Bangkok (for our other travel plans this year see this post!). Bangkok is perhaps not an obvious choice with a toddler in tow but given that Josh was there with work it made sense to extend our trip and see what Bangkok had to offer and whether it would work out suitable for a 15 month old!
The short answer is yes. There's actually a lot on offer in Bangkok which will come as no surprise being the capital of Thailand, what might be a surprise is that there's a lot of toddler friendly activities in this busy city to enjoy.
How to get there
Bangkok is notorious for heavy traffic so try and plan your flights to avoid peak times if at all possible. There's actually two airports serving the city – Don Mueang and Suvarnabhumi. We flew with Singapore Airlines so we arrived at Suvarnabhumi airport. Bangkok is pretty big so you might want to spend some time familiarising yourself with a map and where you might want to stay depending on your interests (more on this below).
Getting from the airport
We were staying at the Banyan Tree which is in the Business District of Bangkok but a short walk from the metro. As I was travelling alone to meet Josh I decided to prebook a transfer from the airport to the hotel. I can recommend Transfer BKK (no affiliation!) who were on time and easy to chat with. They were also a lot more reasonable than the hotel quoted price for a transfer which is often the case.
You can get taxis from the airport but I wanted to have a car seat which the transfer company provided. You could alternatively bring your own but be aware that taxis won't always have seatbelts, which of course defeats the object of the car seat! I thought I'd play it safe and opt for a transfer with one already in.
You can also get the Airport Rail Link which is quick (around 30 mins) and cheap (around 45 baht). As I'd never been to Bangkok before, and for ease when travelling alone with toddler, I settled for a taxi. Now having used the metro and been super impressed, I'd definitely consider this option if where I was staying was in close proximity to one of train stops in the city.
Getting around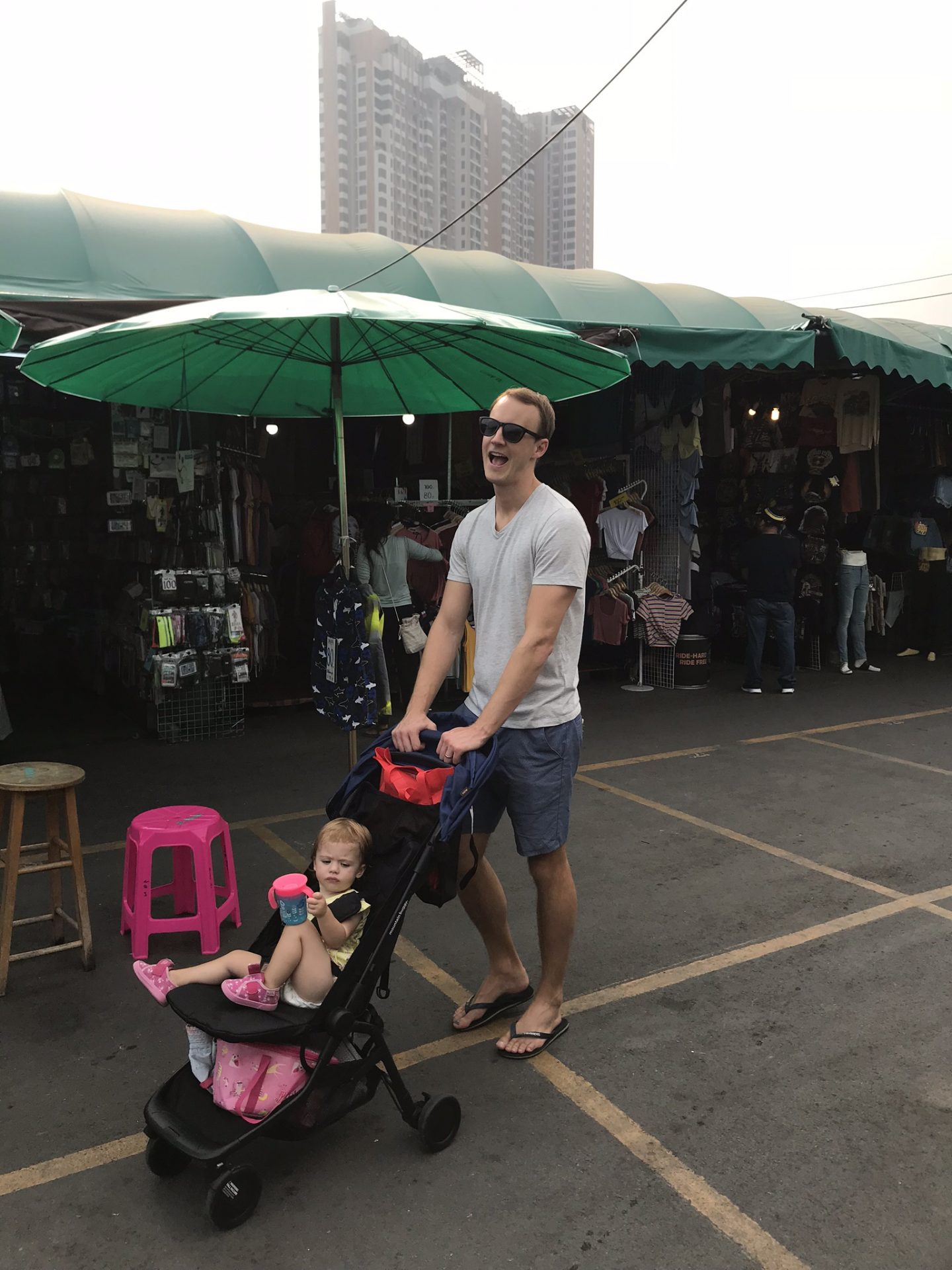 Metro
As mentioned, I was so impressed by the metro in Bangkok. It was clean, regular, and so cheap and would give the London underground a run for its money. I'd definitely recommend it and it also avoids the notorious traffic queues. The metro has numerous lines and is really easy to use with stations at most tourist hot spots. It does get busy but it's not really any different to a busy underground in any other city and we found it brilliant. Plus it has air con so a welcome relief from the heat.
Taxi
As well as normal taxis, Bangkok, like Singapore, has the car pooling app Grab which is a good one to book a taxi with without having to worry about hailing one. Unfortunately unlike Singapore there isn't the Grab family option with car seats, hopefully this will be added soon.
Tuk tuk
There is of course the iconic tuk tuk that's quite the novelty when you're in Bangkok. If you're going to use one remember they probably aren't the safest choice due to how open they are and lack of belts so probably best to opt for a short distance. Also they are not actually that cheap so it's better to get a taxi if going further a field and save them for the novelty on shorter journeys.
Boat
Finally you can also get around to see certain areas by boat. We used the ferry to travel along the river between sights and it's a great way to see more of Bangkok. There's lots of options from tourist tours and private hire boats to the normal ferry which we did. If doing the latter note that they don't hang around even if you are with a baby or toddler(!) so be prepared to get on and off quickly and hold on! Jess didn't seem to notice and loved it regardless!
What to see and do – toddler friendly itinerary
Day 1 – Chatuchak Market & the Children's museum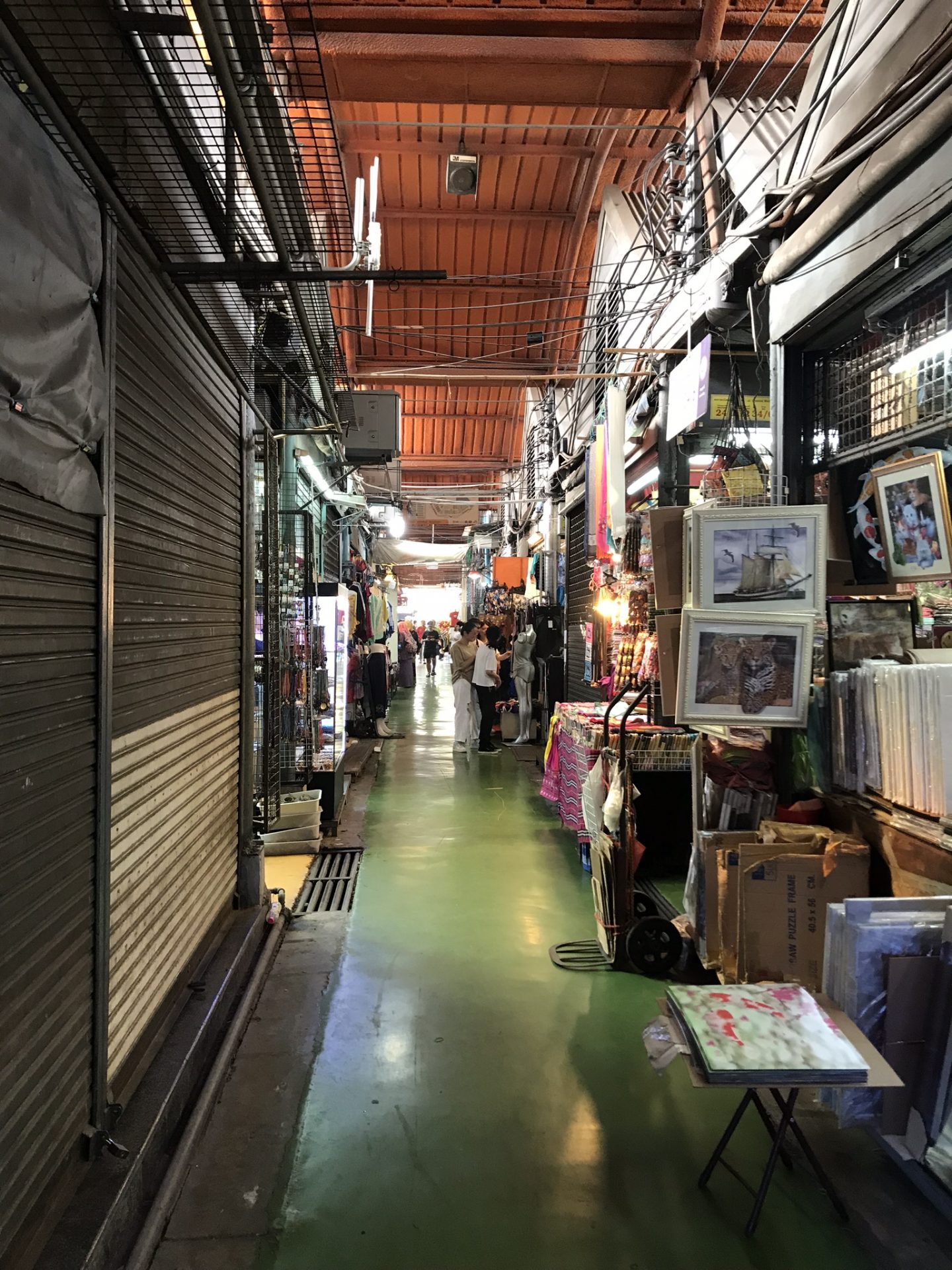 On pretty much every itinerary suggestion I read in advance of our trip, Chatuchak Market was mentioned as a must visit if you were visiting Bangkok on a weekend. To call Chatuchak a market is a bit of an understatement. It feels more like a small town covering 35 acres (with 15,000 stalled!). And it's a maze so be prepared to get lost. I could have spent hours here. There's everything from clothing, to beautiful handmade crafts, and then plenty of food stalls. Although the warren of alleyways between stalls offers some welcome relief from the sun, it's definitely best to get there early as it can still get quite hot (and very busy) as the day progresses.
The Market is really close to a number of MRT stops making it really easy to get to. We got off at Kamphaeng Phet, but Chatuchak Park stop is also close by. On a side note, the organisers of Chatuchak Market are actually doing a pop up market in Singapore, let's hope it turns into a permanent feature. Find out more here.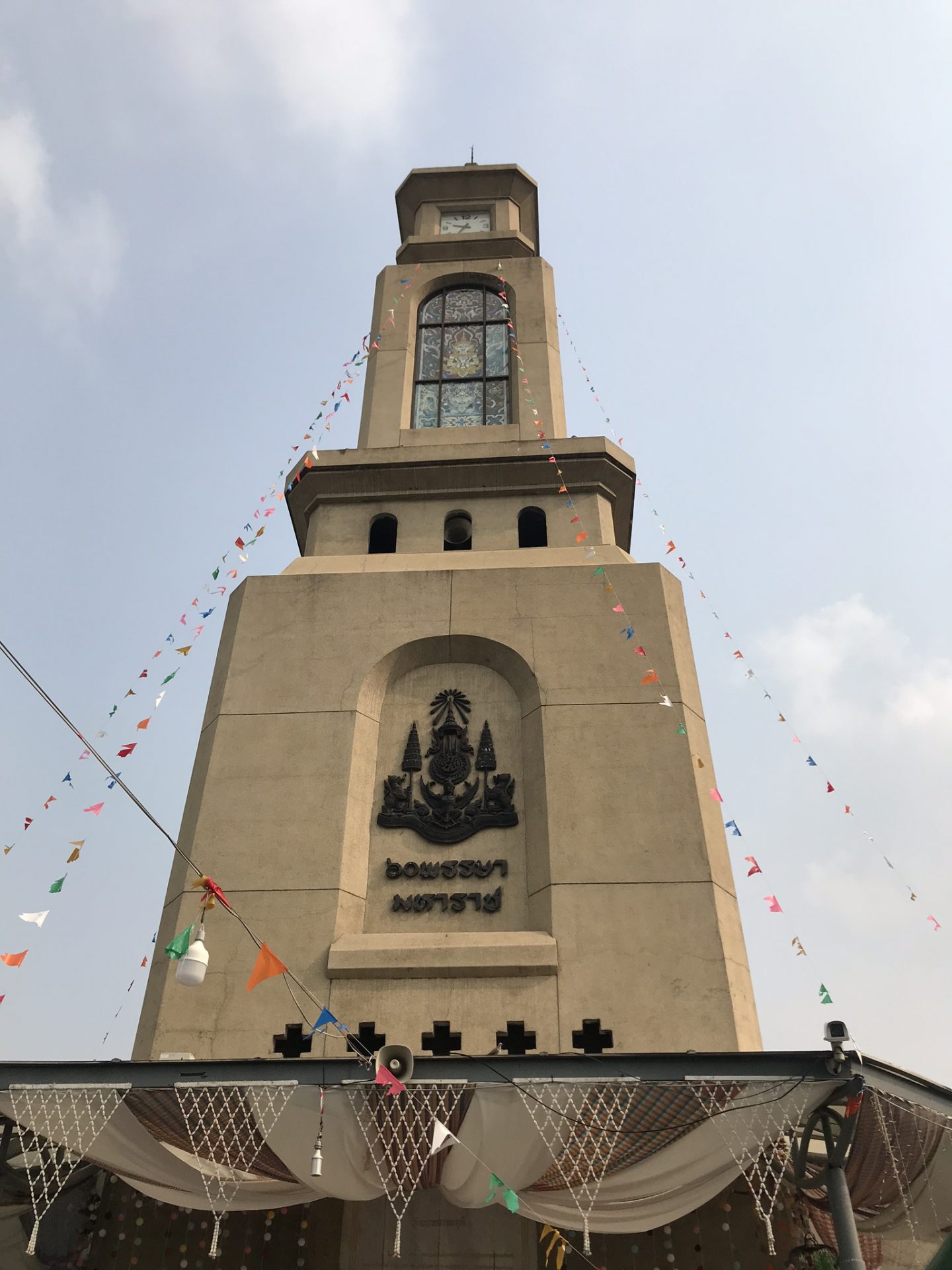 What I loved about the market is also it's location next to some really good toddler friendly activities. Although the market is great for toddlers to look at, it can get a bit boring after a while and I wouldn't recommend letting them run wild if yours are anything like Jess, losing a toddler in there really would be a needle in a haystack!
Chatuchak Park
The market is a perfect destination for a family as it can be easily combined with Chatuchak Park across the road. The Park is a welcomed green oasis from the hustle and bustle of the market and busy streets. It also has a small lake and play area. You wouldn't travel here especially for this, but it's good to have as an option. However don't spend too long here if you do decide to visit as the real kid friendly attraction is the Children's Museum. This is just a stones throw away for the market on an adjacent road. This really is worth a visit.
Children's Museum
The Children's Museum boasts both wet play areas and a brilliant playground that's sure to impress even the older kids.
There's also a dinosaur exhibition where you can use a range of tools to dig for fossils. Other indoor activities are on offer if you need a break from the heat. We loved the dedicated 0-2 year old room which had some lovely toys and activities. The museum is timed so you can go in certain slots so it's worth checking the times in advance. It also doesn't have any cafe facilities so grab food outside first. If you're bringing your own then there are tables and chairs (although we didn't see any high chairs). It's fair to say a Jess loved it here and it was nice to have a balance of activities for the day.
Pool time
We headed back to our hotel pool for some much needed down time (if you can call it that with a toddlers!). Staying in a hotel with pool facilities is definitely a plus especially with kids as it can get quite hot in Bangkok so it's nice to have this option as well as sightseeing.
We ate locally close to the hotel that evening. The hotel itself has lots of food options but expect to pay quite a premium for this and not all are kid friendly. We decided to explore not far from the hotel and found a local cafe serving incredible Green Thai curry – I love the food in Thailand!
We did head up to the famous Moon Bar at the hotel which has spectacular views and would make the perfect date night if you're travelling alone. (Although our toddler was very much welcome and other children were also there too).
Day 2 – Temples, boats and China Town
Day 2 was all about temples and the historic sights of Bangkok, there are many! I'd recommend you pick one or two or space them out especially if travelling with a little one.
The Grand Palace
We opted for the Grand Palace, one of the most famous sights. Be warned – it's busy. We thought we were heading there early but in hindsight knowing they open at 5am is perhaps telling and by 9am it was packed! Even without a toddler I would have found it hectic but add a pram into the mix and it's really hectic! In hindsight a baby carrier might have been a better option. Having said that outside of the must see sights in the Palace it is a little quieter so there were areas where Jess could explore.
To say the Palace is stunning is an understatement. The level of detail in the buildings is incredible and probably the most beautiful I've ever seen. Jess enjoyed it a lot more than I thought too – particularly the elephants!
If I went again I'd perhaps consider nearby Wat Pho which is also meant to be stunning, but perhaps a little less busy than the Grand Poalce so possibly more kid friendly.
On the River
There's lots to see in this area but we decided to head to the River and take a boat back towards our hotel via Chinatown. The ferry point (if you can call it that!) is a short walk from the Grand Palace.
From here you can get a range of boats from private hire where you can have a whole boat to yourself and tour the river, as well as arranged tours. There's also the local ferry that goes up and down the river between stops (there's a lot of stops!). We opted for the latter.
Buy your ticket before you queue up and then you'll be ushered down. Ushered being the polite term, as mentioned above there's no waiting around here so have your push chair ready and folded. (If you don't have a travel pram you might want to avoid the boats!). Again a carrier is perfect here.
We really enjoyed the boat as a way to see a different side to Bangkok. You also pass by some of the famous hotels which feature along the riverside.
Chinatown
The boat takes you straight to the drop off point for China town. From here you can pick up a tuk tuk or it's a short walk. Again a stroller is challenging in Chinatown. We didn't really have any issues with our travel stroller but Chinatown probably tested it to the max. Pavements are small and full of street vendors and it's busy so very hard to get far with a pram. I'd opt for a baby carrier or perhaps avoid. (We also went near lunchtime so it was pretty busy). Although I liked Chinatown it's probably not that baby friendly so I wouldn't go out of my way to visit again. That said seeing all the Chinese New Year festivities at the time we were visiting was nice.
Chinatown is served by an MRT making it easy to get there even if getting around it is more challenging!
Street market
After a relaxing afternoon, we decided to venture out in the evening and stumbled across Walking Street at Si Lom which happens every third Sunday of the month.
It's quite near to Patpong and if you know Bangkok well it's probably not the obvious choice for a toddler (think ping pong shows). We were actually heading to Si Lom MRT to catch the sky train to Siam which is an area with quite a few malls (and children's play options!). But after a short stroll we were pleasantly surprised with this amazing pedestrianised street market. It's full of great quality and unique handmade craft stalls as well as plenty of street food vendors. It is a lot more manageable size wise when compared with Chatuchak Market from the day before.
There was also entertainment with what seemed like a talent competition. This was a win for Jess who was happy to watch the entrants from a flute player to an artist, even if the commentary was all in Thai!
If you need a mall then the Silom complex close by has a supermarket and a small selection of shops and restaurants.
Day 3 – Parks and a (relaxing?!) Thai massage
Lumpini Park
We thought we'd start our final day with a short stroll in the pretty and green Lumpini Park which is famed as Bangkok's equivalent to New York's Central Park with skyscraper views in the background. It definitely provides welcome relief from the hustle and bustle of the city. It also offers a number of play grounds so works well for Jess too. Plus it's a close stroll from the Banyan Tree where we were staying.
Thai massage
We also decided to end our trip with a massage – something Thailand generally is renowned for. We'd been recommended Healthland time and time again for its affordability as well as brilliant massages so we decided to go with this.
The building looks impressive and it's big! Although the waiting area does feel a little less relaxing with the regular announcement of names (it's very busy!) don't let that put you off.
Not knowing much about massages and guessing that it was probably best to opt for the traditional Thai massage, I went in very excited for 2 hours (it's a minimum 2 hours for a Thai massage) relaxation. We decided we'd take it in turns to look after Jess so I went first. When I was asked to put on some strange looking pajamas it dawned on me that my idea of relaxing music and massage oils was probably not that accurate. This turned out to be the case and I was quite literally manhandled by a lovely (but not so little) Thai lady.
It's definitely an experience but in hindsight probably did more good than a relaxing equivalent. I felt like I'd received a badge of honour for getting through it too and ticking it off the bucket list! Josh was up next and he had a very small lady but I think she was still quite brutal even though he is six foot three!!
Kid friendly attractions close by
We didn't think it was really fair to let Jess run riot in the waiting room and we selected this spa location as there's a number of kid friendly activities close by. Next door is Central 21, a shopping mall themed as an airport. Although I wouldn't go out of my way to visit it's quite a novelty as far as shopping malls go for kids with different themes and countries on each floor.
A short walk away is also Benjakitti Park which has a lake and green space. A bit further (1 stop on the train) is The Emporium Shopping Complex which is home to Imaginia Playland. This is a very popular and highly rated indoor play area. We ran out of time to make it here as we needed to head back to the hotel for our transfer. I'd definitely add it to my list though as there's also meant to be a very good food court here. (Think amazing Thai food not McDonald's!!)
Post massages we headed to the airport for our flight home, tired but happy and feeling like we'd done Bangkok justice, but also had a toddler friendly break which we hope Jess enjoyed too!
Top tips when travelling with a toddler/baby to Bangkok
Bring baby essentials. Although there are supermarkets (see below), choice is more limited especially if you require baby food.
Lotus Tesco is a good option to stock up on products you don't have. We found the one in Chinatown which was great.
Although I loved the Banyan Tree, consider the practicalities of a hotel room especially when your toddler goes to bed early. Also if you're likely to need to prepare food. There are bigger club rooms which also give you access to the club floor. This has a dedicated playroom so they might be worth considering.
Food is great generally throughout Bangkok. Jess loved rice dishes as well as eating corn on the cobs which were often for sale.
Consider a travel pram or ideally just a carrier if your baby or toddler still goes in one.
Use the metro to get around – it's brilliant!
The Guestbooks message: "Although Bangkok might not be an obvious choice for a break with a toddler, there's actually a lot on offer and some great attractions such as the Children's Museum. The locations make it easy to pair must see sights with more toddler friendly options too."