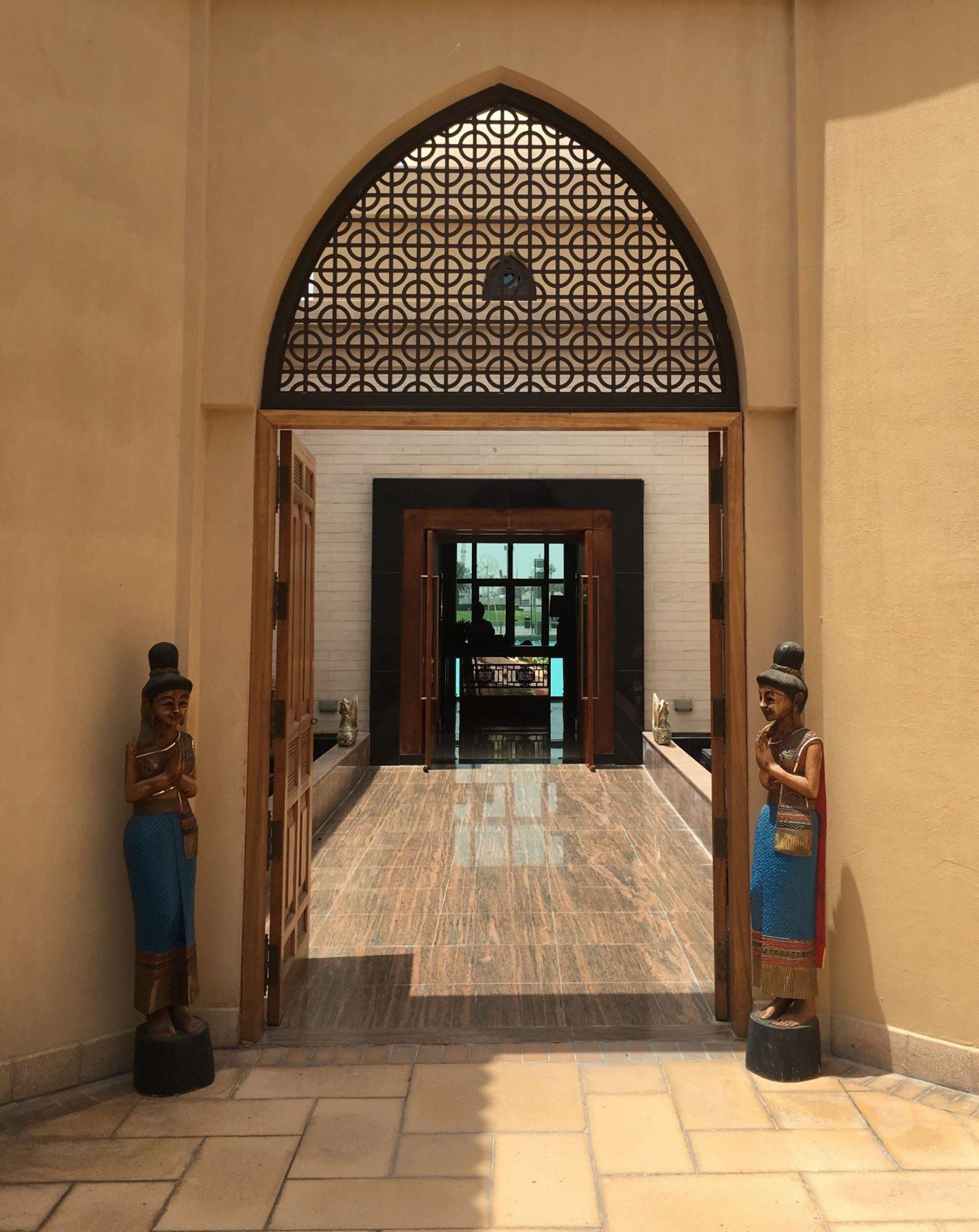 What's the story?
Thiptara is a popular Thai restaurant based in the Palace Hotel, Downtown Dubai. Alongside Thiptara, The Palace is also home to Argentinian steak restaurant, Asado, and International and Arabic buffet joint, Ewaan. We'd already visited Ewaan (see the full review here) for their famous seafood buffet, so thought we'd try the Thiptara brunch.
Thiptara has rave reviews not just for the excellent food on offer, but also for the location (more on this below). The brunch is a set menu affair offered on a Friday and Saturday lunch time from 12.30pm – 3.30pm. It's currently on the Fine Dining Entertainer App until the end of September. For a full list of brunch deals on the Entertainer see this post).
Location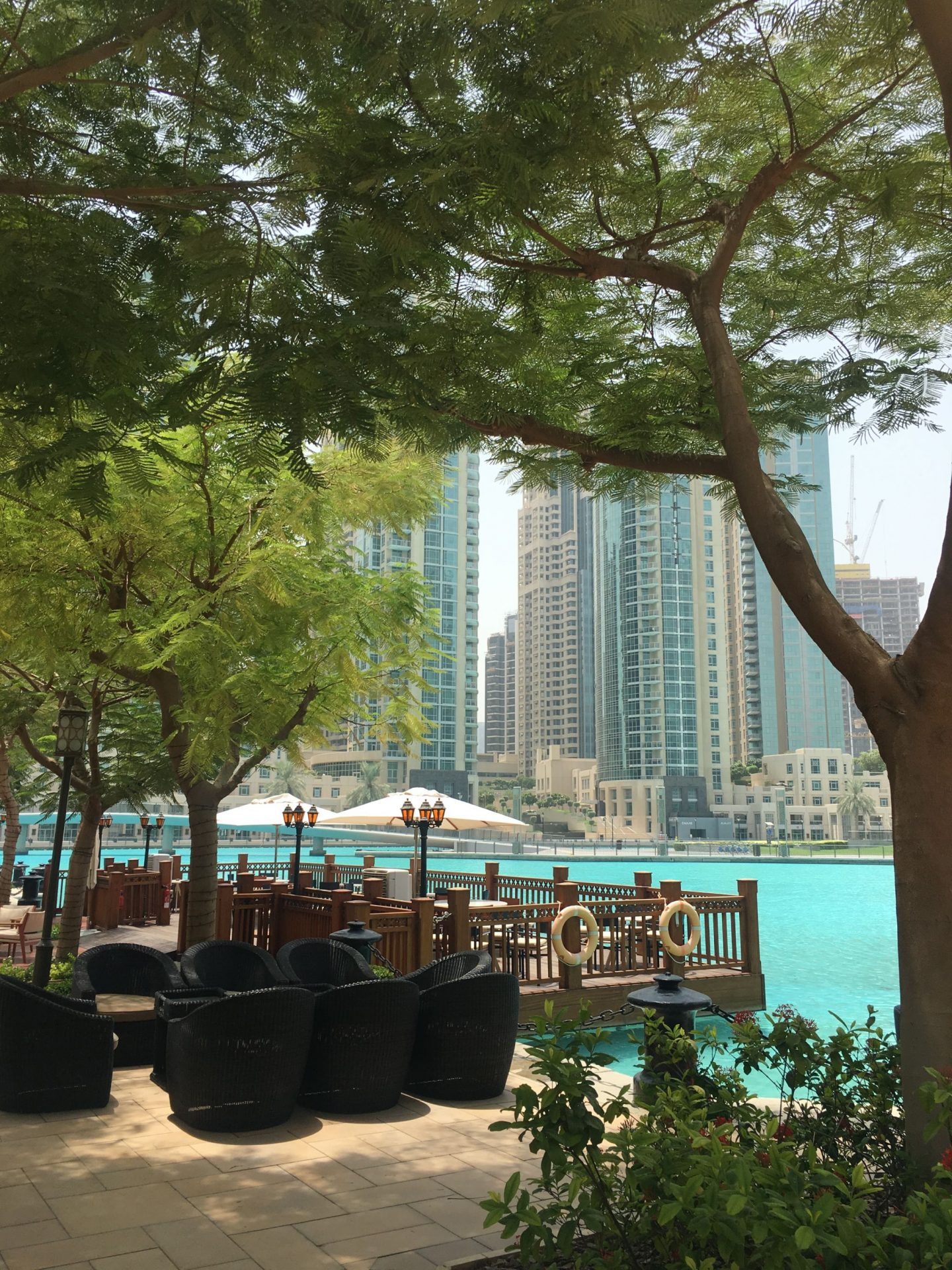 As mentioned, alongside the food it's the location that really sells Thiptara. At the very far end of the Palace hotel, this restaurant has prime location extending right over the lake directly in front on the Burj Khalifa and Dubai fountains.
In the winter months it's definitely worth reserving an outdoor table.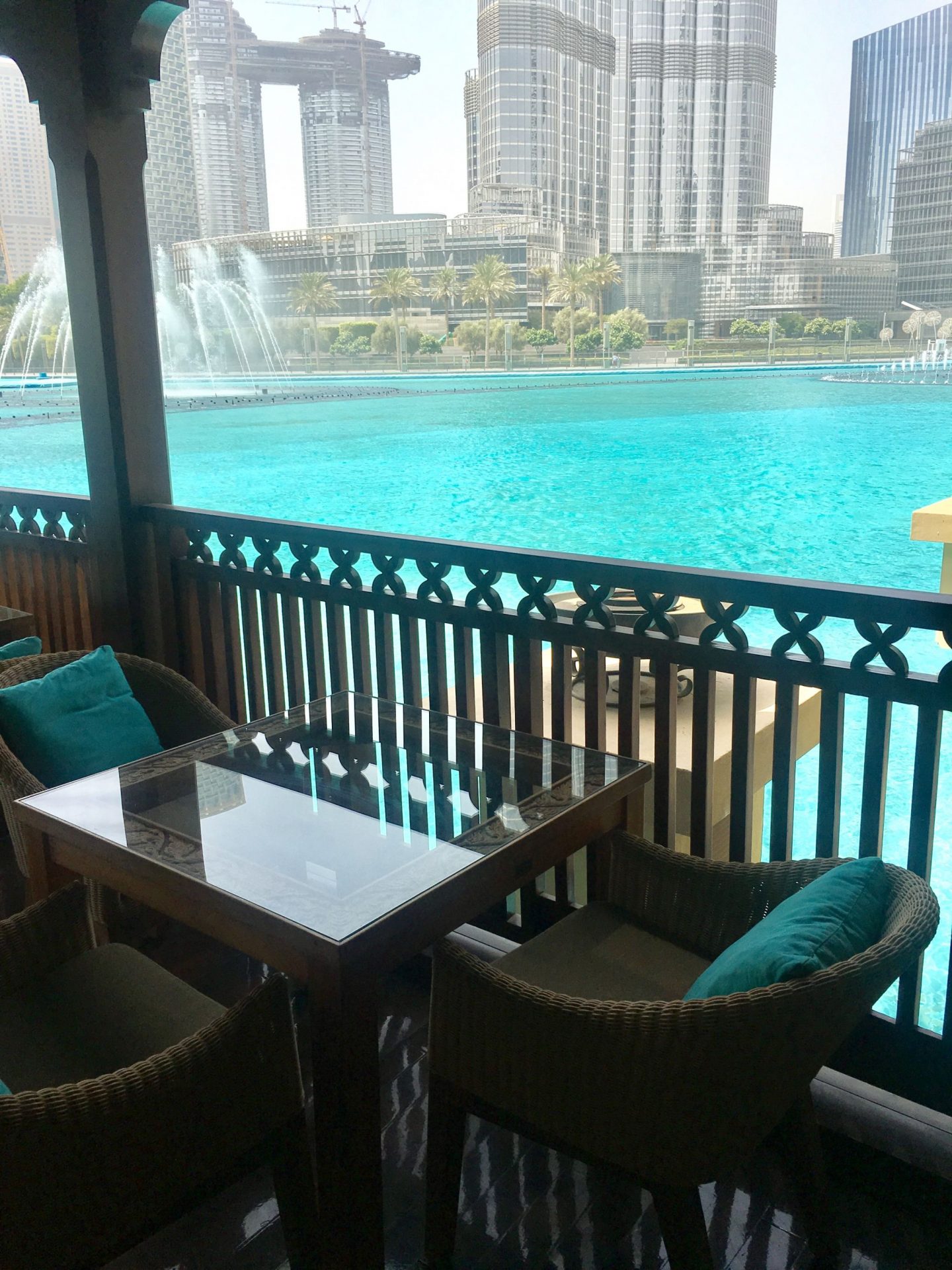 However even indoor ones impress with the floor to ceiling windows providing amazing views straight over the water. Although the fountains are less spectacular in the day perhaps, it's still pretty special to have them as entertainment to accompany your brunch.
Thiptara isn't huge with two rooms catering for guests (it was full when we visited so book!). The decor is lovely though and it definitely feels like a place for a special occasion or to impress guests.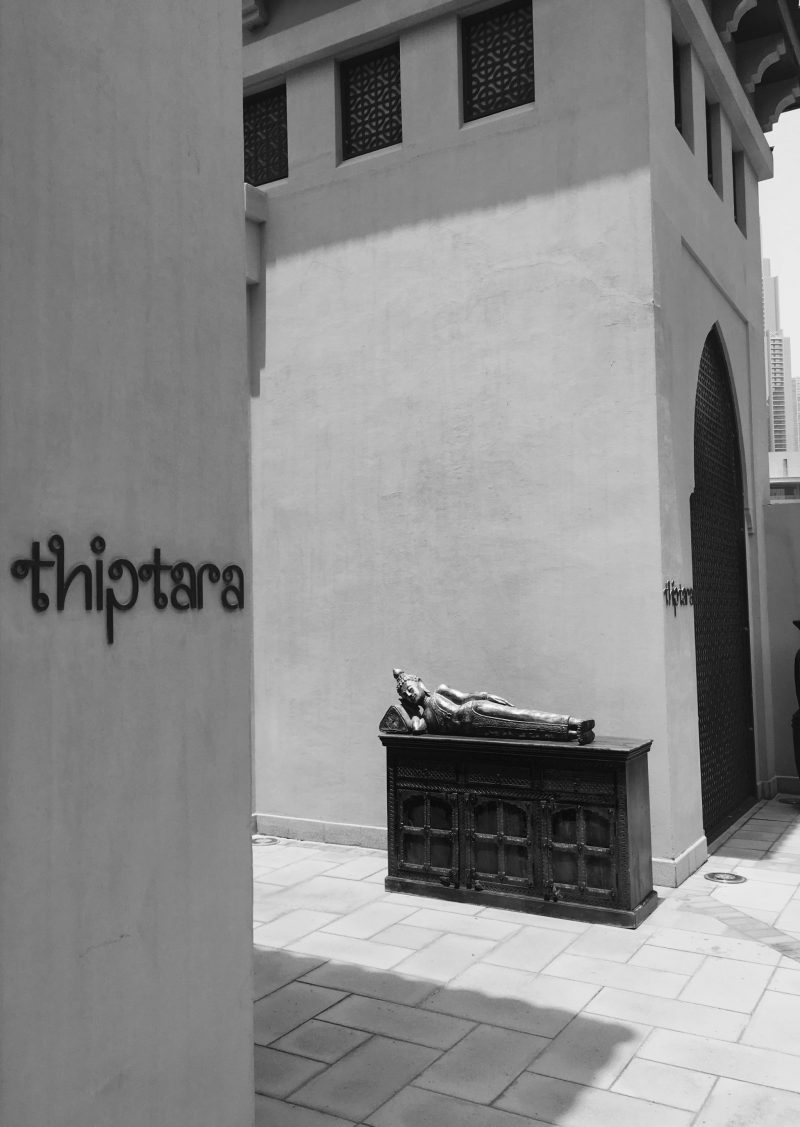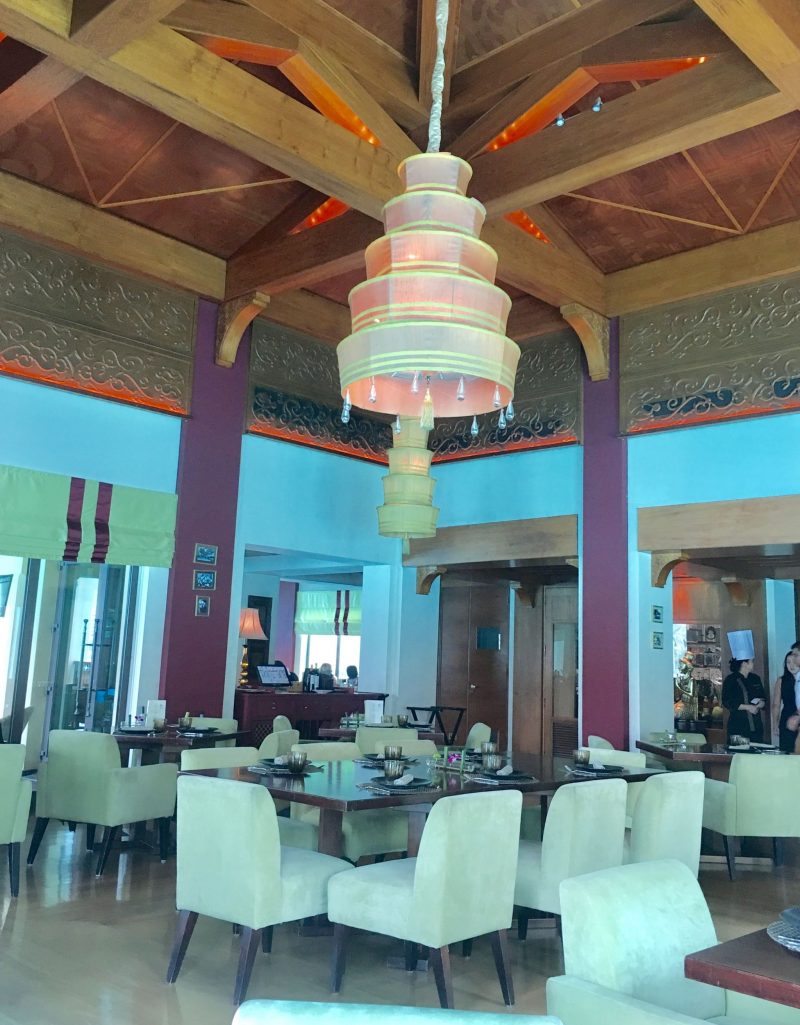 Food
Onto the main event, being a set menu brunch there's always that concern – will there be enough food? As with all Dubai brunches, there's never a need to worry. We were well catered for!
Starters
The brunch begins with Thai salads which are a refreshing and light start, always wise with a brunch. It's not a pick and choose set menu option so you get to try a bit of everything with all options being brought to your table in stages.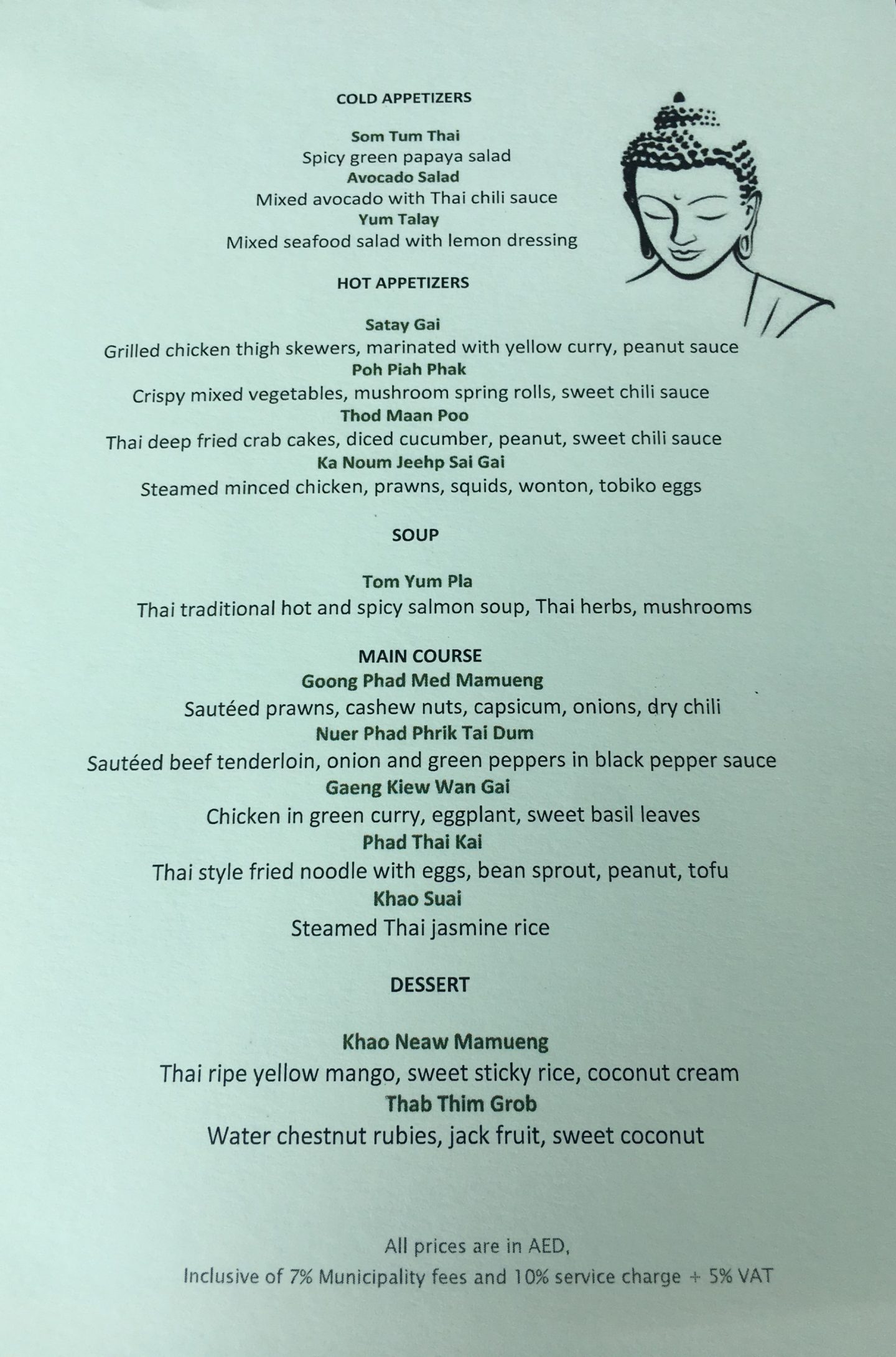 We really liked the seafood salad (Yum Talay) from the cold starters but if this isn't your thing then the staff are on hand to provide an alternative to this dish. We should also mention the prawn crackers, mandatory of course, but don't fill up too much on them as you'll want to save yourself. Again, if prawn crackers aren't for you then an alternative is provided. I thought the catering for dietary requirements was really great here so make sure you say if there's anything you don't like.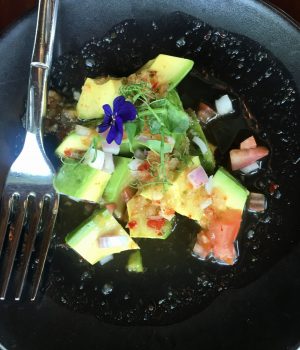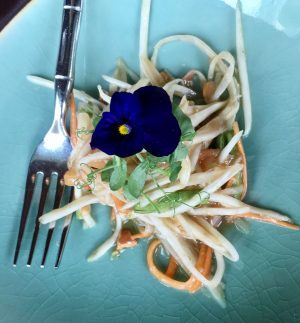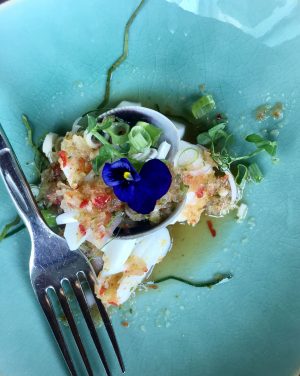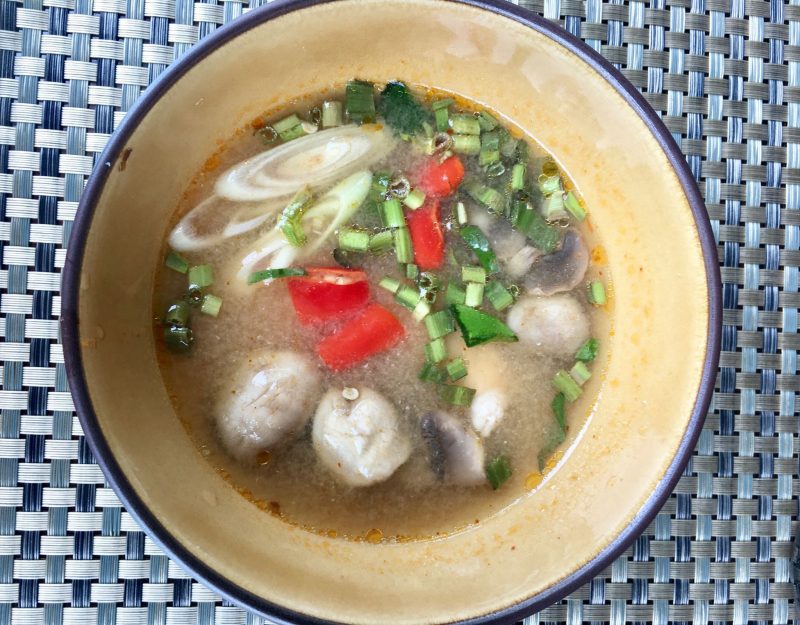 Next up was one of our favourites, a selection of hot starters. Not too overwhelming and beautifully presented we were treated to vegetable spring rolls, chicken satay, fishcakes and chicken and seafood wontons. Our favourites were definitely the satay and wontons. We made a note to order seconds at a later point. We thought we'd see how the next courses went first though because it sounded equally delicious!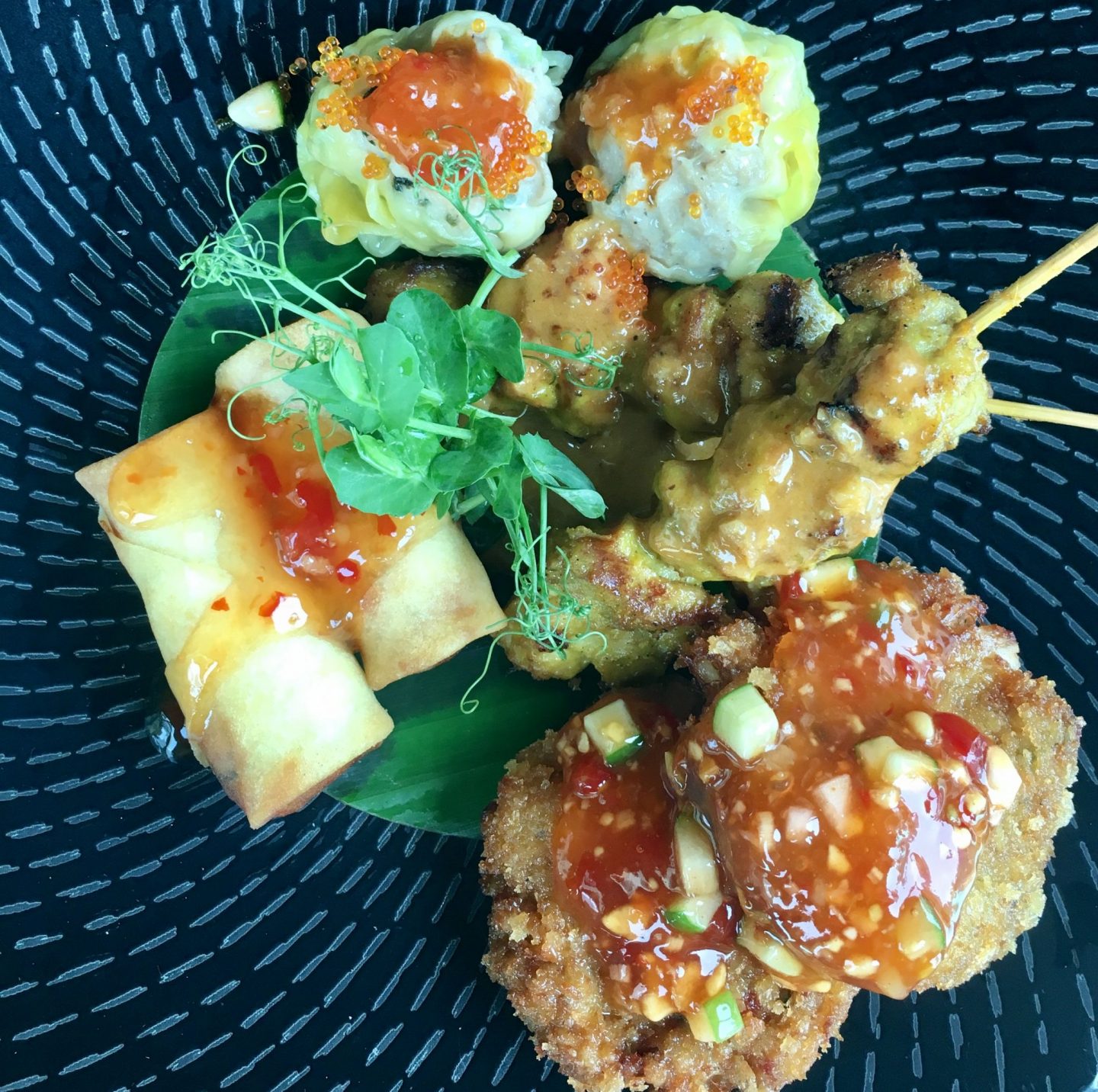 Before the mains, there was a final starter of soup. Warning: this is HOT!! It's delicious but a bit too spicy for me. You're asked on arrival what level of spice you'd like, we said medium only to be told that medium is still pretty hot so opted for lower. If this was the low spice option I've no idea what the hot one much be like! You've been warned!!
Mains
Onto the mains which were generously served, we didn't even really make a dent in the rice! The mains followed the same standard as the starters and were excellent. Dishes included a sauteed prawn dish, beef in black pepper, chicken green curry, phad thai kai and of course the rice. I loved all the mains and thought the selection was perfect. If I could have selected off the full menu I probably wouldn't have changed anything. Spice levels were a lot more manageable this time too!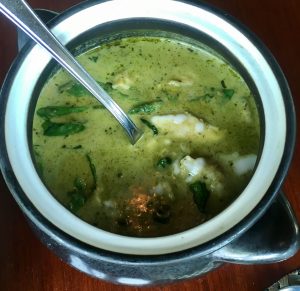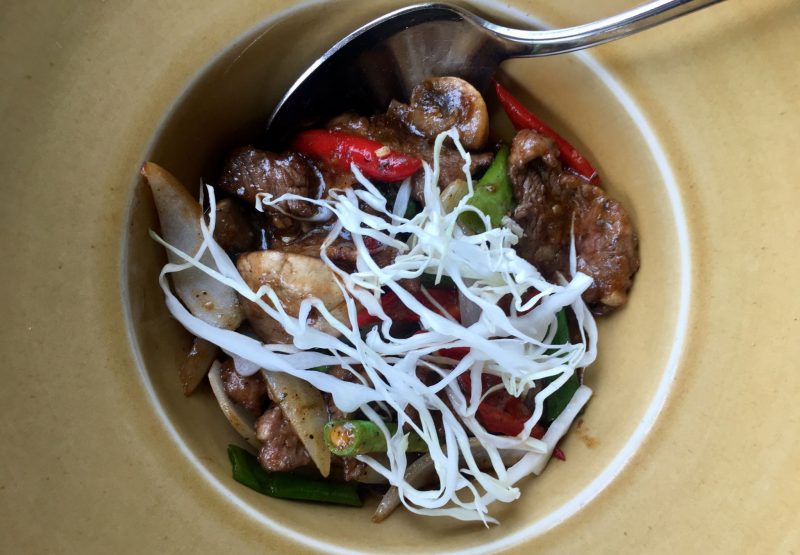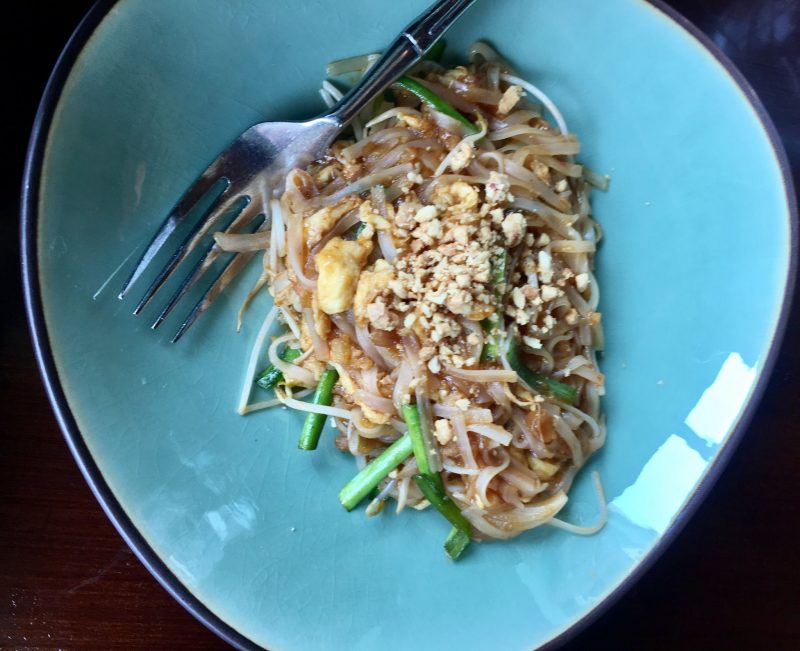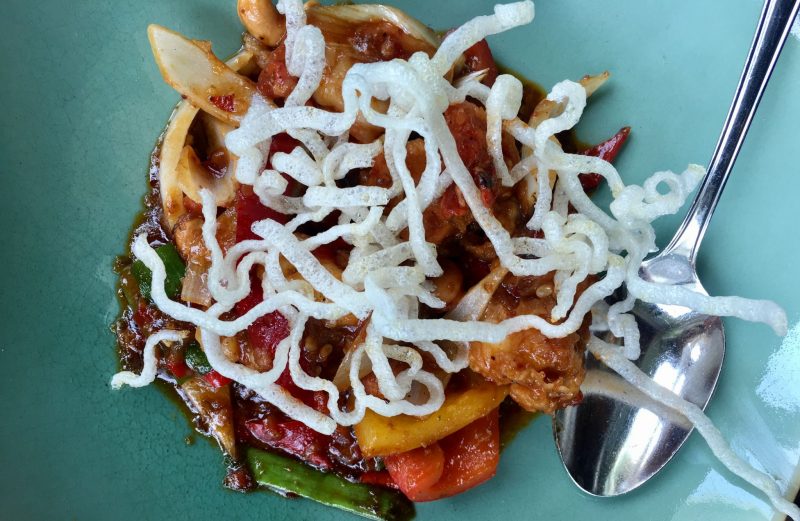 Needless to say we bowed out on the reorder of more starters. The amount of food provided is definitely ample even for hearty appetites like ours.
Desserts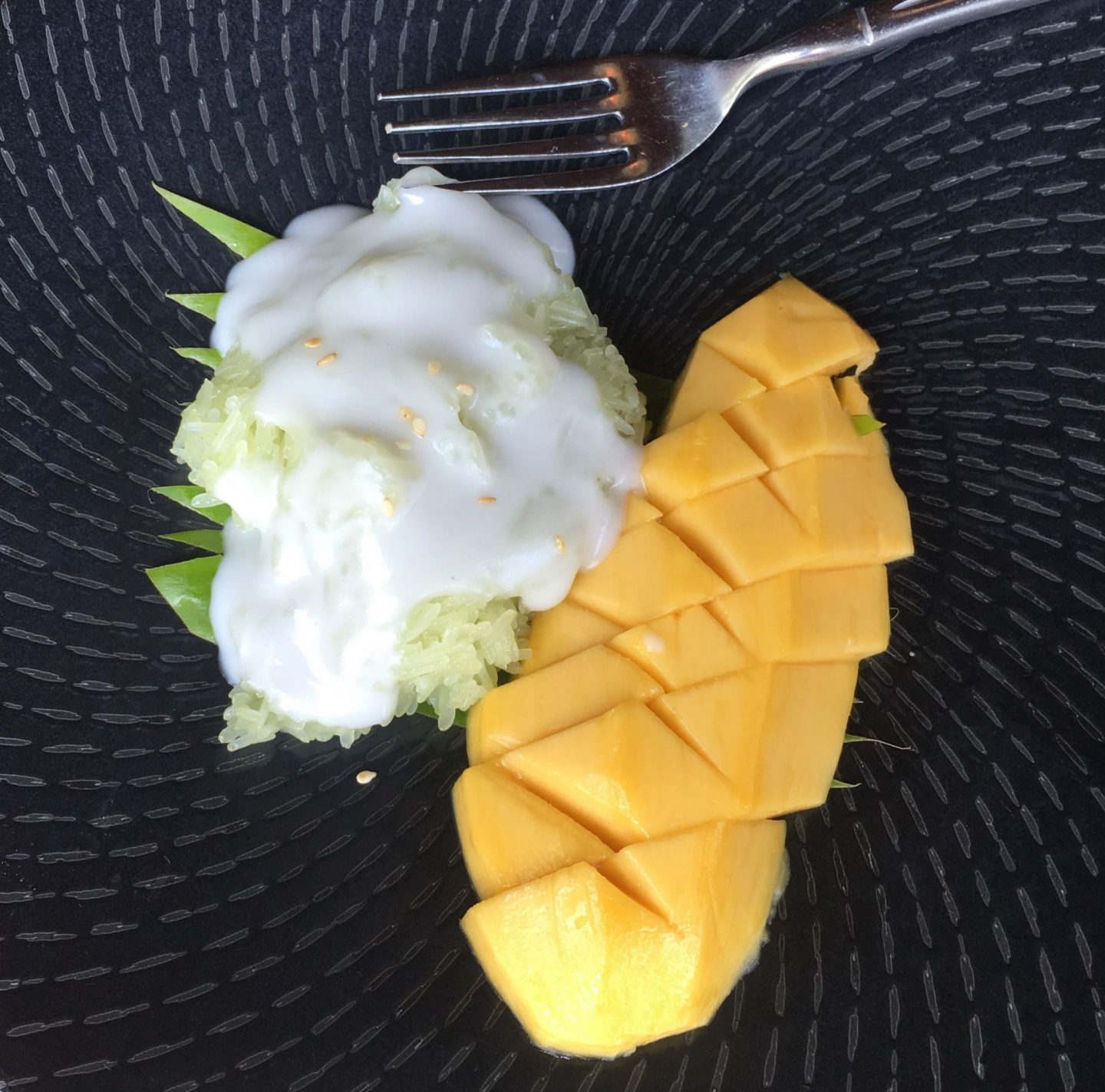 The final course – desserts. Two desserts were offered, Thai ripe yellow mango with sticky rice and coconut cream and water chestnut rubies with jack fruit and sweet coconut. I've got to be honest, I'm not a fan of Thai desserts.  Even if they were the most amazing offerings they'd be pretty lost on me sadly. We had them all the same, but the sticky rice was way too much after the rice overload of the mains.
Although you could be disappointed by the desserts if you have a sweet tooth, I honestly think it's probably for the best. If I'd been served sticky toffee pudding (or a similar favourite of mine) I would have felt compelled to eat it and left uncomfortably full (it was already close!). So in fact it was good not to be blown away by the desserts!
Drinks
We opted for the Soft Drinks package at AED 245 per person. The alcohol package is also pretty reasonable at AED 370 per person. There's a wide range of options available for both packages.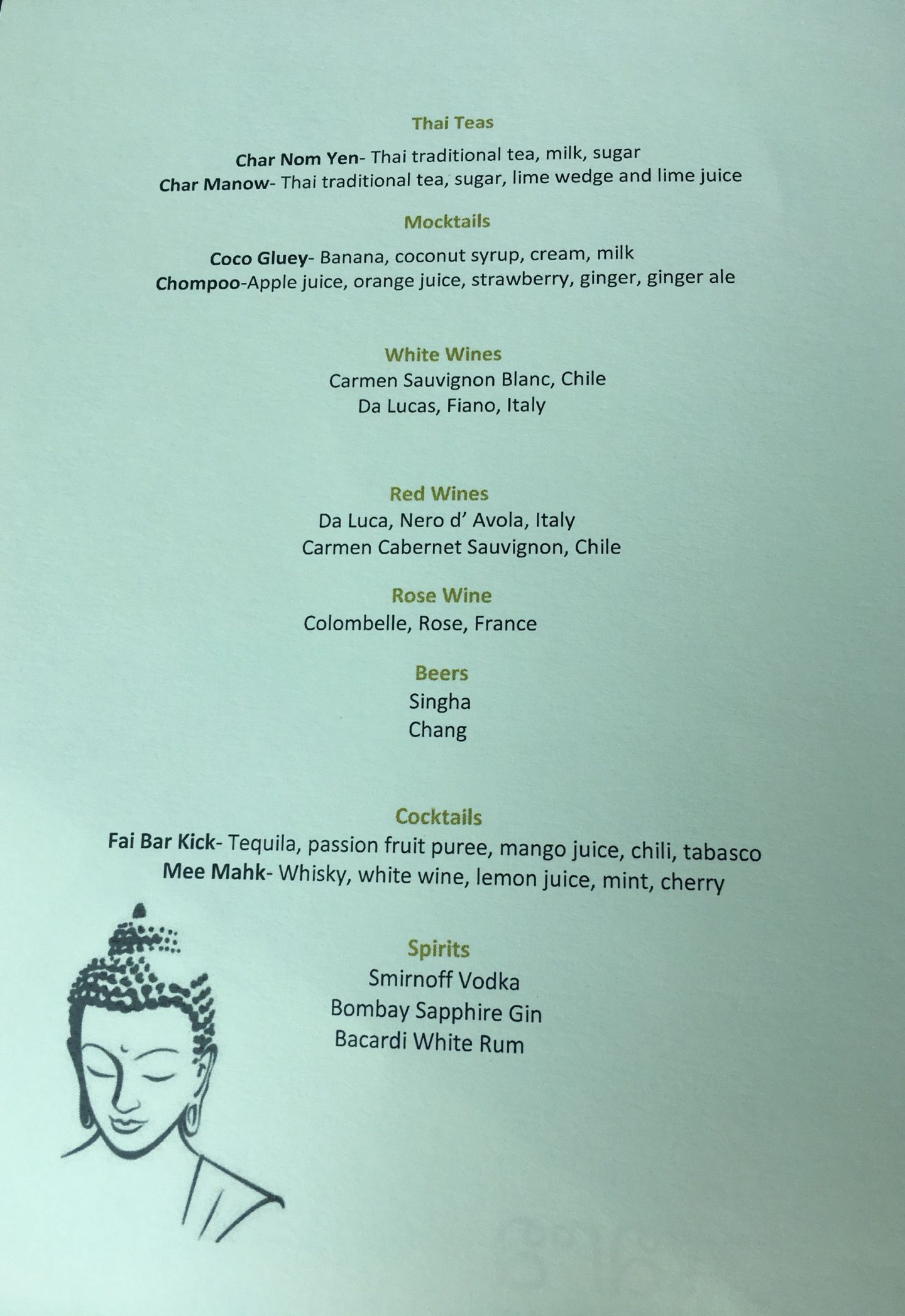 Value
This brunch is excellent value. Even without the 2 for 1 offer currently on the Entertainer (which makes it a real bargain!). What you get for the price is high quality and beautiful food in a wonderful setting. If you compare the offer to what you'd pay if you tried to recreate something similar at dinner, then you'd notice a considerable difference. That's before you take into account the price of alcohol.
If you want to continue the drinks post brunch, there's also an offer at Fai next door. For all brunch goers it's 25% off drinks during their post brunch happy hour. Fai is a great bar in it's own right as well (see our review here).

Overall
This is a great all round brunch if you love Thai food and are looking for a wow setting. It's excellent value as already mentioned, and the set menu is a lovely alternative from the buffet brunches. It's anything but a party brunch but the perfect choice for a date or to impress visitors.
The Guestbook's comment: "The best way to sample the delights and impressive food on offer at Thiptara without the price tag of dinner. Definitely worth adding to your list of brunches to try in Dubai"