Barbados is synonymous with luxury with its expensive hotels and restaurants, mega beach front villas and regular celebrity visitors. In a previous post I suggested how you could do Barbados on a Budget (click here).  This post, Luxury Barbados, presents suggestions for a luxury Barbados holiday where money is no object! My only hope of experiencing this is winning the lottery (the problem is I don't do it!!!), but I can dream.
When to visit
Over Christmas and New Year is when you see the paparazzi photos of the rich and famous at play in Barbados. This is the time when you are most likely to bump in to the likes of Simon Cowell, Philip Green and Jeremy Kyle on Sandy Lane beach! In that case perhaps you are best visiting in January or February!! These are the high season months to sample luxury Barbados at its best. The West Coast is buzzing, the restaurants and bars are busy, its prime time for people watching and most importantly the weather is pretty much perfect.
How to get there
British Airways offer a direct First Class service to Barbados from Gatwick, in early February this will cost £5,500 per person, Virgin Upper Class costs £3,800. These prices are substantially higher over Christmas and they sell out very quickly at this time!
However if you want the ultimate luxury Barbados holiday you can charter your own private jet at £60,000 each way!
Where to Stay
It has to be the West Coast otherwise known as the "Platinum" coast! This is where you will find the top luxury Barbados hotels. For those where money is truly no object who require their privacy, oppulent fully staffed beach front villas are the place to stay.
Hotels
Sandy Lane
Without doubt the most luxurious hotel in Barbados if not the Caribbean is Sandy Lane. It's also where you should stay if you want to mix with the rich and famous. We have had dinner there on a couple of occasions and always bumped in to a celebrity or two! It is a fabulous hotel with a beautiful beach front setting and superb service. The price per night for bed and breakfast in an ocean front room in February is £2,100 plus  10% service charge! Its a lot more over the festive season but you can never get a room, it gets booked up over a year in advance! Click here for their website.
Other hotels to consider for a luxury Barbados holiday are:-
All prices are based on stays in a mid-price room in February, 2019
Coral Reef Club
This is a stunning family owned 5 star property. A colonial style resort set in a glorious beach front location in lush tropical gardens. Old school service is the way its done here, with a high percentage of returning guests. Price of a room per night with breakfast £1,000. Click here for their website.
The Sandpiper
In the same ownership as the Coral Reef, this is my own personal favourite luxury Barbados hotel (and where I'd choose to stay if I could afford it!). Located near to the shops, bars and restaurants of Holetown.
Smaller and less formal than its sister hotel, the Sandpiper is set in beautiful grounds with 2 swimming pools and an outdoor restaurant.
Harold's Bar is an island institution and serves a mean Rum Sour! The new beach front suites are exquisite, if only!!! Price of a room per night with breakfast £1,000. Click here for their website
Fairmont Royal Pavillion
Situated on beautiful Alleynes Bay, in my opinion the best beach on the island and where we spend most days. The Royal Pavillion has a half mile of pristine golden sand with all the rooms having stunning ocean views.
The ground floor one bedroomed suites with your own personal butler would be my choice of room for a luxury Barbados holiday. A short walk up the beach brings you to one the best restaurants on the island Lone Star (more about that later). Price of a room per night with breakfast £1,250. Click here for their website.
Villas
There is a huge range of luxury villas available to rent from traditional beach front mansions to striking modern designs. I have just included a few examples of what is available if money is definitely no object!!!
Greensleeves
Once owned by the Rausing family, Greensleeves is more of a beach front estate rather than a villa. Sleeping up to 18 guests on beautiful Gibbes Beach set in 3 acres of tropical gardens, Greensleeves is probably the ultimate rental property in Barbados. As you would expect the villa is fully staffed. There is a 30 metre pool with its own island and swim-up bar, a cinema, a gym and children's wing.
The cost to stay in Greensleeves is an eye watering £9,500 per night plus taxes! I suppose you could argue this is comparable with luxury hotel prices if there were 18 of you sharing!
The Dream
This would be my choice (and Kate's as it happens) if money was no object! The Dream is a modern luxury villa sleeping 10 people. It has a 45 foot infinity pool over the sea with a huge wrap round terrace with stunning views.
It is situated in an area known as The Garden which is home to some of the most exclusive properties in Barbados. Rumour has it that previous guests have included Hugh Grant. The cost per night is £5,500.
Cove Spring House
Situated only a few doors down from the Dream is Cove Spring House, possible the most exclusive rental in Barbados if not the Caribbean.
A 10 bedroomed estate situated on coral stone cliffs with its own beach, accessible by others from the sea only (there are no private beaches in Barbados even for the mega rich!).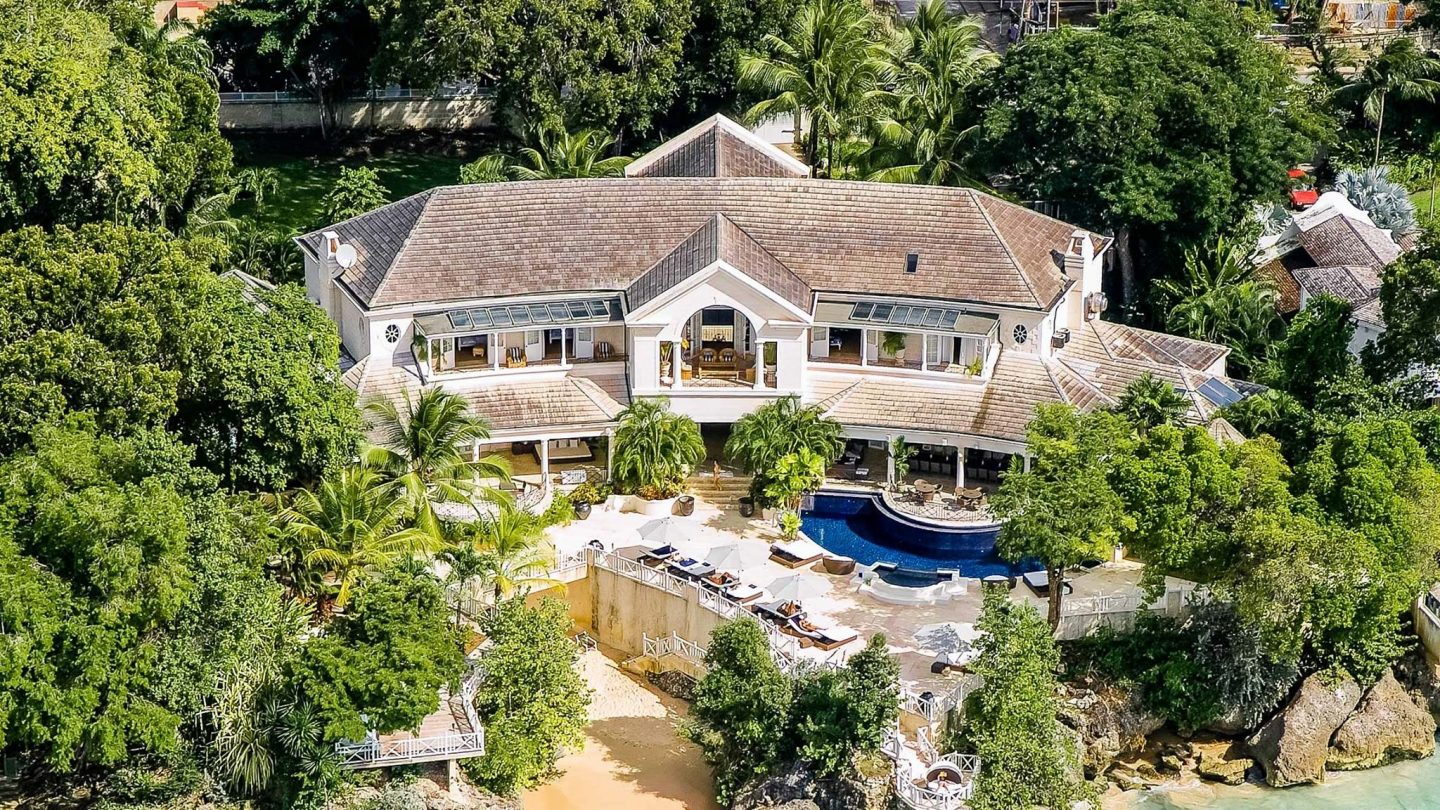 Built using coral stone this is the nearest you'll get to your own personal castle in Barbados. The cost,  wait for it!!!!, £15,000 per night plus taxes.
Luxury Barbados Restaurants
If you are renting a luxury villa you will have your own private chef so will probably eat in your villa quite often. However you can't come to Barbados and not try some of its famous restaurants. Here are a few suggestions for those not on a budget!
The Cliff
Probably the most famous and most expensive restaurant in Barbados if not the Caribbean as a whole. The Cliff as the name suggests is situated in a stunning cliff top setting. A railside table is a must, but do book early. To be guaranteed a good table in February you should book before Christmas! For a full review of the Cliff click here For their website click here
Cost for a 3 course dinner, pre dinner cocktails and a bottle of wine (one of the cheapest!) £375 for 2 people.
The Lone Star
My favourite Barbados restaurant! We always return here on our visits to Barbados. Michael Winner called this the Ivy of the Caribbean and it is very popular with visiting celebrities. I just love the setting and ambiance of the place. It's chilled and relaxed with incredible views of the beach and Caribbean Sea.
It's not as formal as some of the other West Coast restaurants but it is very elegant and definitely a must for that luxury Barbados trip. It has a few rooms too, at a very reasonable (by luxury Barbados standards) £750 plus 10% service charge! For their website click here
Cost for a 3 course dinner, pre dinner cocktails and a bottle of wine is £240 for 2 people.
Tides
Situated on the boardwalk in Holetown, Tides has been a popular luxury Barbados restaurant for many years. Originally a beach front home, the elegant coral stone and mahogany restaurant is a stunning setting in which to sample some excellent seafood dishes. The cocktail bar is a great place for a drink whether you are dining or not, displaying work by local artists, anything that takes your fancy you can buy!
Cost for a 3 course dinner, pre dinner cocktails and a bottle of wine is £250 for 2 people. For a link to their website click here
Hotel Restaurants
All of the luxury hotels mentioned above offer luxury dining in the hotel restuarant. Prices will generally be similar to Lone Star and Tides except Sandy Lane where a themed buffet evening at the informal Bajan Blue restaurant with drinks and wine will cost about the same as the Cliff – £375, and dinner in their more formal a la carte restaurant L'Acajou about £425.
Other Luxury Barbados Activities
For me the ultimate luxury Barbados holiday would need to include stunning accommodation, superb food, good wines, and plenty of time for relaxation. However some people get bored easily or like to keep themselves busy. So a couple of suggestions for luxury activities.
Private Luxury Catamaran Charter
Seaduced offers 2 luxury catamarans and 2 power boats which are available for private charter. You plan the itinerary for the day. There is a private chef on board who will prepare lunch designed for your personal tastes. The bar will be stocked with your preferred wine and spirits. You even get to choose your own playlist. Price on application!!! For more information link to their website by clicking here
Private Tour to the Grenadines
Chantours based at Sunset Crest Mall in Holetown offer private catamaran or yacht charters exploring the Grenadines. You can take in Mustique, Petit St Vincent or the newest luxury resort – Canouan Island.
Your day can be totally customised to your personal tastes. The price, if you are planning a trip like this you shouldn't need to ask!!!!
The Guestbooks Comment:- "Some suggestions as to what luxury Barbados has to offer if money is no object! I have eaten in all of the restaurants and hotels featured so can give an informed opinion. However like most other visitors I have to settle for just a taste of Barbados luxury on each visit! Next time its got to be Sunday Brunch at Sandy Lane, I've already started saving!"
No freebies have been offered or provided by any of the establishments featured in this post!