A question I get asked time and time again is "Is Barbados expensive?", my honest answer is "Yes". However you can do Barbados on a budget and here are some tips to save you some money on your Barbados trip.
When is the cheapest time to visit Barbados?
To do Barbados on a budget the best time to visit would be in September or October. However this is when you get the most rain and the highest risk of hurricanes. Although saying that Barbados does not normally get the hurricanes that some other Caribbean islands suffer from. The other problem with September and October is that you will find a lot of restaurants and hotels closed for holidays and maintenance.
I would recommend May or November/early December. The weather is superb and you can save at least 50% on accommodation costs compared to the peak season from mid December through to Easter. You will also find flights cheaper as long as you avoid school holidays.
Are there any cheap flights?
Barbados is not served by budget airlines unlike some other long haul destinations. However you can get cheaper flights by comparing airlines, departure airports, and the date of your flight.
Virgin Atlantic and British Airways fly to Barbados from Gatwick every day throughout the year, with BA offering 2 flights per day in peak season. Virgin Atlantic also fly from Manchester a couple of times a week. TUI also offers flights to Barbados from the UK. An example flight from Manchester in November with Virgin or TUI is about £650.
Watch out for the BA and Virgin sales when considerable savings can be made particularly off peak.
Where should I stay?
If you want to do Barbados on a budget then the South Coast is probably going to offer you best value. The 3 star Infinity on the Beach for instance in St Lawrence Gap with a beautiful beach front position, 2 pools, a spa and restaurant has rooms available in September for £72 a night, doubling in price to £143 per night in February. There are even cheaper options with guest houses and studio apartments available from £35 per night.
On the West Coast, also known as the Platinum Coast, where hotel prices are considerably higher you can still get an apartment in Holetown for about £60 per night in September. If you want a West Coast hotel on a budget the beach front Discovery Bay Hotel on Holetown Beach is one of a few budget options, with rooms from £95 per night in September. In February the price trebles to £297 per night!
Airbnb do have a presence in Barbados. However beware as most of the properties on offer are located in residential areas well away from the coast and tourist facilities. Make sure you check the exact location before booking.
Getting around?
Barbados is a relatively small island 21 miles by 14. No matter where you are staying on the island everywhere is fairly close by.
If you are doing Barbados on a budget the best way to get around is on the local buses. The service is excellent and you can normally get a bus to anywhere you want to visit on the island. Sometimes a change of bus is needed in either Bridgetown or Speightstown. Wherever you go it costs $3.50 BDS (about £1.20). There are blue buses operated by Barbados Transport. There are also the privately operated yellow buses otherwise known as the reggae buses. So-called as they are normally pumping out very loud music. Both buses charge the same price. You must try a reggae bus but hold on tight!
Other transport options are the ZR private mini buses, used predominantly by locals, and again costing $2 BDS. I personally have never used ZR buses as they always seem to be packed and are driven at extremely high speeds.
Taxis are reasonably priced, but make sure you agree the price before you start the journey. It is worth haggling! If you pick up a taxi at the airport make sure you go to the dispatcher first. You can't miss him when you come out of arrivals. He will give you a slip of paper with the the price for the journey and a copy for the taxi driver. Do not be tempted by the touts to use an unofficial taxi. You could get ripped off!
Car hire is generally expensive in Barbados compared to Europe and the USA. If you are with your family or group of friends and you want to tour the island it may be worth considering hiring a car for a few days. A small compact car will cost about £30 a day in September, but this can rise to more than £60 per day in February!
Is eating out as expensive as I've heard it is?
Barbados is known as the culinary capital of the Caribbean and also one of the most expensive places to eat out! If you choose to eat in top West Coast restaurants such as the Cliff a meal with wine can easily cost £150 per head. Even the more moderately priced restaurants on the West Coast will see bills easily topping £50 per head. So if you want to do Barbados on a budget you really need to choose where to eat very carefully.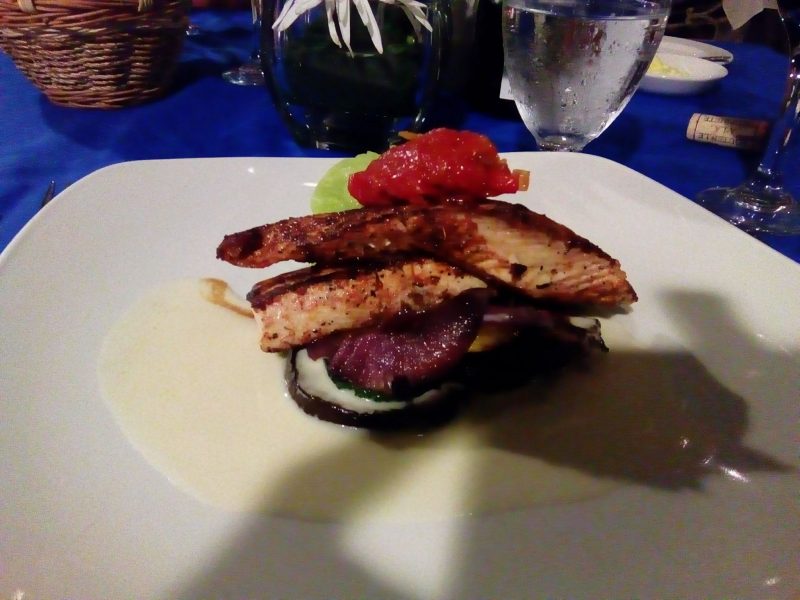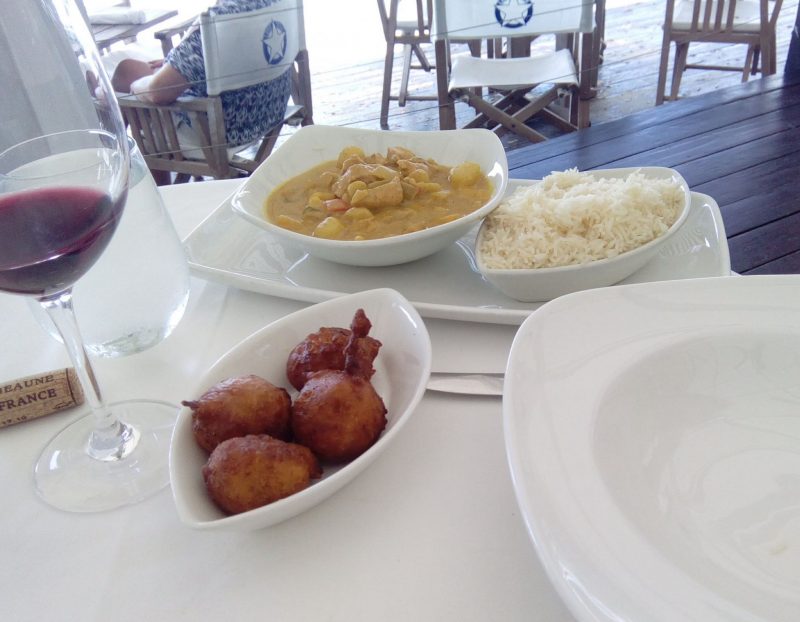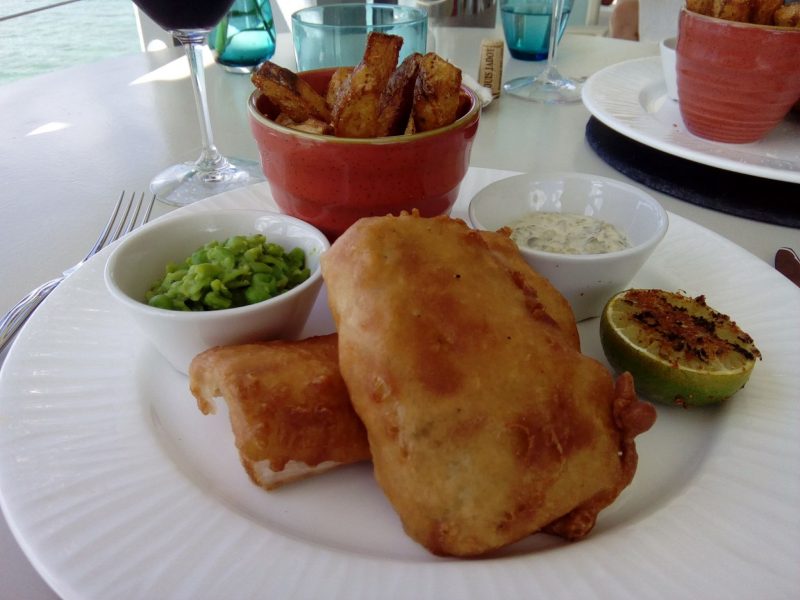 Again the South Coast offers more choice for the budget traveller. In Oistins there are numerous casual eating places where you can get fresh fish and other Bajan specialites such as macaroni pie. A filling meal will cost around £10. In St Lawence Gap there is a good choice of reasonably priced bars and restaurants. You will also find takeaway food available at foodtrucks where they serve Bajan snacks such as flying fish cutters (a bread roll stuffed with fresh fish), chicken rotis  and delicious fish cakes. Mr Delicious at Enterprise Beach and Cuz's Fish Shack at Pebbles Beach come highly recommended.
On the West Coast in Holetown, Surfside, Zaccios, Spago's and Just Grillin offer good food at fairly low prices. In Speightstown the Fishermans Pub is a budget option very popular with tourists and locals. You wil also see a lot of food vans in regular spots along the coast road. These vans are owned by locals who offer hot traditional food literally from the back of the van. They are very popular with locals particularly at lunch time. On the West Coast you will see vans regularly outside the uber-expensive Sandy Lane Hotel, at Sunset Crest and Trents Playing fields in Holetown and near the bus terminus in Speightstown. Get there early because they sell out fast!
If you need your fast food fix Cheffette is the place to go for burgers and fries, they offer eat in and drive through service, Barbados's equivalent to Mcdonalds! You'll find them all over then island, along with several branches of KFC.
Special eating out deals
If you want to try one of the more expensive restaurants you can without going over budget. In the summer months some restaurants offer a special menu priced at $99 BDS for 3 courses. For example on the West Coast Nishi in Holetown and up-market Hugo's in Speightstown offer a summer menu. Click here for an example menu from Hugo's.
Another way to save money is the re-Discover Barbados offer. You can pick up a voucher at the tourist office in Grantley Adams Airport or get it delivered to your accommodation. Participating restaurants offer 10% discount for lunch and at dinner a 3 course meal with wine for $99 BDS per person. I particularly recommend the Camelot Restaurant at the luxury Cobblers Cove Hotel for sampling the dinner offer. For more details of the re-Discover programme click here.
What if I'm self catering and want to cook in?
Like every country locally produced and grown food is cheap, imported food expensive. Unfortunately in Barbados most food is imported. Generally supermarket prices are on par with or more expensive than the UK. The major supermarket chain is Masseys and they cater for tourists. They even offer Waitrose branded items. Labels you are used to at home are very expensive. You are best going for the local brands, they are just as good.
You will see roadside stalls selling fruit and vegetables. Just beware they are not always cheaper than supermarkets, its definitely worth haggling. Don't accept the first price quoted. Fresh fish is a good buy. The best places to shop for fish are Oistins or Bridgetown on the South Coast and Weston or Fitts Village on the West Coast.
What about cheap drinks?
It depends where you drink and what you drink.
In traditional rums shops which you will find all over the island, you can get a rum and coke or a local beer for little more than £1. The same drinks in an upmarket West Coast bar or restaurant will cost you £5. Beer and rum is cheap to buy in supermarkets. You can also buy duty free rum and other spirits in the arrivals hall at Grantley Adams airport.
Many bars have a happy hour with 2 for 1 offers or reduced prices on all drinks. In Holetown Zaccios beach front restaurant and bar has a "long" happy hour! Its between 4-7 pm sometimes with live entertainment, great for sundowners. Surfside further along the beach also has a happy hour between 4:30 and 5:30 pm. On the south coast many of the beach bars and those in St Lawrence Gap also have happy hours.
Wine is expensive. The cheapest bottle in a restaurant will be about £25 fo a basic Chilean Merlot. Even in supermarkets wine is double what you would pay in the UK. The best place to get deals is in specialist wineshops such as Wine World in Holetown. They often have special offers with discounts of 20% on bulk purchases.
What about free or cheap activities?
If you plan to do Barbados on a budget you will be pleased to hear that there are plenty of things to do without spending a lot of money.
My favourite pastime on visits to Barbados is just walking the beautiful West Coast beaches. I love admiring the stunning beach front homes and just generally people watching, and it costs nothing.  All beaches in Barbados must provide free access to the public. So you can join the rich and famous on Sandy Lane beach, and see how the other half live on holiday. You can swim in the warm Carribean sea and snorkel with turtles and other marine life, close to the shore. Or rent a sun bed and brolly for the day for about £10. You can eat and drink inexpensively in a rickety beach bar such as Juju's on stunning Alleynes Bay.
If you want to be more active you can explore the stunning East Coast with its dramatic coastal scenery. You can go on guided National Trust Hikes in the Scotland District. for nothing.  You may even get to see the famous Barbados green monkey.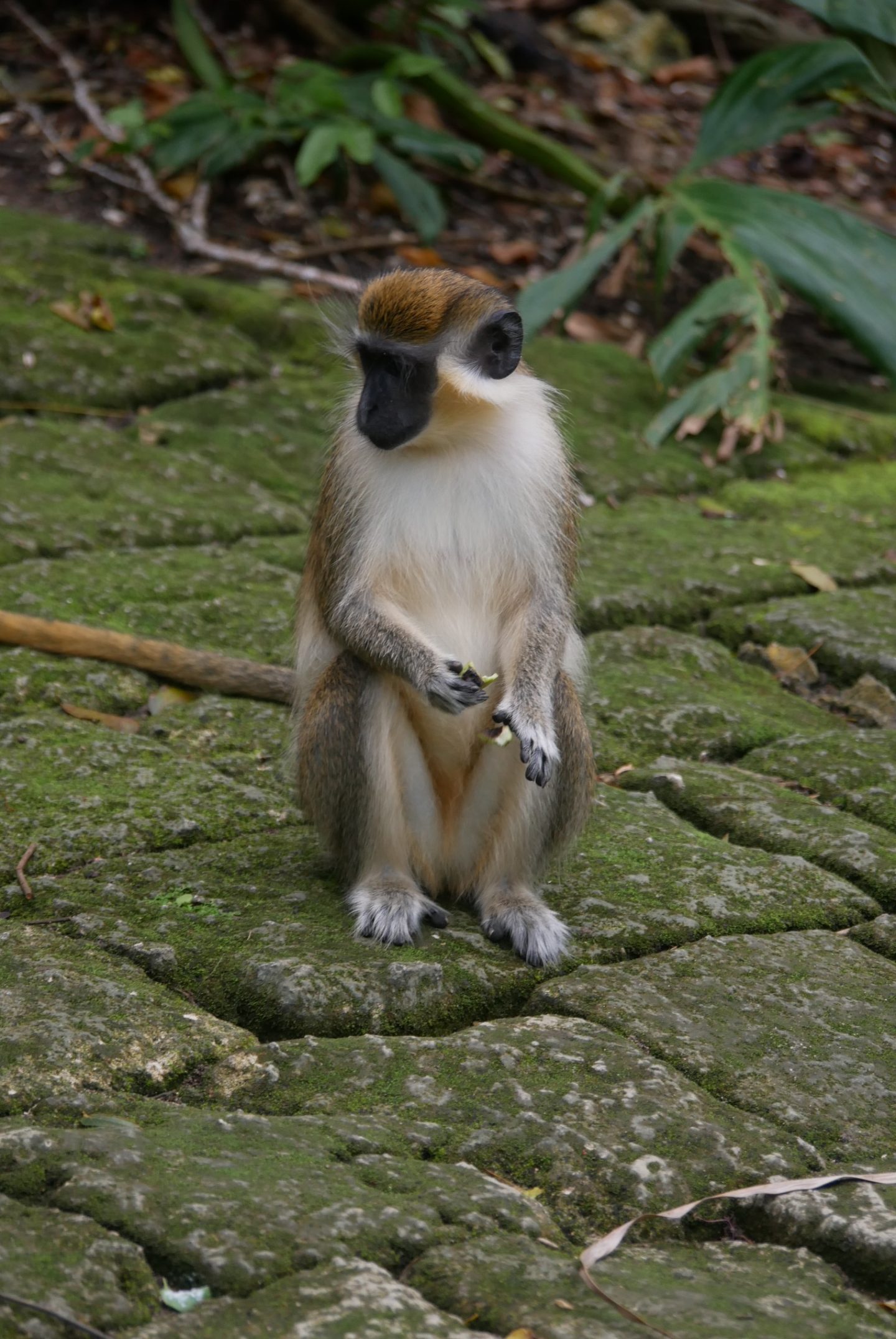 For a small entry fee you can visit some of the beautiful West Coast mansions when the owners open up their home and grounds for charity.
If you like your sport
For lovers of sport you can watch a local cricket match on Holders Hill, where the legendary Gary Sobers started his career. If you like horse racing, you can join the locals on the course at the Garrison free of charge. On the East Coast another free spectacle is watching the surfers taking on the huge Atlantic breakers in the famous "Soup" Bowl" in Bathsheba. For a small admission charge you can visit Kensington Oval for a domestic or inter-island cricket match. You can join the locals at a polo match at Apes Hill or Holders. Maybe not a sport you associate with budget activites but in Barbados a fun afternoon for everyone, and a great afternoon tea too!
For more information and ideas on what to do in Barbados on a budget click here for my top things to do post.
What about Nightlife?
There are plenty of free or low cost night life options for you to do in Barbados on a budget.
On the south coast many of the bars and restaurants particularly in St Lawrence Gap have live entertainment. A Friday night at Oistins fish fry is a must with plenty of street music and entertainment, and cheap drinks and food. Definitely an inexpensive night out.
On the West Coast in Holetown you can listen to the Steel Pan band in Surfside on a Sunday night. From there you can join the famous Holetown street party where you can take part in karaoke and dance the night away with the locals. TML One Love Bar is a great spot for a Banks beer or a rum punch to really take in the atmosphere. The street party gets going on 1st and 2nd Streets at around 10 pm and goes on in to the early hours. If you get hungry there is a great Chinese takeaway Jins. It's inexpensive with extremely large portions, definitely enough to share.
Other options on the West Coast where the price of a drink will get you free entertainment include Nishi and the West Bar in Holetown. In Speightstown the Fishermans Pub and Little Bristol Bar sometimes also have live entertainment.
The Guestbooks Comment:- "Barbados does have a reputation as being an expensive flashy island. However its not just luxury hotels and super expensive restaurants catering for the rich and famous.  As you can see you can do Barbados on a budget and have a wonderful holiday without breaking the bank."
If like me you dream of winning the lottery and being able to experience the super luxury side of Barbados have a look at my Luxury Barbados post click here
No freebies have been offered or provided by any of the establishments featured in this post!