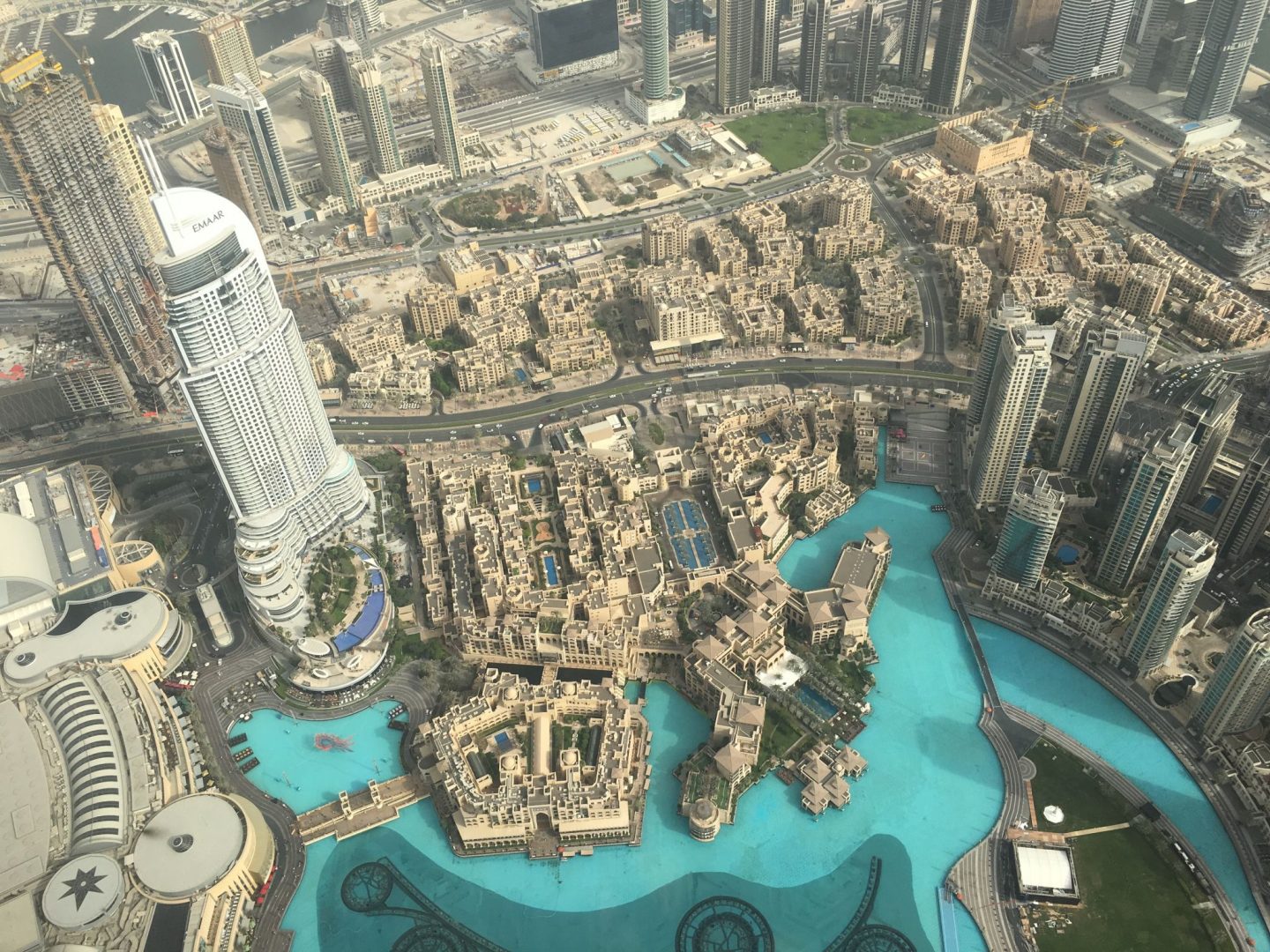 One of the top things to do when visiting Dubai is go up the Burj Khalifa. As the world's tallest skyscraper (for now!) it's very much a must visit as long as you have a head for heights. It was also one of the first things I checked off my Dubai bucket list when moving here.
But what's the best way to visit? I'd recommend skipping the crowds and heading straight to the Atmosphere bar in the Armani Hotel if you really want to do the Burj Khalifa in style (plus it can actually work out as better value!)…
Top tips for visiting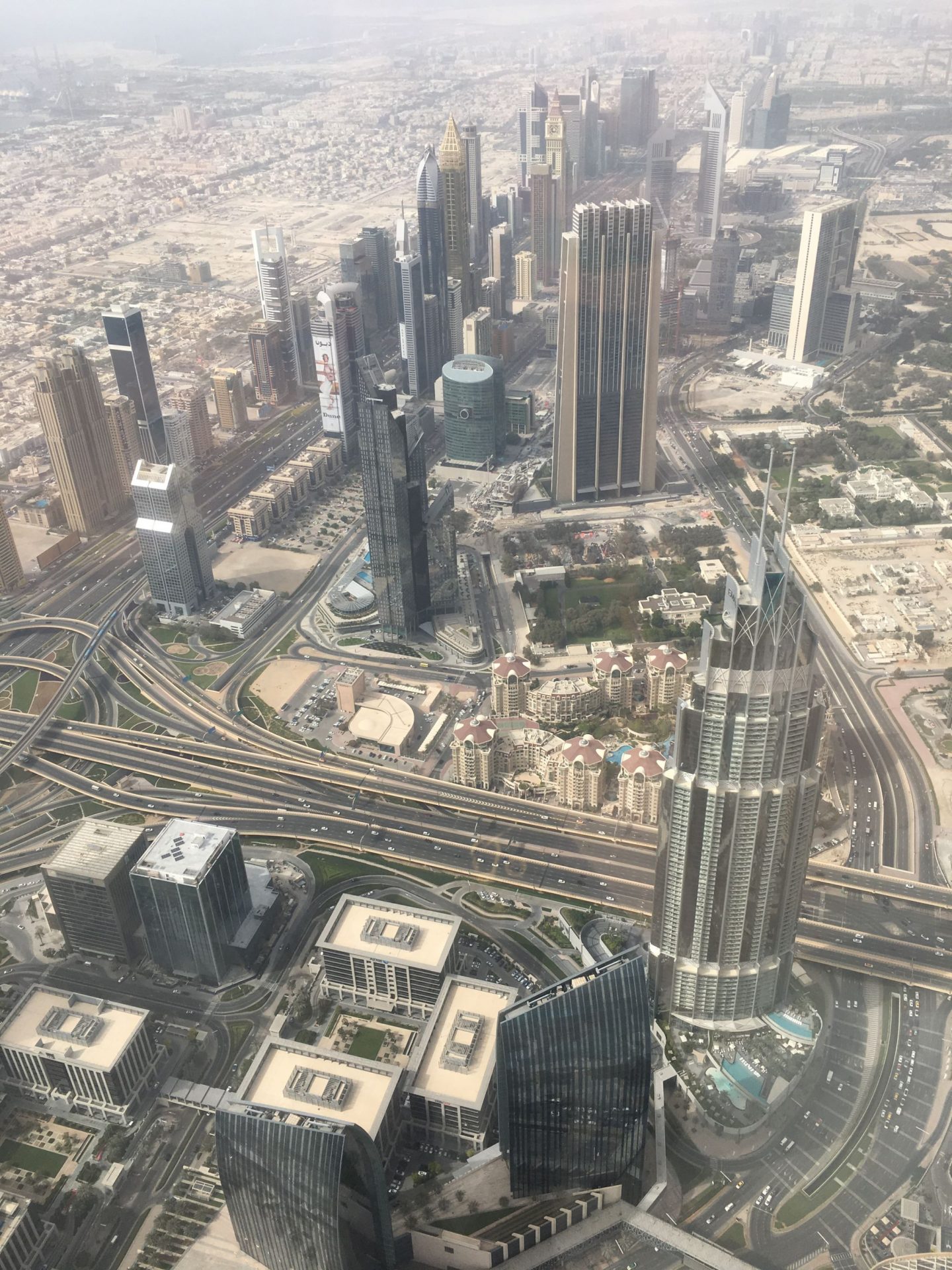 1. Go for drinks in Atmosphere Lounge
Let's be clear – it is expensive. But when you are already going to pay in the region of AED 200 to go to the viewing deck (if you want to go up in prime hours that is and you do), then you might as well pay a bit more for drinks with your view. There's a minimum spend of AED 320 for a window seat, which when compared to the normal entry cost isn't so bad when the whole amount can be spent on cocktails or food. Although if you are a night owl you're in luck. Double check in advance, but usually bookings after 11.30pm require no minimum spend!
For the best value for money, I'd recommend opting for cocktails. They also come highly recommend. You have two hours to take in the views and enjoy your drinks. You get access to the 122nd floor so you are 2 floors lower than the viewing deck but when you're already 100 floors up it's not really a deal breaker. The only thing you are missing out on is the 148th floor. This is the Sky Protocol experience that you can opt for. I've visited and it's lovely, but with costs between AED 350 and 500 to go up I still think Atmosphere lounge offers better value (and more of a treat!).
Want something other than cocktails? See below for the other options available in Atmosphere from breakfast to afternoon tea!
2. Go for sunset
Ideally try and time your visit with sunset because you get more for your money in the sense that you are seeing both the Dubai skyline in the daytime as well as at night. Sunset doesn't vary too significantly in Dubai from around 7pm during June to the earliest time of 5.30pm in December. There's allocated slots you can book into so the 5.30pm slot could be good if you'd like to see Dubai from above in the day and night. (Slots are allocated for 2 hours).
3. Dress up (and check the dress code!)
There's a dress code for Atmosphere so make sure you're aware of it (it will come with your email confirmation when you book as well as being on the website). Sandals are stated as not acceptable for women as well as men. I haven't got to the bottom of what exactly this means but I'd probably either wear heels or smart closed in shoes such as ballet pumps (I opted for the latter). Also men – make sure you wear trousers! From first hand experience, you'll turned away in shorts!
4. Give yourself plenty of time to get there
Obvious maybe, but especially if you are travelling by Metro and want to go to the Dubai Mall first – you are in for a maze. This only really applies if you are visiting Atmosphere Lounge or Restaurant because you can't use the dedicated entrance inside Dubai Mall that you'd normally go to if you had tickets to visit the top. We started to panic when we visited for the first time, we could see it but couldn't get there! You can get a taxi from inside the mall which sounds crazy but is recommend over walking (we walked and ended up going through loading bays!!). Bear in mind though that the taxi queue can be long so give yourself time! Don't underestimate that walk from the Metro to the Mall either, it really is a good 20 minutes.
If you're not visiting Dubai Mall beforehand then you can exit the Metro at the main entrance or at Emaar Square (you'll see signs for this as you start walking in the direction of the Mall). If you take either of these exits then you just have to walk up and cross over the road to get to the main entrance of the Armani hotel. Alternatively just stick with a taxi!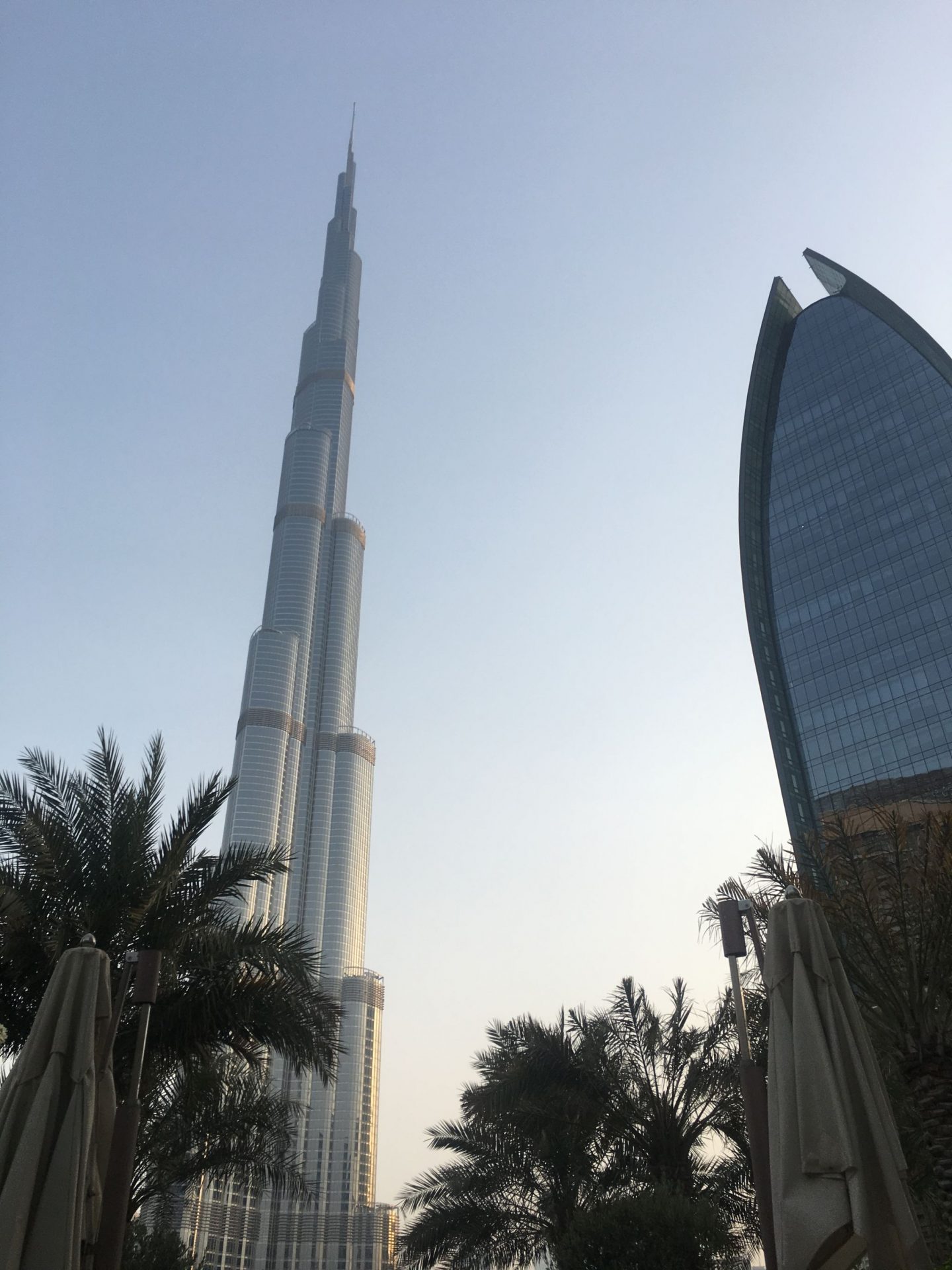 5. Pre book!
I mentioned it above but make sure you book, don't turn up and hope for the best. You might be extremely lucky but it's unlikely especially for the prime time hours and sunset drinks. You can email Atmosphere Lounge to make a reservation for drinks in advance and they are extremely helpful. Also if it's a birthday or special occasion then let them know! We went for Josh's 30th and they brought out a lovely cake to celebrate.
Other options at Atmosphere
Afternoon tea
If cocktails aren't for you, then there's also the option of afternoon tea in the Atmosphere Lounge. It's a similar price at AED 327 which includes a selection of sandwiches, scones and sweet treats, as well as unlimited hot and cold beverages (full menu can be viewed here). On the pricey side yes, but for afternoon tea in the tallest restaurant in the world, definitely worth it.
Atmosphere Restaurant – Breakfast
As well as Atmosphere Lounge, there's also the Restaurant that you can opt for which is open for breakfast as well as lunch and dinner. For breakfast there's a range of options from one off dishes to a full breakfast package that comes with continental, as well as hot options, and teas and juices. This latter option is a similar price to afternoon tea at AED 342. Again, not your standard cost for breakfast, but then not your usual location. A big benefit if you are an expat is that you can get 35% off the package with a valid Emirates ID – which is the perfect excuse to visit!
Atmosphere Restaurant – Lunch
Lunch also offers a good deal if you opt for the business lunch with 2 courses for AED 220. Bear in mind that drinks aren't included here so this could increase significantly depending on what you decide to drink!! See the business lunch menu here. There's also a separate a la carte lunch menu too.
Atmosphere Restaurant – Dinner
If you really want to do dinner then this does come at a cost with the 3 course set menu coming in at AED 680 (excluding drinks), add on more if you opt for the more luxurious tasting menus on offer. Definitely one to save for a very special occasion only perhaps!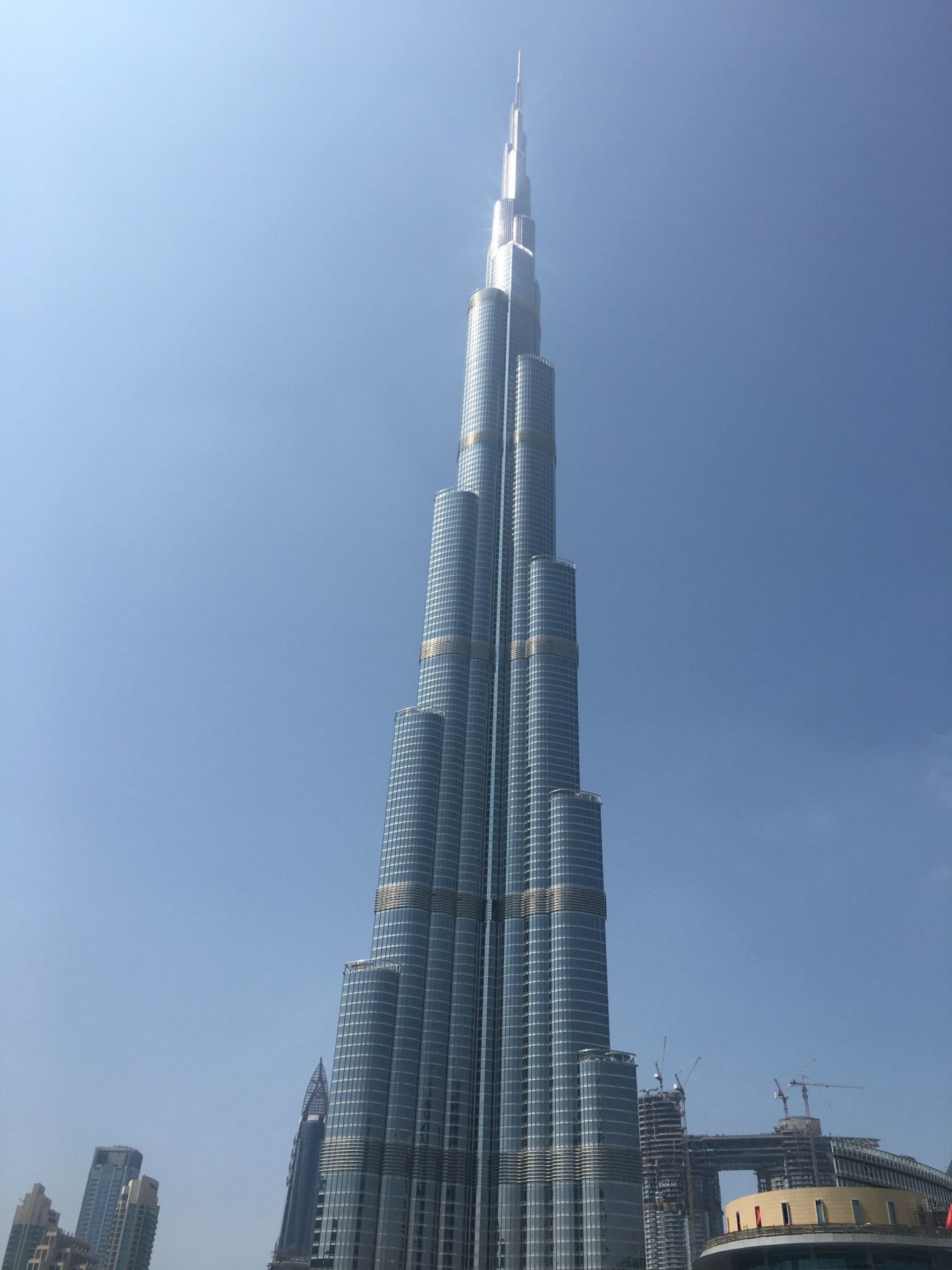 The Guestbook's comment: "The Burj Khalifa is definitely one for the bucket list. Although there's lots of ways to enjoy the experience, I'd definitely recommend visiting Atmosphere Lounge or Restaurant in the Armani Hotel as my favourite way to make the most of your visit."
No freebies have been offered or provided by any of the establishments featured in this post!