New Zealand is perfect for travelling with a baby. Yes there's the initial long haul flight to deal with depending on where you're travelling from. (Dubai for us so only 16 hours!!). But it's so worth it! Before going into details on each specific place we visited, I thought I'd share the itinerary we recently completed with 8 month old Jess discovering New Zealand for the first time across 3 weeks. If you're still contemplating the first big trip with a little one read this post for some top tips!
3 week itinerary for travelling to New Zealand with a baby
Although we designed this with Jess in mind (to make sure there wasn't too much moving around/long car rides), it really is suitable for anyone. Hopefully this 3 week itinerary covering both the North & South Island gives you a good flavour of New Zealand.
3 nights in Auckland
Our first stop was Auckland following a very long (did I mention the 16 hours?!) direct flight from Dubai.
Regardless of whether you are travelling to New Zealand with a baby or not, I'd recommend 2/3 nights minimum. Especially if you have a long flight like us to adjust to, it's best to get over the jet lag before continuing on your adventure.
Auckland has lots to offer too so it's worth spending a few days exploring the city. You can either get a hop on hop off bus or if weather permits it's also easy to explore by foot. Although note it is quite hilly!!
What to see and do
Must visit areas are the Central Business District (CBD) which hosts the trendy Britomart area filled with boutiques and cafes, as well as the iconic Sky Tower and Sky City area. A favourite spot for food and drink with a view is the Viaduct Harbour front which is a close stroll away.
Other neighbourhoods to include in Central Auckland are the cafe favourite Parnell and Auckland Domain. The latter is a lovely park area which is perfect for a stroll).
Also no trip is complete without a boat ride to the very beautiful Waiheke island. Voted in the top 10 islands to visit by Travel & Leisure, you really should take a day to explore it. From vineyards through to beach walks (and fish and chips!) it has lots to offer.
Here's a suggested outline for how to spend your days in Auckland, for a more detailed plan, see this post here:
Day 1 – Auckland Central
Explore Auckland's Central Business District and and have food and drinks at the Viaduct Harbour front.

Day 2 – Parnell and Auckland Domain
Stroll around Parnell and have a coffee and lunch in one of the legendary cafes. Then continue your walk in the beautiful Auckland Domain.

Day 3 – Waiheke Island
Spend the day exploring Waiheke Island either through the public bus service or the hop on hop off bus. The latter can be added to your ferry ticket. There's a range of stops to keep you busy from the pretty town, to beautiful beaches, and of course wine tasting!
If you have more time in Auckland then Mission Bay and Devonport should also be on your list as areas worth exploring.
Is Auckland baby friendly?
We found Auckland to be really baby friendly. We opted to stay in an AirBnB because it gave us more flexibility with Jess in terms of sleeping arrangements etc. I'd definitely recommend this. Also make sure that the accommodation you are looking at has a separate lounge area. Just so you're not creeping around after your little one has gone to bed. Some of the AirBnBs come well equipped with cots and baby chairs etc. if you ask ahead. Ours didn't but we found an excellent and really affordable option through Baby Travel NZ. They delivered for a small charge which really helped too.
Most places in Auckland had baby change facilities and high chairs and were really accommodating of Jess.
5-6 nights in Queenstown
Internal flights in New Zealand
Following our introduction to New Zealand in Auckland, we took a 2 hour internal flight to Queenstown. Internal flights in New Zealand are really easy and relatively affordable. I'd definitely recommend this option over driving long distances if you're travelling with a baby in New Zealand like us.
Queenstown
Queenstown always tops the list of stunning places in New Zealand and it's easy to see why. The flight gives you a glimpse of soaring peaks and the huge lakes on a clear day. There's so much to see and do here depending on your interests. It's also the place to be for extreme sports if that's your thing, not one for us with a baby!!
Queenstown itself is very pretty with views of Lake Wakatipu and the Remarkables mountain range. It's also a great place for skiing in the winter months. With Queenstown as your base you can explore further a field with lots to choose from including Glenorchy aka Lord of the Rings. There's also a bit of Wild West scenery to discover in the once gold mining capital of Arrowtown. The bakery here comes recommended too!
The Queenstown area also has its own wine region with Gibbston Valley being home to a number of impressive vineyards. Further away from Queenstown itself but worth a visit is Wanaka. Another pretty lakeside town, this is great for walks and you can also get your adventure sports fix here too!
Here's a suggested itinerary to give you a flavour of what this area has to offer:
Day 1 – Glenorchy and Paradise
Take in the scenery with a drive and walk in Glenorchy and nearby Paradise. The name says it all! Make sure you have the Lord of the Rings theme tune and music on! There's limited options in Glenorchy, but we had a lovely lunch and coffee at The Sugar Loaf Cafe. The Trading Post comes highly recommended too!

Day 2 – Queenstown
Explore Queenstown itself with a stroll around the town and a view from above with a trip on the gondola. Alternatively take in the view from the lake with a trip on the iconic TSS Earnslaw.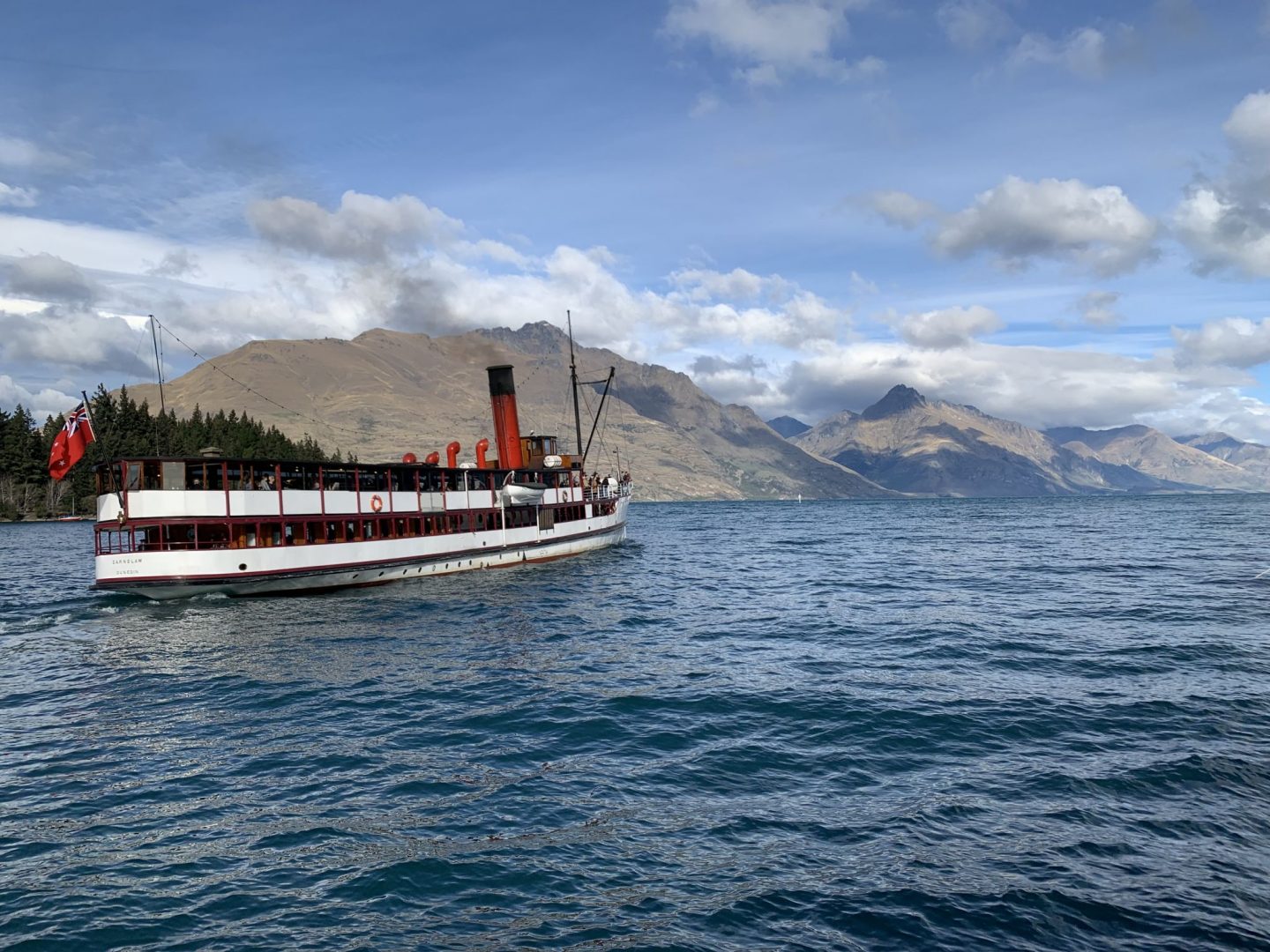 Day 3 – Arrowtown and Lake Hayes
Head to Arrowtown to explore the pretty Wild West style High Street and the Chinese settlement. The latter was home to the miners who worked in the gold mine and it's sobering to see how they lived.
If you have more time take a stroll around nearby Lakes Hayes. Also known as Mirror Lake due to the beautiful reflections it creates.

Day 4 – Wanaka
Drive further a field across the Cromwell Range to Wanaka. Spot the famous Wanaka Tree and take in the lakeside views and mountain backdrop.

Day 5 – Wine tasting day!
Head to Gibbston Valley to sample some of the wines on offer. Use the hop on hop off bus to get around. If wine isn't your thing try cheese tasting at the Gibbston Valley Cheese shop and book a lunch at one of the vineyards.
Milford Sound with a baby?
If you're travelling to New Zealand with a baby should you include Milford Sound? The Fjord is home to towering peaks, rainforest like waterfalls, and a whole host of wildlife. Although we were keen to visit, the main way to see if from Queenstown is through an organised coach tour. It's an early start and a good 5 hours to reach it before you get on a boat. With a baby we decided it was just too much.
If you are still tempted an alternative to reduce journey time is to head to Te Anau. You can do an overnight stay here and then do a self drive to Milford Sounds which is closer to 2 hours. This road does have avalanche risks during winter though. As we were visiting at the start of winter we decided it wasn't worth the risk to book it. If you are visiting another time of year it could be worth doing a night or two here as an alternative way to see Milford Sounds.
Where to stay in Queenstown with a baby
As already mentioned, one of our number one tips when travelling around New Zealand with a baby is definitely to opt for Airbnbs or similar. We stayed in one of my favourite AirBnBs in Queenstown – Cavell Ridge Apartment. It's got breathtaking views over Shotover River below and is really well equipped. Although connected to the owner's house ( it's on the lower level), it was very private. Jan, the owner, couldn't have been more helpful either. Leaving a cot and toys for Jess, as well as cakes for Mummy and Daddy!
She also provided some great recommendations for places to eat as well as eat in options (we tended to eat in most evenings). Pedro's Lamb from just down the road has to be a favourite take away from the whole trip! You also can't go to the Queenstown and not eat the famous Fergburger, very popular so expect a queue!
5 nights in Nelson
From Queenstown we took an internal flight via Christchurch to Nelson. Although you could drive it's close to 11 hours so we would have needed to do stops on route. We decided it would be better for Jess to spend more time in fewer places then be moving from night to night with long car journeys every day.
Nelson is based at the very top of the South Island close to the famous wine capital of Marlborough. It is often referred to as the sunshine capital of New Zealand. Sadly it didn't live up to its name during our visit and it rained pretty much everyday!! We still made the most of it though! Here's a suggested plan for seeing the most of the North of the South…
Day 1 – Nelson and Centre of New Zealand
Nelson itself is quite a large town and although not as pretty as the likes of Queenstown, it still has lots to offer. Grab a coffee and walk to the Centre of New Zealand. Technically (and confusingly!) not actually the centre, this hilly walk is still worth it for great views across the area.
Day 2 – Wine tasting and Mapua
Although Marlborough gets a lot of attention for its wines, Nelson also has a wide range of great quality wine to try. Even if you're not into wine tasting this area is pretty. You can also have a leisurely lunch at one of the vineyards too.
Alternatively head to the very pretty Mapua Wharf which has a small selection of good food options and views. We loved the fish and chips – possibly a bit of a theme on the trip! From here you can catch a ferry to Rabbit Island – home to a beautiful beach.
Day 3 – Abel Tasman National Park
Talking of beaches an absolute must visit when in Nelson is the famous Abel Tasman National Park.
With trails suitable for all, the Park is filled with beautiful sandy beaches, rainforest walks and incredible views. You can also get the water taxi between bays to see more of this incredible place. Definitely opt for a baby carrier here, it's not a pram friendly walk!
Day 4 – Marlborough
We had to include a visit to the Marlborough region to try the famous Sauvignon Blanc.
If you're travelling in season it's also worth a stop at Havelock, the Greenlip Mussel capital to sample a pot. If you want to walk off all the overindulgence then stop off at Cable Bay on the way back to Nelson for more wow views.
When planning to travel around New Zealand with a baby there's always that dilemma of the time you split between North and South. We decided to split it fairly equally so flew back to Auckland to explore more of what the North Island had to offer. Chris has already spent a month on the North Island (see this post) so we took some of his tips to plan this section of our trip!
3 nights in Rotorua
Although I loved everywhere I visited in New Zealand with Jess, Rotorua wowed more than most due to being like nowhere else I'd ever visited before. The town isn't particularly special but the attractions around it make this a must visit on a New Zealand itinerary.
Day 1 – Redwoods walk
Take a walk through the Redwoods Forest on the outskirts of town. Watch your step, you'll spend most of the time looking up in awe at the big reds that tower above you. There's walks for all abilities here. Grab lunch in town and then head to Kuirau park for a quick taster of the geothermal activity this area is so famous for!
Day 2 – Geothermal activity!
Dedicate your morning to one of the main geothermal sights. We chose Wai-o-Tapu but Te Puia is also great and has lots to offer on Maori culture and traditions too. Be prepared to be wowed by green sulphur lakes, bubbling mud pools and erupting geysers.
Who knew travelling to New Zealand with a baby would include a spa afternoon?! Well not quite. But you can sample the softer side of the geothermal activity with a visit to the Waiteke thermal spa. Jess loved it and you can control the temperature so it's definitely baby friendly!
One thing we didn't get a chance to do as they are often in the evenings is experience a traditional Maori Hangi dinner so this is definitely something to add to your list.
Coromandel – 2 nights
Our final stop on our New Zealand trip was the Coromandel Peninsula. Famed for its beaches and spectacular scenery, even though we were out of season we still wanted to include it on our list of places to see.
It's just under 3 hours from Rotorua. If you have more time it's definitely worth making a detour to Tauranga and Mount Maunganui. Famed as having one of the most beautiful beaches in New Zealand, you can walk up the Mount for fabulous views of the beach and beyond. There's various routes to suit a range of fitness levels, and lots of great places here for food if you want to break up your journey.
There's lots to see and do in the Coromandel itself, but as we were limited by time we headed straight there and concentrated on one area.
Day 1 – Hot Water Beach
We decided to stay near Hot Water Beach which is famed for its thermal qualities due to the hot water springs that run under the beach. This means that 2 hours either side of low tide you can grab a spade (or rent one) and dig yourself a hole in the sand which will then fill with hot water! It's a bit of a novelty especially on a cold winters day like the one we were visiting on! Be careful though as the water can get as hot as 64 degrees Celsius so check first!
You're spoilt for choice on beaches in this area so spend the rest of your day exploring nearby Hahei and take in the views from the hills overlooking the bay.
Day 2 – more beaches and Cathedral Cove
Another must visit sight nearby is Catherdral Cove. The benefit of coming out of season is it's a lot quieter and you can easily get a parking space (it gets VERY busy in summer!). Cathedral cove is beautiful so should definitely be on your list. A 40 minute walk will bring you to a stunning bay and archway through the rock. You might recognise it from a computer screensaver!! Again, opt for a baby carrier as there's a lot of steps to get down to the beach.
If you're still after more beaches then there's also Cooks Beach, the longest stretch of beach in the area, or travel further afield to New Chums beach, famed for being one of the most beautiful beaches in the world.
Following our time in the Coromandel we headed back to Auckland (just under 2 hours away) for our flight back to Dubai. It's fair to say we loved our time in New Zealand and it was definitely worth the very long trip to get here! New Zealand with a baby is totally do-able too and I'd highly recommend it!
The Guestbook's comment: "There's so much to see and do in New Zealand so be careful not to be too overambitious in how much you try and see and take the time to enjoy each area. This is especially true when travelling to New Zealand with a baby! New Zealand is really easy for family travel though and very baby friendly! More on travelling to New Zealand with a baby and further details on each stage of our trip coming soon on the blog!"