After our busy time in Cape Town sightseeing, it was time for a relaxing break to finish off our trip. We love food and wine, so where better to spend the last part of our trip than Franschhoek, in the Cape Winelands.
Franschhoek
Franschhoek is small town in the stunning Franschhoek Valley about an hour's drive from Cape Town. It is a recognised centre for food and wine throughout South Africa and indeed the world, so somewhere we had to visit. Kate and Josh had visited a couple of times and highly recommended it, in fact it is their favourite place visited in South Africa, so far!
Through the centre of the town runs Huguenot Street and here you will find a great choice of cafes, world class restaurants, shops and accommodation. The wine farms are situated across the valley, some within walking distance from the town centre, others further afield.
The scenery as you approach Franschhoek from Cape Town is amazing, towering mountains rising from the valley floor. It was love at first sight for Jane and I.
Our Franschhoek Hotel – The Last Word
After great stays in fairly large hotels in Dubai and Cape Town, we were looking forward to sampling a smaller boutique hotel in Franschhoek, but maintaining the luxury!
We certainly made a good choice with the Last Word. Kate and Josh had stayed in one of the sister hotels in Constantia, Cape Town, which they highly recommended. It certainly met our expectations and maintained the level of luxury we have come to expect on this trip. Situated on Huguenot Street the Last Word is a small but beautifully formed hotel.
The hotel driver collected us from Cape Town and the manager was waiting to greet us on arrival. I had booked a pool suite, which has its name implies came with its own private pool. Unfortunately with it being the start of winter in South Africa, we didn't make use of the pool, but the suite itself was gorgeous, very spaceous and a lovely place to chill and relax after our busy time in Cape Town.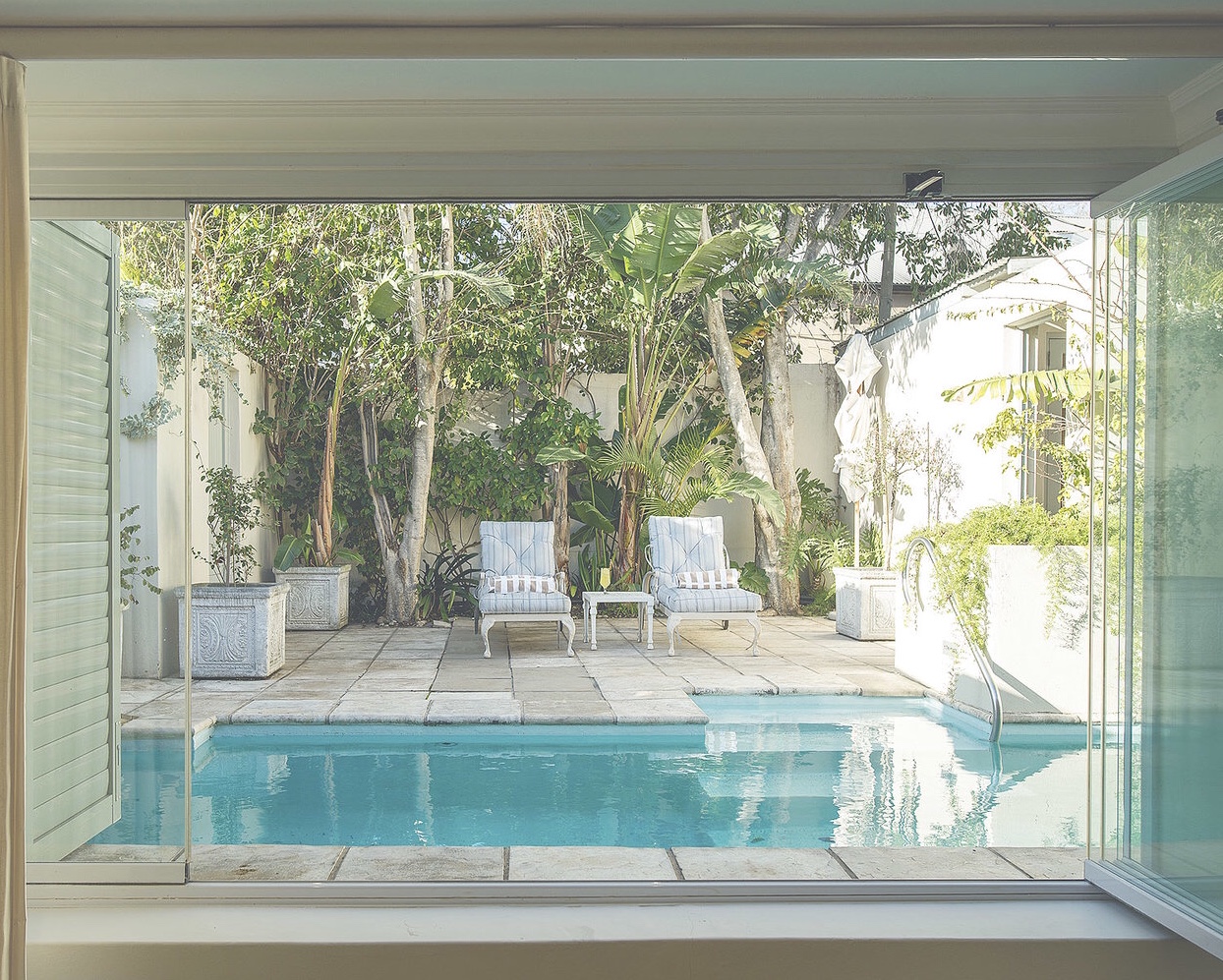 The hotel also had beautiful lounge areas with a complimentary bar!
There was also a larger swimming pool which I braved once during our stay and sun terrraces with beautiful views of the Franshhoek Valley. The breakfasts were exceptional and each evening with turn down you received a sweet treat; one night creme brulee, another home made chocolates, heaven!!!!
Day 1 – Exploring Franschhoek
Cases unpacked, time to explore! Didn't get very far, just next door actually where we discovered a great casual Italian restaurant, Col'Cacchio. It was lunchtime so we decided to try it. As we had booked a table for dinner later we just shared a delicious pizza and salad, accompanied of course with a carafe of local Franschhoek Valley wine.
The rest of the afternoon was spent wandering around the town centre checking out the shops, local crafts, art galleries, jewellers, food and wine and clothes, all excellent quality. Of course with my love of food, I had to check out every menu and there are so many restaurants in such a relatively small town, you will be really spoilt for choice!
Dinner at Protégé
This was another restaurant I had booked from the UK prior to our trip. Protégé is overseen by Scott Kirton who is chef proprietor of 2 of the best restaurants in South Africa – La Columbe and La Petite Columbe. Protégé offers the fine dining experience in a more casual environment at a more affordable price. I was very excited about trying this restaurant.
The restarant was modern but elegant, situated next door to its stable mate La Petite Columbe. Like the Pot Luck Club in Cape Town the kichen was open to the restaurant, with seating at the kitchen counter if you wanted to watch the chefs in action. Again like the Pot Luck Club it was a small plates style of menu to encourage sharing. As you would expect with the location there was an extensive wine list, very reasonably priced.
The Food
To start it had to be the home made sourdough and Asian style oysters, delicious. We also had our first try of an MCC wine. Méthode cap classique wines are South Africa's equivalent to French Champagne. Definitely as good as champagne and less than half the price! We followed with Kerala Fried Fish, a subtley spiced Indian style dish. The stand out dish was the KFC, not the fast food version, but Korean Fried chicken cooked in buttermilk and coriander. We also had an amazing cauliflower dish with an unusual combination of za'atar, kimchi, parmesan and wild garlic, it was good enough to make me a vegetarian. Our final savoury dish was a wild mushroom tart with fried onion marmalade, roasted tomato, sage and foie gras, very rich but delicious.
For desserts we shared a refreshing strawberry panna cotta with strawberry, meringue and geranium and chocolate terrine with peanut and rhubarb. Exceptional food and so reasonably priced. With the bubbly and a bottle of excellent Franschhoek Valley Pinot Noir, and a 12% service charge the total bill was equivalent to about £90. At a restaurant at this level in the UK you would be paying at least this, per head!
Day 2 – The Franschhoek Wine Tram
Day 2 and it was time to explore the vineyards in the Franshhoek Valley. As you have probably gathered by now Jane and I enjoy our wine so car hire was out of the question! You can hire a driver for the day or use Uber to get around, but on Kate and Josh's recommendation we decided to take the Wine Tram.
The Franschhoek Wine Tram has 8 routes. You travel either on a traditional open sided tram or open air tram bus. The tram routes cover 26 vineyards across the Franschhoek Valley. Some of these are in walking distance of the town, with others further afield.
The tram operates as a hop on hop off service with each line stopping at 7 or 8 vineyards along the route. In theory you can do 8 vineyards but we restricted ourselves to 4. To do 8 is for the very brave and we saw some sorry sights at the end of day where people had taken on the challenge.
The Orange Route
You can buy your tickets either on-line or at the wine tram kiosk on the main street in Franschhoek. For our first trip we decided on the Orange Route. This route (along with the purple route) is the longest of the routes.
Noble Hill
Noble Hill is about 25 km (40 minutes) from the tram kiosk. We had to visit this vineyard, primarily because Kate and Josh's surname is Noble. They had also raved about the wines here on their visit, but may have been biased!
We had our first tasting at 10:15am! 5 wines for R50, thats about £2.80! An excellent start to the day with some great wines, we partciularly enjoyed the Sauvignon Blanc. If you get to Noble Hill at lunch time there's a Mexican restaurant you can try, it was a bit early for us, Josh recommends the guacemole! The scenery from here on the slopes of the Simonsberg Mountains was stunning
Babylonstoren
The next stop just a few minutes from Noble Hill was Babylonstoren. This was on a different scale to Noble Hill, a huge wine farm with a hotel, spa and fine dining restaurant. Cellar tours are available and we were told the gardens were not to be missed.
Unfortunately we were on a tight schedule so there was only time for a quick look round the wine cellar and a tasting. The tasting room was beautiful, all wood and glass, with incredible veiws acroos the estate and the surrounding mountains.
The tasting here consisted of 6 wines for R60 (£3.40). We particularly enjoyed their Babel Red. This was one of the best tasting experiences we had, knowledgable and helpful staff and superb surroundings. Definitely a vineyard not to be missed.
Vrede en Lust
We arrived at Vrede en Lust at lunch time so rather than another tasting we decided to sample their wine with lunch at the Lust Bistro and Bakery. It was Sunday lunch and there were a lot of local people eating, so seemed like a good idea.
After an enjoyable casual lunch, burger for Jane and a spicy lamb curry for me, accompanied by a bottle of their Red Lady merlot, it was back on the wine tram.
Boschendal
Our last stop of the day was at Boschendal a wine estate reowned for its MCC wines. The Cellar Door wine tasting centre offers various tasting options including chocolate pairings! We decided to have a blow out here as it was our final stop of the day. Having not long had lunch we didn't fancy the MCC tasting so went for what they called the Playpen Tasting.
This was a tasting of more obscure wines which they claimed were of a higher quality than the basic tasting selection of wines. To be honest after our previous tastings and our bottle of wine at lunch, our palates couldn't really tell the difference. At R150 (£8.50), this was our most expensive tasting of the day, still good value for 5 wines though!
After 3 tastings plus wine with lunch it was back to the hotel for some rest and relaxation and prepare for our next day on the Wine Tram.
Day 3 – The Franschhoek Wine Tram
The Red Route
On the recommendation of Conrad our hotel manager we decided to try the Red Route next.
La Maison
La Maison is a smaller vineyard situated only 10 minutes from the centre of Franshhoek. As well as wine tastings it also offers whiskey tastings!
The attraction of La Maison for me is its home to one of the best resuarants in the area the Chefs Warehouse so I wanted to check it out for a lunch before we left Franschhoek. Obviously while we were there we had to try out the wines.
La Maison had a limited selection of wines. Mainly white, it just wasn't our best tasting of the trip.
Mont Rochelle
Our next stop was Mont Rochelle. A beautiful wine estate owned by Sir Richard Branson. The setting is absolutely stunning and one of our favourites. The wine tasting was on a terrace perched above the vineyards with amazing views of the valley and mountains.
Here we tried the 6 wine flight at R100 (£5.50).We particularly enjoyed the Mont Rochelle Little Rock red. The Country Kitchen restaurant at Mont Rochelle would have been a great lunch stop but we had been told about somewhere with even more stunning scenery!
Dieu Donné
After 2 tastings it was definitely time for lunch. Conrad our hotel manager had recommended Roca at Dieu Donné. He had said that it was here you would find the best views of the Franschhoek Valley and mountains. After the views we had already admired at our other stops we were sceptical they could be bettered!
Dieu Donné is situated high up on the mountain side overlooking the Franschhoek Valley. Conrad was right the views were absolutely amazing.
We decided to skip the tasting and have lunch in Roca. It was a beautiful hot sunny day so we were able to sit on the terrace and make the most of the views.
The food was as good as the views. We shared a Caprese Salad to start, Jane followed with the home made chicken curry. I then had a an unusual dish lemon and garlic snails, with sage and gnocchi topped with pecorino cheese, followed by a starter portion of duck risotto. For dessert I had a perfect chocolate fondant. With a couple of glasses of local MCC and a bottle of Pinot Noir the bill with service was about £65, just amazing value for a superb meal and setting!
Grande Provence
Our final stop for the day was another of Kate and Josh's favourites Grande Provence.
Yet another stunning setting from the grand entrance with the pristine vineyards and cypress trees framing the driveway leading to the visitor centre where you will find a tasting room, resturants and an acclaimed art gallery.
However we skipped the tasting here! Jane had something else she definitely wanted to see at Grande Provence that didn't have anything to do with wine! Grande Provence is home to the Cheetah Outreach Experience. This is a conservation project with a primary goal to reduce the threat of the extinction of the cheetah. For more information click here. It offers visitors the opportunity to get up close and personal with cheetahs at the centre, and as you can see below we definitely did do!
A surprising but fabulous end to another great day on the wine tram. For more on the Wine Tram have a look at Kate's post click here.
It was another night in taking advantage of our lovely hotel to relax and enjoy the luxurious surroundings.
Day 4 – The Franshhoek Pass
It was getting near to the end of our stay in Franschhoek. As the weather forecast was not looking good for our final day we decided to take advantage of the sunshine and explore further afield.
After breakfast the hotel arranged a driver to take us out of the town of Franshhoek to the top of the Franshhoek Pass and the Mont Rochelle nature reserve. Once again when you thought you'd seen the best, the scenery and views from the top of the pass were superb. Its definitely not a road for the faint hearted with some sheer drops down in to the valley but its definitely worth the short trip out of town.
Le Lude
On our way back to Franshhoek we asked the driver to drop us at Le Lude a wine estate situated just on the outskirts of the town. Le Lude only produces MCC wines and reputedly some of the best MCC wines in the world. Obviously the tasting at Le Lude was sparkling wines only. We went for 3 wine flight which included the Brut, Brut Rosé and Vintage Cuvée at R190 (£10.50). All 3 but particularly the Vintage Cuvée tasted as good as any French Champagne.
A short walk back in to town for a delicious casual lunch of pasta and meatballs at Col'Cacchio. This was followed by a few hours by the pool to take advantage of the hotel facilities and the sunshine.
Supper at Tuk Tuk
In the evening we just took a stroll along the main street in Franscchoek.There is so much choice of bars and restauarants you could stay for a month and eat somewhere different every night. You can see why its known as the gourmet capital of South Africa!
We had a big lunch planned for the next day so we headed to the Tuk Tuk Microbrewery for a couple of beers and some Tex Mex food. You actually sit in the brewery where you can watch the brewing process in action. Its very popular with the locals, who all seemed to be discussing the general election which was due to take place the next day!
Day 5 – a rainy day in Franschhoek
Our last full day in Franschhoek. We woke up to torrential rain and thats the way it stayed all day, typical weather for election day.
Following a leisurely breakfast, umbrellas at the ready, we braved the elements to do some last minute shopping. For a small town Franschhoek definitely punches above its weight on high quality shops. We could easily have filled another suitcase but we restrained ourselves and just bought a few momentos for ourselves, family and friends.
Lunch at the Chef's Warehouse
I was determined to get one final "special meal" in before we left South Africa. I had read a lot about the Chef's Warehouse with some rave reviews. There are actually 3 Chef's Table restaurants established by the celebrated South African chef, Liam Tomlin. One in Bree Street, Cape Town, another in Beau Constantia and fortunately for us the third at La Maison vineyard in Franschhoek.
Even though the weather was awful the setting and views from the restaurant, looking over the vineyards to the manor house with the mountains in the background was stunning.
The Food
The menu changes every day and depends on the ingredients available and at their best on the day. Its an 8 course shared plate tasting menu for a minimum of 2 people. I felt sorry for the American lady on the table next to us who had to eat the full meal for two, she managed though!
Once again we had an amazing meal. I didn't have a clue what some of the ingredients were but every dish was delicious. Some were a bit "out there" for Jane's tastes but we still managed to get through the 8 courses, plus a couple of pre lunch savoury amuse bouche and a dessert! It was a long leisurely lunch ideal for a rainy day in Franschhoek.
Stand out dishes included the Venison Tataki, the MCC & honey infused duck liver pate, the truffle and parmesan risotto and the Karoo Lamb. With a couple of glasses of MCC and a good bottle of Pinot Noir the total bill came to R1400 about £80. It was astounding value for money!
Back to the hotel time to pack, a few drinks in the lounge, our final Last Word sweet treat and an early night.
Day 6 – Homeward Bound
And so we had reached the end of our trip. An hour's transfer to Cape Town airport then an 18 hour flight back to the UK, including 2 hours at Dubai! A long flight but once again Emirates were excellent.
Well what a way to celebrate my birthday. A wonderful week in Dubai for my main birthday celebrations. I was spoilt rotten by Jane, Kate, Josh and Jess with loads of birthday gifts and surprises. Our first hotel of the trip The Grosvenor House, a truly superb hotel. If you are visiting Dubai I highly recommend it. For more on Part 1 of the trip click here.
Then Cape Town, what an amazing city! The scenery around Cape Town and on the Western Cape was stunning, particularly Table Mountain, Chapman's Peak and Cape Point. Amazing food and wine and such good value! Another great hotel the Belmond Mount Nelson, again highly recommended if you are planning a trip. For more on Part 2 of the trip click here.
Then last but not least beautiful Franschhoek. A great way to end a fantastic trip. Again the food, wine and scenery were breathtaking and our hotel The Last Word a relaxing and luxurious way to end our amazing Dubai and South Africa Trip.
The Guest Books Comment: "What a way to end our amazing trip. Franschhoek is a must if you are visiting South Africa particularly if like me you are a lover of food and wine! I feel we have only scratched the surface of this amazing country, cant wait for our next visit."
No freebies have been offered or provided by any of the establishments featured in this post!