Wine tasting just after 10am? Totally acceptable on the Franschhoek Wine Tram.
On arrival our B&B host kindly pointed out the cafes that did good coffee. However he soon added that after 10am the only acceptable option is wine. Straight away we knew we would feel right at home here.
To really do justice to the wines of Franschhoek then the wine tram is definitely worth experiencing.
What is it Franschhoek Wine Tram and how does it work?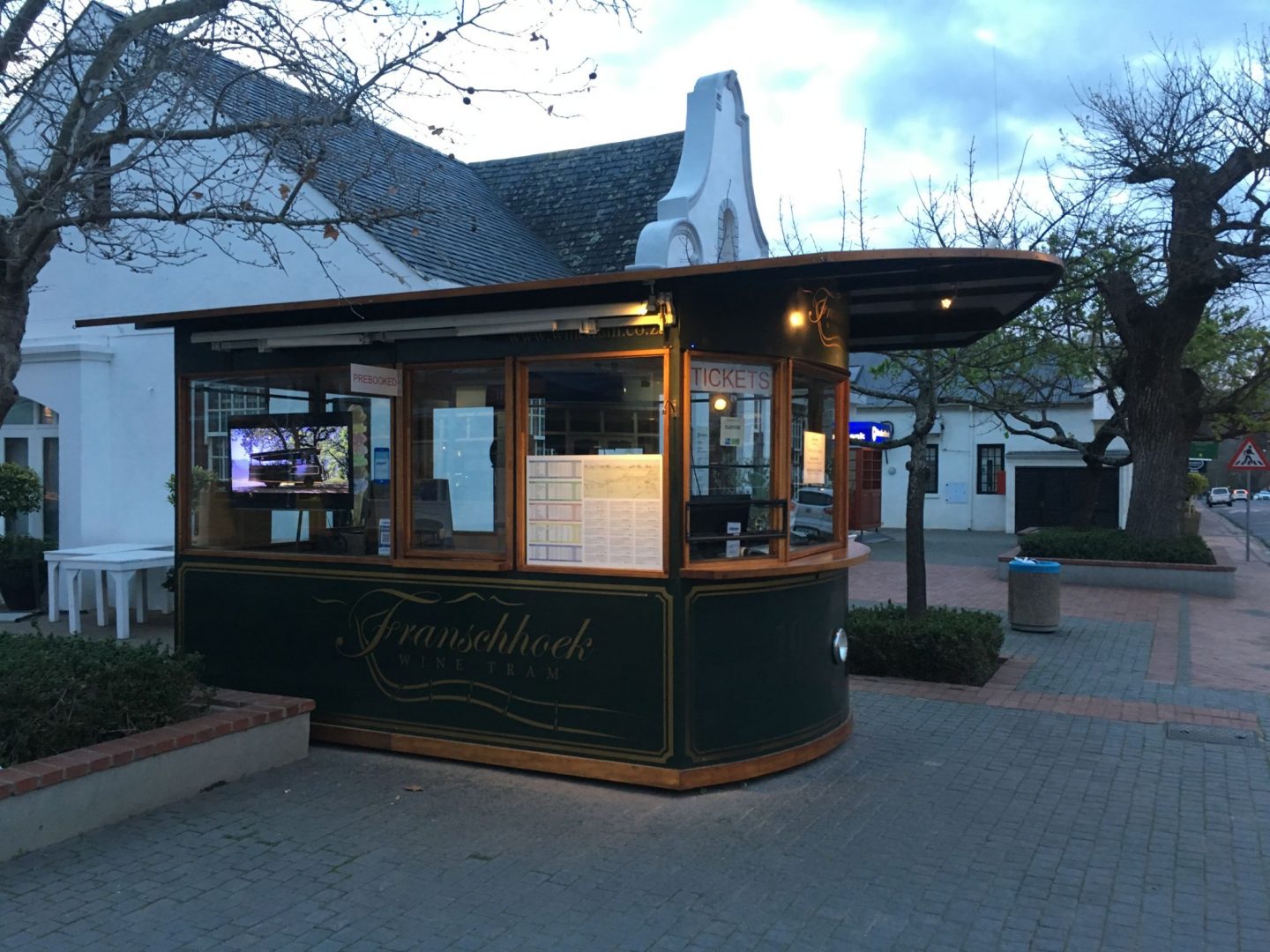 The wine tram covers the Franschhoek area of the Cape Winelands as well as Simondium which is close by. For more information on the different wineland areas to help you plan your trip then have a look at our full guide and recommendations here.
The term tram is actually a bit deceptive as it's more of a bus depending on which line you take, but it's a novelty nevertheless and a great alternative to driving. The only other option if you are feeling energetic is hiring bikes but we opted for the tram! You can leave at 10am and visit around 6 vineyards throughout the day. The tram then leaves again on the hour every hour from each vineyard.Bear in mind that you'll lose a stop the later you start the route. For instance a 11am start means only 5 vineyard stops are possible so it's best to start early.
Which Wine Tram route should I pick?
There are six colours depicting the different routes that you can take. Some are very similar, with the same vineyards but in a different order. For instance the Orange/Purple route, Blue/Green route and Yellow/Red route are essentially the same. This is helpful as it narrows your choice to three options. 
I was excited to try the Orange/Purple wine route (as it had a vineyard called Noble Hill included!), but as we were visiting out of season not all routes were operating. It's best to check online in advance to see availability. In peak season it's definitely advisable to book too, and even out of season it can get pretty busy.
We opted for the Blue route (also the Green line but in a different order) and were not disappointed. 
You can pick and choose where you stop (there's 8 wine farms in total on this route to pick from). It's worth noting that once you've passed one you can't go back! There's an hour in between stops at each wine farm, so ample time for wine tasting.  You can also book ahead and take an extra hour if you fancy lunch somewhere. Many of the vineyards offer amazing food options from informal picnics to fine dining restaurants.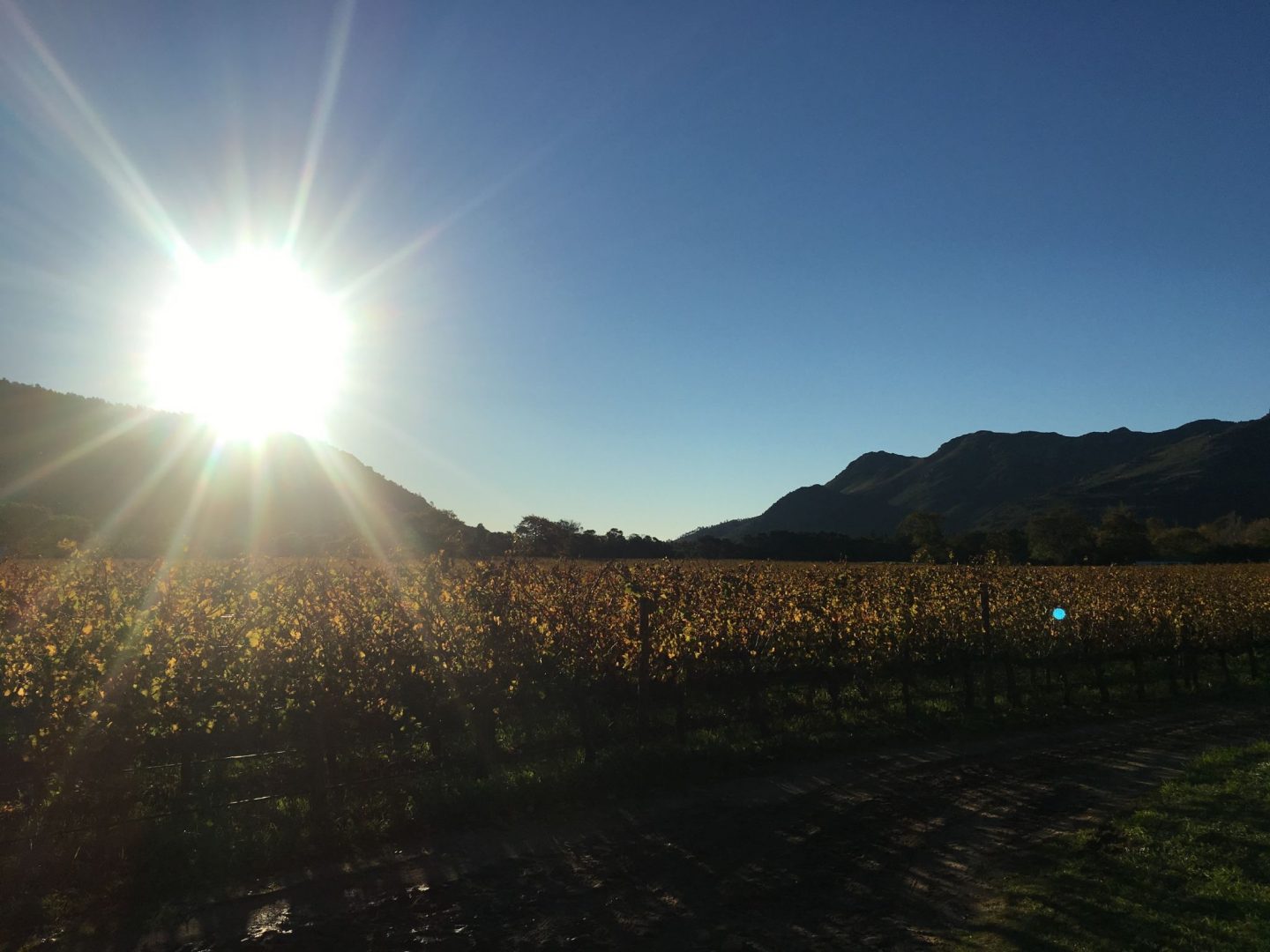 How much is the experience?
The experience is pretty reasonable at R220 per person (just over £12). This doesn't include wine tasting but being part of the tram often gets you reduced wine tasting rates at some of the wine farms. In general the cost for wine tasting at all wine farms is really good value and ranges from R30 – R90. The tram will store all your purchases until the end of the day too so you don't need to worry about looking after them. The Wine Tram also offers speciality curated tours, as well as transfers to and from Cape Town if you're not staying in the area. To find out more contact them directly.
The vineyards – wine farms on the Green/Blue line
First stop: Mont Rochelle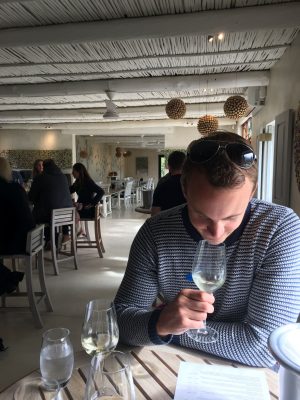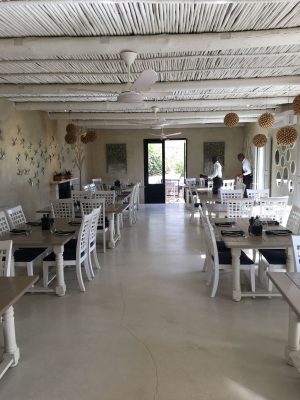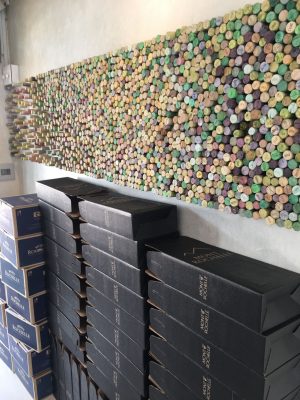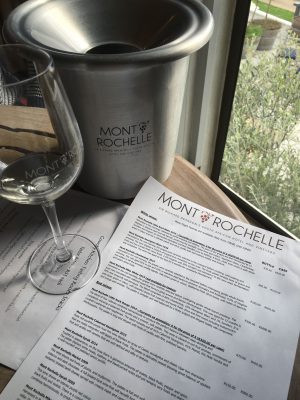 Not far from the centre of Franschhoek, Mont Rochelle is famous for being Richard Brandon's wine estate. Alongside the famous owner, it also offers some amazing views across the valley due to it's positions on the slopes of Franschhoek. The interior here is lovely. Modern with lots of interesting displays creatively using wine corks for the art work. There's food on offer here too but as it was our first stop so we focused on the wine. 

Wine tasting review: 
We opted to take it steady and go for the 3 wine flight of white wines (R50 per person). There's also a 5 wine flight on offer (R75) and premium tasting of some of their more expensive wine (R95). They also offer gourmet tasting paired with canapes (R145). If you want a tour of the wine cellar then this is available for free but must be pre booked ahead of your visit. 
For the tasting itself, you get a fair measure to taste and an overview of what to expect from each from the knowledgeable staff on hand. You can choose to do the tasting inside or on the terrace, which are both beautiful. We were impressed Mont Rochelle and it was a great start to the wine tram!
Second stop: Le Lude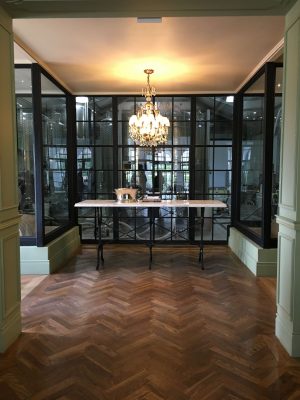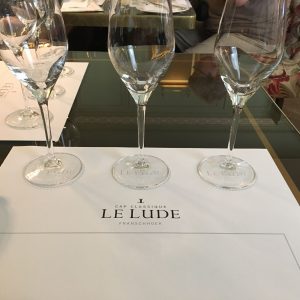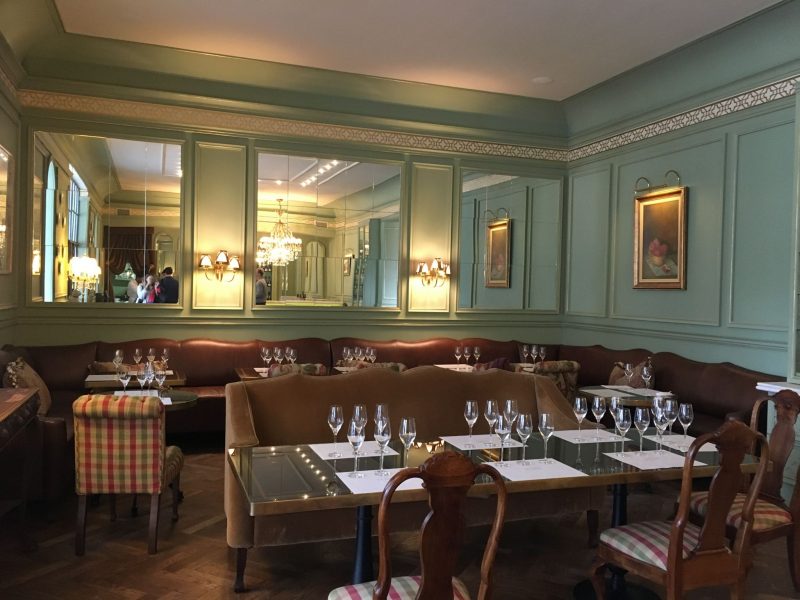 Back on the wine tram we made our next stop at the very grand Le Lude. Le Lude specialises in bubbles and isn't far from the centre of Franschhoek. This is a different setting again and is very impressive. It's extremely romantic with incredible views over the vineyards and valley in the distance. There's lots of proposals here and I can see why! There's also the famous Orangerie restaurant which is renowned if you fancy treating yourself to a fine dining experience.
Wine tasting review: 
This is a bit more expensive because the focus is on bubbles so you can expect to pay R90 for a 2 wine flight of Le Lude Brut and Le Lude Brut Rose. Alternatively it's R170 for the 3 wine flight which includes the two options mentioned and the addition of Champagne. We opted for the Champagne flight but in hindsight I'd stick with the 2 wines flight option. The addition of Champagne is purely to act as a comparison and isn't actually made at Le Lude. (As I should have known Champagne can only be produced in the Champagne region of France!). If you're hungry there's also canape options which looked incredible. They can accompany the 3 wine flight with a number of options available.
La Bri
We missed La Bri because we knew we wouldn't be able to fit all of the wine farms in but it was a reluctant skip! I based the wine farms we stopped at on lots of research and reviews. It does depend on what you are looking for though, as they are all very highly rated. This is more of a traditional wine farm and as well as a range of tastings on offer, there's also the option to order a picnic if you are looking for an informal lunch stop.
Third stop: La Bourgogne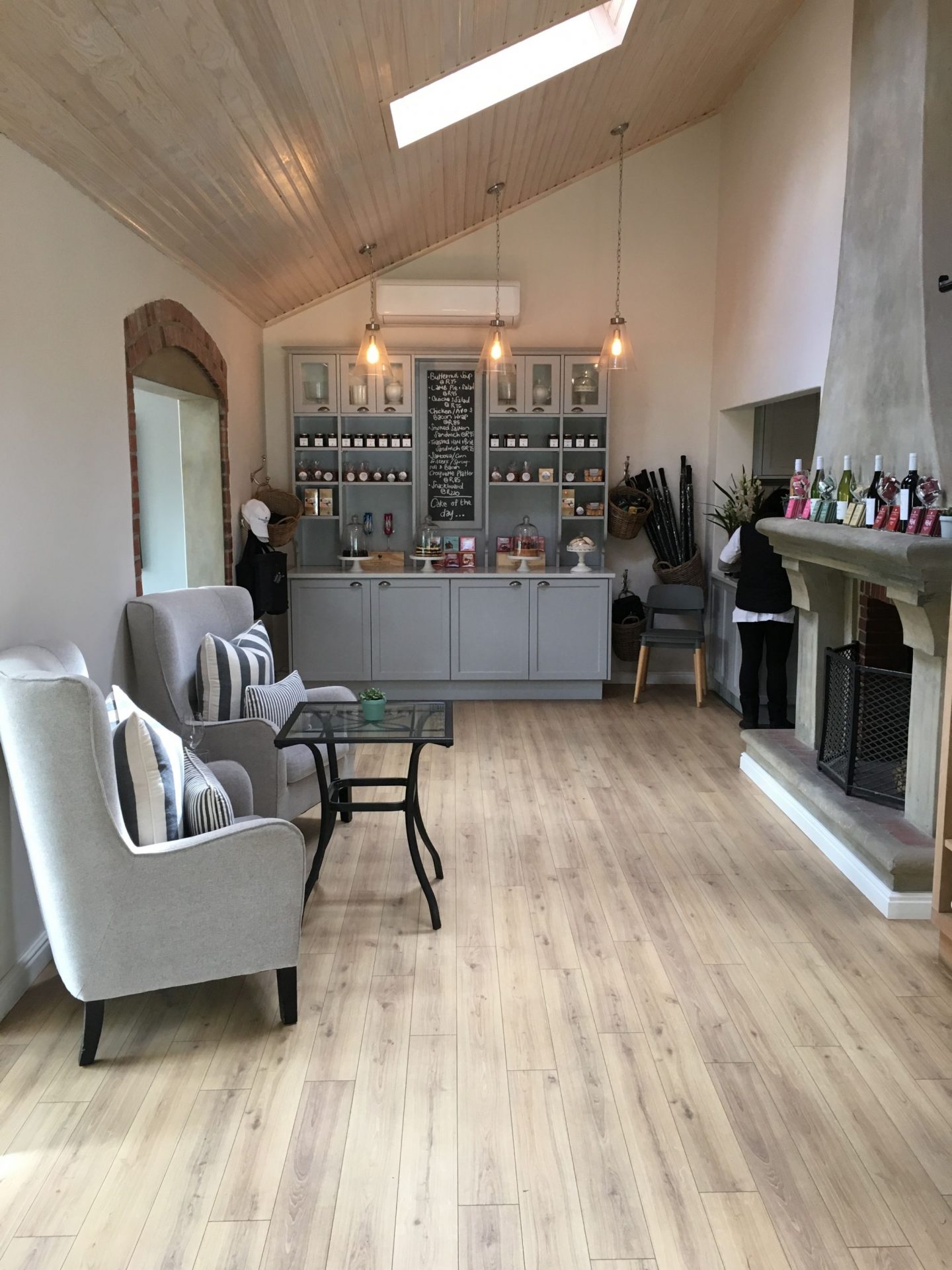 We were told that La Bourgogne was more of an olive farm than a wine farm but as we are big olive fans we thought we'd go. I'm so glad we did. Firstly we were met my four very enthusiastic dogs who have a routine of greeting the tram on each hourly visit (they even come on board to welcome guests!). This is a very relaxed and informal setting in contrast to Le Lude but is just as lovely. The outdoor seating is also great weather permitting.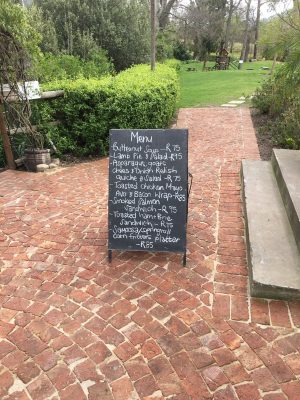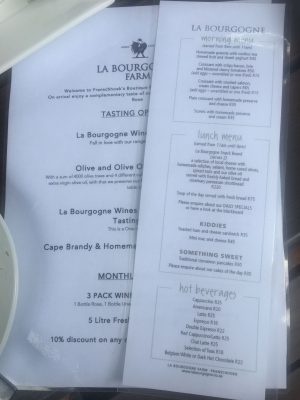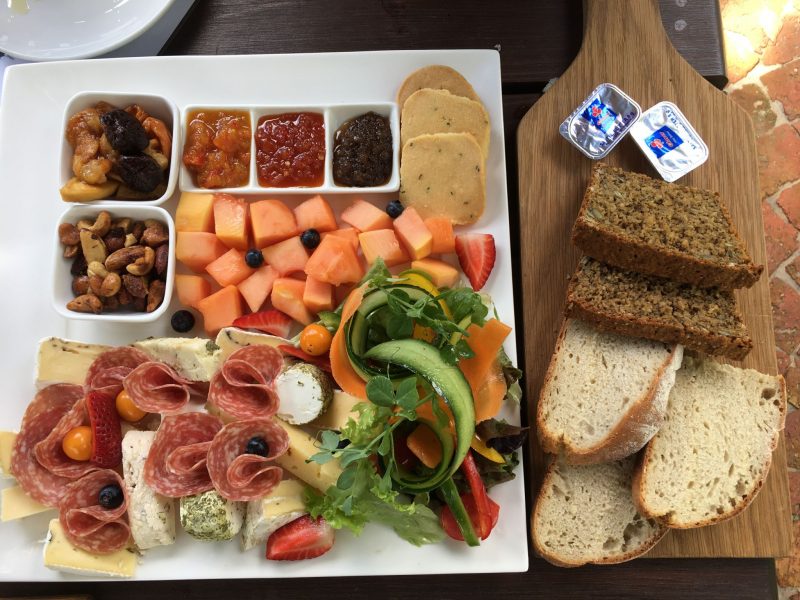 Wine tasting review:
There's a bonus of free wine tasting here for a 2 wine flight. Although the wine was nice, it's the food and relaxed atmosphere (and of course dogs!!) that stand out for La Bourgogne. I'd really recommend this wine farm for food too if you're looking for a relaxed lunch. We shared a huge platter which included olive oil tasting for free.
Fourth stop: Holden Manz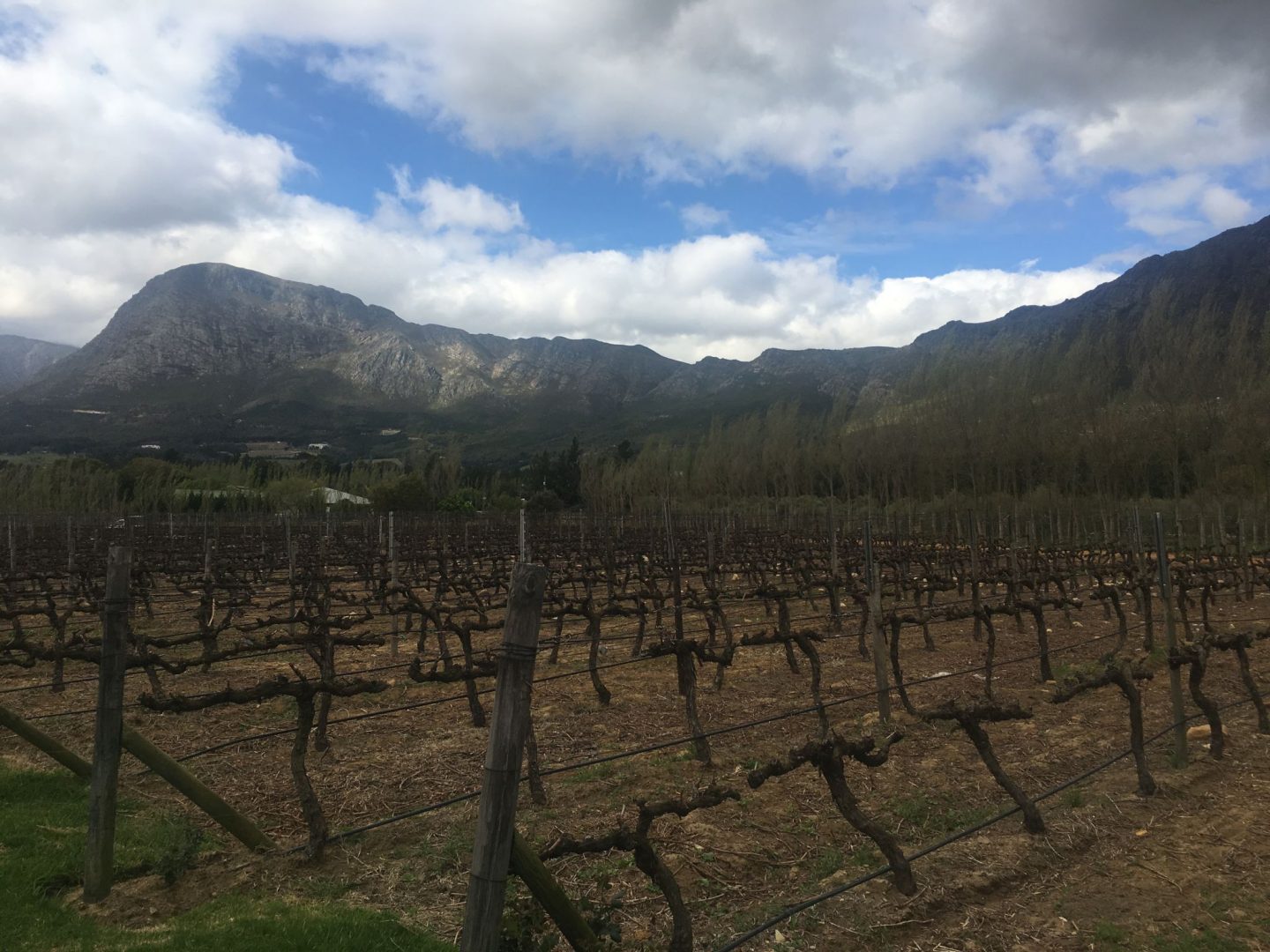 One I was really looking forward to as it was somewhere I'd actually considered staying during our time in Franschhoek. The setting for Holden Manz is beautiful with the traditional architecture of the wine farm set against the imposing hills of the Franschhoek valley, and views over the vines from the doorstep. Holden Manz is also famous as a food destination in its own right, with Franschhoek Kitchen being based here. It's also very popular as a spot for a picnic lunch that can be pre-ordered in advance.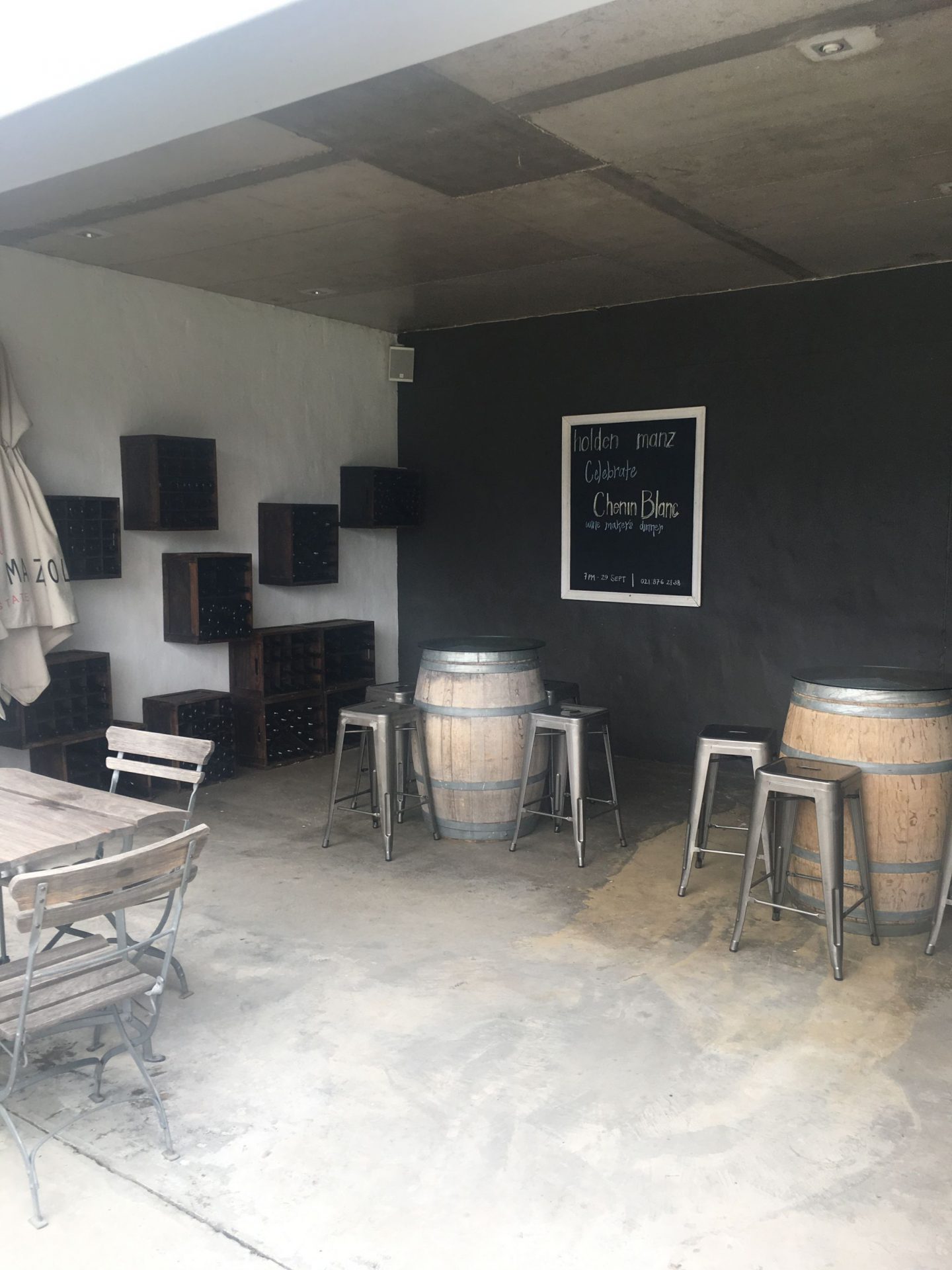 Wine tasting review:
There are 3 tasting options here (R60 for 5 wines, R80 for 6 wines or R110 for 8 wines). The red wine, which is a speciality here, is really good and we bought a bottle to take away with us.
Although I enjoyed the tasting, I did think the setting for the wine tasting in particular wasn't as special as the other wine farms. It's worth noting the weather had taken a turn for the worst so we were unable to sit on the terrace and take in the views so this could have had something to do with it.  The upstairs dining area did look lovely for food though and I'm sure if it was a sunny day and you could do your tasting outside or have a picnic it would have been more enjoyable.
La Couronne
The other vineyard we had to skip was La Couronne. We decided to miss this one because it had some mixed reviews (although again the majority are very positive!). It does specialise in chocolate pairings too so it was a reluctant miss! 
Fifth stop: Rickety Bridge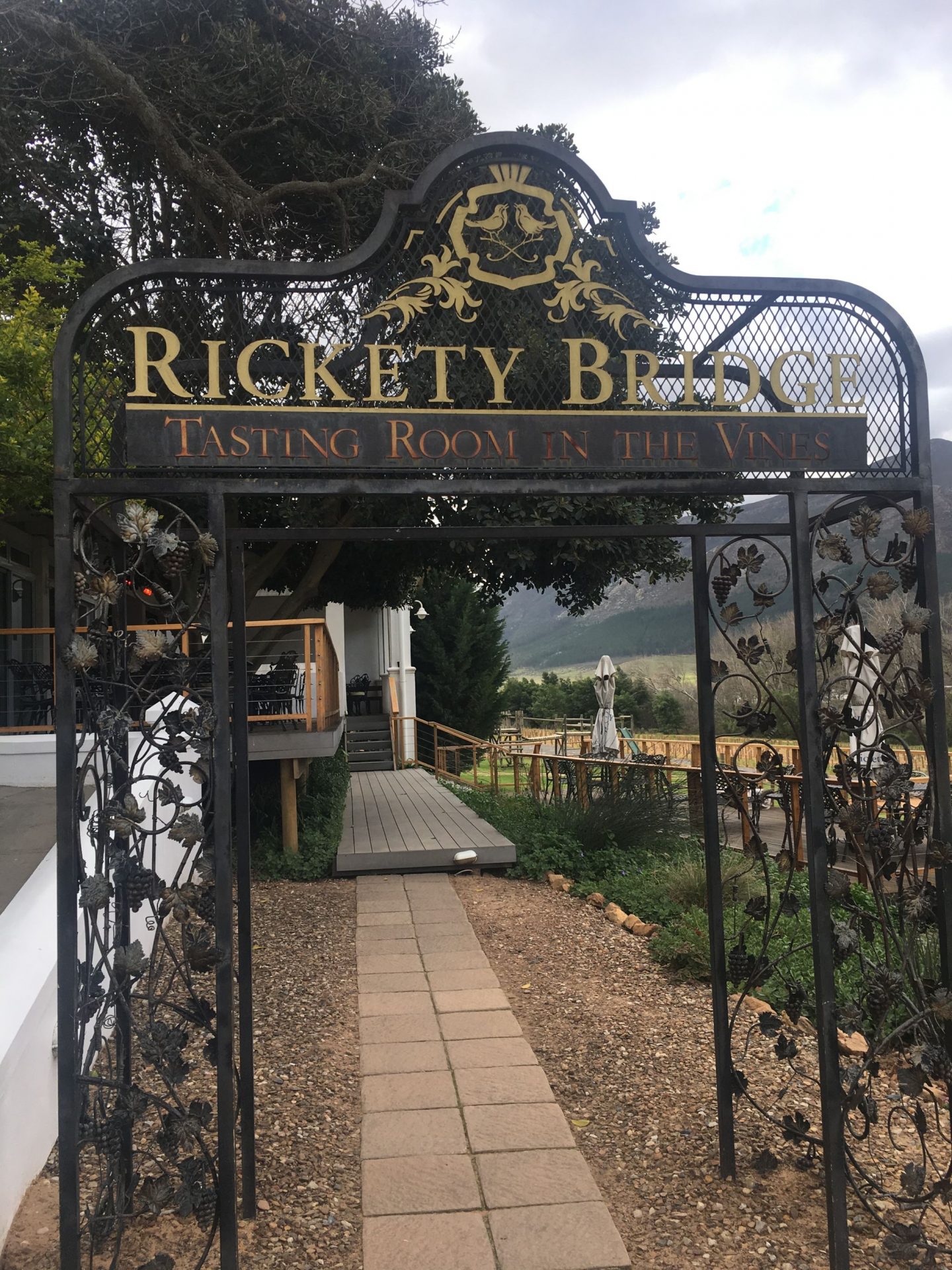 Rickety Bridge is on the actual tram line which is a novelty, and you also get a tractor to take you down the driveway to the farm and the wine tasting. Again a novelty but it does take time which does eat into the all important wine tasting! This is another relaxed wine farm in a traditional setting with views over the vineyards from the terrace, as well as plenty of indoor seating for tastings.
Wine tasting review: 
The wine tasting option here is a reasonable R45 for 5 wines which is refundable on the purchase of a bottle of wine (so the perfect excuse to buy one!!). Although the wine was good,  this farm wasn't as impressive as the others for me. It could be because we had less time there and there was a lot of us at this stop meaning it was more wine tasting on mass than we'd experienced at other farms. 
Sixth stop: Grande Provence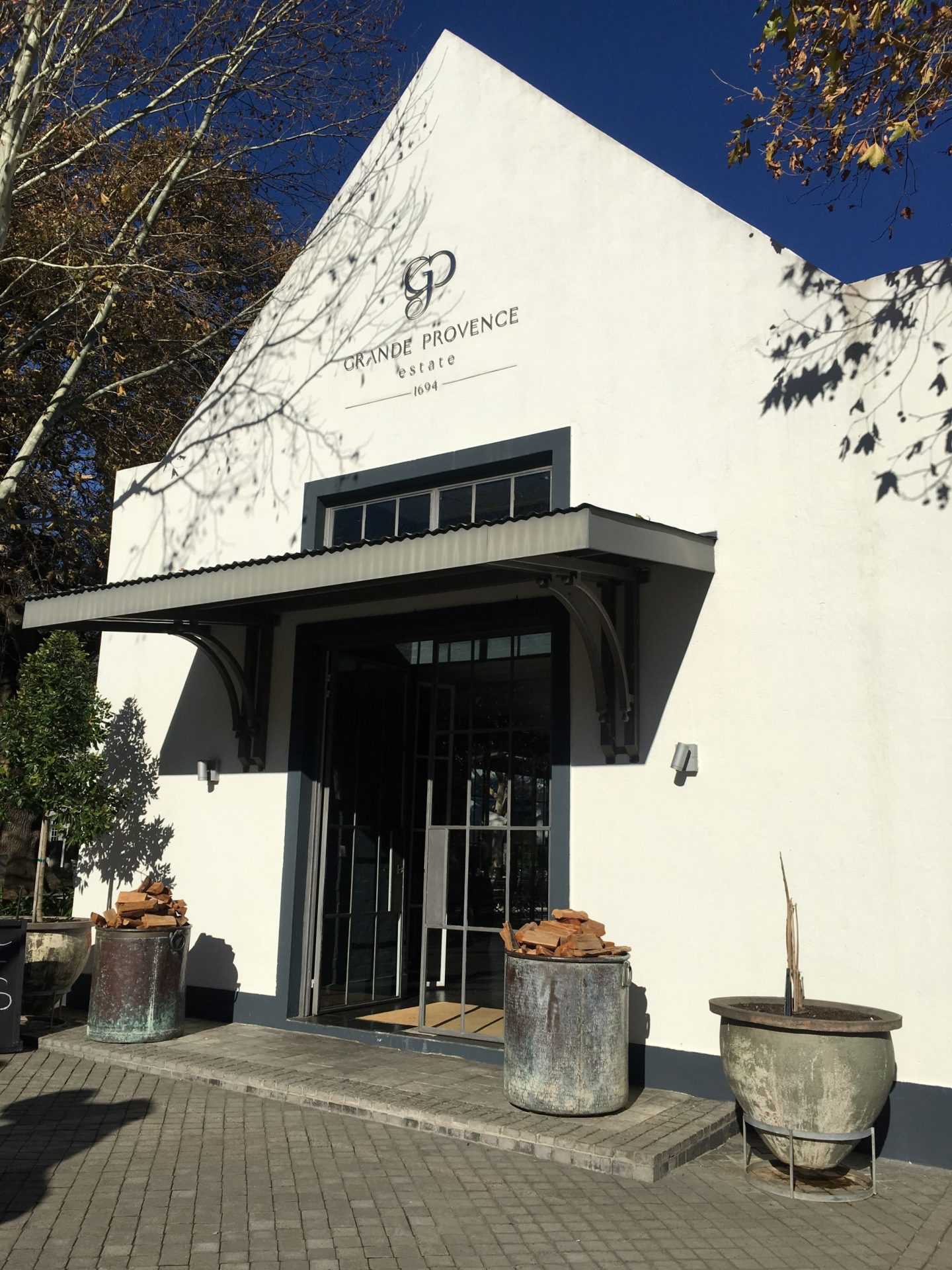 Again on the tram – Grande Provence is renowned as one of the grandest both by name and nature and it most definitely lived up to expectations. High end interiors as well as impressive exteriors and even it's own art gallery means that Grande Provence exude luxury and the wine matches these high standards too. You can stay here as well but it will set you back close to £600 per night!! There's also a fine dining restaurant on site if you really want to treat yourself.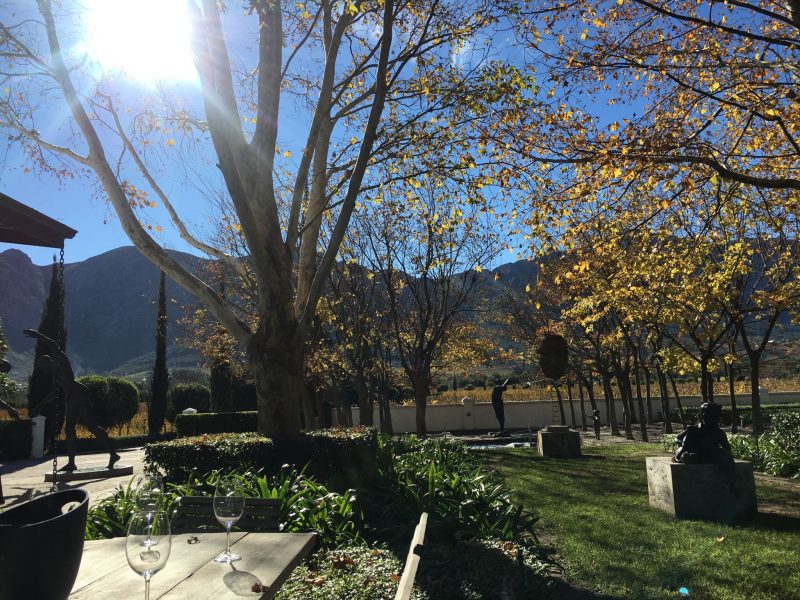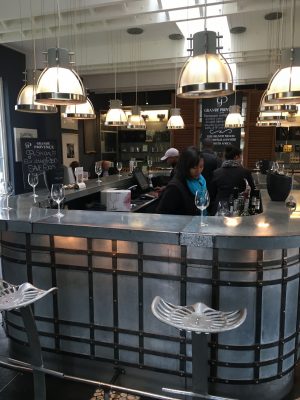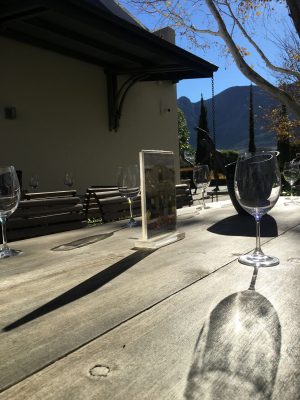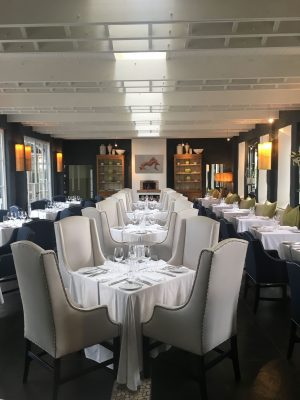 Wine tasting review:
There's a variety of wine tasting on offer here from the MCC sparkling blends to a selection of red, whites and roses. They have their premium Grande Provence label, as well as their popular and more affordable Angel Tears selection. We opted for the Grande Provence wine selection and weren't disappointed.  In hindsight maybe this is one to start at though as your taste buds might be less effective by the time you make it here after all the previous wine tastings!! It's definitely one to savour and enjoy.
Seventh (unofficial) stop: Franschhoek Cellar (a sneaky extra!)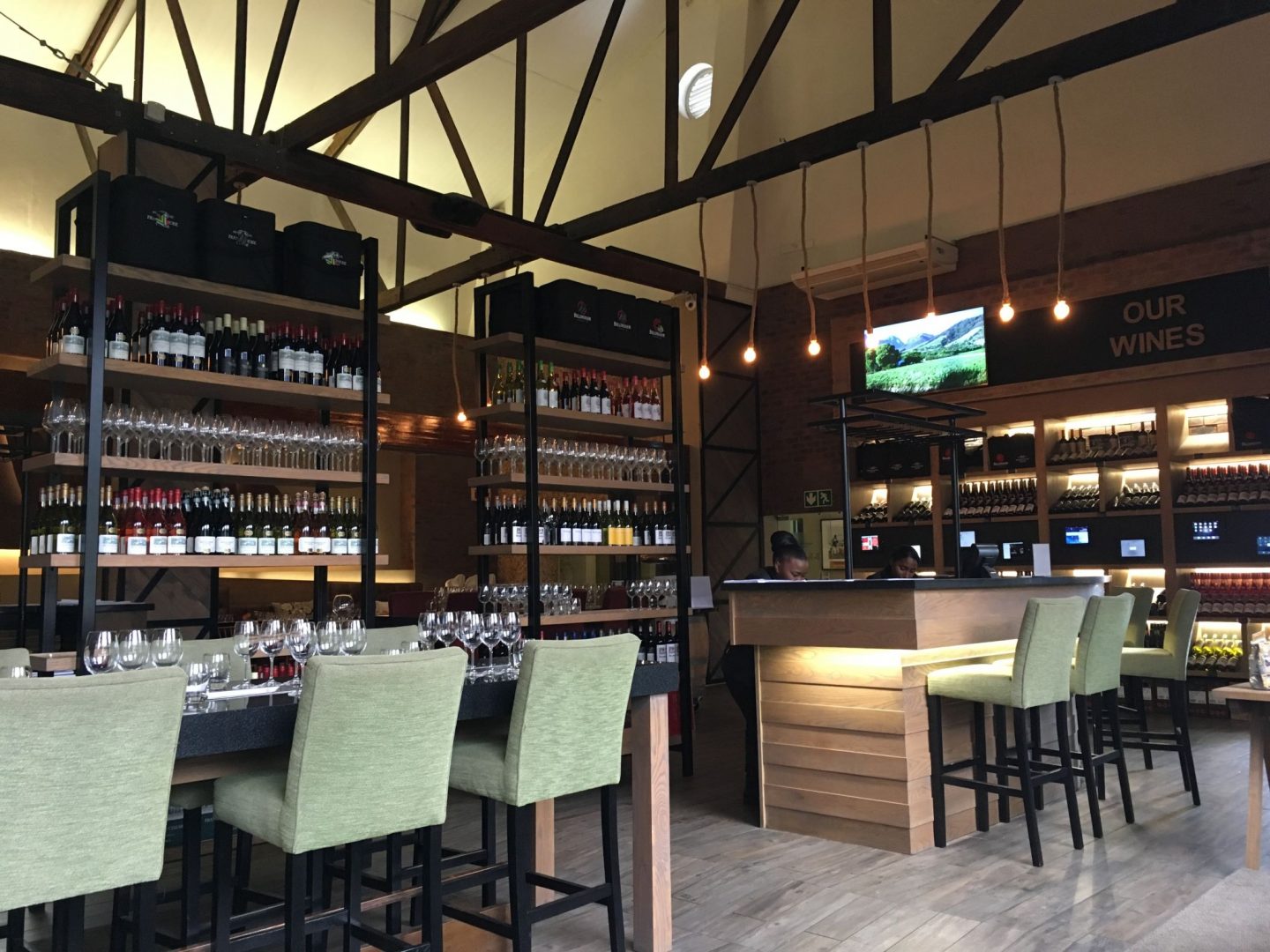 After the final Grande Provence stop, the tram will take you back to the centre of Franschhoek but we decided to add an extra stop in and jump off at Franschhoek Cellar which is a short walk from the tram/bus connection and an easy walk back into the centre after. This is a totally  unnecessary addition after the tram, but worth a visit on another day if you have time with chocolate and cheese pairings on offer. I'd go for the cheese pairing! This wine cellar is also on the Red/Yellow line if you take this tour.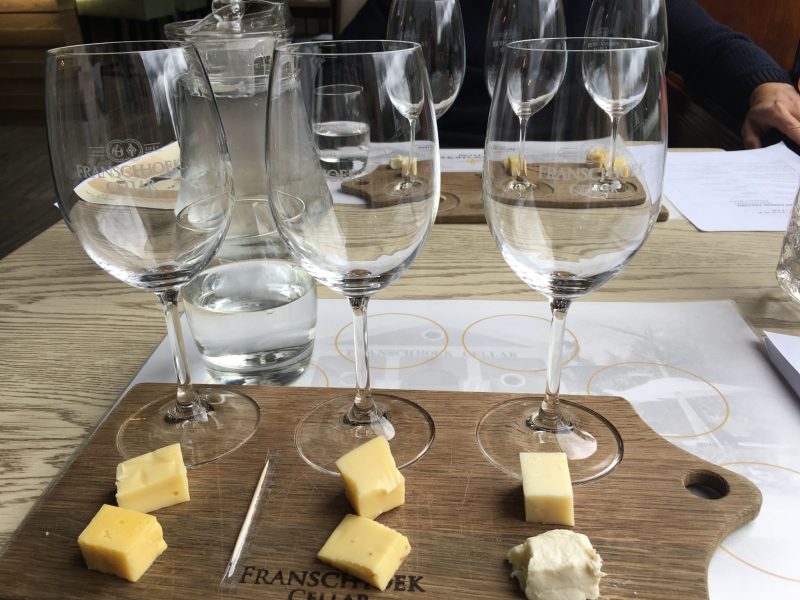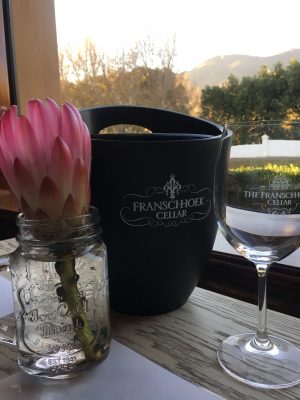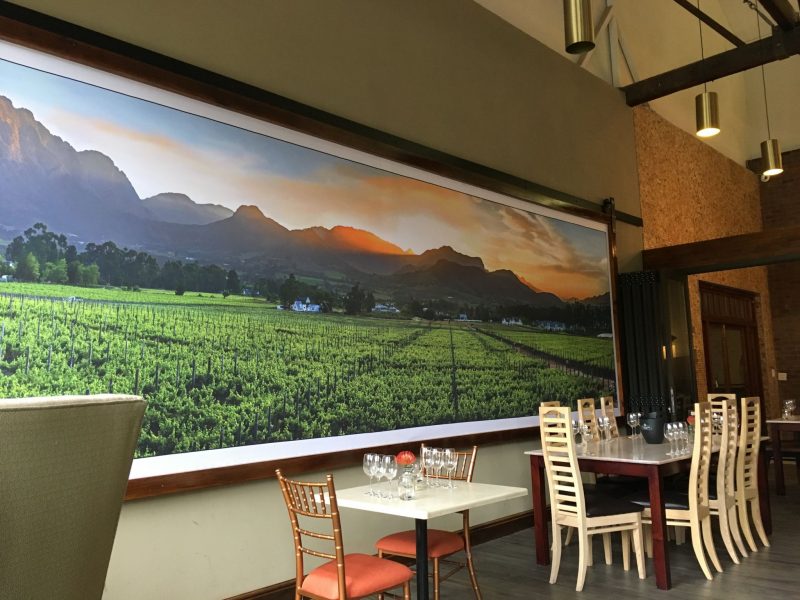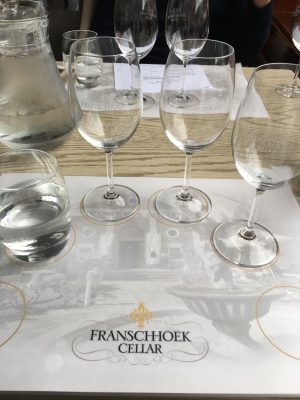 In summary…
So there you go – 1 day and a lot of wines. Franschhoek definitely lived up to it's reputation as a brilliant destination for wines and wine tasting and the wine tram makes a great day out.
Must visits: Our favourites from this route are La Bourgogne and Grande Provence. I'd also include La Lude and Mont Rochelle in the list. All four are really different and offer a nice contrast to one another and of course some excellent wine!
The Guestbook's comment: "The wine tram is highly recommended as a great way to get around a good selection of vineyards – book in advance to guarantee a seat and pick out your favourites because you won't be able to do them all. This could be the tricky part though as they all offer something different!"
Planning on including Franschhoek as part of a longer trip to South Africa? See Kate's guide for how to spend 2 weeks in this beautiful part of the world!