Planning a trip to the Cape Winelands in South Africa is both exciting but also tricky, with a never ending supply of wine farms but often a limited number of days.
And then there's the areas in the Cape Winelands. Do you go for the oldest wine producing region – Constantia? Or further a field to Franschhoek and Stellenbosch? Then there's also the often more undiscovered regions of Paarl and Somerset West amongst others.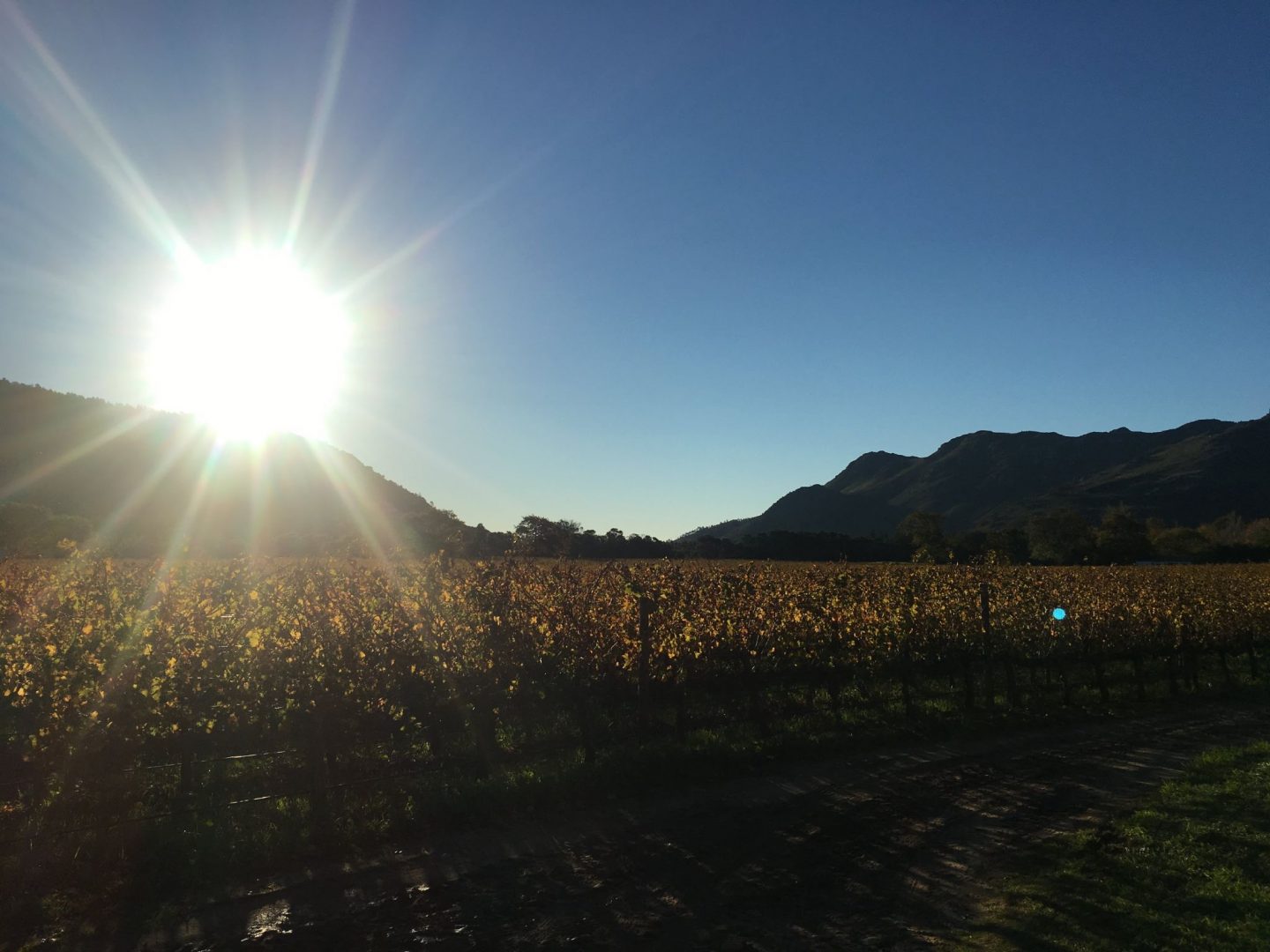 Planning a trip
We'd already visited the Cape Winelands before on our whistle stop trip of South Africa for our honeymoon. (More on our itinerary for that here). On our last trip we based ourselves in Franschhoek for just over 2 days and we fell in love with it but perhaps didn't do the broader wine region justice.
With a shorter amount of time on this trip we decided rather than travel too far that we should dedicate just under a week to really exploring the Cape Winelands. Although it sounded like plenty of time, there are A LOT of options as mentioned.  So the challenge then is planning a route to really experience the best wine farms of this area.
If you're in a similar position, then see the guide below to give you an introduction to the different areas in the Cape Winelands and (hopefully) help you narrow down your selection!
Cape Winelands – by area…
Constantia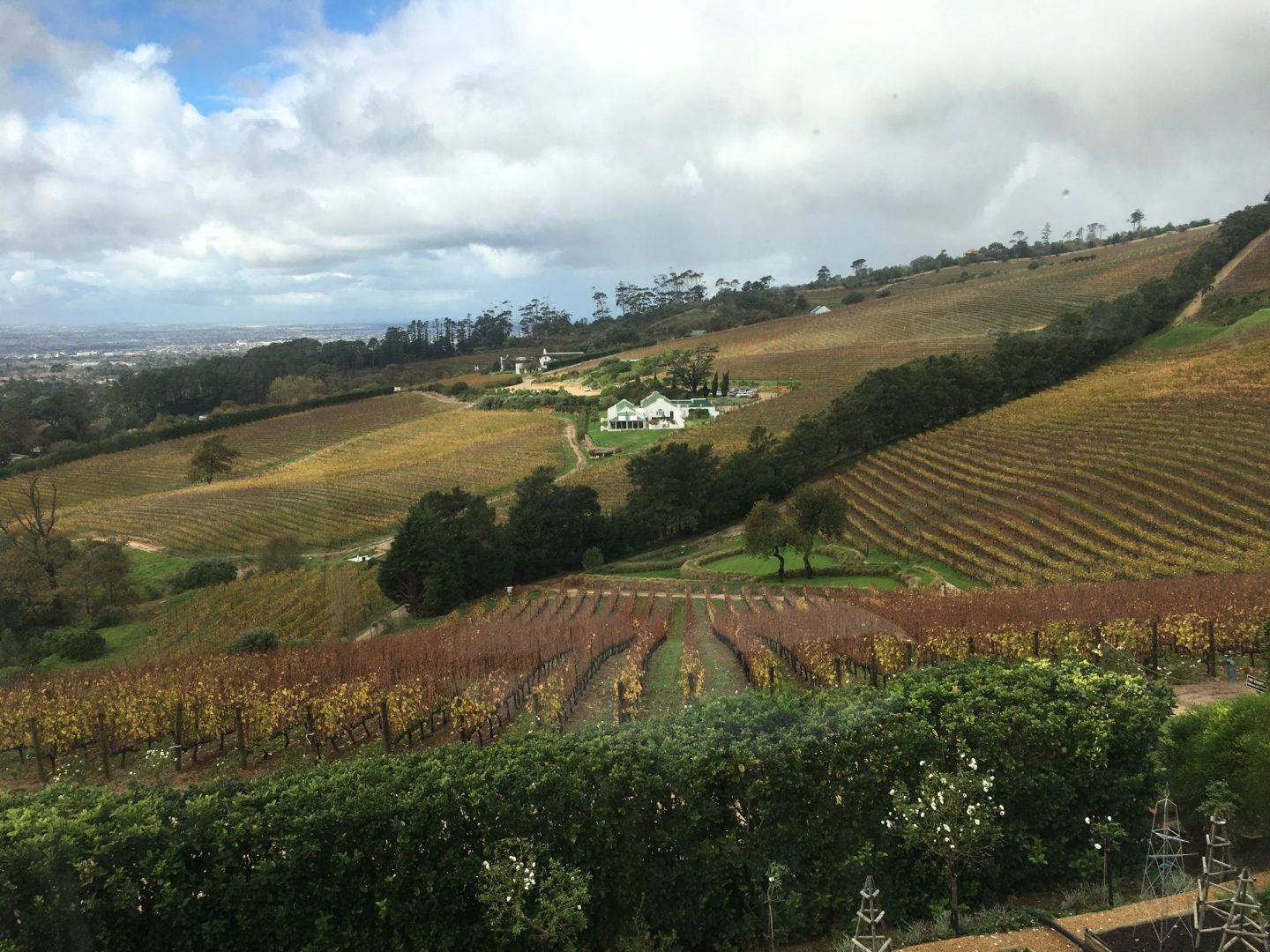 We started our trip in Constantia in the gorgeous The Last Word hotel (review coming soon on this hotel!).
Why visit?
The oldest of all the wine regions in the Cape Winelands, this has some great names in terms of wine farm reputation and status. The oldest, Groot Constantia, being a firm favourite for visitors. It is a bit more commercialised than the smaller farms, but the grounds and views alone are worth a visit. It's also a great place for lunch/dinner.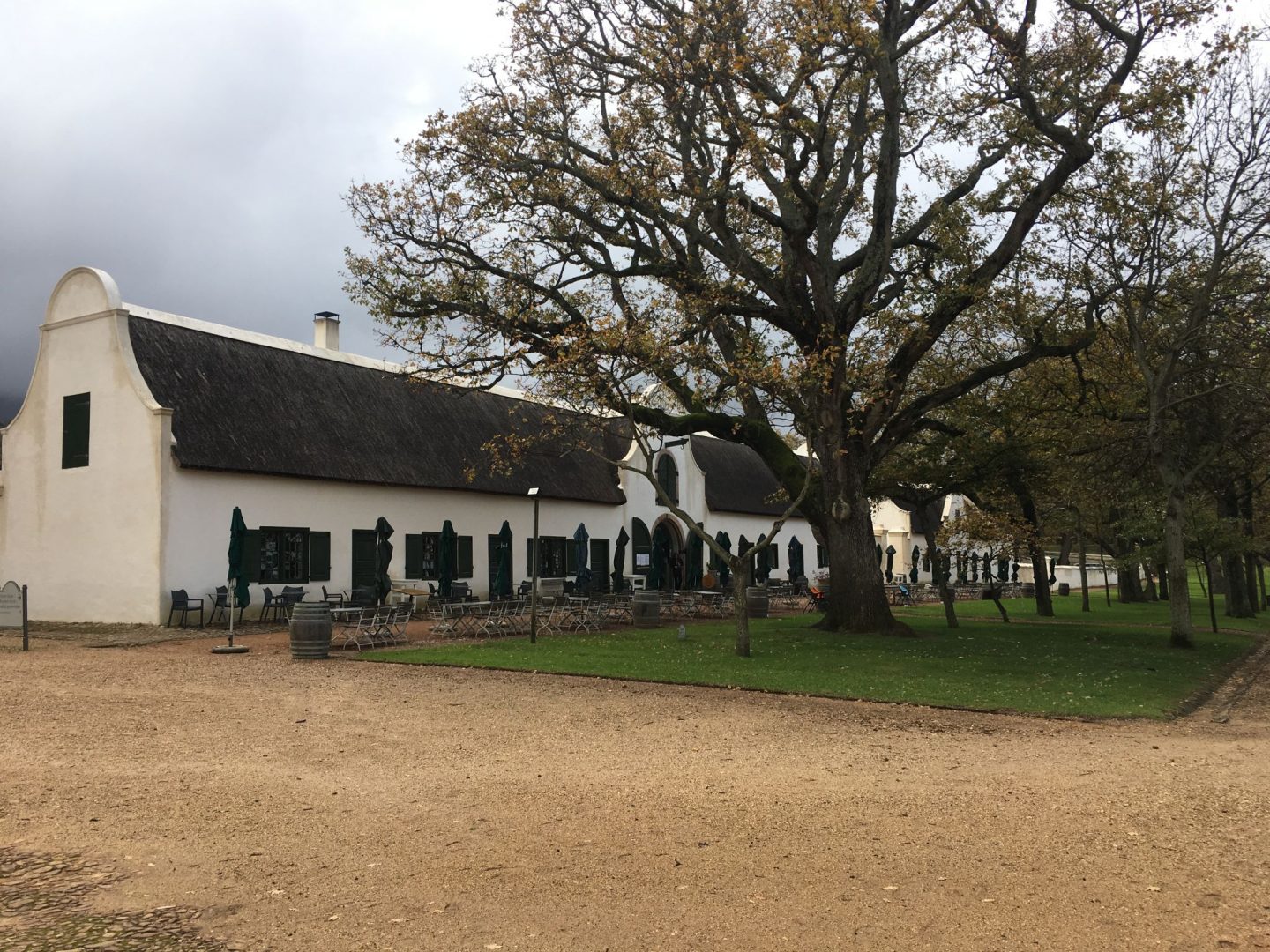 Constantia is also the perfect location if you want to add wine farms to a Cape Town itinerary but don't have time to stay in the Cape winelands. It's only a short 20-30 minutes outside Cape Town. With Ubers being extremely affordable, it's easy to try a few wine farms in the area. There's also a number of organised tours, as well as the City Sightseeing tour bus.  The latter is highly recommended for a tour of Cape Town anyway. The bus has the bonus of a dedicated Constantia Valley Wine route, which stops at 3 of the farms.
Which wine farms should I include?
There's a good selection but it's not as overwhelming in choice as Stellenbosch and Franschhoek luckily. Groot Constantia should be on your list for the historical significance and impressive grounds as mentioned. Beau Constantia is a great contrast with it's modern glass box seating area for it's wine tasting. It's also home to the highly acclaimed Chef's Warehouse. Perfect if you're looking to pair your tasting with food.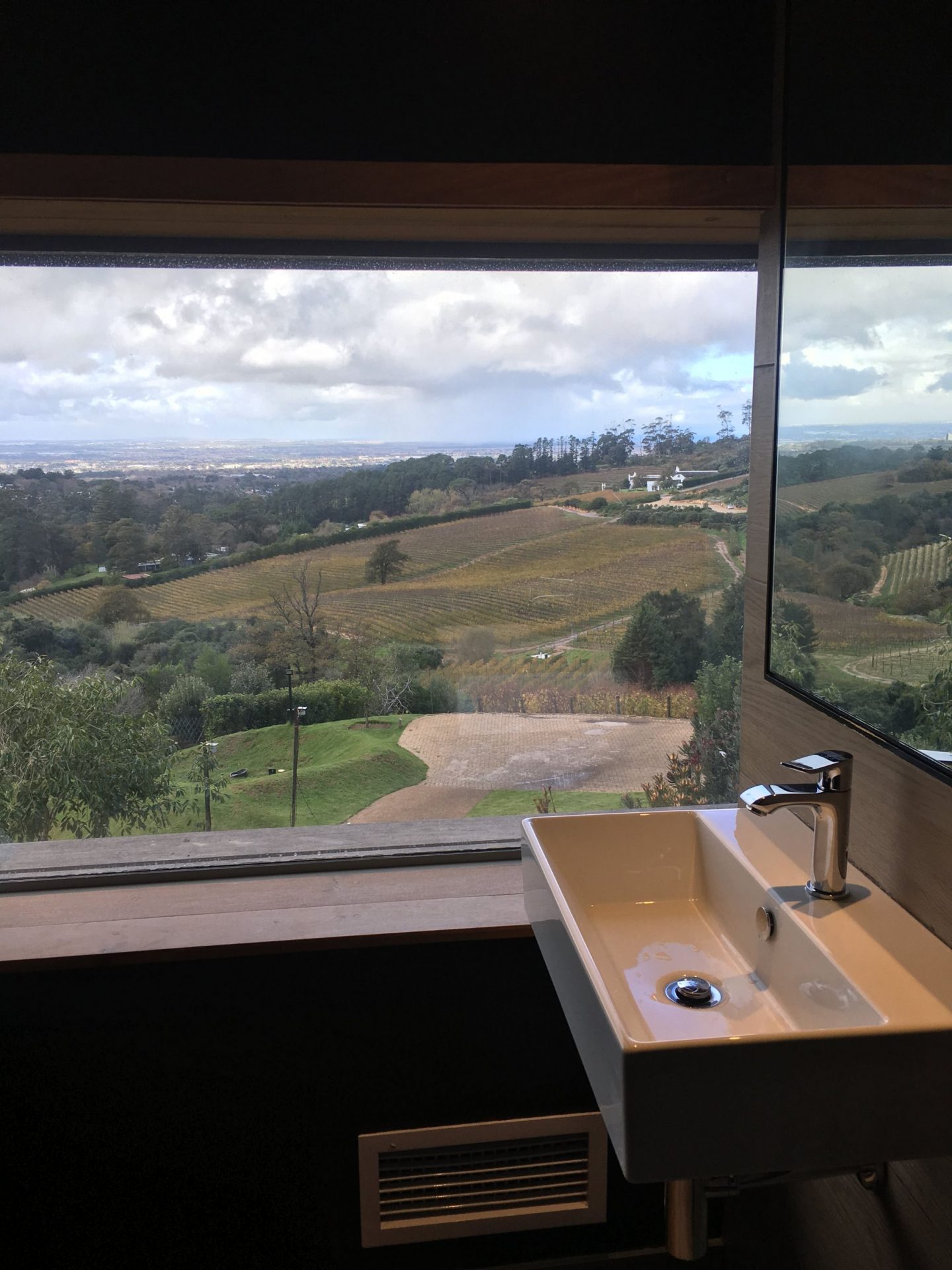 Not wine related but nearby is La Colombe, widely regarded as one of the best spots for fine dining in South Africa (as well as worldwide!!). So again there's great options for food as well as drink in the area. Other options in Constantia include Klein Constantia, Constantia Glen and Buitenverwachting. This should be a good selection to keep you going!
In summary…
Constantia is a beautiful area with stunning views and provides a great wine tasting experience. It's within easy reach of Cape Town if you're planning to be based in the city for your stay. This is a good option if you still want to sample the Cape Winelands.
Franschhoek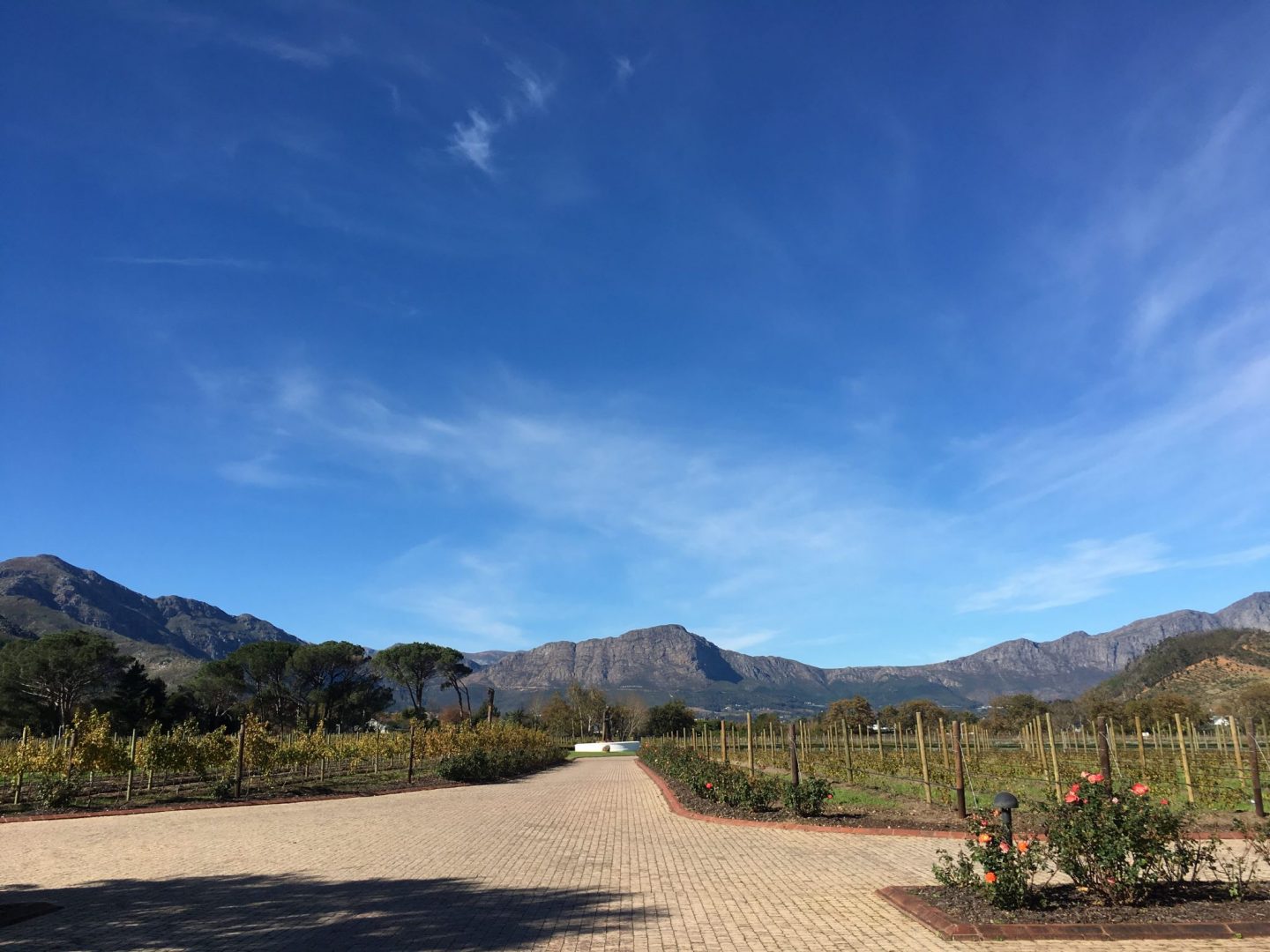 Two nights of our stay were spent in the beautiful Franschhoek in Ashbourne House, a lovely B&B not far from the centre of the village.
Why visit?
Franschhoek continues to be a favourite for me of all the places in the Cape winelands. It's picture postcard village centre surrounded by imposing mountains is pretty special. The option of the wine tram to get around the farms is the icing on the cake. For more on the wine tram have a look at this post. This makes Franschhoek perfect to get around without having to drive between wine farms. There's also a number of wine farms within walking distance of the centre.
As well as plenty of wine tasting opportunities in the day, there's also lots of food options in the evening. They are an easy (and safe) stroll with everything being pretty compact. Franschhoek is renowned as a foodie capital in the Cape winelands so you will be spoilt for choice, especially with the number of fine dining options available.
Which wine farms should I include?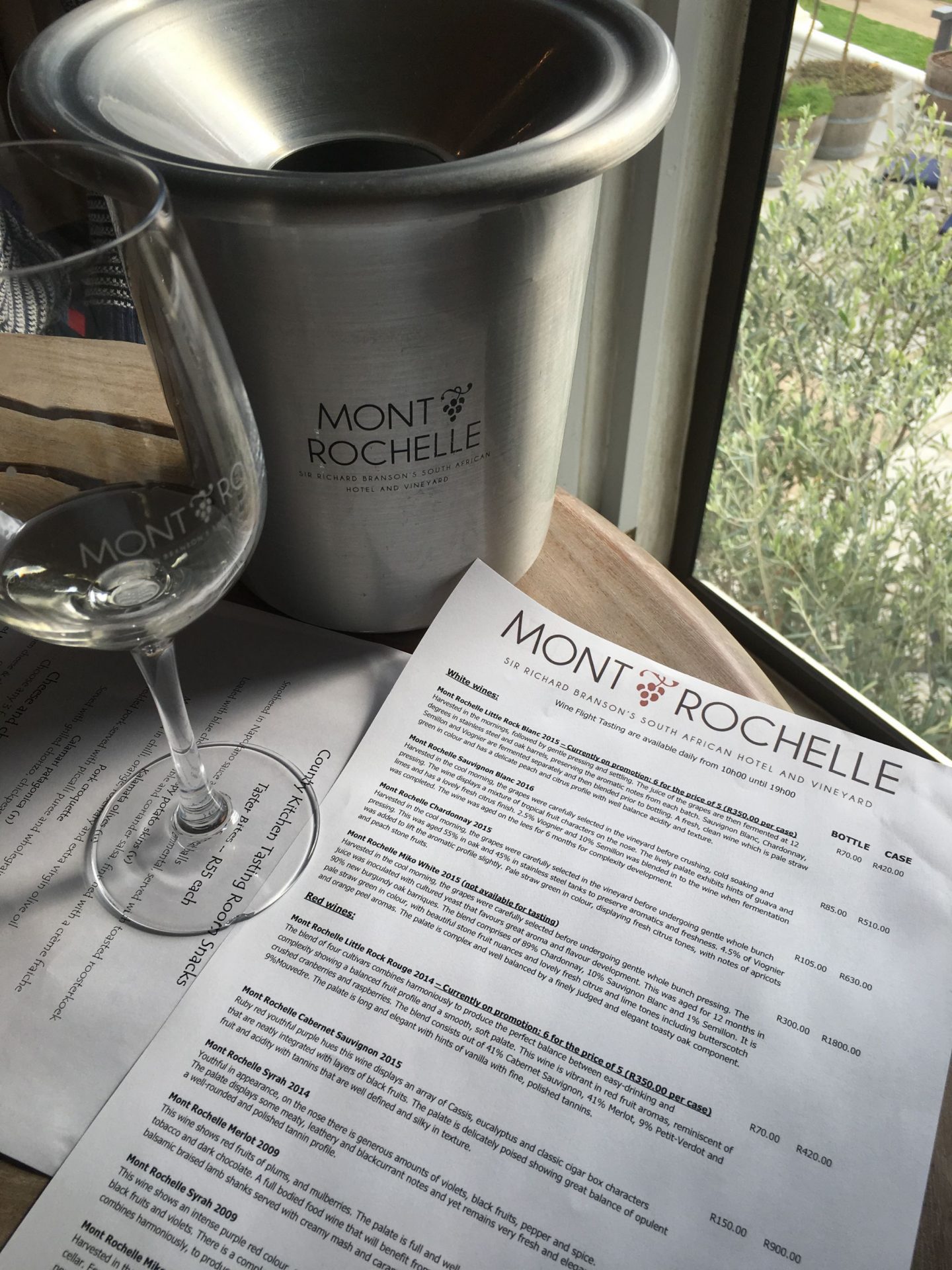 I'll be doing a separate post dedicated to Franschhoek in more detail as I really think it deserves one. However highlights for me include Le Lude (for the MCC sparkling tasting and romantic setting) and Grande Provence (for it's wow factor). As well as these grand options, there's also the lovely La Bourgogne. This offers a relaxed and informal setting with beautiful lunch time platters. Mont Rochelle (Richard Branson's farm) is also a good option within walking distance from the village.
A bit further from the centre is La Motte, a renowned wine farm, that's worth making the extra journey for. Further still is Boschendal, marketed as a Franschhoek wine farm, it's probably closer to it's Simondium neighbours. Either way it's a good addition with a lovely deli as well.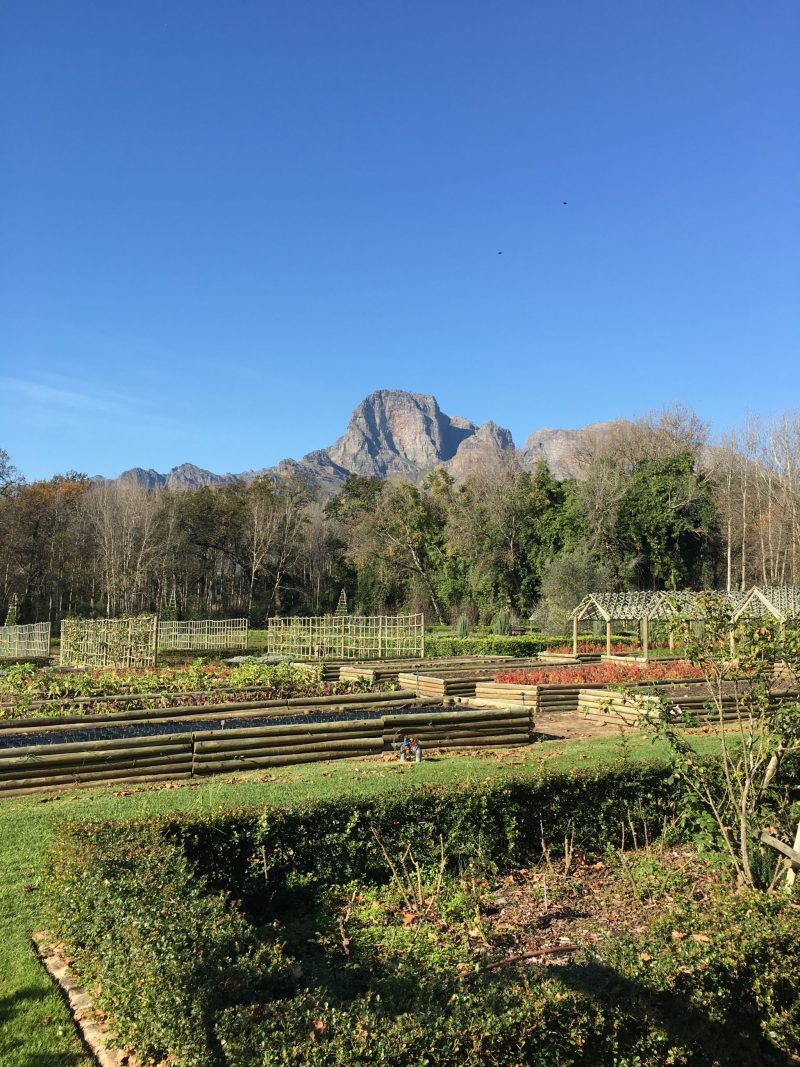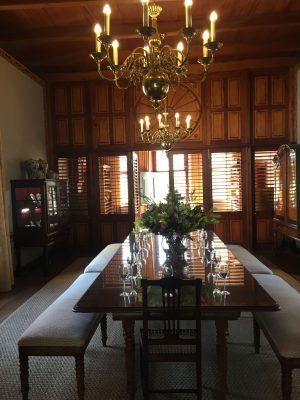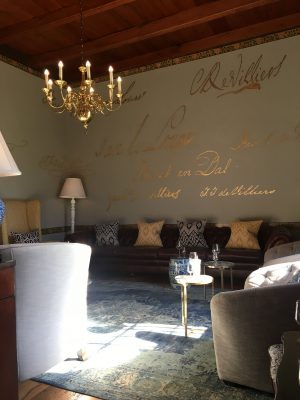 In summary…
Further from Cape Town (just over an hour), this is definitely the destination for wine lovers who are after a beautiful and convenient option in the Cape winelands. The wine tram and the lovely village centre, as well as mountain views, are big pluses for Franschhoek.
Simondium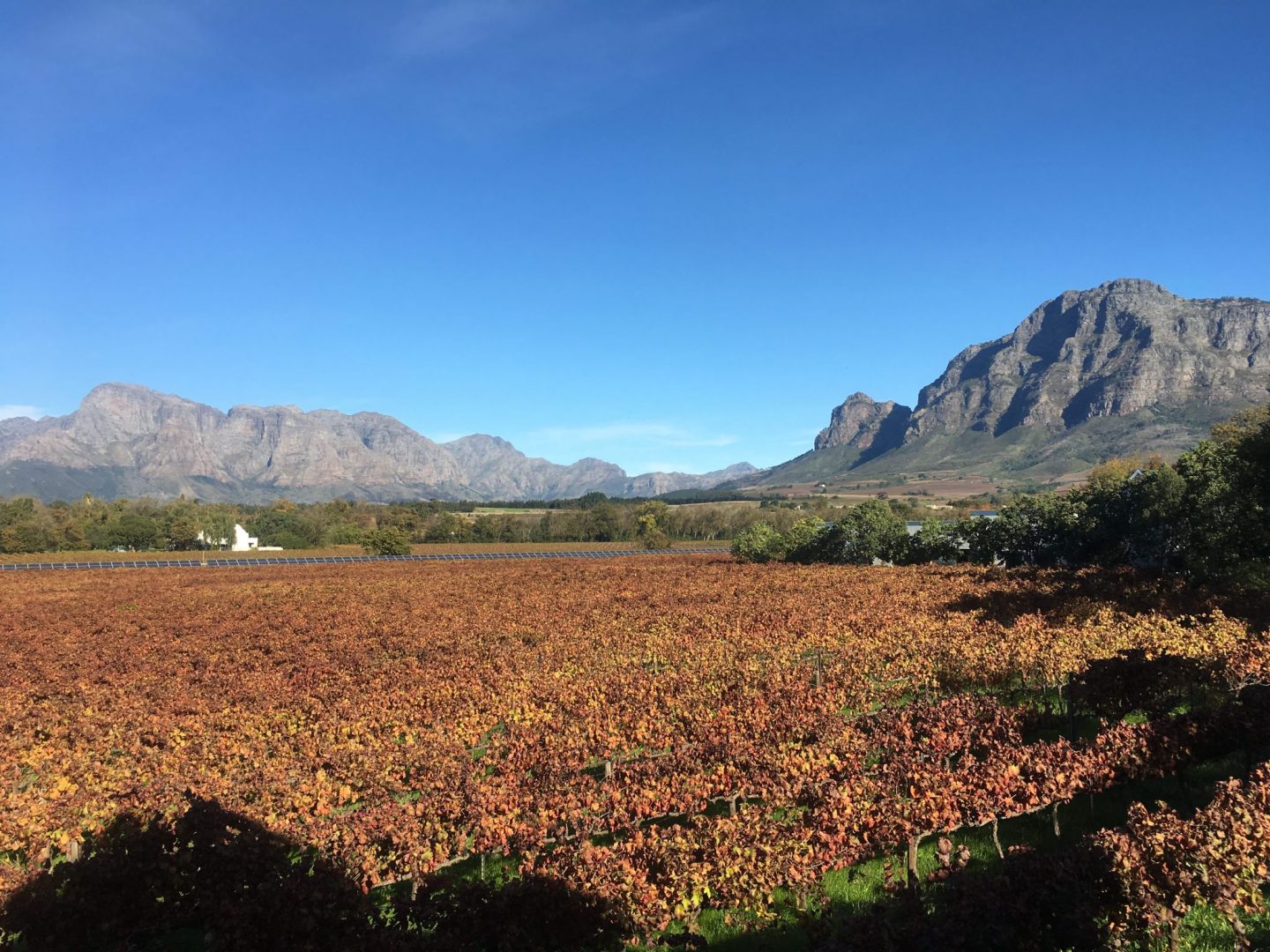 This area is covered by the Purple/Orange line of the Franschhoek tram so is still very accessible from Franschhoek and has some of my favourite wine farms.
Why visit?
If I'm honest, I'm not sure where Franschhoek ends and Simonduim starts as they are both pretty close to one another. Simondium is an area in it's own right though so deserves a separate mention! Spread out along the Simondium road off the R45 are a number of impressive wine farms in this area. Each farm boosts incredible views looking back towards the Franschhoek Valley. Although Simondium doesn't have a centre as such and I wouldn't suggest it as a destination to stay, it's a must visit due to the quality of the wine farms.
Which wine farms should I visit?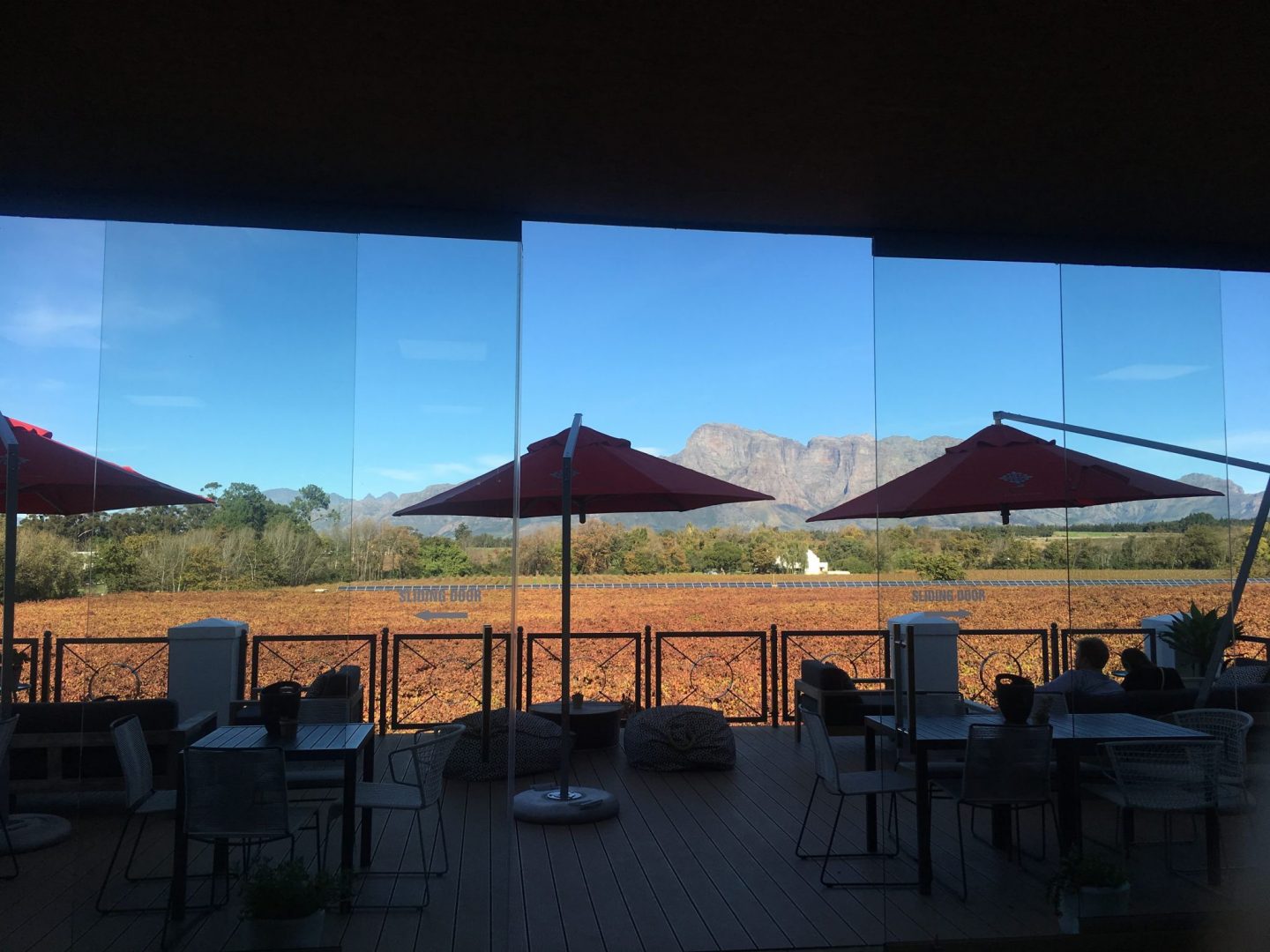 Turning off the R45 (or on the wine tram – Purple/Orange line) – the first stop I'd recommend is Vrede de Lust. This has some of the best views from the tasting patio area. That's a big statement considering the competition! There's also an informal and delicious bakery (Lust) on site.
Next, Noble Hill. This has to be on our list due to our surname but it's also a lovely wine farm with a relaxed setting and atmosphere. It's also a brilliant lunch stop with a great Mexican restaurant – Cosecha.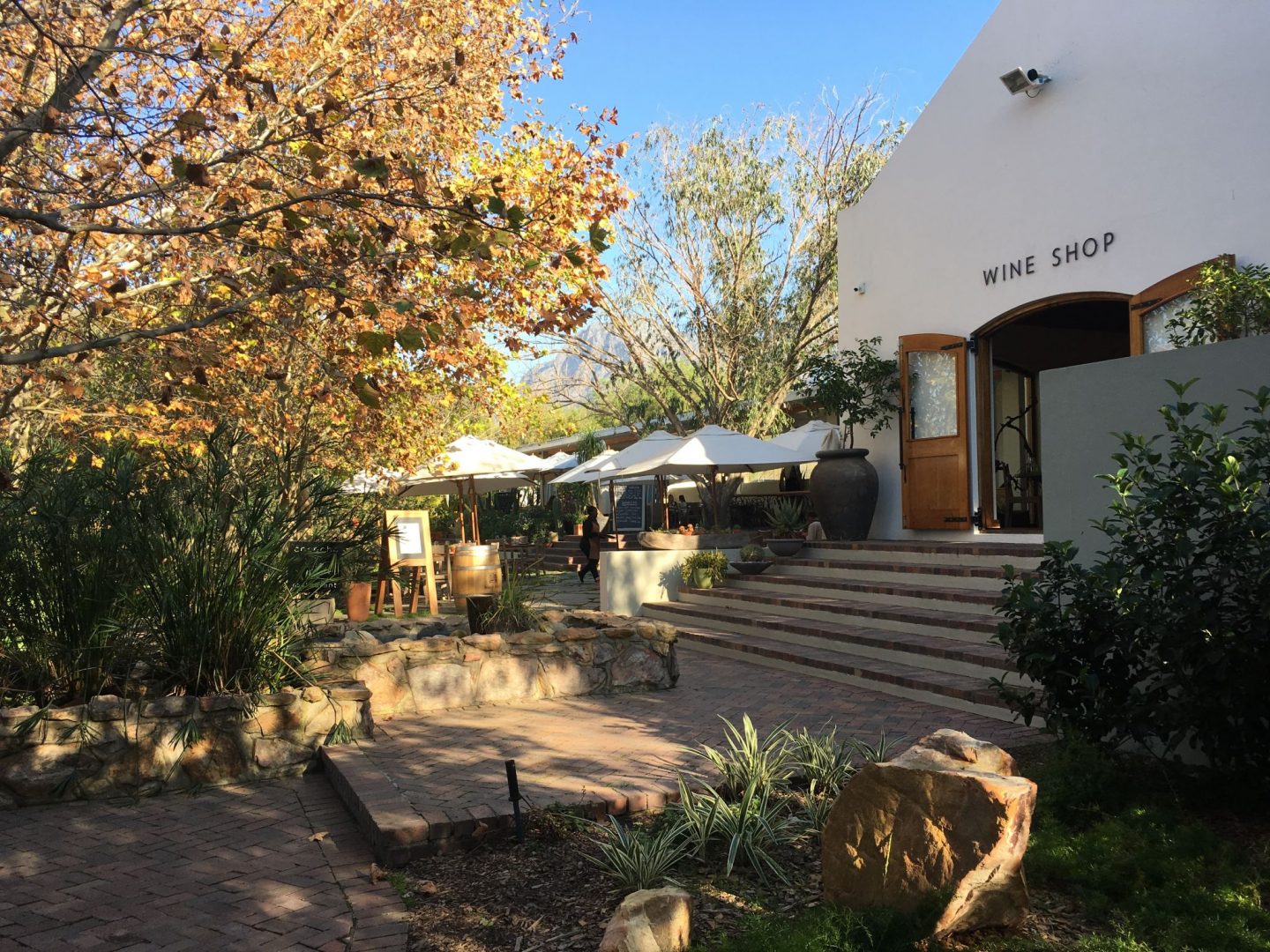 The most famous on this route is Babylonstoren with it's stunning gardens and highly acclaimed Babel restaurant. If you're not after a big meal then the Greenhouse cafe is a great option for a relaxed lunch. A lot of the ingredients are grown in the expansive gardens on site.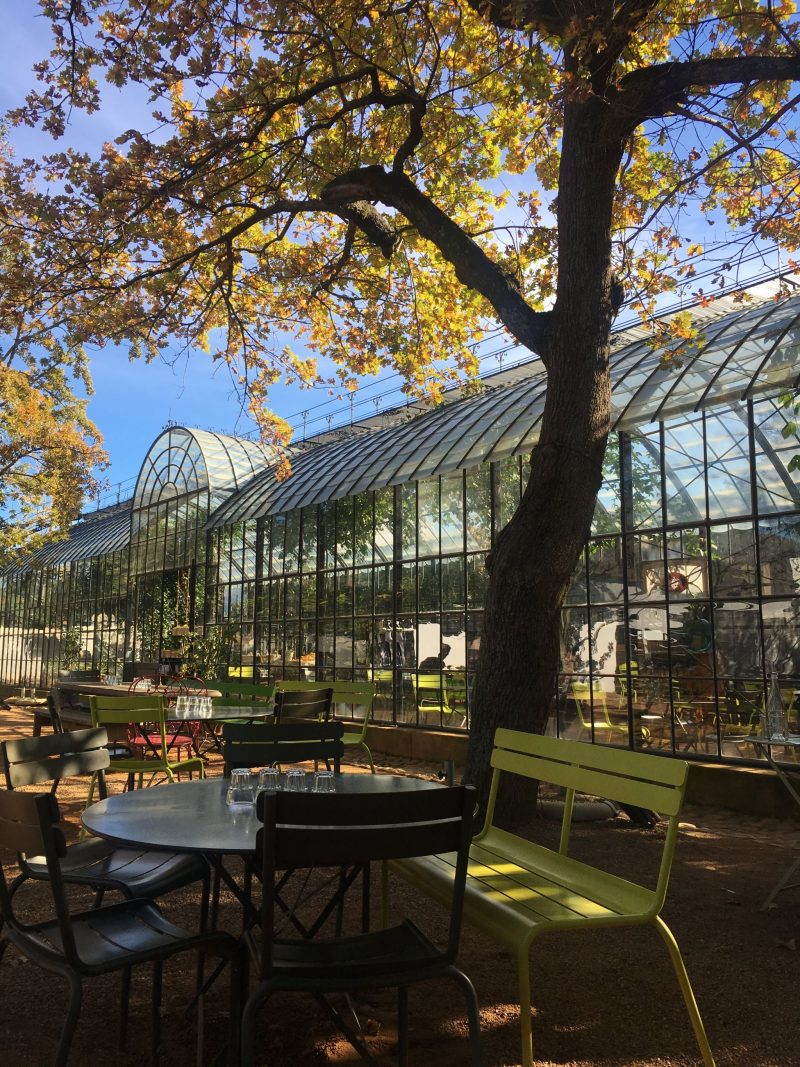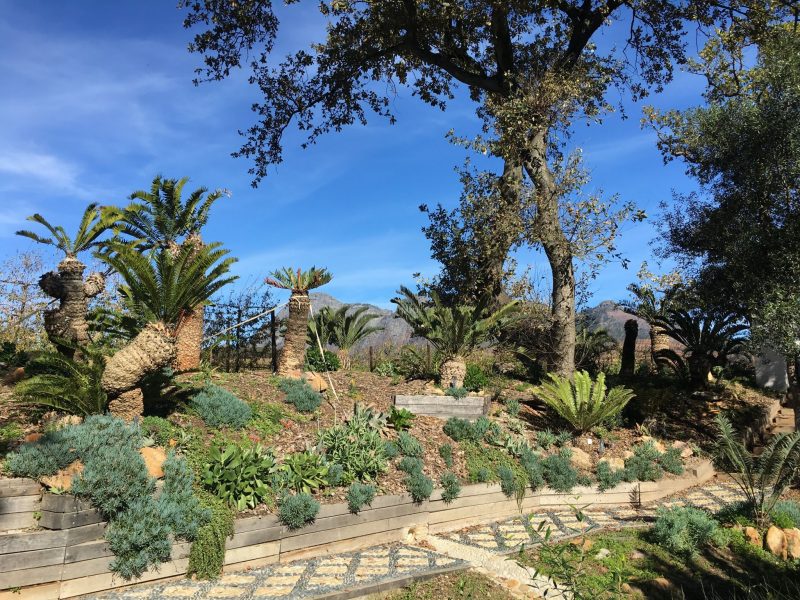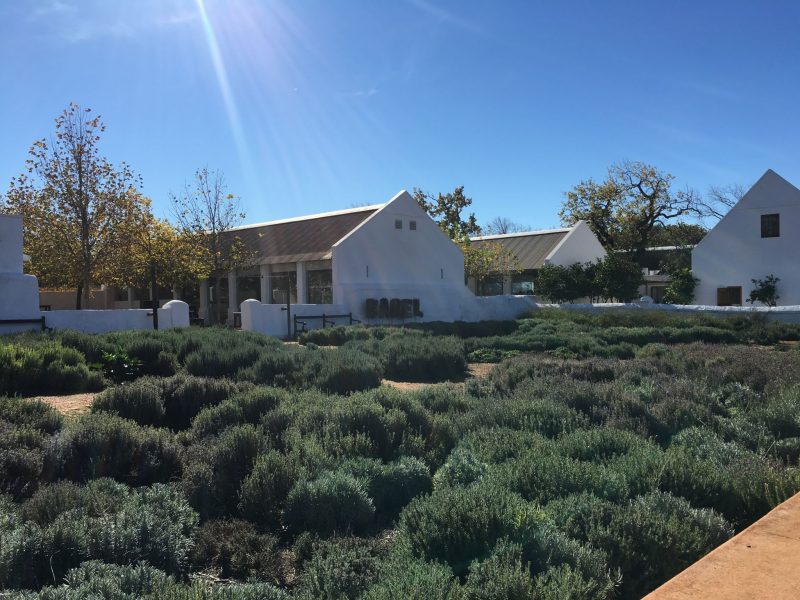 Glen Carlou is one of the final stops on this route with another award winning restaurant and impressive wine tasting terrace.
In summary…
Some standout wine farms not too far from Franschhoek that should be on your list. Take advantage of the Purple/Orange wine tram route to explore these.
Stellenbosch – Banhoek Valley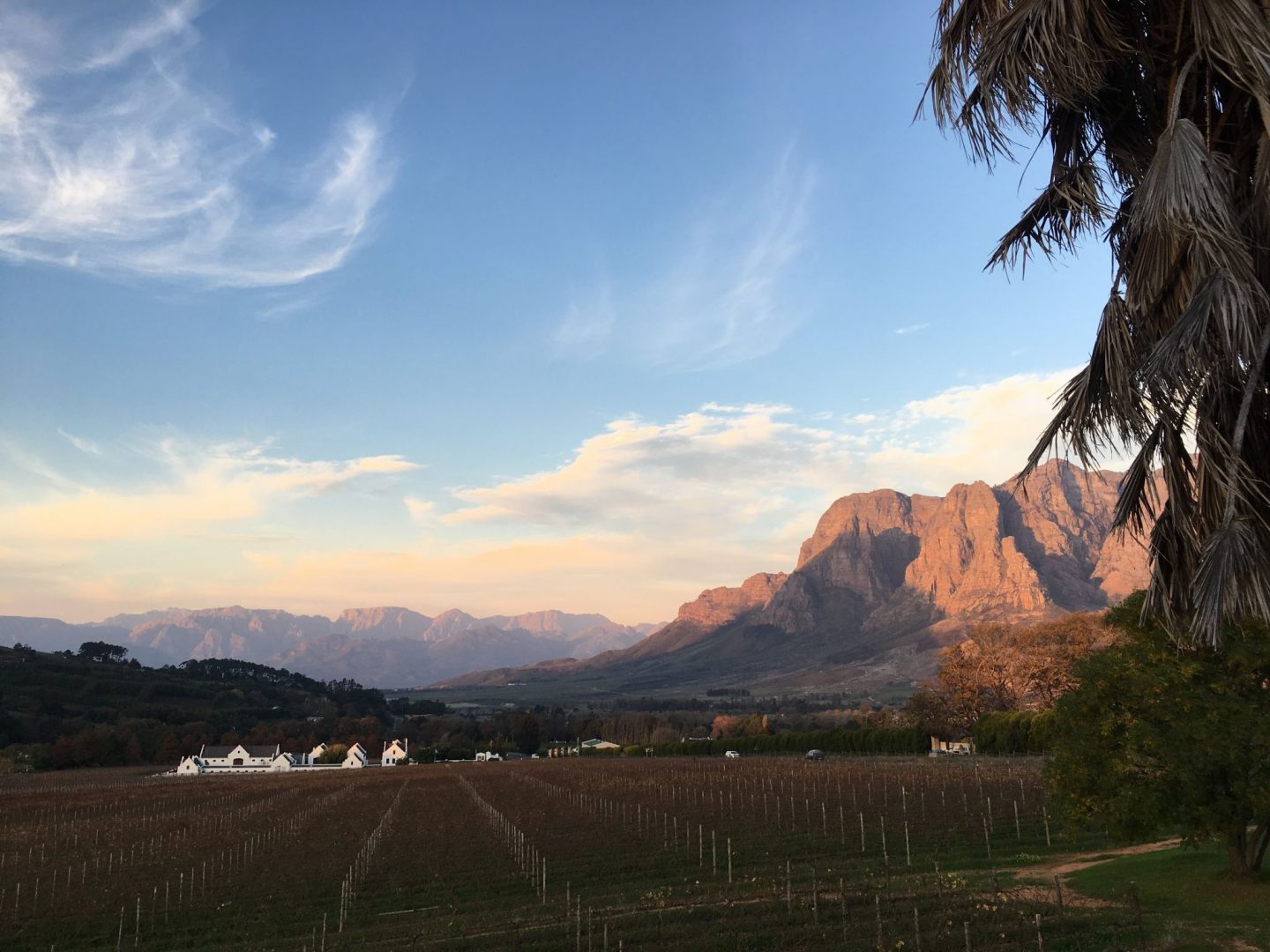 If we thought we'd have trouble narrowing the wine farms down in Franschhoek, we were in for an even bigger challenge in Stellenbosch. We stayed at Banhoek Lodge, which probably isn't Franschhoek and isn't Stellenbosch but is close to both areas so a good base to explore. I'd also fallen in love with the views and rooms on their website! Although a car is useful there are a number of wine farms within a 5km radius of here. The Lodge also provides a helpful map for a walking trail around them.
Why visit and which farms should I include?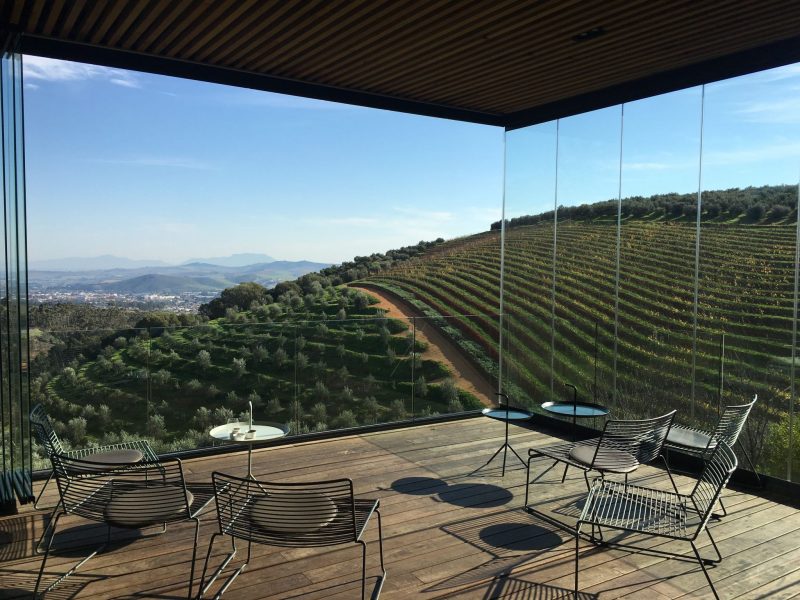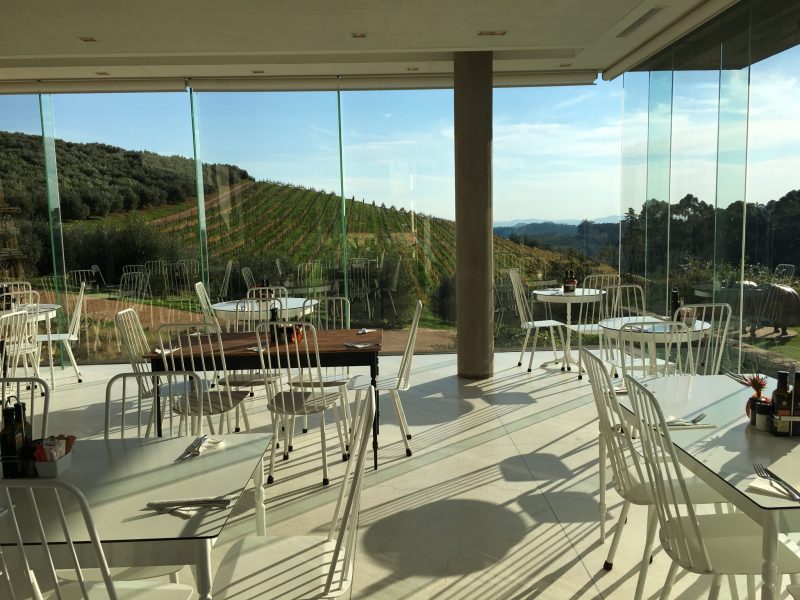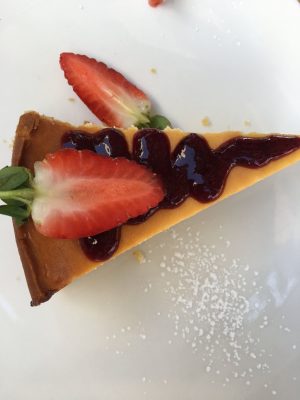 We focused our first day in Stellenbosch close to home in the Banhoek Valley – visiting big names Delaire Graff and Tokara. Both are wow but our favourite was probably Tokara. It's super position and all glass box setting (similar to Beau Constantia) offers views all the way to Table Mountain. As well as a fine dining option, there's also an excellent deli at Tokara which does great informal food (lunch only).
Delaire Graff is something else and if you're after wow then it's one for you.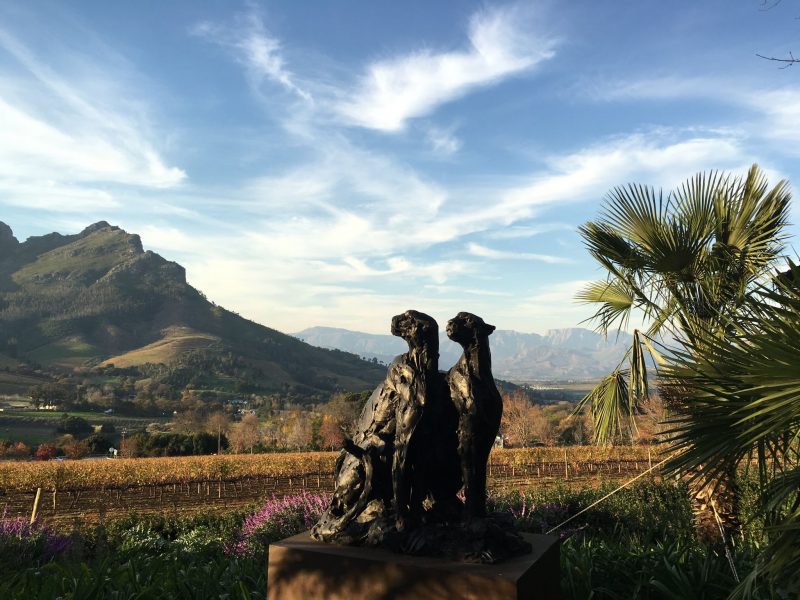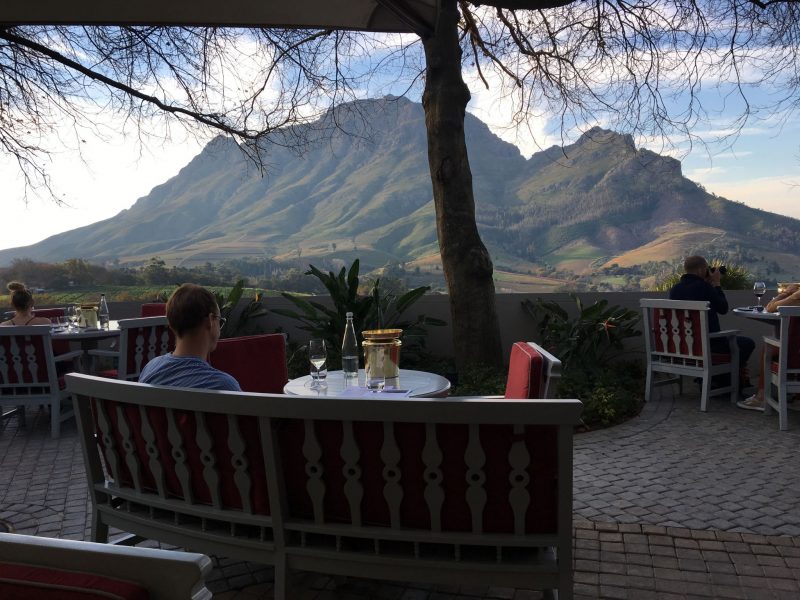 Don't forget some of the smaller wine farms in the valley too. In close proximity are Zorgvliet which offers some excellent reds (and was a bonus for us just a short walk from our lodge). Bartinney Wines is also highly regarded, and Boschendal is only 10 minutes away by car showing how close the areas are.
In summary…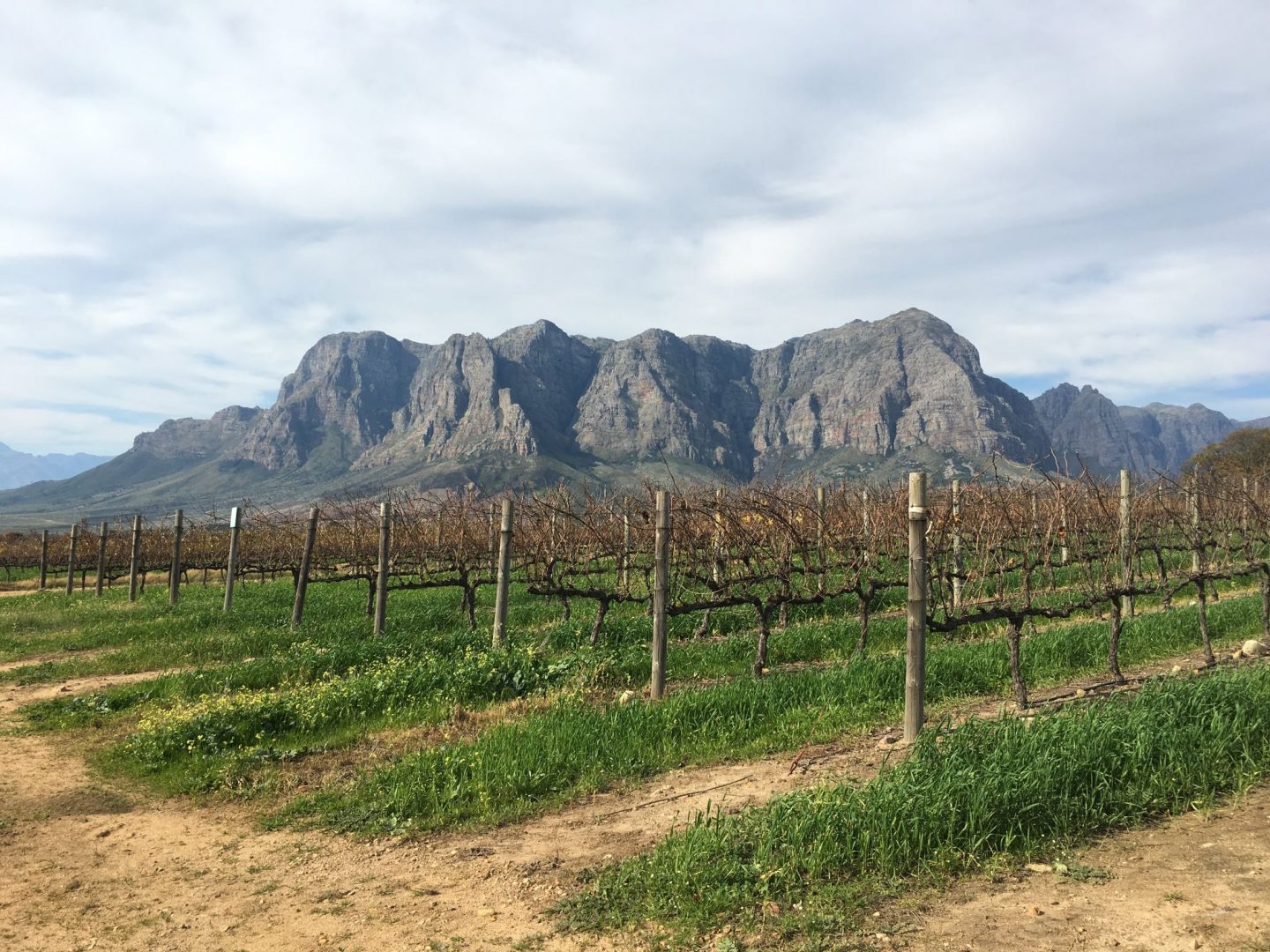 This valley has a great selection and range of wine farms on offer from the big names to smaller wine farms. You can walk between a few but a car might be useful in this area of the Cape Winelands.
Stellenbosch – the area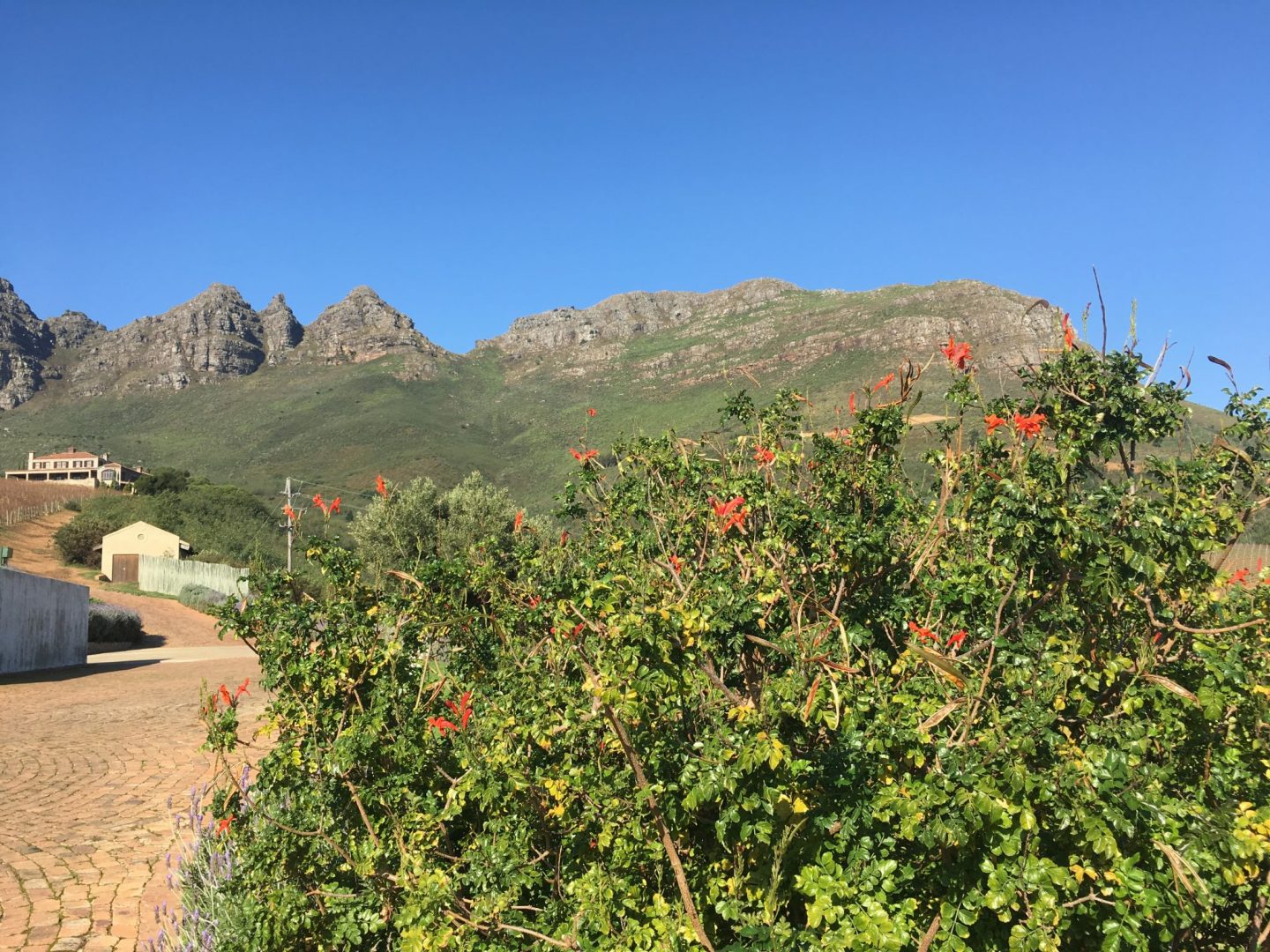 As well as staying close to home in the Banhoek Valley, we wanted to explore further a field in this area with so many options available.
Why visit?
Stellenbosch offers a contrast to Franschhoek covering a much larger area of the Cape Winelands. There's also plenty of choice in terms of wine farms (with over 200 options). If Franschhoek is closer to a village, then Stellenbosch is most certainly a town bordering on city. It's a university town so if you prefer a more lively, city scene then it might be a better choice for you. For me, it didn't offer the convenience and compactness of Franschhoek. However I can definitely see it's appeal depending on your personal preference.
Stellenbosch is often split into areas for wine farms – Bottelary Hills, Greater Simonsberg, Helderberg, Stellenbosch Valley or Stellenbosch Berg. Although there's no tram, there is the Stellenbosch vine hopper. This offers three routes if you're struggling to decide and want a selection. One includes Banhoek Valley (including Zorgvliet and Boschendal) so is a good way to cover a larger area. The Northern route covers a good selection of wine farms with Delheim and Warwick being highlights. Delheim even offers wine tasting with cupcake pairing. A reason alone to visit!
To experience some of the other wine farms though you might need a designated driver or book yourself onto a tour. There's plenty of options available.
Which farms should I include?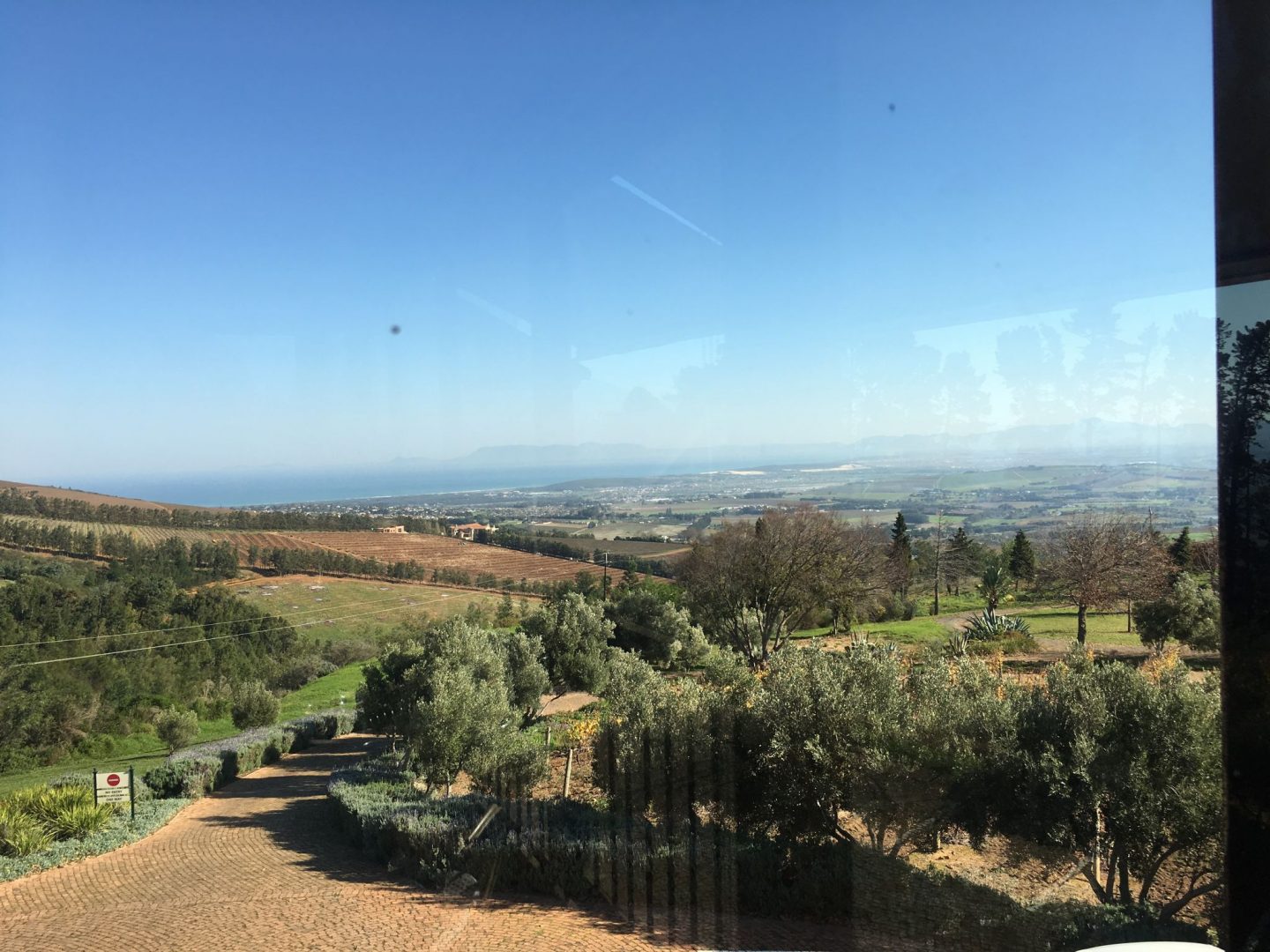 As well as the ones mentioned above, try and make it to Hidden Valley. This area offers some stunning views over False Bay. Uva Mira is at the highest point and although a relatively limited wine selection for tasting, it's worth coming for the views. Hidden Valley Wines is also close by with good lunch options and views. In the valley is Peter Falke which is also highly regarded. Elsewhere the Waterford Estate is one not to miss with impressive grounds and some unusual tastings on offer.
In summary…
For a more lively affair, with a lot of choice in the Cape Winelands – Stellenbosch has a whole host of options. Consider transport here though. There is the vine hopper service but is only covers a selection. A private tour could be another good option if you want to avoid driving.
Somerset West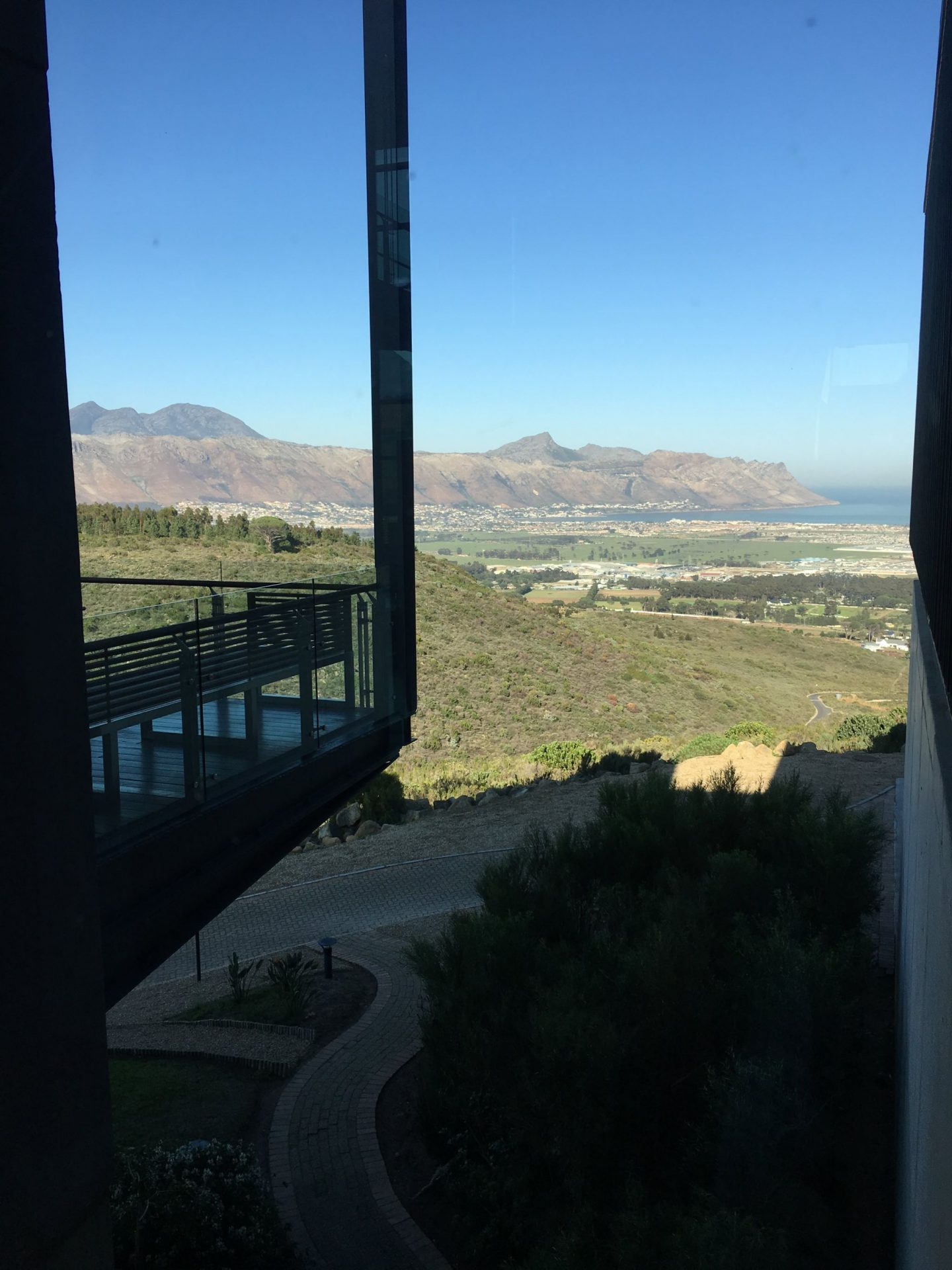 Close to Stellenbosch but nearer the coast is Somerset West. Not such a picturesque drive to get here unless you come via Sir Lowry's Pass from Franschhoek (although that's longer), it's still worth a visit.
Why visit?
Again perhaps not a suggestion for somewhere to stay in it's own right in my opinion, Somerset West still has some really good options in terms of wine farms. If you have a car it's worth making the trip out this way to see another area in the Cape Winelands.
Which farms to include? 
Waterkloof is another wine farm which has the wow factor of Beau Constantia and Tokara. It's modern with glass architecture and the added bonus of an outside decking area perfect for wine tasting weather permitting. It also benefits from some great views over False Bay. As well as being worth the journey for the wine, Waterkloof is just as famous for it's food. It's a pretty special setting if you're after fine dining with views.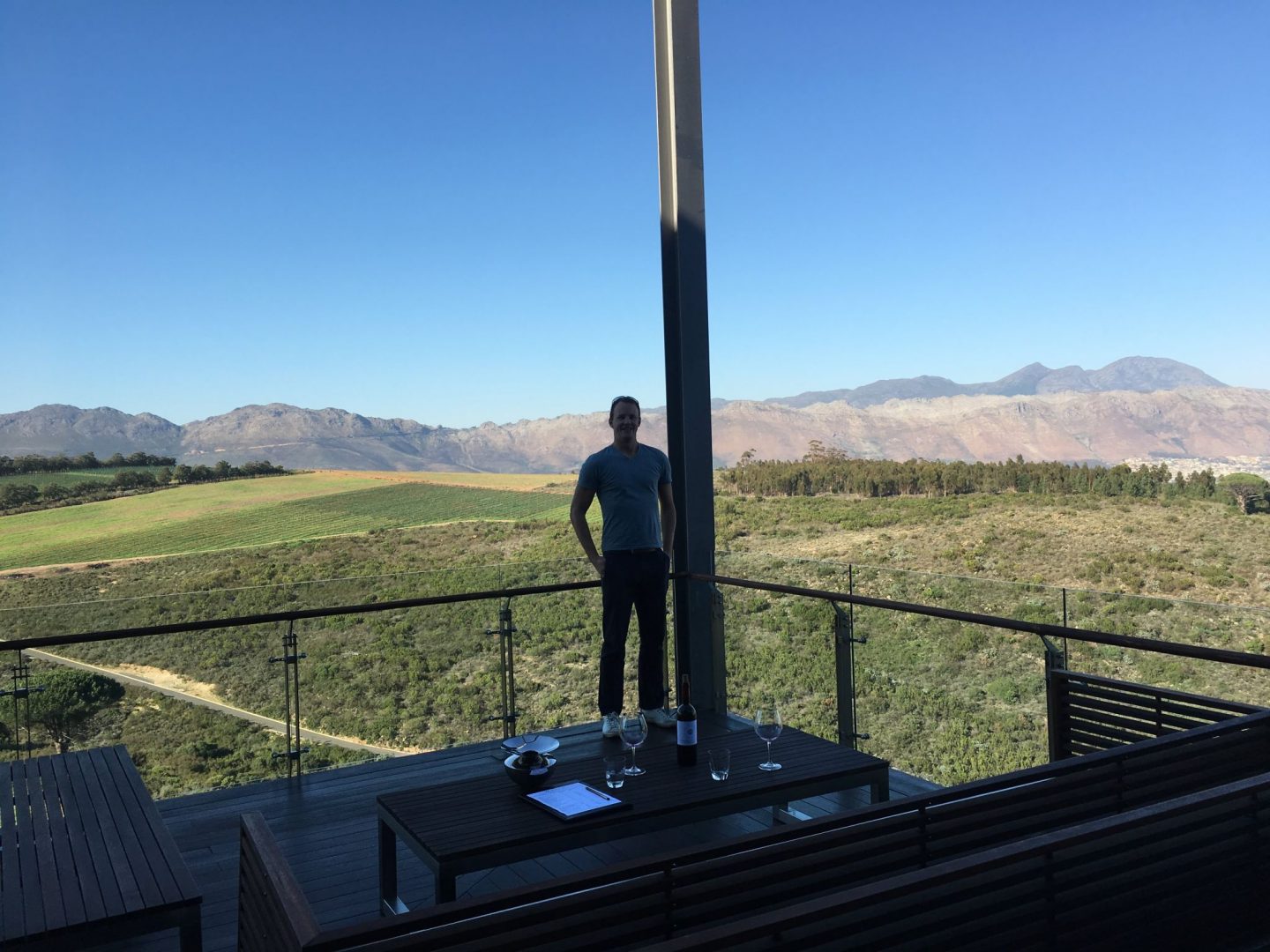 For a contrast to the modern Waterkloof, head to Vergelegen Estate. This is a wine farm with lots of explore. There's extensive grounds and a lot of history here and a number of heritage sites. Knowledgable staff are on hand to provide lots of information on the background of the farm. The gardens are also a highlight. Even if you just came to look around without the wine you'd be in for a treat. It's not far from the centre of Somerset West but feels world's away from it.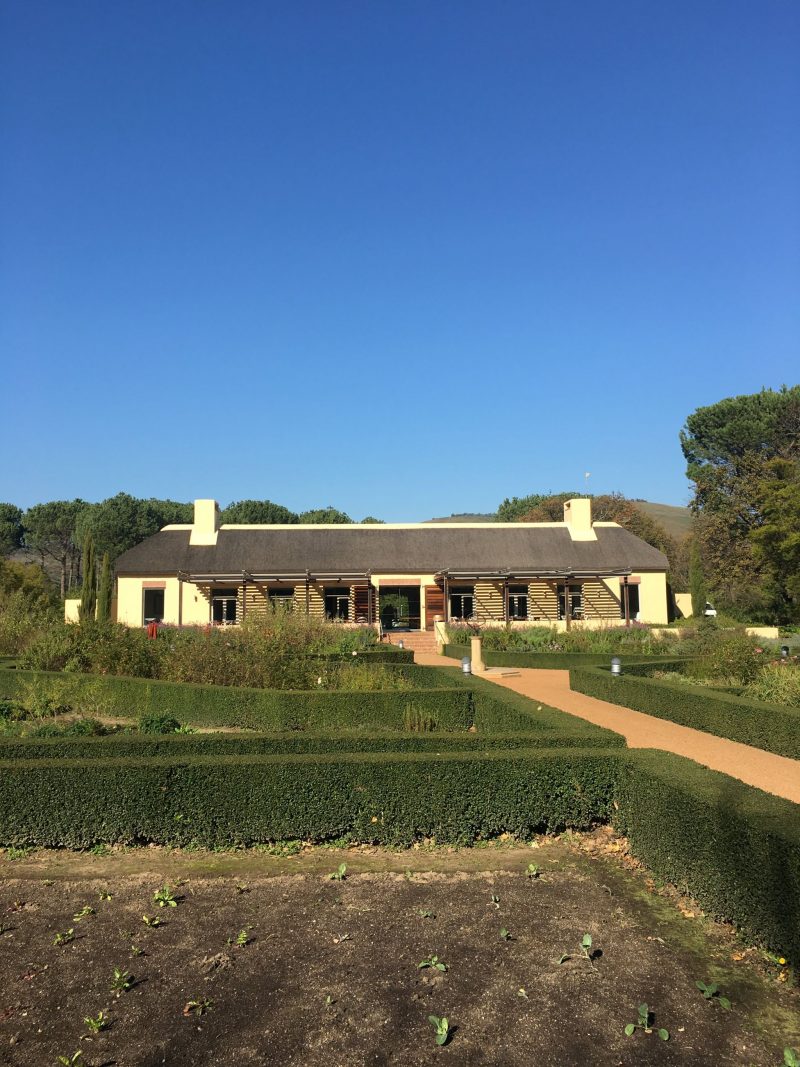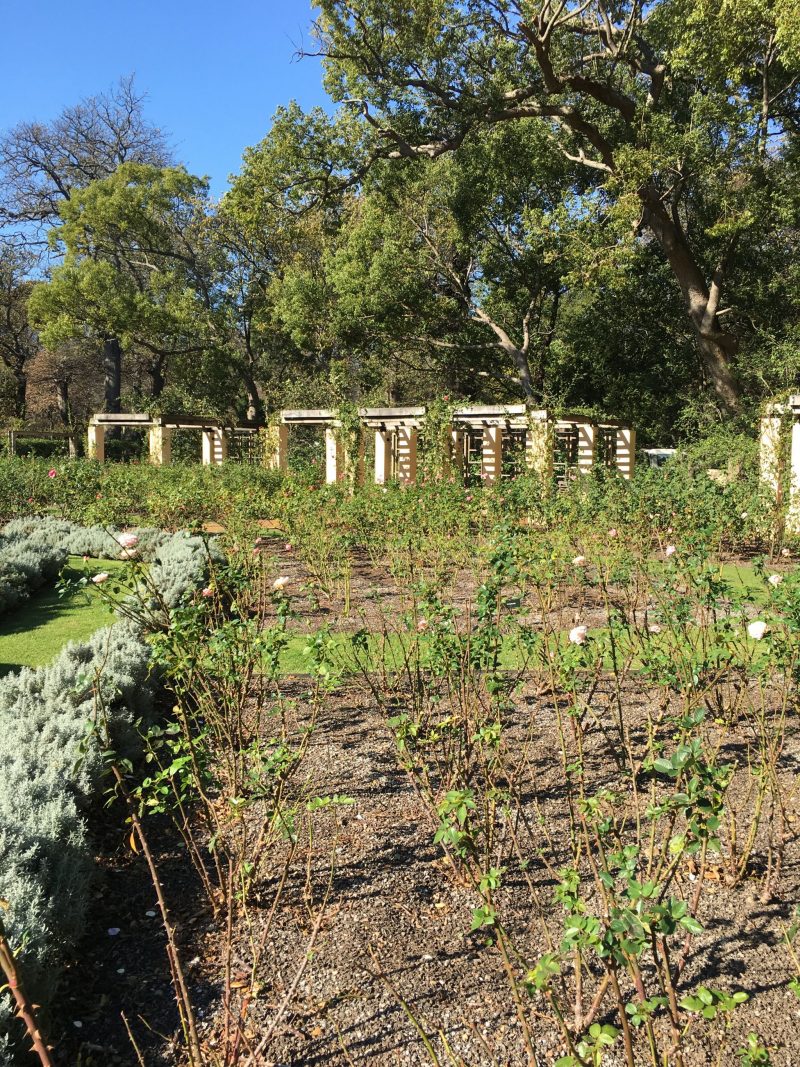 In summary…
Further afield but offering some great options close to False Bay, Somerset West is worth adding to your trip if you have a car and time to explore further a field. It can also be included with the Hidden Valley wine farms which aren't too far away. It's worth noting though that it's a lot more spread out than Franschhoek in this respect so bare in mind when planning your stops!
Other options…
As well as the above, there's a number of other options in the Cape Winelands that we didn't get a chance to try such as…
Paarl – neighbour to Franschhoek and Stellenbosch with over 28 wine farms and the famous Goat Farm of Fairview that's worth a visit.
Durbanville – more managable with 12 farms and only 20 minutes from Cape Town.
Elgin – recognised as the home of the apple farms. Elgin also has a thriving wine scene.
Robertson – a large area covering regions alongside the impressive R62 route.
Bot River – under the radar area with a down to earth feel for those who want to avoid the tourist trail.
Swartland – a larger region and area specialising in olives as well as wine.
Wellington – a quieter alternative with some standout farms as well as spirits on offer.
Even the above list is not exhaustive! But hopefully it gives you a few options to consider as part of a trip and helps to narrow down the areas. Either way you shouldn't be short on choice and won't be disappointed!

The Guestbook's comment: "The Cape Winelands region of South Africa is extensive with lots of options. There's something for everyone. Whether you're looking to add this onto a Cape Town trip or want to dedicate more time to the region specifically. I'll be compiling my ultimate wine route for a post shortly detailing what we covered in our time here so look out for that too!"