What's the story?
The Giardino Friday Brunch is situated in the very grand Palazzo Versace. Opening it's doors in 2016, the Palazzo Versace Hotel is everything you can expect and more from the designer brand Versace. From the flamboyant designer staff uniform, through to Versace sofas with their trade mark prints. Even the tea cups are Versace! This is certainly a dream for anyone who loves their designers and fashion. There's also lots of sketches displayed on the wall showcasing the designs of this fashion house so it's worth getting here early to take it all in.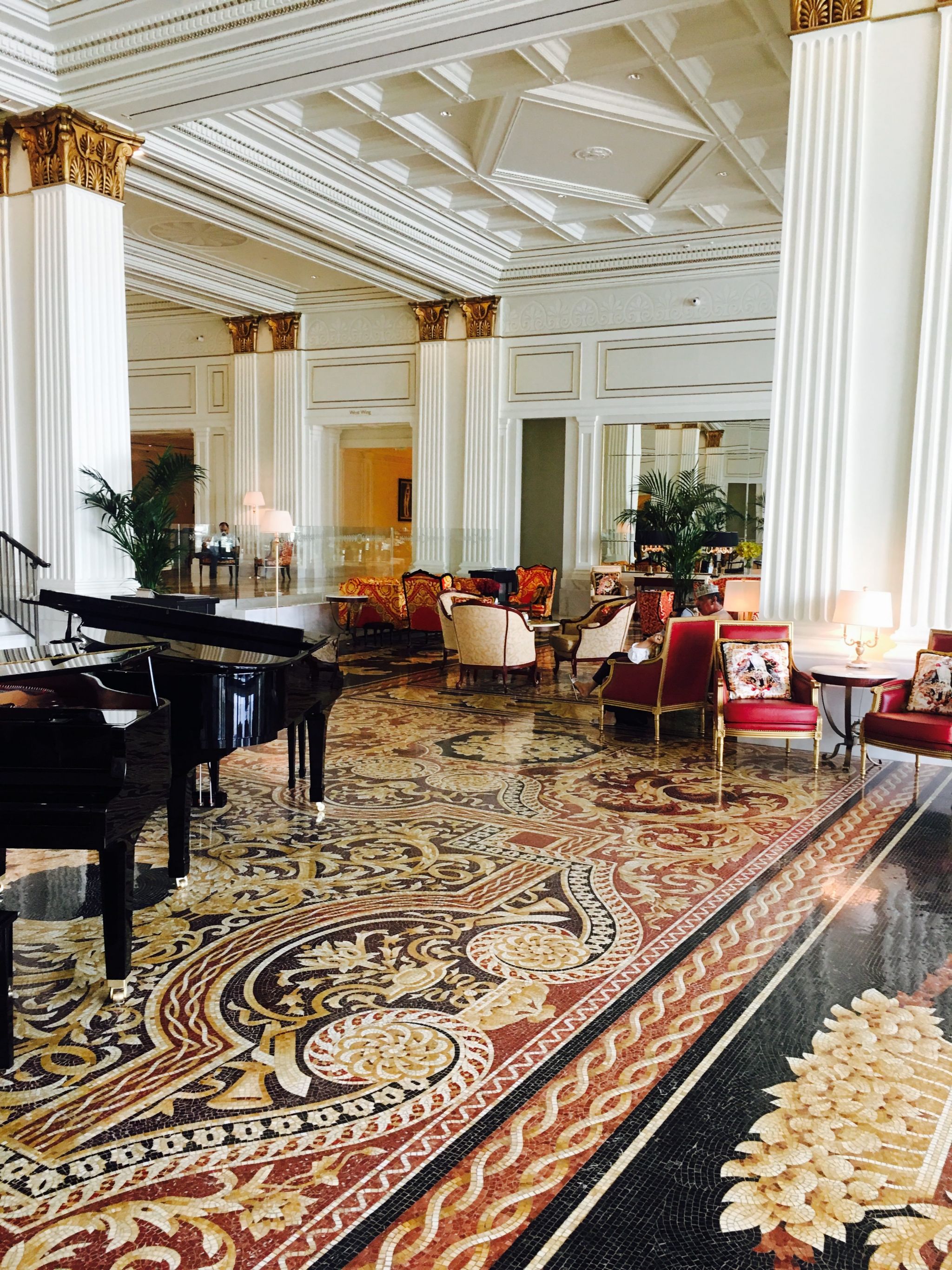 What is perhaps unexpected is the location of the hotel, for the time being at least it's relatively disconnected from the most popular areas of Dubai in the new Cultural Village development. This is close to the Creek so whilst there's Creekside views, there's not much else here besides construction. That aside though, the interiors do impress with a grand entrance hall and lobby overlooking one of the pool areas. The bonus of this brunch is that access is available to one of the pools ahead of brunch so it's perfect if you're looking to combine a pool day. This also helps to justify the journey to get here.
There's a number of restaurants in the Palazzo Versace, with the Friday brunch taking place in the large Giardino restaurant. The wow factor continues here with the striking wallpaper – bold with large, green jungle leaves are the theme of the day. There's also stylish seating with outdoor and indoor available (although outdoor is small).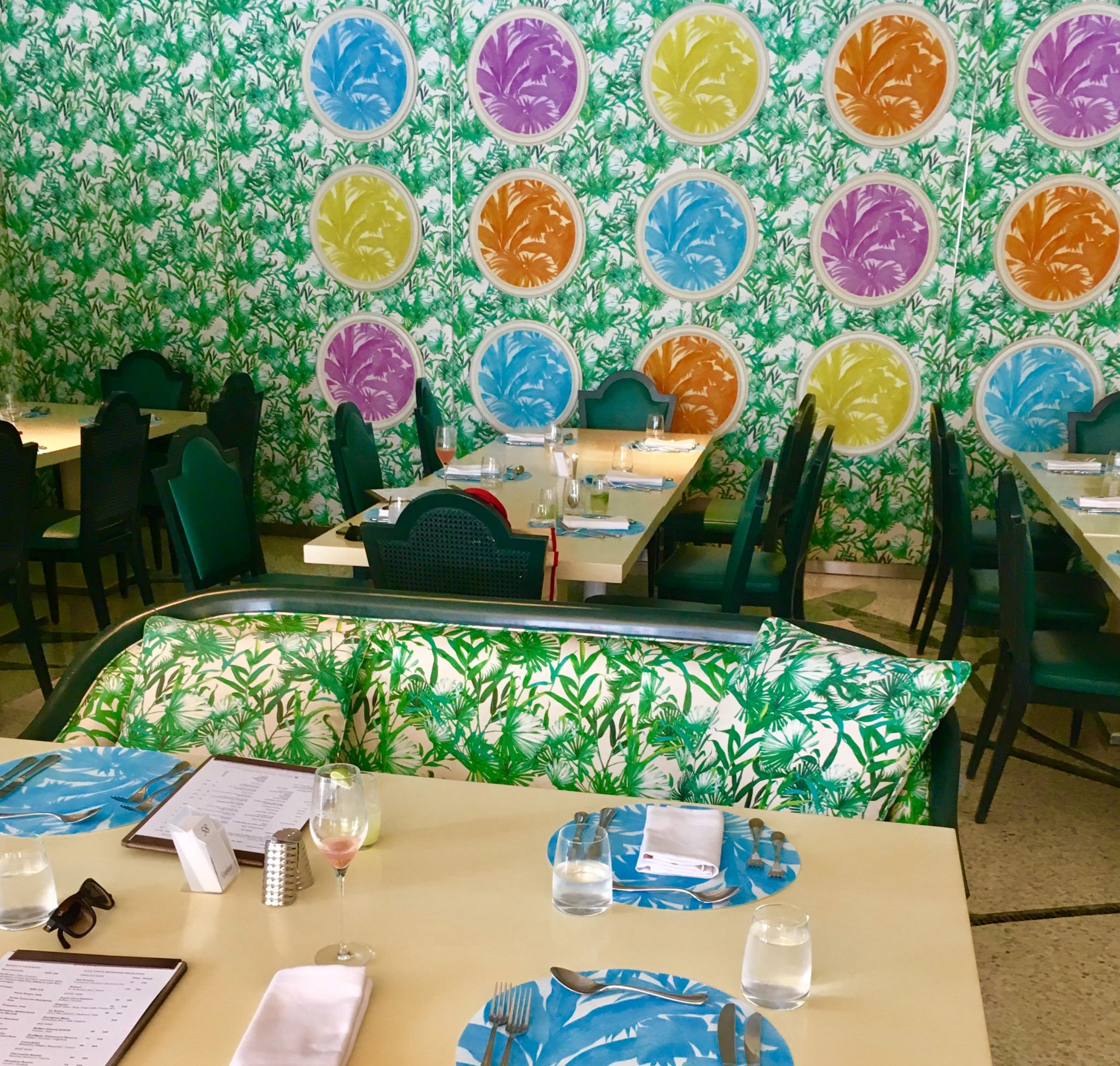 Food
The food area itself is perhaps the least impressive element of Giardino. It's configured as a small number of counters so you can see the chefs at work which is nice, but there's a very slight canteen feel about it (a very posh canteen at that though). Maybe that's just me though! It's a minor point though, as the variety and quality of food on offer makes up for this.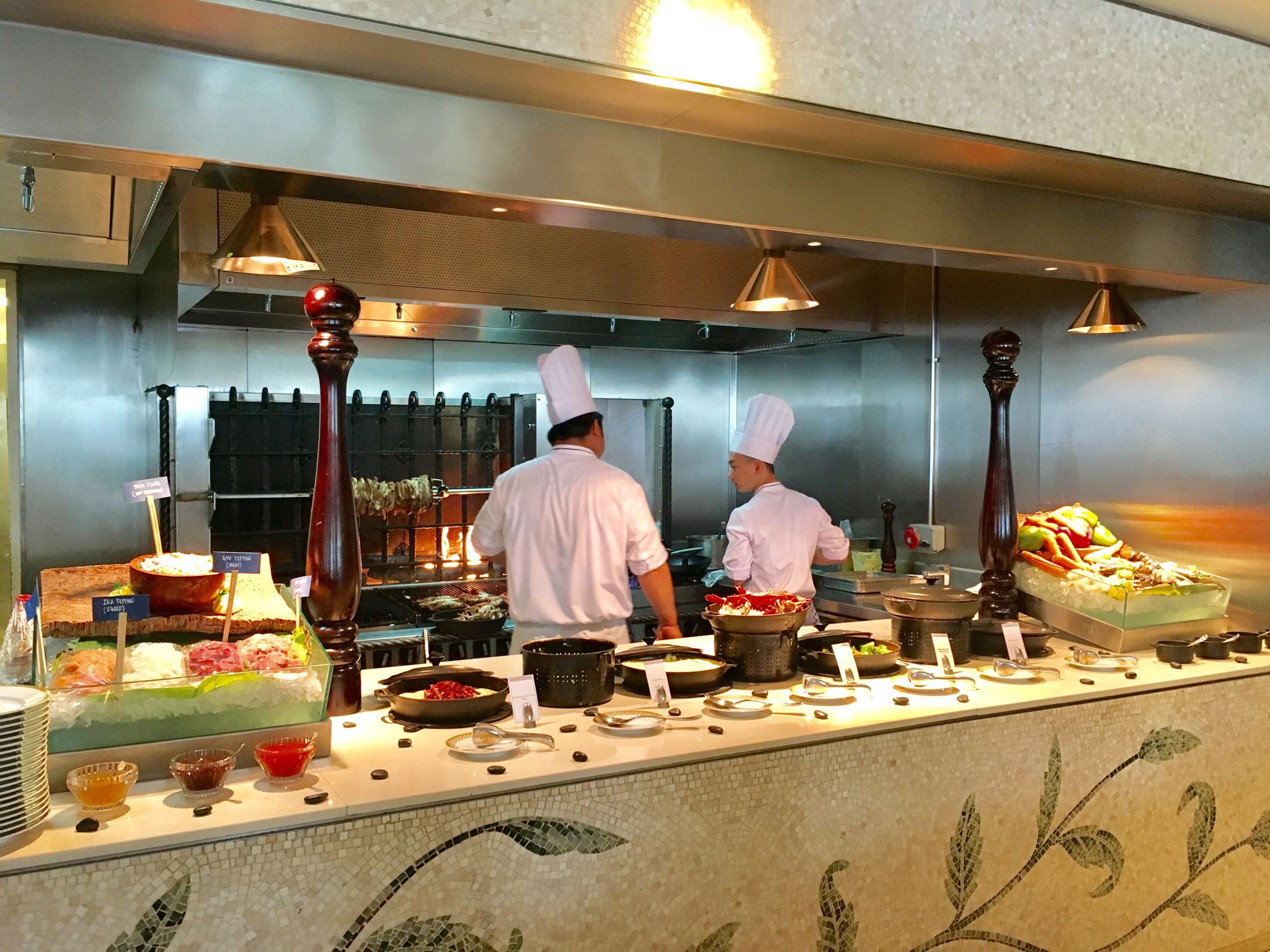 The brunch is buffet style and has a good offering. There's a small number of salads and canape style dishes to sample, but the main highlights are the seafood and sushi.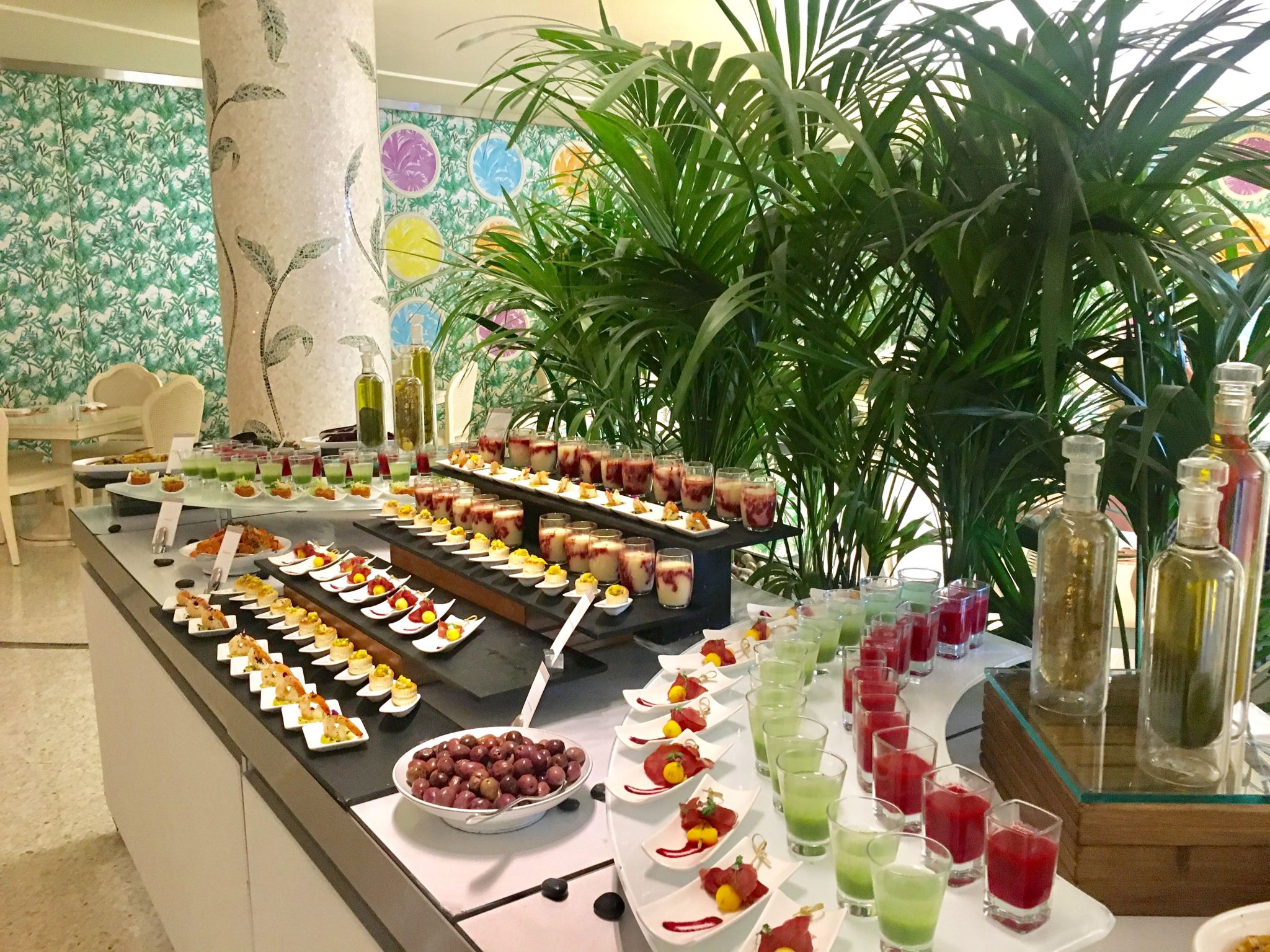 There's a good selection of seafood, but the star of the show is probably the grilled Lobster. Not always available at a brunch and sometimes a disappointment, this offering lived up to expectations. It's popular though so opt for it early!
There's a small outdoor station offering eggs cooked to your liking and Mexican offerings, the guacamole is worth trying. The main courses on offer are varied with a wide selection of Indian curries, through to Chinese and Italian. There's also a variety of traditional roast options available and ready to carve. The favourite for us here was definitely the curries.
Desserts
Now onto a favourite course – desserts! True to it's designer brand, the Giardino brunch produces desserts in just as beautiful a fashion making them almost too good to eat (almost being the important word).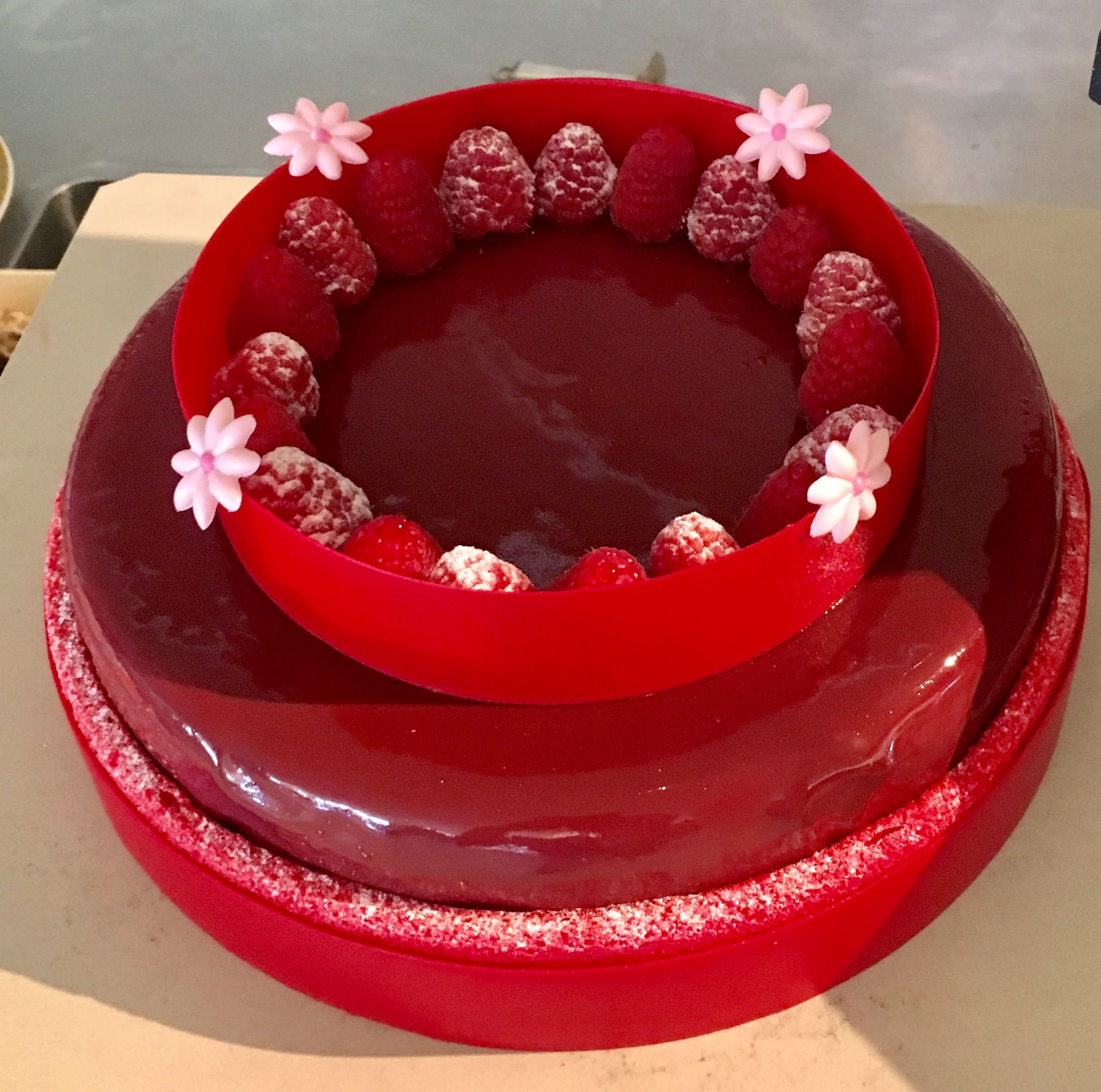 There's a wide range from your delicate individual desserts and cupcakes, through to your classics served in Versace crockery of course. Favourites include the Red Velvet Cake, Chocolate Mousse and the Tiramisu.
There's certainly enough  to keep all sweet tooths pretty happy.
For those who prefer savoury, there's cheese on offer – they are mainly hard cheeses but there's a really good and tasty selection which comes highly recommended!
Drinks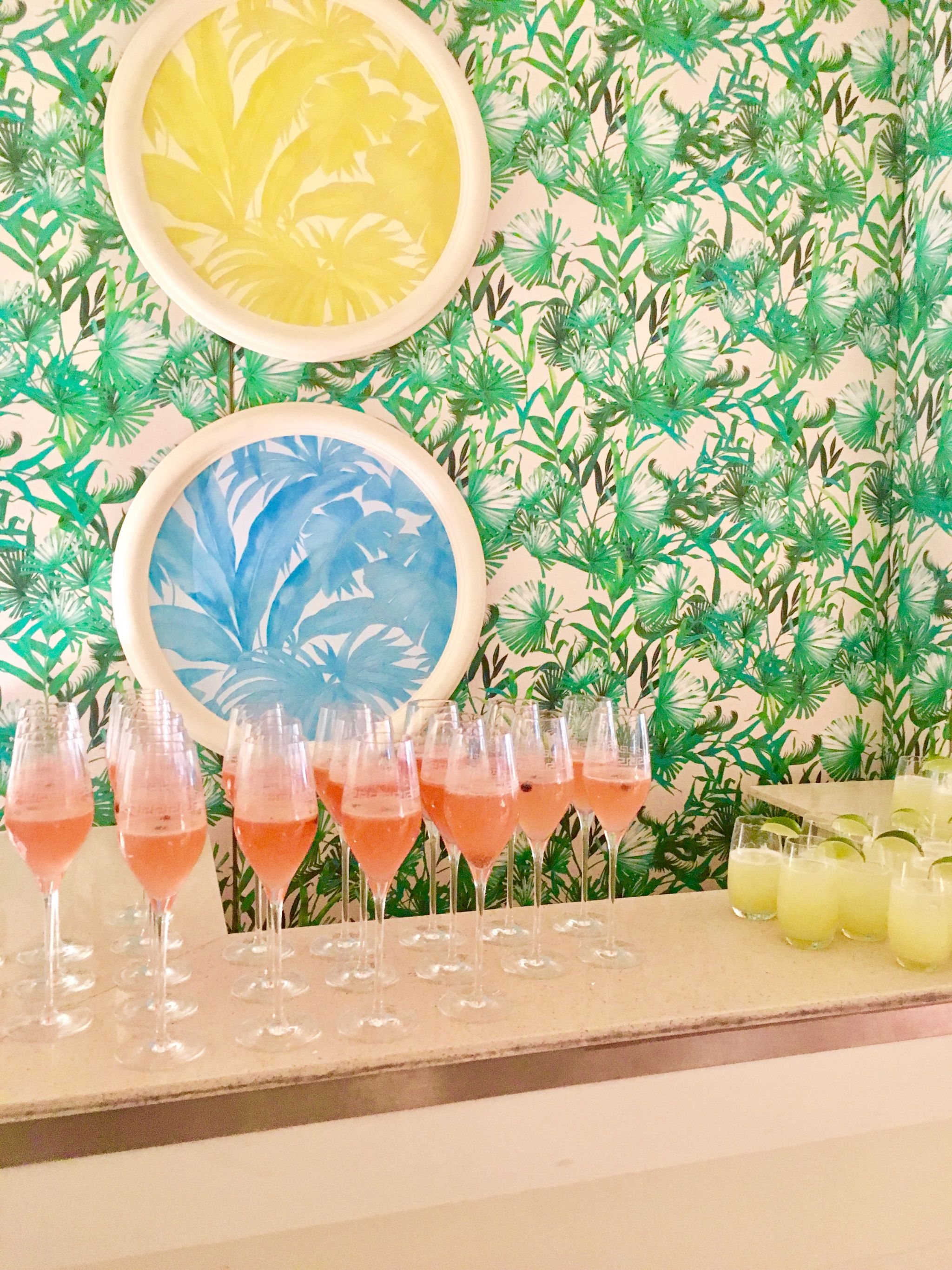 The drinks package at Giardino is good with prosecco being included in the house package. This brunch is more expensive than some of the others (AED 570), but when you factor in the swimming pool access if you decide to use it then it isn't too bad (especially with the Entertainer).
Besides prosecco and some good wines, there's also a wide selection of cocktails on offer with some old favourites such as Aperol Spritz which make a perfect brunch accompaiment. Teas and coffees are also included (if you fancy drinking out of some Versace china – it definitely tastes better).
Atmosphere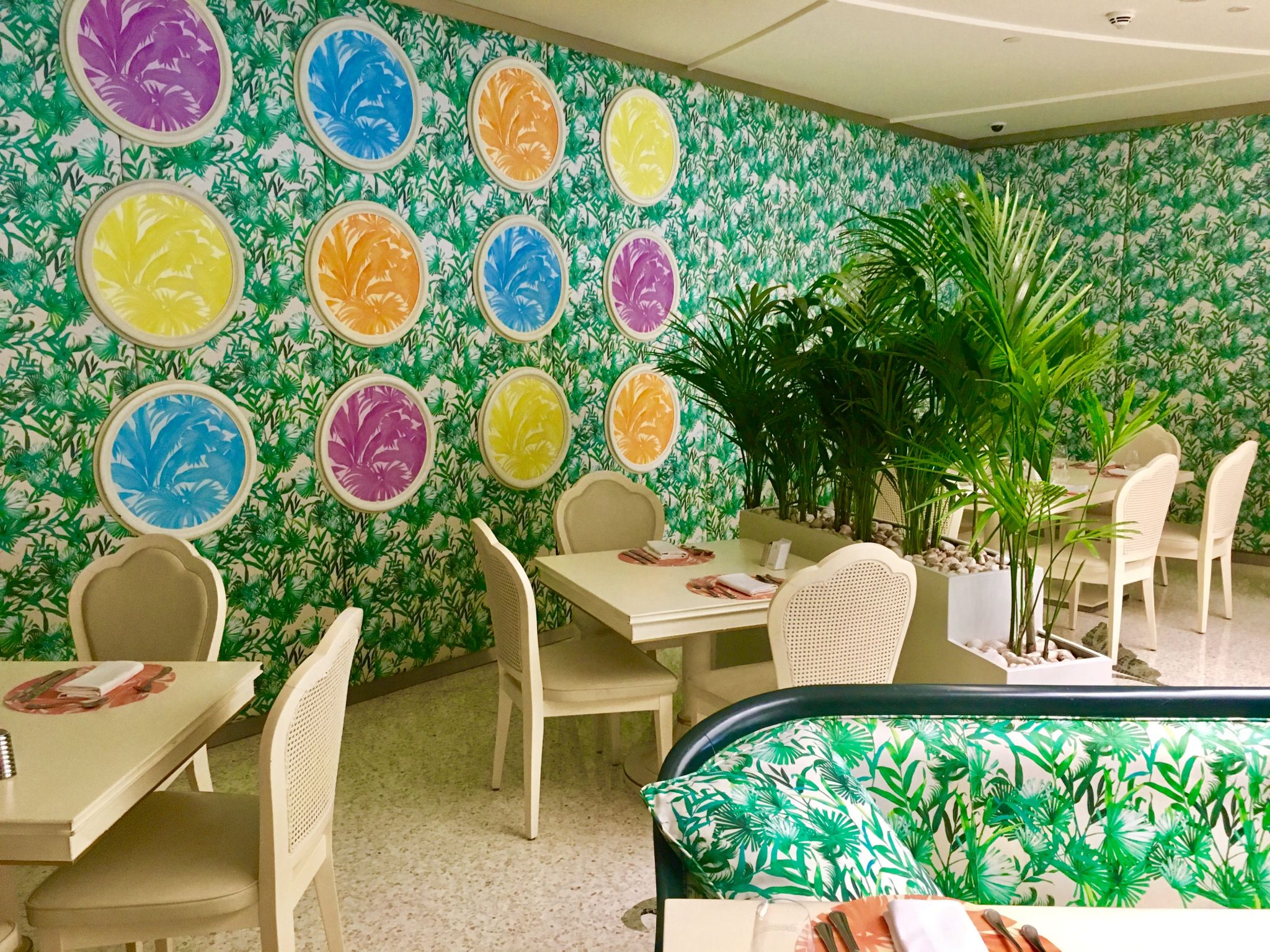 As the Giardino brunch is quite far out I really didn't know what to expect but it was packed. I think the pool access is a great draw, plus the intrigue in trying the Versace hotel. The pool access does mean you get a real mix in terms of people and dress code – with shorts and t-shirts next to dresses and heels but that's often the case at brunches.
This seems to tick boxes for everyone with families, groups, and couples in attendance and a good atmosphere due to the large numbers of people. There was also an excellent live act and singer who was perfect for the setting and really added to the atmosphere.
Overall
In terms of brunches, the Giardino brunch delivers. The quality and variety on offer in terms of food and drink is matched by the amazing decor. I really enjoyed visiting the hotel which has been on my list for some time.
It's also great if you want to combine a pool day with a brunch and this is something that is quite unique with only a small number of brunches offering this. It is a bit out of the way but for a good traditional style brunch to please everyone, alongside the opportunity to make a day of it, then it's a good option.
The Guestbook's comment: "The Giardino brunch is a good option if you're looking to combine a pool day with brunch which helps to justify the location. This is also a great one to wow guests with due to it's location in Palazzo Versace and it ticks the boxes if you're looking for a traditional Dubai style buffet brunch to please everyone."
Looking for more brunch inspiration? Check out our Dubai brunch guide.