Where to begin with South Africa? I'm not really sure. After 2 weeks of trying to cram as much in as possible it's fair to say I'm in love with this part of the world. Before going into detail on individual posts on the different parts of our trip (and there were many!!) – I thought it might be useful to outline a rough overview of our plan for anyone else who might be looking for a two week itinerary. There's so many options so this is by no means the only or the best option (and it definitely doesn't cover everywhere), but it did provide us with a whistle stop tour of a few of the many highlights on offer.
Cape Town
We arrived in Cape Town and spent the first two nights here getting to know the city and focusing our time on the key sites based centrally such as the lively Long Street, the Bo Kaap neighbourhood, Table Mountain and the V&A Waterfront.
Route R62 to Oudtshoorn
We hit the ground running straight away after Cape Town with a long drive, opting for the lesser driven, but no less incredible, R62 to Oudtshoorn. This area is known as Little Karoo and has wide open landscapes and red rocks, a good contrast to the greener garden route. This is a good 5 hours from Cape Town with the option to stop at Montagu on route, as well as a few other famous sites such as Ronnie's Sex Shop (it's only a bar so don't be too alarmed!!). The drive is spectacular and very quiet with the best scenery. In hindsight it would be good to spend an extra night in Oudtshoorn to see the nearby Cango Caves (and one of the many Ostrich farms). However we were limited on time so it was a quick stop but made worth it by our accommodation (a review coming soon!).
Addo
Another long but beautiful drive takes you to Addo. One section is a single track road for both directions of traffic to use which goes on for miles (don't worry, we only passed one person coming the other way it's that quiet!!). It's all about the elephants in Addo so after the long drive we relaxed and then dedicated the next day to a self drive around the park, although guided tours are also available. Unless you are very unlucky you will pretty much always see elephants and the roads are in good condition (even for our trusty little polo) so a self drive is definitely possible.
Shamwari Private Game Reserve
A short drive from Addo is Shamwari, one of a number of many private game reserves that are next to Addo National Park. There's options for all tastes and budgets in the Eastern Cape, but as this was our honeymoon we decided to go for it and splash out with two nights at Shamwari which we did not regret. This really was a highlight of the entire trip.
The Garden Route
A lot of visitors do Shamwari as their last stop before getting a flight from nearby Port Elizabeth to Cape Town or Jberg fo connections home. We looked at this but the flight times meant we would spend quite a bit of our limited time in airports so we opted to do the return leg to Cape Town by driving the well known Garden Route and stopping off along the way. This did mean quite a bit of driving over the two weeks (over 2000km to be precise!!), but meant we got to see so many more places. We stayed in Plettenberg Bay and lesser known but still stunning Wilderness during this part of our trip.
Hermanus
We were visiting South Africa during whale season so it was only right that we visited this town as a whale watching site renowned world wide. And spot whales we did! This pretty little town has lots of other options nearby too if you have more time to spend here such as it's own wine route and lots of boat tours, as well as shark cage driving if that's your thing.
Franschhoek
We took a longer route to this wine area to take in the penguin colony at Betty's Bay and the famous R44 which even on a grey day was jaw dropping. And then it was time for the wine. With vineyards dotted throughout the valley this is a wine lover's dream come true. The wine tram was a perfect way to sample a good selection of the many options available and this quaint town also offers some standout restaurants making it a great base.
Back to Cape Town
We didn't think we would do Cape Town justice in the short period we had at the start so chose to spend our last two days in Camps Bay to explore this area and the nearby Cape Peninsula with the Chapman's Peak Drive and the towns of Simon's Town and nearby Kalk Bay. There's also the option to take a drive all the way to the Cape of Good Hope as well.
We may have gone home tired but it was certainly worth every minute (and every km).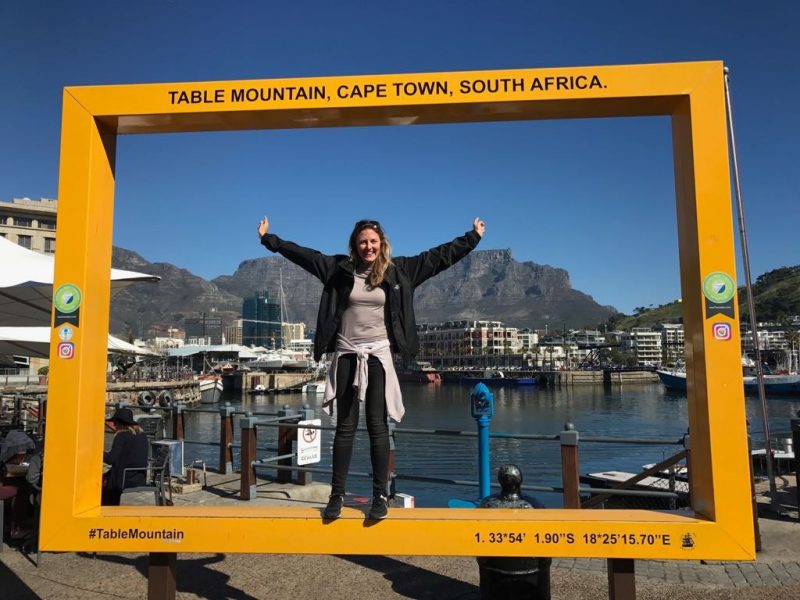 Guestbook comment:
"All a bit too much driving for you? You can just drive one way as mentioned above. If I was doing this I'd start in Cape Town,  followed by the wine region, before heading down to Hermanus. From here you can also drive inland if you'd like to explore the Little Karoo before heading off to Knysna, Plettenberg Bay or Storms River for more outdoor adventures. You can then end with a safari near Port Elizabeth in the Eastern Cape. Either way you'll have an amazing time."
No freebies have been offered or provided by any of the establishments featured in this post!