The final leg on the Thailand part of our Asia two week extravaganza was Railay. We hopped on a ferry from Ton Sai island glancing back once more at the stunning Phi Phi which we'd just explored. You don't need to prebook the ferry, there's plenty of options so just check timings (but in high season you might want to look into options in advance).
Apprehensive about the boat I was pleasantly surprised and not sure if it was pure luck with the weather but I really enjoyed the trip. We sat out on the top deck and took in the sights passing many a inhabited island with soaring cliff faces. We changed boats to get a smaller boat into Railay which was slightly precarious especially with large rucksacks but I couldn't complain especially when I saw a family with three young children doing the same thing.
This is where things started to get interesting because we hadn't booked anywhere to stay so we went for a wander along the front (Railay East beach) to try and locate a suitable B&B for the next couple of nights. It's relatively easy to walk the front in Railay as it's not particularly big and there are lots of options. We'd done our research so had a rough idea of the options available and what would be in and out of budget. I was easily tempted by the sight of luxury options though but Josh just about managed to dissuade me and we settled for somewhere a bit off the main stretch which ticked all of our boxes and wasn't too expensive. It's worth noting that none of the accommodation we stayed in during our Thailand leg had a swimming pool (which I craved!!) but we were trying to pack in lots of places for a budget so had to sacrifice the luxuries in this case. But it's not such a sad story as we had the beaches! And what beaches they were…
Railay West features in my top 5 beaches (see the other beaches that make the list here). Phra Nang beach is just around the corner and is also a stunner. If you want to splash the cash, the Rayavadee is the place to stay which backs onto Phra Nang beach. you can just about get a glimpse of one of the hotel restaurants off the beach. It's in a beautiful cave called the Grotto, worth it if you're going all out I'm sure! Railay East Beach is where lots of the cafes and bars back onto and where the majority of the boats come in to, it's quite narrow so not quite so good for relaxing but a perfect backdrop for drinks and dinner! The final beach, Tonsai, we didn't get the chance to explore because it's a bit harder to reach (you can walk it at low tide otherwise it's a short boat trip). It's meant to be quieter so could be a good option if you come in peak season.
When walking to the beaches and around Raillay generally, you might want to watch out for the monkeys. We saw a very organised monkey who had even taken the time to make his own packed lunch(!)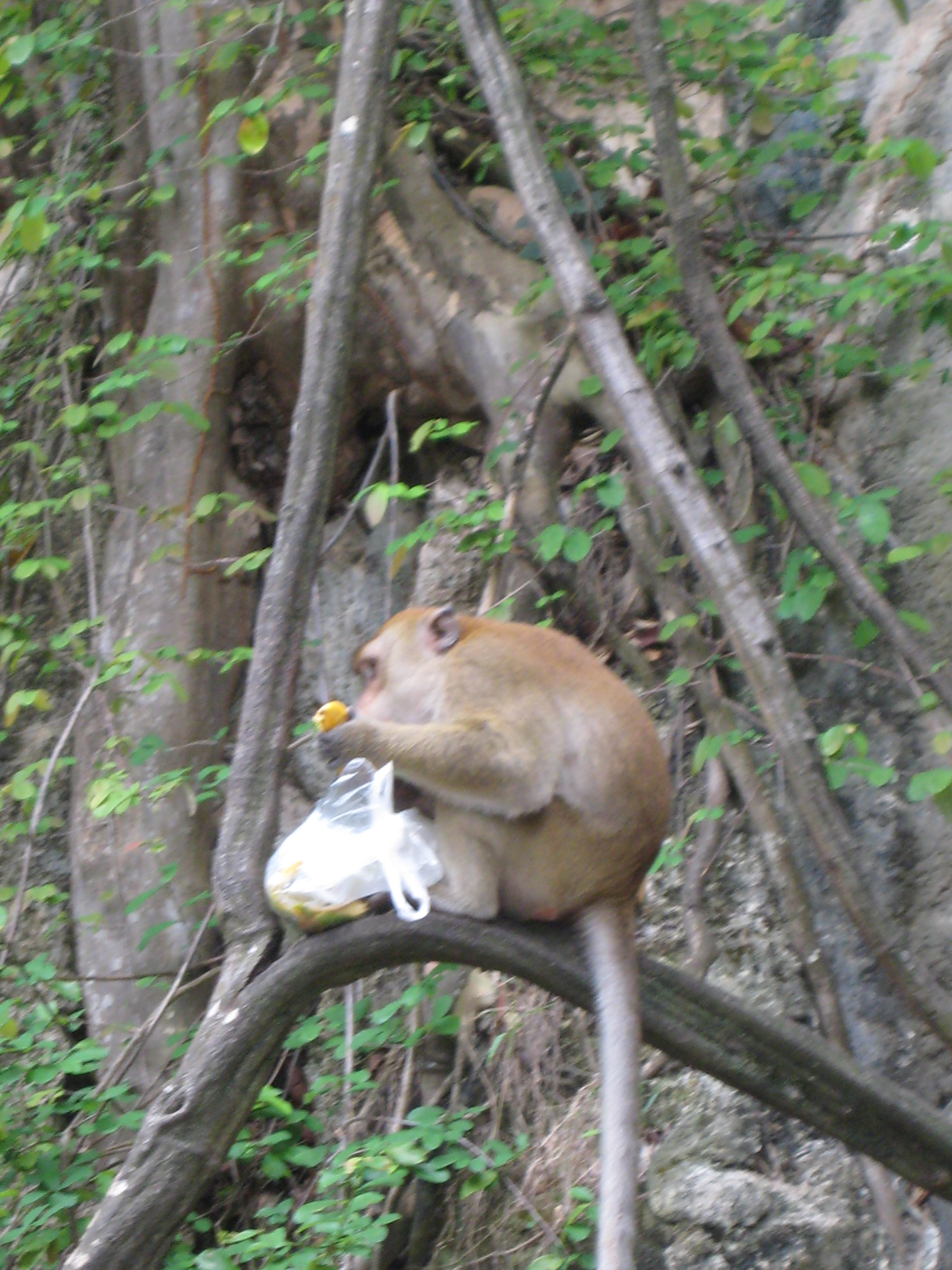 Railay was really chilled and we spent our days at the beach and evenings having sundowner on cushions in the bars along the front (because who can really relax in a chair?). I imagine in the high season the party tempo picks up but I still can't imagine it losing the chilled out vibes, I'll have to visit again to be sure. Food continued to impress throughout our trip and you can't forgot about the most important meal of the day, breakfast. A Breakfast of banana pancakes in one of the cafes along the front stretch of Railay is strongly recommended.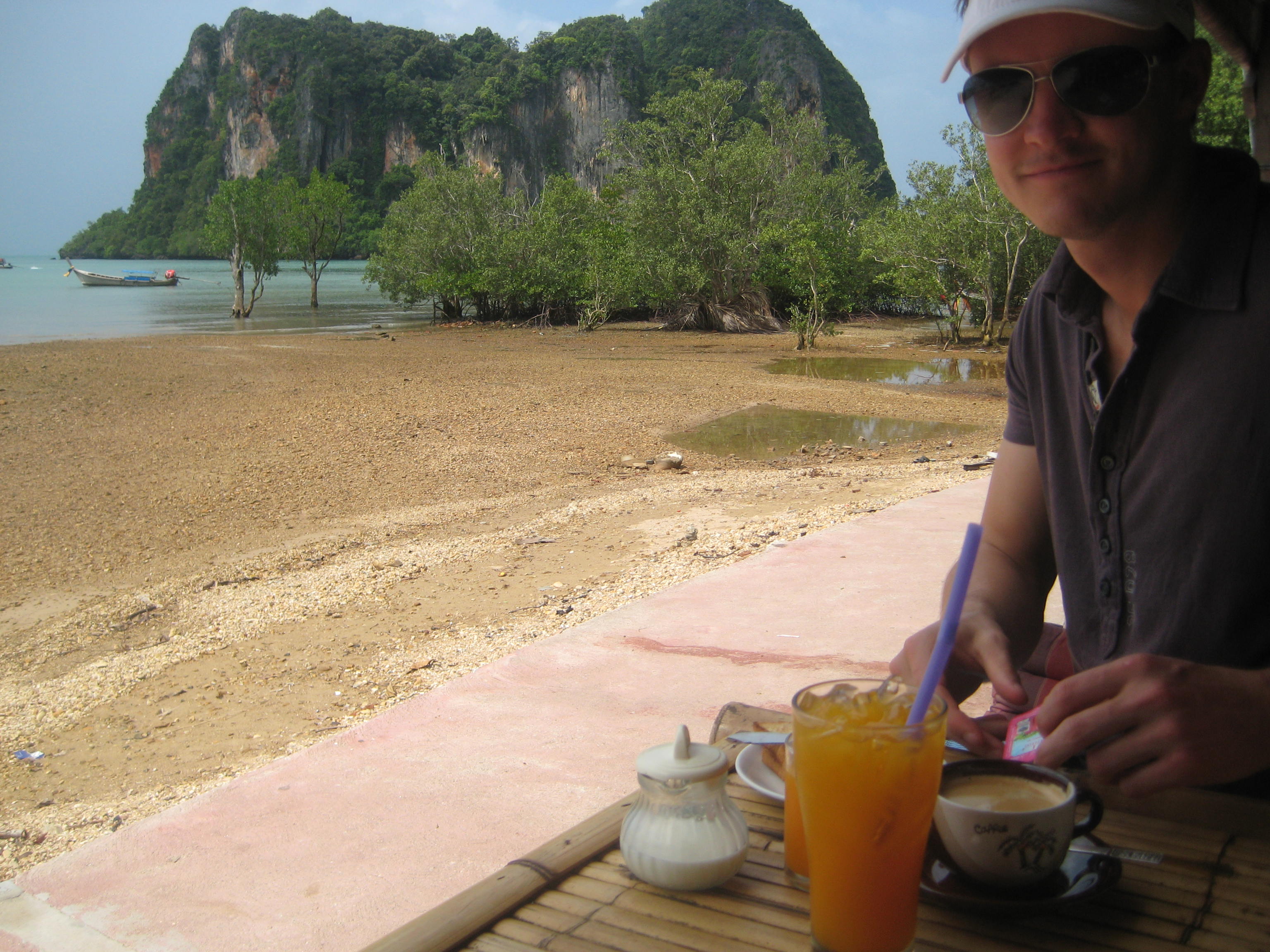 After dragging ourselves off the beach, we got our final boat (my favourite, the traditional long tail one) to Krabi harbour and then caught a bus to the airport. I was worried about this logistically but the boat was really quick and the whole thing pain free so I would definitely recommend. We booked our flights when we were in Railay to our next stop, Kuala Lumpar, to give ourselves the most flexibility and it was easy and seats were readily available through Air Asia (the Easy Jet of Asia). Again it's worth noting that low season could come into play here so worth checking!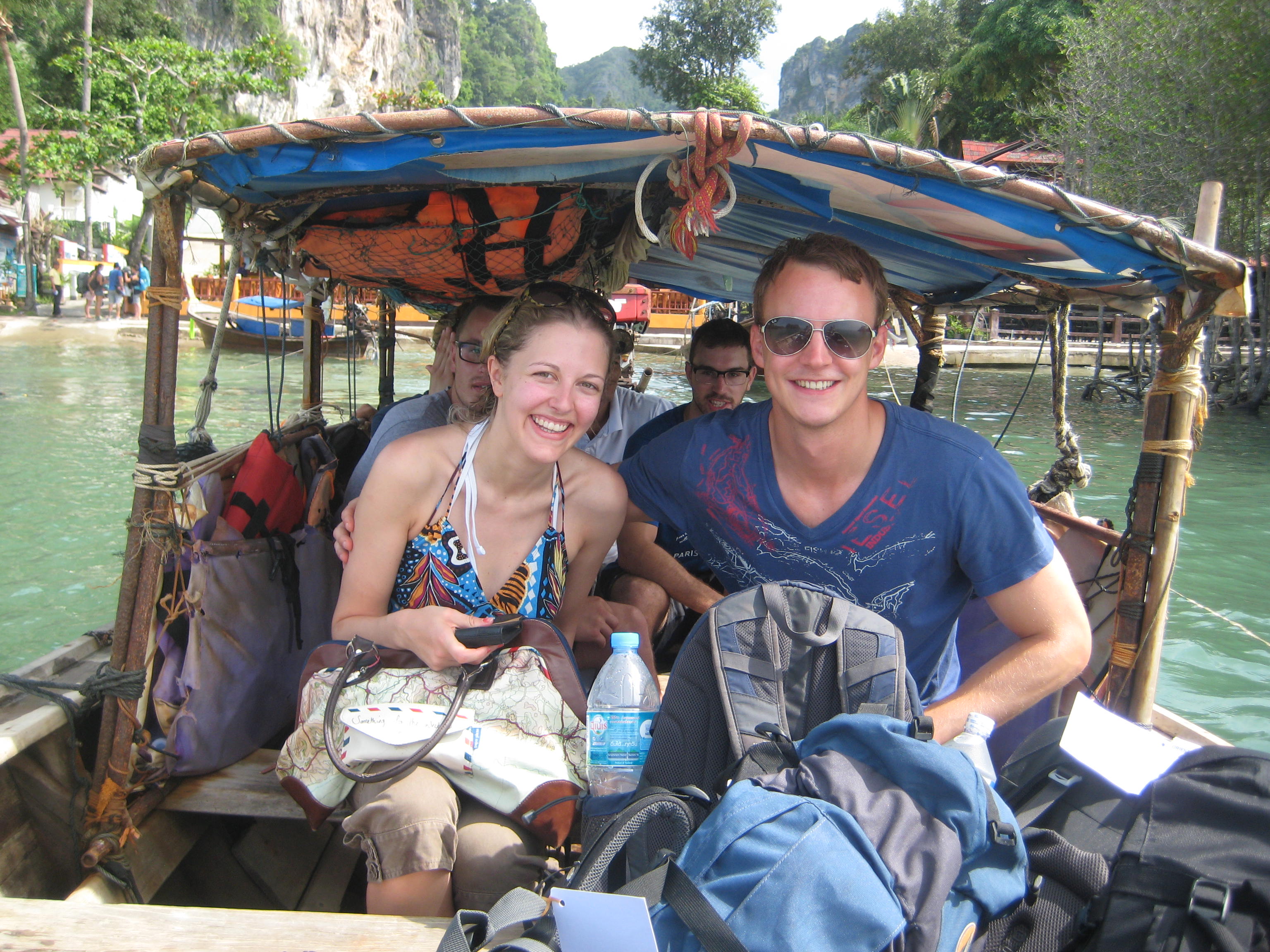 Next stop:  Malaysia!
The Guestbook comment: "For chilled out vibes with stunning beaches this is the place to be. Explore the different beaches and find your favourite"
No freebies have been offered or provided by any of the establishments featured in this post!