Let's be honest, you need more than a day to explore Cape Town with so much to see and do but since our two week trip started and ended there we only really had a day at the start and finish to explore.  To try and fit in as much as possible, we dedicated the start of our trip to to exploring the central Cape Town area. Here's an insight into our day and some key sights to consider for anyone planning a whistle stop tour of this beautiful city…
9am – Sightseeing bus to Table Mountain
A great way to see any city, especially one spread out like Cape Town, is to embrace being a tourist and opt for the tourist sightseeing bus.
Start on the red route (we were staying near Long Street (stop 5) which is the main ticket office so hopped on there).  Get off at the Table Mountain cable car for your first stop of the day as going up early beats the crowds. Make sure to prebook your tickets online though to avoid the queues. You can prebook at any point so leave it until the morning you plan to go up (although you might need to book earlier in peak season). Leaving it until closer to the time is advised given that the cable car is weather dependent and in windy conditions you won't be going up. The weather can also be very different and changeable at the top so bring layers. We were told it was freezing up there the previous day so wrapped up only for it to be boiling with glorious sunshine (we'll take it), but always best to be prepared!!
If you're lucky and get a clear day then the view is incredible and really is breathtaking. I immediately fell in love with the city from Table Mountain. There's lots of different trails from the summit and if you're feeling energetic you can skip the cable car altogether and walk up and/or down, although this obviously takes a considerable amount of time out of your day if you're limited to 1 day like us. Fancy something even more different? You can also abseil from the top!
The view from the top looks out over the city and Lions Head below (also worth a walk up), as well as Camps Bay and further afield towards the Cape Peninsula in the other direction. Have your camera ready, these views are picture perfect. There's a small cafe at the top for refreshments as well. If you have the morning ticket you can travel between 8am-1pm so get a fair amount of time to explore. You can also walk across to Devil' Peak for further views, although there is a slight scramble involved so check your footwear.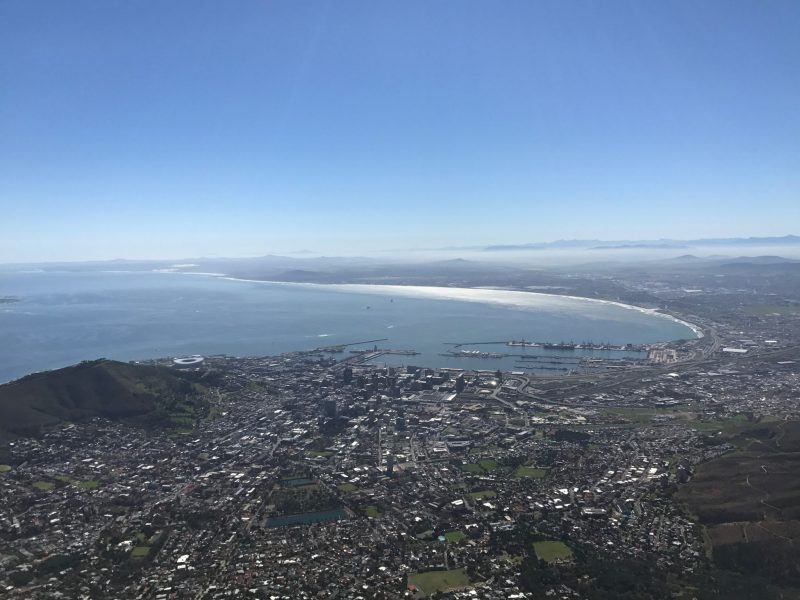 Once you've spent time taking in the view you're ready to take the car back down and explore the city further.
12noon – Camps Bay and the V&A Waterfront
Hop back on the bus and take a tour of the peninsula – from Camps Bay to the Victoria and Albert Waterfront. We were visiting Camps Bay on our second visit to Cape Town at the end of our trip so didn't stop here, but it's definitely worth a visit for its beautiful beach and wide selection of bars and restaurants along the front.  After taking in the beautiful coastline, jump off at the V&A waterfront for an explore.
This is a lovely area for food and drinks, as well as providing lots of shopping options. Alongside the large shopping centre, there's also the Watershed which has stalls representing small businesses selling unique locally designed arts and crafts and is strongly recommend for a souvenir or two. Next door is equally high on a must visit list but this time for food. The V&A Market on the Wharf is an indoor food market with some great value and very tasty options. We opted for one of the steak wraps from Vagabonds Kitchen, which was delicious, finished off with a doughnut (we were on holiday after all!).
Take some time exploring the waterfront and look out for the very relaxed (and very large) sea lions basking in the sun. The view from here of Table Mountain if the weather permits is also beautiful. We took the boat tour offered by the sightseeing bus at a small additional fee which is a quick tour around the harbour, you don't go far (which we didn't realise!) so I'd probably miss this and opt instead for one of the other tours that are available from the Waterfront if you want to take a boat trip. For something romantic look for the sunset catamaran cruises available.
Tours to Robben Island, where Nelson Mandela was held prisoner for 18 of his 27 year sentence, also leave from the Waterfront. Now a UNESCO World Heritage Site, the island includes the Robben Island Museum which offers tours of the site. These trips here are weather dependent though so check in advance of your visit. *Note that the latter is a trip in itself so you'll need to dedicate more time in your day if you'd like to visit the island.
3pm – Downtown and Bo Kaap
After visiting the Waterfront head back on the bus towards Long Street – this is the place to be in the evening so save exploring for then. At the Long Street stop (stop 5) you can switch to the Downtown route and explore this area further. On this route you'll find the South African Museum (which has lots on display about South African Heritage), District Six Museum (a museum to honour the diverse and vibrant community torn apart during Apartheid), as well as the Castle of Good Hope (the oldest surviving colonial building in South Africa).
We were running short on time so sadly had to miss this bit of the tour and save this for the end of our trip and instead headed straight to Bo Kaap which is just a short walk from Long Street. This is the Cape Malay district of Cape Town and where newly freed slaves moved to following their emancipation. The houses are painted in vivid bright colours in defiance of the previous restrictions in place during slavery. It makes for a pretty as well as inspiring sight. There are further things to explore here including the Bo Kaap Museum as well as the the option to sample some tasty local Cape Malay cuisine in restaurants such as Kombuis. I found this area to be not quite as pretty as all the instagram photos online, but probably all the more real for it.
6pm – Bree Street, Kloof Street & Long Street – for food & drinks
Worked up a thirst from all of your exploring? Stop off at some of the trendy bars on Bree Street such as the station on Bree and the orphanage cocktail emporium for a quick drink. Then head back to your hotel for a well deserved rest! For the evening, explore the bars and restaurants of Kloof Street and Long Street.
My favourites are Mustacchio Caffe (for amazing cocktails and swing dancing on certain days) and the Kloof Street Townhouse for dinner. There's also The Waiting Room which is a very cool bar on a rooftop (probably a bit too cool for me but worth a look, especially as it makes the world's best bars list!) If you fancy heading further a field and sampling the acclaimed Pot Luck Club by Luke Dale Roberts (a renowned chef if South Africa) then get a taxi or uber to the Old Biscuit Mill in Woodstock (book way in advance to eat here though, as it's always fully booked!)
And then sleep!! Hopefully that's quite a few ideas to mix and match for exploring Cape Town – enjoy!