Kate has already told you about her favourite London street, Charlotte Street, and I agree its a great place for bars and restaurants. However being a member of an older generation, it can be a bit hectic for me. I prefer a more sedate atmosphere and you certainly get this with Mount Street in Mayfair.
Where is Mount Street?
Mount Street stretches from Park Lane in the West to Berkley Square in the east cutting straight through elegant Mayfair. It is synonimus with luxury. There are the high end fashion shops such as Marc Jacobs, Christian Louboutin and Balenciaga. Some of Londons most exclusive bars, restaurants and hotels are located either on or very close to Mount Street including Scott's Restaurant, the Connaught Hotel and Harry's Bar. However it is also still very much a residential street with locals going about their day to day activities. It is an oasis of calm in the middle of London. Somewhere I just love to take a stroll, do some "window" shopping, people watch and of course eat and drink.
Here are some of my favourite places.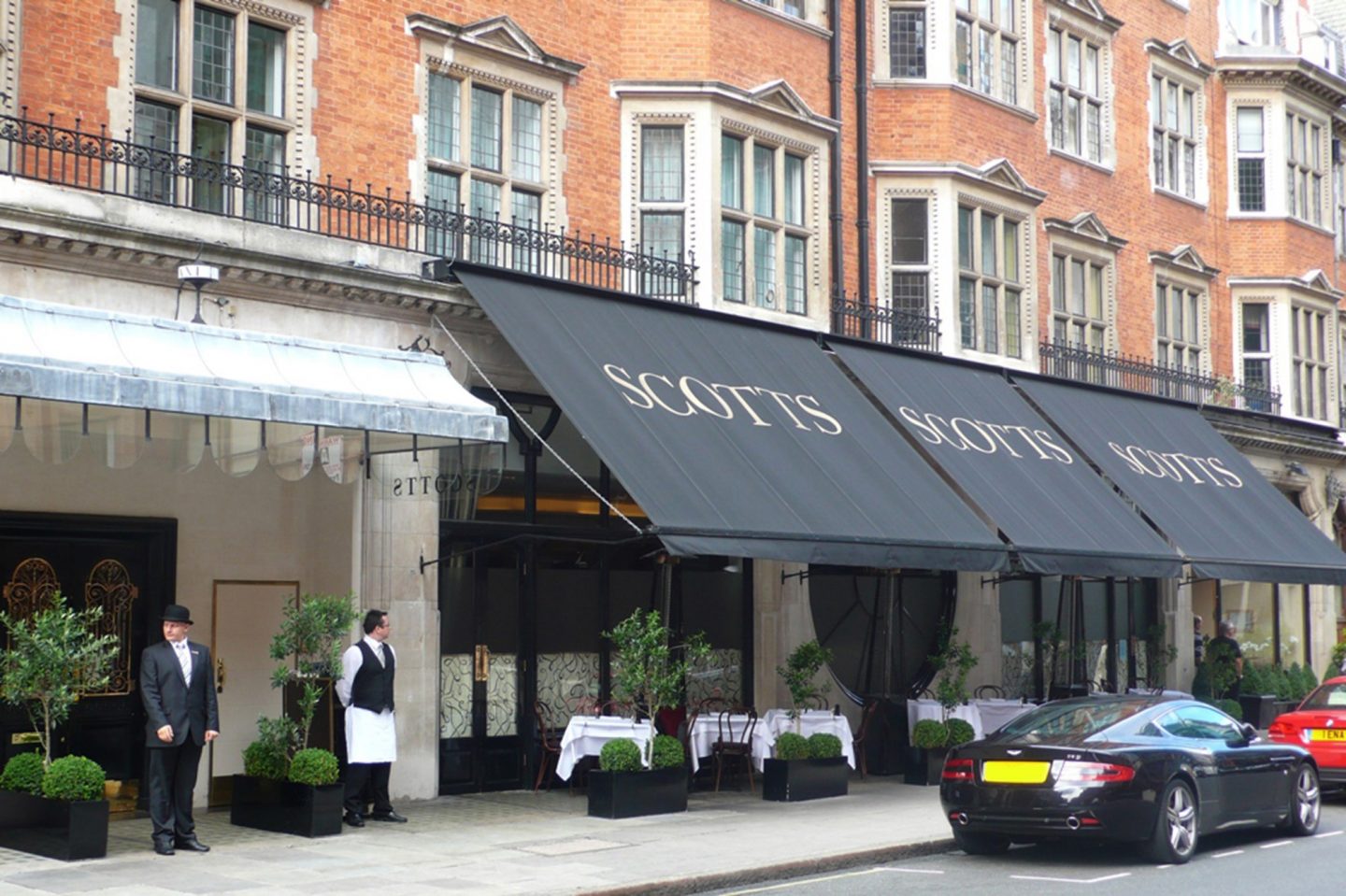 Scott's is my favourite London restaurant, and Jane's too. It is such a special place, very elegant and glamorous. Its definitely our restaurant of choice for special occasions. The staff are amazing they have that special skill in knowing how to balance formality with informality, so they are never snooty or over familiar. The menu is predominantly fish, served simply so as not to mask the freshness of the produce, grilled prawns, potted shrimps, razor clams, Dover sole and turbot are all memorable dishes. There are also meat dishes available, with seasonal game a speciality. You can either eat in the restaurant with tables swathed with beautiful white linen and plush leather banquette seating, or at the more informal marble seafood bar. Scott's is very popular so you need to book both for lunch and dinner, for weekends well in advance. It's in Mount Street so expect Mayfair prices, but don't let that put you off!
The Audley is a traditional Victorian London pub serving a large selection of real ales and traditional pub grub in ornate surroundings, crystal chandeliers, carved Victorian wood and gilt work. Nothing fancy here but the food is delicious. Highlights for me have been the BBQ chicken wings, traditional pies, sausage & mash and the Sunday roasts. The Audley is a great refreshment stop in this part of town or if you fancy a pint or two before eating in Scott's a few doors down!

The Mount Street Deli is under the same ownership as Scott's which is just across the road. It is definitely my first choice for a sandwich or salad when in London, either eat-in, on the outdoor terrace or takeaway. The choice of bread and freshness of the ingredients take the dishes here beyond the ordinary high street chain. A great place to grab a sandwich to eat in nearby Green Park or Hyde Park on a warm summer's day.
The Punchbowl is not actually on Mount Street but very close, situated on Farm Street 50 metres away. It is one of the oldest pubs in Mayfair, and its interior shows this with a warren of rooms with low ceilings and beams. It has a great atmosphere and although tucked away in the middle of Mayfair is very popular especially early evenings when the customers spill outside on to Farm Street. The pub serves great bar snacks, including an excellent fish and chips, wild boar scotch egg and sausage roll. There is also the more formal dining room which I haven't eaten in but is always popular. There is an extensive range of beers, including their own Punchbowl  Ale, and a superb predominantly French wine list. Definitely in my top 5 London pubs.
The Guestbook Comment: "If you want to visit an attractive, stylish area off the traditional tourist trail but still close to the centre of London, try a stroll along Mount Street in Mayfair and its adjoining streets and squares. I am sure you won't be disappointed."
No freebies have been offered or provided by any of the establishments featured in this post!