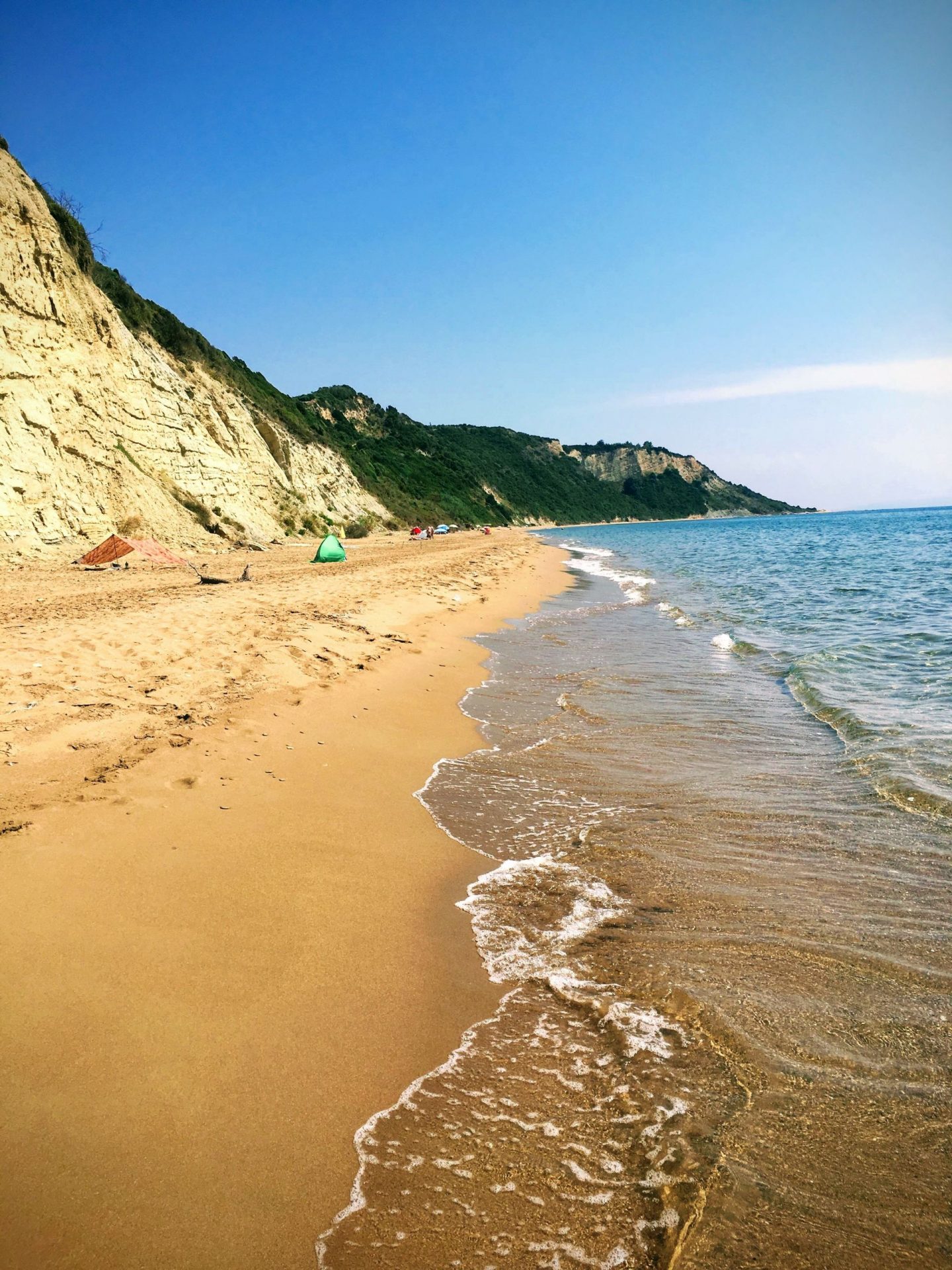 Just back from another trip to Corfu. Corfu is somewhere we return to regularly. We love the island but also its home for Jane's sister and brother-in-law, Janet and Chas. So here's my latest Corfu Trip Report.
Where to stay in Corfu?
Corfu offers a wide choice of resorts. From very lively Kavos in the south to up-market Agios Stefanos in the exclusive north east of the island. On this visit we stayed in Benitses for the first time.
Benitses is situated about 30 minutes south of the airport on the south east coast. In the seventies and eighties Benitses had a reputation of being party central in Corfu and was very popular with the 18-30 crowd! When they moved south to Kavos, Benitses became somewhat run down. Only over recent years has Benitses reinvented itself as a traditional family resort. It appears to have paid off with Benitses once again becoming a thriving village, but with a more laid back traditional vibe.
The resort has an excellent selection of tavernas and bars popular with tourists and locals alike. The old village has retained its character, with a maze of narrow streets and alleys still home to many locals.
Benitses has a beach but it's a narrow strip of shingle which is next to the busy coast road running from Corfu Town to the south of the island. Definitely not its best asset. We were fortunate in having a lovely pool at our accommodation and a free taxi service from Janet and Chas for beach visits.
Accommodation
There is a good choice of accommodation in Benitses mostly tourist hotels, apartments and village rooms. If you want 5 star luxury accommodation Benitses is not for you. However there are several new luxury resorts which have recently opened close by including the swish Domes Miramar resort and the Marbella Nido, a stunning all suite adults only hotel
We stayed in Benitses old village in Argo, a family owned taverna with attached studios and apartments. We were fortunate to have a beautiful pool, something you normally only find in larger hotels.
Our accommodation was basic but spotlessly clean and provided us with all that we needed. There was a small kitchen area, bedroom, bathroom and large private balcony overlooking the pool. Being attached to the family taverna meant that we had a bar and restaurant on site, again something you rarely find with self catering properties in Corfu.
The owners of Argo made us so welcome. Anne the Mum, son Jason and daughter Sophia were fantastic hosts. The taverna was open from 9 am to midnight every day and one of the family was always available if you needed anything. Most mornings we had breakfast at the taverna, great choice, delicious food and very reasonably priced. We also had lunch and dinner several times during our week's stay, more about that later.
You just couldn't fault Argo and we would definitely return. For more information about Argo click here to visit their website.
Eating Out
Benitses has a great selection of restaurants, and staying at Argo was so convenient as they were all within walking distance. Every night we tried somewhere different (except for Argo where we ate dinner twice).
If there is one criticism I have of Greek restaurants is that menus are very similar in the majority of places you go. You will always find traditional mezze, grilled meats, fish and typical Greek dishes such as Stiffado and Moussaka. Im not complaining because generally its good quality food but I do like variety. Thankfully Benitses had a few restaurants that weren't your typical Greek taverna.
Klimataria Seafood Restaurant
This is a restaurant I have wanted to try for several years. It is one of very few restaurants in Corfu that gets mentioned in international good food guides. It is a very unassuming restaurant situated amongst the tourist bars and restaurants of Benitses. However what you do notice is that unlike the other restaurants, every table has a reserved sign, most of the customers are speaking Greek and the tables are laid formally with starched table linen and silver cutlery.
We booked a table to celebrate Janet and Chas's golden wedding anniversary. It was a first visit for them too, despite living just outside Benitses for over 20 years. The menu is entirely made up of fish and seafood. Menu items are only available if the ingredients are available from the fish market on that day. My first 2 choices of sole and bream were not available!
After a shared starter of Greek salad and delicious courgette fritters, we all had different mains. I had the house speciality of Bourdeto a fish stew cooked in a spicy tomato sauce, it was delicious. I found it rather strange that the only accompaniment served with all the dishes was salad, the owner took a great deal of persuasion to let us have some boiled potatoes, chips were definitely a no no!!!
The food was excellent and it is definitely a must do restaurant for future visits to Corfu.
The Flower Garden
The Flower Garden restaurant is situated in the old village directly opposite Argo. It is definitely unique to Benitses and I suspect Greece and maybe the world, in that it offers both Greek food and Chinese food!
The menu has the usual Greek dishes but also a comprehensive selection of Chinese dishes. We all went for Chinese and it was absolutely delicious. The spare ribs were as good as any I have tried anywhere even London's Chinatown! I didn't get to try any of the Greek food on offer, but definitely another Benitses restaurant I would return to.
Paxinos
Paxinos is a restaurant we have visited many times on our trips to Corfu. It is a very traditional Greek restaurant specialising in grilled meats. Their lamb chops are superb, it's my dish of choice on every visit.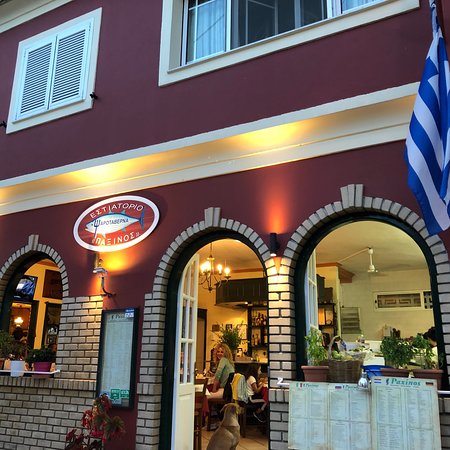 Whereas most of the restaurants in Benitses close at the end of the tourist season in mid-October. Paxinos (and Klimataria) remains open throughout the year which demonstrates it popularity with the local Corfiots. In fact every time we have visited local customers have substantially outnumbered tourists.
If you eat in Paxinos make sure you leave room for the complimentary homemade desserts, they are delicious especially the cheesecake.
Argo Taverna
Last but not least I have to mention Argo again. We had a couple of lunches and dinners at the taverna and food was excellent.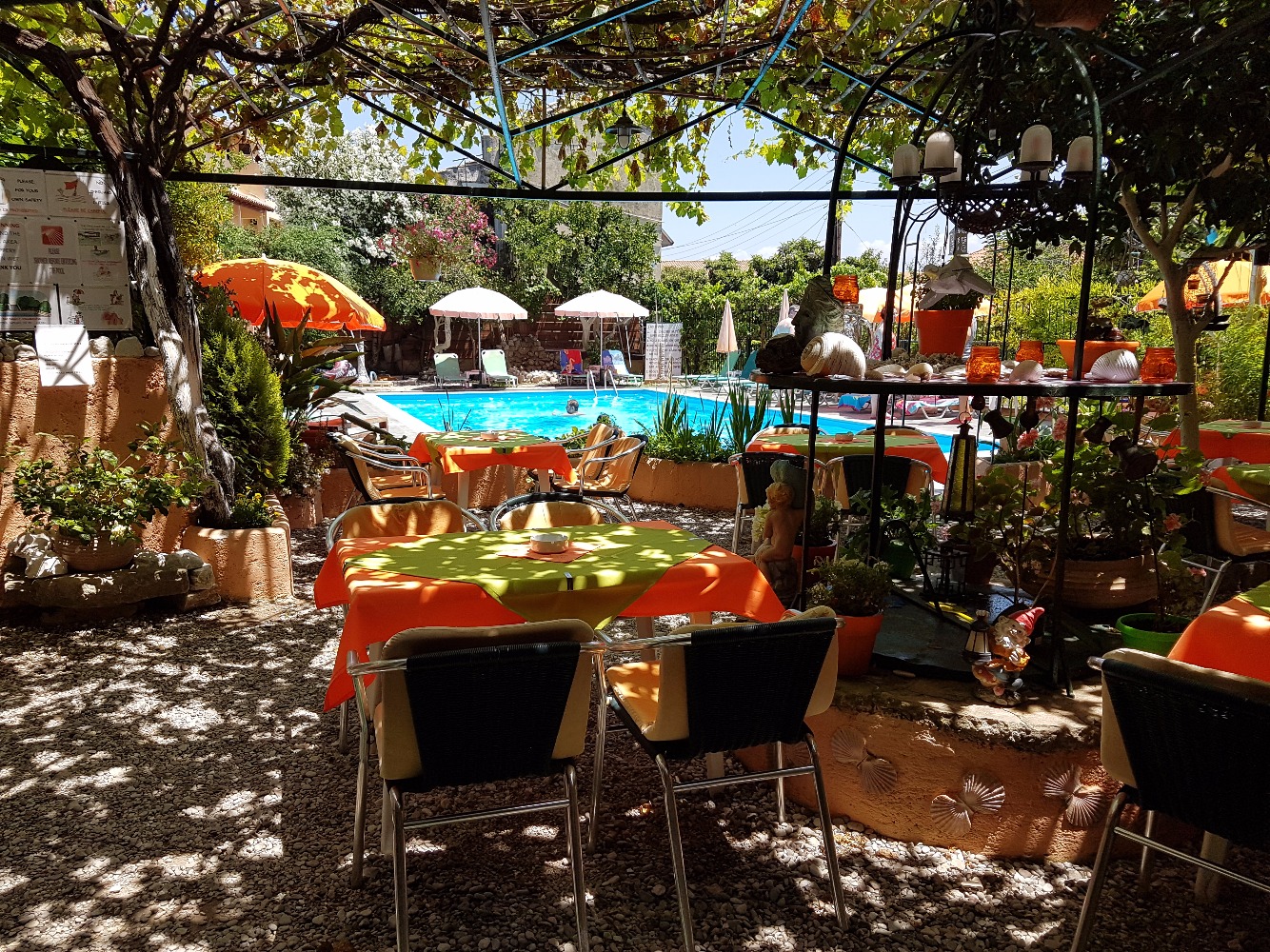 The star dish has to be the homemade Chicken Curry, not your typically Greek dish, but absolutely superb.
What we loved the most about Argo was the setting, away from the main tourist strip, very peaceful and relaxed. Great service from Jason and Sophie and only a few steps to bed after a couple of after dinner large Metaxa brandy!
Marathias Beach
We have been visiting Corfu now for over 20 years. We have seen most of the island (for information on some of our other favourite places to visit click here), our visits now are to see Janet and Chas and relaxing in the sun.
Our favourite place for relaxing is over on the south west side of the island in Marathias, about a 30 minute drive from Benitses. This year 5 of our 7 days in Corfu were spent on Marathias Beach.
The beach at Marathias stretches for several miles. It's without a doubt one of my favourite beaches in the world (click here for my top 5), it's also one of Kate's favourites (click here for her favourite beaches). Except for those parts of the beach where there are sun beds to rent, Marathias beach is almost deserted. Because there are so few visitors the beach is very popular with naturists, so beware!!!
We have been visiting Marathias for over 20 years and have always used the same beach taverna, Maduvala. The food is simple, freshly cooked and very reasonably priced. The same family have run it all the time we have been visiting and it's never really changed during that time, all for the better!
Will we return to Corfu?
So another great holiday in Corfu. We will definitely be back! We loved Benitses and will probably use it as a base for future visits, defiitely at Argo.
I can thoroughly recommend Corfu for a relaxing European holiday. It's a beautiful island, there's loads to see and do, or like us you can just have a relaxing "fly and flop" holiday. The people are very friendly, the food is good, prices are reasonable and the weather is excellent. However the season is very short Easter to mid October. Out of season Corfu gets lots of rain, but this makes it a very green island enhancing its beauty.
The Guestbook Comment: "I am pleased to say that the rubbish problem that has blighted Corfu for many years which saw huge piles of rubbish accumulating outside some resorts in summer months appears to have finally been addressed. This year action by the Corfu government and local people to improve disposal facilities and increase recycling has definitely seen a huge improvement, which I am very hopeful will be maintained."
No freebies have been offered or provided by any of the establishments featured in this post!