Corfu is one of our favourite holiday destinations. We have travelled there many times but always look forward to returning.
Jane's sister and brother-in-law,  Janet & Chas, have lived in Corfu for over 20 years, so we know the island well.
Here are just some of my favourite spots in Corfu.
Corfu Town
The island capital is a spectacular city and well worth a visit.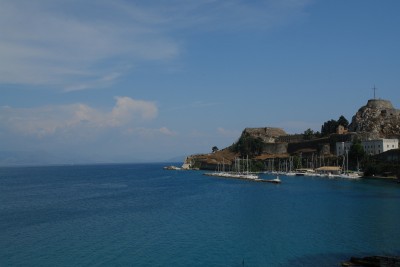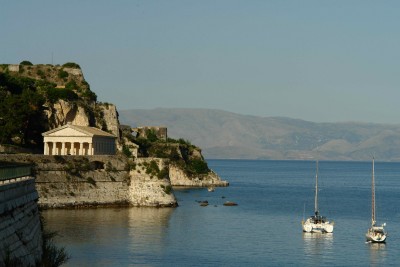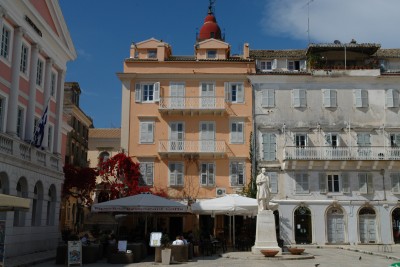 The Old Town of Corfu is a Unesco World Heritage Site. It is surrounded by 16th Century Venetian fortresses and the sea.
The Palace on the Spianata (now Museum of Asian Art) was the very first neoclassical building in Greece. Just opposite the palace, the Liston reflects the brief French occupation with a striking resemblance to the Rue de Rivoli in Paris.
In the middle of the Spianata square there is a reminder of British influence on Corfu, a cricket pitch which dates back to 1823 and is still used today!
The North East of the island is known as Kensington-on-Sea due to the influx of wealthy British holidaymakers during the summer. There are certainly some amazing villas with eye-watering prices for rent on this stretch of the coast. You definitely shouldn't miss out on the spectacular coastal drive from Corfu Town to Kassiopi. The road clings to the side of the mountains. There are amazing views of the sea below and the coast of Albania in the distance.
If you take any of the steep roads off the main coast road you will come across many idyllic resorts. One of my favourites being Agni. It is set in a glorious bay with clear blue seas with  a few rental properties and 3 excellent tavernas. Nicholas' Taverna is my favourite, their sardines stuffed with feta are to die for. If you are eating lunch at the taverna you get access to the beach in front of the taverna with sun beds free of charge. Just make sure the driver keeps off the ouzo! The drive back up to the coast road is definitely not for the faint hearted.
If you are staying in any of the resorts near Agni such as Kalami or Barbati the Agni tavernas will provide water taxis in the evenings to avoid the perilous drive!
Agios Stefanos
Agios Stefanos is another small resort situated off the North East coast road. It is larger than Agni and has a wide choice of accommodation mainly in villas and apartments.
It has some lovely beach side tavernas with my favourite being the Eucalyptus Taverna which serves delicious fresh fish.
Agios Stefanos is allegedly the favourite holiday destination of the ex-British Prime Minister, David Cameron. Irrespective of your politics he certainly has good taste in his choice of resorts. I would definitely recommend Agios Stefanos as a resort to stay on Corfu.
Paleokastritsas
Paleokastrisas is set in a beautiful bay situated in the North West of Corfu. The scenery is stunning. There are crystal clear waters with a choice of beaches. A good selection of tavernas is also available. It's worth taking a boat trip out in to the bay as some of the beaches are not accessible by road. Boat trips also visit the sea caves around the bay which are definitely worth seeing.
The only downside of Paleokastritsas is its popularity for day trips from other parts of Corfu. This means it can get very busy particularly during the peak summer months. However it's definitely a must see if you visit Corfu.
Marathias
Marathias Beach is situated on the South West coast of  Corfu. It features in both mine and Kate's favourite beaches post. It's probably my favourite beach in Europe.
You get to it off the main road to Kavos, the party capital of Corfu. However it's as unlike Kavos as anywhere can be! Marathias is a beautiful spot. It is very unspoilt with just a few tavernas and apartments. Its popular with the locals but less well known to tourists which is definitely a plus point.
We have been visiting Marathias for many years. Our favourite spot on the beach is in front of Maduvala Taverna. The family who own the taverna also rent out sunbeds and umbrellas. The food is delicious, especially the homemade daily specials, and its such good value.
The beach stretches for miles in both directions but beware the quieter parts are for naturists! Beautiful golden sand, great for swimming, but the waves can surprise you!
Messonghi
Messonghi is situated on the South East coast and is a laid back small resort. We normally make this our base on visits to Corfu. It has some excellent restaurants such as Bacchus, a traditional family run taverna on the beach front. Just south of Messonghi there is a beautiful stretch of coast. Along here there are some great fish restaurants which are frequented more by locals than tourists. This is always a good sign to me.
Its worth visiting Messonghi to visit Archontiko. Archontiko is an amazing restaurant in a remote location in the hills above the village. It has amazing views across Corfu, make sure you get there for the sunset.
You get a great welcome. The food is delicious with complementary free shots of raki between courses, so take a taxi! Portions are huge, very good quality produce and amazing value. Make sure you book an outside table on the terrace it's like being on the set of a James Bond film.
Benitses
Benitses is another resort on the South East coast of Corfu that we love. Its somewhere we have regularly visited ever since we started coming to Corfu over 20 years ago as Jane's sister and brother-in-law live very near.
Benitses is set in a beautiful bay backed with steep pine and olive clad hills. In the eighties Benitses had a bad reputation as the party capital of Corfu. Fortunately Kavos has now taken on this role and Benitses is now a popular resort with families with a great selection of tavernas. If you go make sure you try Paxinos Restaurant just off the main promenade, delicious local dishes and great steaks.
The Guestbooks Comment: "These are just a few highlights of Corfu, it is a beautiful island with loads to see and do. Its great for families and couples, just avoid Kavos!"
"Make sure you sample the Saganaki, fried cheese, Kate's favourite food!"
No freebies have been offered or provided by any of the establishments featured in this post!