I hope you enjoyed Episode 1 of my Barbados Trip Report.
A relaxing 5 days but very little eating out or exploring, we definitely made up for that over the next couple of weeks!
Day 6
Jane's Birthday
Jane's birthday today and as is the tradition we had a champagne breakfast while she opened her cards and presents. It was then time for the annual birthday visit to Lime Grove.
For those of you who don't know Holetown, Lime Grove is an upmarket shopping mall with names like Cartier, Ralph Laurent, Boss, Michael Corrs and Longchamps. As well as these big names there are local boutiques, jewellers and speciality shops, these include Jane's favourite shoe shop as it happens! There are also a selection of restaurants and bars, and the Lime Grove cinema.
Yes you guessed it Jane bought another pair of shoes, it was her birthday after all!
Jane's birthday lunch at Lone Star
Another tradition for Jane's birthday is lunch in her favourite (and mine actually) restaurant, Lone Star. In my Best Barbados Restaurants post (click here) I explain why Lone Star is such a favourite of ours.
They did us proud with our rail side table overlooking the beach and the Caribbean Sea.
We started with crab croquetas and pickled ginger, a meal in itself. For mains I went for a pizza again! Not as good as Cafe Tobaros at the Fairmont. Jane went for the West Indian curry served with pumpkin fritters, not spicy enough for Jane. However with a nice bottle of chilled Brouilly, we certainly enjoyed our lunch once again.
After lunch we returned to the apartment had a few hours by the pool, followed by sundowners in the jacuzzi. after such an indulgent day an early night was definitely needed!
Day 7
Early start at the beach today. Did some snorkelling just in front of the beach club, plenty of activity. Took a walk up to Jujus beach bar for a pre lunch Banks, $5 Bds as against $10 Bds at the beach club, you can understand why its so popular. Light lunch at the beach club followed by a walk along the beach in to Holetown again.
A week gone already and the first time out for dinner. We went to the barbeque night at Carizma on the Hill, which is situated at Sugar Hill.
We had eaten here last year, but the barbeque evening was something new for us and we thoroughly enjoyed it. There is a choice of about 6 main dishes including chicken, ribs, kebabs and burgers, you place your order and your food is freshly prepared at the grill. When its ready you are accompanied to the grill where your food is served along side a self service selection of accompaniments including roast potatoes, rice, slaw, salads, salsa, bbq sauces etc. You can also get french fries on request.
It was excellent value with all mains priced at $50 Bds. There is small selection of starters and sweets available, but to be honest the size of the mains was quite sufficient for us! There is also live entertainment. A really enjoyable evening so much so that we booked up for the following Saturday with friends.
Day 8
We have for several years said we were going to visit the Sunday Farmers Market at Holders Hill but had never got there. We woke up to cloud so decided to give it a try, I'm glad we did. It is quite tricky to find the market, we turned in to the polo field entrance thinking this was were it was located. However it is actually on the eastern side of the polo field at Holders Great House, so you carry up Holders past the polo field and watch out for signs on your left, like all road signs in Barbados it is easily missed!
The market is excellent with produce stalls including fruit and vegetables, home made cakes and pies, jams and other preserves. There is also a good selection of  hand made jewellery and clothing stalls, and arts and crafts. A variety of food offerings everything from traditional roti to full English breakfast! There was also live music. A lovely way to spend a Sunday morning. We bought some paintings from a local artist, handmade sea glass jewellery and some very reasonably priced fresh local produce.
If you do visit and are heading back to Holetown, turn left out of the car park and the road takes you across the Sandy Lane estate. You get to see some of the stunning villas. You follow the road and come out by Sunset Crest.
Sunday Lunch at Hugo's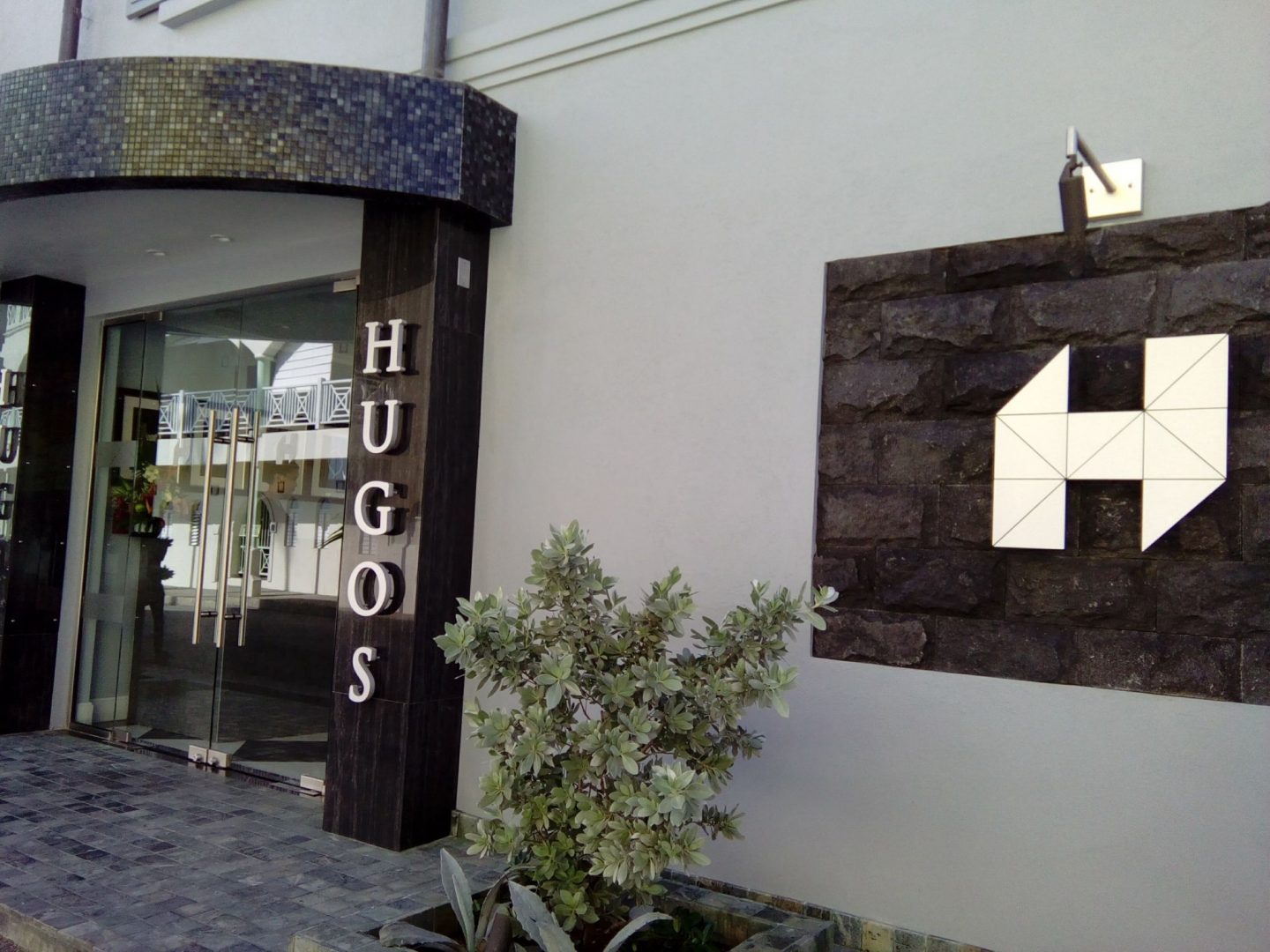 For lunch we had a reservation at Hugo's a new restaurant in Speightstown. We had heard mixed reports on the Barbados Travel Forum and Tripadvisor but were keen to give it a try. It certainly had a good pedigree coming for the same group who have Cin Cin and Primo.
Hugo's is in a beautiful position on the beach front in Speightstown. There is valet parking but we had a taxi. The restaurant like Cin Cin is modern but very elegant. We were on the upper terrace and I would recommend that you request a table there. You are literally on the waterfront, I can imagine with the recent heavy swells there would have potentially be some very wet diners!
The restaurant although open since December had only just started a lunch service. The menu was a lot simpler than the dinner menu and for some maybe a bit restrictive. For Jane and I who are not keen on rich fine dining, it was ideal, I would struggle with the dinner menu.
We started off sharing delicious spicy barbequed chicken wings, definitely enough for two. We then both had the traditional fish, chips and mushy peas, I did say we like simple food! There was an issue with the batter but the fish was still delicious. For dessert I had a crispy banana dish served with coconut ice cream and caramel sauce, it was a historic dessert!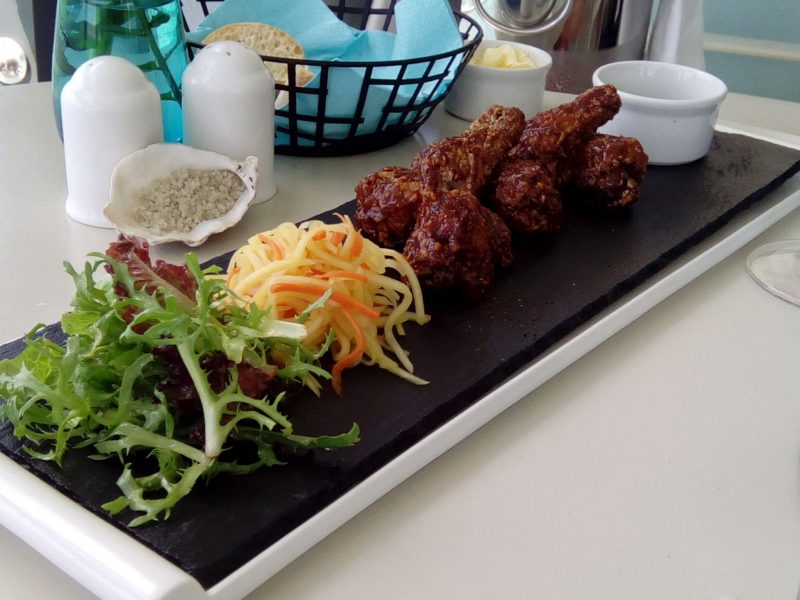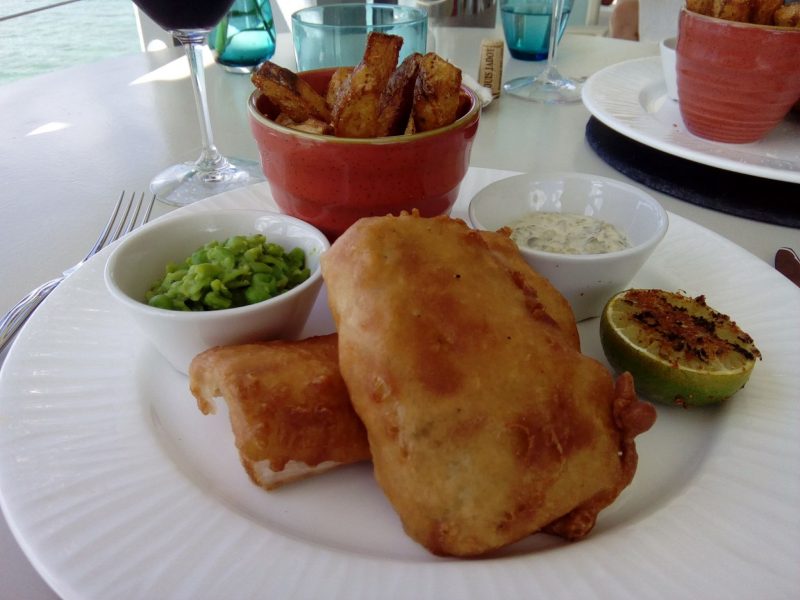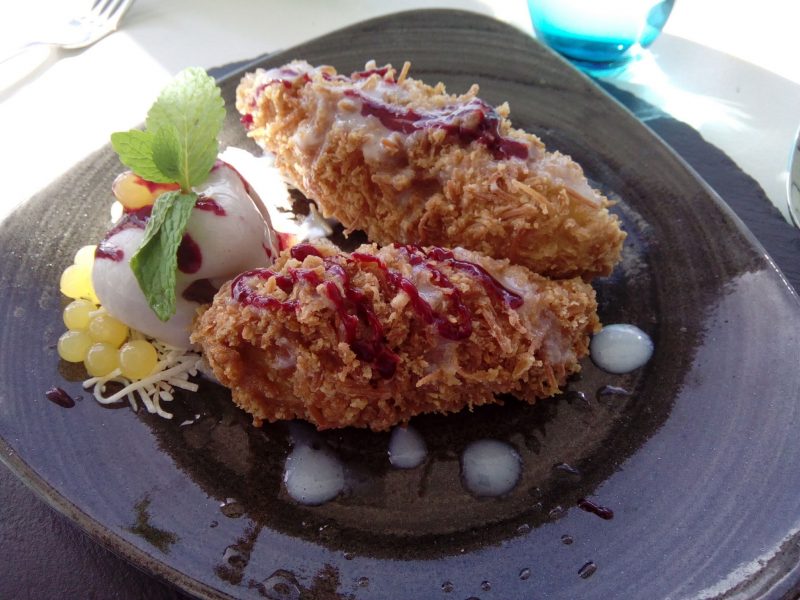 After lunch we retired to the air conditioned bar downstairs as it had got rather hot on the terrace.
An excellent lunch (except for the batter) and we would definitely return. Not cheap, similar prices to Lone Star, with lunch being a lot less expensive than dinner!
After all that food and of course wine, it was back to the apartment for a relaxing evening on the terrace.
Day 9
A normal day in paradise today! Beach – swimming and reading. A stroll along Alleynes with drinks at Jujus, lunch at the beach club. Sundowners in the Jacuzzi, dinner in the apartment and an early night. Some would say boring, I would say perfect!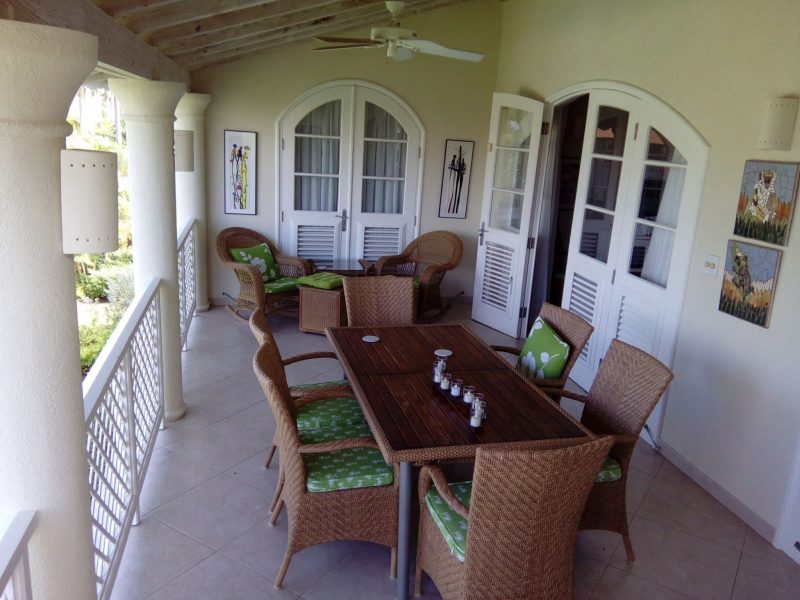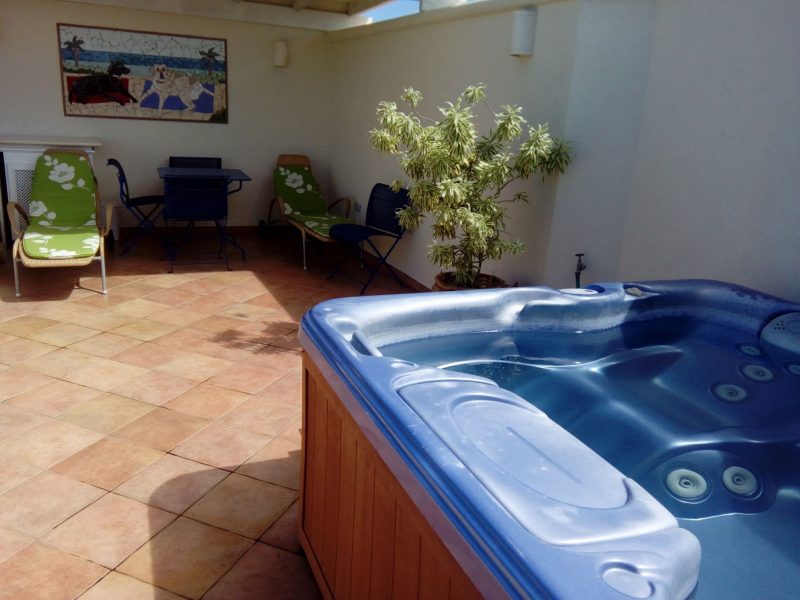 Our gorgeous apartment at Sugar Hill
Day 10
Another day on the beach!
Dinner at Bombas
For dinner we had booked a table at Bombas which we had visited for sundowners the previous week.We had booked a table on the lower terrace and were keeping our fingers crossed that we wouldn't have any evening showers, we did and just as the taxi arrived the heavens opened and we arrived in Bombas in torrential rain! Fortunately we had been relocated to a table in the main room so were able to keep dry.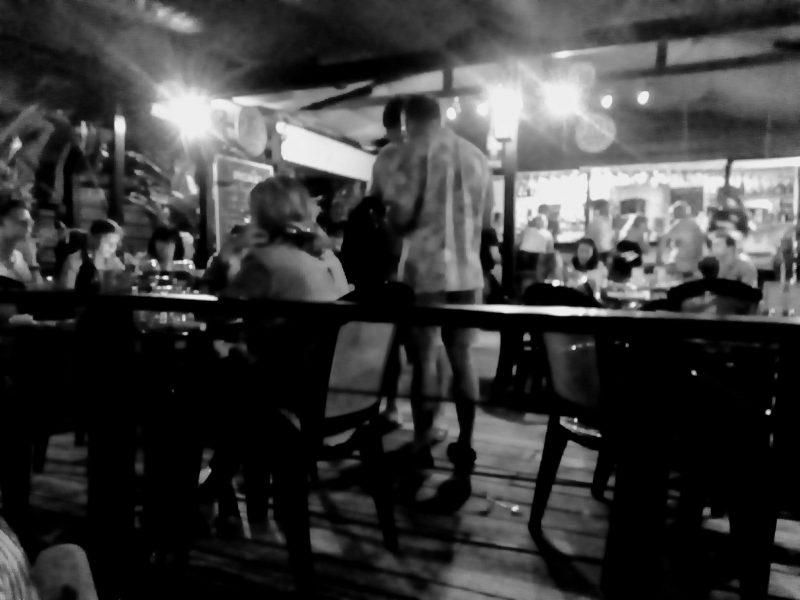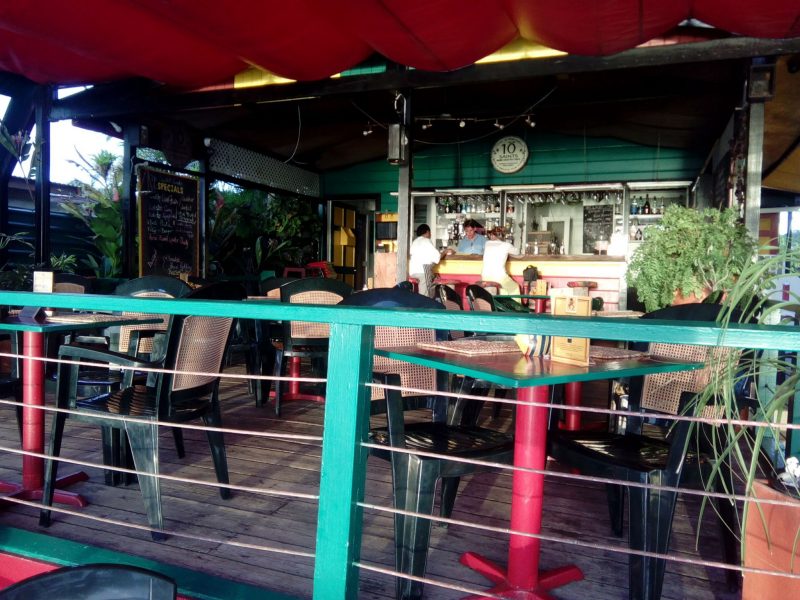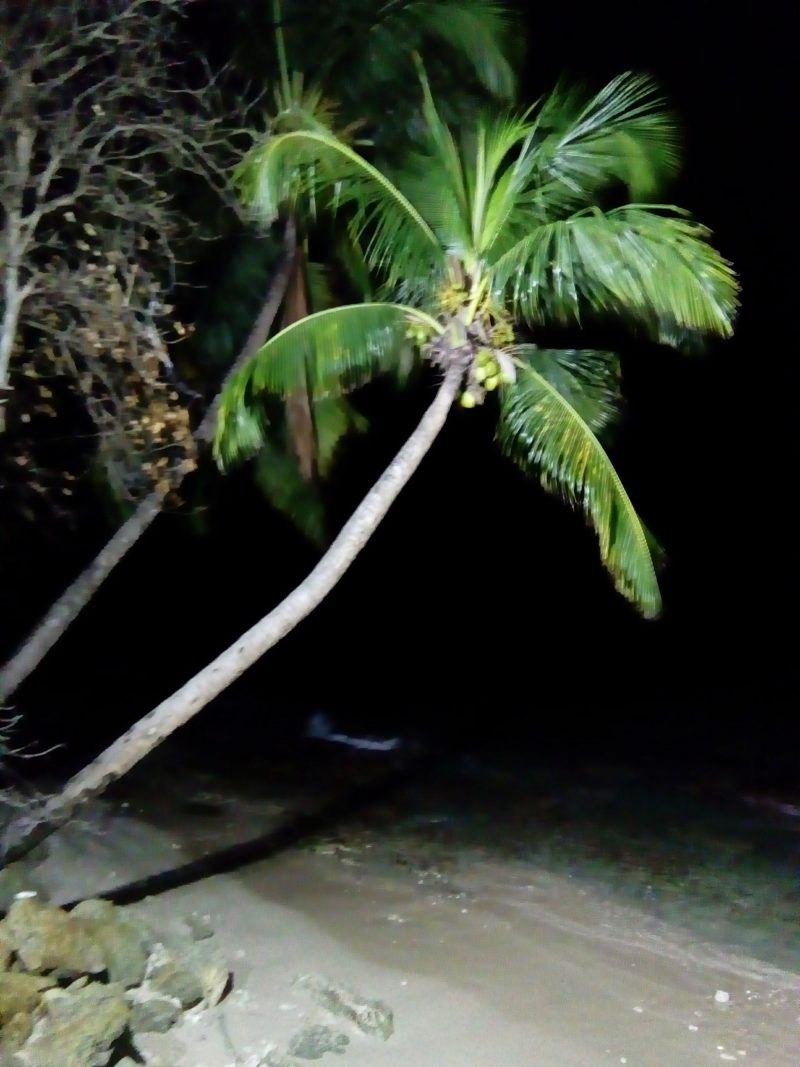 Bombas is not a place for a quiet relaxed meals it is quite frenetic. We got there at 6:30 and it was full and all the time we were there diners were queuing for tables. As I said in Episode 1 of the trip report the owner Wayne is quite a character, some would say rude, I prefer eccentric!
There is a main menu with all the fish specials chalked up on a blackboard, the speciality of the house is lobster which you need to order ahead. We had heard that the curry was good here so Jane went for the chicken curry and I went for the lobster version! Both were excellent, spicy but still able to taste the lobster and chicken. I finished off with a delicious cheesecake. Bombas takes cash only a number of the diners were directed by Wayne to the cash machine at the petrol station down the road!
This was the fist time we had ate at Bombas and we thoroughly enjoyed it and would definitely return.
Day 11
Half way through the holiday, I'm so glad we booked 3 weeks.
Valentine's day today, so it has be to fizz with breakfast.
A quick trip to Masseys to replenish the food and of course the Grape Vine for the wine!
Got down to the beach later today and surprised to see the red flag is up. Heavy swells and dangerous currents mean no swimming today, it is amazing how many people ignore the warnings though! You couldn't walk very far south today without getting very wet. So its a stroll up to Jujus for drinks, lunch at the beach club and then a snooze on the beach!
Another tradition tonight – Lone Star for Valentines dinner. Drinks at the bar, a romantic railside table with flaming torches over the beach and to eat……. the Lone Star Classic Shepherds Pie! You have to try it, we both look forward to it every year. It has to be the best shepherds pie you will get anywhere on the planet! For dessert I had the famous Lone Star Banana Doughnuts, delicious but so filling!
What's great about Valentines Dinner at Lone Star is they don't try and rip you off with an expensive set menu like many West Coast restaurants do, its just a slightly reduced version of their dinner menu with the same prices as normal.
Day 12
It may sound boring to some but another day on the beach, relaxing, reading, eating and drinking!  No swimming or long beach walks again today as the red flag is still up.
Tonight we decided to have a few drinks in Holetown followed by a takeaway. We started off in the Drift Ocean Lounge on the board walk with stunning sunset views.
Next we tried the new West Bar at Lime Grove, we were very impressed. There was a good atmosphere, friendly bar staff and reasonably priced drinks. We then picked up a takeaway from Jinns the new Chinese on 2nd Street. There is an extensive reasonably priced menu. If you prefer to eat in there is a pleasant room upstairs, with a couple of tables outside on  the balcony overlooking 2nd Street. The food was delicious, luckily we shared as the portions are very big!
Day 13
Woke up to a very overcast sky today so decided to have a day at the pool. After avoiding heavy showers all morning we gave up at lunchtime and retired to the balcony, reading and relaxing in the jacuzzi.
In the evening we ate at Port St Charles Yacht Club just north of Speightstown.
Dinner on a Friday night is very popular here as they have music from an excellent duo Fire and Ice and an opportunity for dancing. We stayed at PSC for many years when visiting Barbados so this was our regular haunt on a Friday night. Even though we  no longer stay there we still make sure we have a table booked during our holiday. The setting is beautiful and the food is very good, in fact their West Indian Chicken Curry is Jane's favourite dish anywhere in Barbados! I  had the catch of the day, blackened mahi mahi, excellent.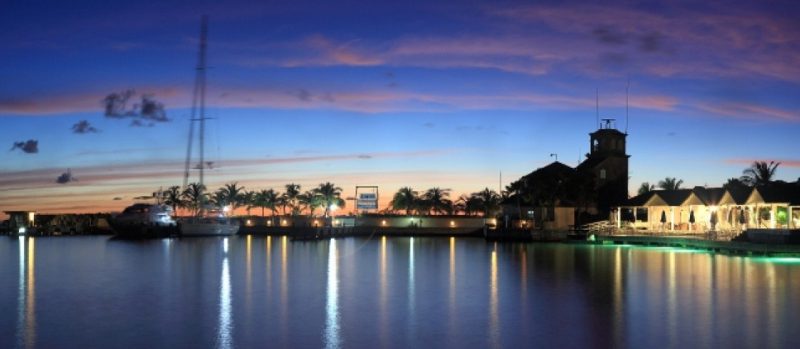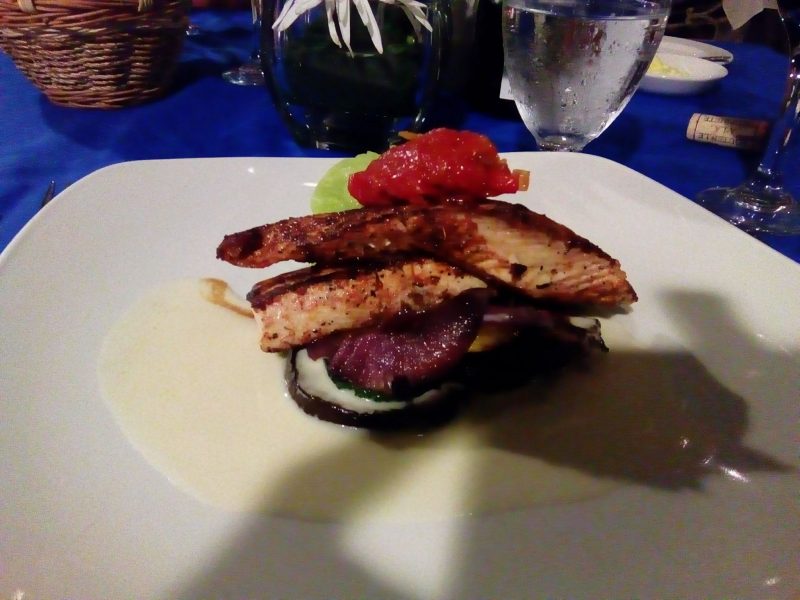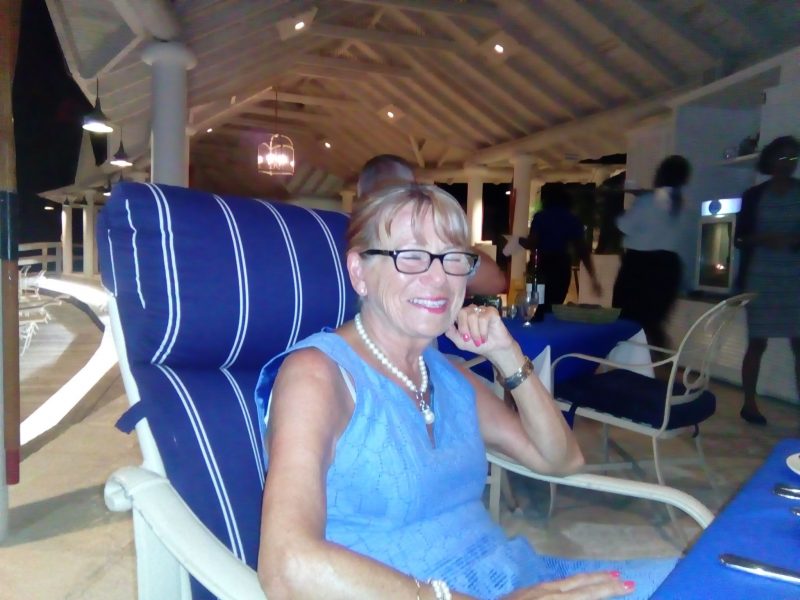 Another great night at Port St Charles Yacht Club
Many of the staff have worked here for years and make you so welcome. Its a great spot for lunch too and you are welcome to use the pool and deck if you are eating here.
The Guestbook's comment: "Well that's Episode 2 complete, the holiday is going so quickly only a week to go. I hope you have enjoyed reading the trip report. Hopefully it has give you some useful information whether you are a Barbados regular or newbie! "
 For Episode 3 of my Barbados Trip report click here.
No freebies have been offered or provided by any of the establishments featured in this post!