This is the third and final episode of my 2018 Barbados Trip Report.
Our final week in our favourite holiday destination, Barbados. We've spent a lot of time on the beach and eating out. Its about time we used the hire car to see a bit more of the island, some old favourites some new.
Day 14
A morning visit to Holetown to replenish the stocks. Took a stroll around First and Second Streets. Noticed a couple of new places that we will have to try. La  Bodega a tapas restaurant in what used to be Angry Annies years ago and more recently Jules. What used to be Elbow Room is now the Jamestown Bar and Grill.
We then visited the Chattel Village. For those of you who haven't visited Holetown this is a collection of shops located in traditional chattel houses. There are the usual gift shops plus boutiques and jewellery shops. There is a very expensive gourmet food shop and even a cigar shop. The social hub of the Chattel Village is Cafe Carizma, the same owners as Carizma on the Hill at Sugar Hill. They serve great breakfasts, coffee, light lunches and on a Tuesday and Thursday nights tapas with some excellent live music.
Lunch back in the apartment and few hours by the pool
Another visit to the barbeque night. This time with our friends Gary and Valerie who had just arrived for a 3 week holiday. They hadn't tried the barbeque before but fortunately enjoyed it as much as we had the previous week. I had the ribs again! If you go you must try them, absolutely delicious. Another great evening, I have a feeling this will be a regular Saturday night venue for us on future holidays.
Day 15
We haven't ventured far from the West Coast so far during this trip, so today we decided to head over to the magnificent East Coast of Barbados
A Drive along the East Coast
We normally take the route through Cherry Tree Hill, a favourite drive of mine (for more info click here). However I had never been to Farley Hill National Park so decided to check it out. Its a lovely spot. Entry to the park costs you a couple of dollars. Although there's not a lot there, the ruins of the old mansion now overgrown and surrounded by majestic mahogany trees, are worth a visit.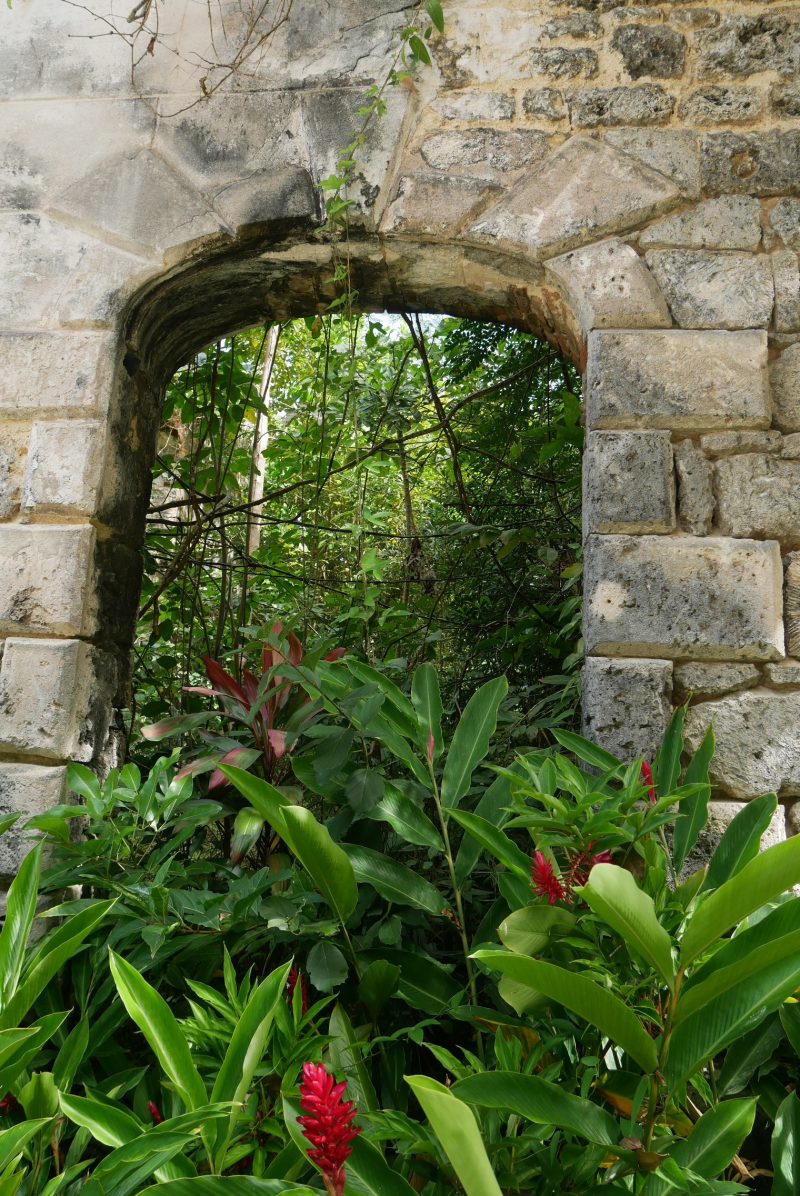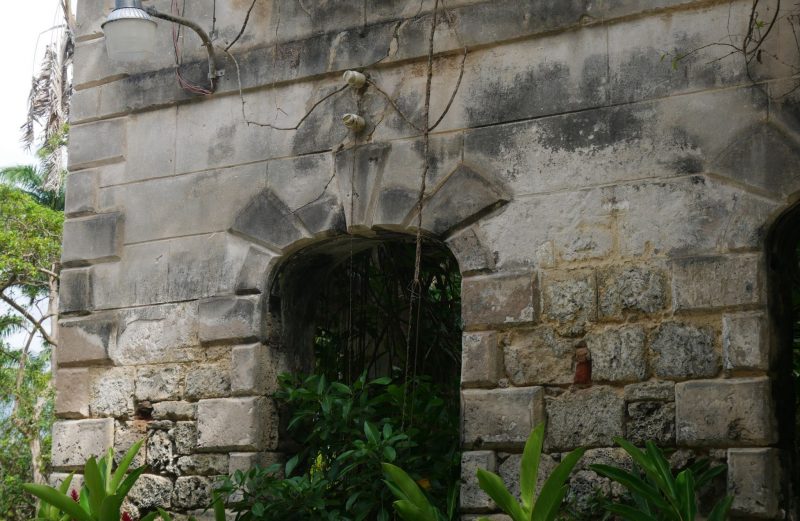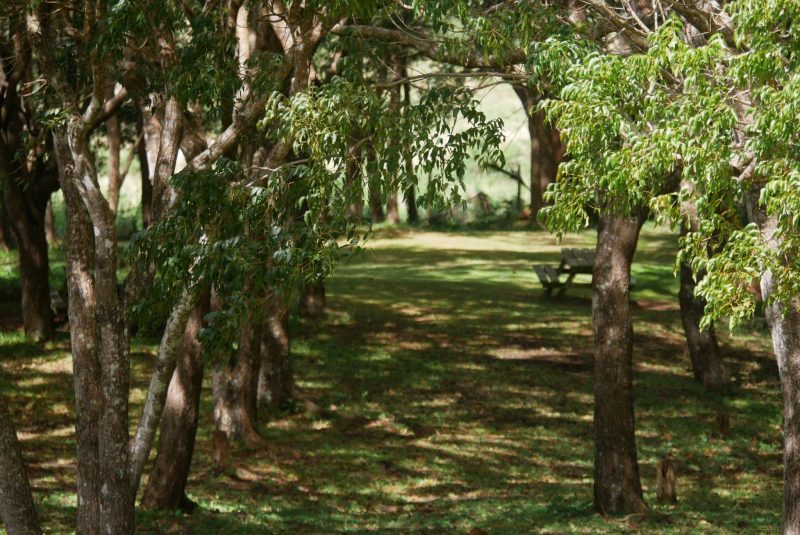 The old Farley Hill Mansion
You can walk up to the top of the hill and from the bandstand you get some magnificent views of the East Coast. Unfortunately the morning we were there the light wasn't to good. There is a children's playground and a picnic area, which I understand is very popular with locals.
From there we headed down to the East Coast with a stop at Barclays Park at Cattlewash for some awesome views of the Atlantic surf.
Then on to another favourite spot Bathsheba, the surfing mecca of Barbados and home to the famous Soupbowl, where you can see the amazing surfers in action.
Unfortunately the morning we were there there were none. It's definitely off limits for us mere mortals! There are a couple of great lunch spots in Bathsheba – the Roundhouse and the Atlantis Hotel. One year we will have to make time to visit Andromeda Gardens which are also in Bathsheba, of which I have heard good reports.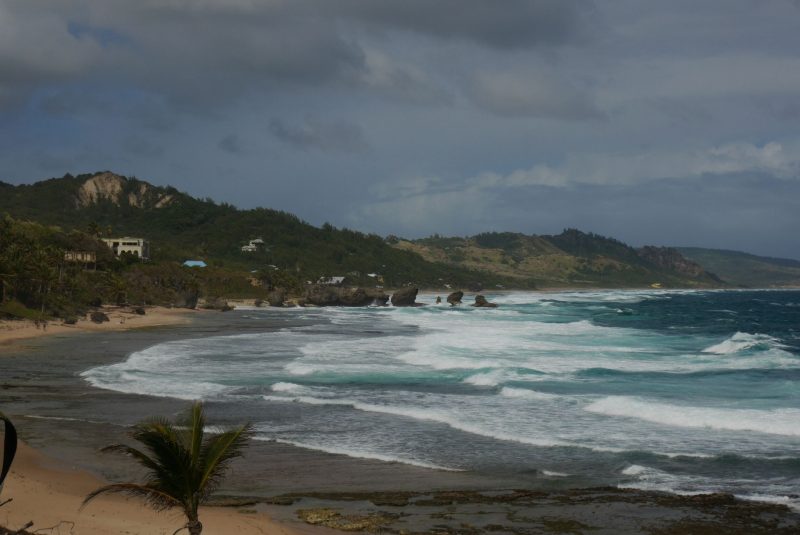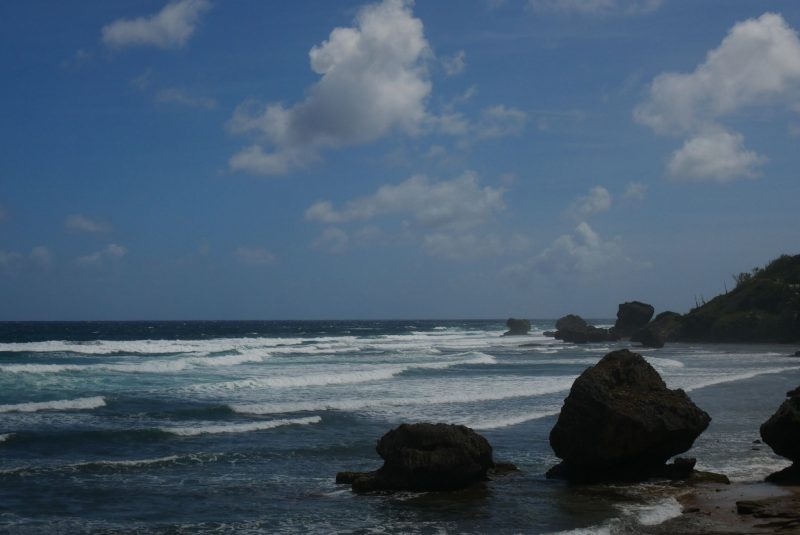 Good surfing conditions at Bathsheba
Normally from Bathsheba we would head back towards the West Coast but I knew that you could actually drive south along the coast but was unsure of the road. We decided to give it a try. It was a bit nerve racking, narrow roads with a lot of twists and turns and major pot holes, you need to take great care! It was worth it though, some amazing views of the majestic Atlantic Ocean. We made a couple of brief stops firstly at Martins Bay, I would like to return to try out the Bayside Tavern here.
Next stop was at Bath. Bath is a resort with a sweeping beach which unfortunately was covered in seaweed the day we visited. From Bath we headed further south before heading in land and after getting lost a few times picking up the main highway near Warrens, quite an adventure!
Lunch at Apes Hill
After all that excitement it was time for lunch and a well earned drink! We decided to try Apes Hill Club which friends back in the UK had recommended. Apes Hill is situated just off the Ronald Mapp Highway more or less directly above Royal Westmoreland. Its a luxury resort with a polo field, golf club and some stunning villas. Is is very impressive.
We didn't have a reservation but were given a friendly welcome by the staff at security who directed us to the club house. The club house itself is stunning with an elegant bar and restaurant overlooking a beautiful pool area with the golf course, polo ground and coast beyond.
We had a great table on the terrace it was so peaceful and relaxing. Unfortunately it was the golf club championship weekend and before long the place was packed with very loud golfers! However the food was excellent and for such a luxurious venue the prices were very reasonable, main courses $40 Bds and beautiful desserts for $20 Bds, the wine was very reasonable too. Definitely worth visiting but avoid the championship weekend!
After lunch it was time to return to Sugar Hill for a relaxing evening at the apartment.
Days 16 & 17
The time is going very quickly now and we will soon be back to the cold miserable weather in the UK. So for the next 2 days we made the most of the sun spending them at the beach, walks to Jujus for our midday Banks, lunch at the beach club and then back to Sugar Hill for sundowners and dinner in the apartment. Sheer bliss!
Day 18
An overcast morning so decided to spend the day at the pool. For lunch we got a hot barbecued chicken from Massey's, delicious, another example of how this store has improved so much.
We have been going to the Fishpot restaurant for many years so were looking forward to going there with our friends Gary and Valerie for dinner. The Fishpot is situated north of Speightstown at Little Good Harbour. It is in a very pretty spot with a lovely stretch of beach, unfortunately since our last visit they have constructed a landing stage for boats made of what looked like plastic, very out of keeping with the beautiful setting.
For pre-dinner drinks we went back to Hugo's in Speightstown, and had some excellent cocktails, the Orange Vodka Martini is highly recommended, but care is needed!
I was disappointed with dinner at the Fishpot. I found the menu rather restrictive, in fact the lunch menu has far more choice in my opinion. The service was mediocre, some of the staff were rather surly and unattentive. They served some complementary bread which was inedible, as hard as bullets, we complained but they just took it away with no apology. For my main I had lobster which was rather tough and lacking in flavour, frozen maybe? Its a shame as we have had excellent meals here before and the lobster has always been delicious. Possibly an off night, perhaps next year we will go back for lunch.
Day 19
The last time we had visited the Barbados Wildlife Reserve was about 20 years ago during our first stay on the West Coast at the old Sandridge Beach Hotel. So we thought it was about time we paid a return visit. The reserve is situated opposite Farley Hill National Park. It doesn't have a huge range of wildlife but is definitely worth a visit. Its located in the middle of an ancient mahogany forest with narrow pathways wondering through the trees. Most of the animals roam freely through the reserve. You will see tortoises, Brocket Deer, Peacocks, Mara – a very strange animal that looks like a cross between a rabbit and a deer, Cayman and of course the Green Monkeys. In the enclosed areas there are also Snakes, Iguanas and Parrots.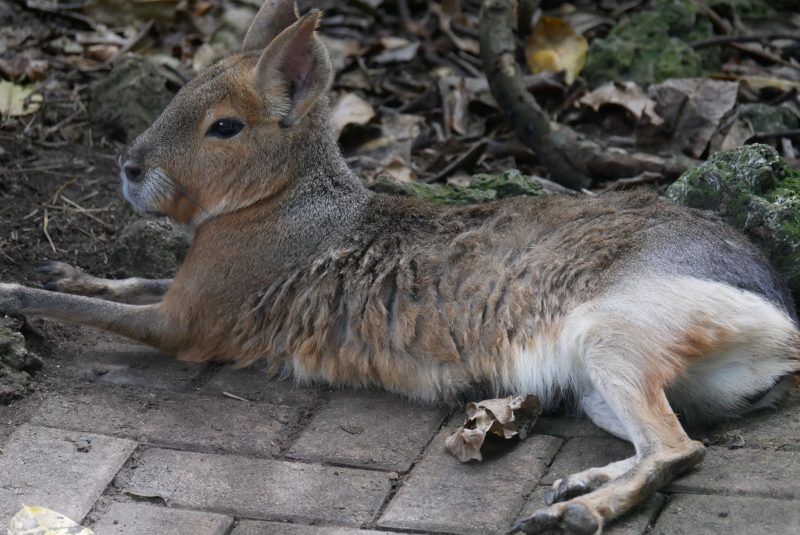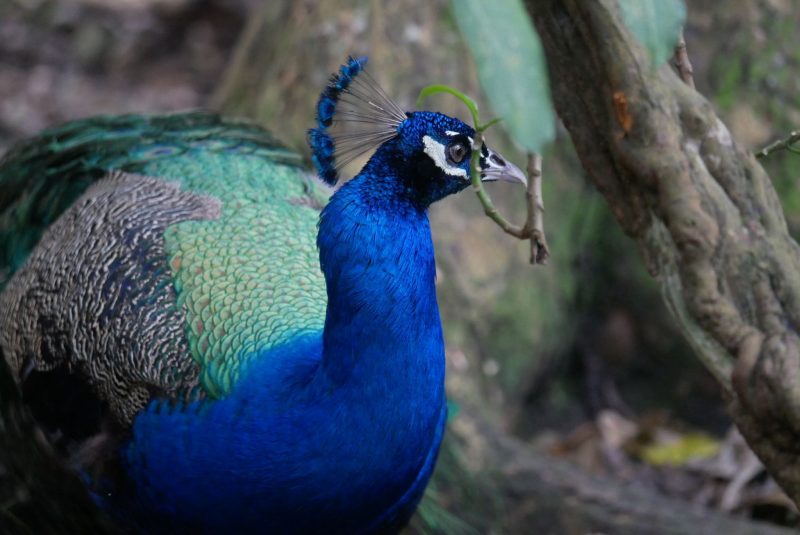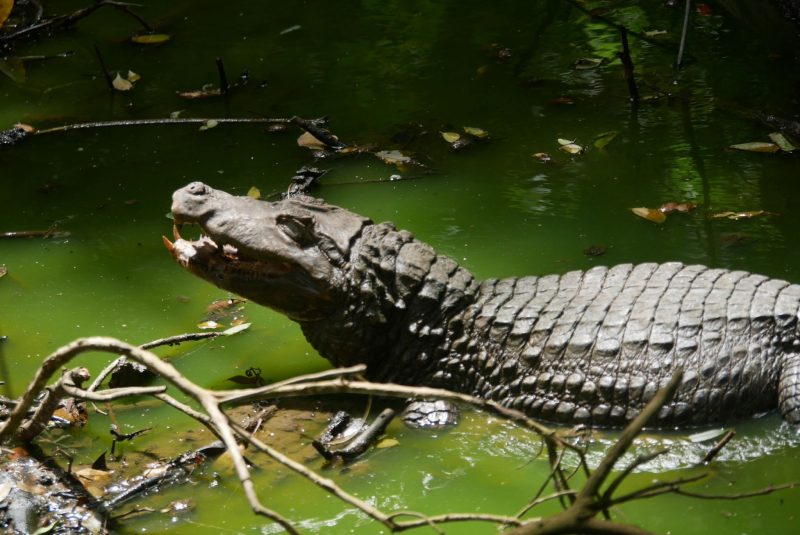 The Mara (at the top) was certainly a strange creature!
When we visited there weren't many monkeys around. They are free to come and go as they please, and tend to come back in to the Reserve at 2 pm for feeding time.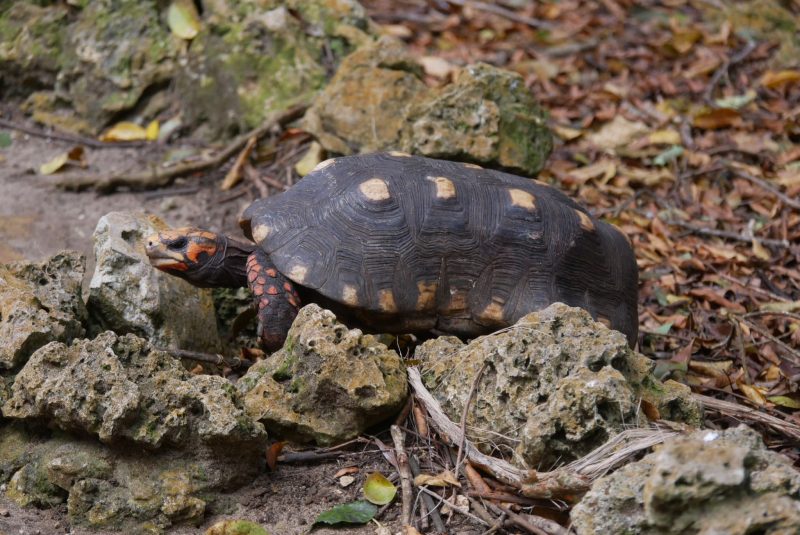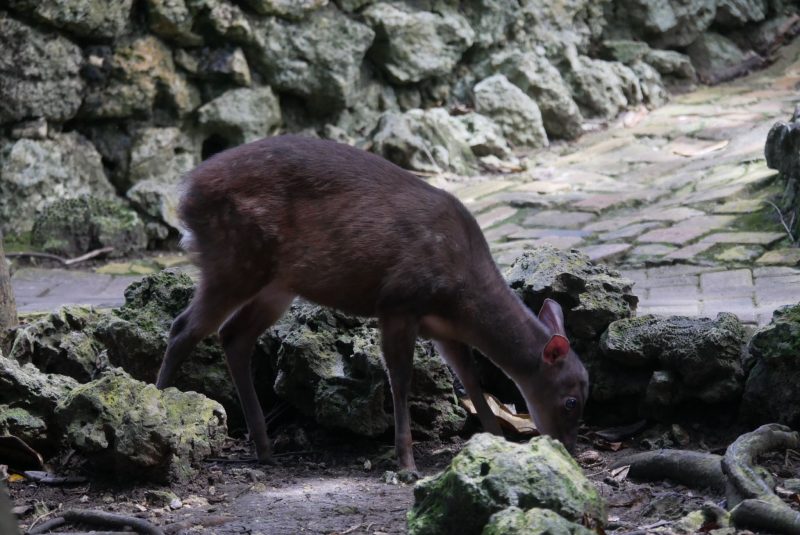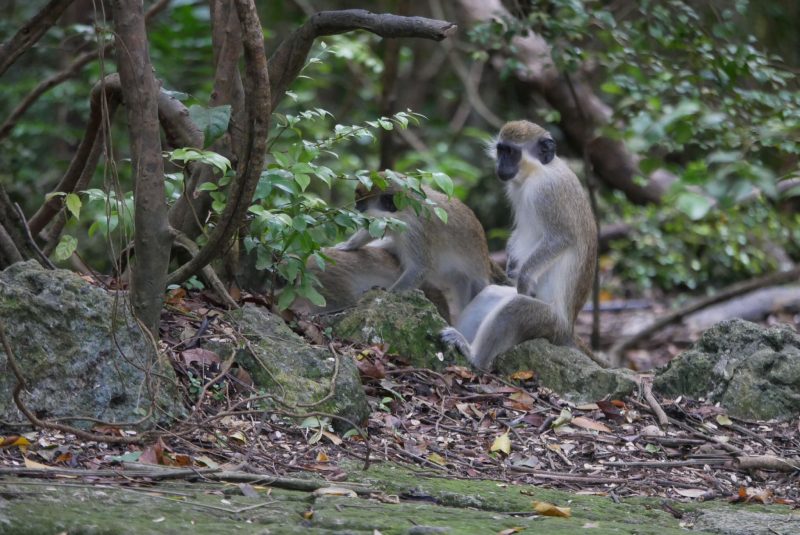 Your entrance ticket to the Wildlife Reserve also gives you entrance to the Grenade Hall Signal Station and forest trails, where we actually saw more monkeys than in the wildlife reserve itself. There are some fabulous views from the top floor of the signal station and if you go to the Wildlife Reserve make sure you pay a visit.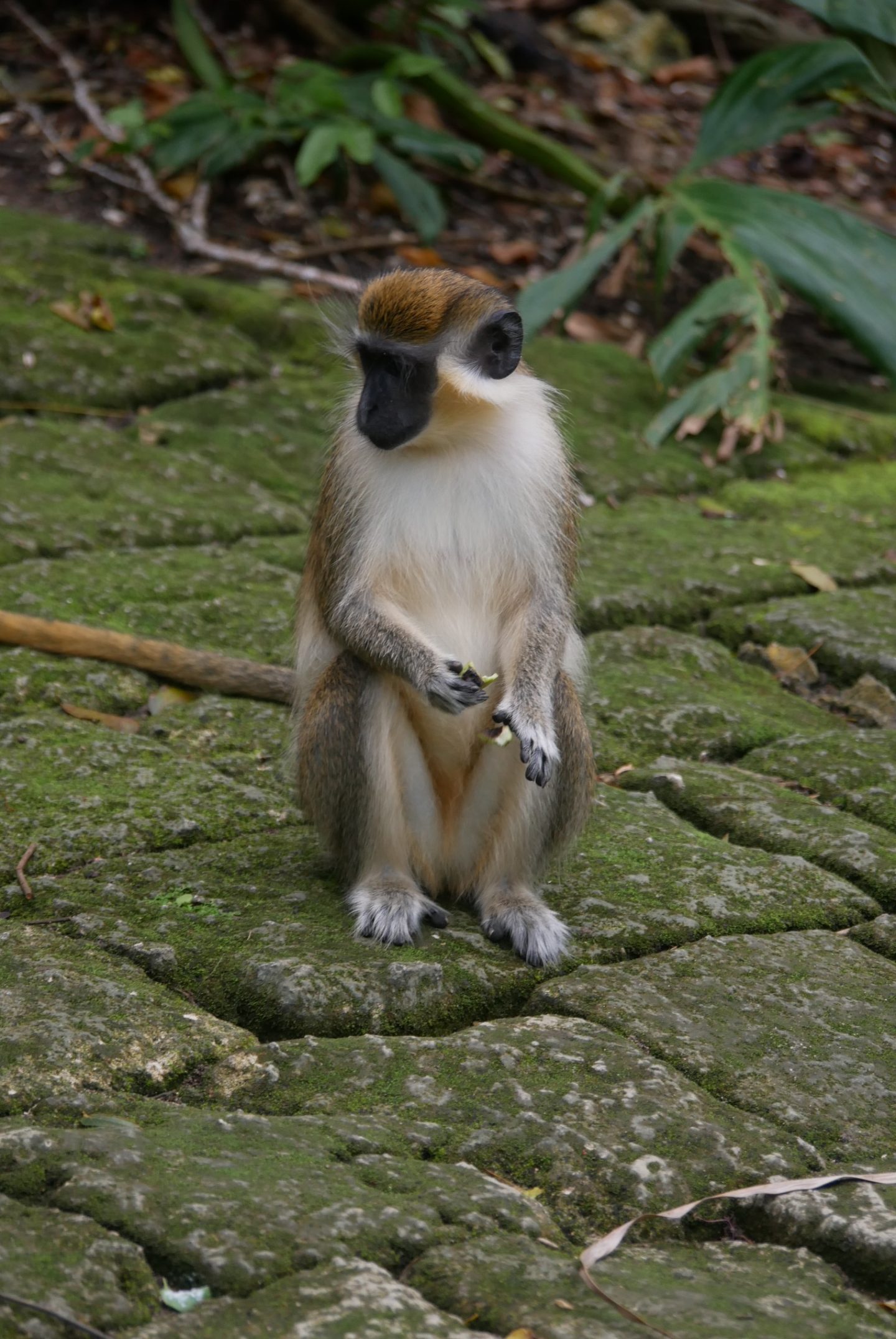 We had to pay a final visit to the Yacht Club to say good bye to the team. Fortunately we had booked a table as when we got there, people were queuing for tables. This is a great place for lunch and from how busy it was, word has got around of how good it is. We both decided on the West Indian Chicken Curry (Jane's extra hot!) and as usual it was delicious.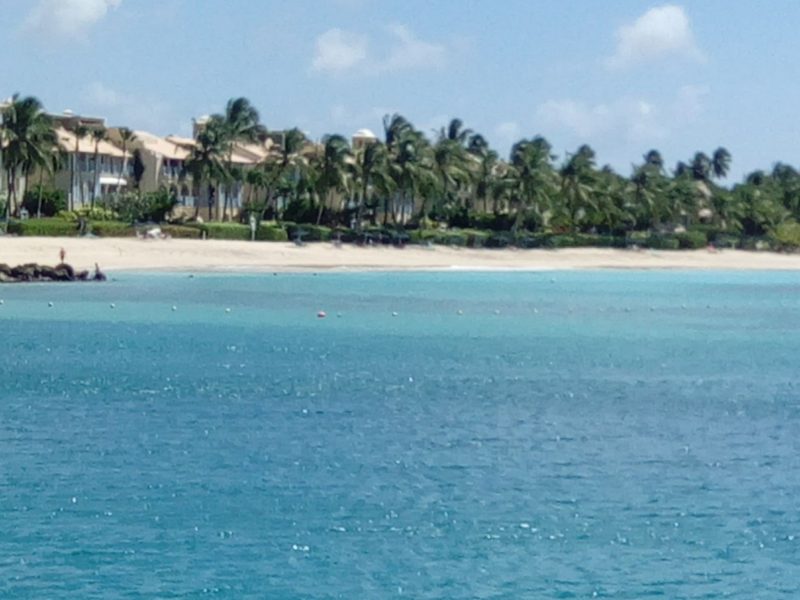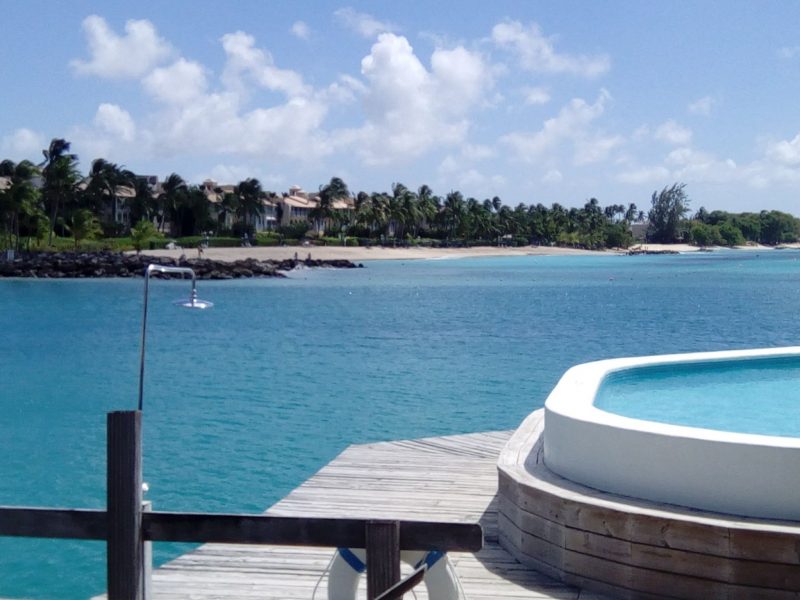 Looking out from Port St Charles Yacht Club
After some sad goodbyes to our favourite waitress Monique and the rest of the team it was back to the apartment. A quick swim and then dinner at the apartment with Gary and Valerie.
Day 20
We intended to spend our last couple of days on the beach but woke to torrential rain at Sugar Hill. A change of plan was needed. We decided to drive up to Speightstown for some breakfast. We got as far as Gibbes and the weather had changed, completely completely dry, sun and blue skies. This is exactly why you must ignore weather forecasts in Barbados, the weather is so localised!
Speightstown
I love Speightstown it just has loads of character. The colourful buildings a mix of old and new, the locals going about their daily business and the street traders selling everything for fruit and veg to underwear!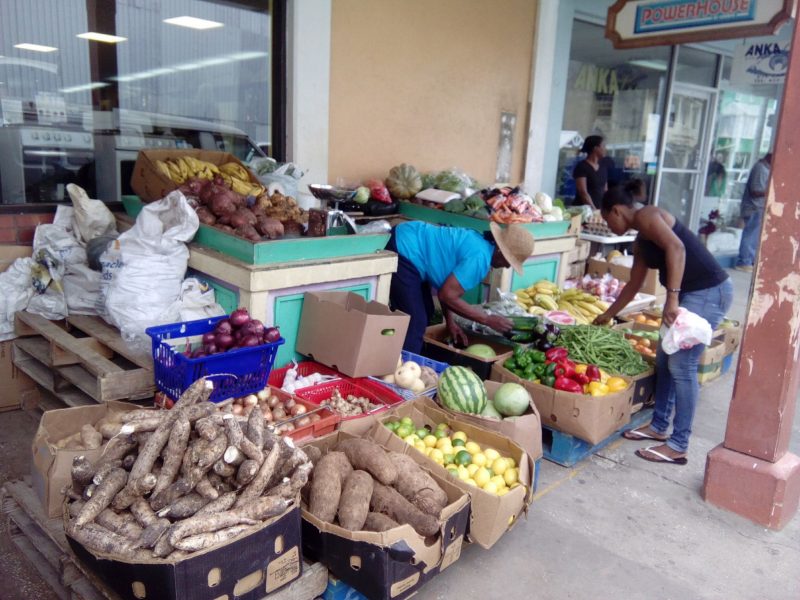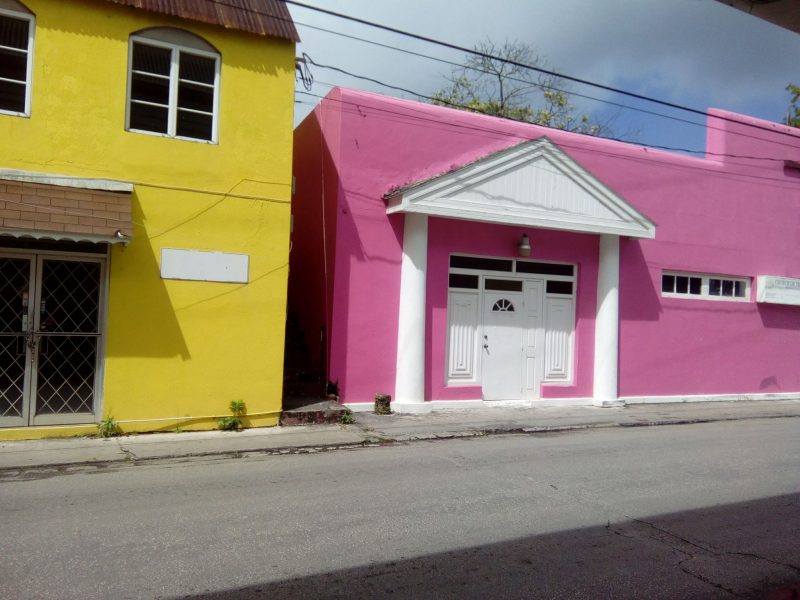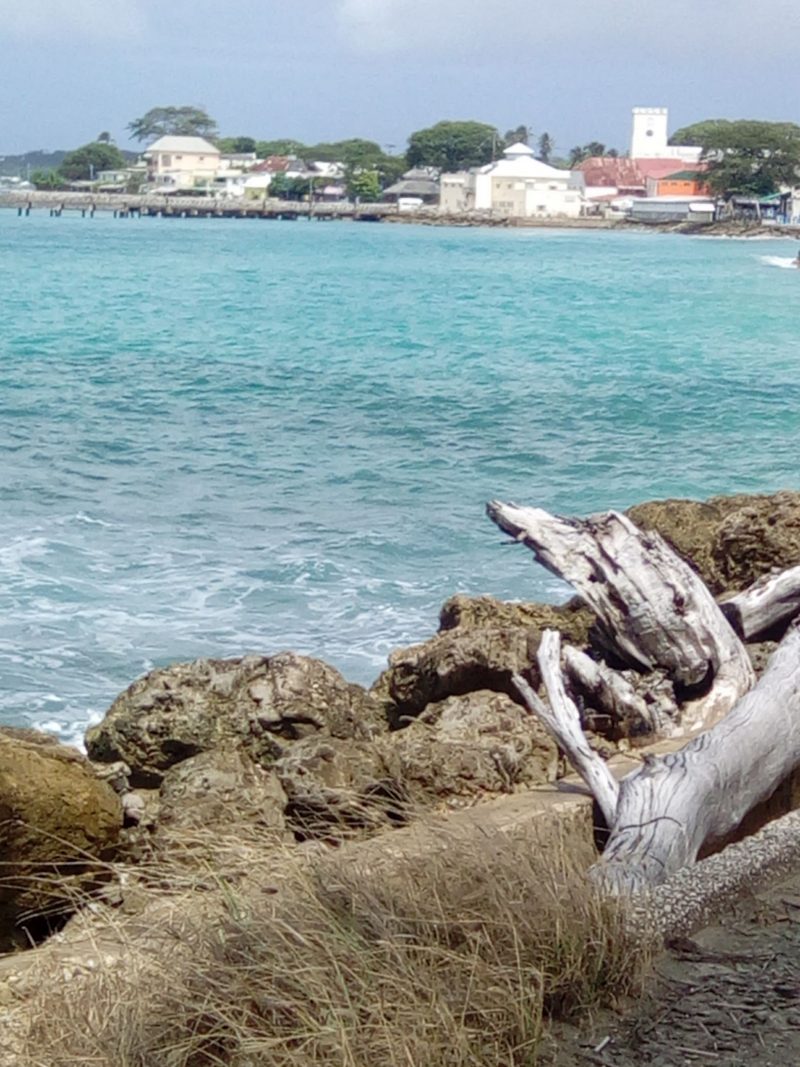 Its great to see new businesses opening in Speightstown. There is now a good selection of restaurants and bars such as Hugo's, Little Bristol and Island Plates, alongside the old favourites such as the Fisherman's Pub.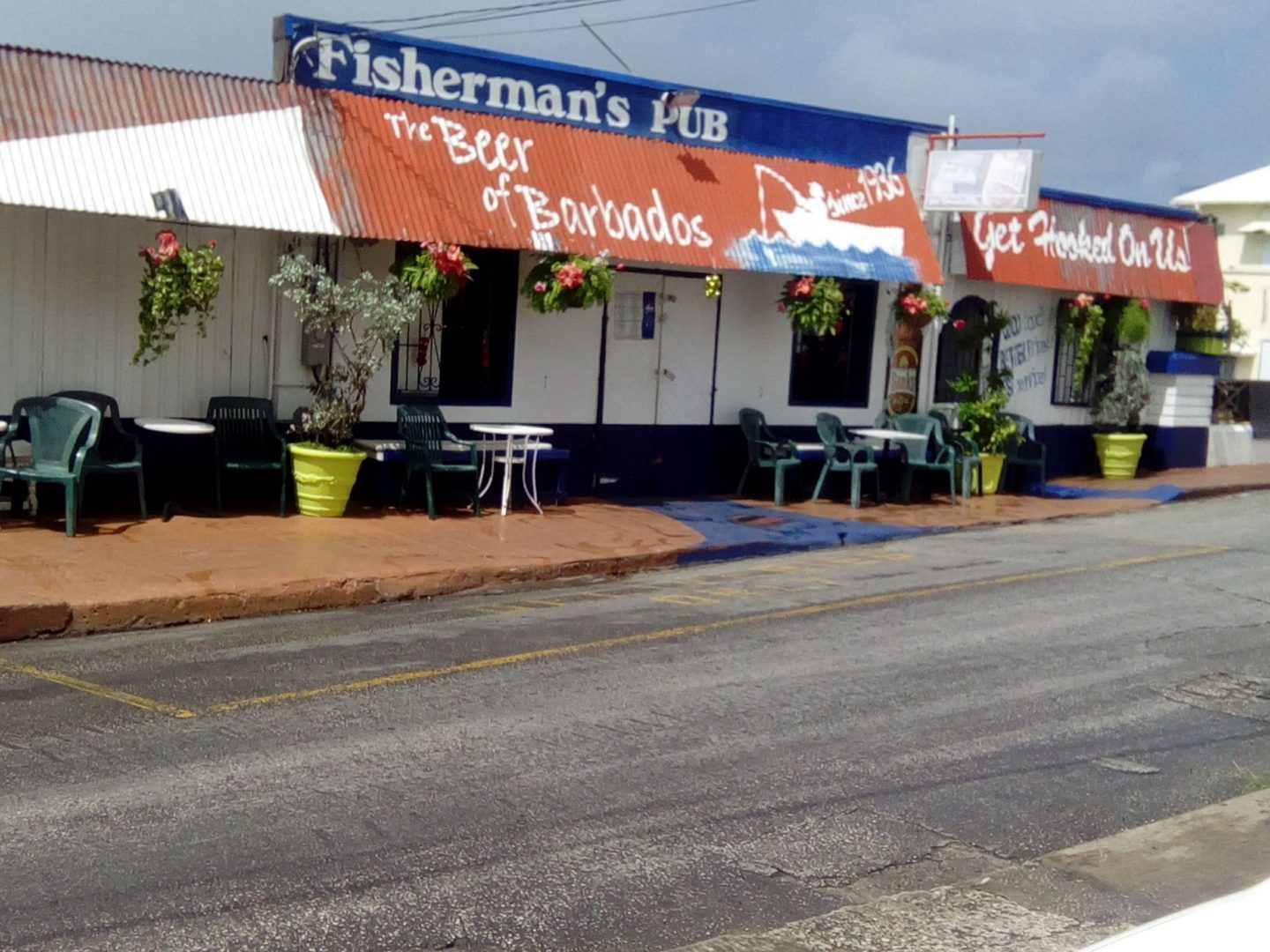 For breakfast we tried the new cafe bar One Eleven East, situated on the main street with a lovely beach front terrace and decking.
Although the menu was limited we had some great coffee and fresh croissants sitting on the lovely terrace. Its owned by a local couple who obviously have put a lot of care and attention in creating this special place. They deserve support and I would highly recommend you give it a try.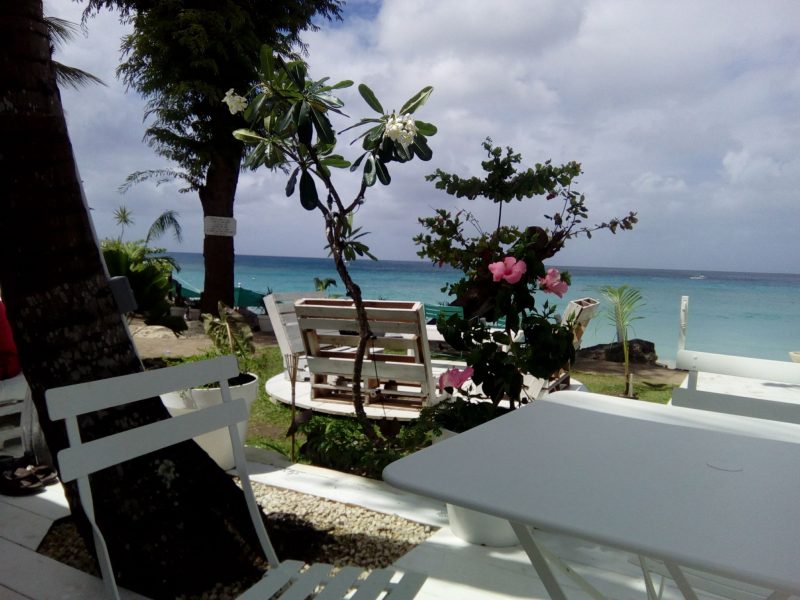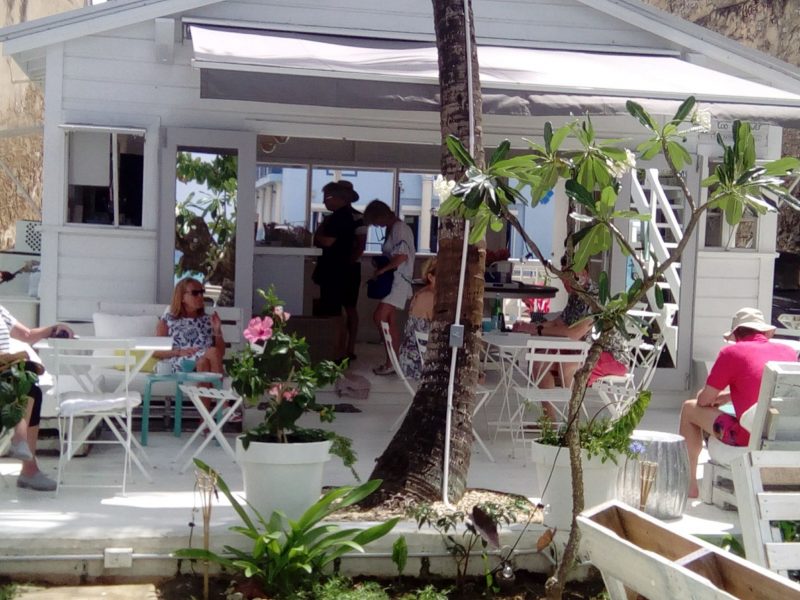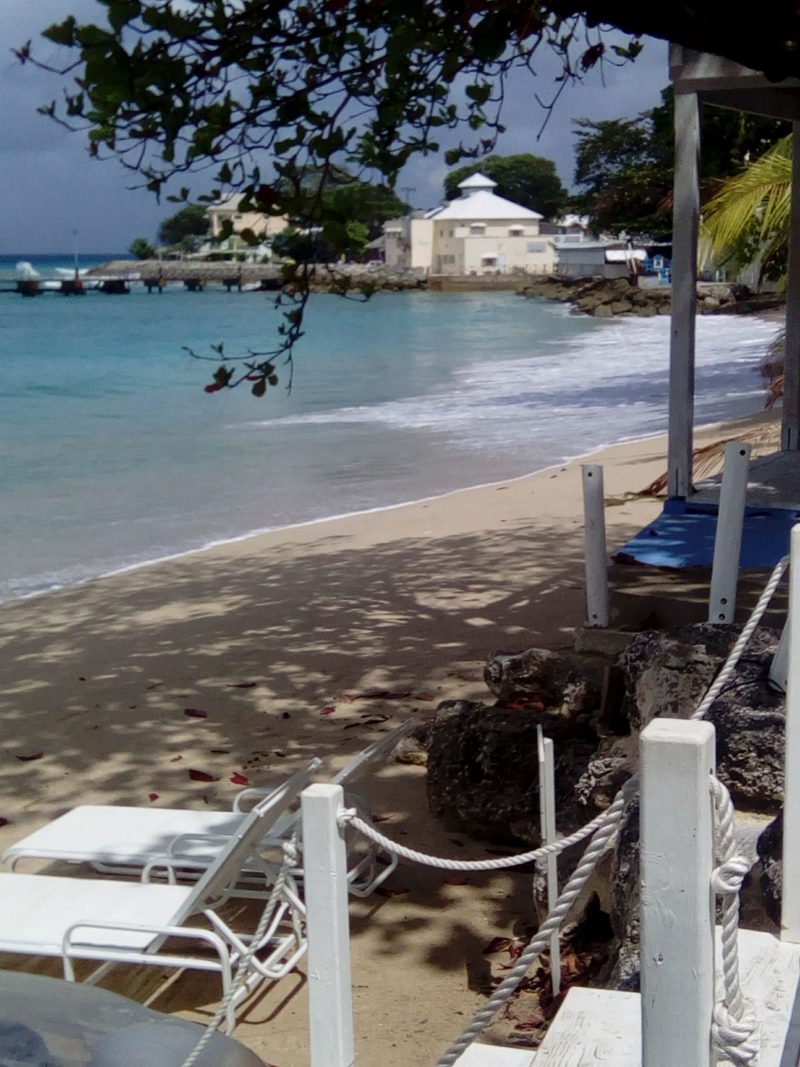 The terrace at One Eleven East
After breakfast we walked down the back of Jordan's supermarket to Godings Beach ( I thinks that's its name?). This beach fetches back many happy memories of when we first visited Barbados. Every day we used to walk from the Sandridge Beach Hotel past Cobblers Cove to Godings beach for our early morning swim.
The beach is still beautiful. Unfortunately the morning we were there the sea was so high you couldn't get past Cobblers Cove.
As the weather was still rather overcast as we travelled towards Holetown, we decided to abandon any plans for the beach and try somewhere new for lunch.
We had never been to the Sandpiper – a small luxury hotel just outside Holetown. It's a sister hotel of the Coral Reef where we had eaten several times in the past. So we thought we'd give it a try. We managed to negotiate a table! With the hotel being full they weren't taking reservations from  non-residents. However a phone call from reception to the restaurant and they got us a table on the terrace at Harold's Bar.
I'm do glad they did as we had one of the best meals of our whole trip. Even though we were not staying at the hotel we were made so welcome by the staff. The hotel is beautiful with 2 swimming pools set amongst lush gardens opening on to a lovely beach front setting.
Jane had a delicious grilled chicken dish and I had what was definitely the best chicken roti I have ever eaten! The cheesecake for dessert was also very special.
I will definitely be returning next year providing they let us have a table that is! Not allowing non-residents to make restaurant reservations seems to be happening at a few of the West Coast hotels. Our friends had tried to make a reservation for dinner at the Coral Reef a few weeks before coming on holiday. They were told rather rudely that they were not accepting reservations from outsiders!!! I had also heard that it was difficult to get a reservation for Sunday Brunch at Sandy Lane as a non-resident due to it being so busy.
That evening we went for dinner at Nishi with friends. Nishi is on 1st Street in Holetown and is one of my favourite restaurants. The menu is quite quirky offering an extensive range of Sushi, grills, Asian dishes and traditional British pies! On Friday nights they have live music so we booked a table in the courtyard so we could enjoy the music and maybe have a dance or two. I was worried that having had a substantial lunch I wouldn't be able to do one of Nishi's famous pies justice. I managed but went for the seafood pie which at least didn't have pastry!
If you haven't tried Nishi on a Friday night I would highly recommend it. The entertainment was excellent and diners were dancing in the aisles (between the tables!!).
Day 21
Our penultimate day and our last day with the car so it had to be the beach. Fortunately we woke up to glorious sunshine and it stayed that way for the rest of the day. The red flag was no longer flying so we were able swim and snorkel. We had lunch at the beach club and then a final walk along Alleynes Beach. It was sad to say goodbye to Ryan at the beach club. However we realised how fortunate we  are to have been able to spend 3 weeks of pure enjoyment once again in Barbados.
In the evening it was sundowners at the Drift Ocean Lounge to say our goodbyes to Gary and Valerie.
A tasty pizza for dinner at Spago's in First Street. Spagos is a great place for a casual reasonably priced dinner in Holetown. Then back to the apartment for nightcaps on the balcony, had to use the rum up!
Day 22
Well this is it, our final day has arrived. We certainly have had another brilliant holiday. For 2019 we had said we would be trying somewhere else for our winter holiday, guess what? We have already booked to come back to Barbados again!
Ideally I would like to get up on my final day, pack my cases, go to the airport and fly home as early as possible. Unfortunately flying from Barbados to the UK you have all day to wait for your flight home. Our Thomas Cook flight back to Manchester was the last flight out of Barbados on the Sunday night at 21:15. We weren't looking forward to the day as we had to be out of the apartment by 12 noon.
Sunday Lunch at Carizma on the Hill
As we knew we had a long day ahead of us we had booked a late table for lunch at Carizma on the Hill. This was the 3rd time we had eaten here during our stay and once again we had a superb meal. The restaurant was quite busy with a saxophonist and steel drummer providing chilled background music. We both chose the Sunday Roast, I had Rib of Beef and Jane had the Herb Roast Chicken. Both came with crispy roast potatoes, fresh local vegetables and of course Yorkshire pudding. For dessert Jane just had ice cream but I went for the house speciality the Rocky Road Kebab! It was a hanging kebab with chocolate brownie, marshmallow, fresh fruit with chocolate sauce drizzled down the kebab, awesome!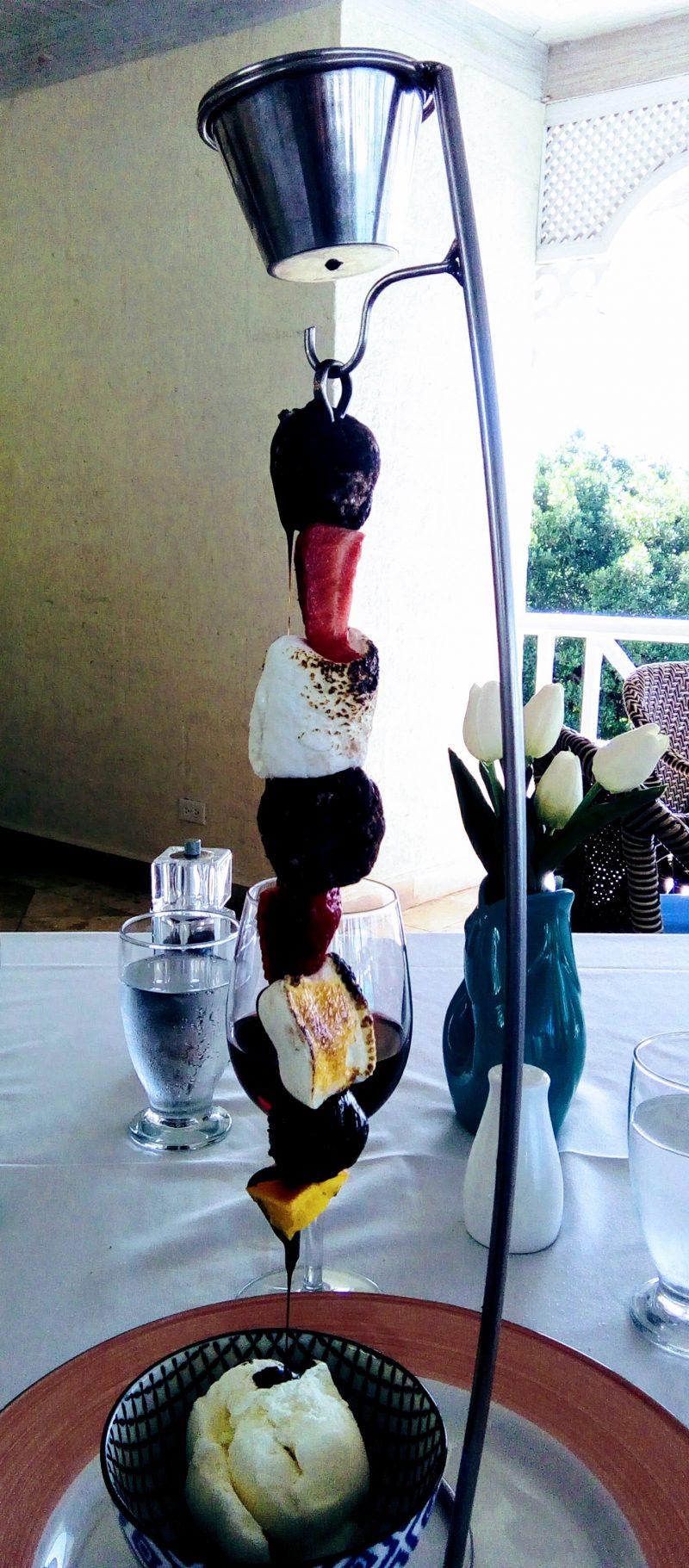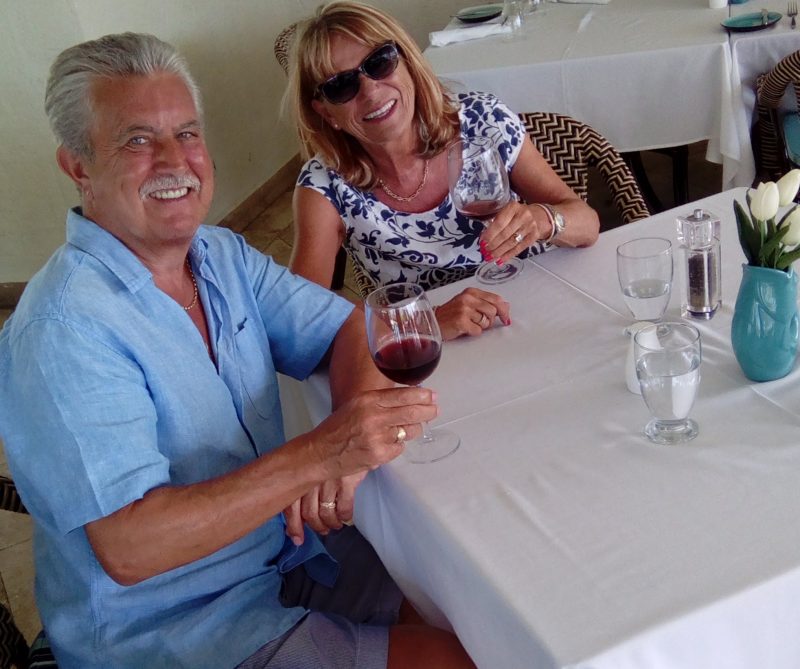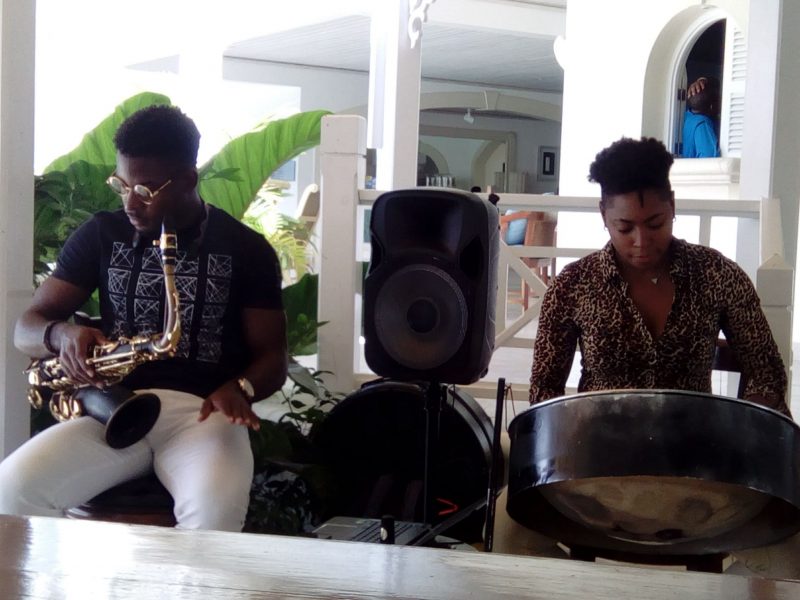 The Kebab was something else!
As you can imagine after a very substantial lunch we just wanted to relax. We had about 2 hours to wait before our taxi was due to collect us to take us to the airport. However the clubhouse at Sugar Hill is such a beautiful place, peaceful and relaxing, the time soon went.
Homeward Bound
Harold our taxi driver was there dead on time, as always, for our trip to the airport.
The airport experience on departure was definitely not as good as the arrival. It never is! Check in was fine. However the queue for passport control and security was long and slow moving, you just have to be patient. It took us over an hour to get through to the departure lounge but it was soon time to board and our flight home took off on time.
Now looking forward to next year. I think its only 310 sleeps to go!!!!
The Guest Books Comment: "I hope you have enjoyed my trip report. Whether you are a Barbados regular or are planning your first trip, if you missed the first 2 episodes, for Barbados Trip Report Episode 1 click here and for Barbados Trip Report Episode 2 click here."
No freebies have been offered or provided by any of the establishments featured in this post!