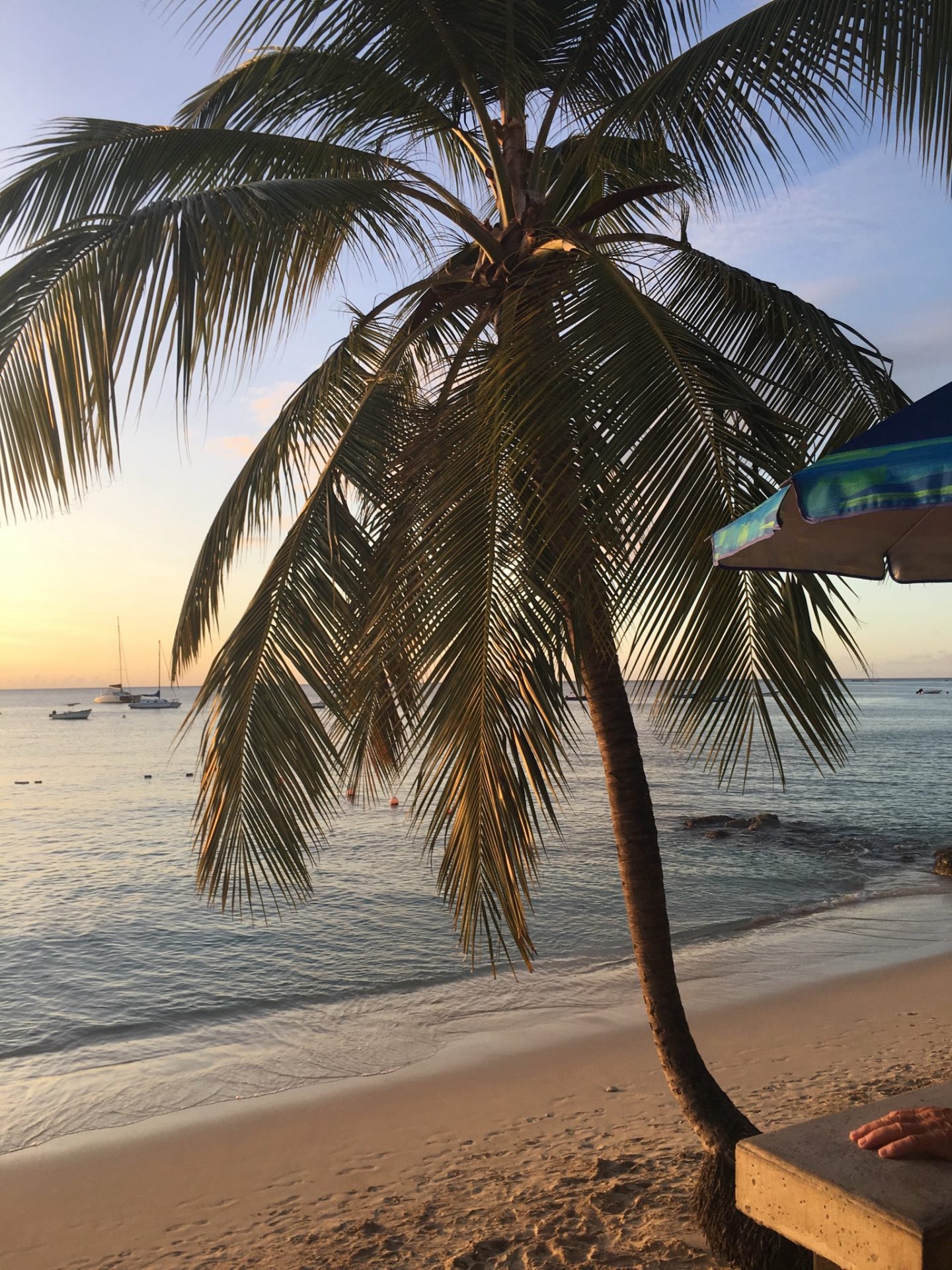 Welcome to my 2019 Barbados Trip Report.
Back two weeks now from Barbados. Just can't get over the weather back home. Last year we came back to freezing cold and wet weather, the beast from the east. This year its been brilliant sunshine and temperatures in the mid-teens. It makes you wonder do you need to go to Barbados!!!! Only joking!
Weather in Barbados during our stay was excellent. Temperatures in the high twenties, very little rain and light cooling breezes. Sea a lot calmer than the last 2 years, only saw the yellow flag up a couple of times, great for swimming and snorkelling.
As usual stayed on the West Coast for 3 weeks.
Accommodation
Tried a new place this year, CocoVilla at Heron Court. It was in a small gated community in Porters about 1 km from the beach and 2 kms from Holetown. We were really pleased with the villa, a convenient and peaceful location, most of the other properties were owned by local residents. In fact we loved it so much we booked it for next year before we left!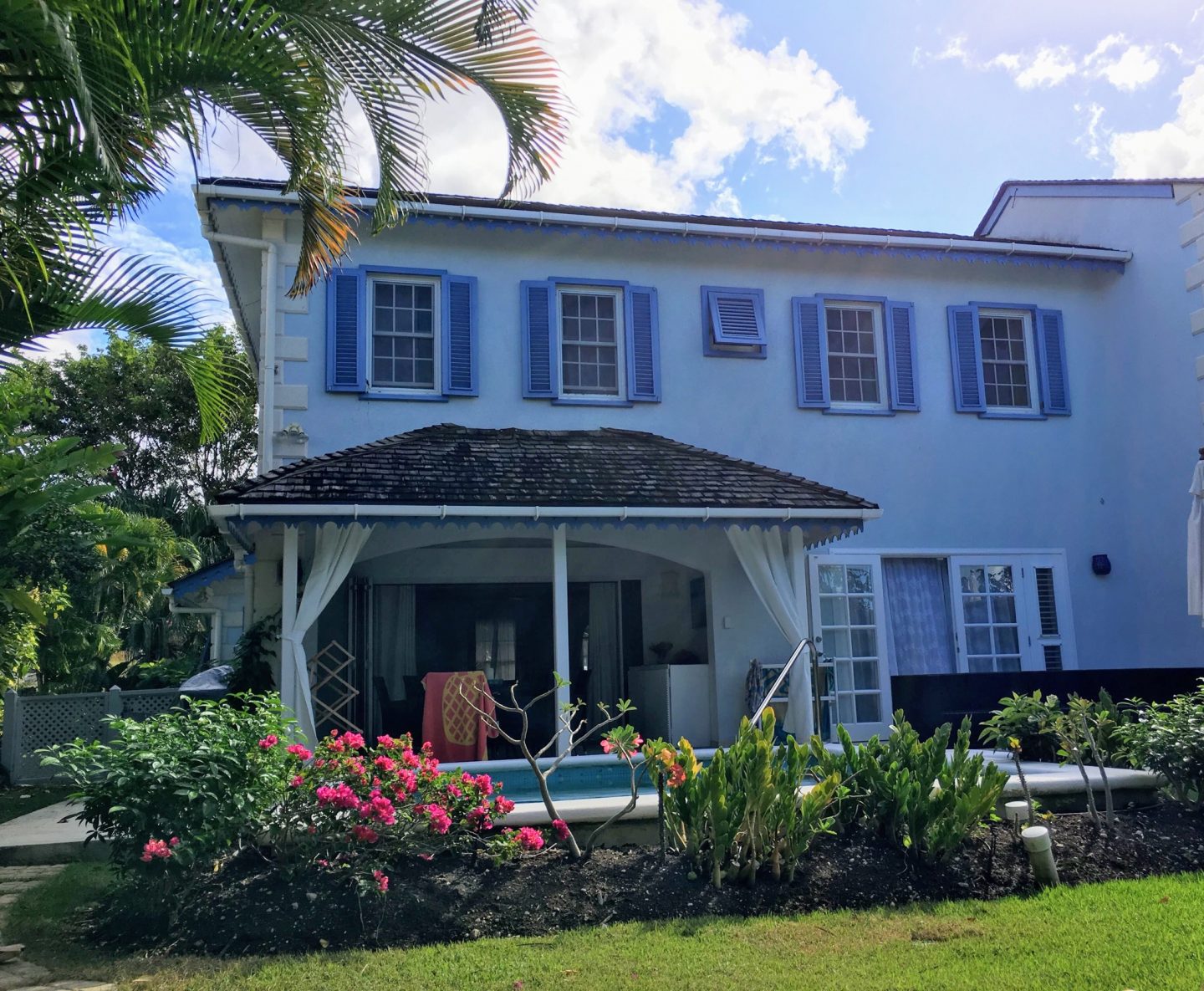 More information on CocoVilla can be found on their Facebook page click here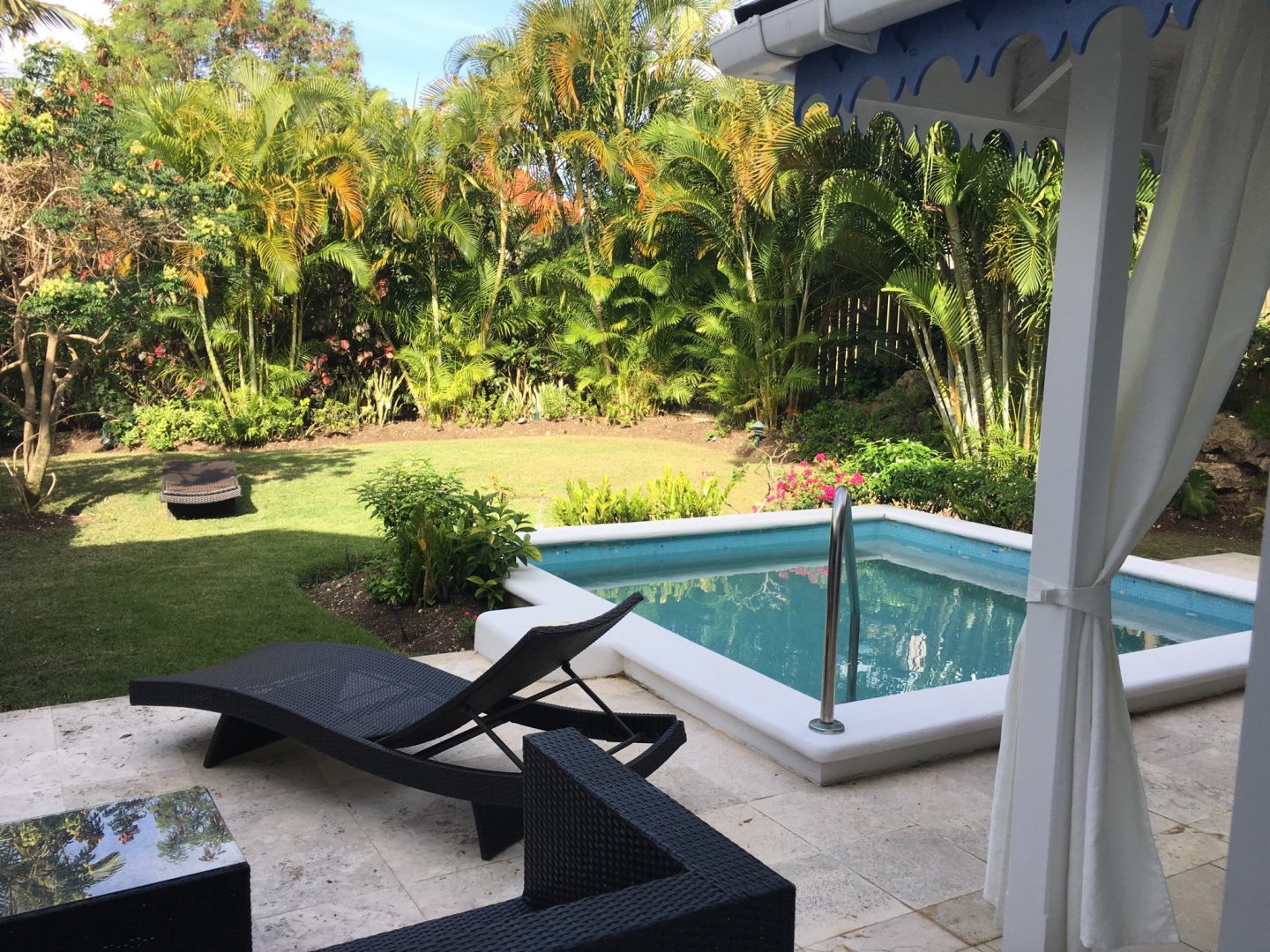 Flight
Once again we flew with Thomas Cook from Manchester, using their Premium Service.
The service provides priority check in, fast track security at Manchester, priority boarding, premium cabin with dedicated staff, welcome drinks, premium meal, premium entertainment (not impressed again, very limited choice), wider seats, a small amount of additional legroom and foot rests.
The only downside of the flight is the fact you fly from Manchester via Tobago where some passengers disembark and returning passengers get on. This added about 2 hours to the normal flight time. Despite the stop in Tobago we still landed in Barbados an hour ahead of schedule.
Airport and Transfer
We were first off the plane, no queues at immigration, all desks were open. As usual we got a Redcap to help with the luggage which arrived very quickly. We were fastracked by the Redcap through customs. Disembarking the plane to the taxi rank a record 30 minutes.
As we normally do we went to the dispatcher to get a taxi. Bit annoyed that he insisted we needed a van rather than car due to our luggage, 2 suitcases and 2 carry ons, as usual. This cost $96 BDS rather than than the normal fare to Porters about $60 BDS. We didn't argue as we were tired after a long flight so just wanted to get to the villa. It just left a bit of a sour taste and a feeling that we were getting ripped off!
I posted my experience on the Tripadvisor Barbados Travel Forum and it appears others have had similar experiences. Sent emails to Grantley Adams Airport, Barbados Transport Authority and Barbados Tourism Association, but no replies, not even an acknowledgement!
Car Hire
We have used MAH to hire our car for several years click here for their website. Great customer service, car delivered to the villa promptly at 9:30am. Would definitely recommend MAH, this year the car cost $1900 BDS (£720) for 20 days.
Groceries and Provisions
We had preordered essentials with the villa manager. If you use this service check on the service charge, we paid 15% this year which could be a hefty premium on a big shop.
We used Masseys in Holetown for our grocery shopping. Not the cheapest place to shop but very convenient for us. We did think that prices had risen substantially this year, this is partly due to the exchange rate. There's no getting a way from the fact that groceries are significantly more expensive than in the UK. Fresh Pineapple £5.50, medium chicken £8, packet of Ruffles crisps £5, small pack of bacon £4, just a few examples. The only things that appeared cheaper than at home were rum, beer and bananas!
We used a local wine merchant Platinum Wines for the first time this year. they provided free delivery and a great selection of wines, at fairly reasonable prices for Barbados that is! Here is a link to their website click here
Trip Highlights
Last year for my Barbados trip report (click here to read my 2018 trip report) I did a daily journal of our trip, this year as we spent most days at the beach I thought I'd share with you some of the highlights.
Beach Club
The last 2 years staying at Sugar Hill we had membership at the Fairmont Royal Pavillion Beach Club which we really enjoyed. Fortunately this was again inluded with our CocoVilla rental and we took advantage of the membership most days.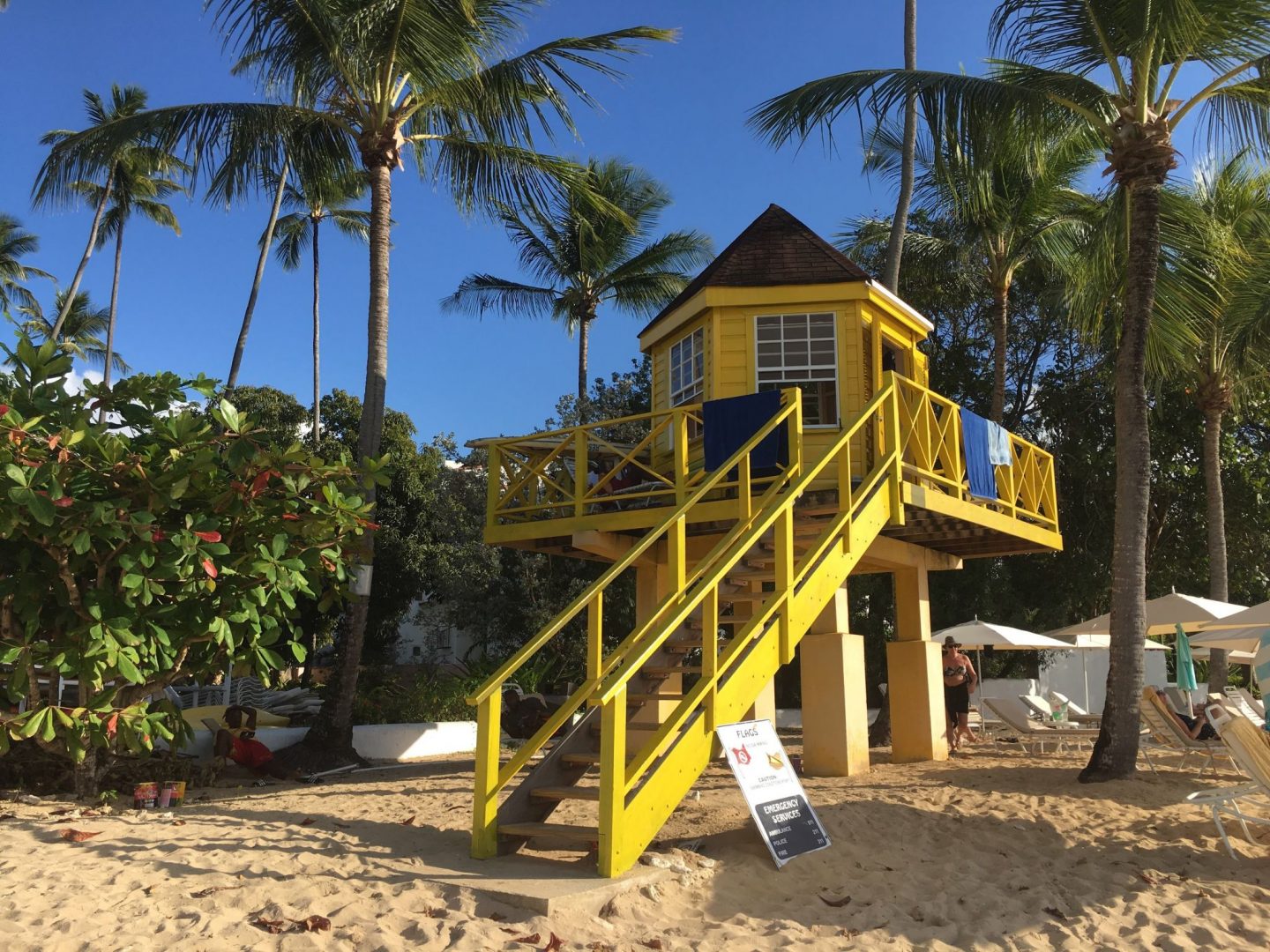 The Beach Club is siuated at the Fairmont Royal Pavillion Hotel. The beach facilities, sun beds, umbrellas and watersports are available to hotel residents and beach club members only. The bar serving drinks and snacks is open to everyone.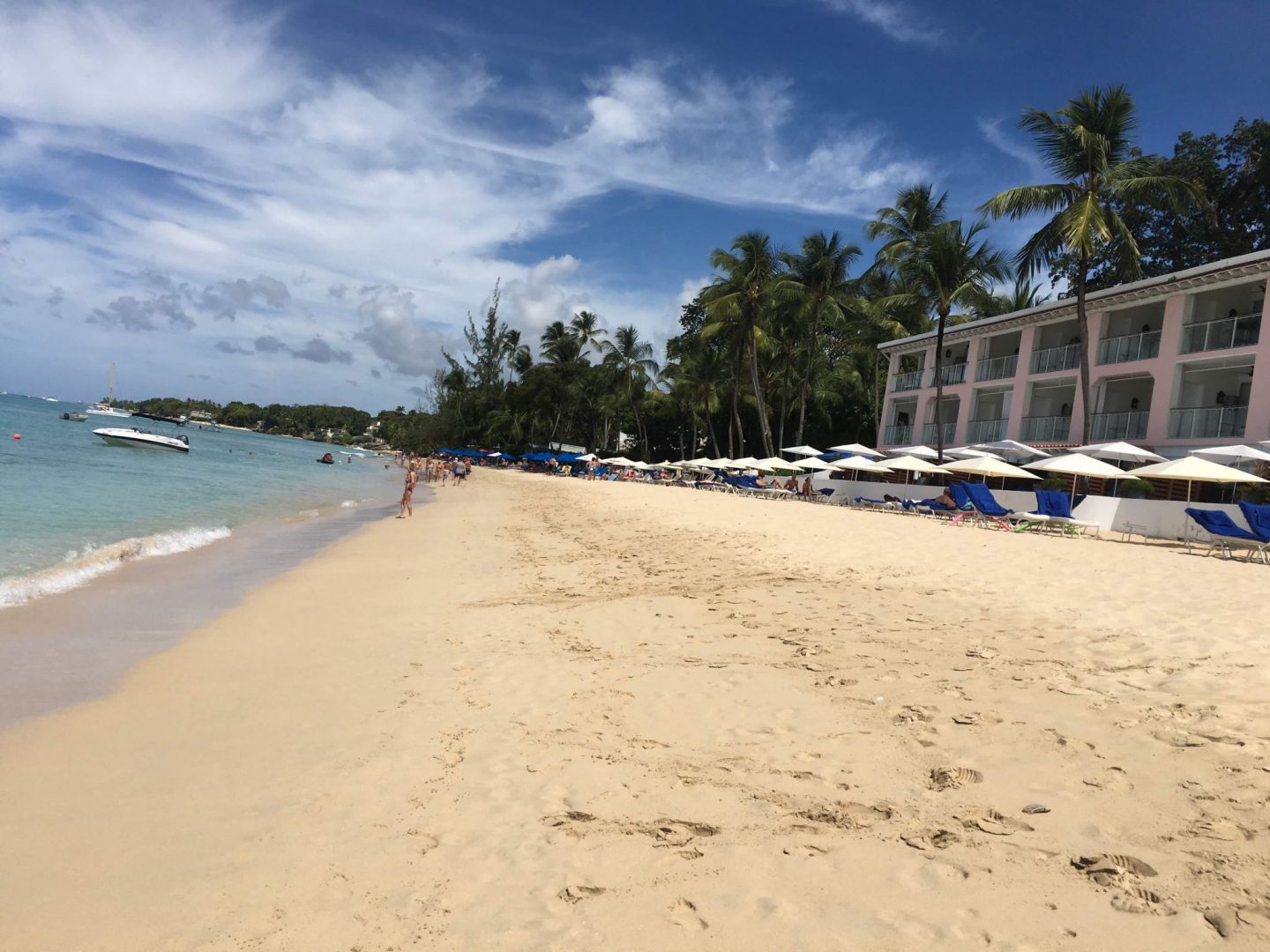 The Beach Club is situated on Alleynes Bay, in my opinion the best stretch of beach on the West Coast of Barbados. It offers great swimming and long walks north passed Lone Star restaurant and south passed Glitter Bay. At low tide you can walk further south to Holetown. I never tire of this walk passing beautiful beach front villas; the Colony Club, Coral Reef and Sandpiper hotels. It is a lovely stretch of coast where at times I felt as if I was in my own private piece of paradise, with not another person in sight. You find it difficult to believe you are on the famous West Coast of Barbados in peak season.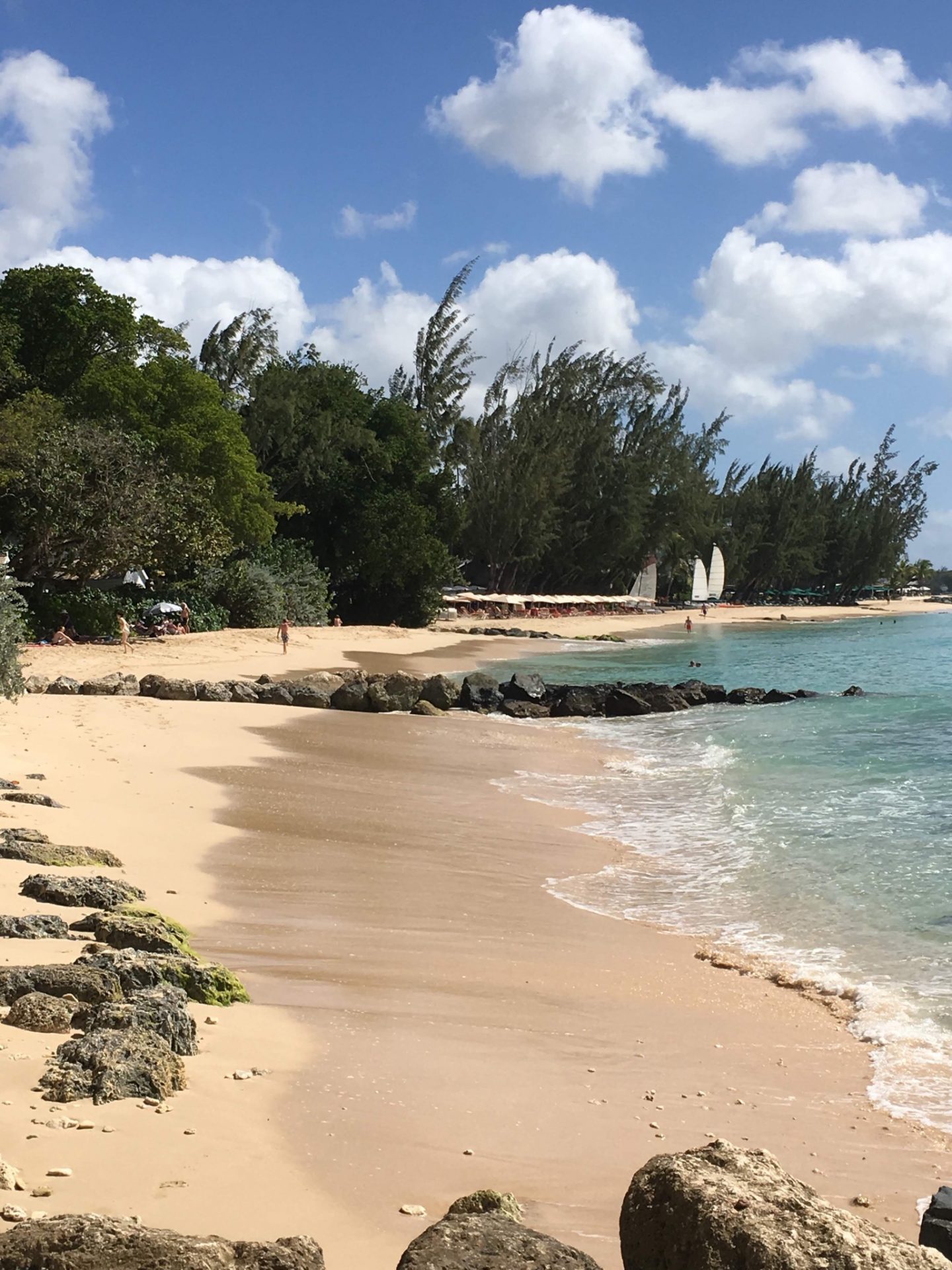 Ryan is the main man at the Beach Club. He has worked there for many years and is a credit to the place with superb customer service skills. Unfortunately the hotel management appear to have neglected the beach club somewhat. We heard a lot of members complaining this year particularly about the food and drinks served at the beach bar.
The menu is limited and hasn't changed in the 3 years I have been using it. Drinks are expensive $12 BDS for a small can of Banks beer! In previous years we have had lunch at the beach club many times during our stay, this year we only used it once. I think the management are getting the message as they had more of a presence in our final week and introduced live music at lunch time on our final day on the beach. It will be interesting to see if things have improved next year!
Eating Out
We loved CocoVilla so much this year we found that we ate out a lot less particularly for dinner. We'd get back from the beach have a sundowner and eat dinner on the terrace overlooking the gardens. It was just bliss!
Beach Bars
We did eat out most days for lunch. A new venue this year was Top Deck what used to be Santis, right next door to Lone Star. They have now opened a beach bar with a few tables and a gazebo with comfortable seating on the beach. We used to wander up there around 12 noon for a couple of Banks $5 BDS (£1.90) a bottle beers and a simple lunch chicken, burger, catch of the day, ribs etc all reasonably priced at around $40 BDS (£15). Good service from David and Andre and good conversation with the guys looking after the sunbeds, Freddy in particular deserves a mention.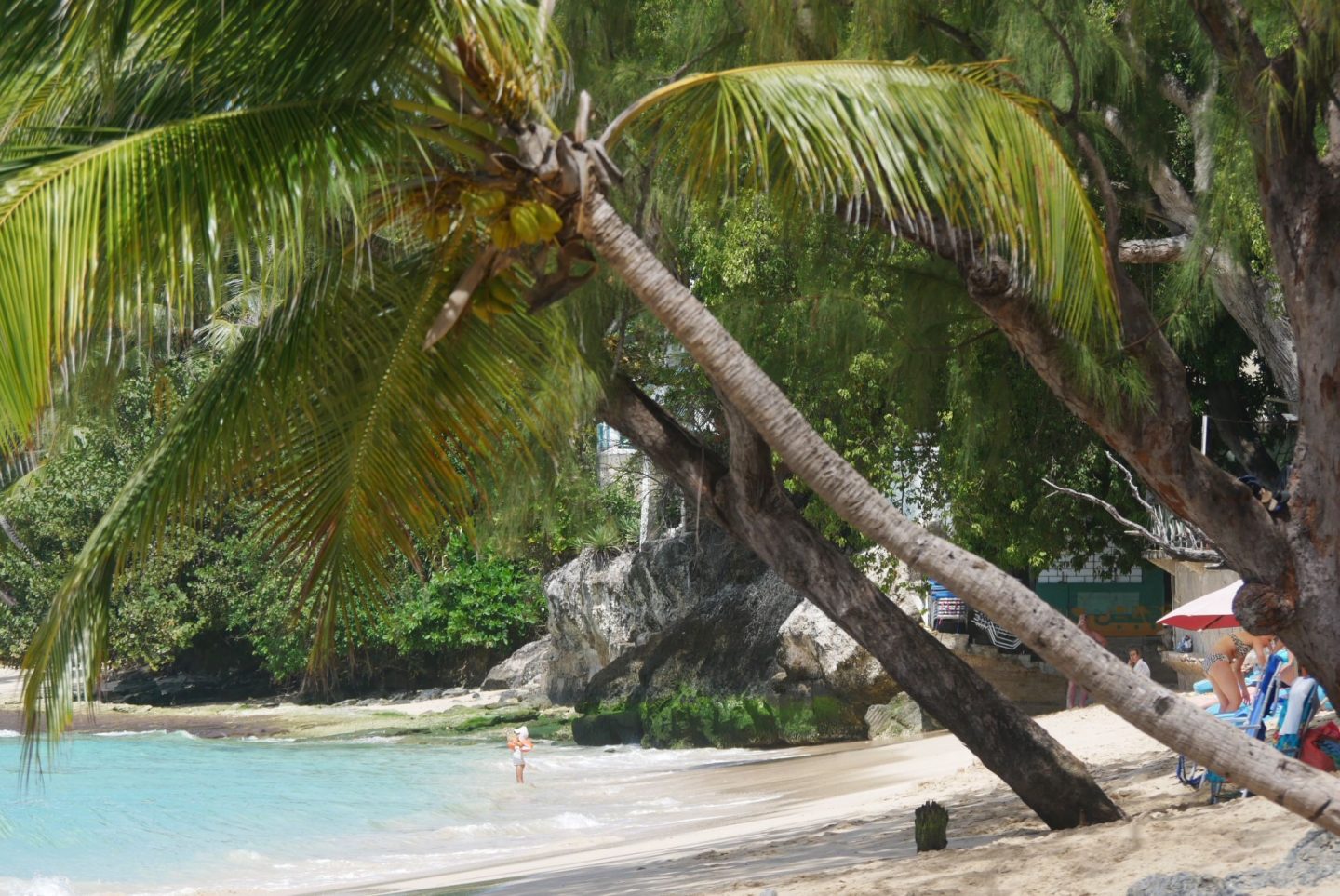 We ate a couple of times at the Fairmont Royal Pavillion. Once at the beach club. This was expensive and very average food. On another occasion we ate in Cafe Taboras, excellent pizza as usual, but service poor and lacking atmosphere. A couple of pizza, 2 beers and a bottle of wine $245 BDS (£92).
Restaurants
I have summarised the restaurants we visited, more details are in my 2019 Best Barbados restaurants post Click here. As in previous years most of the restaurants we used are on the West Coast beacause this is where we stay, I do need to sample some more of the South Coast restaurants some time.
The Tides, Holetown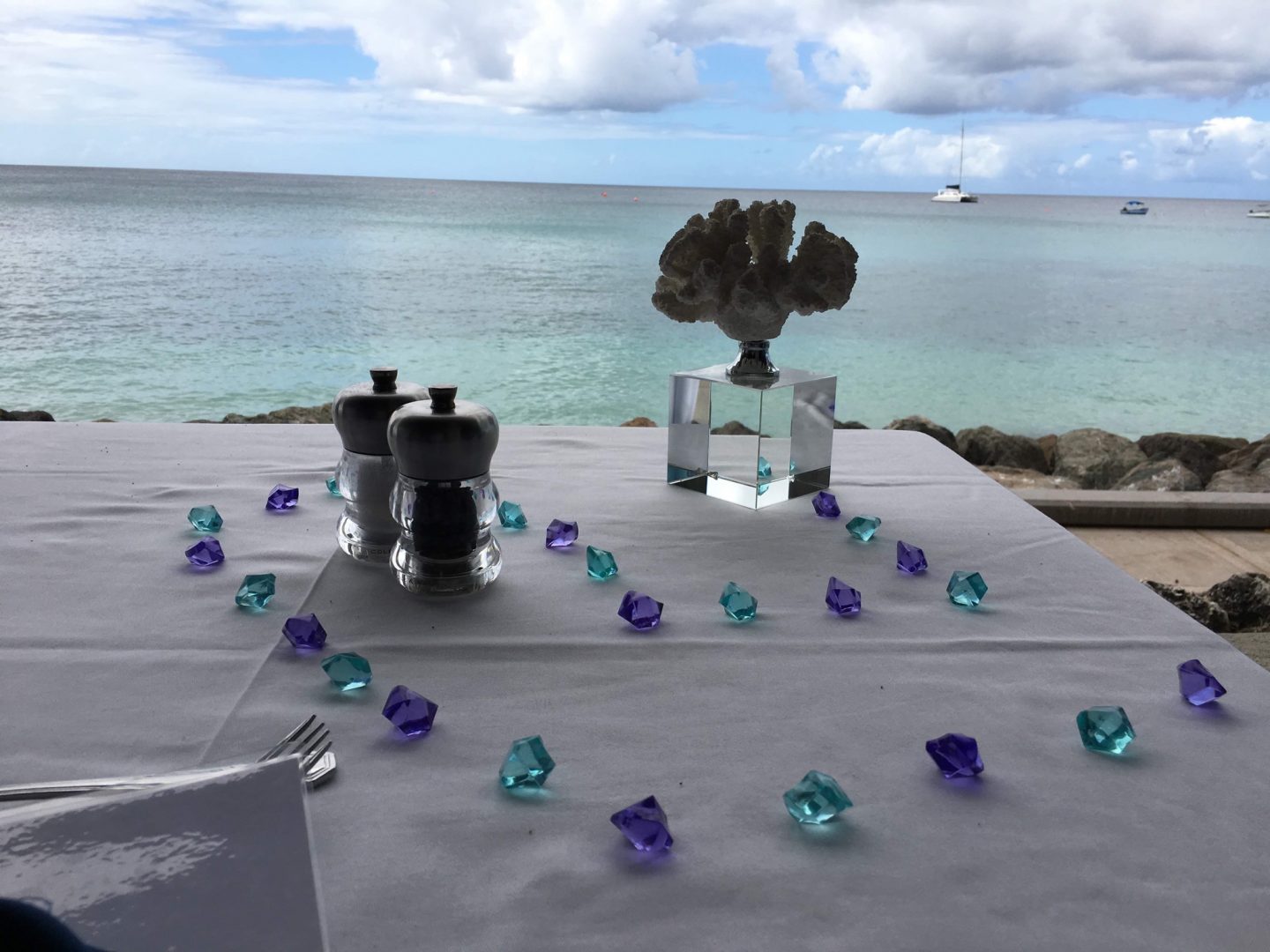 We haven't eaten in Tides for several years as we found the menu rather "fancy" and the food rather rich for our tastes. This year we decided to try their special offer lunch menu. It was excellent and will certainly be a regular lunch venue for us on future holidays. Great choice at lunchtime for around $100 (£38) per head plus drinks which definitely increase the total bill!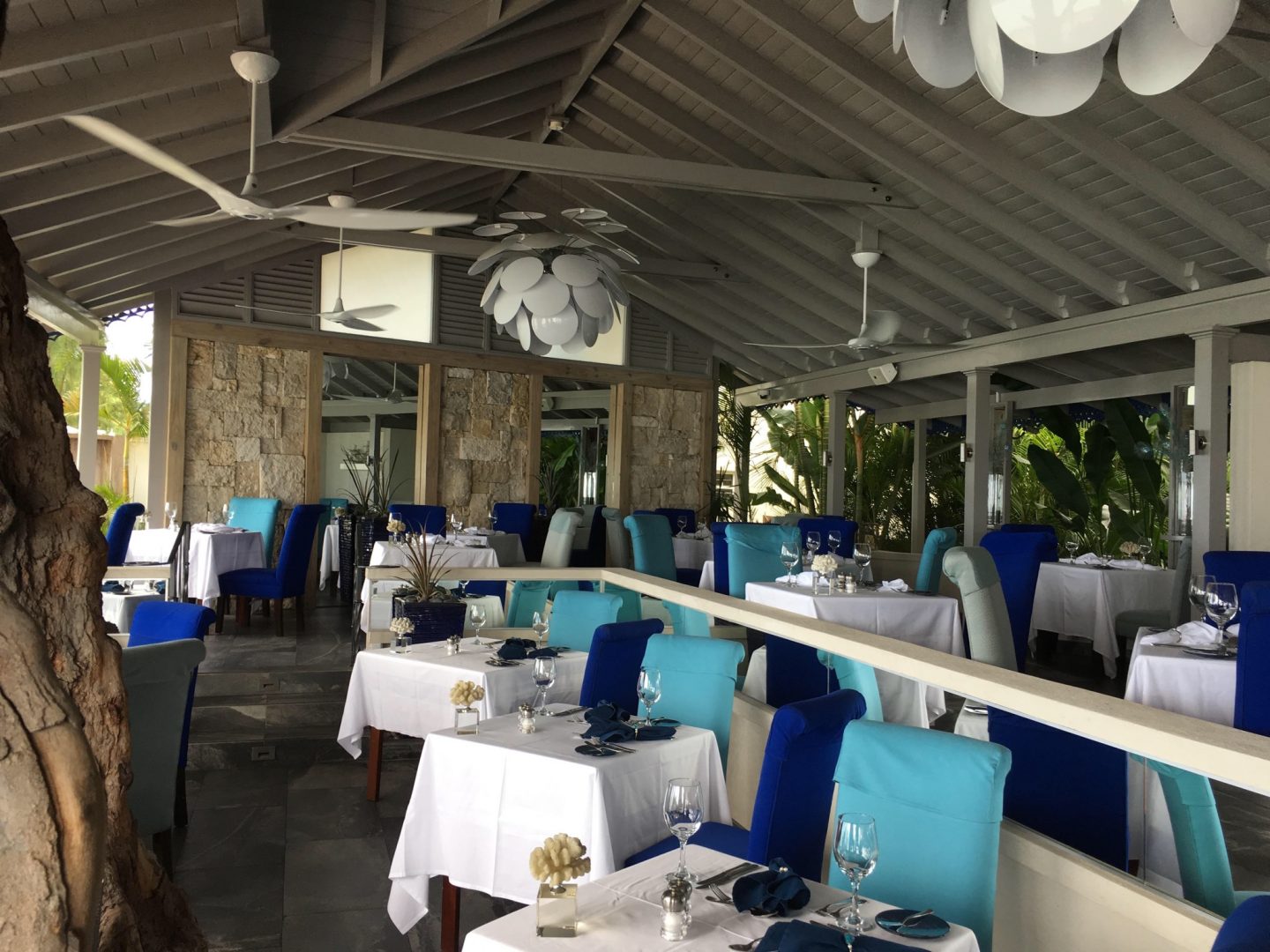 The bar at Tides is a nice spot for a drink, very elegant surroundings and great art work everywhere, all of which is for sale, at a price!
The Lone Star, Mount Standfast, St James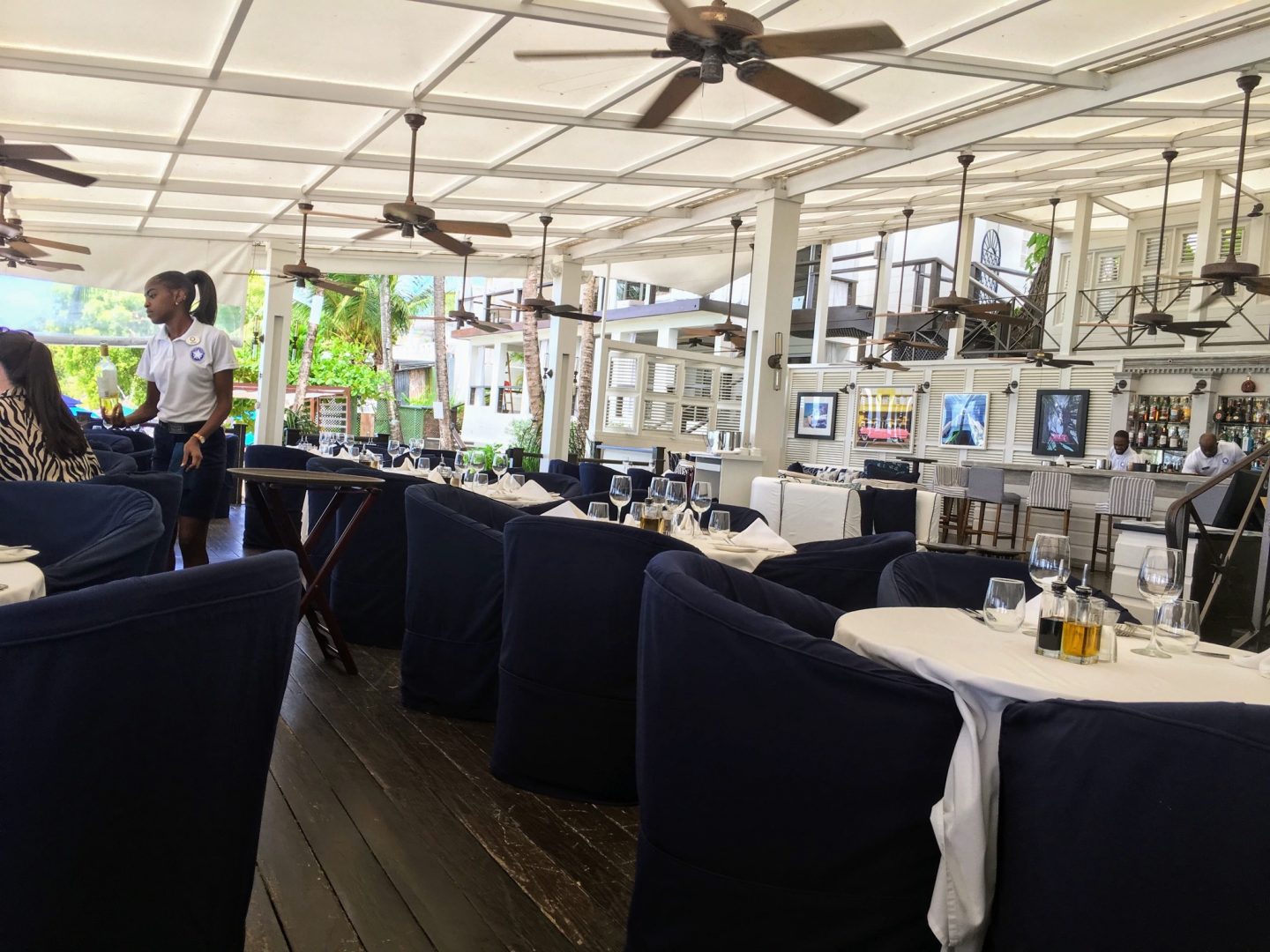 Lone Star has always been a favourite of ours and we always pay a couple of visits during our stay. We just love the location and atmosphere of the place. It certainly is somewhere very special for us. This year we ate there for both lunch and dinner. Enjoyed lunch more than dinner, busier at night and food OK but not as good as lunchtime. I know that Lone Star has mixed reviews but we love it and it will definitely remain on our list for next year. Stand out dish for me this year was a historic Fish and Chips.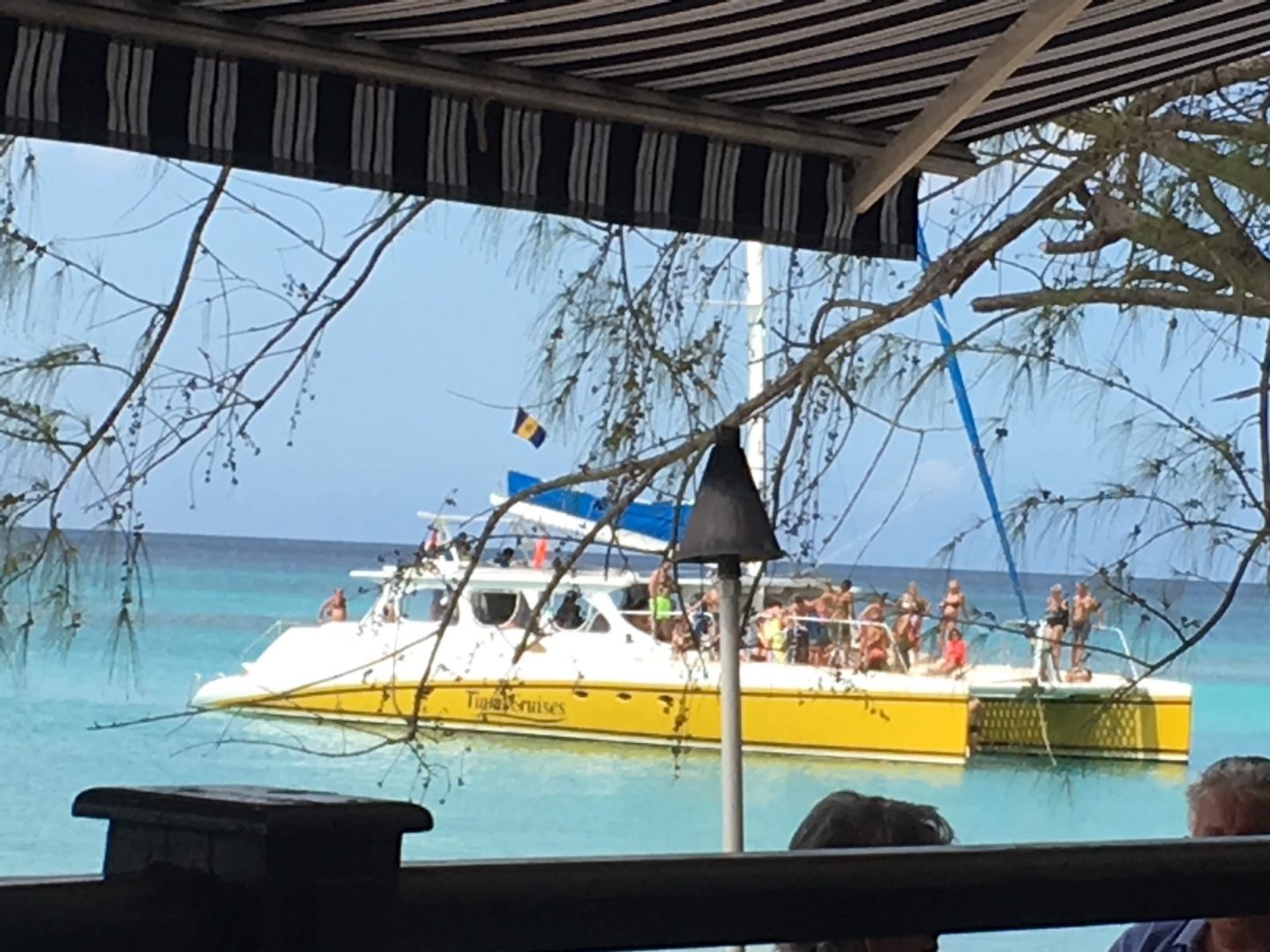 They also serve their own version of Rum Sour with apricot brandy and limincello as added ingredients, a bargain at $16 BDS (£6). In fact Lone Star is a great place for sundowners, you don't have to eat and drinks generally are reasonably priced (except for wine!)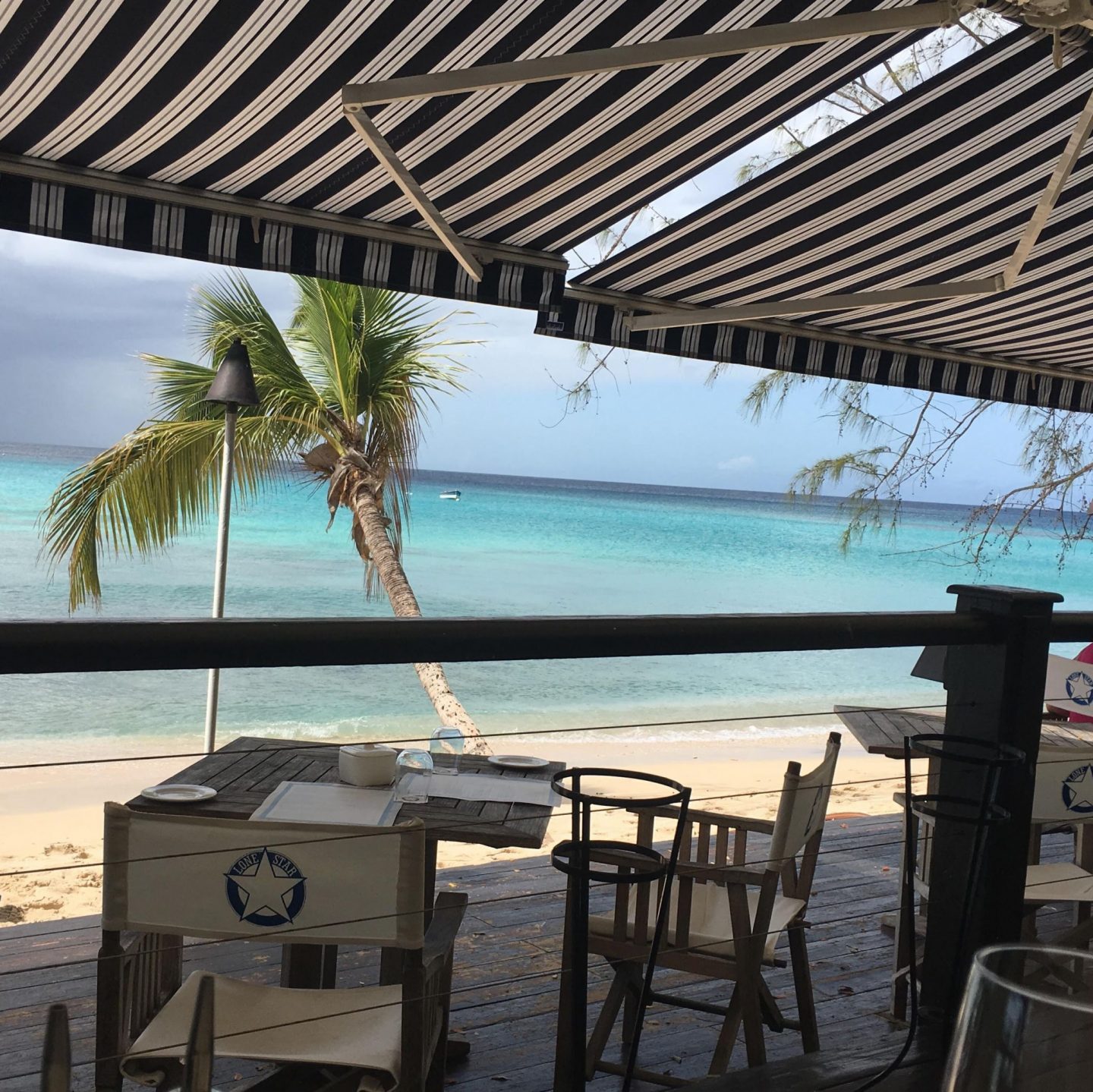 Bajan Bue, Sandy Lane Hotel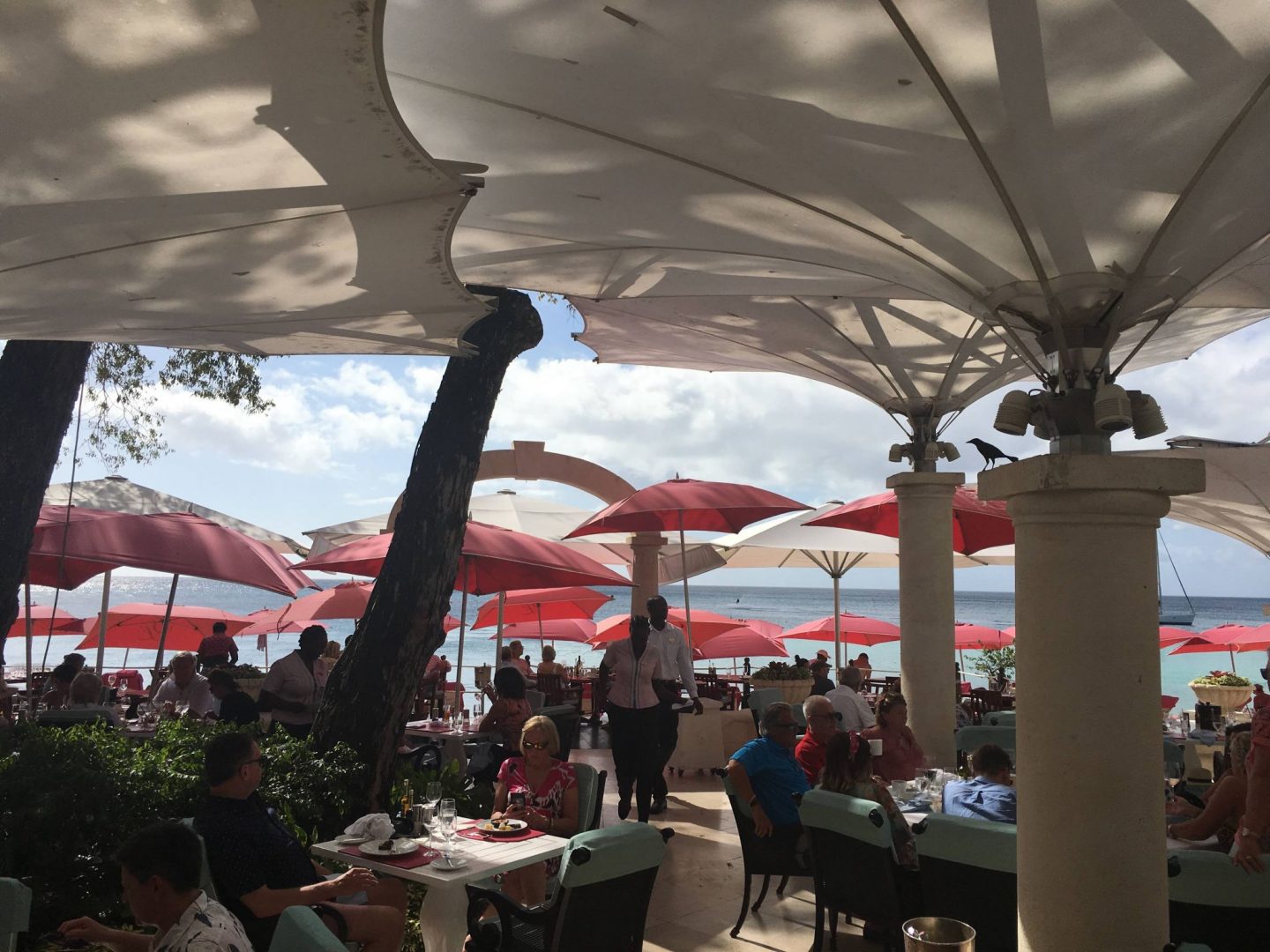 We hadn't been to Sandy Lane for several years and never had their famous Sunday Brunch buffet.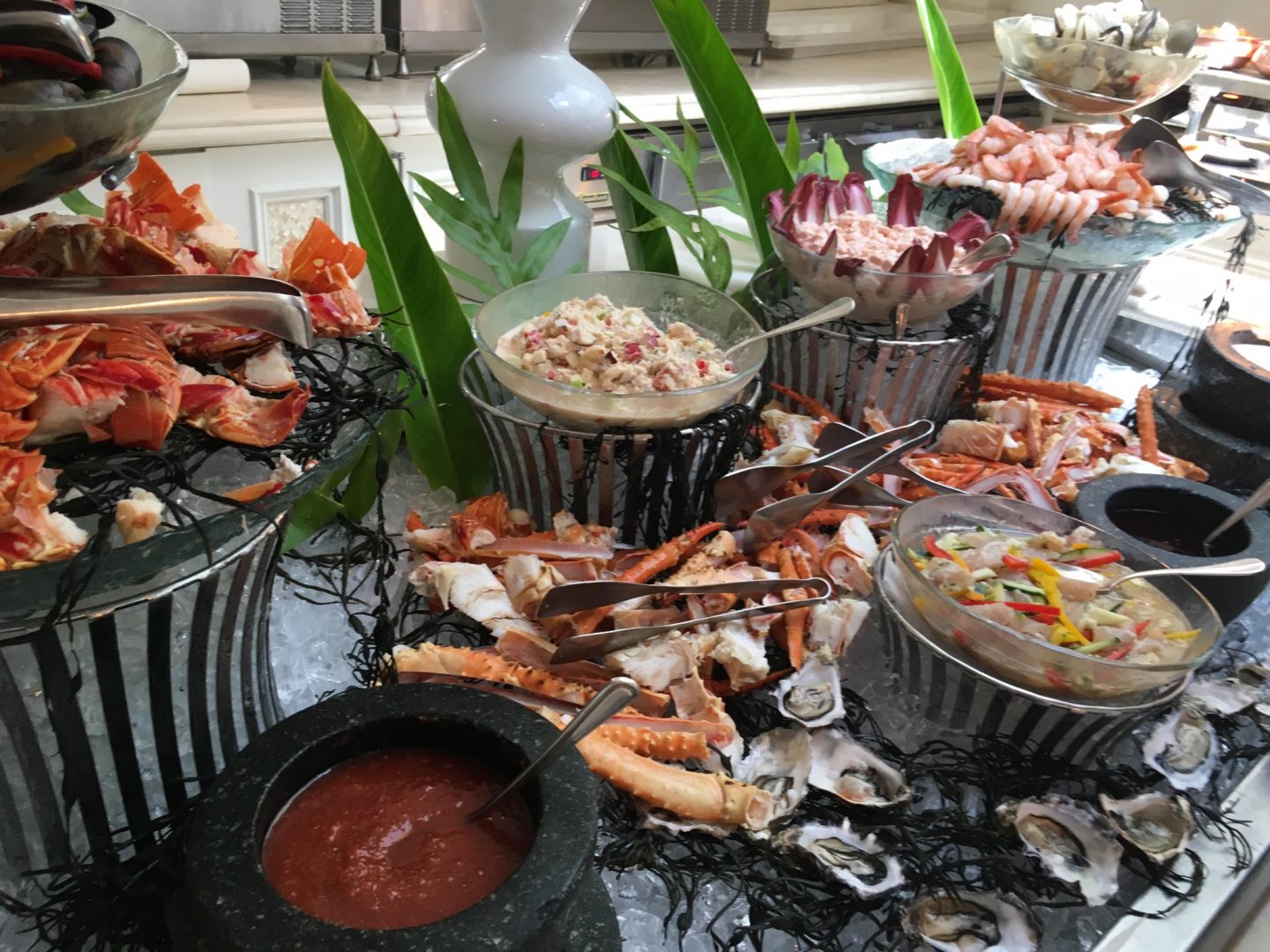 This year we decided to treat ourselve and give it a try. It was Jane's birthday weekend! It was exceptionally good, the quality and quantity of food was amazing, service as good as ever and a great atmosphere.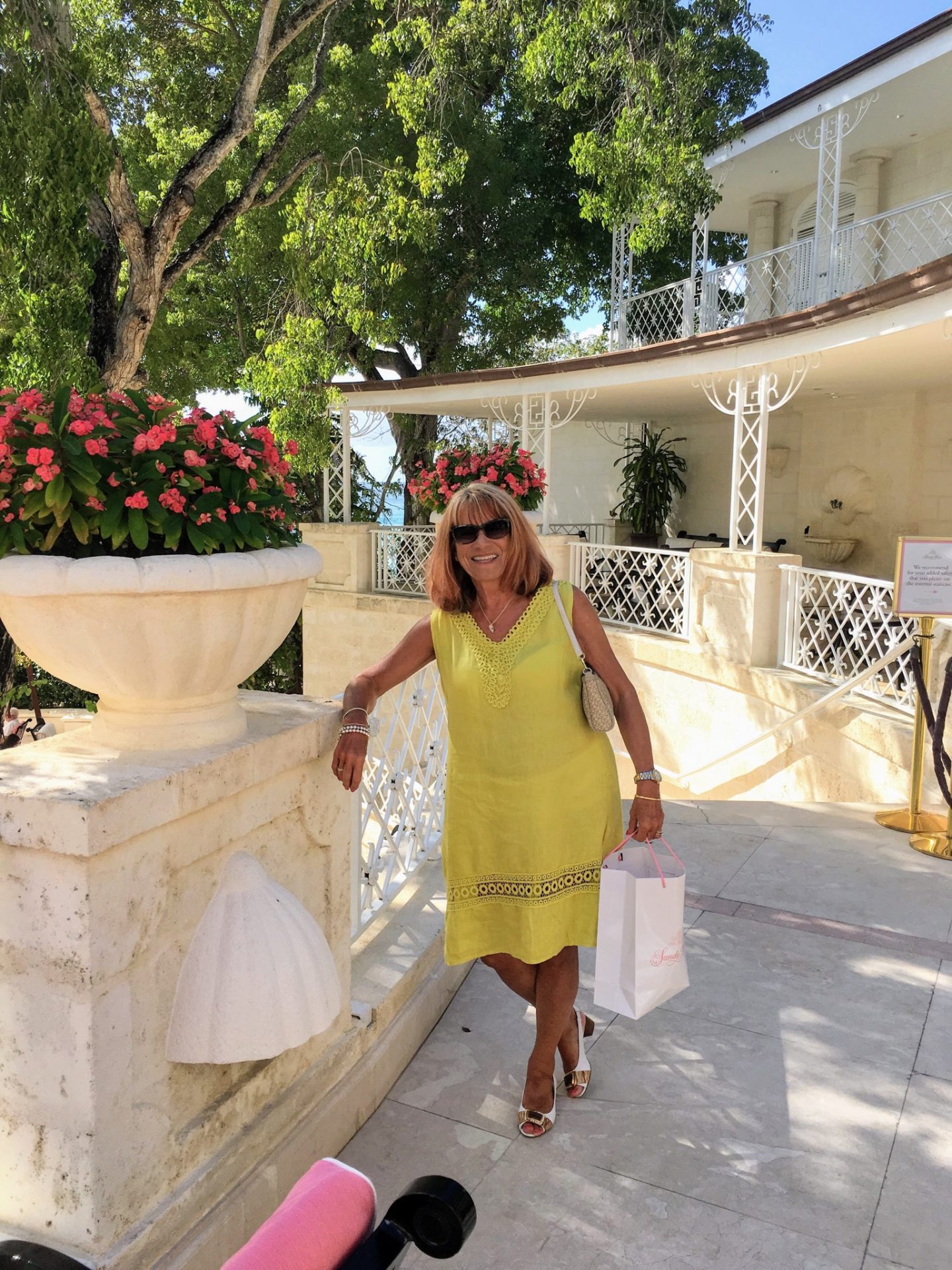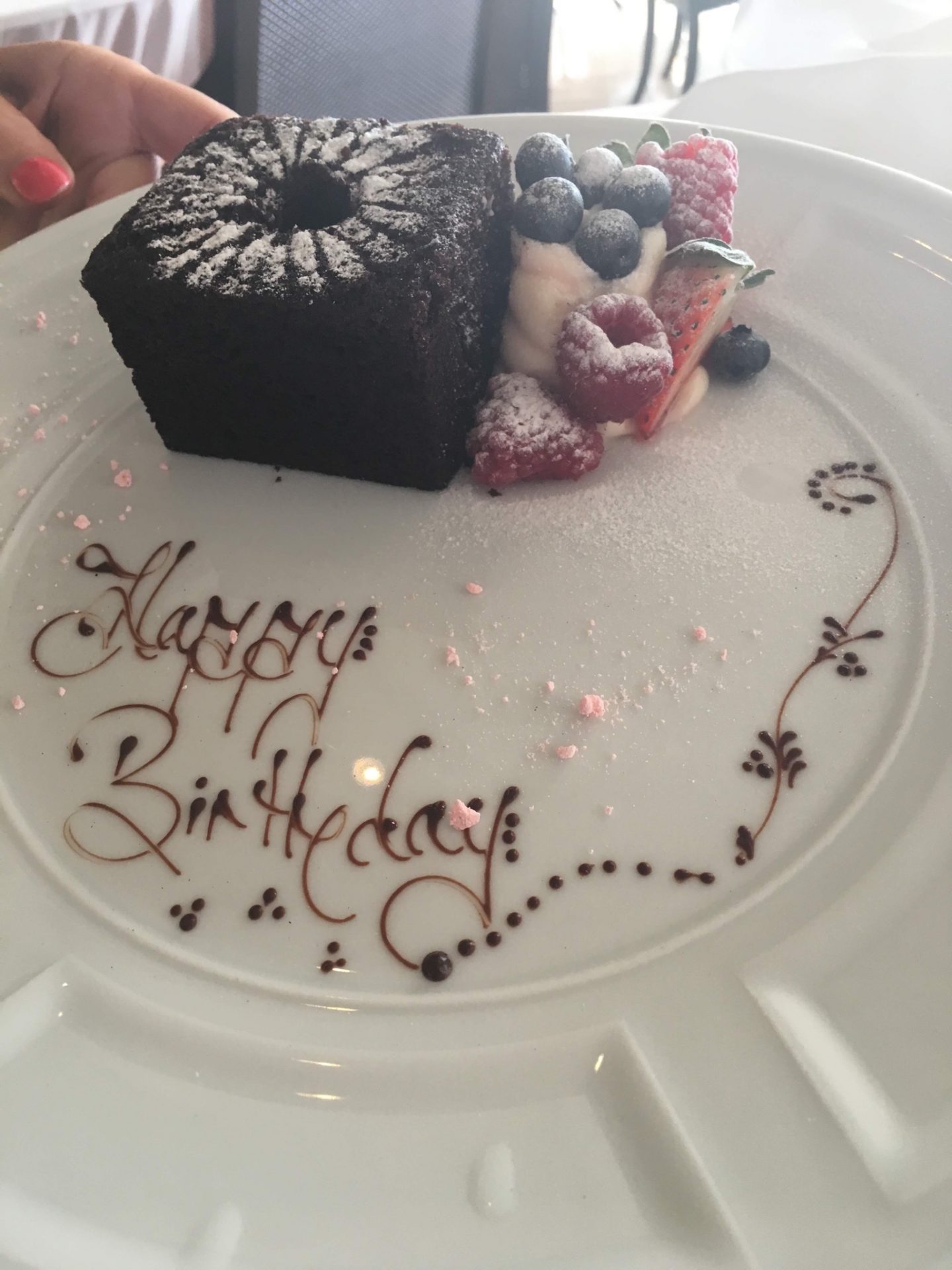 It is very expensive, $307 BDS (£115) per head plus drinks, but I think it will become an annual event for us!
The Cliff Beach Club, Derricks, St James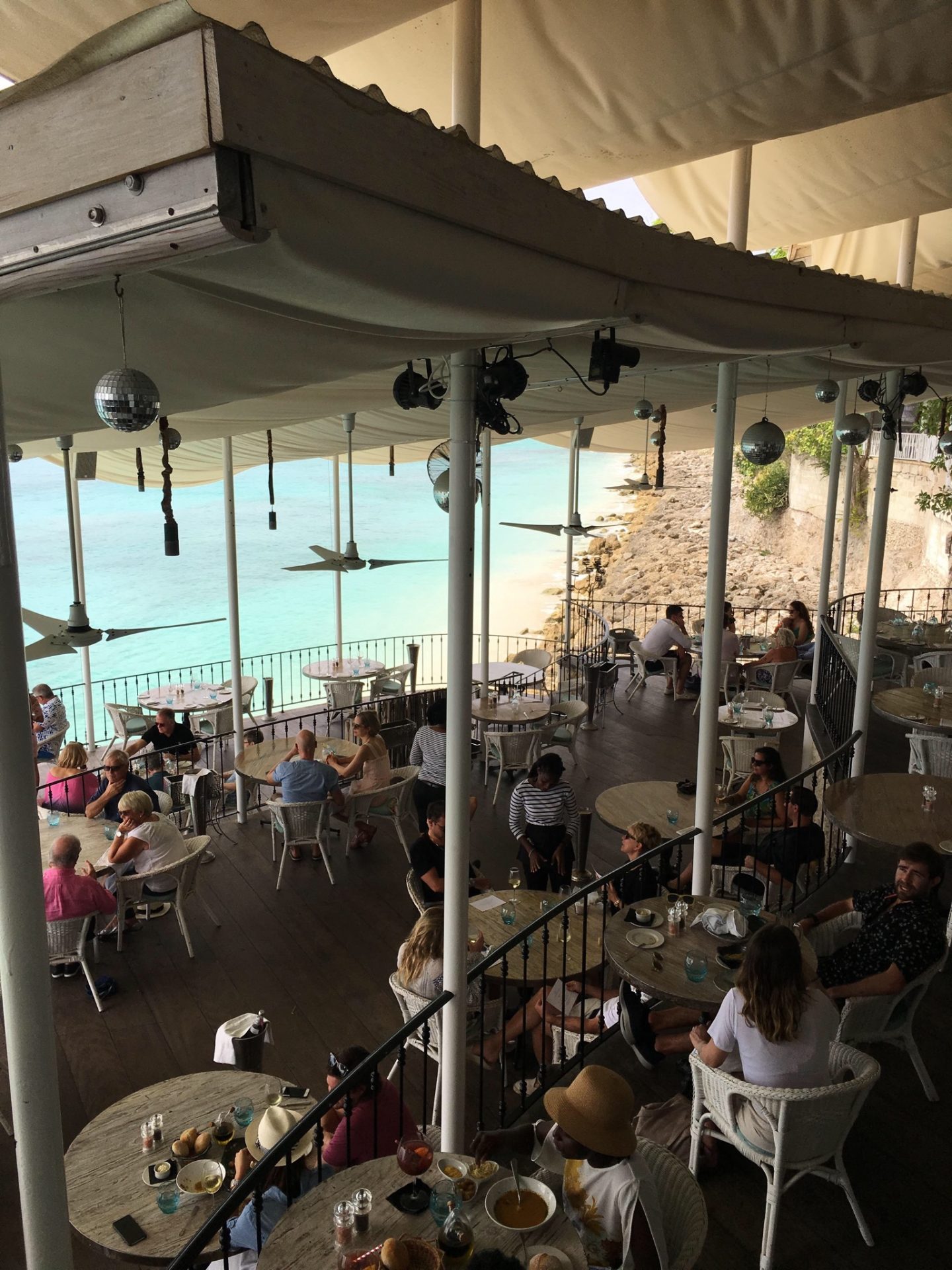 We have had mixed experiences at the Cliff Beach Club. Love the spectacular setting but food and service has been mixed on previous visits. In the past we have been for Sunday Lunch and found it very busy and noisy. This year we had an excellent meal and great service. We visited on a Friday afternoon for a late lunch, the restaurant was quieter than on previous visits and to be honest, all the better for it. We finished our meal with drinks sitting at the infinity bar with those wonderful sea views.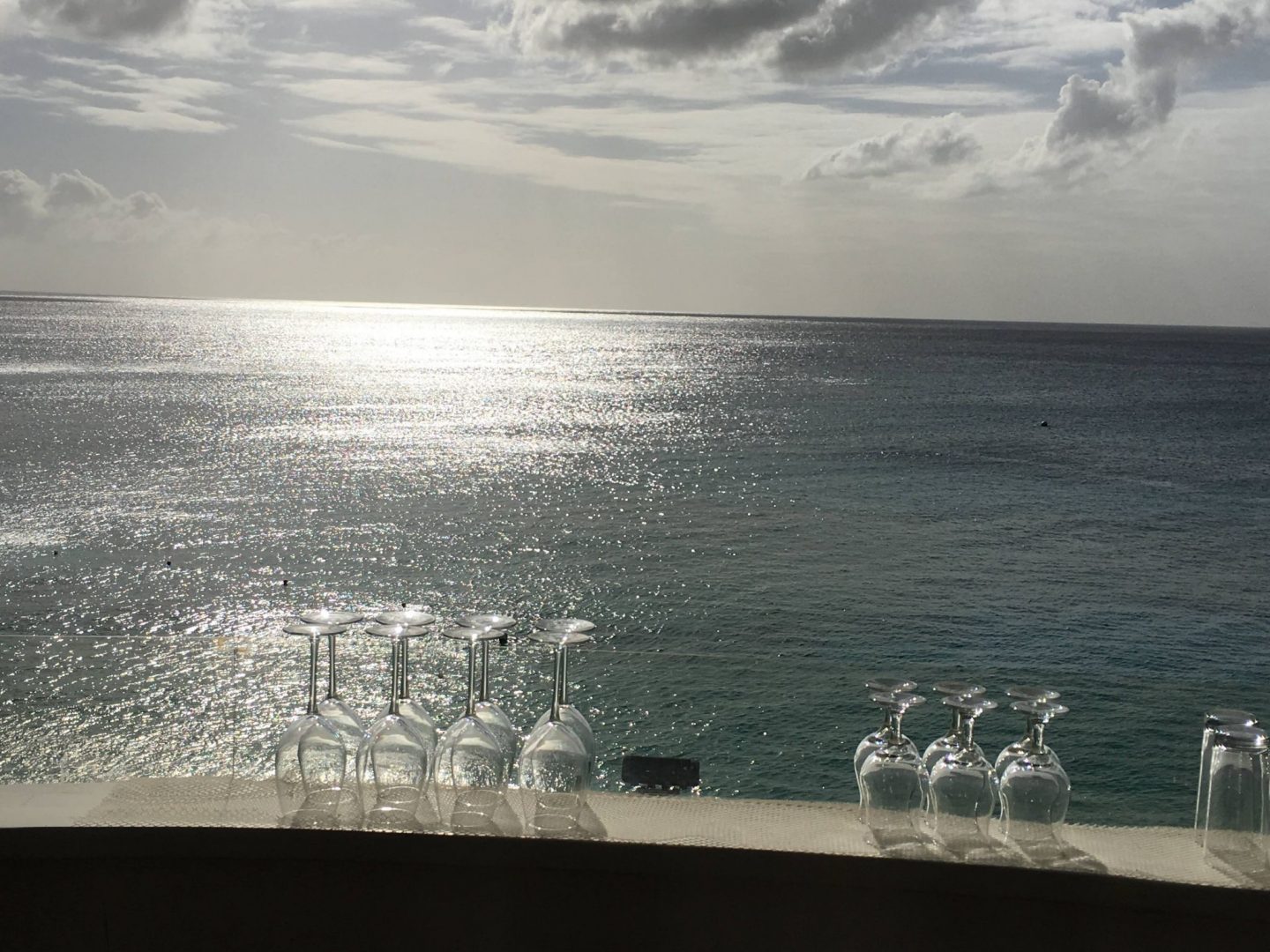 The Cliff Beach Club is also a great place for drinks and they now have a second bar the Backyard Bar which serves Tapas from 5 PM.
Port St Charles Yacht Club, St Peter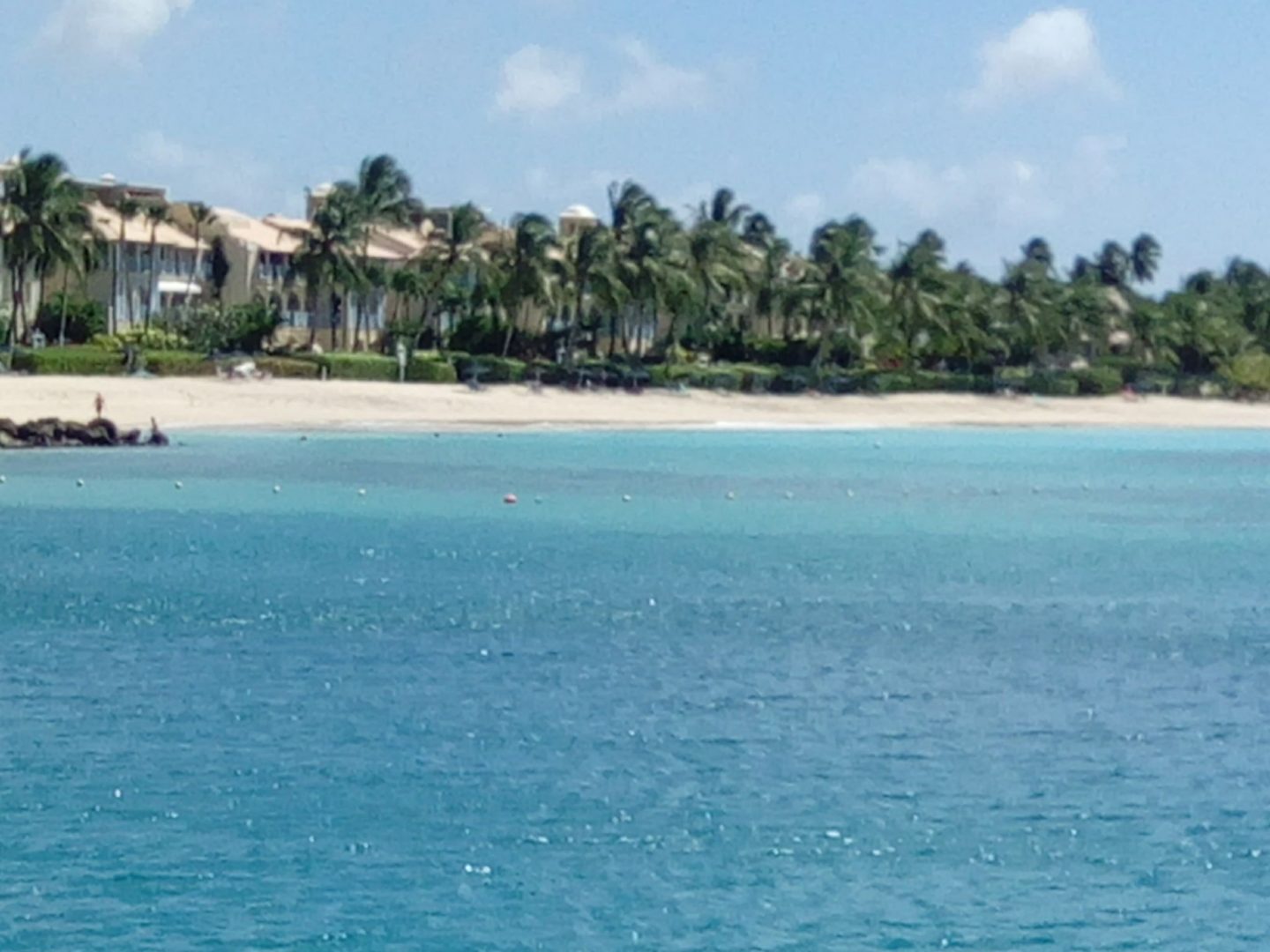 We were disappointed this year with Port St Charles Yacht Club which is under new management, its usually one of our favoutites. We love the location and we had great company with friends from home who were in Barbados for the day on a cruise stop. However the food and service were not up to the normal high standards.
Catch 22, Salmond, St Lucy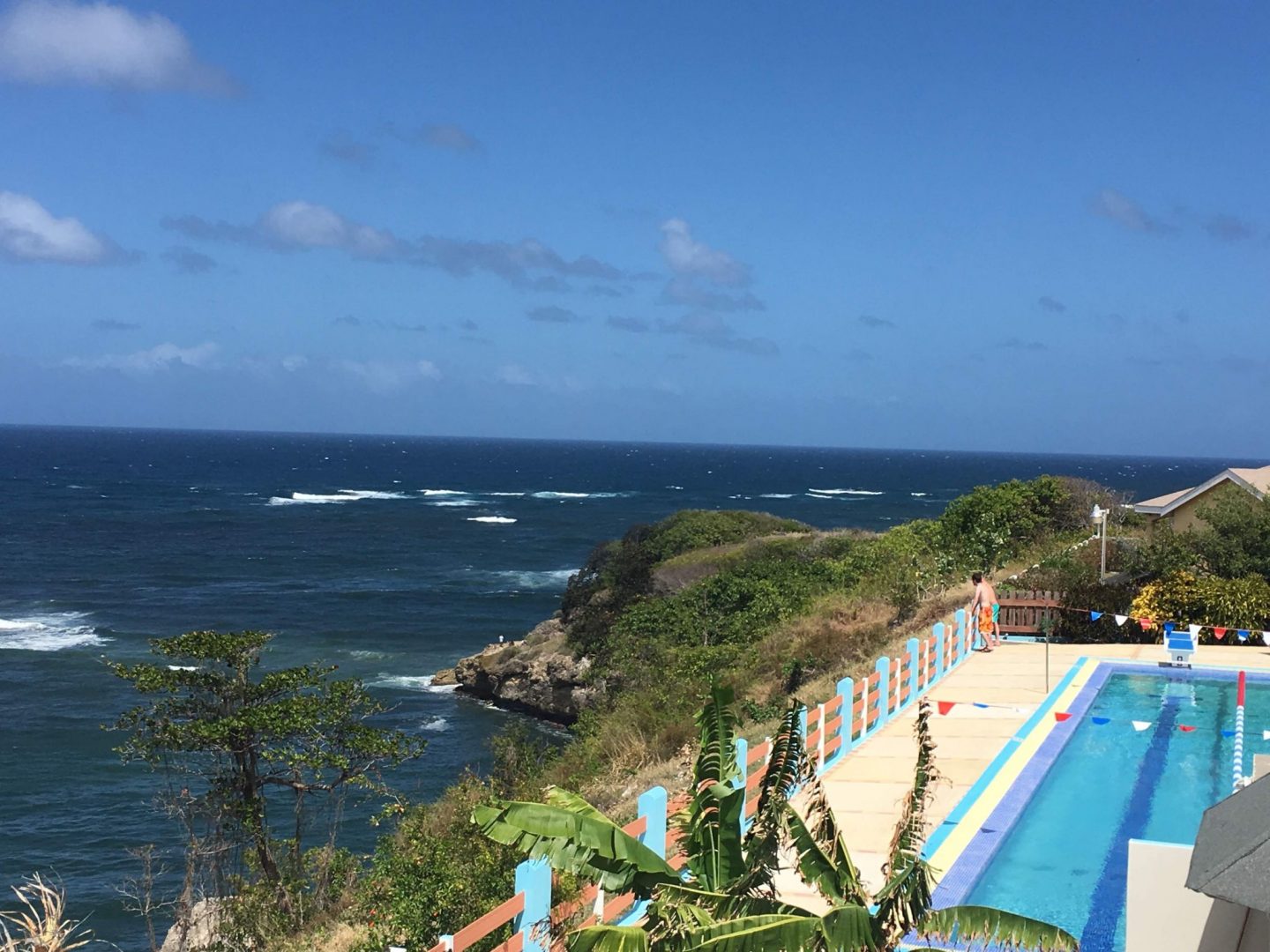 A new lunch find this year was Catch 22 in the north of the island, near Archers Bay in St Lucy. In a great spot overlooking the Atlantic. The restaurant is open for lunch only and serves delicious fresh fish.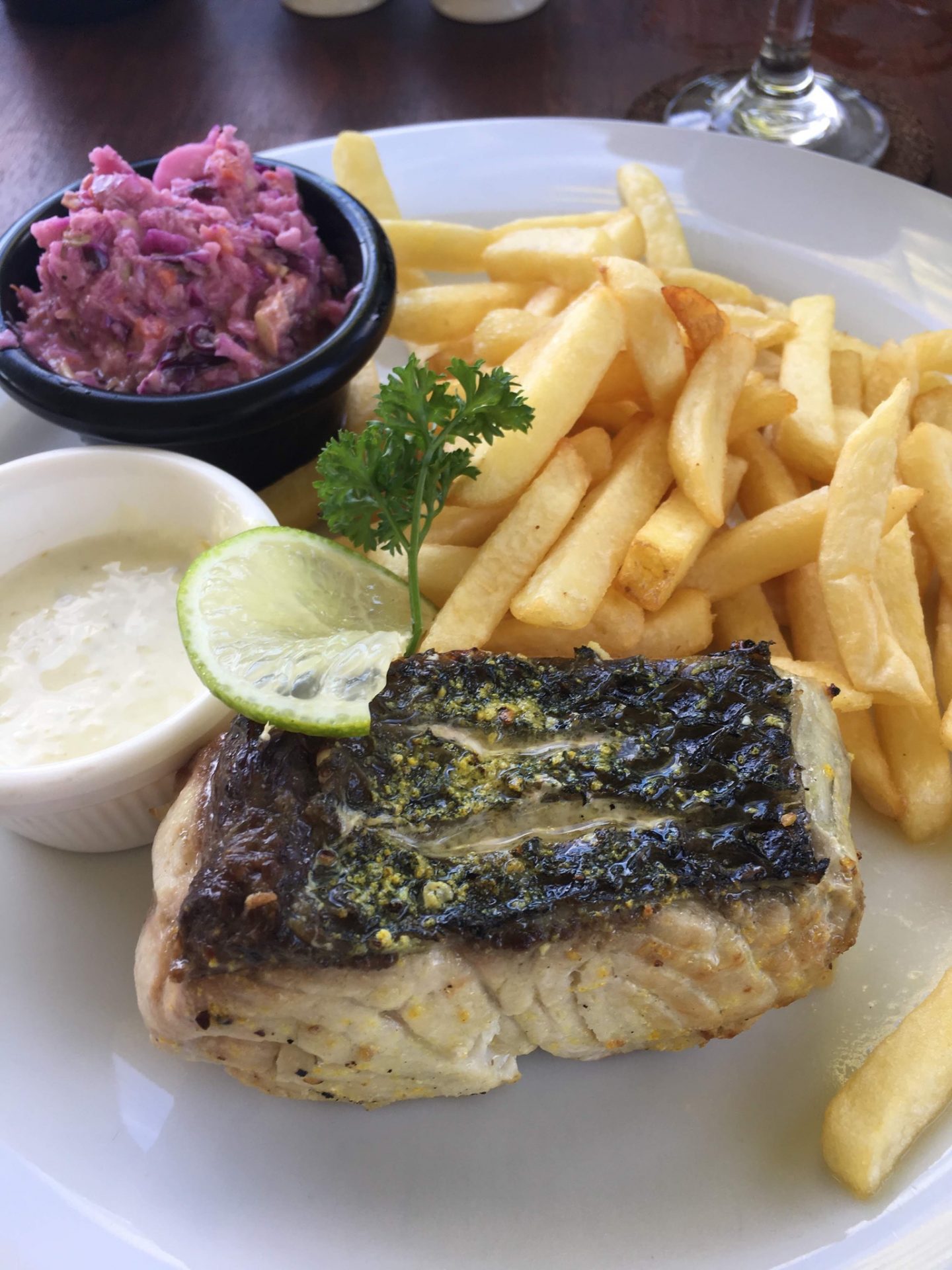 The prices are very reasonable and the service is excellent, very friendly staff. Worth a visit, its well sign posted. Just head for Animal Flower Cave and you will pick up the signs. Catch of the day for 2 with beers and service only $100 (£38). Probably the bargain meal of the whole holiday!
Carizma on the Hill, Sugar Hill, St James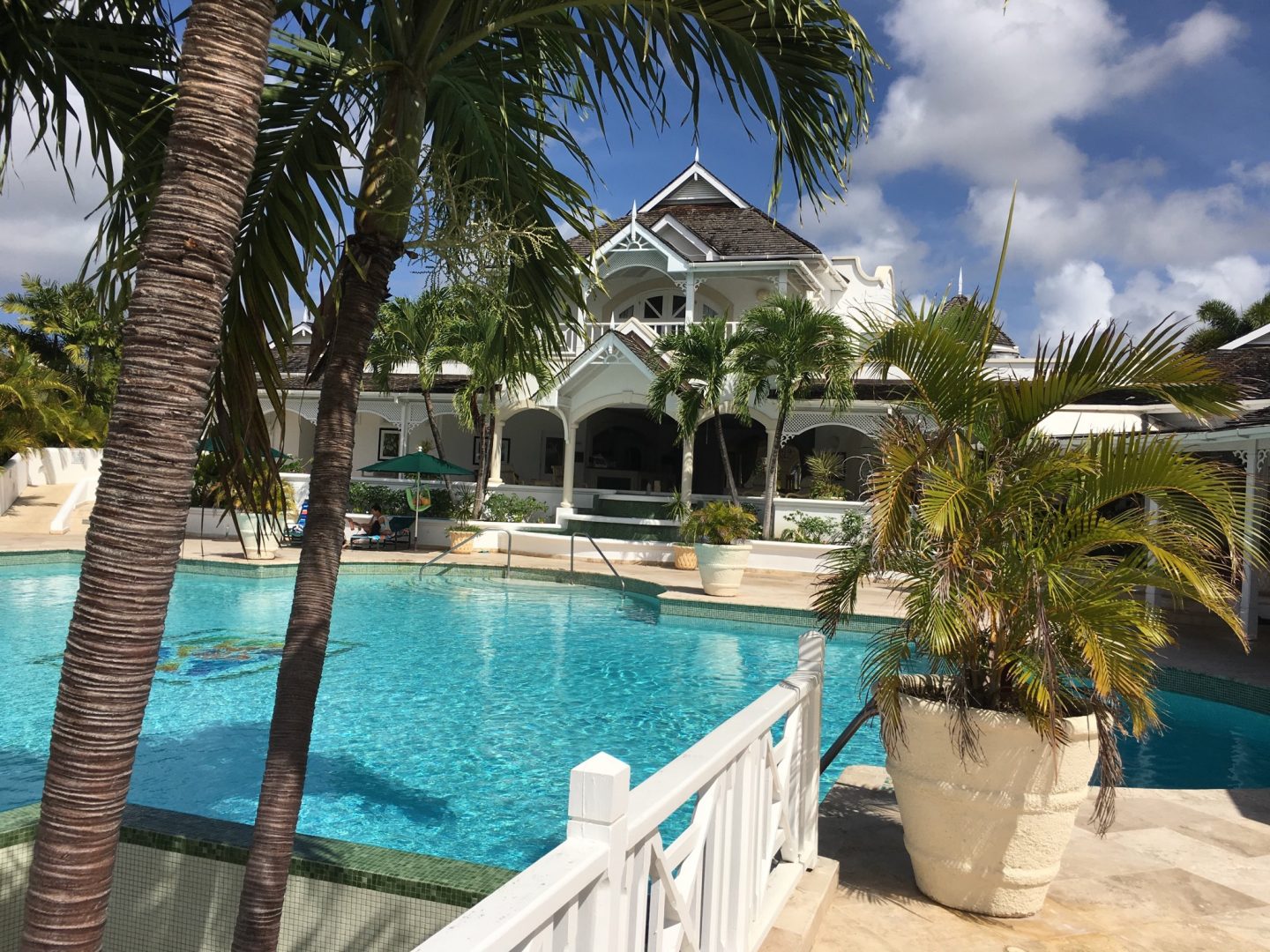 We returned to Carizma on the Hill for Sunday Lunch. This is now a tradition on our last day before we fly home. Food and service as good as ever and one of my favourite locations up at Sugar Hill. A 2 course lunch costs $80 BDS (£30), very reasonable.
Bombas, Mullins, St Peter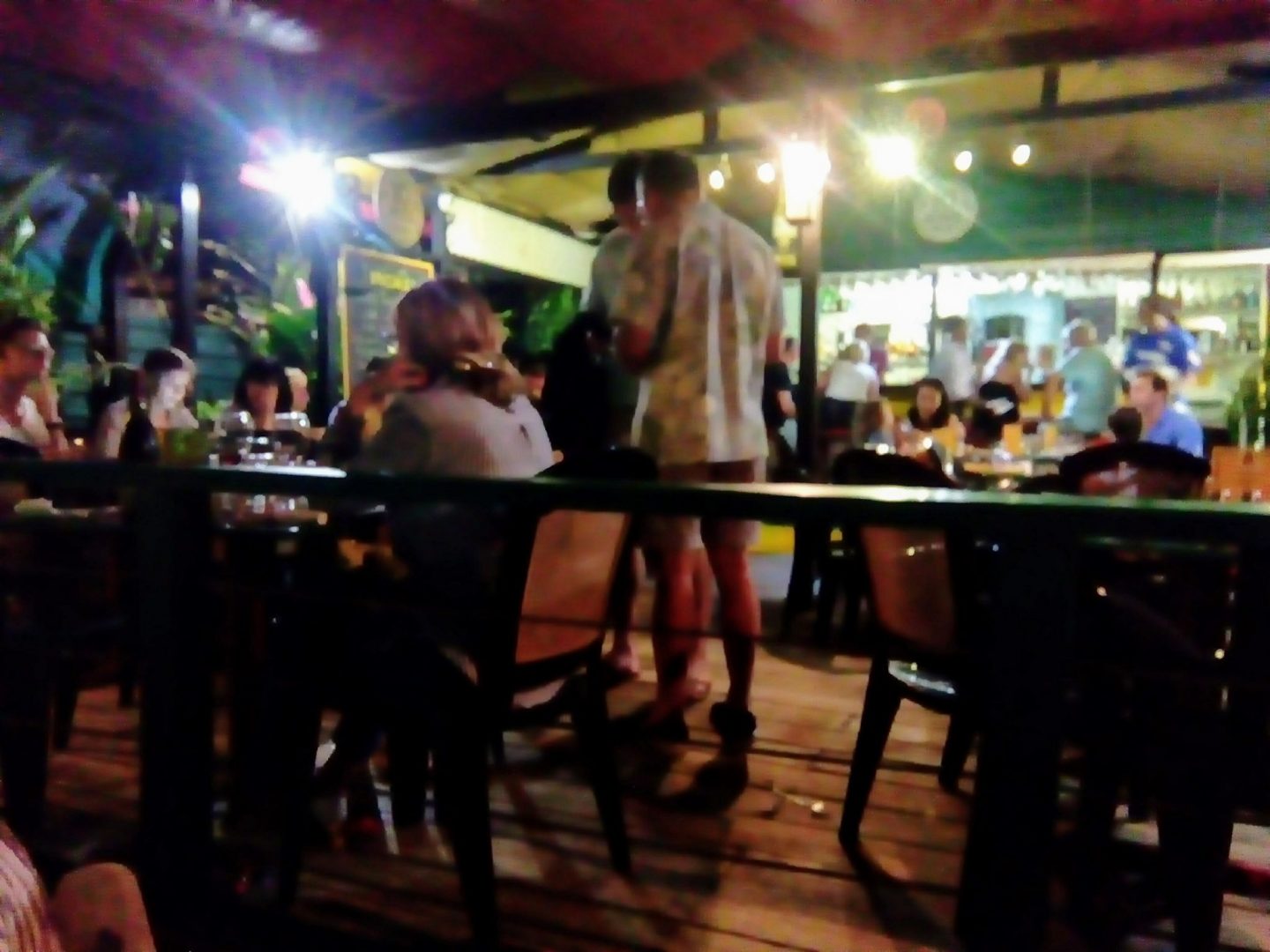 Had dinner at Bombas again. My advice if planning to eat here is to book an early table. We booked for 6:30 and got the last table, people arriving with later bookings had to stand by the bar or queue in the doorway.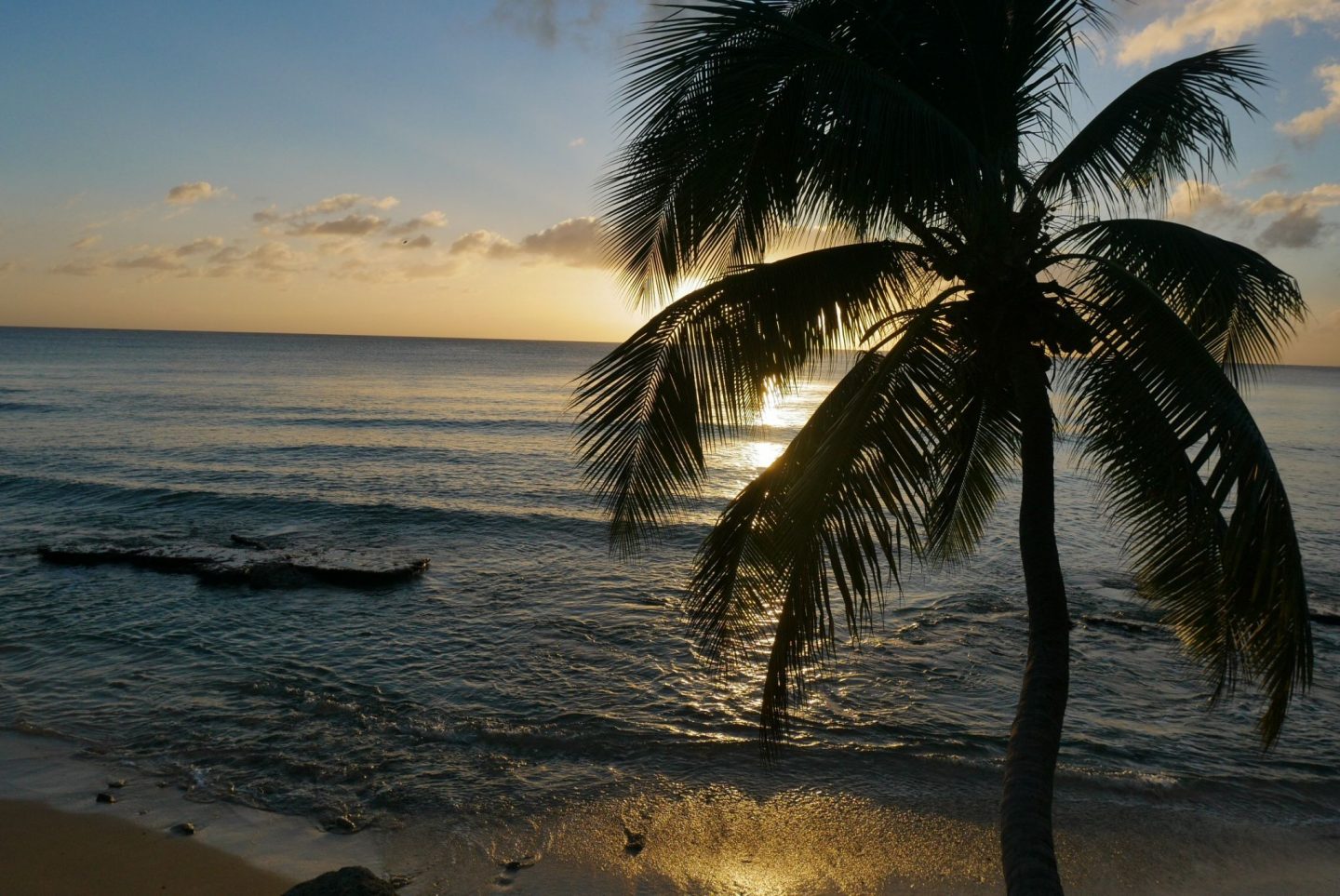 I do love this spot, the floodlit sea and palm trees create a beautiful setting to enjoy excellent fish and tasty curries. Wayne the owner is rather eccentric and for first timers he can appear rude, but he is part of Bomba's character and quirky charm. Jane tried Lion Fish for the first time and really loved it.
Nishi, 2nd Street, Holetown
Nishi is another favourite of ours that we return to every year. The main attraction for us is the music on a Friday night, a local duo Lynn and Kyle, they are superb. The bar gets very busy with non-diners so get there early.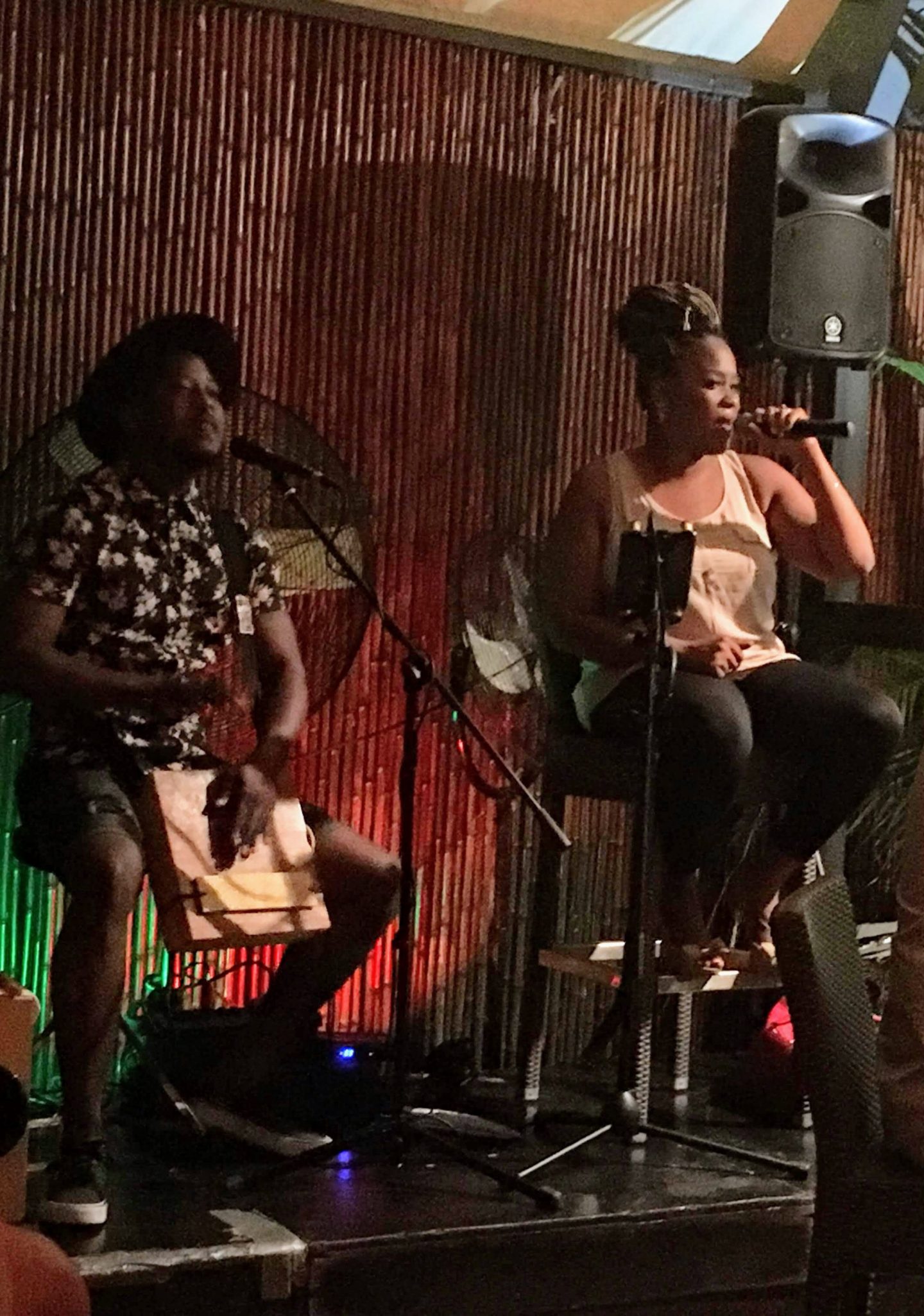 The food is pretty good as well, a varied menu from sushi to pies! There seafood pie with parmesan crust is truly delicious. Disappointed as I booked an outside courtyard table but we ended up in the downstairs dining room which I find rather dark and lacking in atmosphere.
To be honest we were not as impressed as in previous years with the food and the service, but the music was as good as ever.
Drinking Spots
Although we didn't eat out as much as we normally do for dinner we did have a couple of sundowner sessions.
We went to Zaccios in Holetown for their happy hour a couple of times, its actually a happy 3 hours, from 4-7 pm. It gets very busy but we managed to get seats at the bar to watch all the action! They have live music on a Thursday from 5-7 pm, just beware its very loud!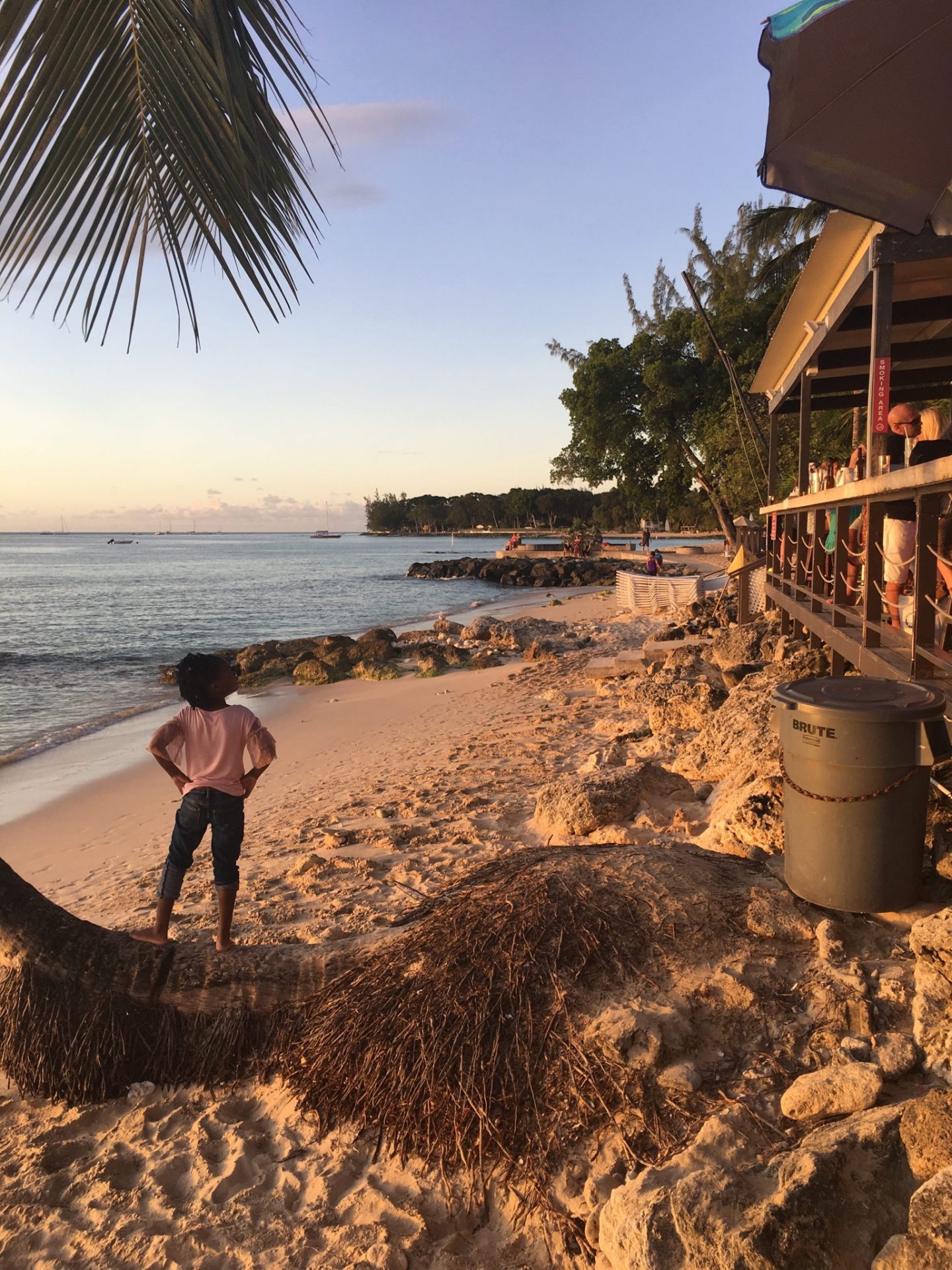 We also visited the Drift Ocean Lounge next to the Beach House in Holetown. Rather more chilled than Zaccios or Surfside and a great place to watch the sunset. They serve light bites and pizzas on some nights, we didn't try them but they certainly looked good. Prices at Drift are higher that most other drinking spots in Holetown.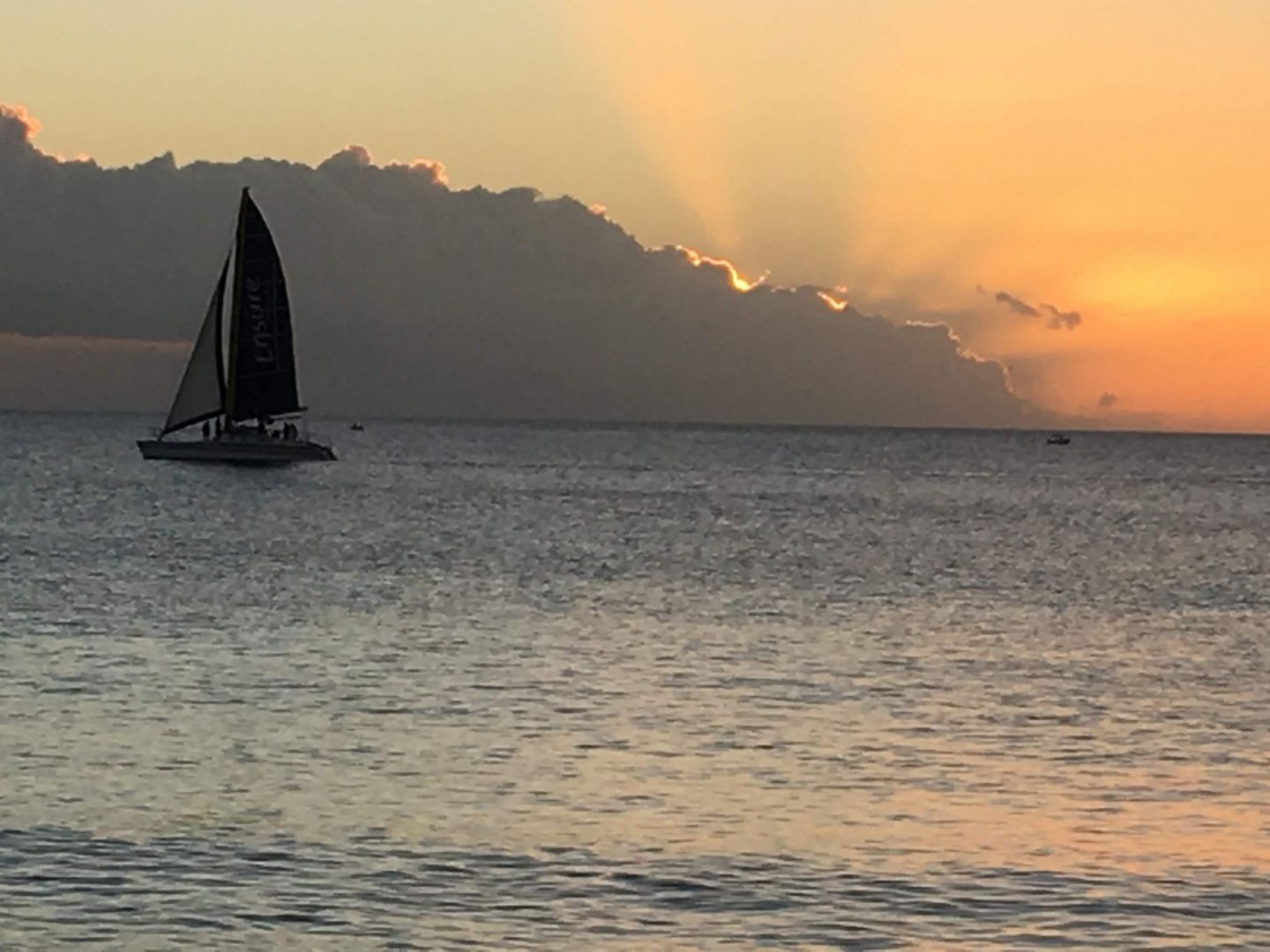 We have been going to Barbados for over 20 years and every year we have visited Speightstown. However we had never been in to the famous Fisherman's pub, until this year. We were going for sundowners to Little Bristol Bar but it was a Monday, so it was closed! So decided to try the Fishermans pub.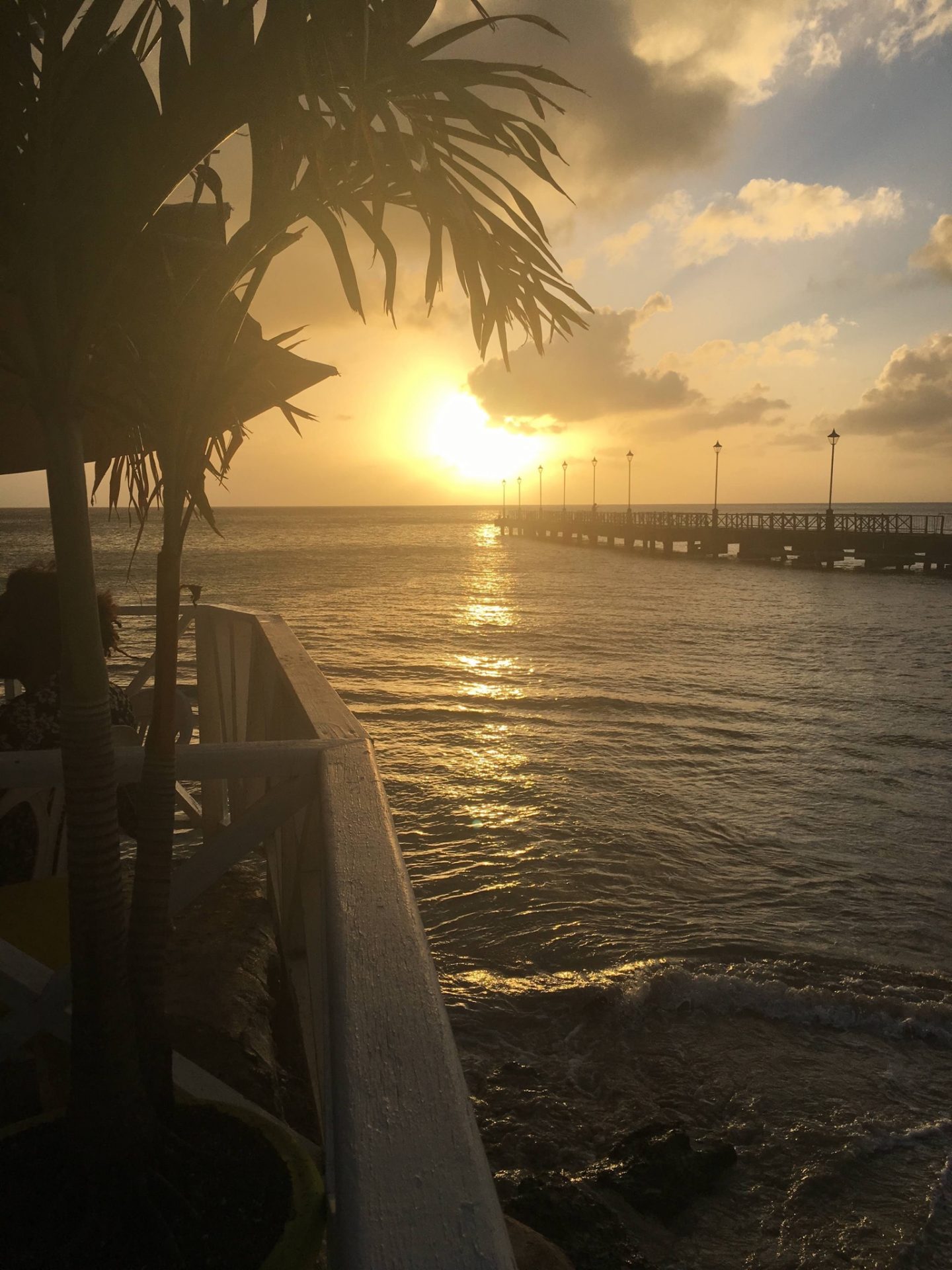 Its a great spot sitting over the water watching the sun go down, the drinks were cheap, the staff were friendly and the food looked good. We will definitely go back.
One Eleven East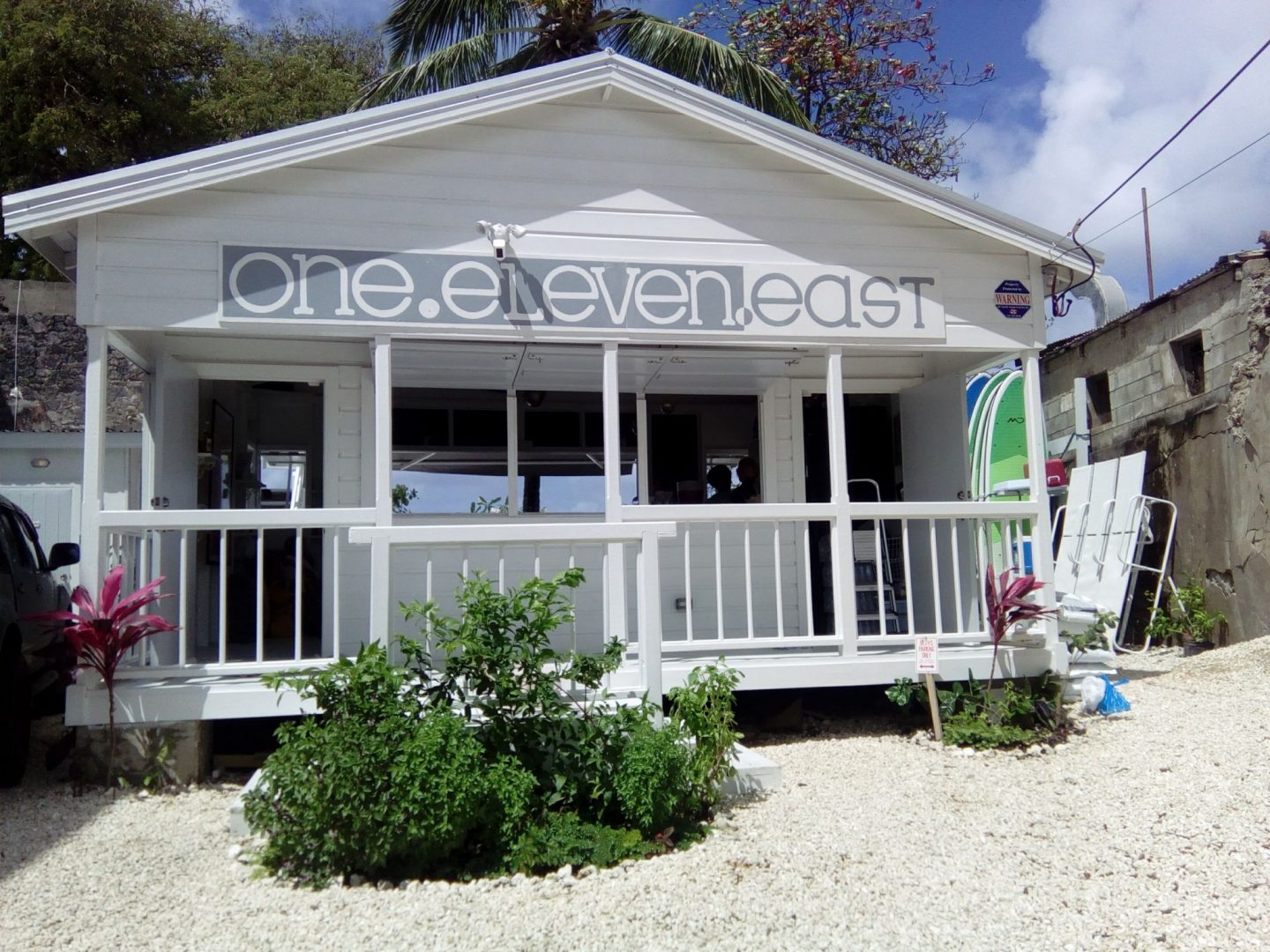 One of our favourite places this year was undoubtedly One Eleven East in Speightstown. We visited for coffee last year and liked the place but this year its definitely upped its game. This year we visited the first time with friends for coffee and noticed how busy it was with their own sunbeds on the beach and yoga classes on their upper deck.
We returned one evening for drinks and it was really buzzing, a great atmosphere and some great wines by the glass. Had a chat with the owners who told us about their jazz nights which are held on a Tuesday and Thursday. We decided to give it a try for Valentines night, what a great night.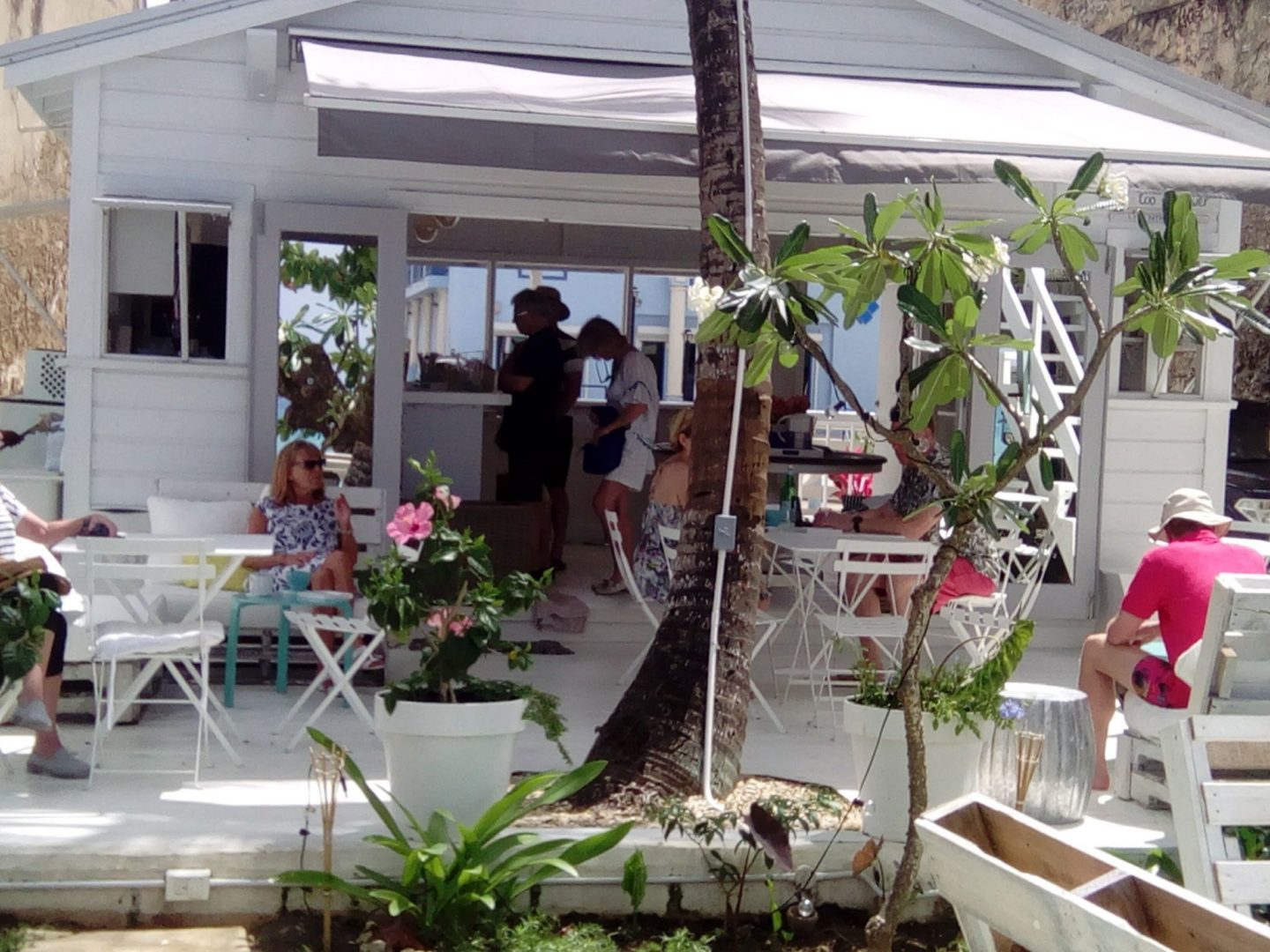 It was entry by tickets only, but the ticket value $100 BDS, was redeemable for food and drink. The music was by a local band Arturo Tappin and friends, they were brilliant. Also appearing was Lettice Rowbotham a violinist from the UK, who was a semi-finalist on Britain Got Talent a few years back, she was absolutely superb. We had great reserved seats, an excellent bottle of wine (or 2!!!!), a delicious cheese platter and plenty of dancing. It was certainly a night to remember.
I would definitely recommend One Eleven East. They have a limited food offering but from the end of February will have their own chef with a wider choice available. They also have plans for their own catamaran for next year, whcih will be available for private and semi private hire! I wish them every success.
Other Activities
With all that time on the beach, relaxing at the villa and of course eating and drinking, our 3 weeks went by very quickly! We did however have a couple of days out in the car visiting our favourite spots on the island including Cherry Tree Hill and the East Coast with our friends from back home.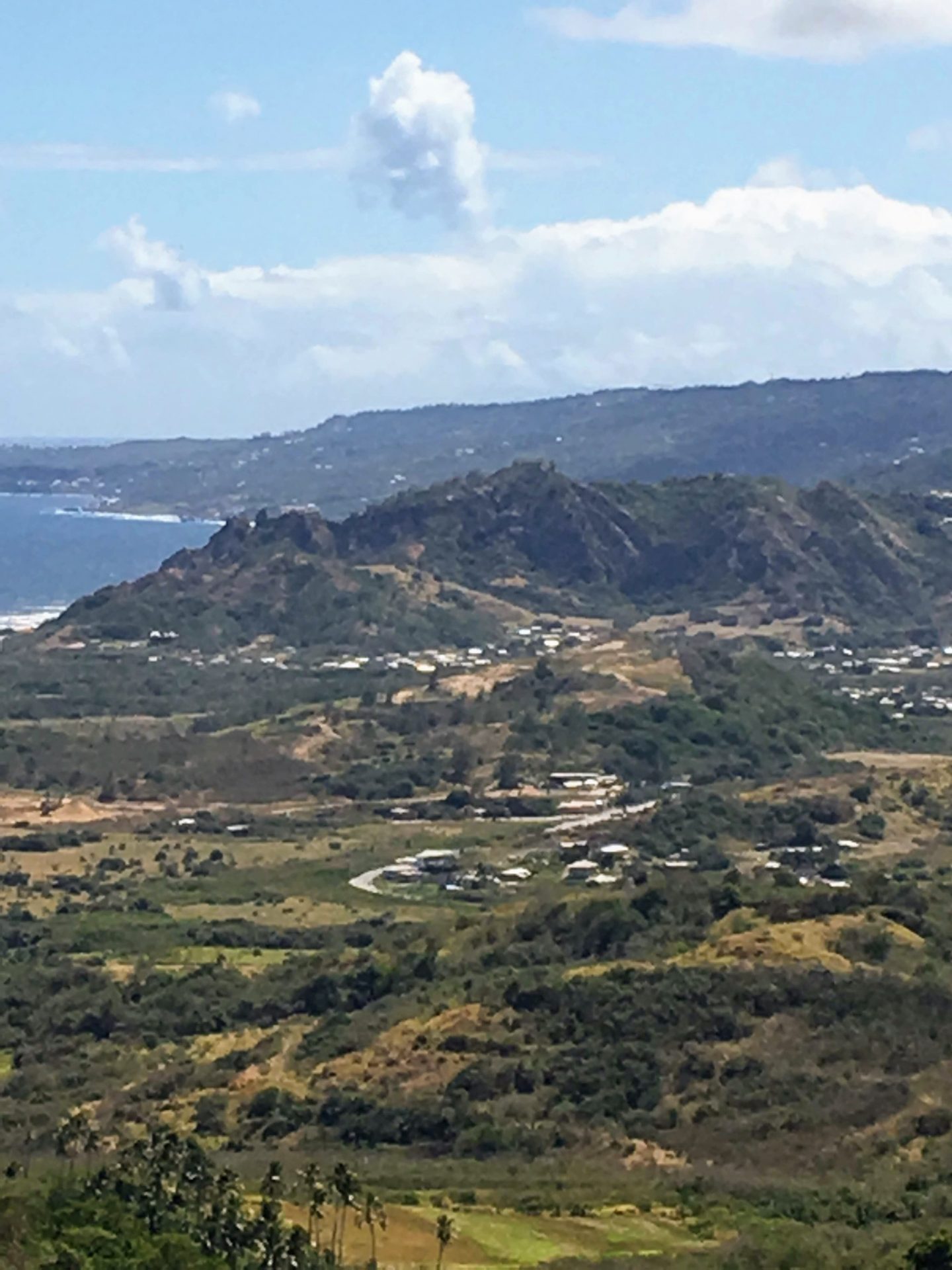 We also went up to North Point one day to see the awesome power and majesty of the Atlantic Ocean in action. Its difficult to believe that only 10 or so miles away on the West Coast the Carribean Sea is so flat and calm!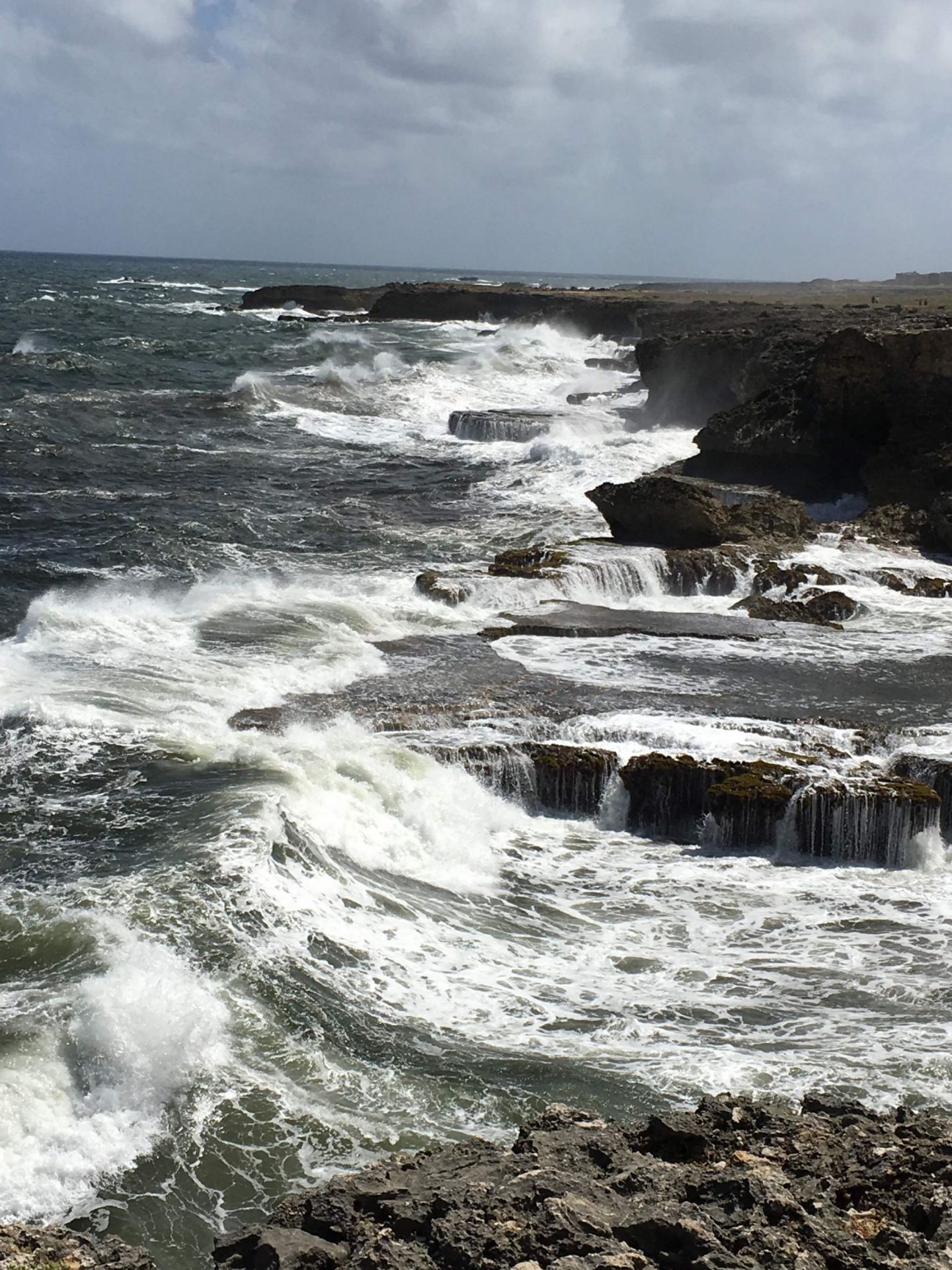 We also managed to get a few walks in along the beach from Alleynes to Holetown, I did some snorkelling at Folkestone Marine Park, where there was loads of marine activity but unfortunately no turtles.
Seaduced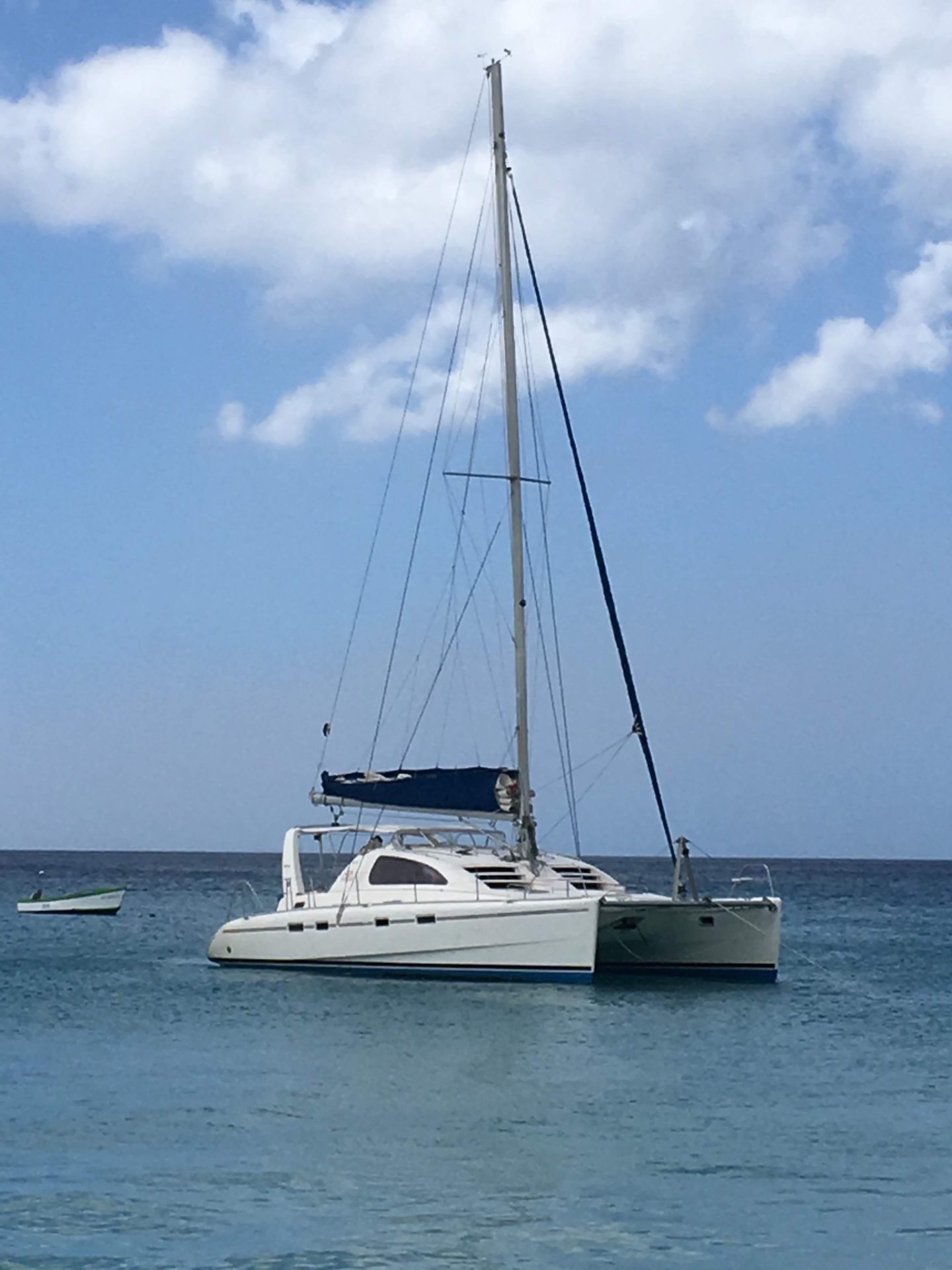 We have been on several catamaran trips in the past with Cool Runnings and have always enjoyed our day out. This year for Jane's birthday I decided to try one of the smaller luxury catamarans.
I decided on Seaduced based on what I had read and personal recommendations. What a fabulous day we had.
We were sailing on Seaduced 1 which takes a maximum of 12 passengers. A taxi picked up from the villa at 9:15 with a couple of stops to pick up other passengers. We were met at the quayside by Tony our captain for the day. When we boarded the catamaran we knew immediatley we were in for something very special. There was one other member of crew assisting Tony and a chef.
The catamaran was beautifully appointed, just like I imagine a luxury yacht would be. We set sail heading north up the West Coast at 10 am. We were served with freshly cooked banana bread and fresh fruit as we set off. Drinks were offered. The choice was amazing I jokingly asked for an Aperol Spritz, no problem sir! There was a choice of decent wines, premium spirits and mixers.
The Trip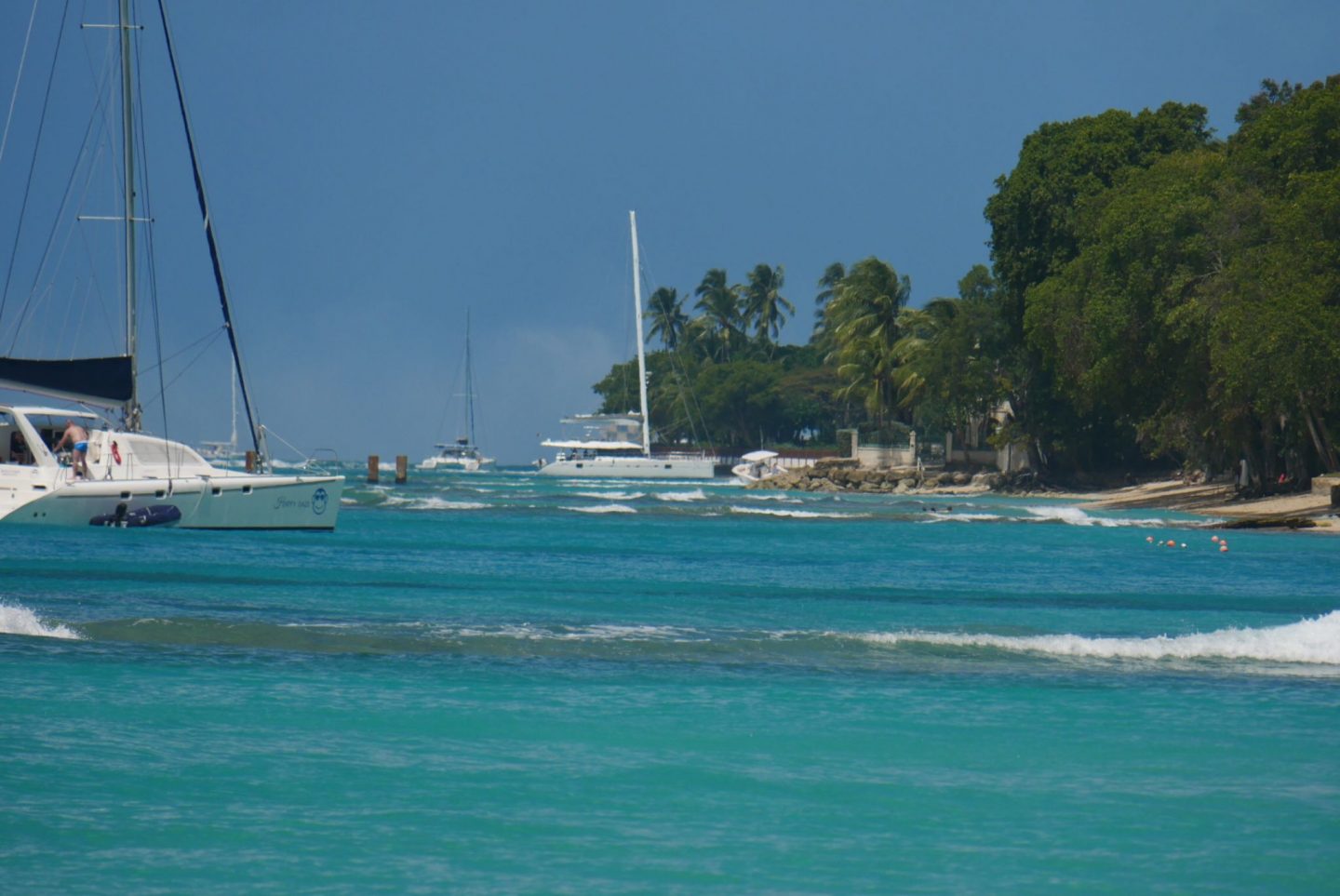 We had our first stop for snorkelling near Holetown, immediately we got in the water turtles appeared! Back onboard we were served with freshly made canapes bruschetta and smoked marlin, accompanied by more drinks! Everyone on board was friendly, a great mix, there were 6 of us from the UK, a couple from Canada and 4 ladies from New York.
We sailed a bit further for some snorkelling, but most of us chose to stay on board and have more smoked marlin and another Aperol Spritz! Our next stop was off Sandy Lane beach where lunch was served.
The Food
It was a sit down affair with starched table cloths and napkins. The freshly cooked food that came out of the small galley was as good as any food we ate during our full 3 weeks. We had tender pink steak, grilled mahi mahi and roast chicken, served with fresh salads, including the famous Seaduced Broccoli Slaw and roast potatoes. For dessert we had warm chocolate brownies. They even did Jane a birthday cake with sparklers.
It was certainly a day to remember and I would definitely recommend a trip on Seaduced if you are considering a catamaran trip. Its more expensive that most of the other operators at $370 BDS (£140) per person but in my opinion it was excellent value for money!
I will have to go again next year to get some photos!!!
Farewell Barbados for 2019
No problems at airport, no queues, probably because we were the last plane out for the night. Took off on time and landed in Manchester early. No queues at Passport Control, luggage hall empty, it still took a hour for our luggage to come through!!! Manchester Airport really needs to get it's act together.
Another great trip. We were seriously considering an alternative destination for next year but by the end of our second week knew we would return! We definitely can't cure that Barbados addiction, I don't think we want to anyway!!
As I said earlier in the report I will be updating my Barbados Restaurants post very shortly, so watch out for that.
The Guestbooks' Comment: "I hope you have enjoyed my 2019 Barbados trip report. I hope its a good read for Barbados regulars, helpful for those of you planning your Barbados trip and will tempt those who haven't tried Barbados to give it a try!"