Madeira is a place I have fancied visiting for some time now. An annual short break with friends gave us an ideal opportunity to try it out. The gang booked 3 nights in Madeira, but we decided to extend it to a week's stay. We are so glad we did.
Getting there
Madeira is an island situated in the Atlantic Ocean, south west of Portugal, of which it is part. A further 250 miles south and you get to Tenerife. We flew with Jet2 from Manchester with a flight time of just under 4 hours. We had an early start with a flight departure of 06:55. The check-in and security at Manchester were a nightmare, huge queues with tired grumpy travellers, me included. A tip – pay the extra few pound for fast track through security its definitely worth it.
What a difference at Madeira Airport! First off the plane straight through immigration and luggage delivered within 15 minutes.
We had booked a private transfer via Jet2. I would highly recommend it. Dedicated welcome desk for private transfers no queues. We were in our taxi to the hotel in  no time at all, it took us 20 minutes. People who travelled by coach from the airport were arriving at the hotel almost 2 hours later.
Our Hotel
We stayed at the 4 star Enotel Quinta Do Sol hotel, in the capital Funchal, which is where most visitors to Madeira stay. The hotel was in a great location. The old town was about 25 minutes walk, the marina and promenade 15 minutes and the Lido and main tourist area with its bars and restaurants 10 minutes.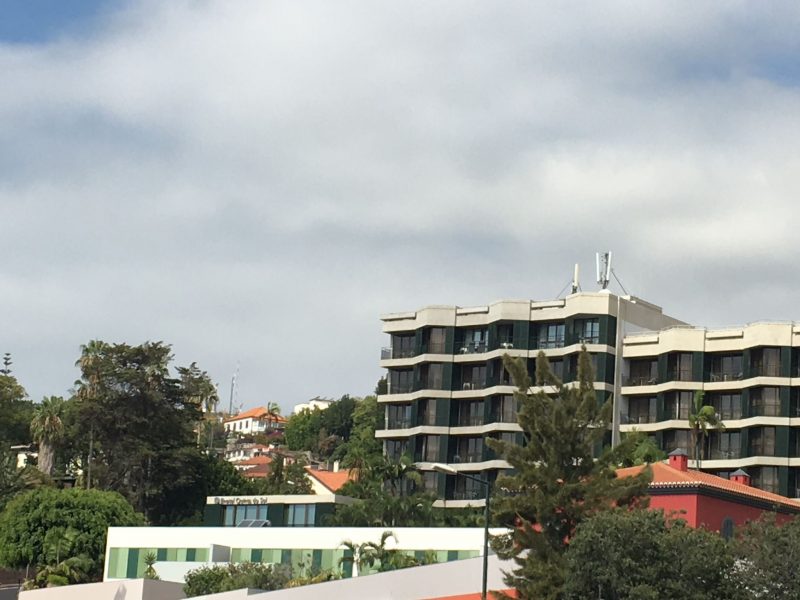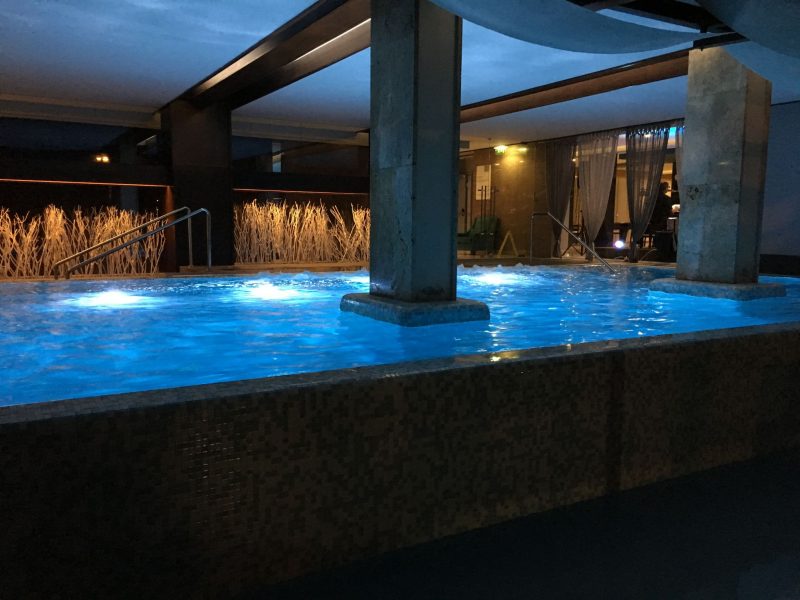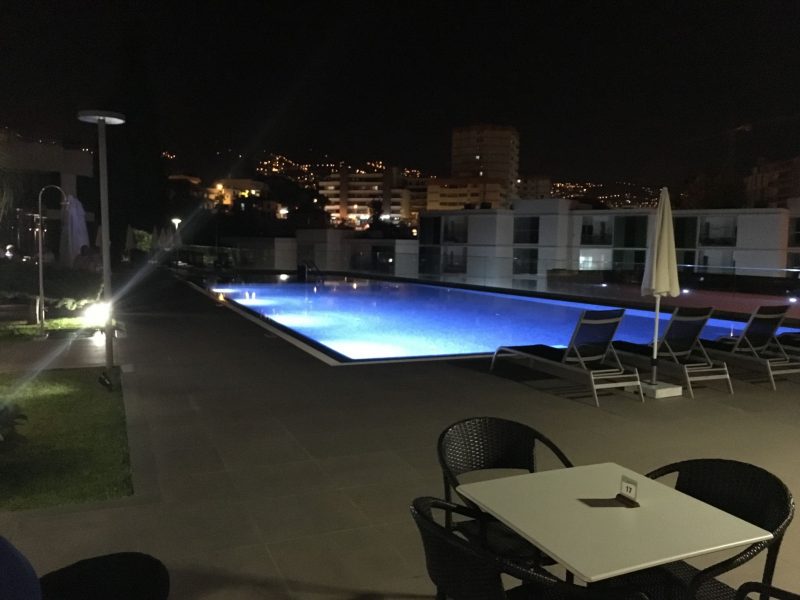 The hotel had both indoor and outdoor pools, a spa and well equipped gym. The hotel also had a restaurant which we used for breakfast, it was buffet style and excellent quality. There was a bar with plenty of comfortable indoor and outdoor seating. The staff were excellent, very friendly, polite and helpful.
Our room was on the 5th floor, with a large balcony and great views of the sea, the city and mountains. If you stay in this hotel I would definitely recommend rooms on a higher floor with balcony and sea view. You may pay a bit more but its well worth it.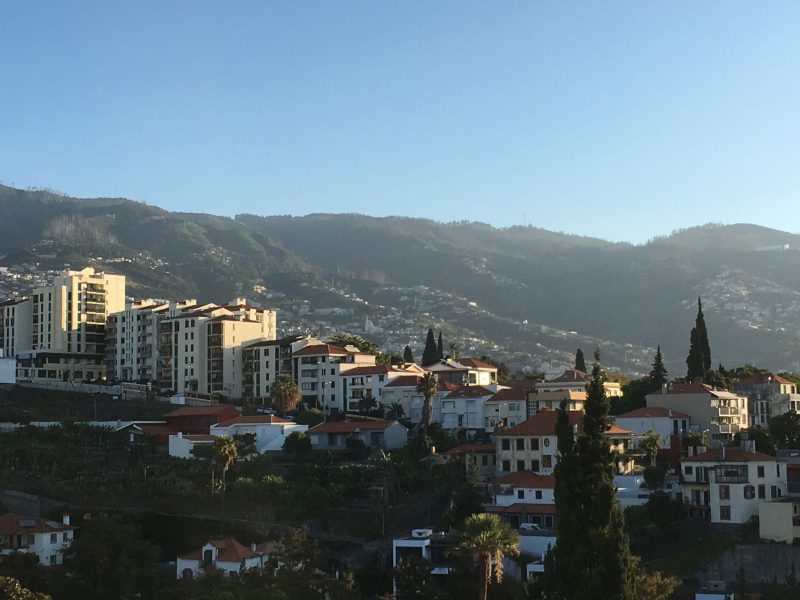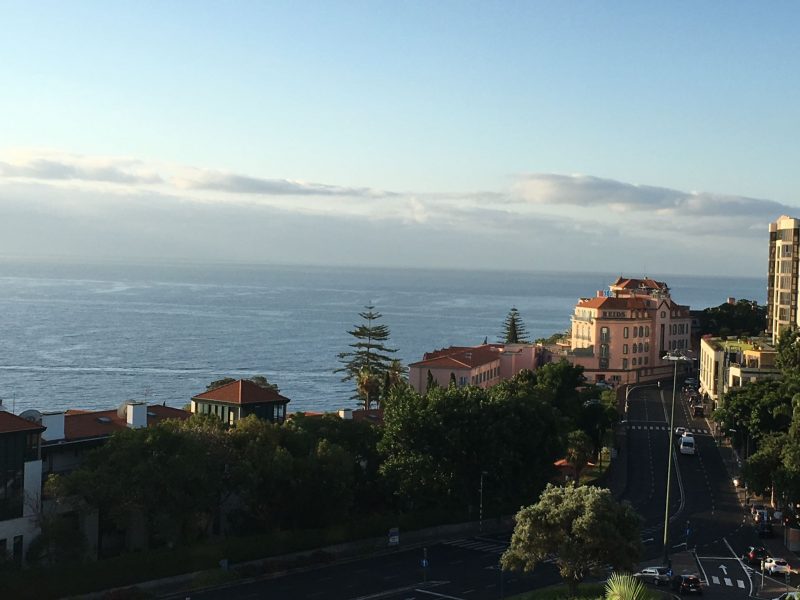 Day 1
As the gang were only with us for 3 days we literally dropped our bags off, a quick change and out to explore Funchal. There is certainly a lot to see!
The Lido
We decided to start off by exploring the main hotel and Lido area which was close to the hotel. This area is where most of Funchal's hotels are situated, along with a huge array of bars and restaurants. Be warned Funchal is very hilly!
After a light lunch we decided to walk down to the Lido.
Madeira is not good for beach lovers. In fact there are very few beaches and those that exist are very rocky. Access to the sea for swimming is either from the sea front hotels or from the public Lido. The main lido has a huge main pool, a children's pool and play area and loads of space for sun bathing. There is access to the sea for swimming but don't forget this is the Atlantic Ocean and although the weather was superb the sea was very choppy, definitely for strong swimmers only!
What strikes you immediately is that although the area is quite built up it feels very up-market. There are beautiful displays of flowers everywhere and the streets and pavements are very clean, no litter in sight. There is a mixure of old and new buildings and they seem to blend together to create a very attractive environment.
Dinner at Leeno's (for website click here)
An up hill walk back to the hotel and a rest before dinner. On these annual trips with friends it is traditional that we have a drink in one of our rooms before dinner, so it was Gin and Tonic in Dave and Sue's room.
Dinner was booked at Leeno's for our first night, (a review of this will be on the blog soon). A casual restaurant near the Lido specialising in meat dishes. Espetadas, chunks of meet suspended on a skewer or huge chunks of steak whcih you cook yourself on hot stones at the table appeared very popular, if you had the appetite!
A word of advice I would recommend that you do some research on restaurants before your holiday. The choice is huge. I would also recommend you book your restaurants in advance. All of the restaurants we visited on our first 3 nights were full and we would not have got a table without a reservation.
Day 2
Up bright and early, a full day's sightseeing planned.
The Cable Car
We decided to take the cable car up in to the hills above Funchal, we had heard the views were stunning. It was a good 45 minute walk from our hotel to the cable car station. The route took us down on to the main promenade. This is where the cruise ships dock. A tip – avoid central Funchal and the main sites of interest when a cruise ship is in port, the queues are apparently horrendous.
The stroll along the promenade is very pleasant. There are beautiful gardens above the promenade, a busy fishing port and a marina, from where you can take dolphin and whale spotting trips. Also on the promenade for football fans is the Christiano Ronaldo museum and hotel, named after one of the most famous residents of Madeira. I thought it was a real eysesore definitely not in keeping with its setting.
The cable car station is situated near to the old town of Funchal. The promenade here is a pleasant area to sit and relax with lovely gardens, cafes and stalls selling local produce and souvenirs.
No cruise ship so no queue for the cable car!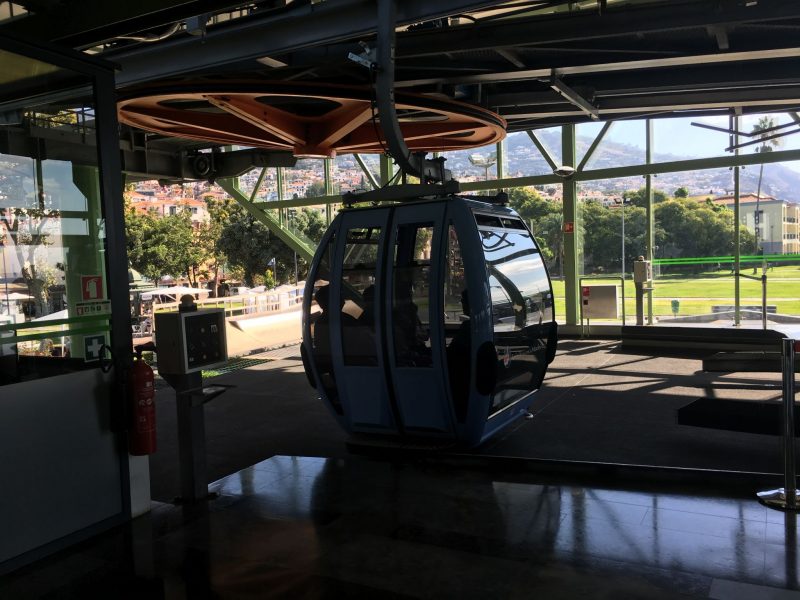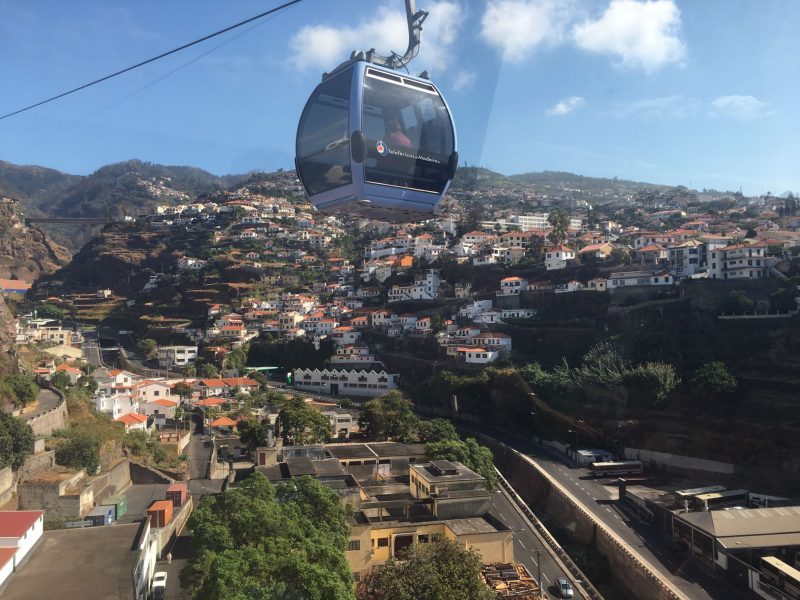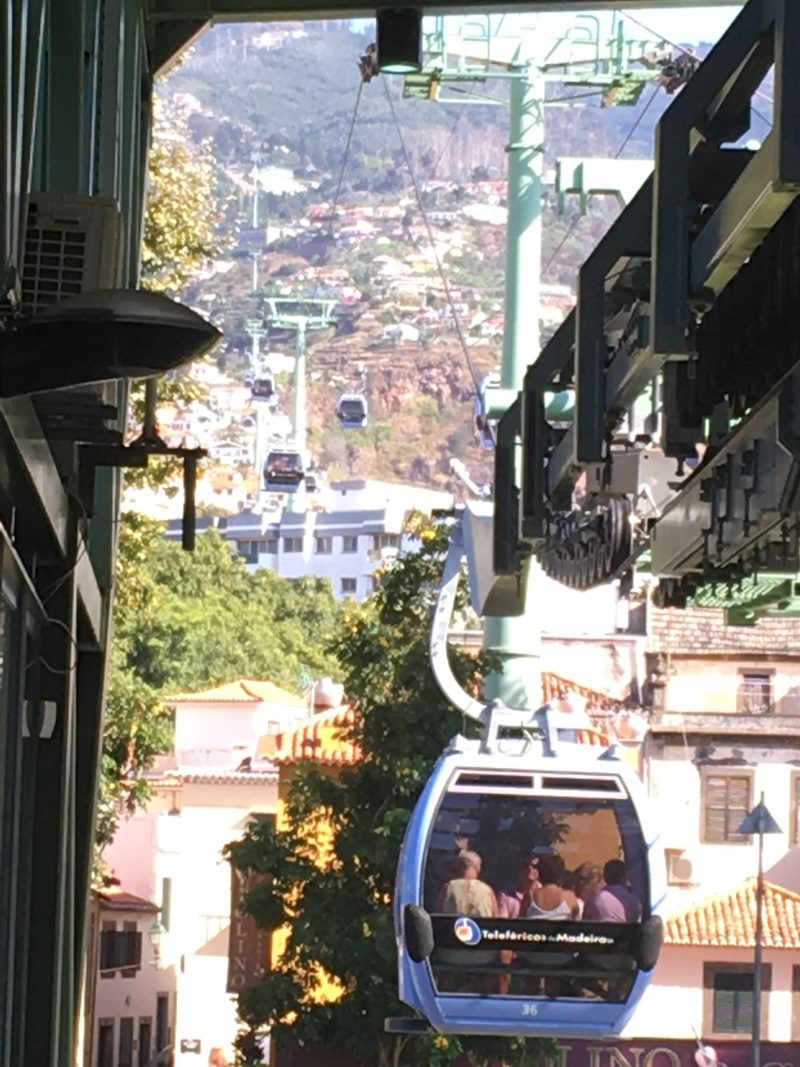 The cable car is gondola style. It climbs to a height of 500m and you travel a total length of 3,700m, a one way trip takes between 15 and 20 minutes.
The route goes from the promenade passing over the old town of Funchal, then the residential areas,and up in to the green hills above Funchal, arriving at the village of Monte 20 minutes later. It is a spectacular trip, highly recommended but no good if you don't like heights.
Monte
At  Monte there are the Tropical Gardens and the beautiful church to visit.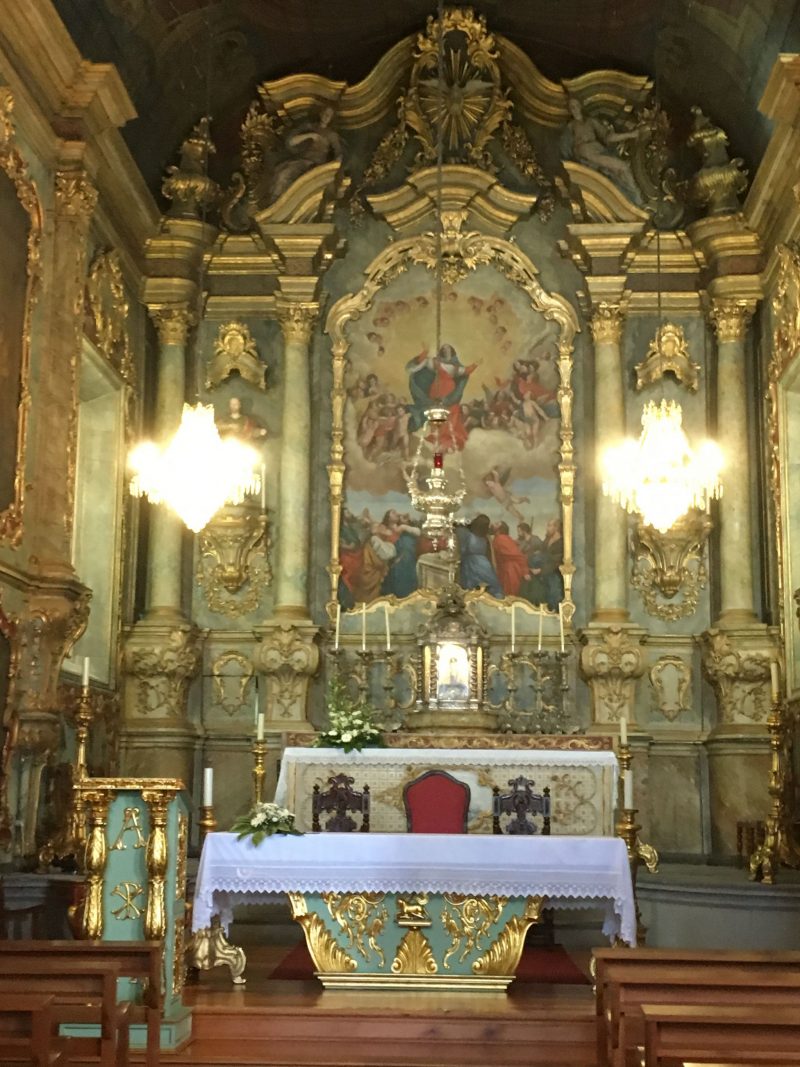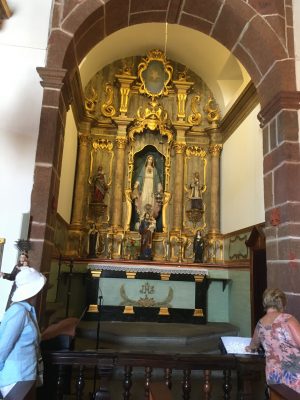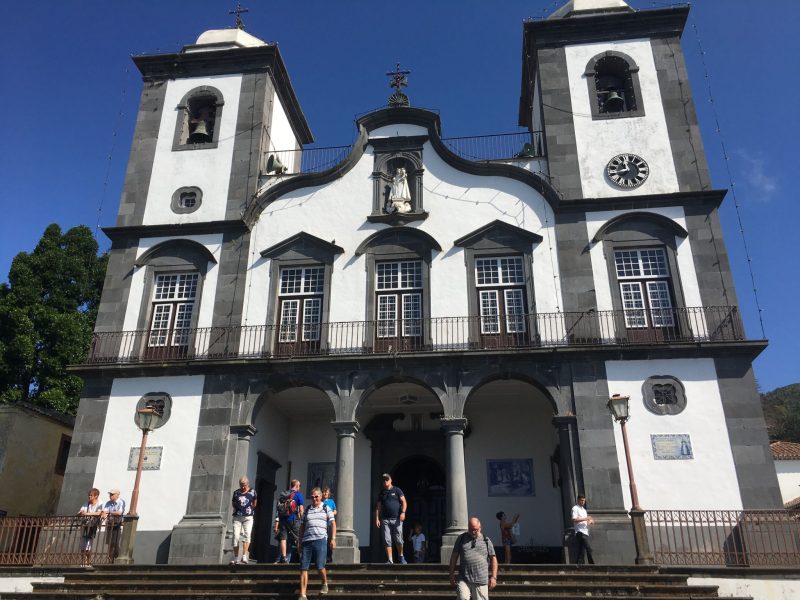 There is an excellent cafe Sweet Monte for a drink and snack, amazing views again. There is also a very good restaurant, Patio Das Babosas, for a more substantial meal. Both were excellent, the pizzas at the restaurant were particularly good. What we were surprised at was that the price of drinks and food at Monte were cheaper than down in Funchal itself, considering it has such a captive audience.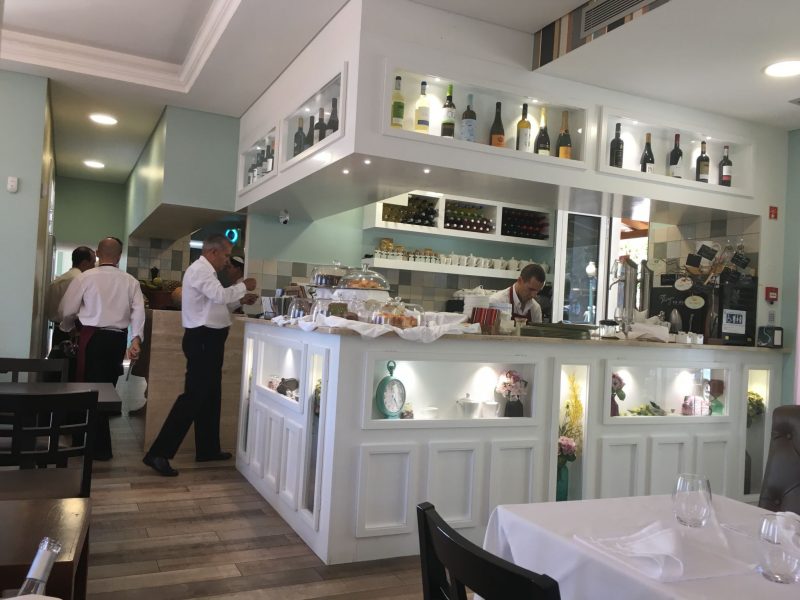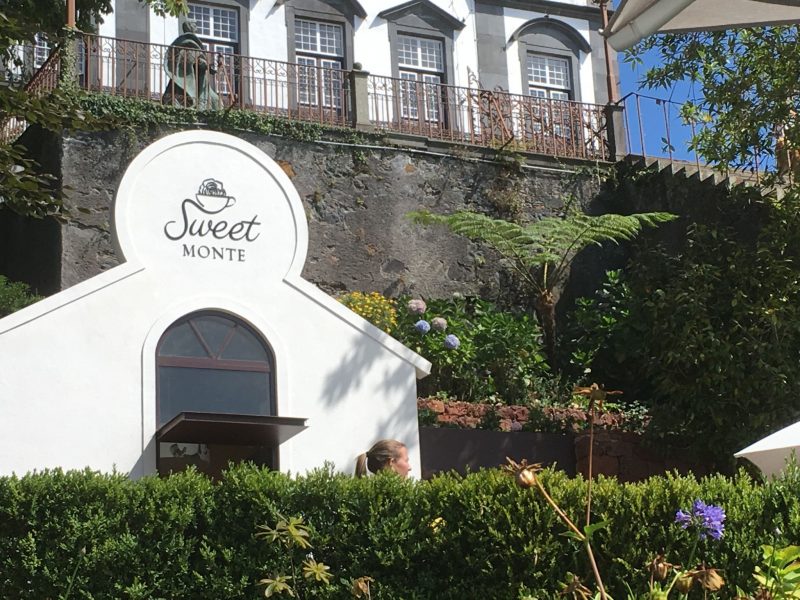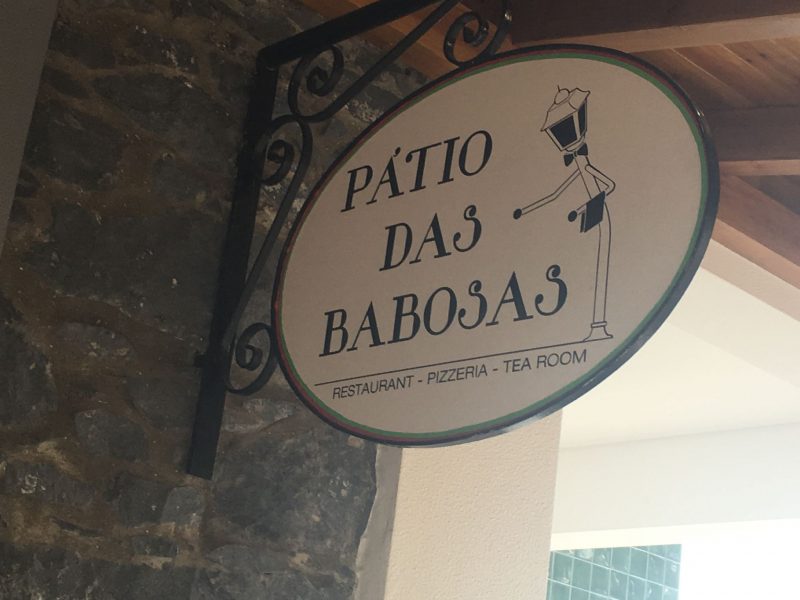 You can just do the round trip to Monte and back as we did, or you can change cable cars and take a trip to the famous botanical gardens. Another option is to travel back down on the "basket" of Monte the traditional wicker sledge. Beware though this only takes you so far down which means a long walk back in to the town or an expensive taxi back up to the cable car station for your return trip down.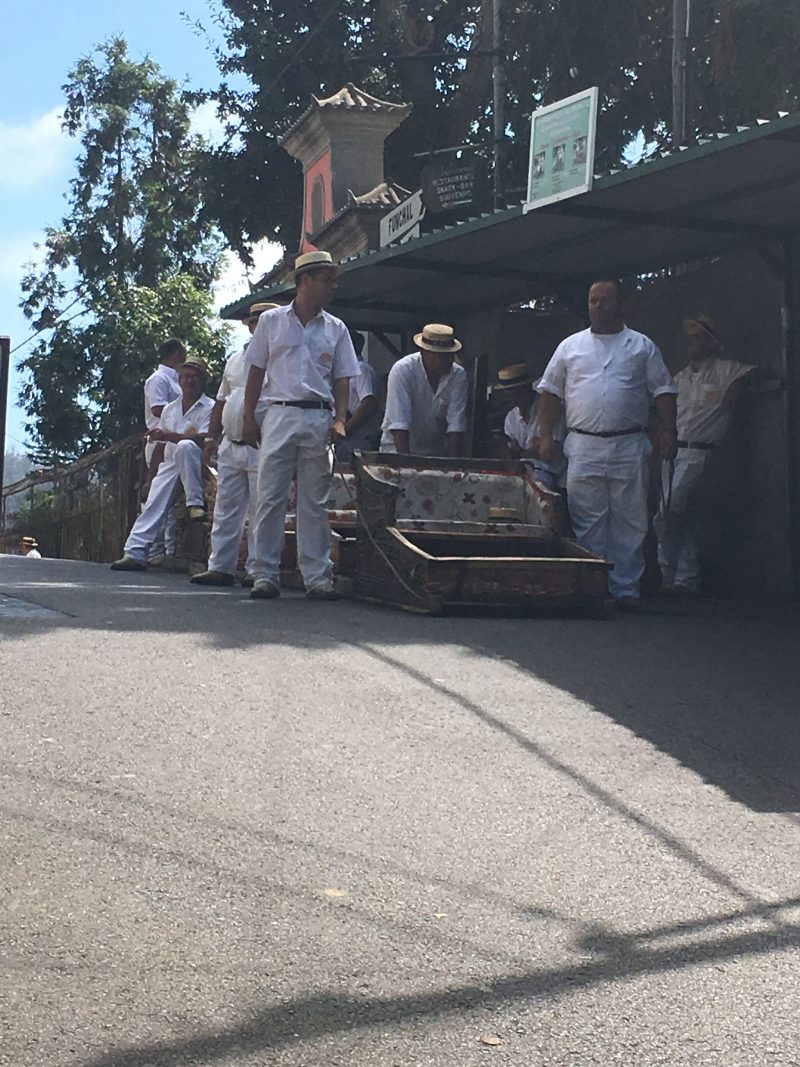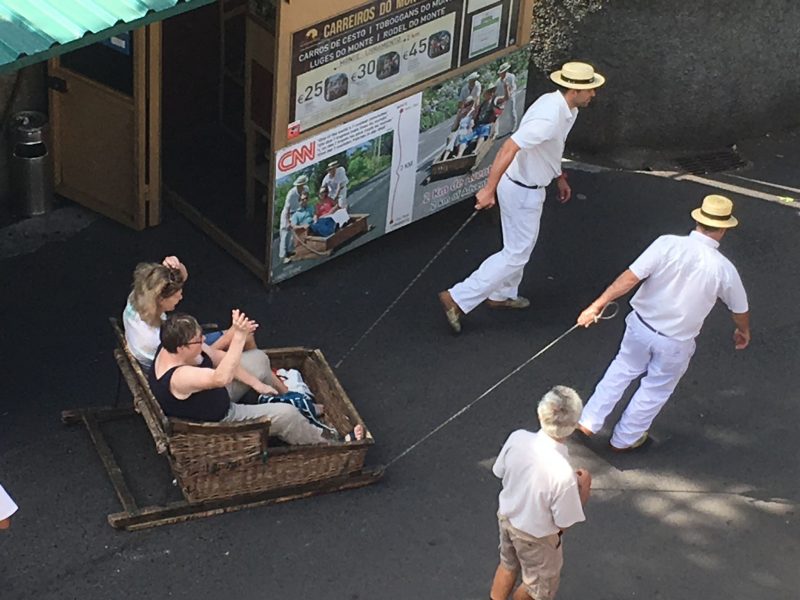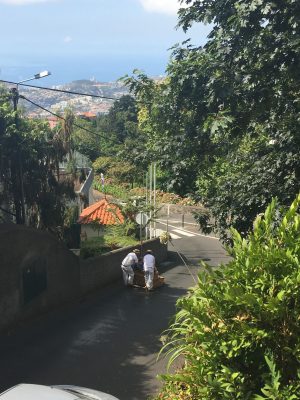 The cable car trip is highly recommended and very good value at €16 return.
Funchal Town
Following the cable car trip we decided to walk back to the hotel via the central area of Funchal. Another area not to be missed with beautiful gardens, historical buildings and attractive bars and restaurants on Avenida Arriaga. The cathedral  and municipal gardens should not be missed.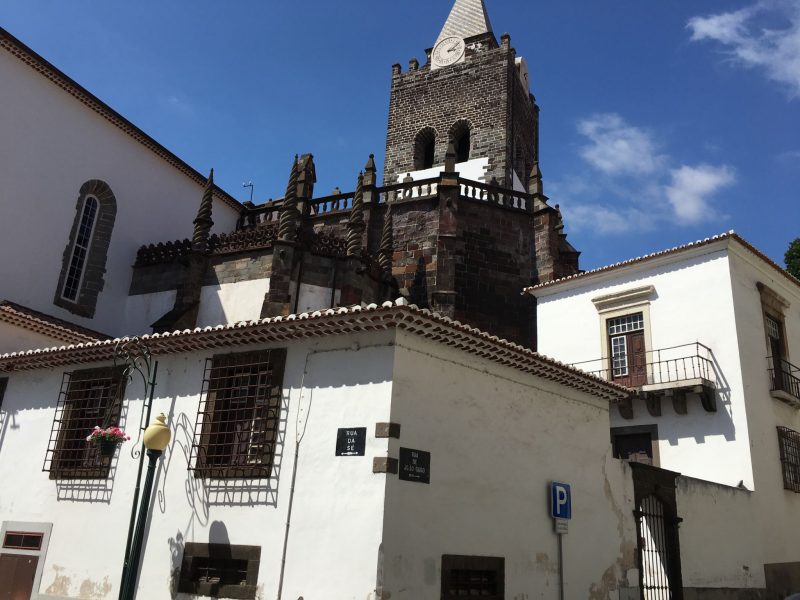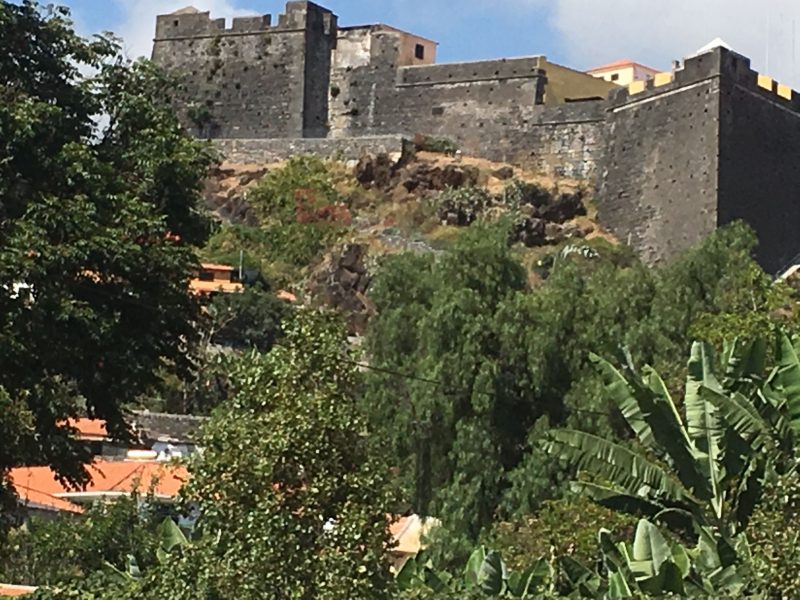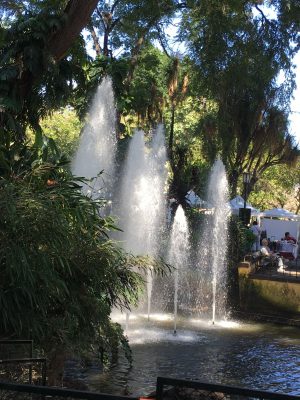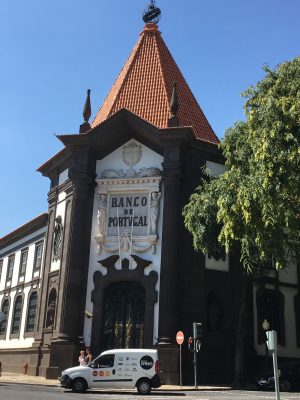 Take a map with you, we got lost! Eventually we got back to the hotel for a well deserved sunbathe and a refreshing dip in the pool.
Dinner at Vila Do Peixe (for website click here)
Tonight it was our turn to entertain the gang for pre dinner drinks in our room.
The restaurant booked for this evening was situtated out of Funchal in the beautiful fishing village of Camara De Lobos, Vila do Peixe, the Fish House, (a review of this will be on the blog soon).  You can't go to a region of Portugal and not have fish! For those who don't like fish just next door was Vila do Carne, the Meat House.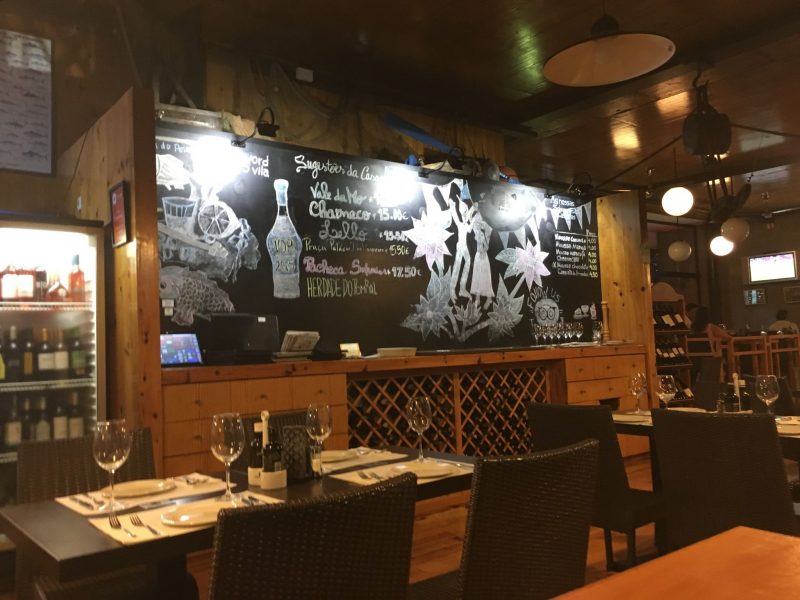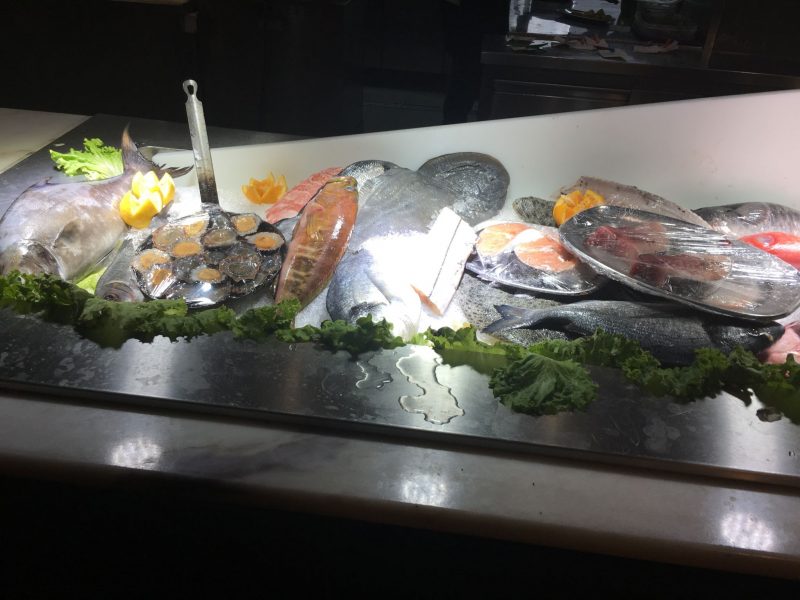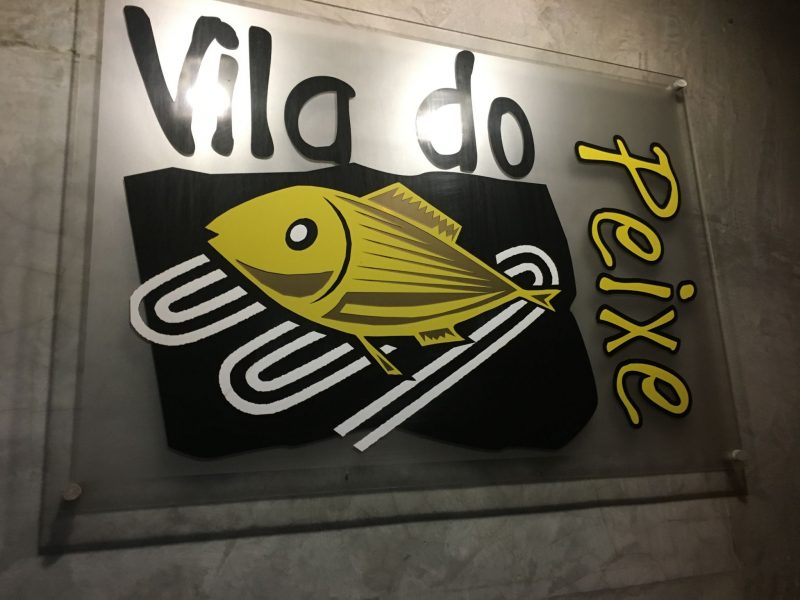 If you reserve a table at either of these restaurants they will provide transport free of chage from your Funchal hotel, the transport must be booked in advance though.
Day 3
The Open Top Bus
A tradition for our annual trip with the gang is an open top bus tour, Madeira was no expection.
There are two companies offering the tour. We chose to take the Yellow Bus Tour as it takes you to Cabo Girao the highest cliff face in Europe. The other option, the Red Bus, takes you to Monte instead, which we had visited the previous day on the cable car. A 48 hour ticket costs only €18, definitely a bargain.
Fortunately we had a bus stop just outside our hotel so no hills today! The route took us to parts of the city we hadn't visted offering superb views of the sea, city and mountains. We then headed out to Camara De Lobos the fishing village we had eaten in the previous night.
Cabo Girao
Here we changed from the large double decker bus to a smaller bus for the journey to Cabo Girao. What a journey it was. We travelled up narrow twisting roads with vertiginous drops to the valleys below. Houses seemed to cling to the mountain sides and every space appeared to be covered by banana plantations! The scenery was stunning and the pictures on here can't do it justice.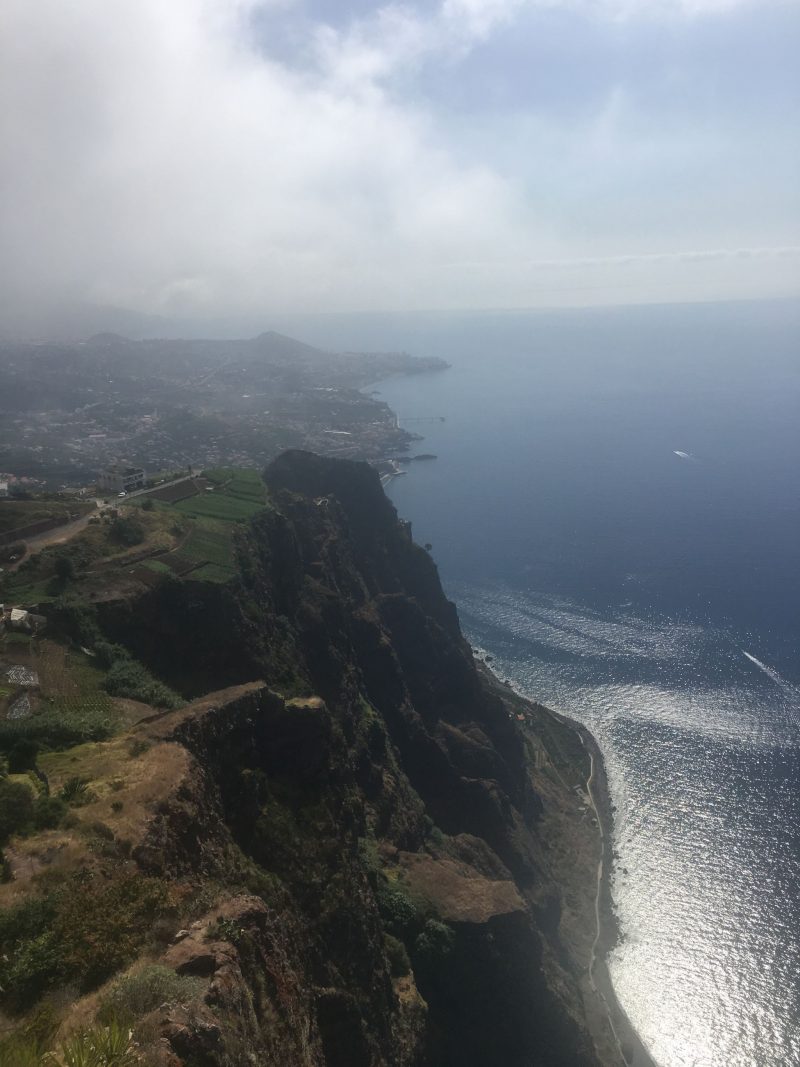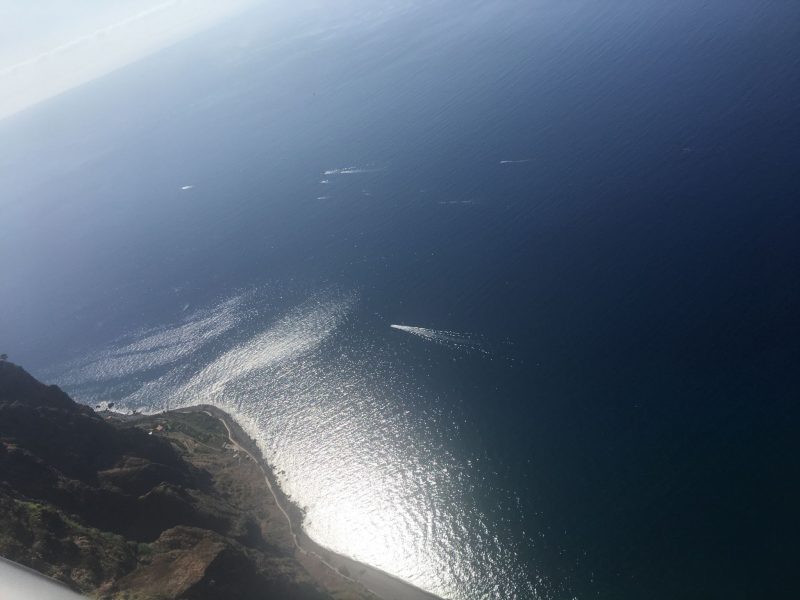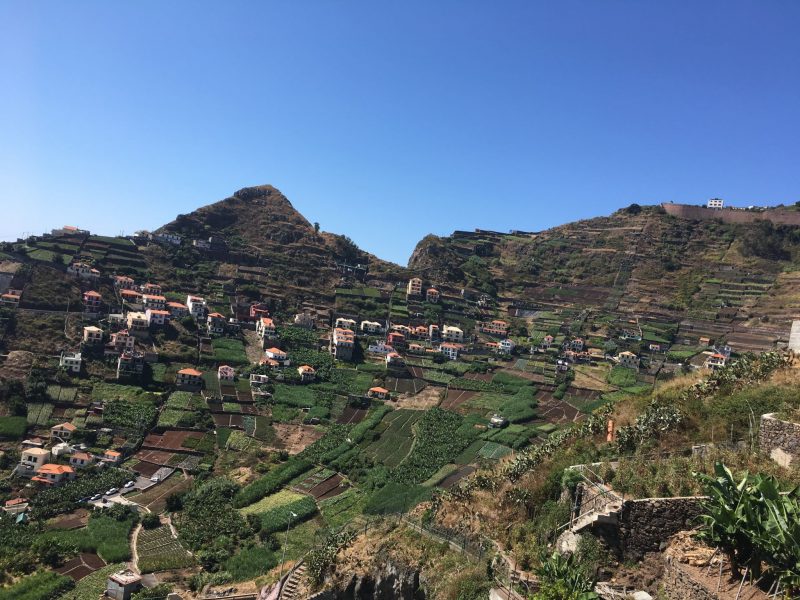 After about 20 hair raising minutes we arrived at the viewing point 580m above the sea. There is a glass skywalk extending out over the cliff edge, definitely not for those who are scared of heights, like Jane! Definitely worth the trip.
Camara De Lobos
It was then back down to Camara de Lobos for lunch.
I am so glad we revisited this place. Visiting during the day presented the village in a different light.
There were loads of bars and restauranats in the village packed with both tourists and locals.
There was some sort of fiesta taking place as the village was decorated with an assortment of canopies above the streets, these ranged from fish to umbrellas to bottles and Christmas decorations!!! For lunch we had fresh sardines with chips and salad, absolutely delicious and so Portuguese.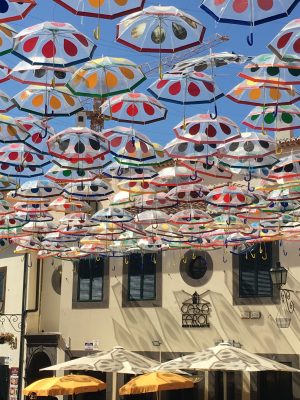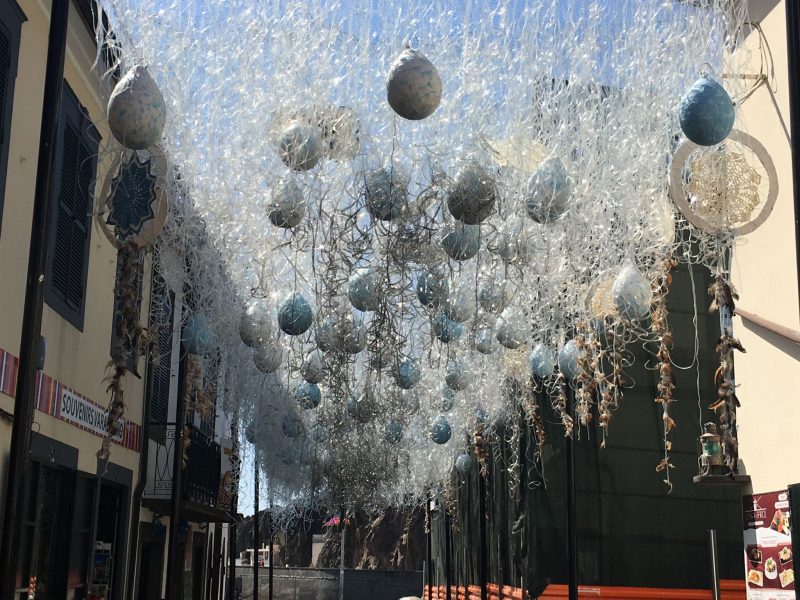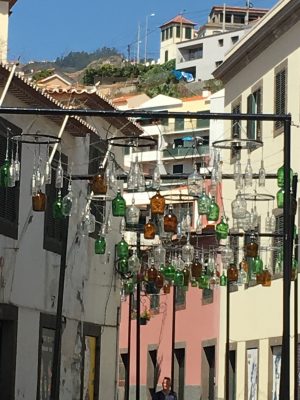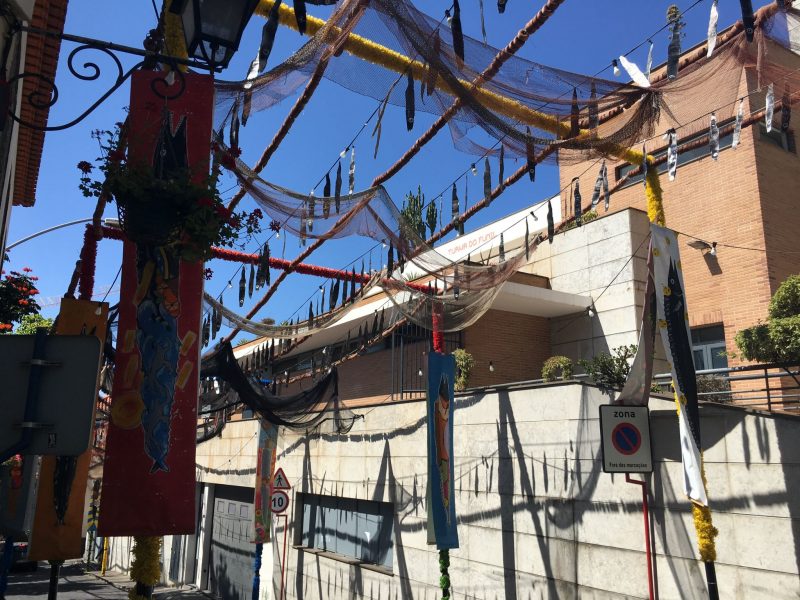 Then it was back to Funchal and a tour of the rest of the city. It is a large city and as I have said before very hilly!!! The bus tour is definitely a great way to see it all without getting worn out!
We Dinner at Casal da Penha (for website click here)
Back to the hotel for a few hours by the pool. Tonight it was Mike and Anne's turn to host drinks, followed by dinner at Casal da Penha. It was fish for Jane and I again, grilled Dorada, absolutely delicious, (a review of this will be on the blog soon).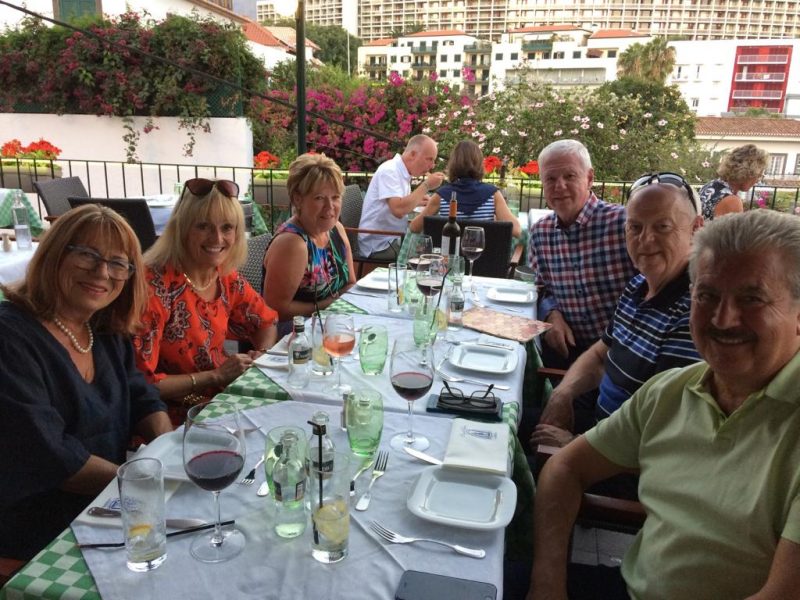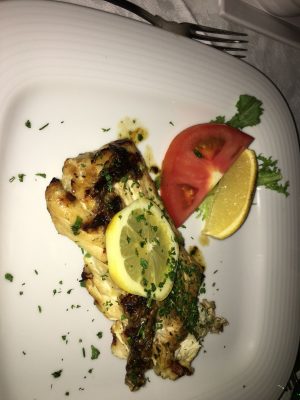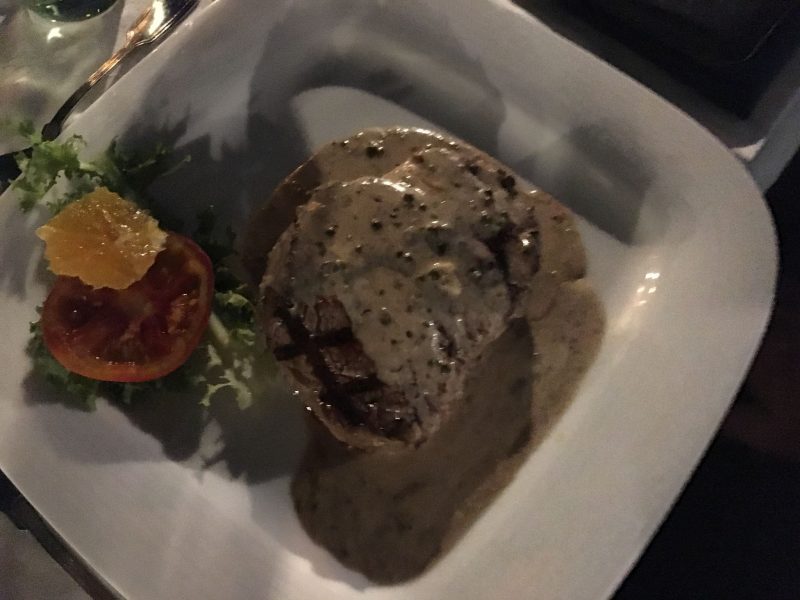 Tonight was the last night with the gang before they headed home so we had a few drinks at the hotel bar to bid a fond farewell. We still had 4 days to go which you can read about in Part 2 of this trip report.
Here is s link to Part 2, click here
The Guestbooks Comment:- "I would highly recommend a trip to Madeira whether for a long weekend or for a week's holiday. Not a destination for a beach holiday but amazing scenery and some stunning sea front hotels. Definitely a great place for foodies from Michelin Star to traditional Madeira country cuisine."
No freebies have been offered or provided by any of the establishments featured in this post!