I had a great reaction to the first part of my Madeira Trip Report (click here), I hope you enjoy part 2 as much
Day 4
Time for the gang to go home today. Its sad to see them leave but at least we have another 4 days to enjoy the beautiful island of Madeira.
Madeira Weather
Being the end of September we were concerned that the weather might be mixed. We needn't have worried. It was pretty perfect for the whole of our stay, glorious sunshines and temperatures in the mid to late twenties.
As we wanted to wave the gang off we decided on a day around the pool today. A bite of lunch and some farewell drinks and then a relaxing few hours in the sun with a good book.
Drinks at the Cliff Bay Hotel (for website click here)
In the evening we had arranged to meet some "virtual" friends at their hotel for drinks. We had been in contact with Anne and Huw on the Barbados tripadvisor forum (a great resource for destination information by the way). We discovered we were staying in Madeira at the same time so decided to meet up for drinks.
The Cliff Bay Hotel was beautiful and would  definitely be on the short list for future trips to Madeira. Unlike our hotel the Cliff Bay was directly beside the sea with access for sea swimming which is something I missed in Madeira. The terrace is a beautiful spot for drinks with great sea views, they have a happy hour from 17:30 to 18:30. Anne and Huw kindly gave us a tour of the hotel. There were lovely pools, sun bathing terraces, lounges and restaurants, including a Michelin 2 star restaurant, Gallo D'or. Very luxurious. We even got to see their room, which was very spacious and had superb views of the bay and city of Funchal.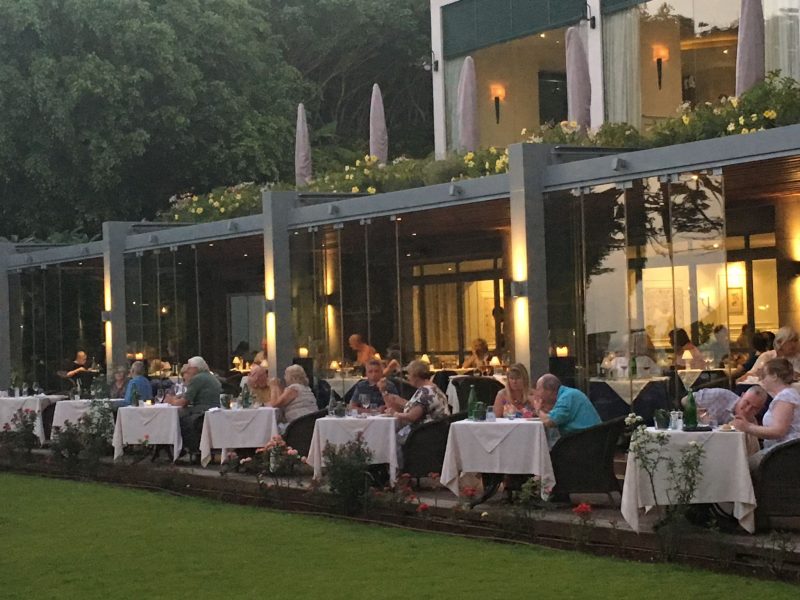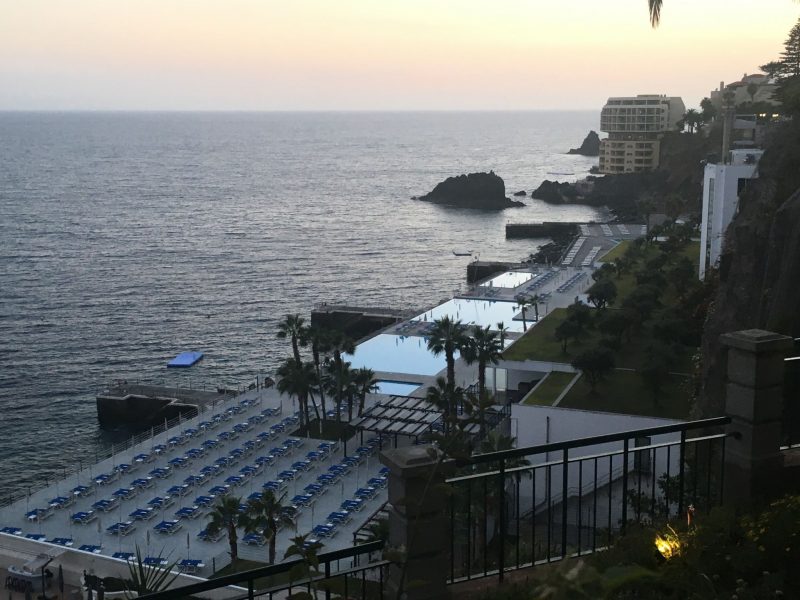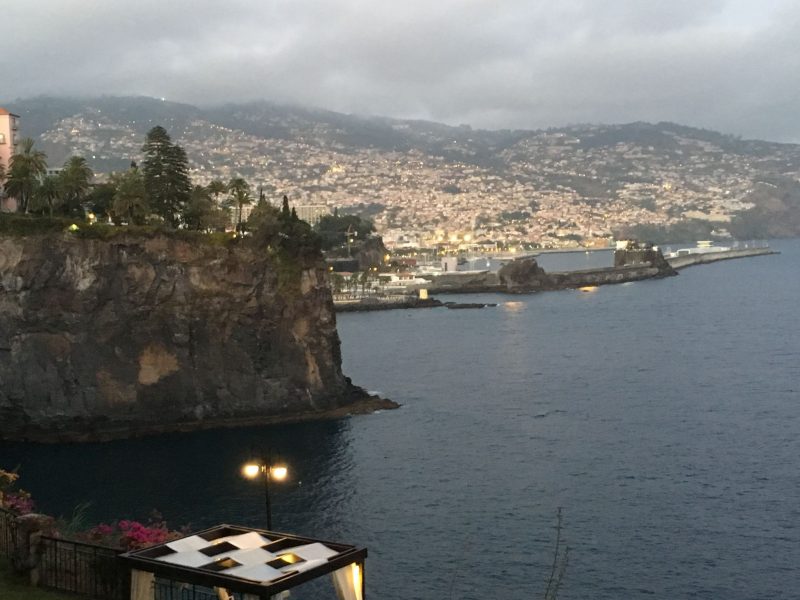 We had a lovely few hours, with great hospitality and company.
A Casual Pizza Dinner
For dinner we ate in Pizzaria Casa Madeirense (click here for the website), just in front of the Cliff Bay, it was average to be honest, not one of our best meals in Funchal.
Day 5
After a lazy day, back to exploring today.
Estrada Monumental and the Forum Shopping Centre
This morning we left the hotel and first of all called at Qunita Da Casa Branca a nearby hotel where we had arranged to meet some other friends in the evening, more about that later. We also spotted a restaurant which looked good for dinner, so glad we took a detour.
We then walked the length of Estrada Monumental to the outskirts of Funchal. This is the road where you will find many of the tourist hotels and loads of restaurants and bars. There is certainly plenty of choice! Just can't fit them all in, in just a week!!!
The main reason we decided to visit this end of town was to find a restaurant one of the staff at the Cliff Bay recommended to us on the previous evening. However I did have a hidden agenda as I was also aware that the Forum Shopping Centre was in this vicinity so fancied a bit of retail therapy.
The Forum is similar to any shopping centre you will find in any town centre. Hovever there are some decent clothes shops and both of us made purchases at lower prices than the same stores back home in the UK. The Forum is worth a visit, there are around 80 outlets in total and would definitely occupy an hour or two particulary on a dull or wet day.
The Lava Pools and Praia Formosa Beach
Directly opposite the entrance to the Forum is Rua da Ponta da Cruz. If you walk down this road you reach the Funchal promenade. Here you get some lovely views along the coast towards Camara de Lobos and the cliffs of Cabo Girao.
Here you will also find the Doca do Cavacos lava pools and the restaurant of the same name, the one recommended to us by the waiter at the Cliff Bay. Its about 100 steep steps from the promenade down to the restauraurant which juts out on a promontery overlooking the lava pools (more about the restaurant later).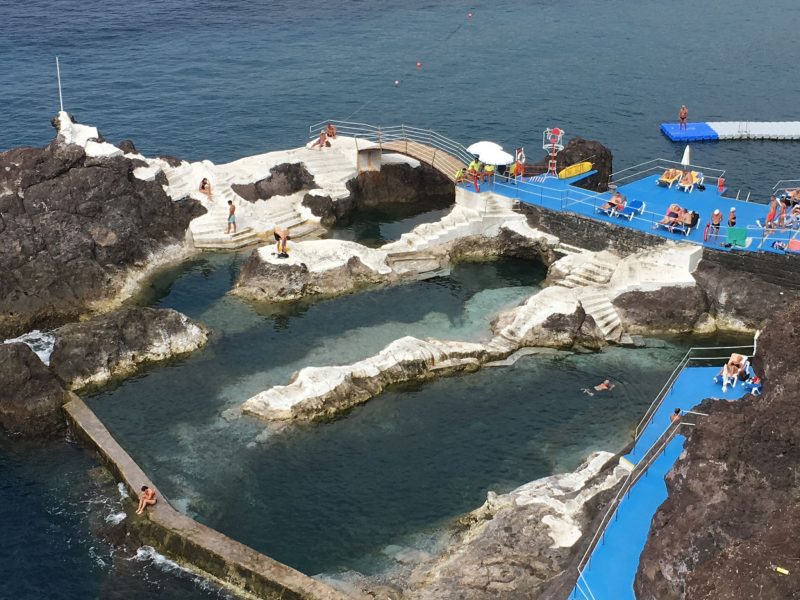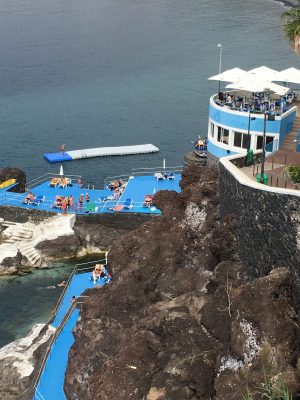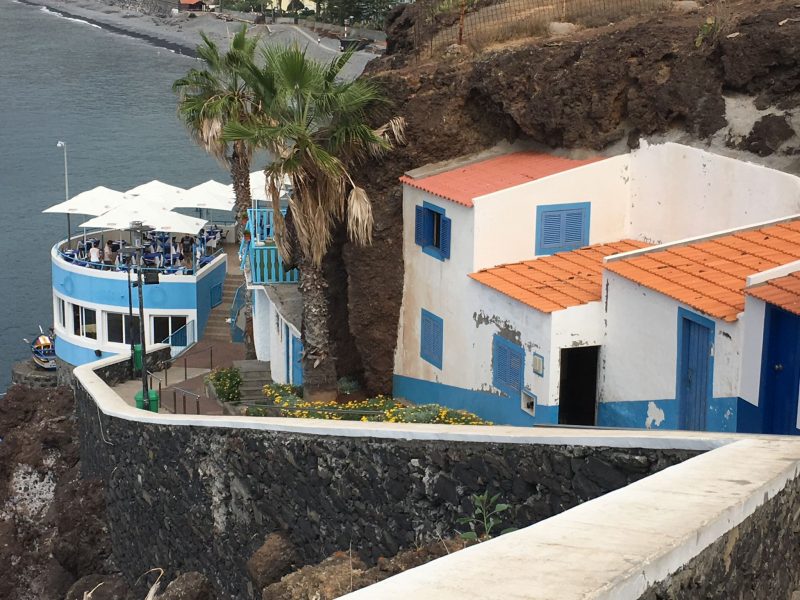 The small complex offers natural pools and sun bathing terraces with direct sea access. The day we visited it was very busy so I would recommend you get there early if you want sun beds, its a lovely spot.
From here there is a pedestrian tunnel taking you through to one of the few beaches in Funchal, Praia Formosa. The beach is fairly long and a mixture of pebbles and black sand, to be honest its not very attractive but if you want a beach this is where to come.
We had a drink at the restaurant, booked dinner for the following evening and climbed back up the 100 steps!!!
The Promenade
After the steps we thought we'd have a gentle flat stroll along the promenade back to the Lido. You must be joking like the rest of Funchal the promenade is hilly! It is a lovely walk though, with some beautiful gardens and views of the sea and coastline.
There are plenty of places for a refreshment stop along the way and another Lido facility if you want to have a swim and a sunbathe.
Its proably about 30-45 minutes walk from Doca do Cavacos back to the main Lido. It was a hot day so a well deserved rest was required. We had lunch at the Lido Beach Club situated on the promenade above the main Lido, highly recommend their burgers and great ice creams.
Another hill to climb then back on to Estrada Monumental and back to the hotel for a couple of hours relaxation by the pool.
Happy Hour at Quinta da Casa Branca (click here for website)
We had arranged to meet an ex-work colleague, Elaine, and her husband Gary for drinks that evening. They also happened to be on holiday at the same time as us. I did some research as to potential venues and came across Quinta da Casa Branca which was convenient for us all and as it happened also had a happy hour between 18:00 and 19:00 hrs.
Quinta da Casa Branca is a stunning estate home to a luxury 5 star hotel. The gardens are beautiful its worth a visit just to see them, just ask at reception they were very welcoming. Watch out for the "sausage" tree one of only 2 specimens to be found in Madeira! The only place we had seen this tree before was in the Masai Mara!
We had arranged to meet at the Casa de Quinta bar and restaurant, which has a lovely terrace overlooking the gardens. After a walk around the grounds we got a table on the terrace. We were first there when it opened at 6 pm but it soon filled up with hotel guest and non-residents. We were made to feel very welcome and I would definitely recommend it for a drink or for dinner, the food looked very good.
Dinner at Restaurante Ca Te Espero
This is the resturant we had spotted on our walk earlier in the day. What a find!! Situated on Rua da Casa Branca just away from the main restaurant area, this lovely restaurant served superb traditional Madeiran food and the service was excellent.
We both had pork chops in a Madeira sauce, which was one the most delicious dishes we had in the entire week. Simple but so good! Definitely recommended!
Day 6
Our week in Madeira was going by very quickly, we will definitely need to come back!
Today we decided to do some sightseeing outside of Funchal.
Nuns Valley
Anne and Huw had recommended we visit Nuns Valley. We are not keen on coach tours so asked the hotel to arrange us a private car and driver. More expensive €65, but for the comfort, convenience and no waiting for late passengers it was worth it.
Pico dos Barcelos
We started off by driving up to Miradouro Pico Dos Barcelos. We had gone here on the Yellow Bus tour earlier in the week but had not had time to appreciate the views. they are truely spectacular with 360 degree views of Funchal, the coast and the mountains. Tip – if  you do go on one of the bus tours get off here to take in and appreciate the amazing scenery.
Eira do Serrado
From here we travelled along twisting narrow roads through the mounatins towards the centre of the island to the Eira do Serrado viewing point. The journey to here is nail biting especially if you meet a tour bus coming in the other direction. We parked up and took the 10 minute walk to the viewing point 1095 metres above sea level, the views are breath taking.
The stunning mountain scenery and the village of Curral das Feiras nestled in the valley below were truely awsome.
Curral das Feiras
We then travelled down in to Nuns Valley itself and the village of Curral das Feiras. Many people choose to walk between the two about 4 kms, a 2-3 hour walk. We were driven down via the Curral das Feiras tunnel a spectacular feet of engineering, completed in 2004, before that I would hate to think what the journey entailed!
In the centre of the village is the tiny church of Nossa worth a look. There are also a couple of cafes. You must try the chestnut cake a speciality of Nuns Valley. I would also recommend the local liquers we tried the chestnut, cherry, banana and eucalyptus, it was a good job we wern't driving. I would particularly recommend the eucalyptus liquer we liked it so much we bought a bottle to take home with us.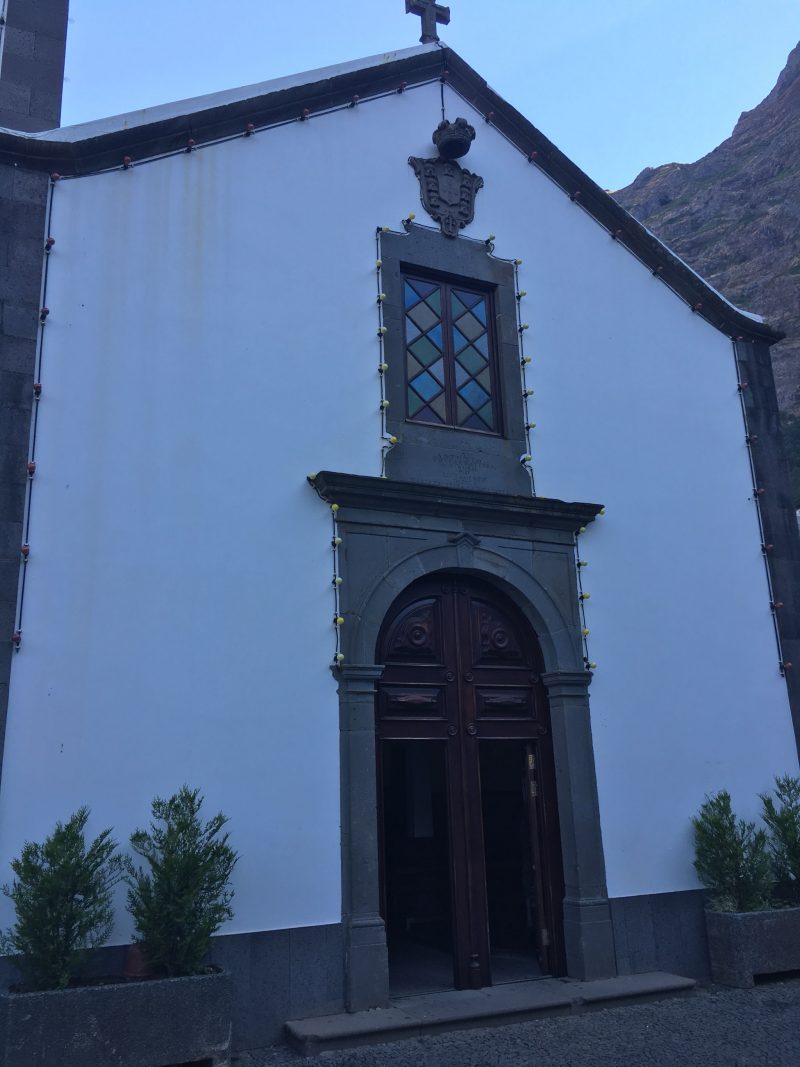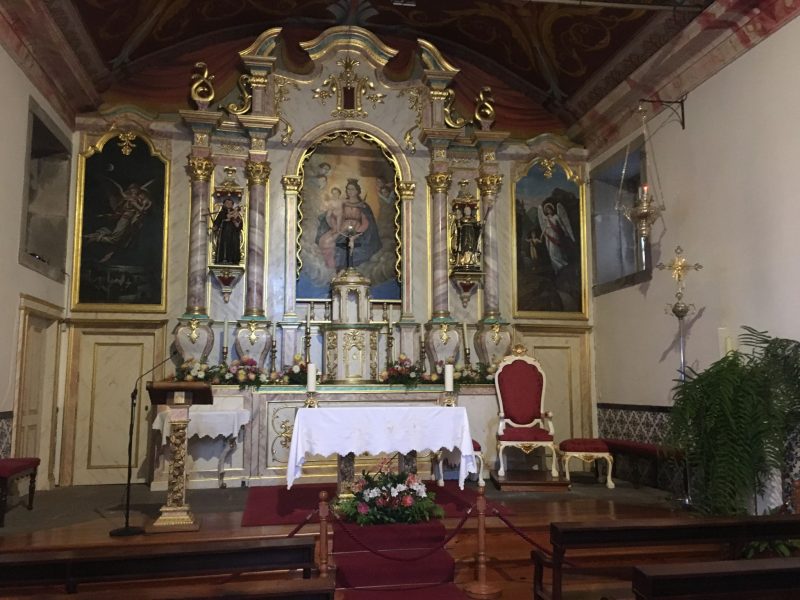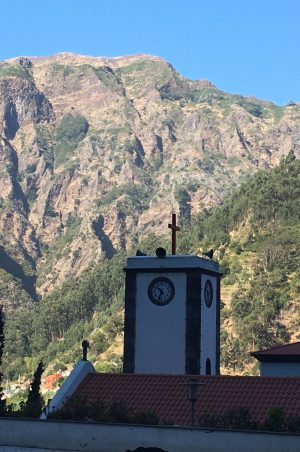 Back to Funchal
The driver took us on a scenic route back to the hotel seeing more of Funchal and the stunning views. Back at the hotel we had a light lunch and drinks by the pool followed by another relax in the sun!
Dinner at Doca do Cavacos
We were looking forward to tonight's dinner at Doca do Cavacos, the resaturatnt recommended to us by the waiter at the Cliff Bay, we were not disappointed.
Its such a beautiful spot, we had a railside view and superb fresh fish, clams to start and red snapper for the main. The service like everywhere we ate was excellent and coincidentally our waiter actually lived in Curral das Feiras, what a journey to and back from work each day!!
Its definitely worth visiting Doca do Cavacos for dinner evven with those 100 steps to climb after your meal!!!
Day 7
So this is it our last day, we've certainly packed a lot in to the week. There was still one area in particular I was very keen to visit, Zona Velha, the Old Town.
Funchal Old Town
The walk form our hotel to the Old Town took about 45 minutes, but thankfully no hills to climb. We strolled through Santa Catarina Park which provide great views of Funchal, the marina and cruise terminal.
Unfortunately at this time of the year the floral displays aren't at their best. We planned on visiting the Quinta Vigia garden which is home to the official residence of the regional president. Unfortunately there were long queues, probably because there was a huge cruise ship in town!
We stopped for a drink at the Ritz Cafe on Avenue Arriaga, great spot for people watching but expensive.
The old town dates from the 15th Century and is a warren of cobbled streets and alleys with a plethora of bars and restaurants. It is also where you will find the best shops for local crafts and art works.
Rua de Santa Maria
Rua de Santa Maria is the main artery running through the Old Town. It is pedestrianised with restaurants, cafes and art galleries galore to try.
At first I found it annoying being constantly hastled by restaurant staff with menus trying to entice you in to their establishment, but a polite but firm no did the trick.
We had heard about the famous painted doors of Rua Santa Maria and were not disappointed.
A project was established in 2014 by the local council called "the Art of Open Doors". The project encouraged local artists to display their work on the 200 plus doors along this street. It is now an art gallery in itself and a major tourist attraction.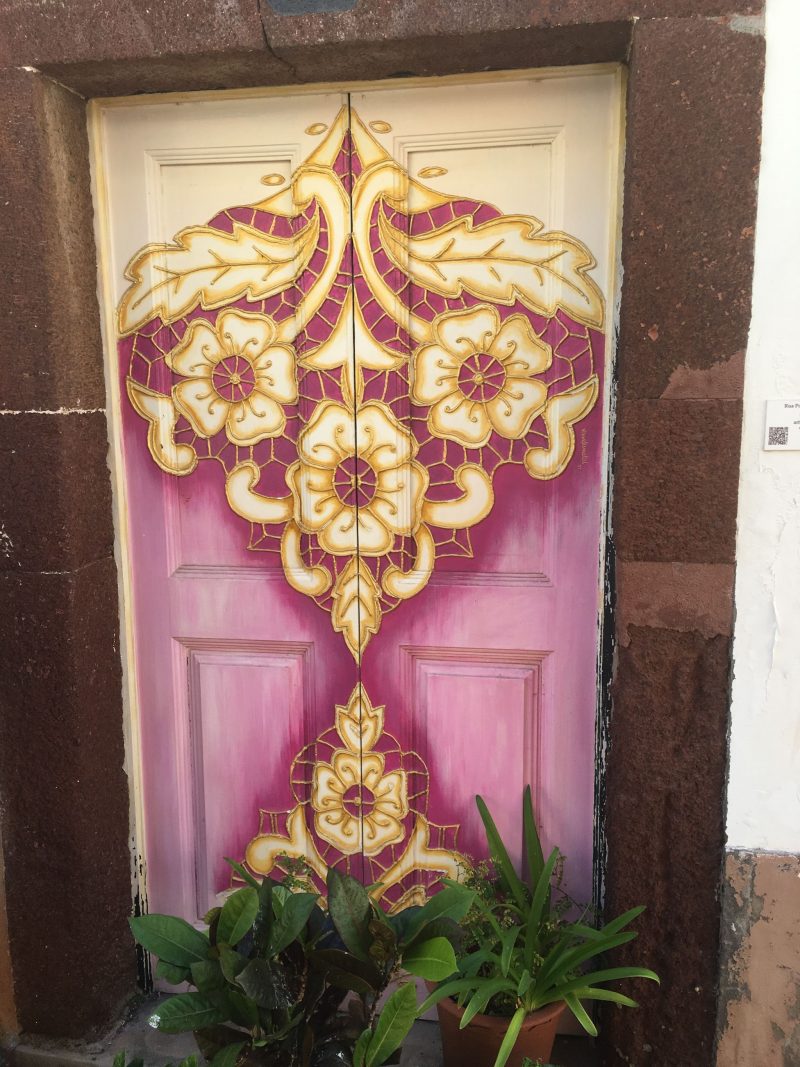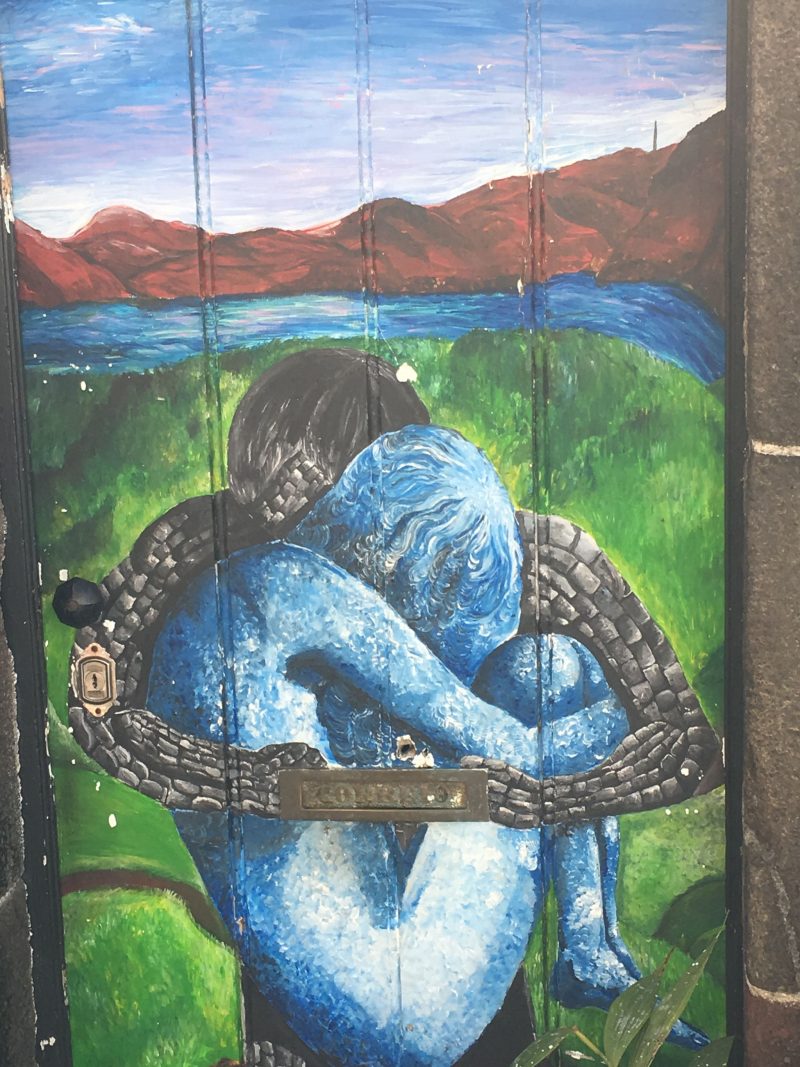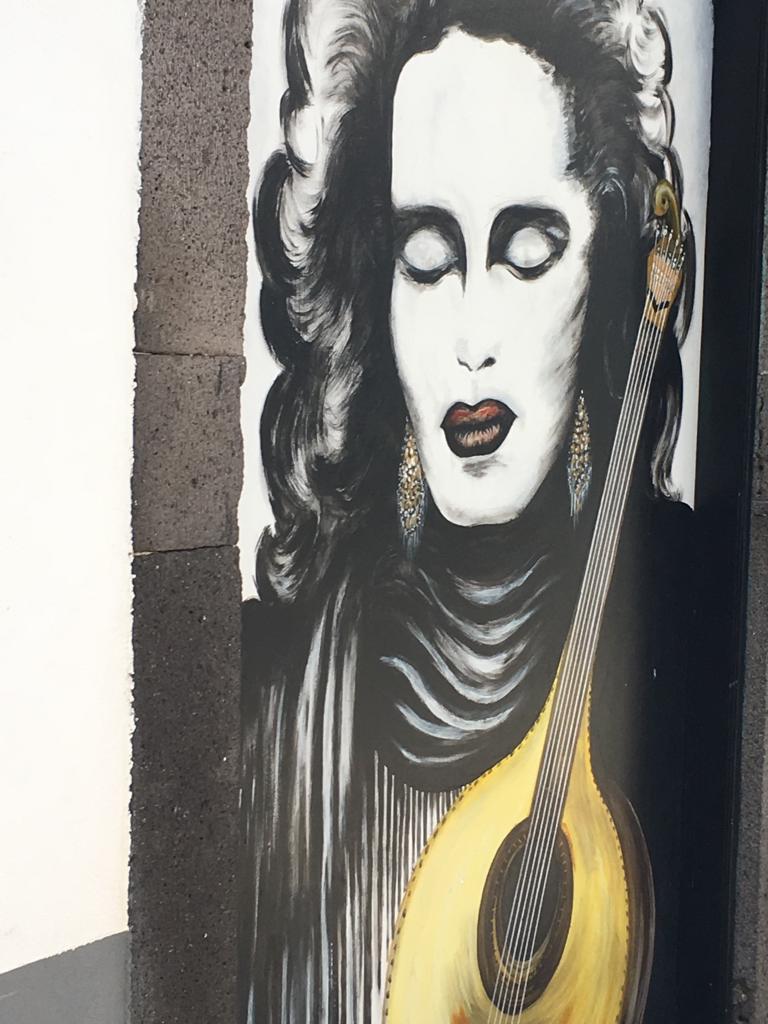 The objective was to try and regenerate what was becoming a rather run down area of the city, its certainly succeeded in doing so. It as a "must see" place to visit in Funchal.
Lunch in the Old Town
As it was lunch time we decided to grab a bite to eat at one of the local restaurants. We chose the first place where we were not hastled by the staff. What a find! We were hoping for a light lunch. The Restaurante Embaixador Madeirense  special menu at around €10 per person looked as if it would be just right. It offered fresh fish, salads and meat dishes.
To start, we were brought a home made soup with fresh bread, delicious. Jane ordered the sardines and I decided to try the Espada fish, also known as the Black Scabbard. This a Madeiran speciality which features on the menus of most local restaurants, often served with bananas.
Light lunch, you must be joking, the portions were enormous. A superb meal and amazing value. Highly recommend trying here if you are in the Old Town but make sure you are hungry!
After lunch we walked down to the end of Rua Santa Maria to the Old Fort, which is open to the public. I believe the restaurant at the Old Fort is very good. We then got a taxi back to the hotel to start packing.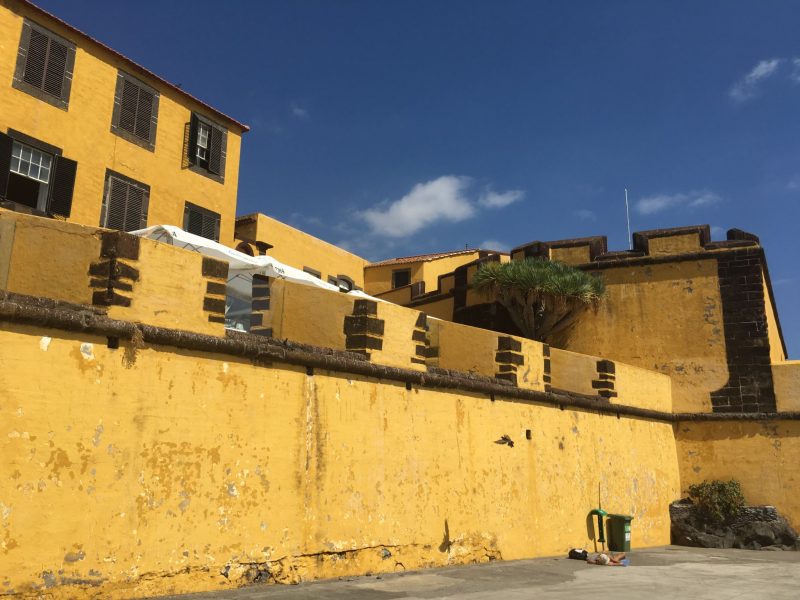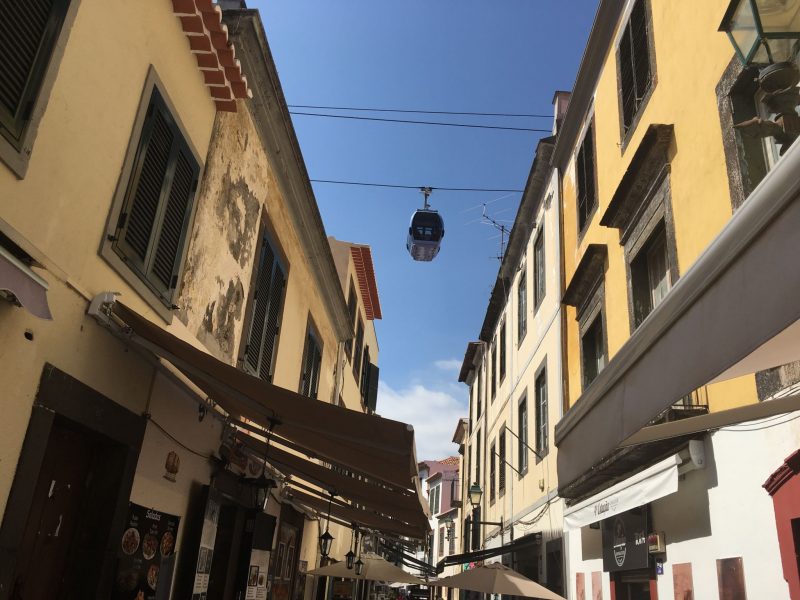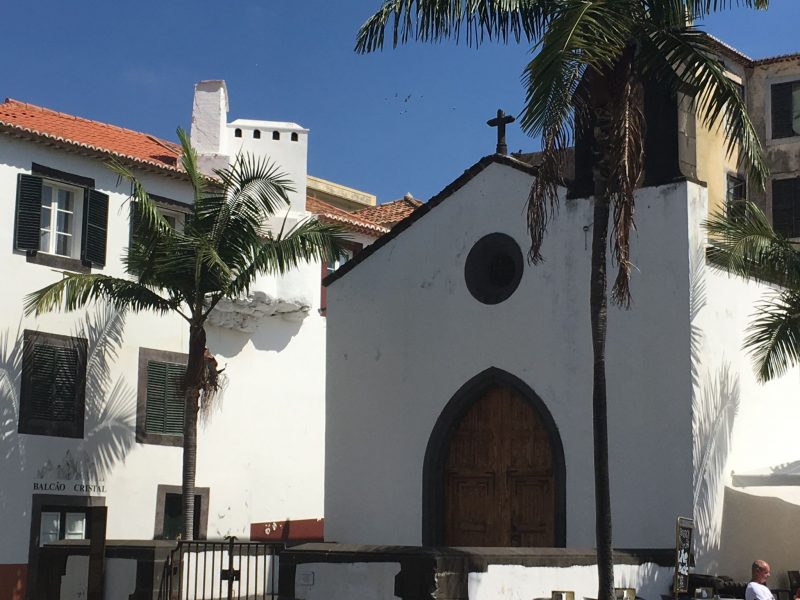 Cocktails at Reids Palace
I have always had an interest in hotels. My bedside book of choice is the Good Hotel Guide and I love visiting hotels both at home and abroad. The Grande Dame hotel in Madeira has to be the Reids Palace, and its somewhere I've always wanted to visit. As it was our last night we decided to pay a visit for pre dinner cocktails.
Reids has always been the hotel of choice in Madeira for the rich and famous. It has had many notable regular guests over the years including Winston Churchill and George Bernard Shaw, who have suites in the hotel named after them. When we entered the main lobby I was surpised how small it was I was expecting something grander.
Even though we weren't residents in the hotel we were welecomed by the staff and taken to a railside table on the beautiful terrace with more beautiful views. With our drinks came delicious beautifully presented canapes.
As you would expect the drinks were the most expensive we had during our week in Madeira but worth it in  my opinion for a chance to experience this beautiful hotel.
Our Last Supper!
After our large lunch we ate dinner in a tourist restaurant near our hotel which was OK. It was then back to the hotel for nightcaps and to reflect on a great weeks in Madeira.
Homeward Bound
The airport experience in Madeira going home was as good as when we arrived, slick and professional, no queues and a good selection of shops, cafes and bars. Manchester could learn a lot, as our arrival in the UK was as chaotic  as our departure!
The Guestbooks Comment:- "I would highly recommend a trip to Madeira whether for a long weekend or for a week's holiday. Not a destination for a beach holiday but amazing scenery and some stunning sea front hotels. Definitely a great place for foodies from Michelin Star to traditional Madeira country cuisine."
No freebies have been offered or provided by any of the establishments featured in this post!