What's the story?
Mina A'Salam is one of the Jumeirah resorts based in the vast Madinat complex alongside Al Qasr, Al Naseem and Dar Al Masyaf. The Madinat occupies a prime position along Jumeirah Beach in Dubai with a beach front location offering views over the Burj Al Arab, as well as the canal like waterways that the Madinat is famous for.
Mina A'Salam is a popular choice as both a place to stay at as well as for dining. After trying the very grand and impressive brunch at neighbouring Al Qasr (full review here), Mina A' Salam was on the list next. With Dad & Jane visiting Dubai we thought it was the perfect excuse to sample it.
Location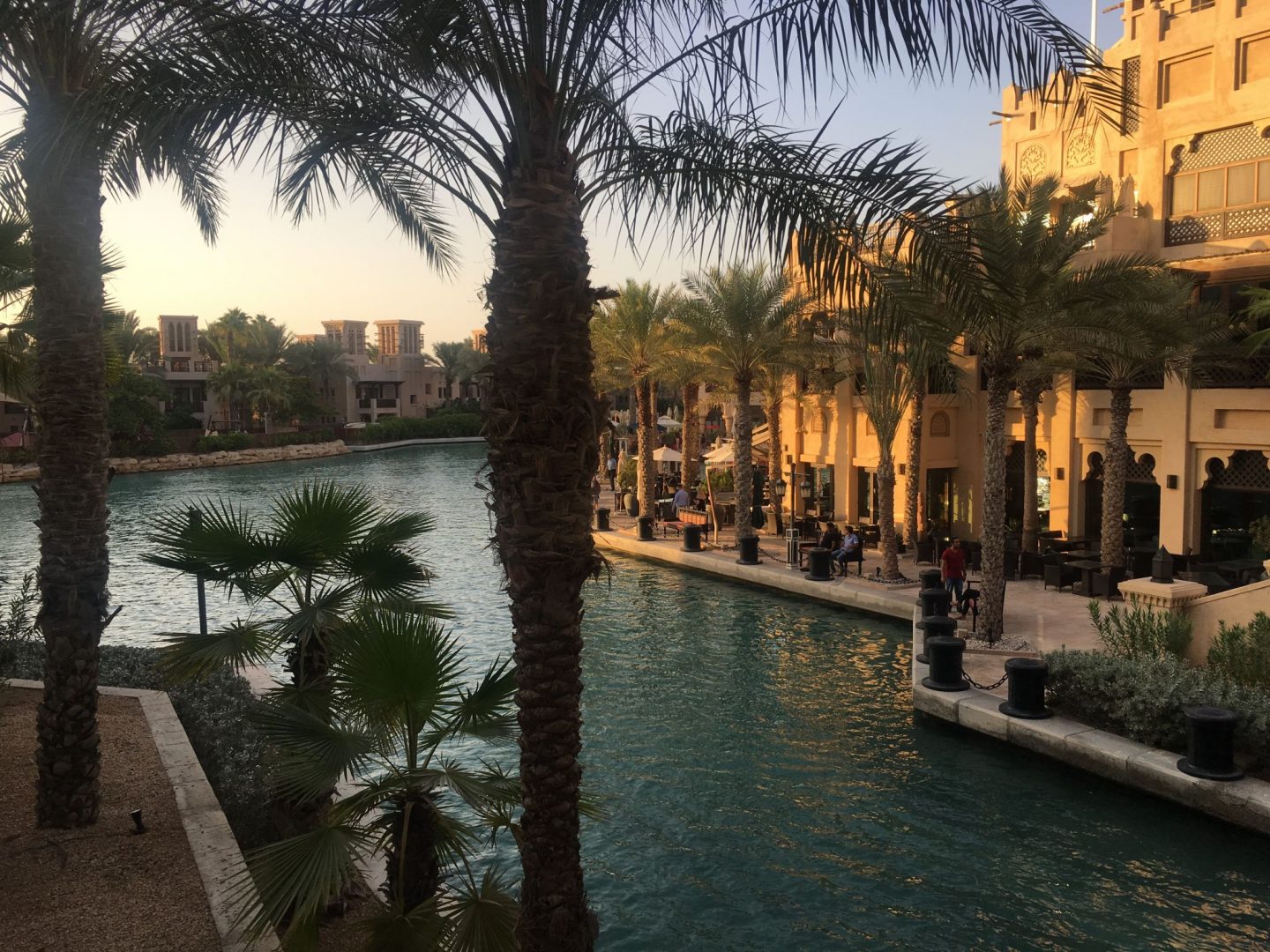 The Madinat is home to over 40 restaurants and bars in total so there's plenty of choice here! For brunch, the main offers are Al Qasr and Mina A'Salam. Mina A'Salam is located next door to Al Qasr so it's easy to make comparisons between the two. Although lovely, the entrance to Mina A'Salam probably isn't quite as impressive as Al Qasr. The latter boasts a gold horse lined driveway and palm tree covered entrance. Without this comparison though, Mina A'Salam holds it's own. It's pretty impressive as far as the wow factor goes (which is always a high bar in Dubai).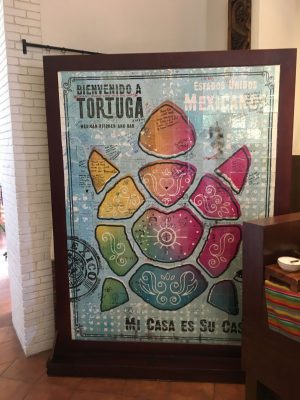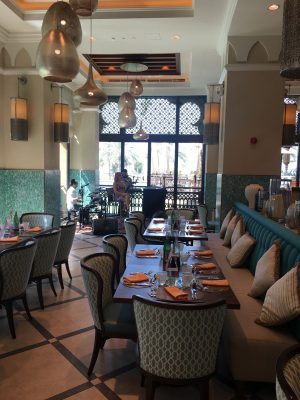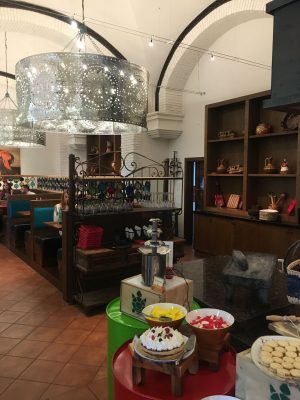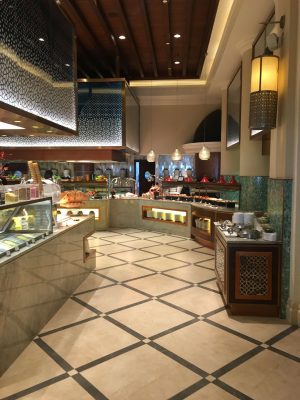 The Mina A'Salam brunch is split over two restaurants – Hanaaya and Tortuga (see above pictures). Hanaaya is an international restaurant, and Tortuga, a Mexican themed outlet. I'd recommend opting to sit in Hanaaya for the brunch. Whilst Tortuga is lovely, it's a more relaxed and informal vibe (and is further away from the food in my opinion!). Whereas Hanaaya is more formal dining, so really it depends what you are looking for. There's also outside seating with stunning views over the canal. This is lovely but only in the cooler months so opt inside otherwise.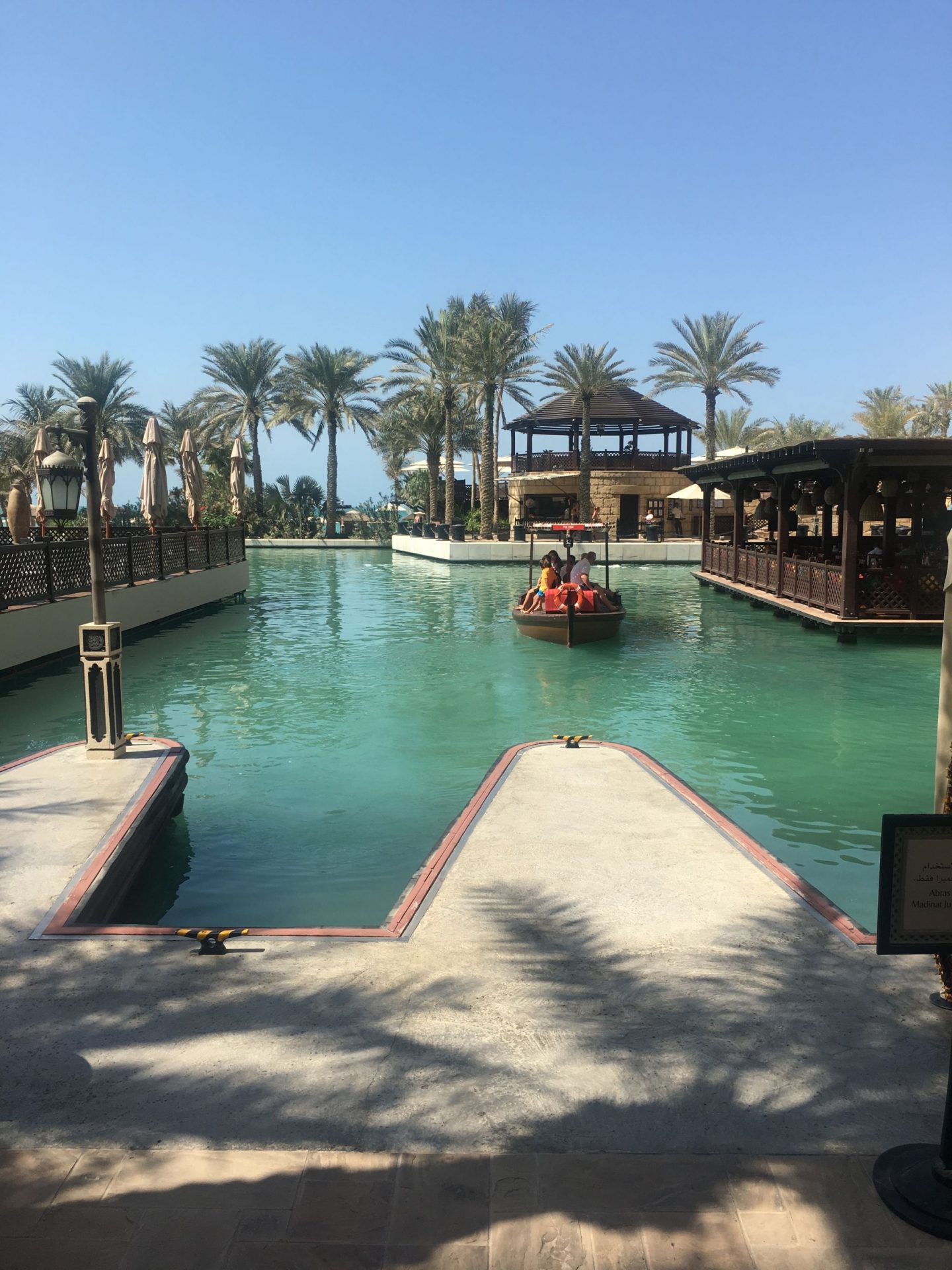 Food
Like it's neighbour Al Qasr, the Mina A'Salam brunch is a proper Dubai buffet brunch. It's expansive to say the least. Spend a good amount of time assessing your options first, even the most hearty of appetites will struggle to sample everything.
Starting in Hanaaya, there's a wide variety of salads and sushi on offer – and some beautifully presented canapes which are regularly replenished by very attentive staff.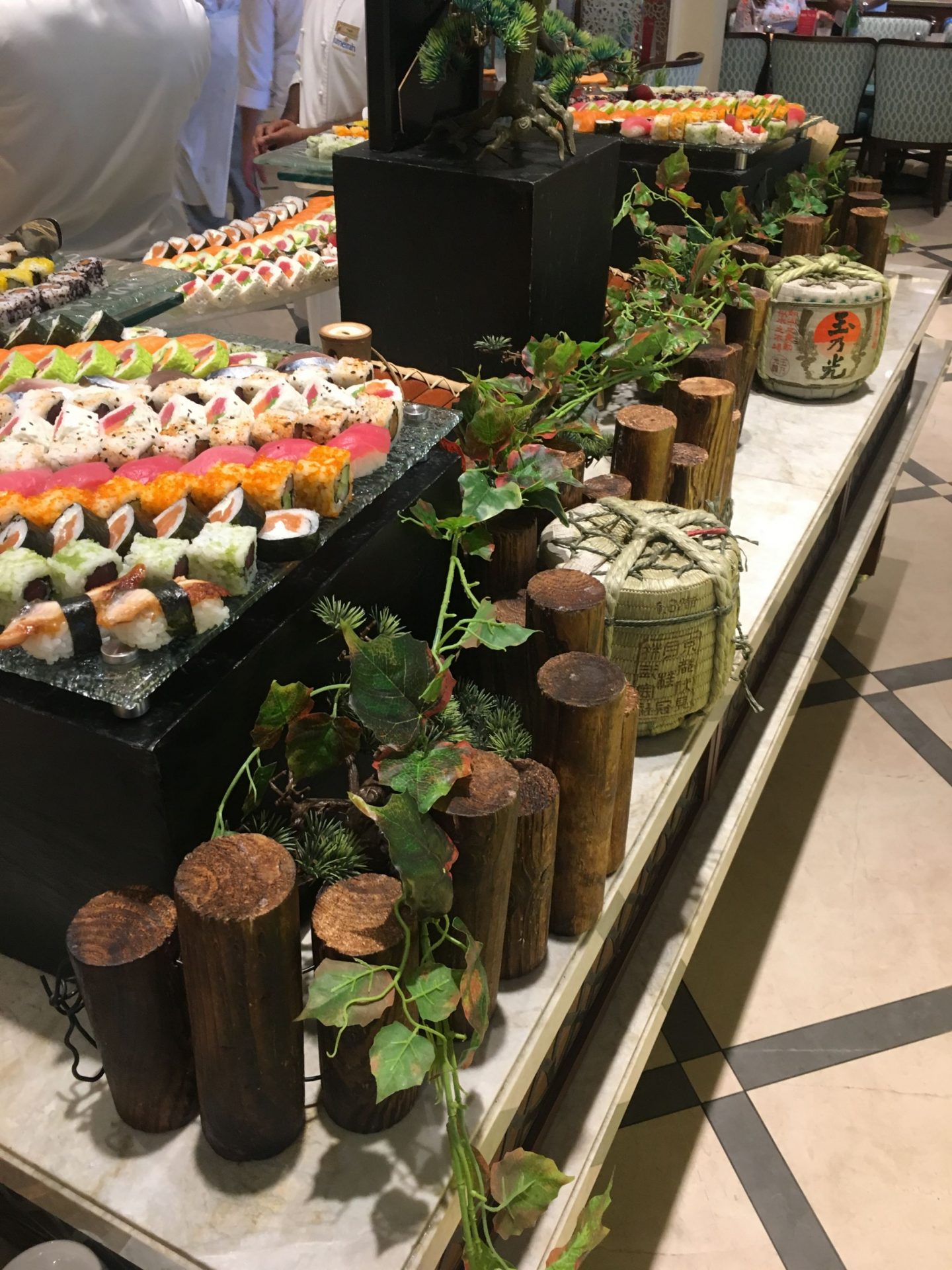 There's also a wide selection of mains here – from your traditional roast joints, through to curries and other pan-asian options.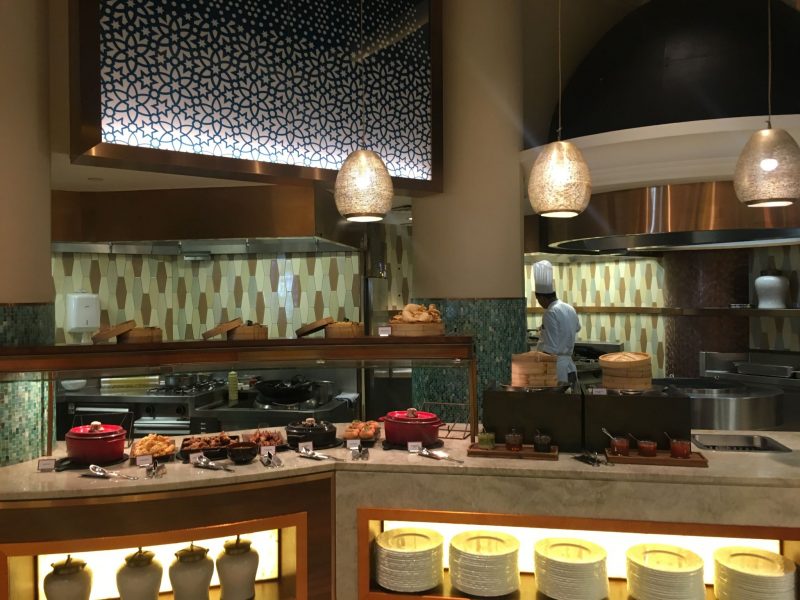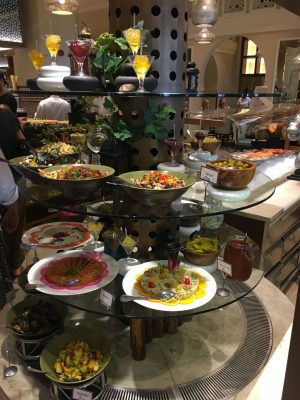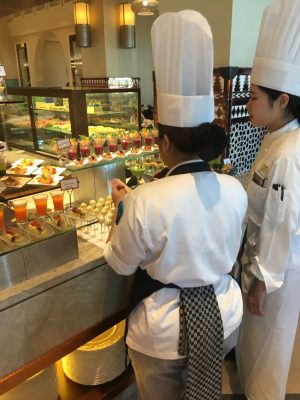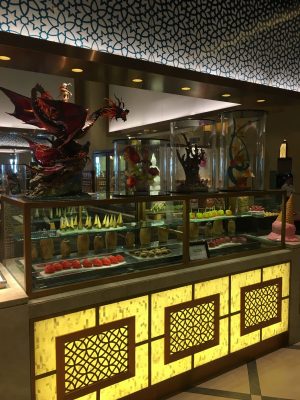 The stars of the show in Hanaaya are really the desserts for me – go early to see their beauty before they are demolished! (more on the desserts later!)
Mina A Salam has also gone for the street food and outdoor stalls approach in a similar style to Al Qasr and Bubbalicious and there's everything on offer here. From BBQ to Sri Lankan street food options, and lots in between. Most cuisines are covered by one stall or another so take your time and browse and sample these delights. Once fully stocked make your way over to Tortuga for more food!!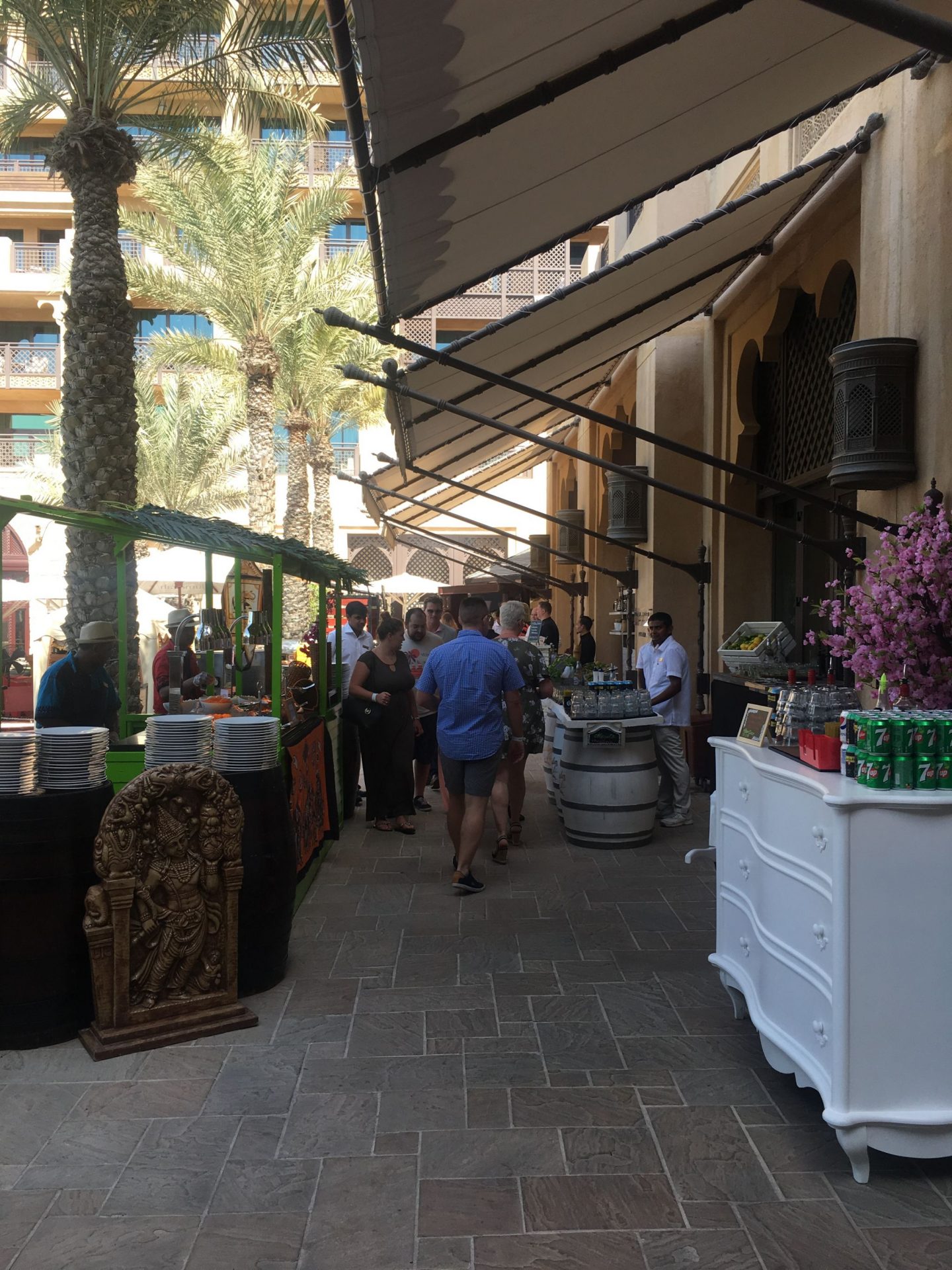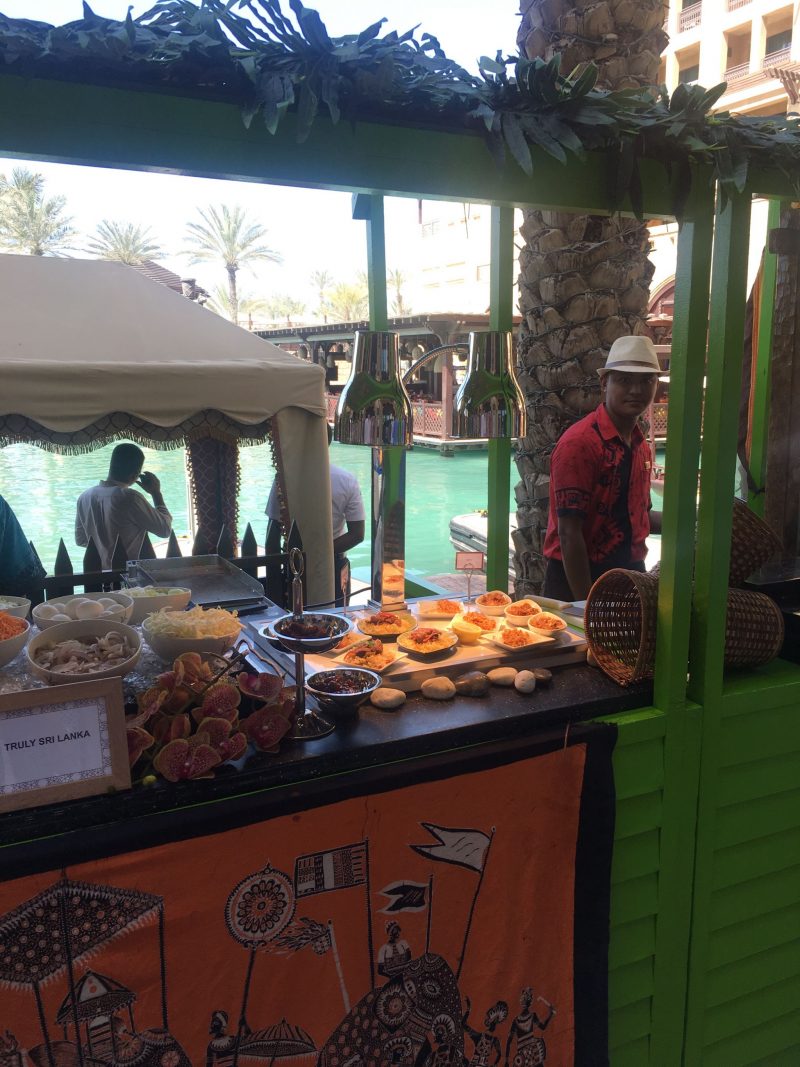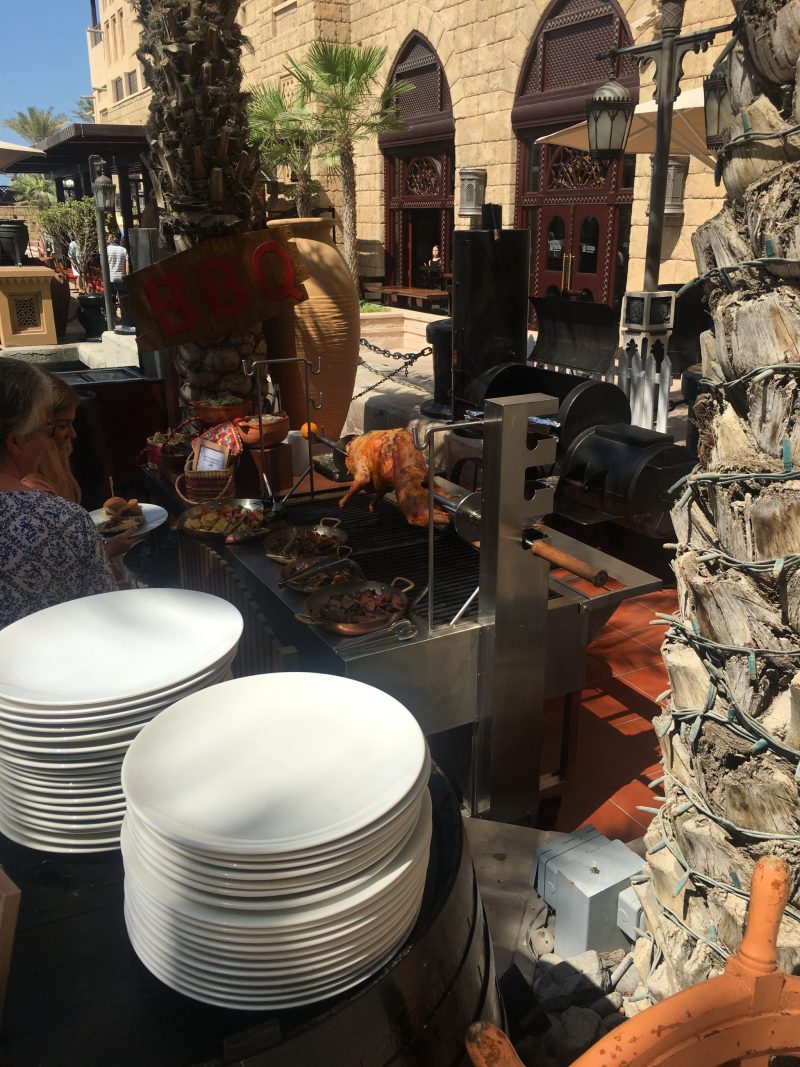 Highlights over in Tortuga include the wide selection of seafood and Ceviche on offer.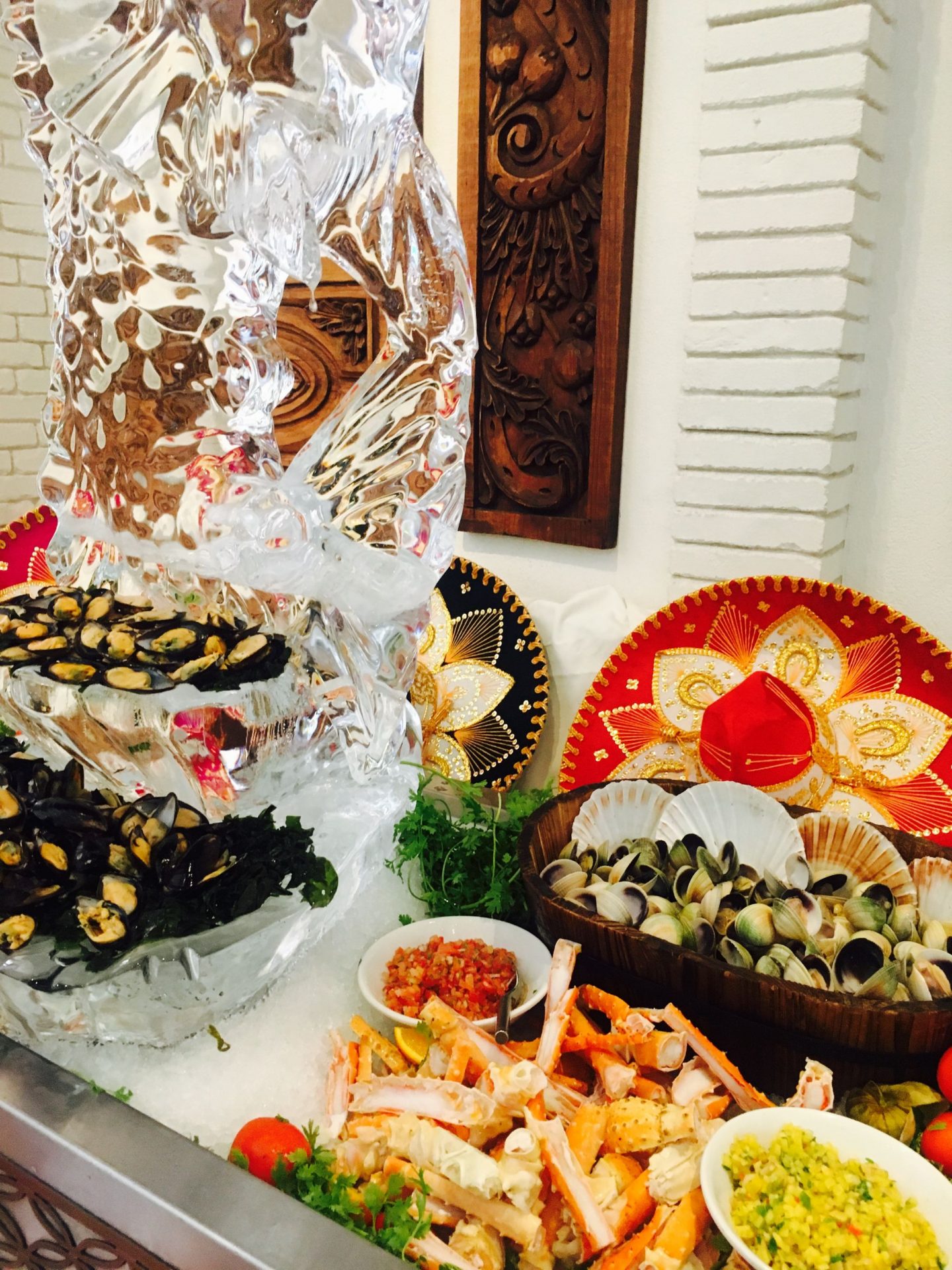 There's also, as you might expect, a good selection of mexican appetisers and mains, as well as a few desserts squeezed in for good measure.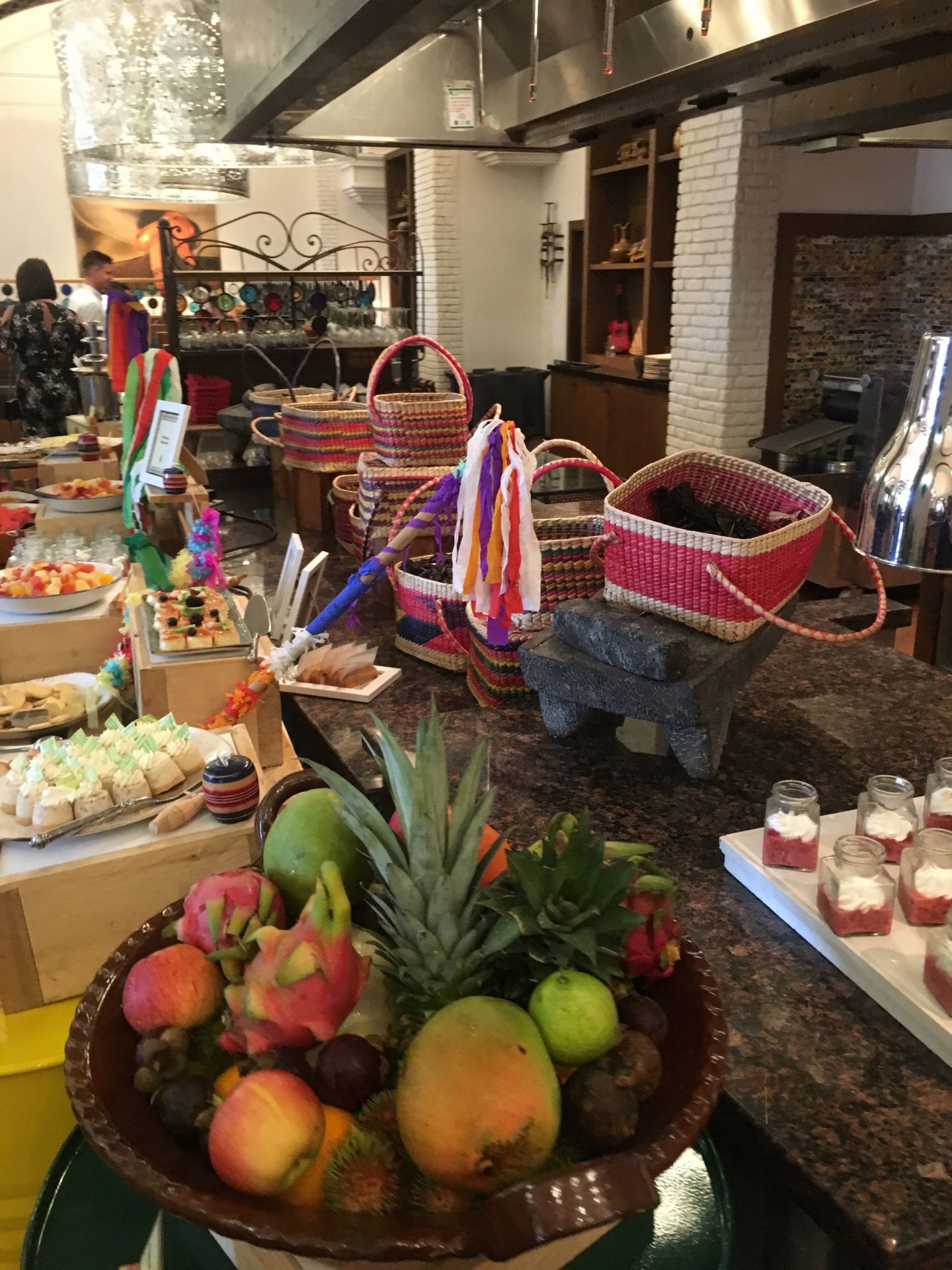 Desserts
But you'll find the majority of desserts back in Hanaaya. In a way it's good that the food options are spread out, you'll appreciate it to walk off your mains! Desserts are impressive and again there's plenty of choice. Favourites include the novelty giant doughnut wall, as well as the delicately crafted mousses in the shape of various fruits. There's also a few other novelties to look out for – such as the handmade nutella penguin bars, and macaroon burgers!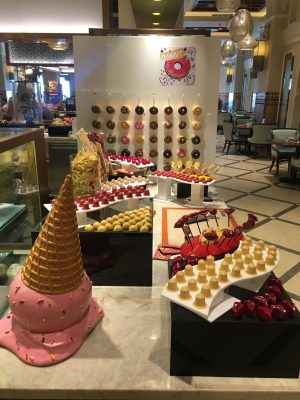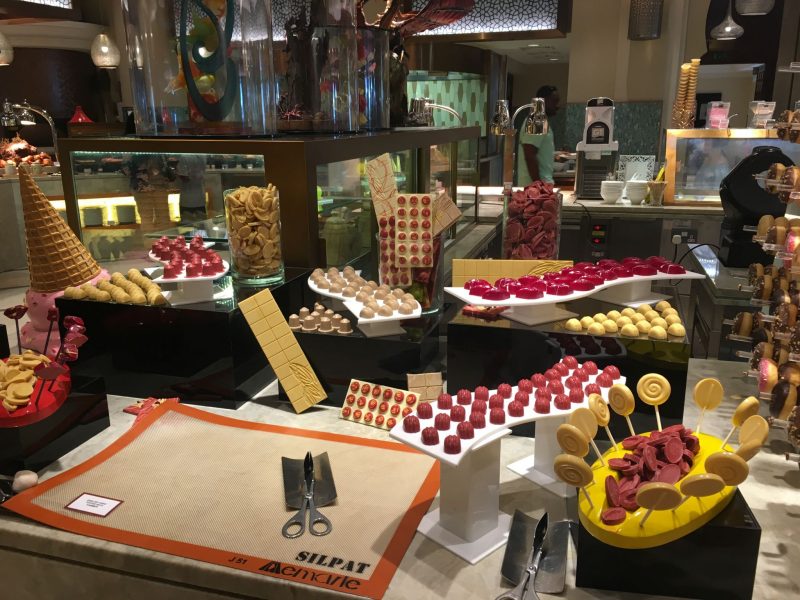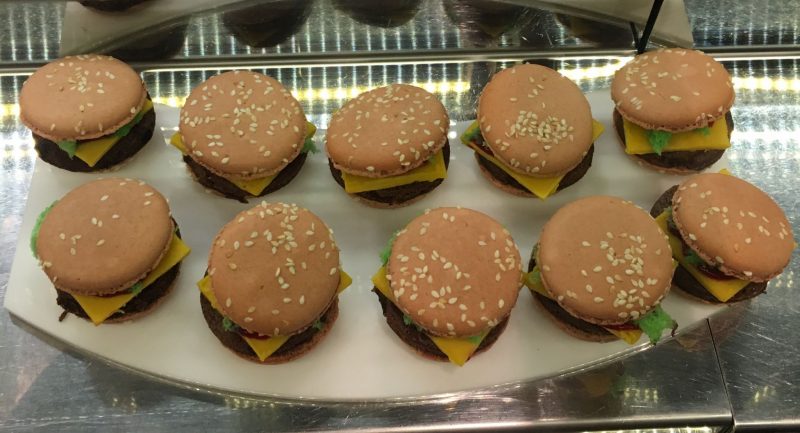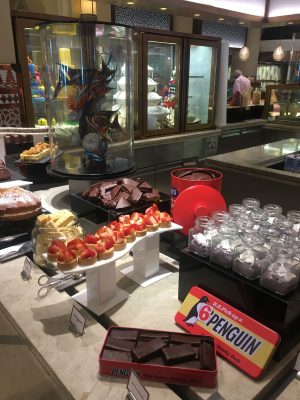 Drinks
Just like the food options, the drinks options are equally extensive. Wine is offered at the table (sparkling is included in the house package), and the rest of the drinks are available from the outdoor stalls. There's everything from your traditional G&Ts right through to Jagermeister on tap. So it really depends what type of brunch you are looking for!!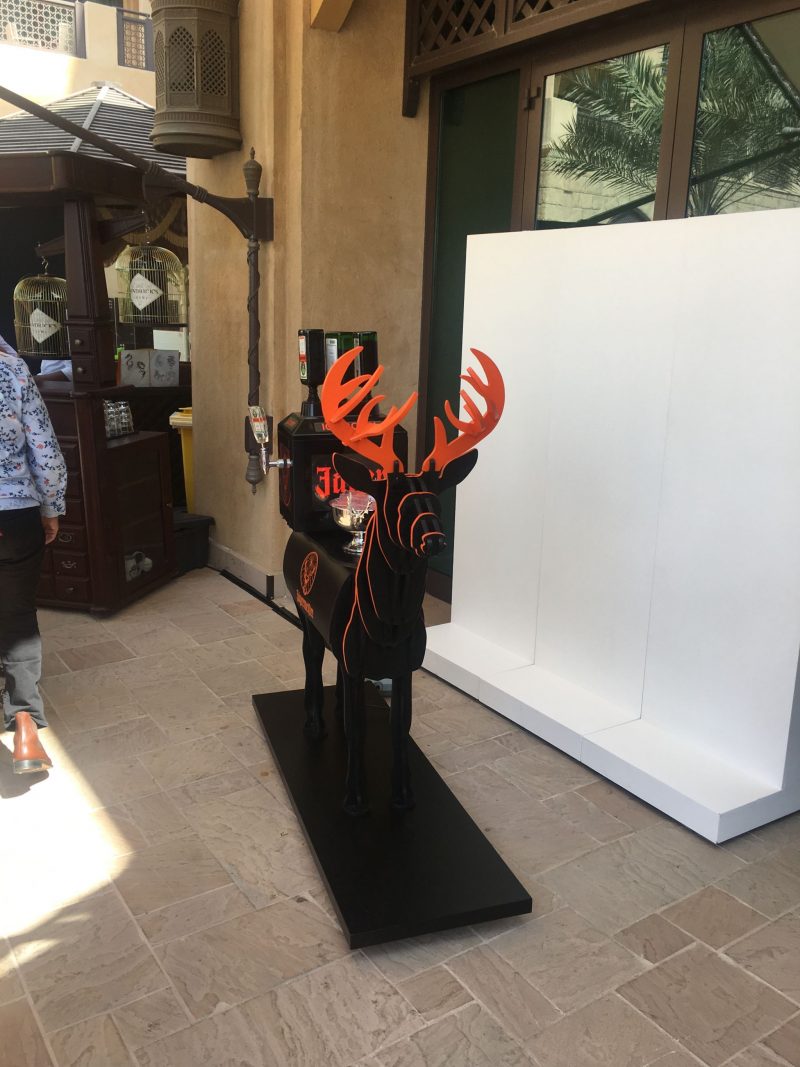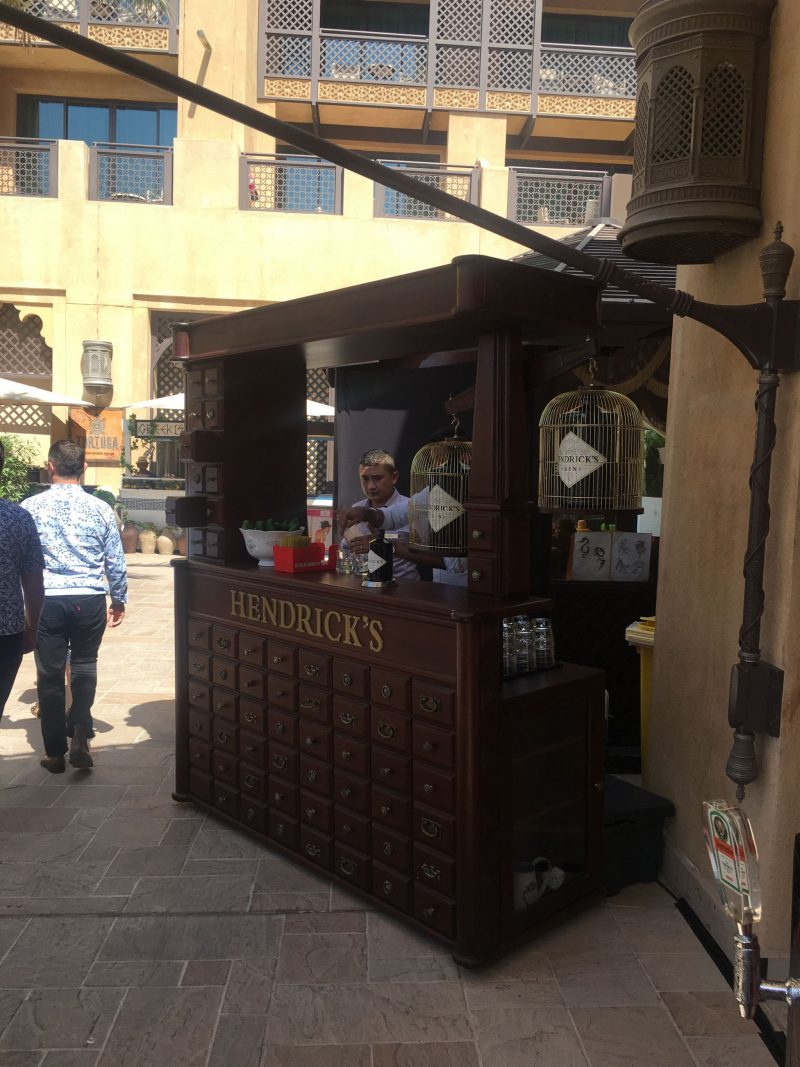 Entertainment
The Hanaaya restaurant has a band and a singer and this music is also played in Tortuga. The band are great and get livelier as the brunch progresses. This isn't a party brunch, although party goers will be easily catered for with the wide selection of drinks on offer. This brunch offers something for everyone from couples, through to families, as well as larger groups. These are my favourite type of brunches that are able to cater for all and provide a great mix of people so they don't become dominated by one type of brunch-goer only.
If you want to continue the drinks and entertainment after then you're in the right place, there's plenty of bars offering post-brunch happy hours in the Madinat complex.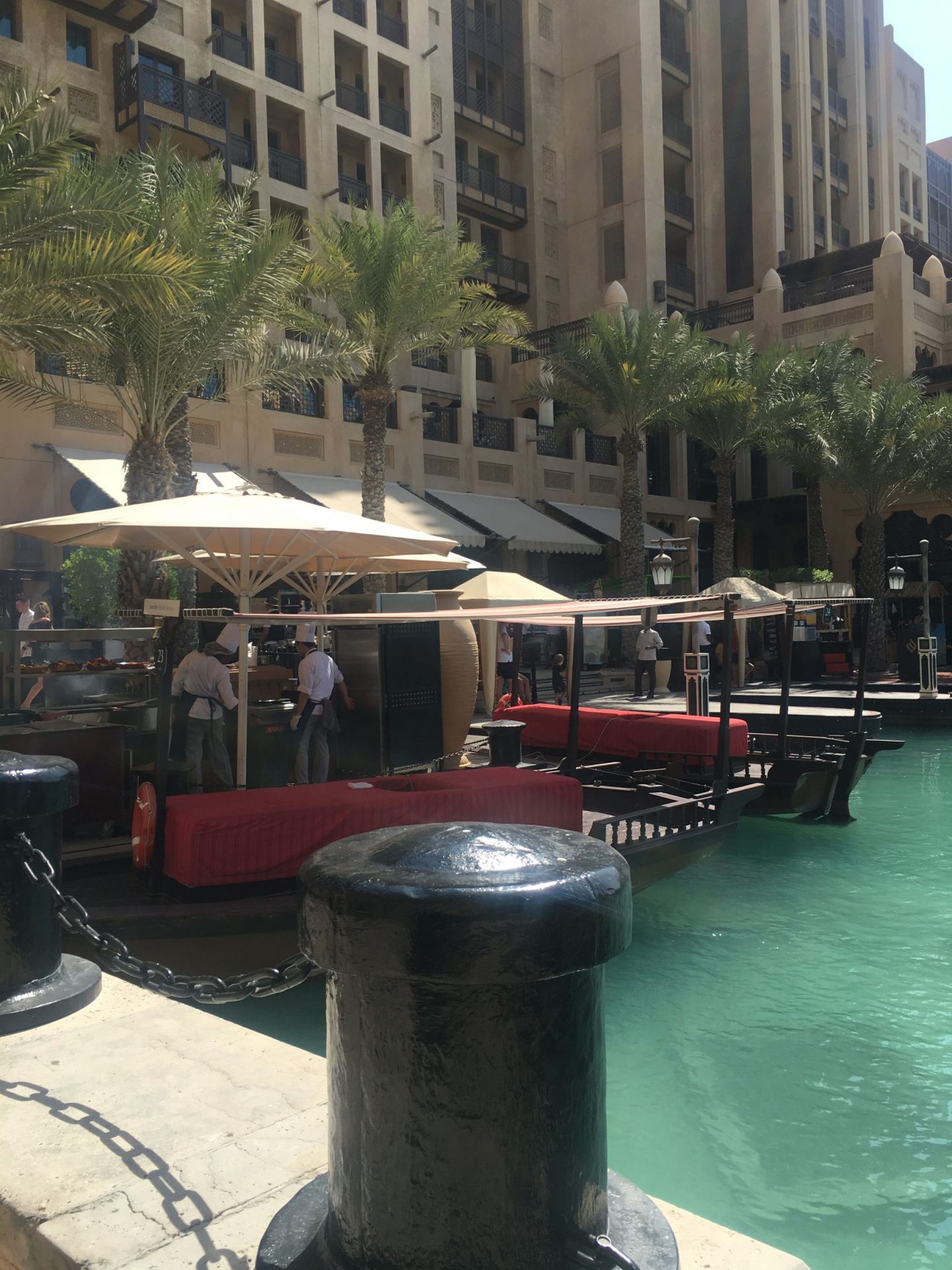 Cost
This is a top end brunch, although cheaper than the likes of Bubbalicious as well as Al Qasr. The house package here is AED 485 (compared to AED 577 next door at Al Qasr). If you want the champagne package then you'll be paying AED 585. The soft drinks package is AED 385 and children under 12 eat free.
It's worth downloading the free ISME app which offers discounts across restaurants and bars at Jumeirah properties. When we went for brunch Mina A'Salam was buy one get one free on the app making it a great deal!
Overall
I really rate the experience at Mina A'Salam. I was worried based on the standards at Al Qasr and that I'd make a comparison between the two. Whilst you do inevitably do this, I do think Mina A'Salam is a great brunch in it's own right and is able to compete both in terms of quality of food and drink, as well as general atmosphere with it's popular neighbour. It might not be quite as vast as Al Qasr (which is over 3 restaurants as opposed to 2), but I'm not sure it's worse off for it. Sometimes more choice just means more time wandering round rather than actually enjoying the brunch!
Al Qasr probably still nudges it into first place as my favourite due to wow factor, but Mina A Salam is close on it's tail and a strong contender for a great all round brunch for a special occasion.
The Guestbook's comment: "This is a great quality brunch offering a traditional 'only in Dubai' brunch experience. Definitely one to wow guests with. Also look out for offers on the Jumeirah ISME app that has discounts across the Jumeirah hotels and resorts such as 3 for 2 and buy one get one free".