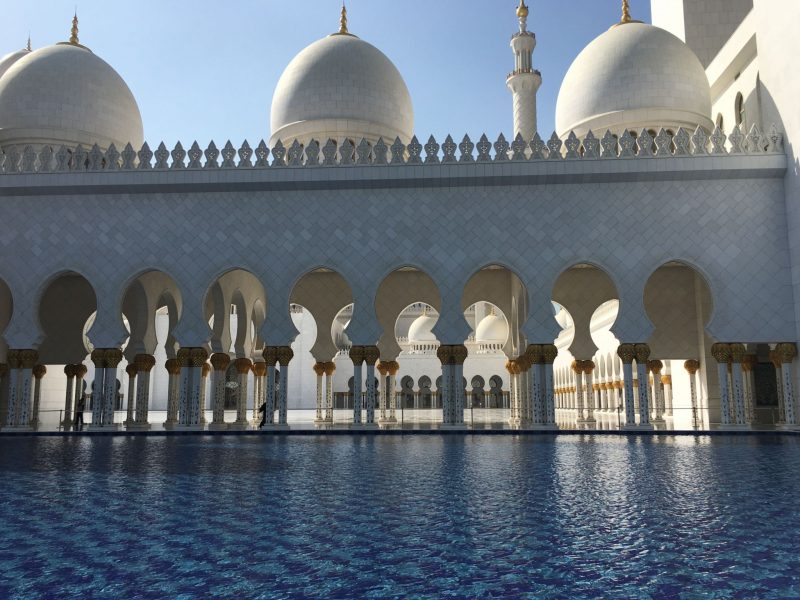 As mentioned in the things to do in Abu Dhabi post here, if you only visit one place in Abu Dhabi then it has to be Sheikh Zayed Grand Mosque.
Here's some information to help you plan your trip (as well as lots of pictures from our visit!)
Do I need to do a tour?
You can opt for a free organised tour run by the Mosque (full details on timings are on the website here). If you like to find out about a place and it's history, then you might want to opt for this. As this is a place of worship rather than a tourist attraction, there's only signs for different parts of the building, rather than signs explaining the different parts of the Mosque in great detail. You could always research it before you arrive, invest in a guide book, or opt for the above tour. Having said this we didn't do any of these things, and still found the visit amazing. The views of the building alone are stunning. 

What do I need to wear?

 
In terms of what to wear, you don't need to worry too much. It's obviously always important to respect the culture generally throughout the Middle East, (ideally covered shoulders and knees). Abayas are available for ladies though, and can be loaned free of charge at the entrance. Alternatively you'd need to wear a floor length piece of clothing and a top to cover your arms, as well as a head scarf. I'd definitely opt for the loaned Abaya as it's a lot easier. There's also men's outfits available too as men are required to wear trousers as opposed to shorts. You'll also need to take your shoes off too once in the Mosque.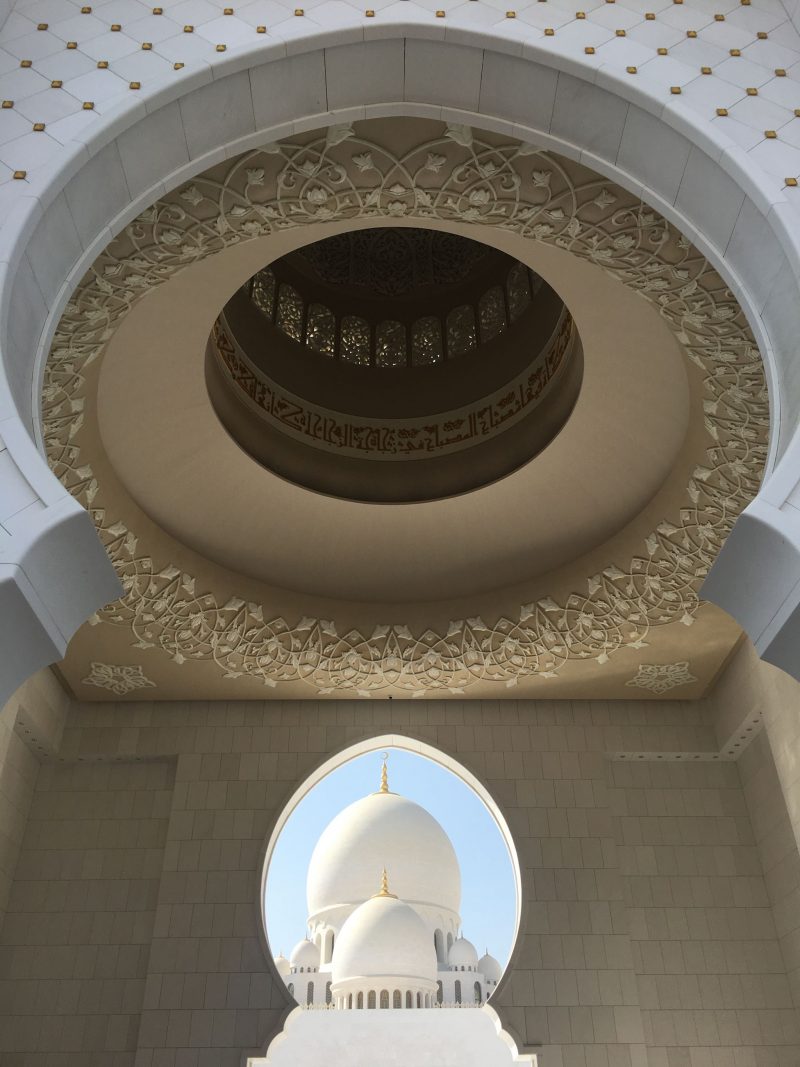 Can I take bags in with me?
Yes. There's a bag and body scanner just like the airport but it's really quick to get through. Make sure you don't bring food in with you though, as it is unlikely to get through security. Apart from this the entry process is straightforward, quick and well organised.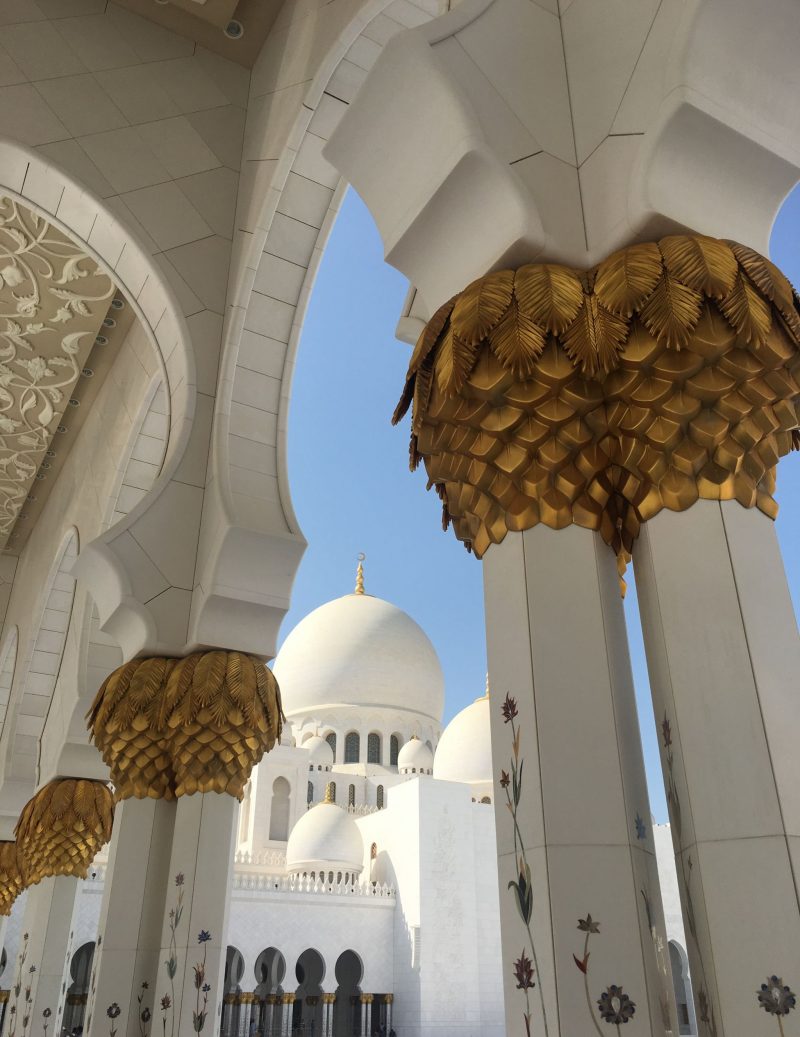 Where can I visit in the Mosque?
Once through, you can explore the outside as well as inside of the mosque. The only room that isn't accessible is the male and female prayer room which is only open to worshippers.
You do get to see the Grand Hall though. The Mosque can hold up to 40,000 worshippers so hopefully that gives you a sense of the scale of this place! Interesting fact – this carpet in the Grand Hall is one single piece! The room has lots of beautiful intricate ceilings and lights throughout, so there's plenty to look at.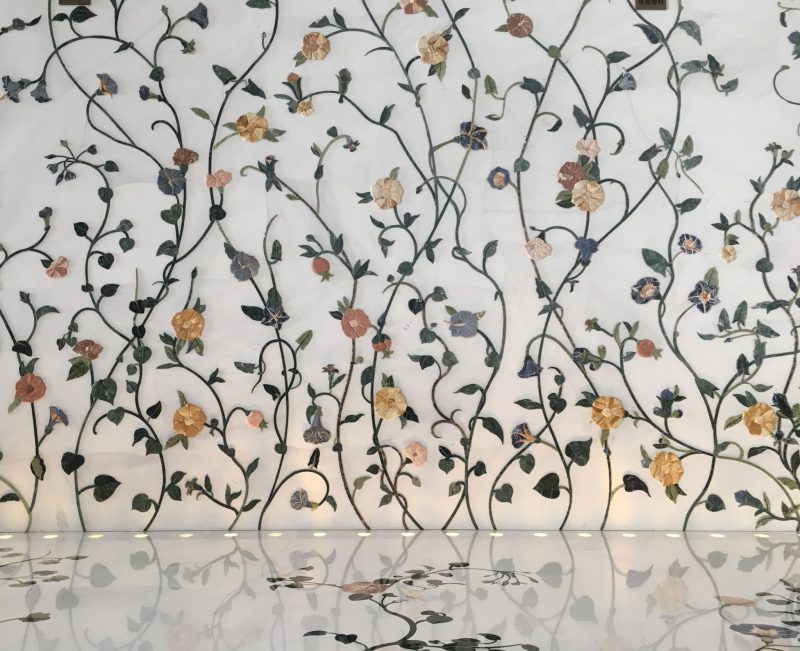 How do I get there?

 
If you're part of a tour then you don't need to worry (if it's not included in a tour of Abu Dhabi then you'll want to ask yourself what sort of tour it is!!). The Big Bus also has a stop here. Taxis are available and there's a rank just outside for the return journey. A full guide is coming soon on travelling from Dubai to Abu Dhabi so look out for this for some helpful hints too.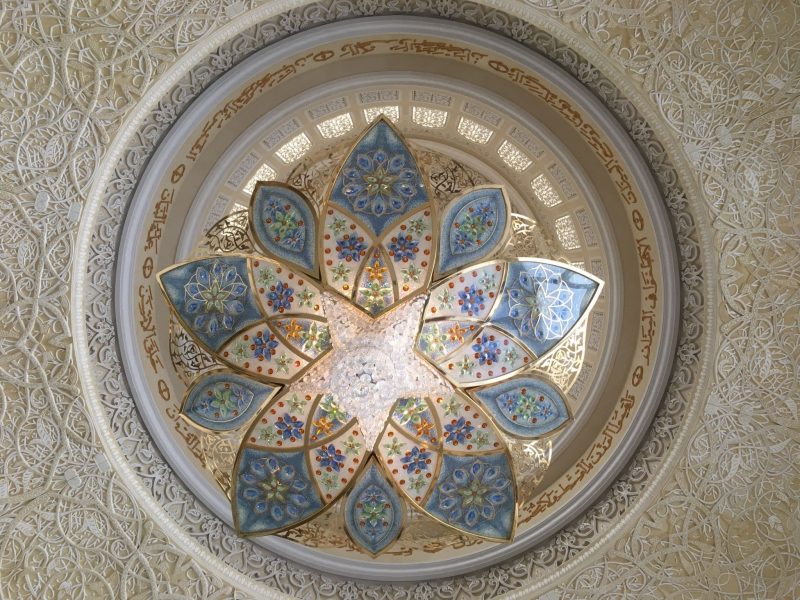 When can I visit?

 
Sheikh Zayed Grand Mosque is open everyday apart from Friday when the Mosque is closed for Friday prayers and worship until 4.30pm. You can also visit in the evening as well as the day to get a different view of the building which I imagine would be spectacular. Check before you go if your visit happens to clash with a religious holiday as changes to opening times might vary. Also try and avoid just before prayer time if you can when there is more likely to be a queue to enter. Look online for the latest prayer times which are published daily.
Is there an entry fee?
No, the Mosque is free of charge.

Guestbook's message:
"The Sheikh Zayed Grand Mosque is definitely a must visit in Abu Dhabi and a worthwhile trip from Dubai too – we would recommend adding to your itinerary!"
No freebies have been offered or provided by any of the establishments featured in this post!