We went to Abu Dhabi over a weekend, but it's also an easy day trip from Dubai depending on what you want to cover during your visit.  There's a post coming soon with the full details on how to get there but for now let's start with why you should consider going…
Abu Dhabi is essentially lots of islands connected together and its big!!! It's a lot more spread out when compared to Dubai so assume a good 20-30 minutes to travel between locations. Despite this, it definitely has some great sights to offer and is certainly worth a visit. Here's my top picks:
Must see: Sheikh Zayed Grand Mosque
If you only see one thing in Abu Dhabi make it the Sheikh Zayed Grand Mosque. To say it is stunning is an understatement. I took about 100 photos and I'm still not sure I did it justice! You don't need to go book as part of a tour in advance and entry is free. The whole process is very well organised. I'm going to have to dedicate a separate post on this place with more info and some FAQs (coming soon!)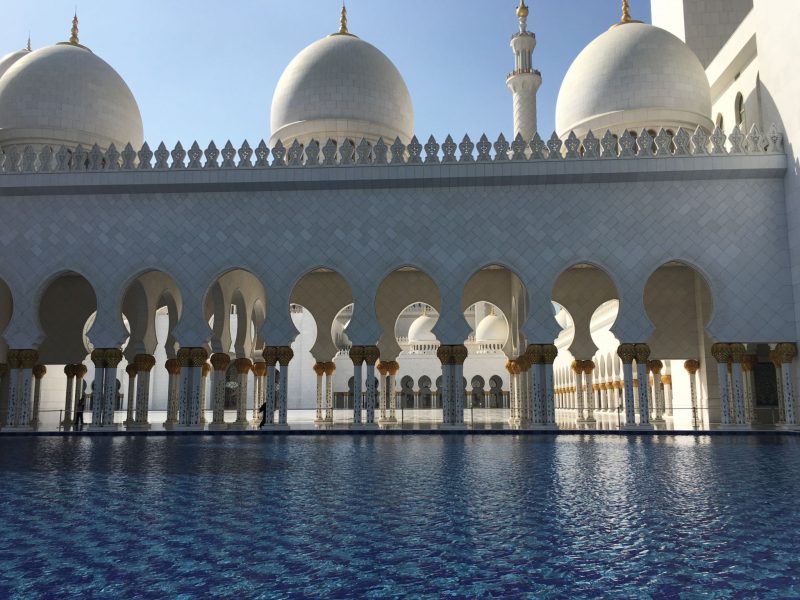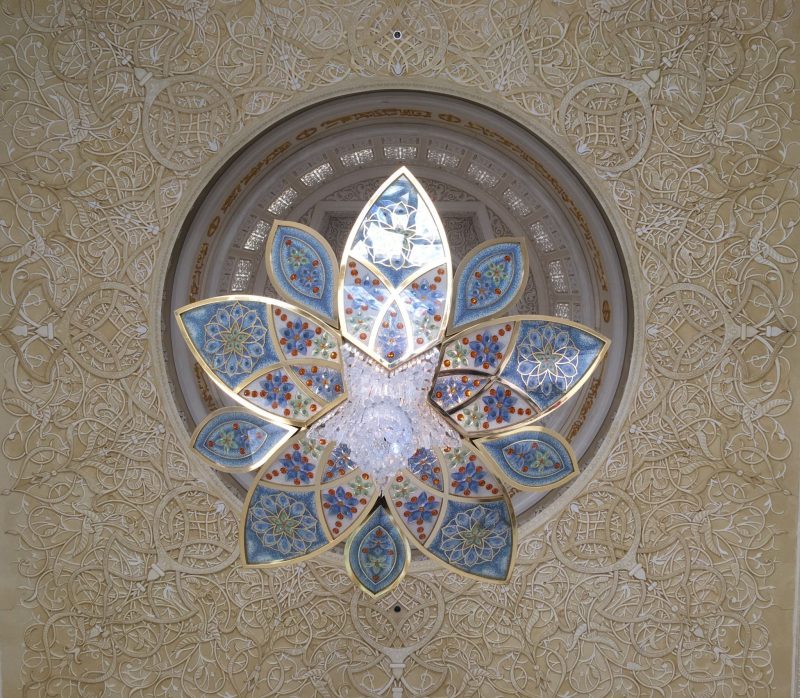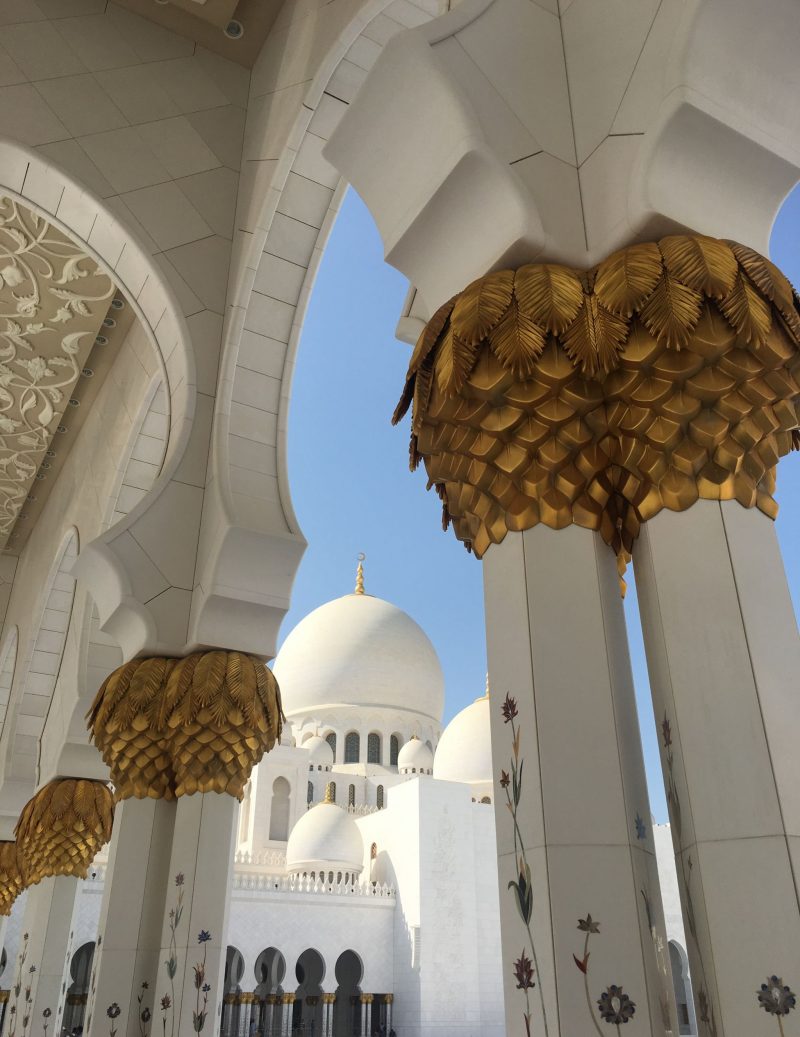 For sheer luxury: Emirates Palace
Another impressive site in Abu Dhabi is Emirates Palace. A very luxurious hotel a stones throw from the actual presidential palaces. (You can see them from the window of the hotel!!). Outside of the hotel are some pretty fountains and a great view of the Etihad towers and surrounding hotel skyline.
You don't need to eat or drink in the hotel to get in (although I'm sure that would be lovely too!). You do need to get passed the security gate. We were told that tourists were not allowed on a Friday. But our hotel concierge very kindly told us to say we were meeting friends who were staying there so it wasn't a problem. Good tip to note! Once inside you are free to have a wander and there's a number of small exhibitions. You can't go outside, that's reserved for guests, but getting a few pictures from the front is well worth it!
For a stroll: The Corniche
Near Emirates Palace and Marina Mall is the start of the Corniche walkway in Abu Dhabi. This forms a series of footpaths running close to the sea stretching for miles. I had high hopes for this walk based on reviews, but if I'm honest I was a bit disappointed when we visited in the evening. Sure it's good for a stroll but there's lots of construction and improvement works on the beach at the moment so larger parts are blocked off. I think we were also expecting more cafes and restaurants rather than a walkway. Having said that, perhaps didn't walk far enough. All in all I probably wouldn't rush back or I'd try to avoid the construction section.
For the views:
The observation deck in the Etihad Towers will give you a good view of the city. The fee to visit is pretty reasonable (AED 75 so around £12). £10 of this is redeemable on food and beverages too. Another place for a drink with a view is Ray's Bar in the same Tower. This is more of an evening affair because it doesn't open until 7pm but is good for sundowners and snacks. A bit lower down, but still pretty good for a view is Azura Panoramic. Based in the St Regis Hotel, there's lovely views over the Corniche, Marina Mall and Emirates Palace. 
Nature lovers:
Mangroves
Something that is definitely unique to Abu Dhabi is the vast areas of Mangroves which came as something as a surprise to me and not something I'd naturally think of alongside the desert! These intriguing mangrove provide a series of canals over a vast area and are worth exploring. The only way you can really do this is by kayak and there's lots of tour operators who offer 2-3 hours guided kayak tours. We ran out of time for this but I'd definitely like to do it when I visit again. 
Beaches
Just like Dubai, Abu Dhabi is home to some beautiful beaches and might actually win in the beach battle due to its very white sandy beaches, and clear waters. There's a few areas which are home to these beaches, but Saadiyat Island is probably a favourite. Again, some distance from other sights, Saadiyat is home to the other St Regis Hotel, as well as the recommended Saadiyat Beach Club. Both are open for day guests but they don't come cheap (AED 250 for Saadiyat Beach Club).
An alternative is the public beach which is a more reasonable AED 25 per person with beds and umbrellas available for rent at around AED 100 for 2. There is a far amount of hotel development on this stretch of coastline so it's perhaps not as idyllic as it once was, having said that it's still a pretty amazing beach.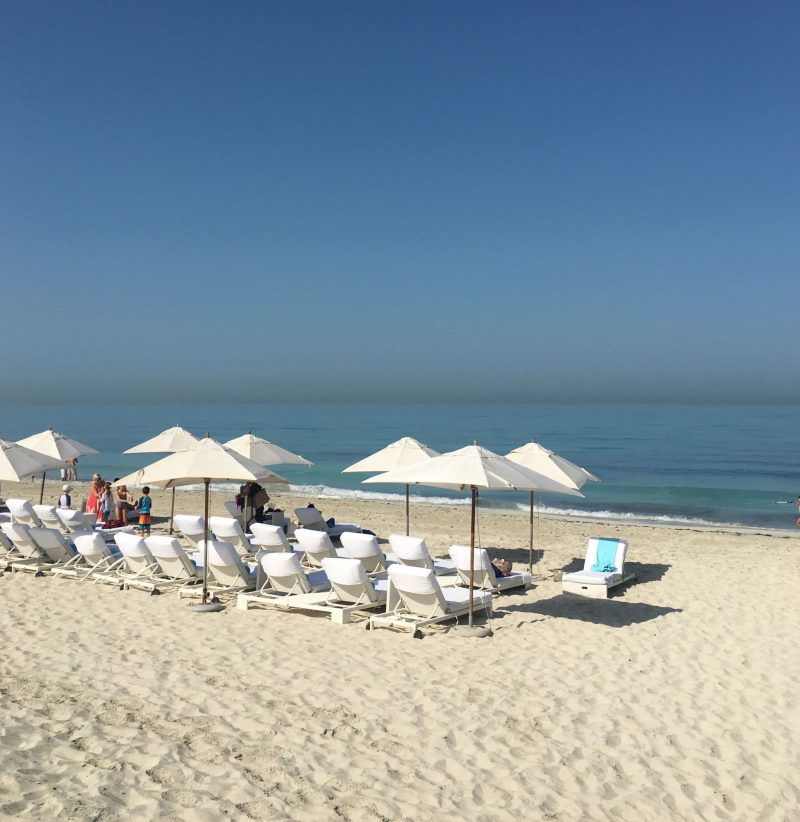 For the shoppers:
I'd save your shopping for Dubai, but if you can't resist there's a few options such as Marina Mall and the newly opened Al Maryah island which has some good restaurants close by such as Coya and Zuma, as well as the Four Seasons and Rosewood hotels. If you're over on Yas Island already then you might want to visit Yas Mall which also has a wide selection of shops. I don't think any of these malls compete with the likes of Dubai Mall or the Mall of the Emirates in Dubai though.
For a more traditional shopping experience you could also visit the Souks. One of the Souks (Qaryat Al Beri) is across the water from the Mosque and has a number of restaurants. Bear in mind it might be quite quiet if you're heading there in the day. There's also the Old Souk towards the end of the Corniche, as well as various smaller Souks (gold and carpet) slightly further a field.
Thrills seekers:
Yas island has it all if you're looking for thrills. Ferrari World, Yas Waterworld, as well as being home to the F1 Marina Circuit. It is a good distance from the centre of the city and it's the closest part of Abu Dhabi when you arrive from Dubai so it's an easy destination to reach. There's also a whole host of restaurants and hotels. We didn't make it to Yas Island as we wanted to explore other sights in Dubai but if water parks and rollercoasters are your thing then you can't go too wrong, although Dubai has great options too!
Guestbook's message: "As well as being a destination in it's own right, Abu Dhabi is also an easy trip from Dubai if you want to explore the capital. It has lots of offer but plan ahead as it is spread out so takes time to get between places."