Updated: 2nd August 2018
Considering Istanbul but limited on time? Here's a guide on how to make the most of this beautiful city if you're short on time.
This post includes:
2 day Istanbul itinerary – Jump to section
Where to stay in Istanbul – Jump to section
When to visit – Jump to section
Getting there – Jump to section
Getting around Istanbul – Jump to section

What to see and do if you have more time… – Jump to section
2 day Istanbul itinerary
I've visited Istanbul twice now and both have been relatively short trips with a one night stopover and my second trip being for only two nights. Although it's a big city, there's still a lot you can see and do in a short amount of time if you use your time wisely. Here's a guide to some of the highlights and how to spend two days in Istanbul…
Day One – 
Historic Istanbul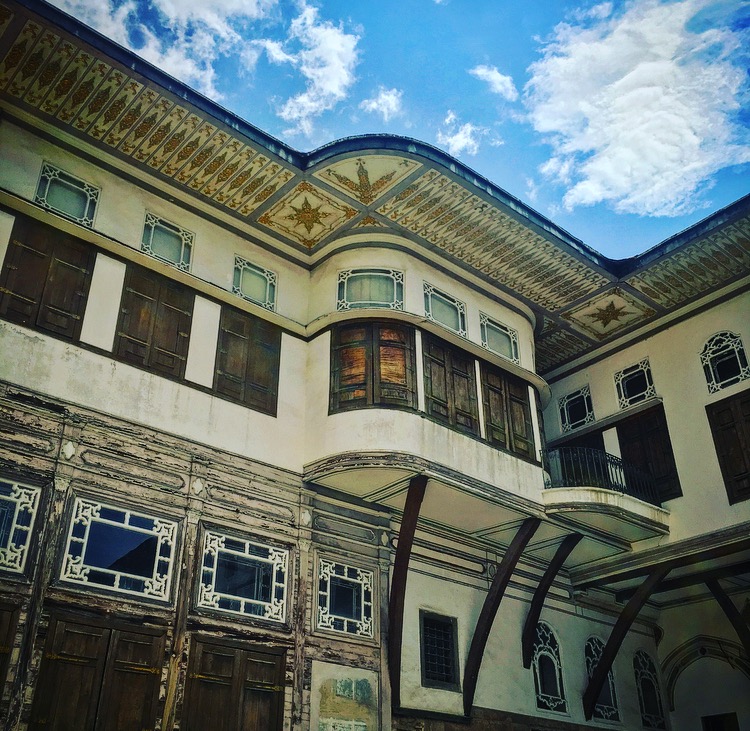 Historic Istanbul (the Sultanahmet area of the city) has so many sights on offer from the stunning Topkapi Palace, Blue Mosque, Sofia Hagia and the Basilica Cistern. Nearby you'll also find the famous Grand Bazaar and Egyptian Spice Bazaar. Even walking around historic Istanbul is a treat in itself with views over the Bosporus and lots of beautiful buildings.
Advice here is to start early! Depending on where you are staying in Istanbul you might want to make use of the excellent public transport (more on the options below) to get to this area. Day one could be dedicated to Historic Istanbul which is overflowing with amazing sites which are all conveniently located in close proximity to each other.
9am (if you can!) – Hagia Sophia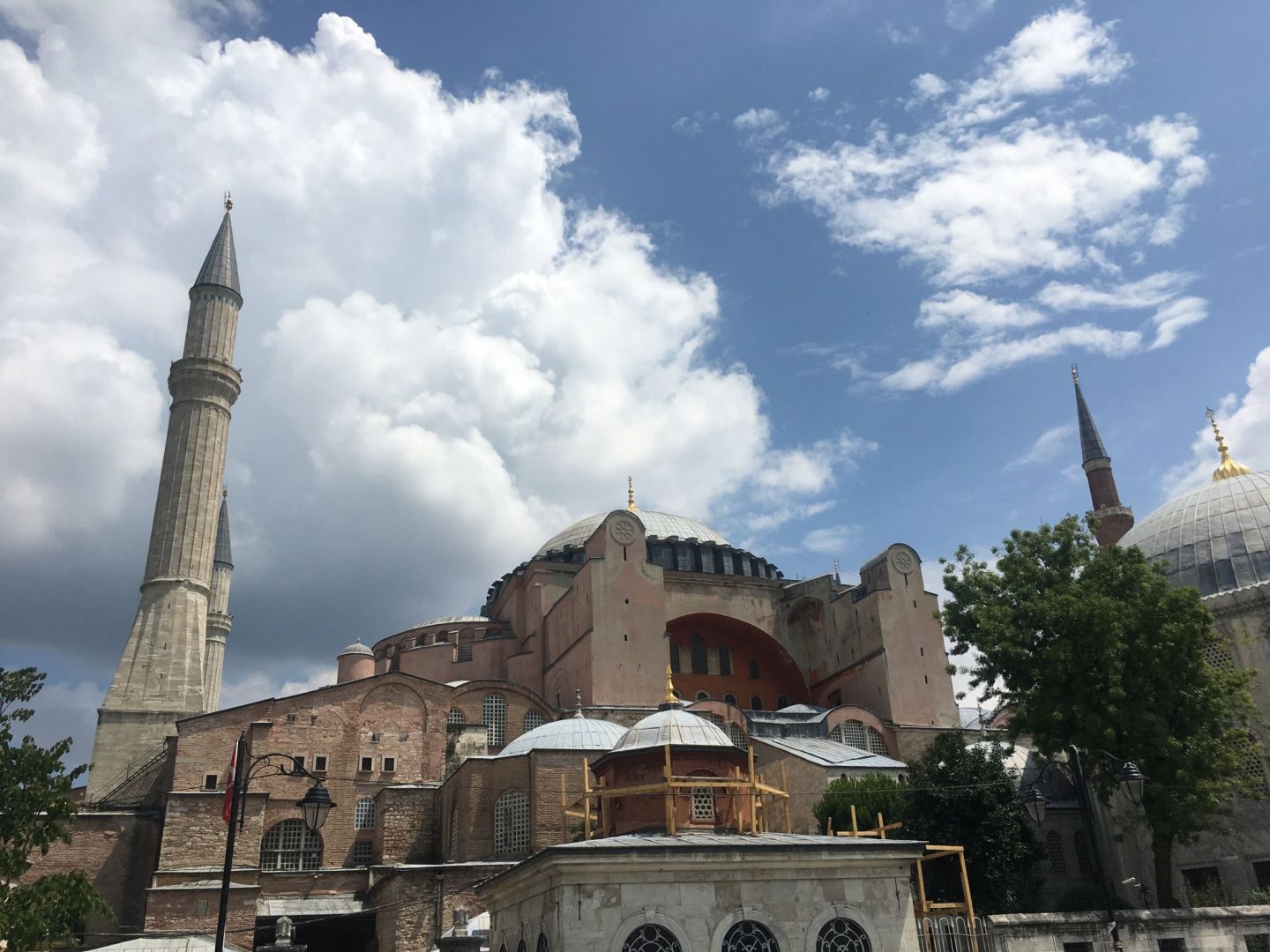 Start with the magnificent Hagia Sophia to avoid the queues which build up quickly especially in the summer months. It opens at 9am throughout the year and it's generally a bit quieter in the morning in terms of queue times (for information on opening hours see their website).
Built in 537 and originally a Church, the building was converted to a Mosque in 1453 during the Ottoman era. It's current form is a museum which was created in 1935 by the founder of the republic of Turkey and the first Prime Minister -Mustafa Kemal Ataturk. With it's Christian and Islamic heritage Hagia Sophia is incredible and influence from both religions can be seen in the relics that exist today. There's also a great view of the Blue Mosque (another must see sight!) from the second floor.
11.30am – Blue Mosque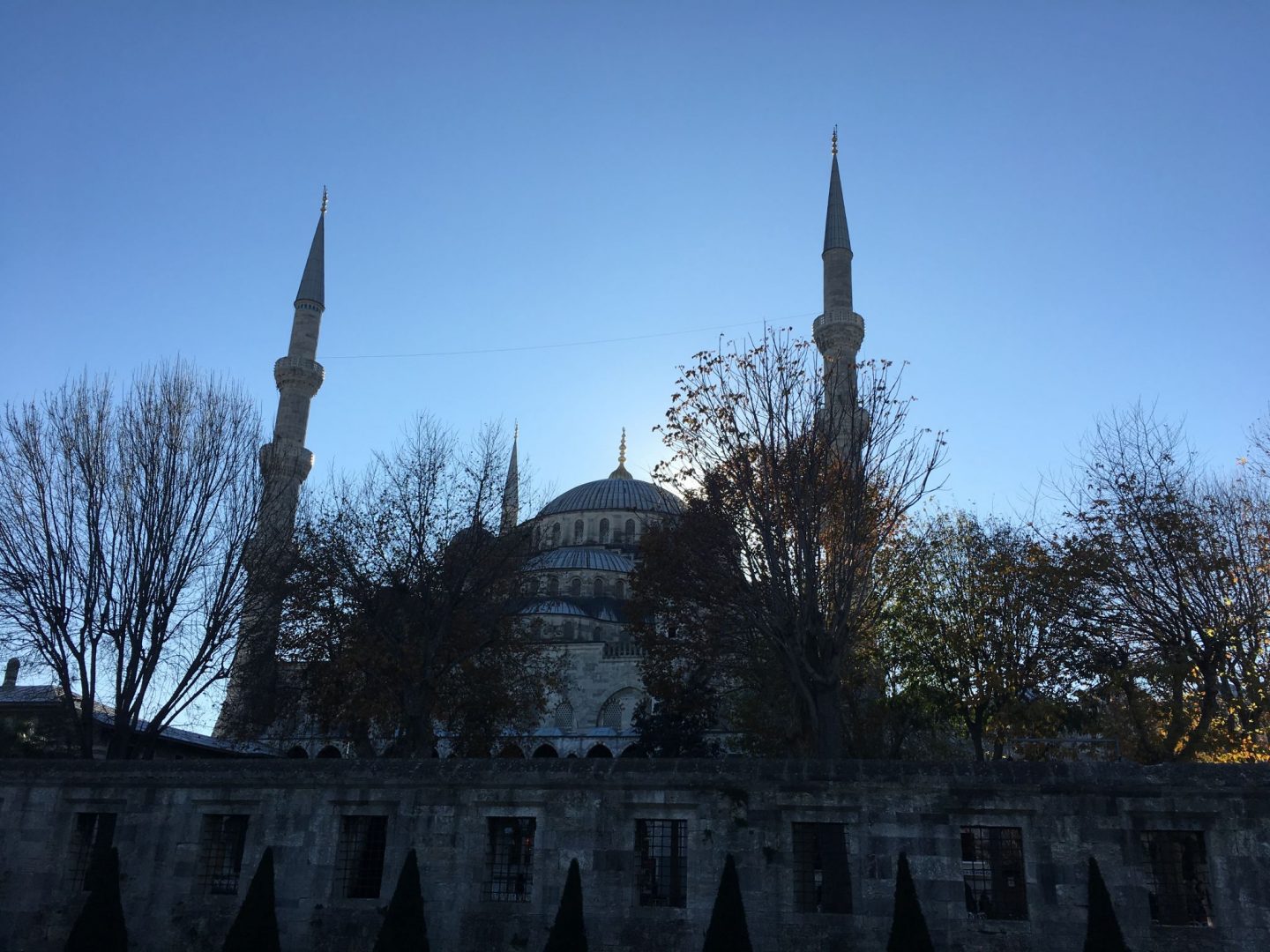 Make a note of prayer times when visiting the Blue Mosque. Whilst the Mosque is open to non-Muslims it is closed during prayer times so check ahead to avoid this time of day.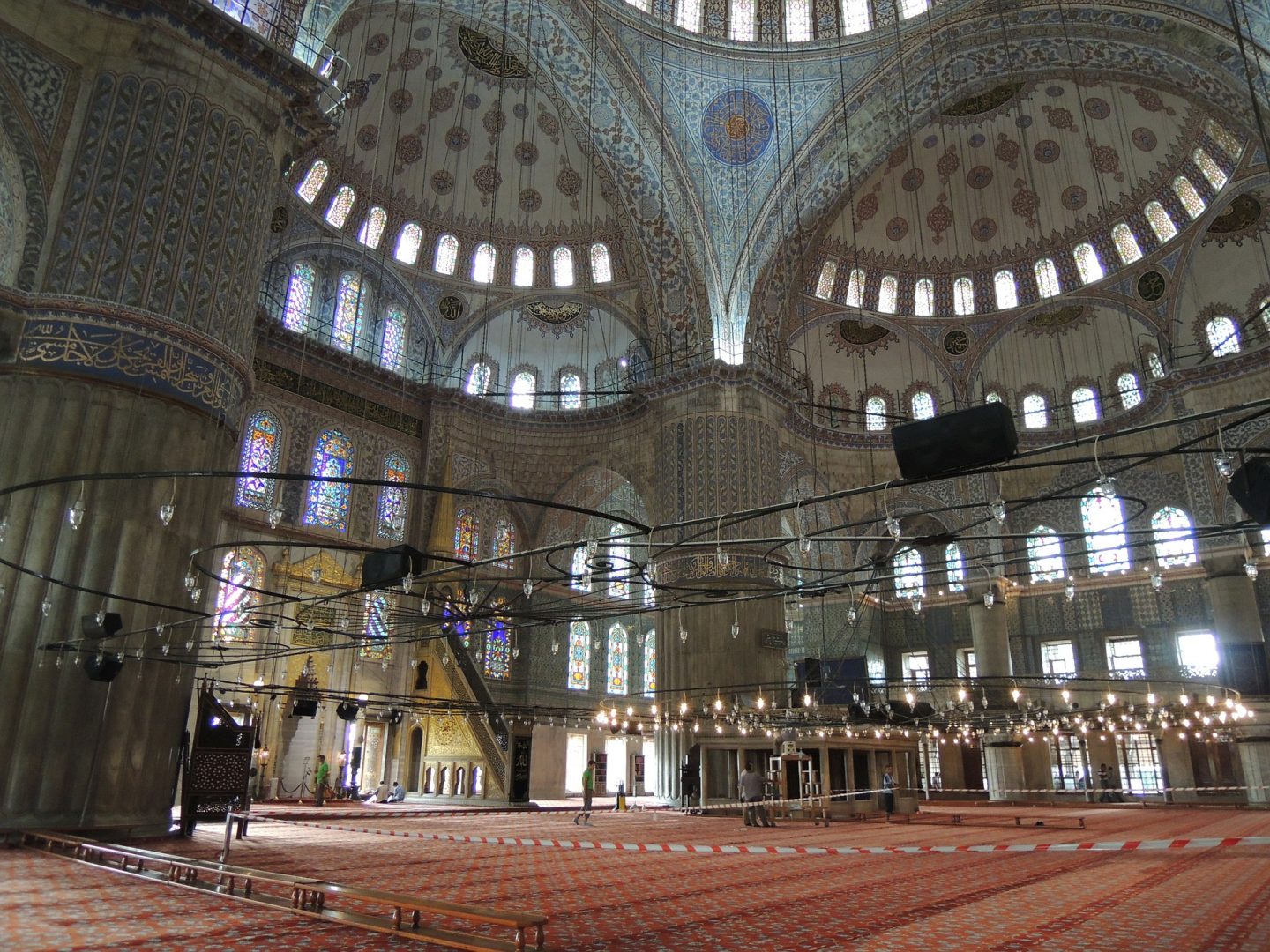 The Blue Mosque is just across from Hagia Sophia and is an impressive site with it's blue name originating from the blue Iznik tiles used in the construction of the building. The building also has 260 stained glass windows! You need to dress appropriately for the Mosque (so covered legs/arms and head for ladies and no shorts for men), but you can loan items of clothing near the entrance if you need to. There's more information on planning your visit here.
12noon – Lunch and a visit the Grand Bazaar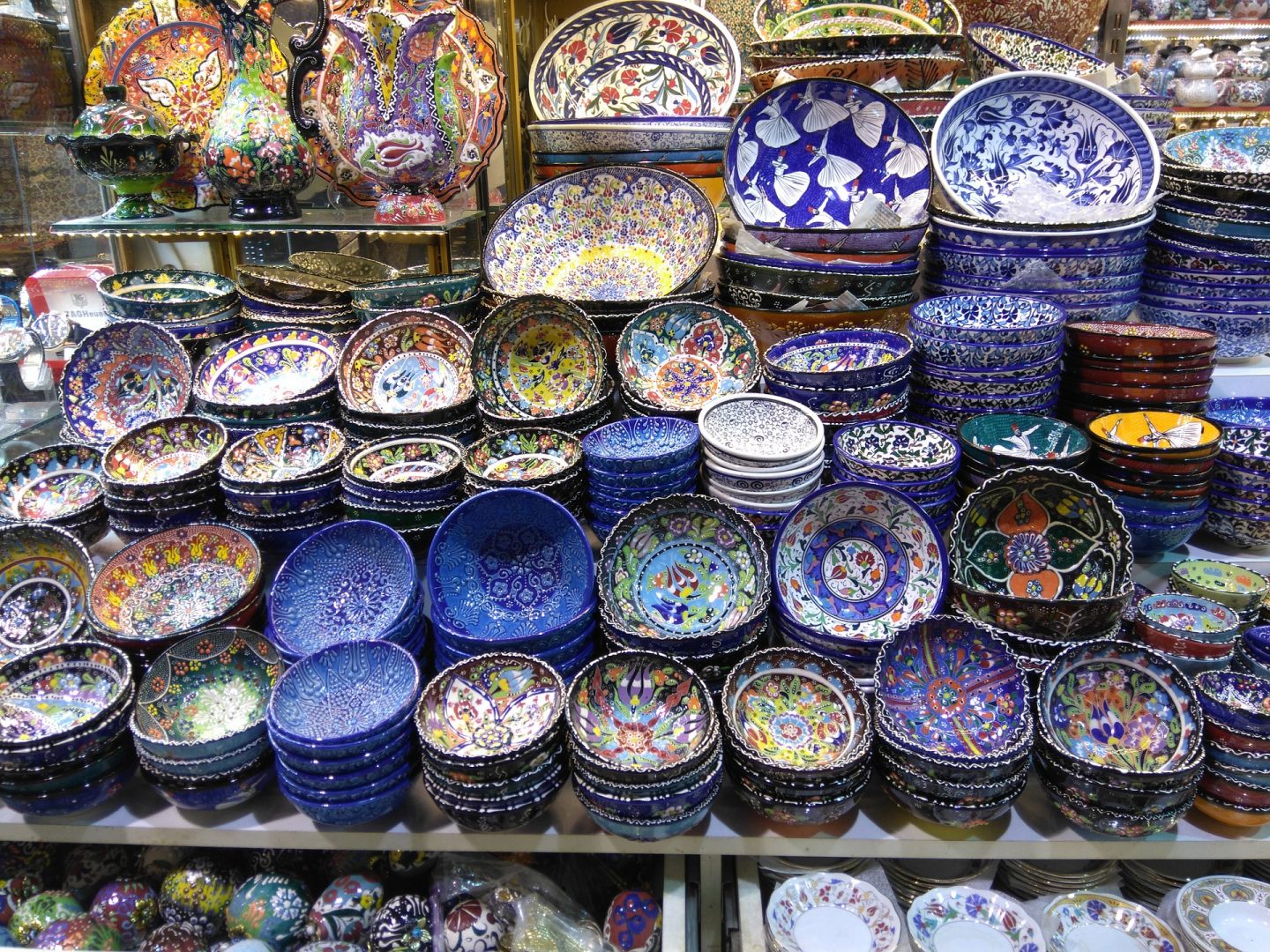 A short walk from the historic sights is the Grand Bazaar. Founded in 1461 you could spend a day if not days wandering the 60 streets (over 4000 stores!) here so if you're a shopper you might want to re-think some of the other sights to accommodate more shopping. If you want to just get a flavour for what's on offer then you can take stroll through the hustle and bustle which really is a feast for your senses. If you're going to buy anything it goes without saying that haggling is king here, so get practising! The Grand Bazaar can be a bit overwhelming with traders vying for your attention. Having said that, it's definitely worth a visit.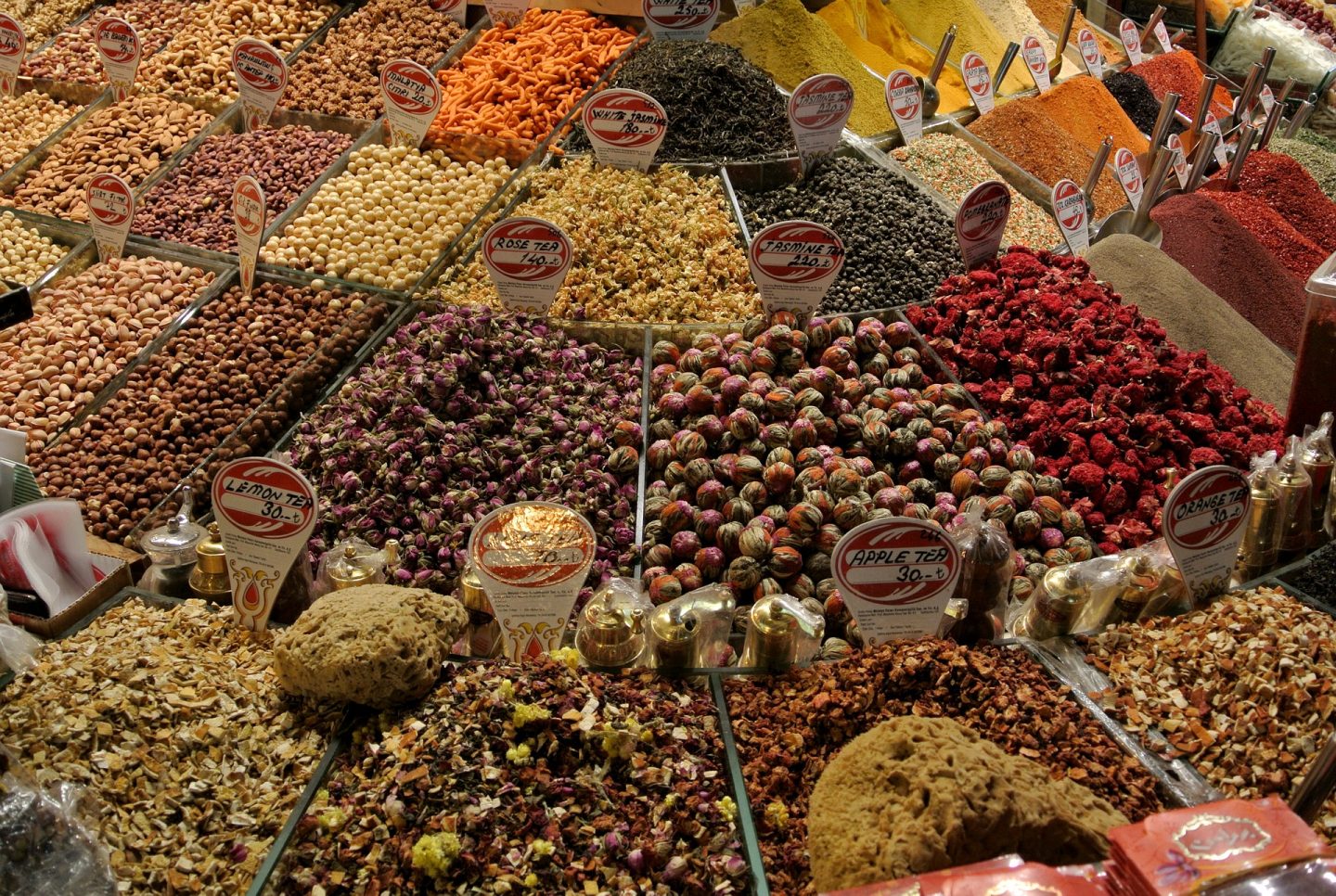 There's also the Egyptian Spice Market which isn't quite as overwhelming in size but can be in terms of offers to buy but again it's a must for smell alone! This was the last stop of the camel caravans that travelled on the Silk Road route so has lots of history too.
2pm – Basilica Cistern
Back to the sites and if you've had an early lunch then you should find the Basilica Cistern slightly quieter over this period when most other tourists are grabbing a bite to eat. It's also a good time to visit if you're in Istanbul in the summer because it offers a break from the midday heat! Like the rest of the attractions in Historic Istanbul, Basilica Cistern is conveniently located amongst the other sites.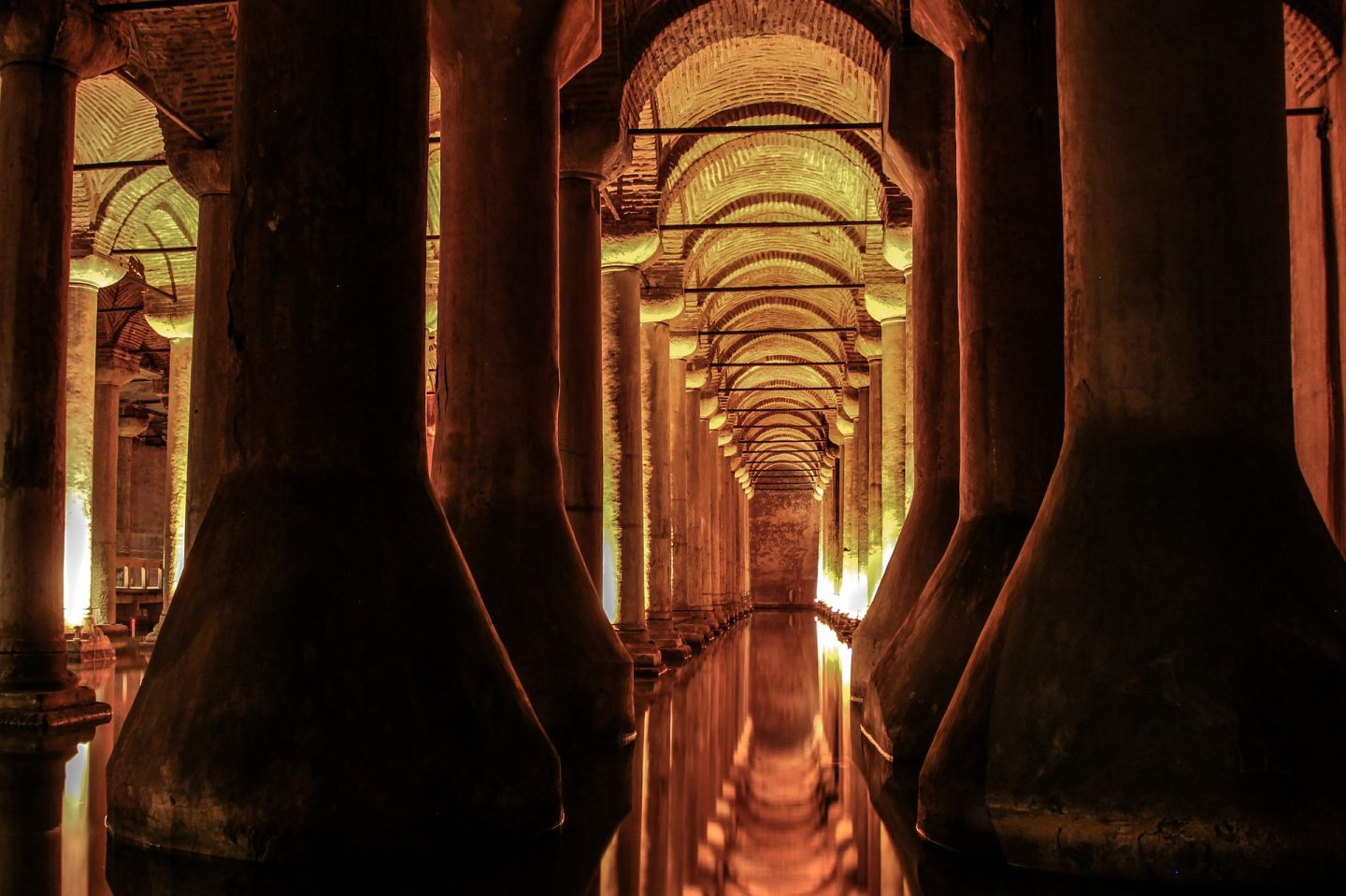 My first question about the Basilica Cistern was what actually is it?! The answer is an ancient underground water chamber which might not sound that impressive until you visit. The Basilica Cistern is the largest in Istanbul and is made up of 336 marble columns. As it's underground it's very atmospheric and pretty incredible (and of course cool!). Make sure you look out for the Medusa's heads at the bottom of two of the marble columns towards the back of the cistern. Their origin remains a mystery.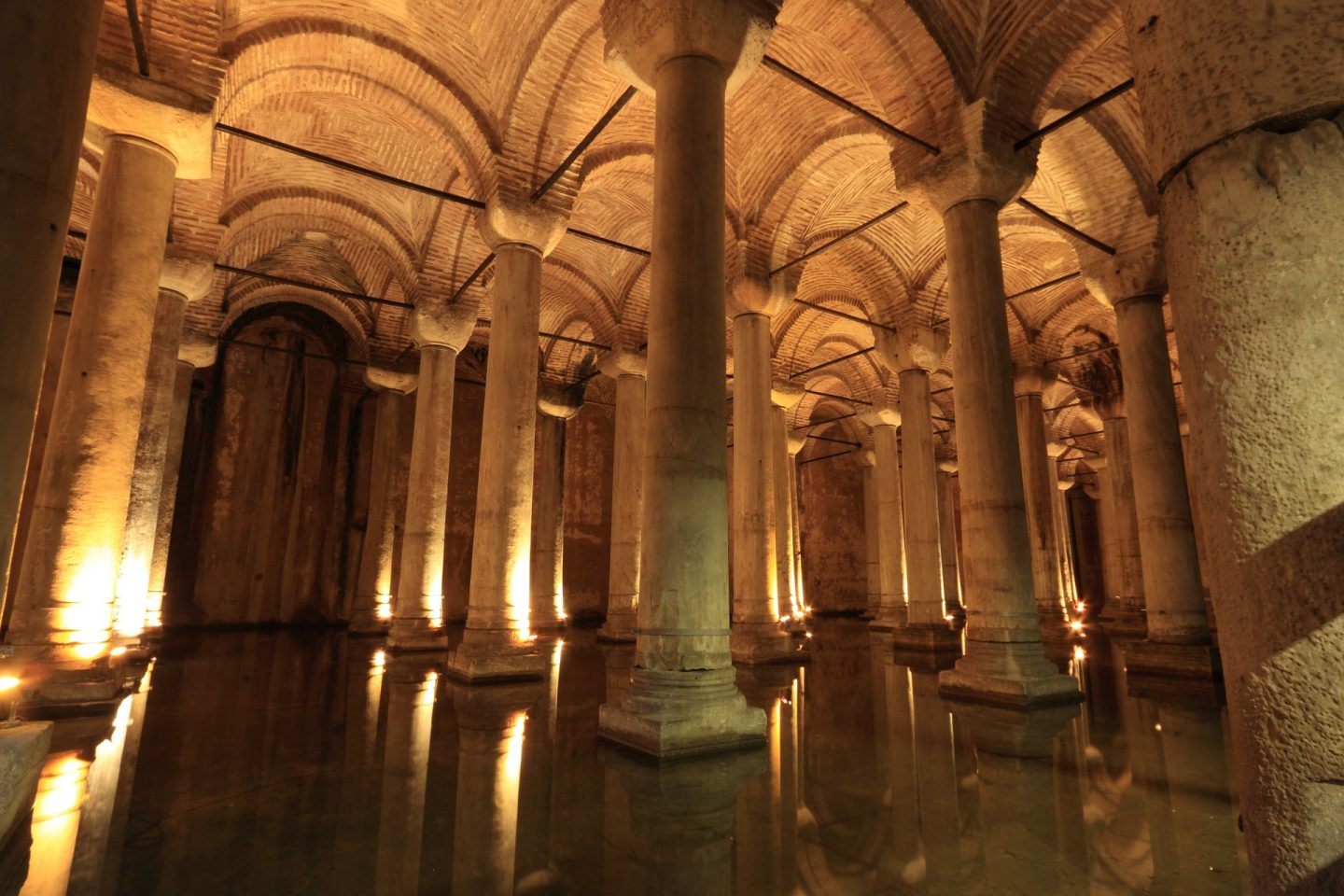 This site can be seen in a relatively short amount of time (30 minutes – 1 hour). It closes at 5.30pm in the Winter months and 6.30pm in the Summer months.
3pm – Topkapi Palace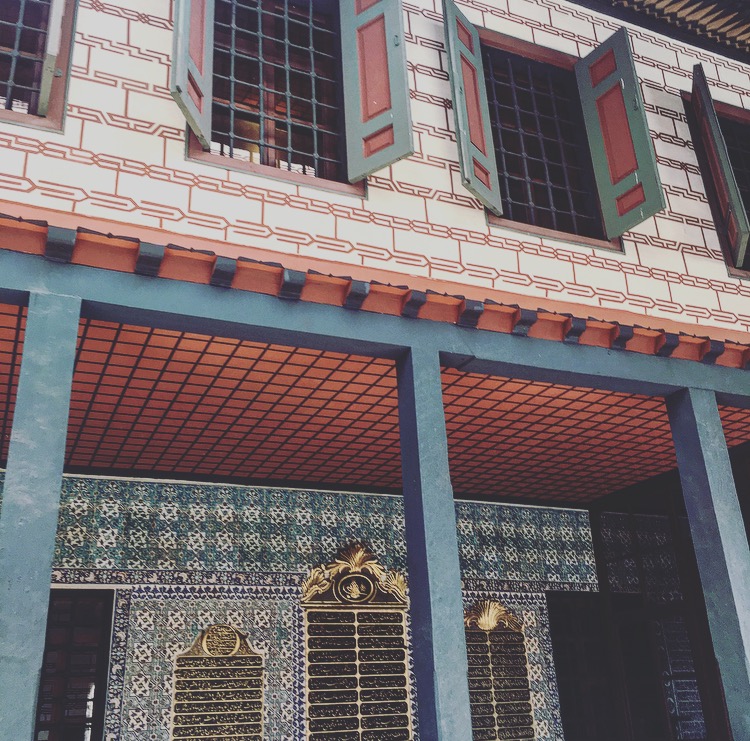 Once you've cooled off, take a short walk to Topkapi Palace. Here there's the option to get tickets just to the Palace or pay extra to include the Harem. For the additional cost I'd definitely make sure you include the Harem in your tour.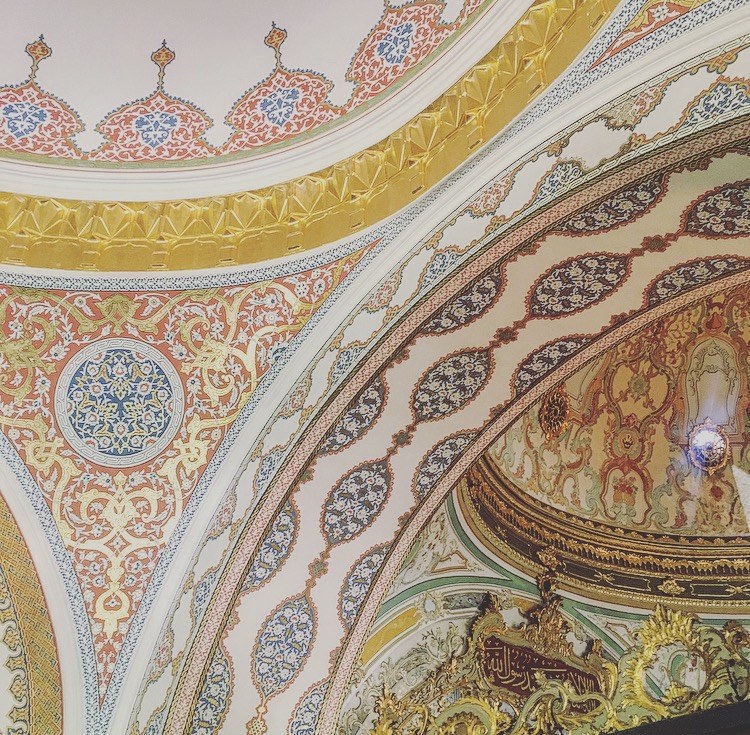 This palace is one of the most important of the Ottoman Empire era and was home to over 30 sultans for nearly 600 years when the Ottomans had control over large swaths of Europe and the Middle East. The area is vast and there's a great vantage point with views over the Golden Horn and towards the Asian side of Istanbul.
The Harem was the residence of the Sultans and is still in brilliant condition with so many beautiful Iznik tiles throughout (expect to take a lot of photos here!!)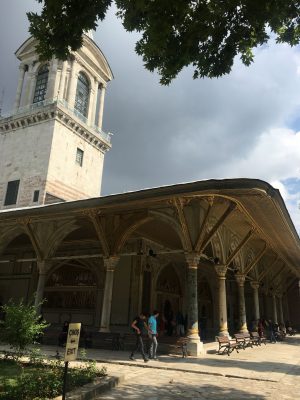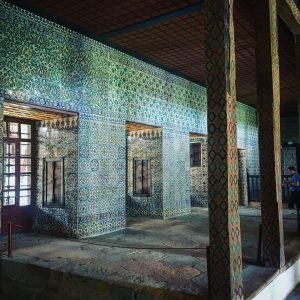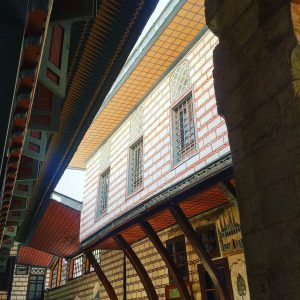 You probably need about 1-2 hours in the Palace depending on how much you want to see. In Summer the Palace is open until 6.45pm but it closes earlier at 4.45pm in the Winter season (October – April) so bear this in mind when planning your trip. For full details visit the website. 
Evening – Relax and dinner
After an action packed day you'll probably want to rest your feet!! If you're staying in Sultanahmet and want to stay close to your hotel then there's plenty of options. Note this area generally gets quite quiet at night so isn't for the party animals but does have some good places. We opted for Roof Mezze 360 (full details here).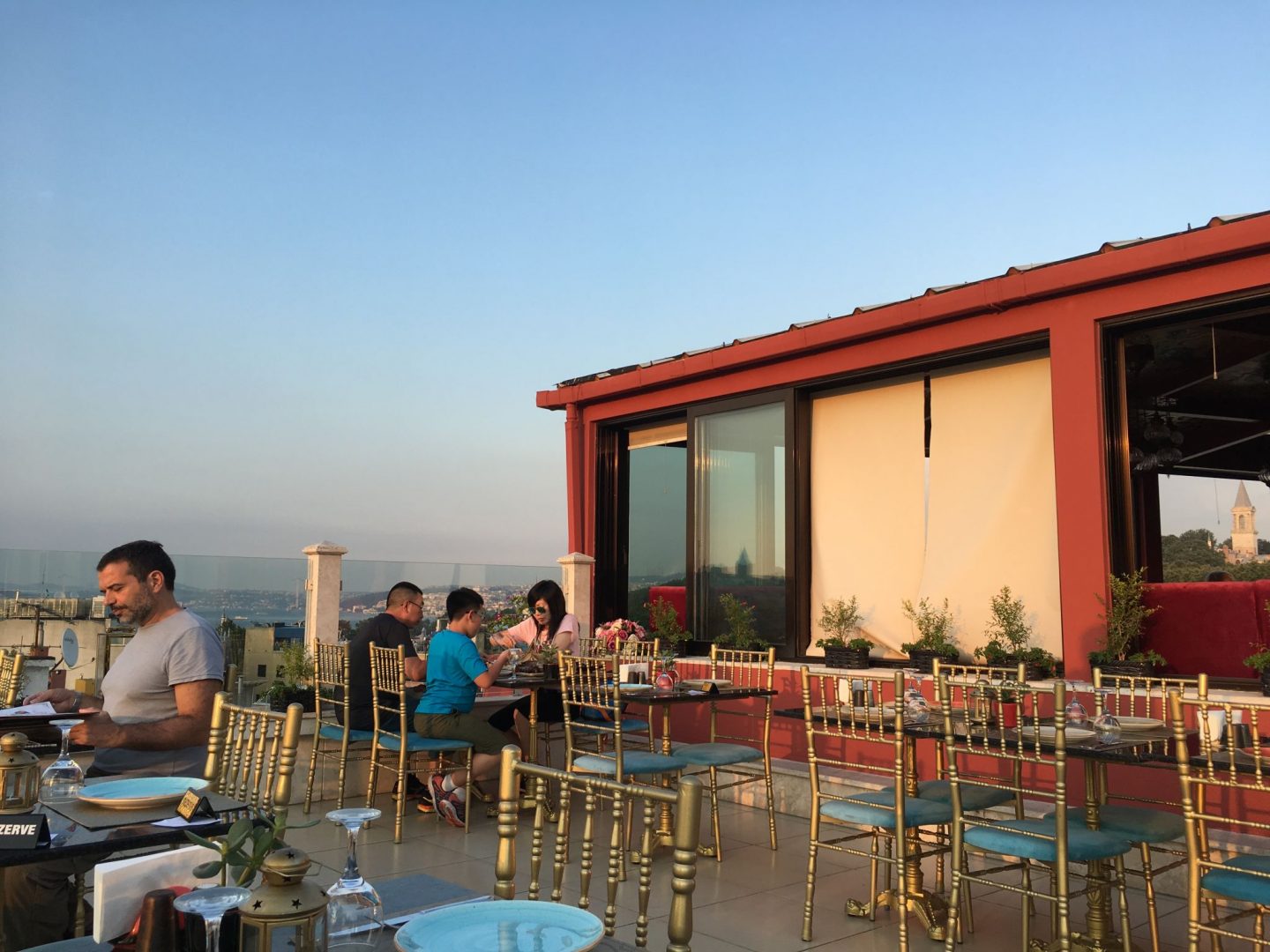 Although we weren't blown away by the food, the roof terrace views were stunning so it was worth it for these views alone.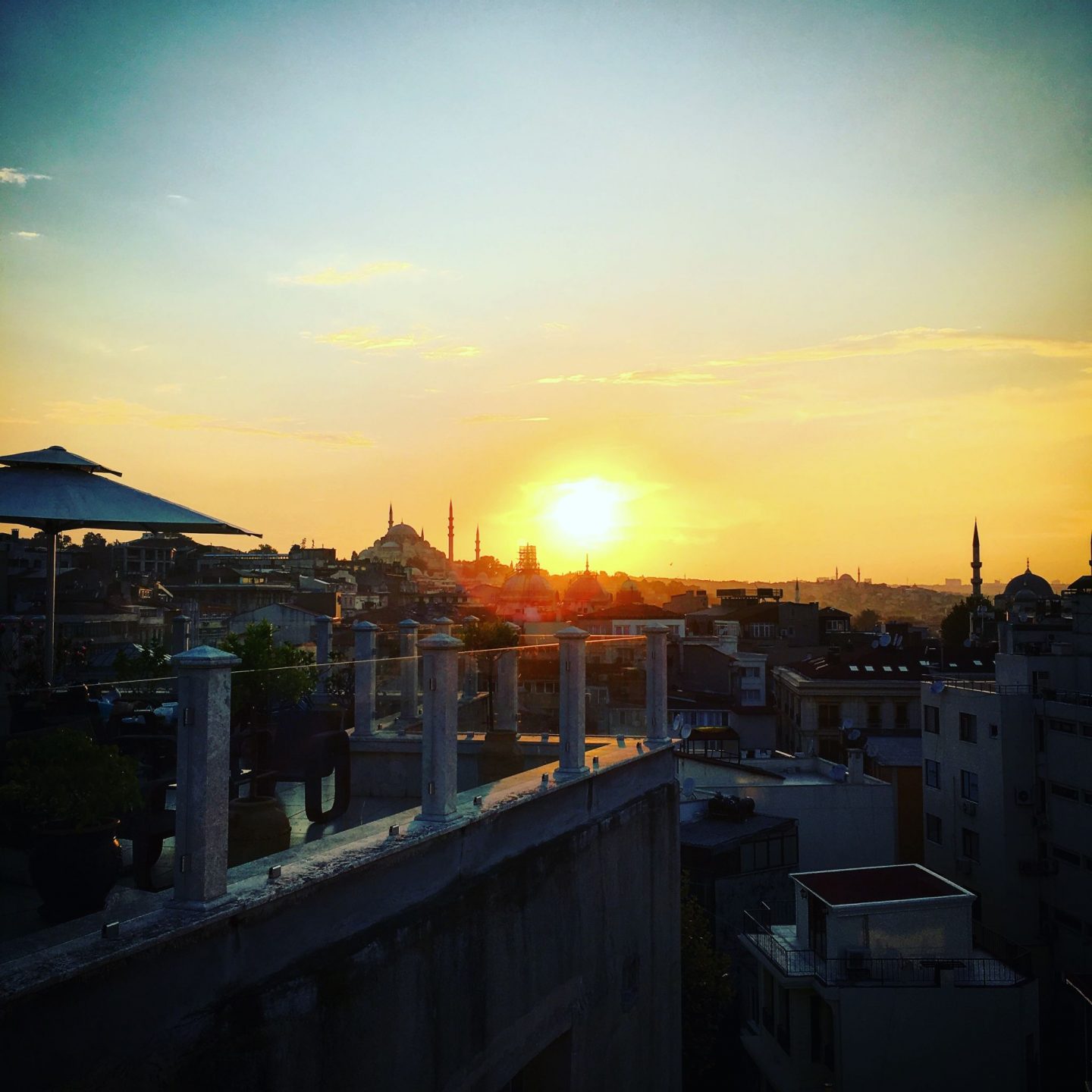 Save yourself for dessert though and pop into the always busy Hafiz Mustafa to treat yourself to some famous Baklava.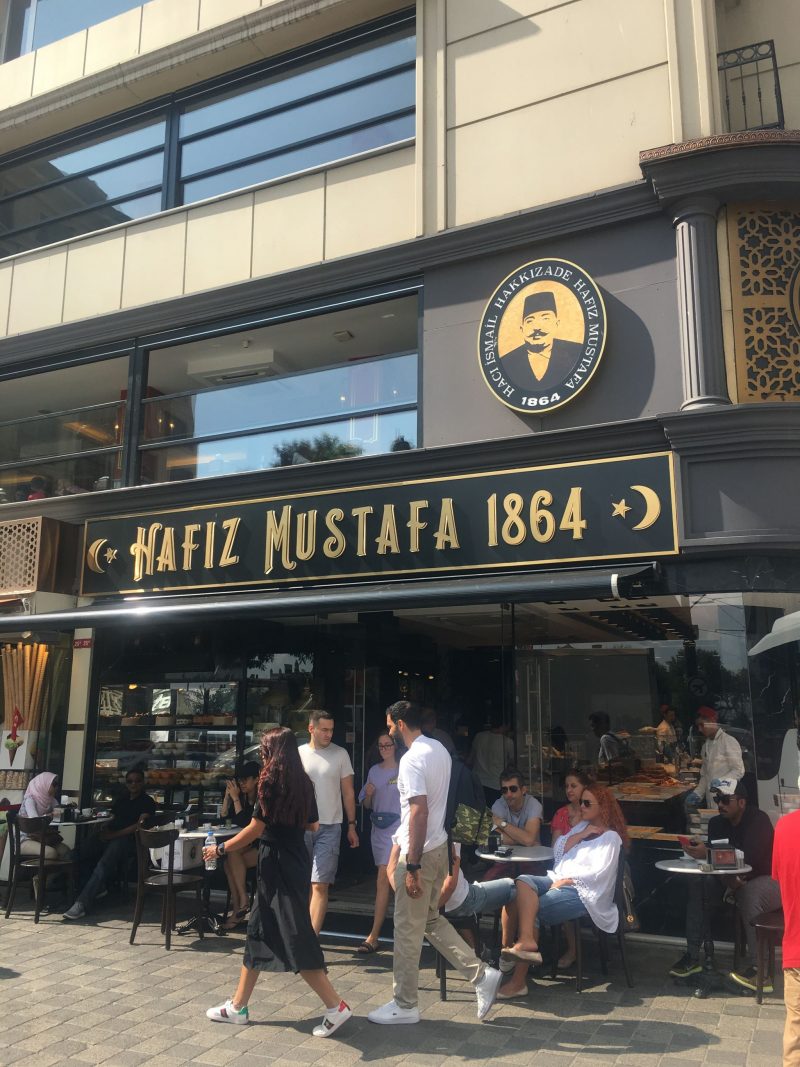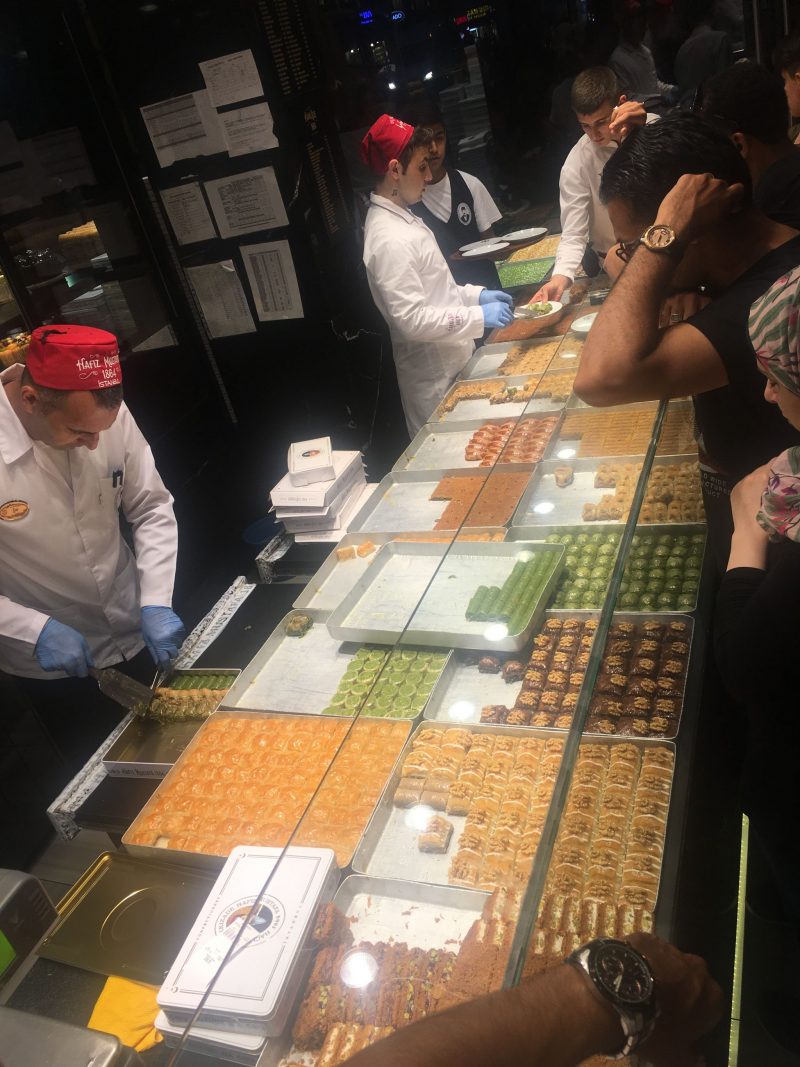 If you're after a bit more of a lively feel in the evening then head over to Beyoglu where the party continues until the early hours. This might be a better location to stay if you're after more atmosphere after dark (see below for more on where to stay).
Day 2 – Modern Istanbul
10am – Start early and head to Bebek (or spend more time in Historic Istanbul!)
If you want to go back and explore more of Historic Istanbul, this is the time of day to do just that. Especially to avoid queues for locations such as Hagia Sofia which, as mentioned above, can get busy. An alternative for day 2 (which we did) is to explore the places along the Bosporus in Istanbul. Credit here goes to Ozgu – a local and work colleague of my husband Josh. Ozgu suggested this walk to us and we really enjoyed getting out of the main tourist sites of the city and seeing more of Istanbul.
Start the walk in Bebek for a morning coffee or breakfast and take in the views over the Bosporus. You're best getting a taxi here and by going early you'll hopefully avoid the renowned traffic of the city.
Bebek is the local's Istanbul and has a beautiful (and tourist free!) main street, as well as the waterfront.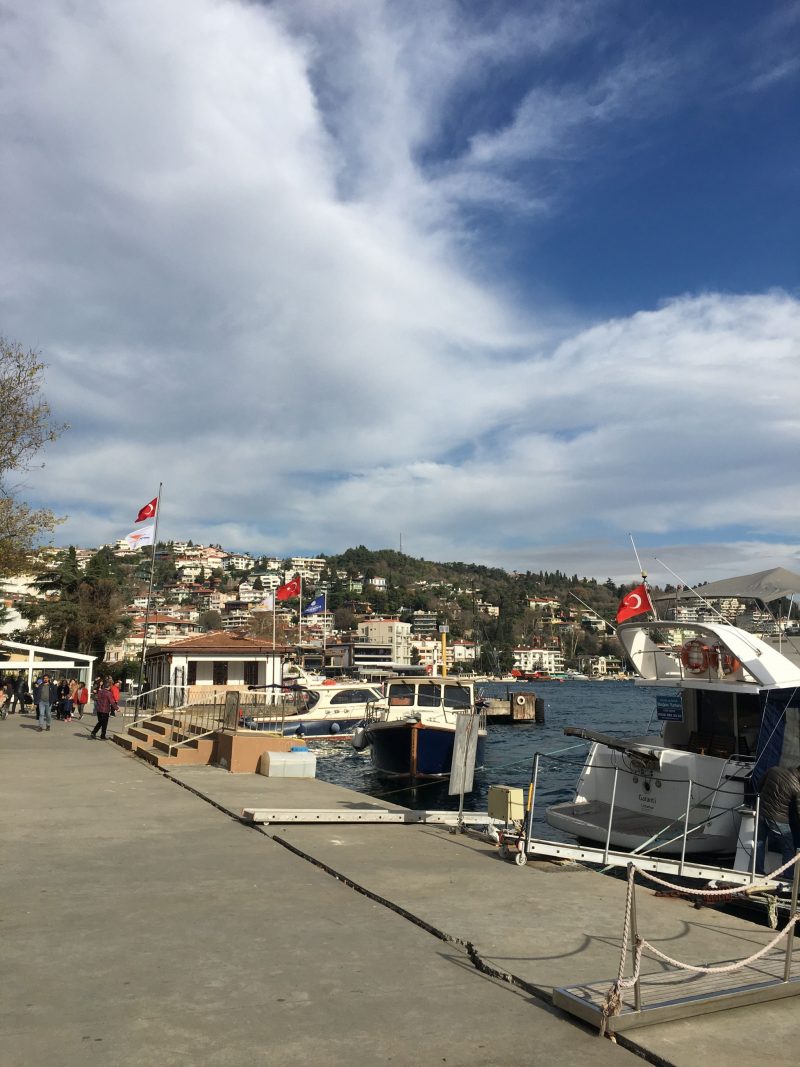 11am – Walking along the Bosporus
From Bebek you can head towards Arnavutköy – your next stop. The walk here is all along the front with great views across to Asia. It's a bit surreal to be standing in Europe looking at Asia! Although quieter than the Galatas Bridge (more on that below), there's still a lot of activity here with local fishermen.  Arnavutköy is a sleepy place with beautiful wooden Ottoman houses occupying the lanes. Stop for a pastry for the next stage of your walk. 
The section beyond Arnavutköy is less picturesque than the previous walk. The waterfront is cut off in places due to construction work at present, so you could get a taxi here to save time. There are a number of restaurants and bars on this stretch though which I imagine would be really busy at night. This walk also takes you under one of the bridges connecting the two continents which is pretty spectacular. Make sure you look up at the swanky houses on the hill side too.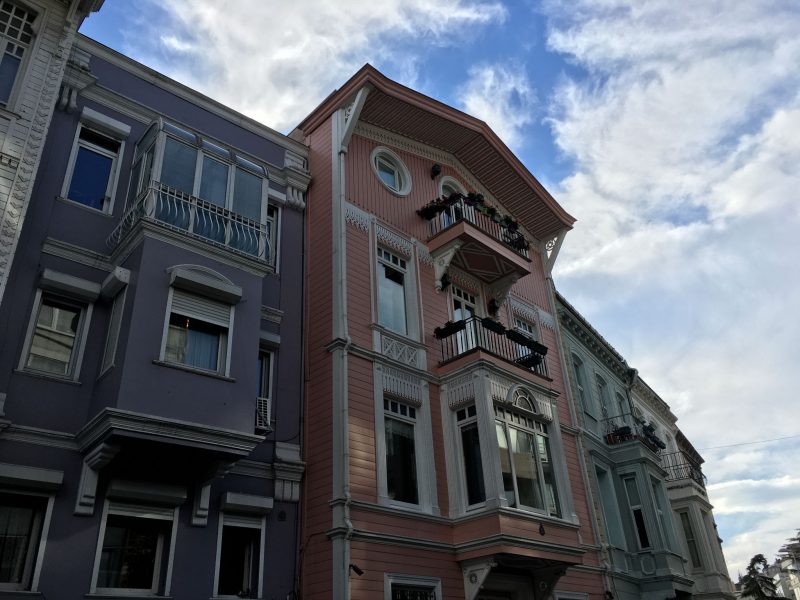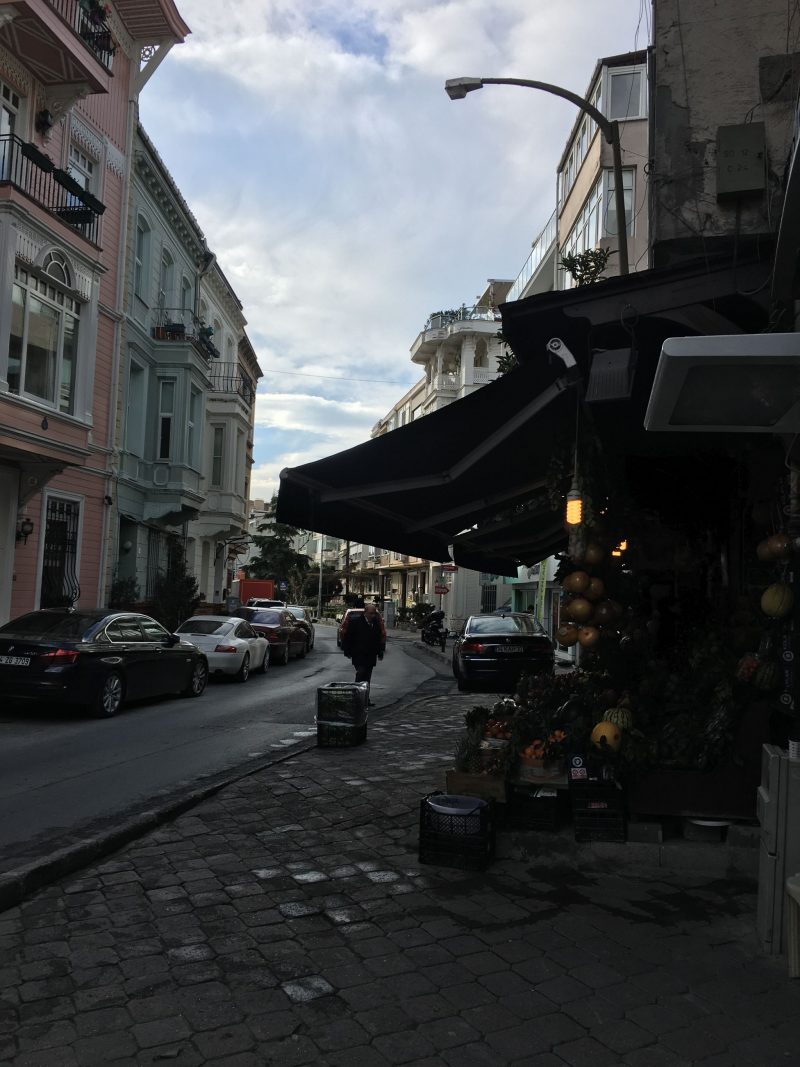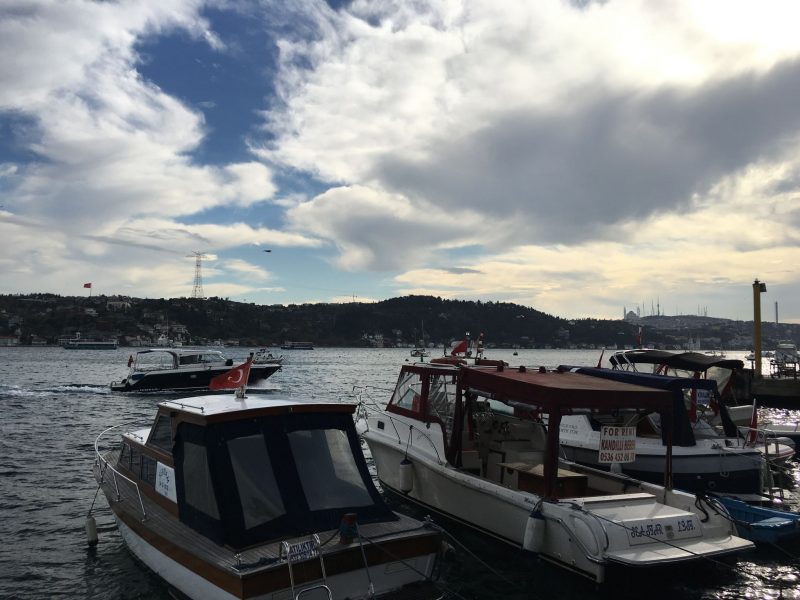 12noon – Ortakoy
Just under the bridge and you're in Ortakoy.  This is a great stop with a beautiful Mosque on the waterfront, as well as lots of stalls and restaurants. The House Cafe was recommended to us for a Turkish tea which you should definitely try. You'll also notice a lot of jacket potatoes stalls here – there's seriously loads of them! We picked one of the cafes and Josh ordered one. I ordered a pizza but then realised I was the only person not eating a jacket potato!! So probably opt for this (although the pizza was still very good!)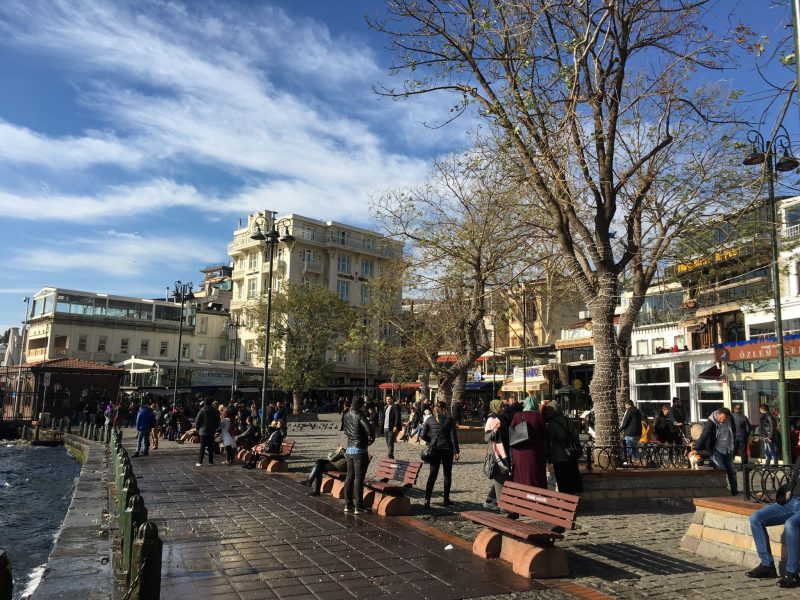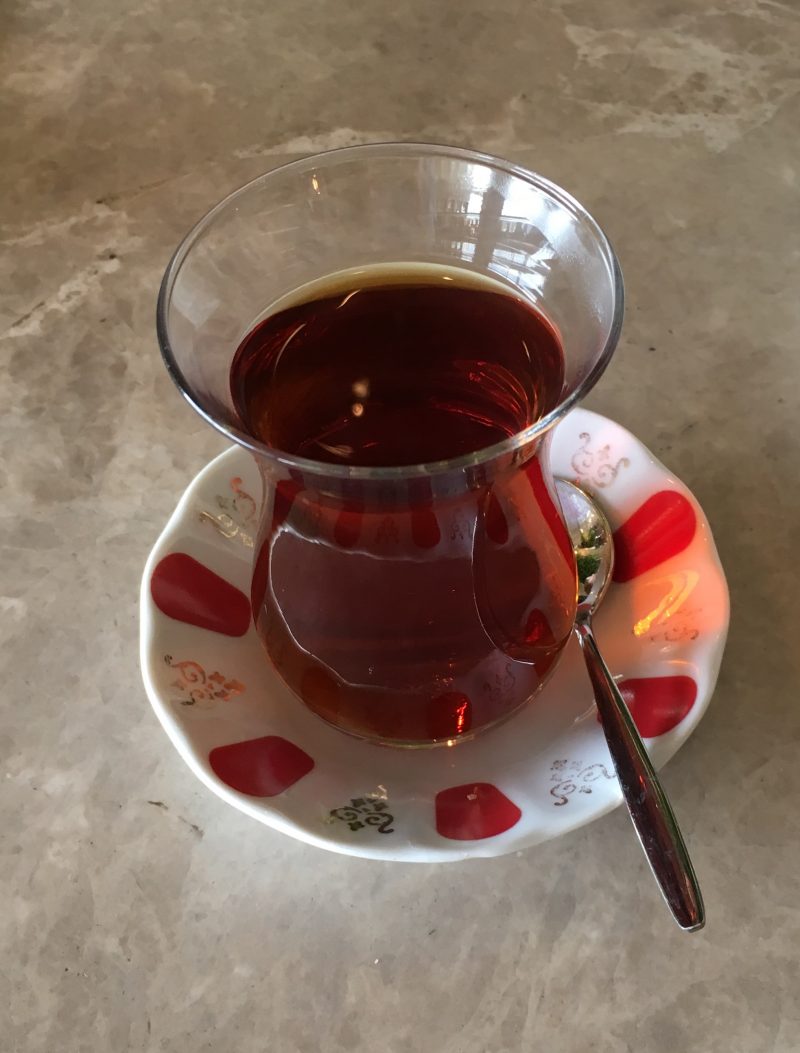 2pm  – Exploring Taksim Square & Istiklal Street
From Ortakoy take a taxi to Istiklal Street, one of the main streets in modern Istanbul. This street has lots of shops and starts in the famous Taksim Square, the hub of modern Istanbul. With limited hours we wanted to dedicate time to other areas, so instead we only had a short walk on Istiklal Street but if you're keen on shopping then you might want to spend longer! There's also the tram that runs along this street if your feet need a break.
After more shopping? Another area to add to your list is Nişantaşı/Teşvikiye in the Beşiktaş area of the city. It has lots of high street stores as well as luxury options alongside some lovely cafes and restaurants for lunch.
3pm – Galatas Tower for a view of Istanbul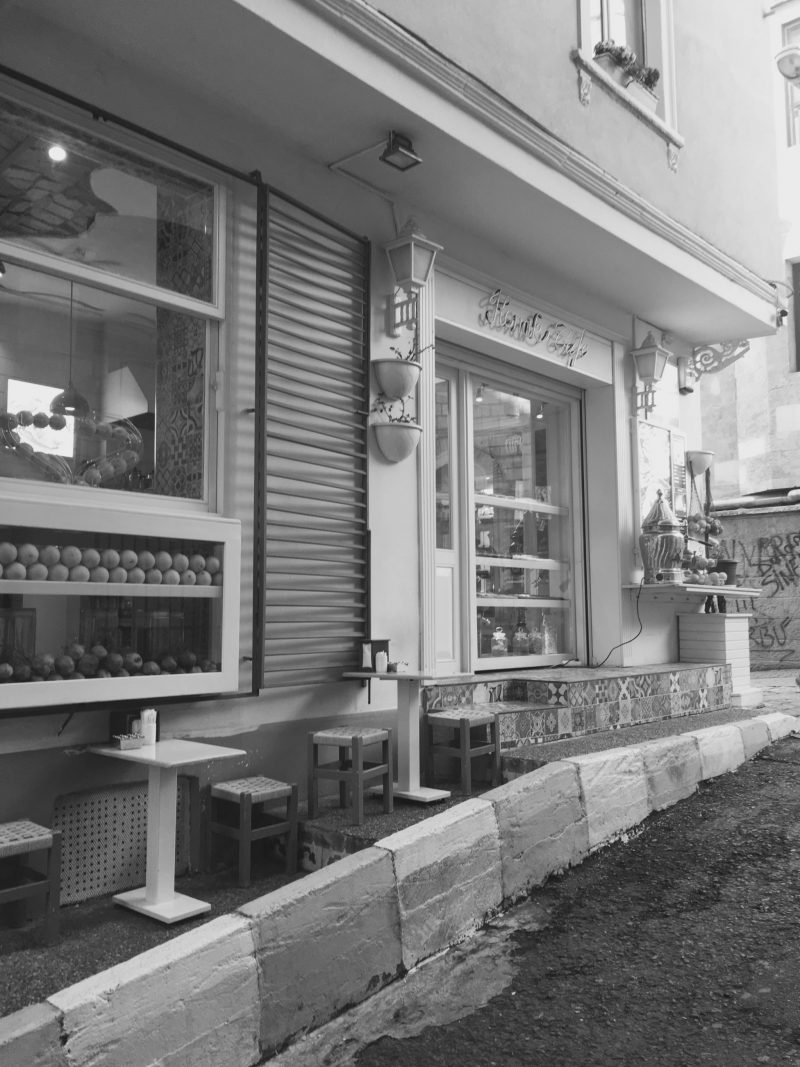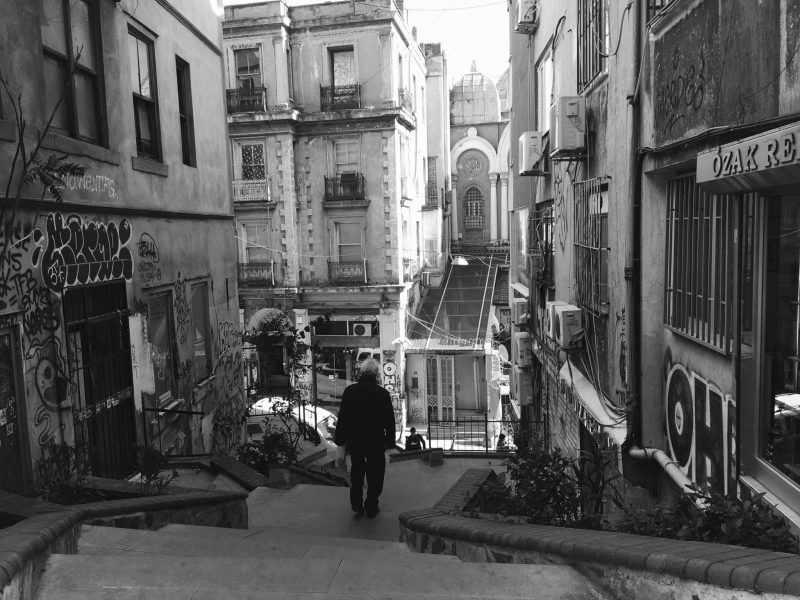 From Istiklal Street you can walk to Galatas Tower in Karakoy (you can also get the tram/metro on a lot of this route too!). Until recently this area was relatively unknown on the tourist map, however like many areas in other cities, Karakoy is now considered very cool and has lots to offer for locals and tourists alike. Start with the area around Galatas Tower, where there are cute cafes and independent shops on small little streets leading up to the tower itself. As one of the highest vantage points, the tower provides excellent views across the city.
Warning: Istanbul is hilly in parts so be prepared for some uphill walking along your route!! If you want to save time then opt for the tram/metro which is cheap and very convenient (more on getting around below!)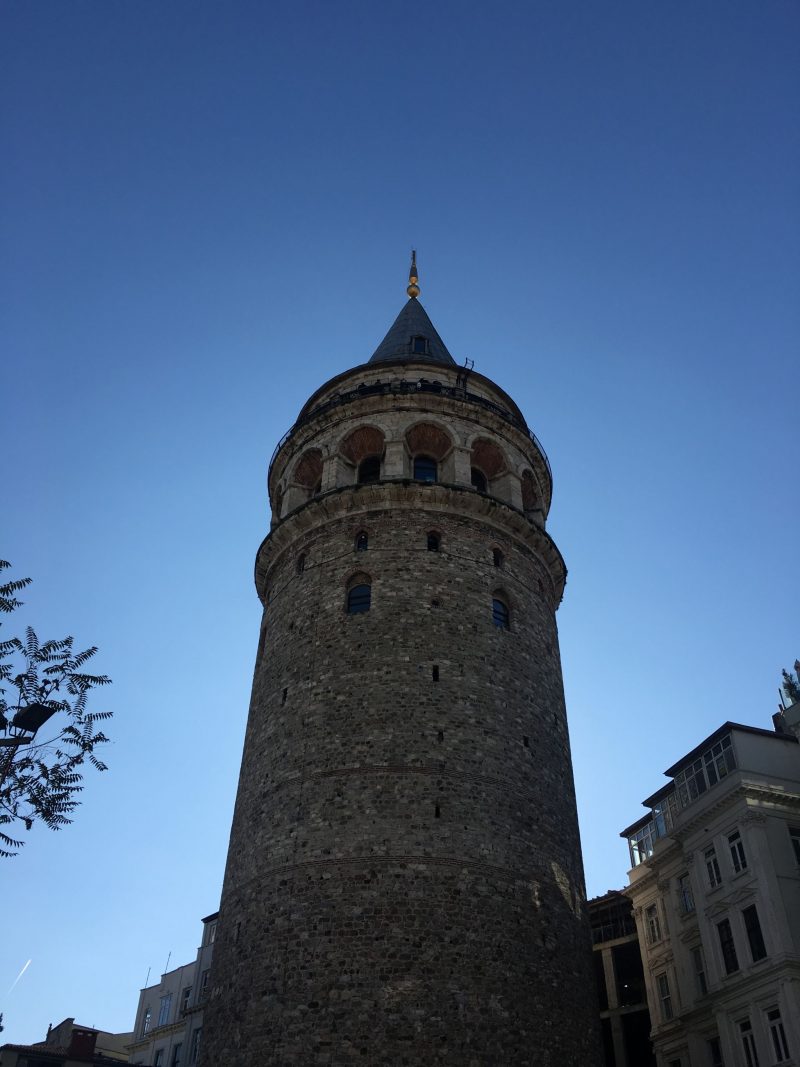 5pm – Walk the famous Galatas Bridge
Either on the way back from Galatas Tower, or pre dinner take a walk over the Galatas Bridge at some point during your trip which is an iconic sight. Hundreds of fisherman are vying for position along the famous Bosporus from here. Walk half of the bridge on the top level to see their catch, and then head to the lower level. This is home to the restaurants which serve the daily catch. The owners can be quite persuasive here when selling their menu to you!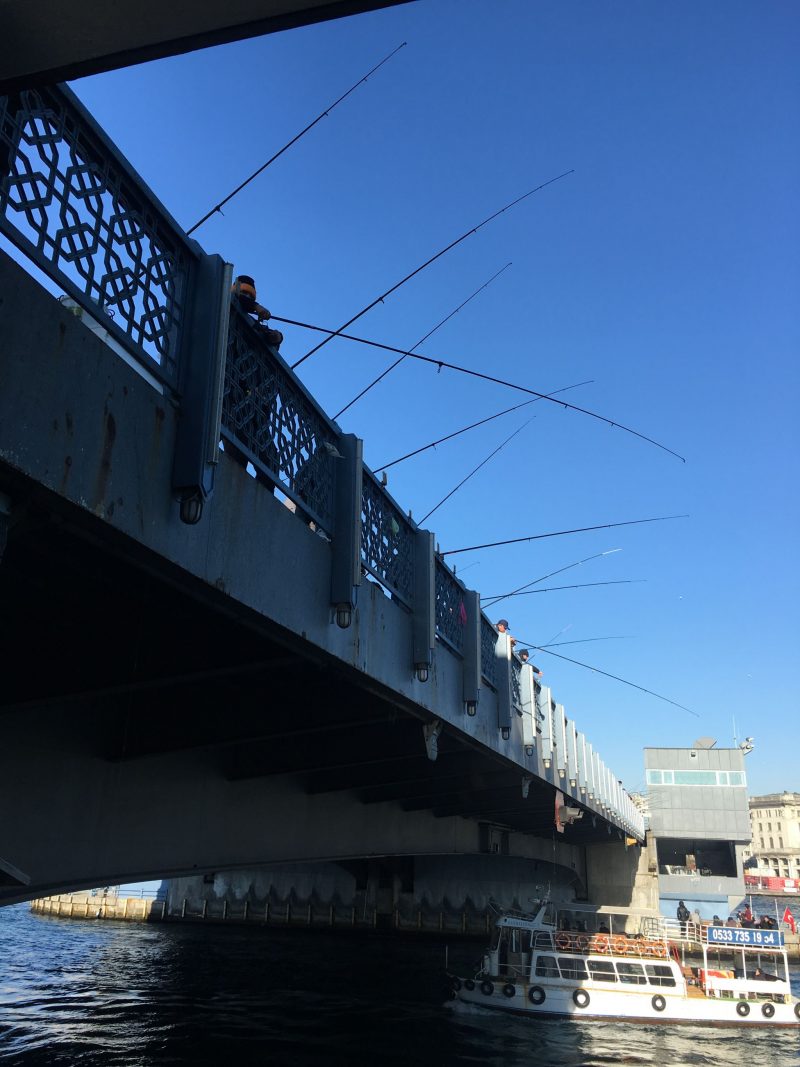 Evening – Explore Karakoy
Being based in Karakoy on one of our visits we stayed in the area for dinner and there is lots of choice on offer. Start with a drink at one of the many roof terraces such as Kasa Lokanta & Bar in The House Hotel Karakoy (where we stayed) which has amazing views over the Bosporus. 
One of my favourite areas for food and drink is behind Kilic Ali Pasa Mosque (near Tophane station). We went early evening to have a wander and there's lots of quirky restaurants and amazing street art in this area. It reminded me a little bit of some of the places we explored in Budapest. It's also worth considering as a lunch option as there's so much choice here.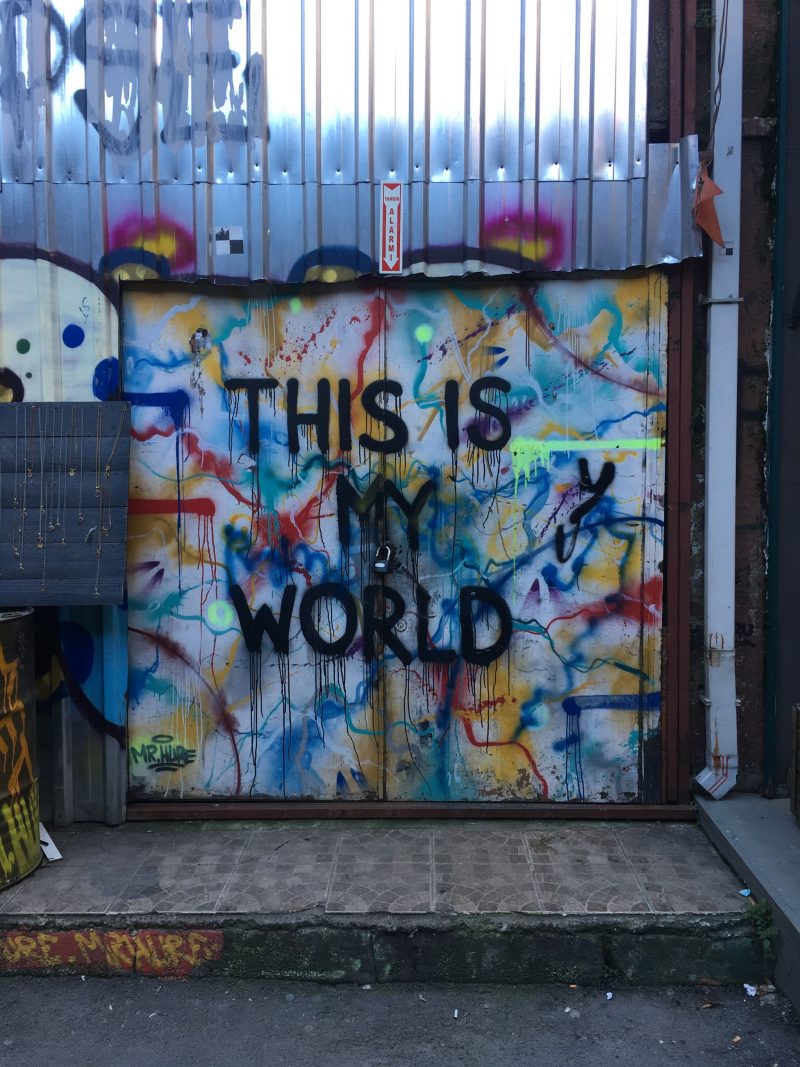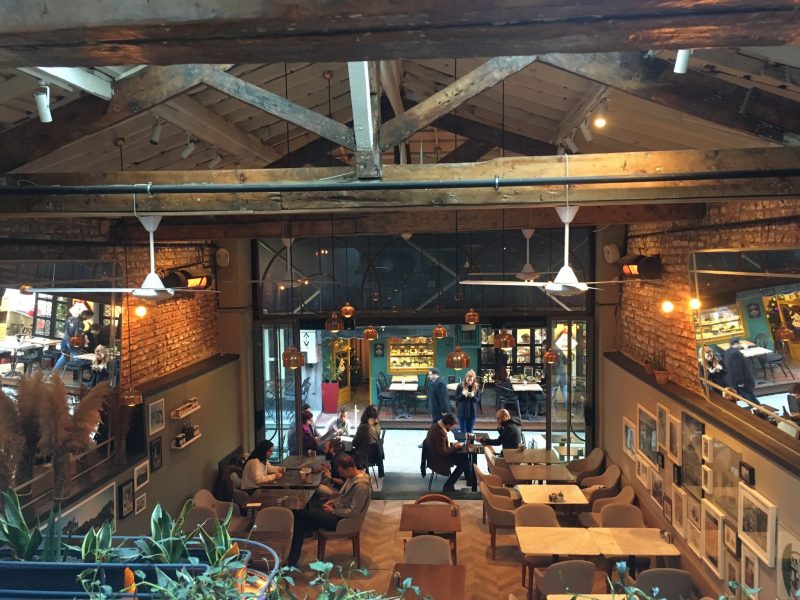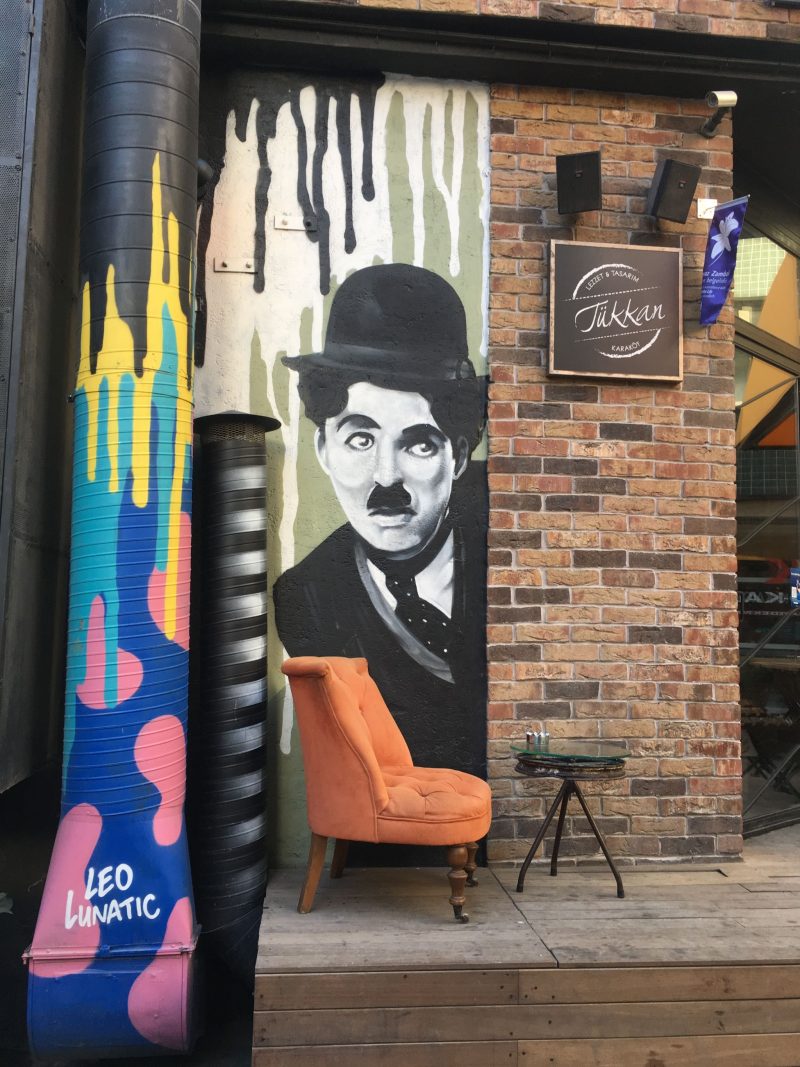 Where to stay in Istanbul
There is always a debate on this one mainly because there's lots of choice in Istanbul and each area has it's own merits so it will come down to personal preference and what you look for in an area. It doesn't matter too much because it's pretty easy to get between locations and it's likely that you'll be spending time in both areas anyway. The below might help you narrow it down though…
If your main focus is on being close to the historic sights of Istanbul, then a very popular choice for tourists is the area in close proximity – Sultanahmet.
Sultanahmet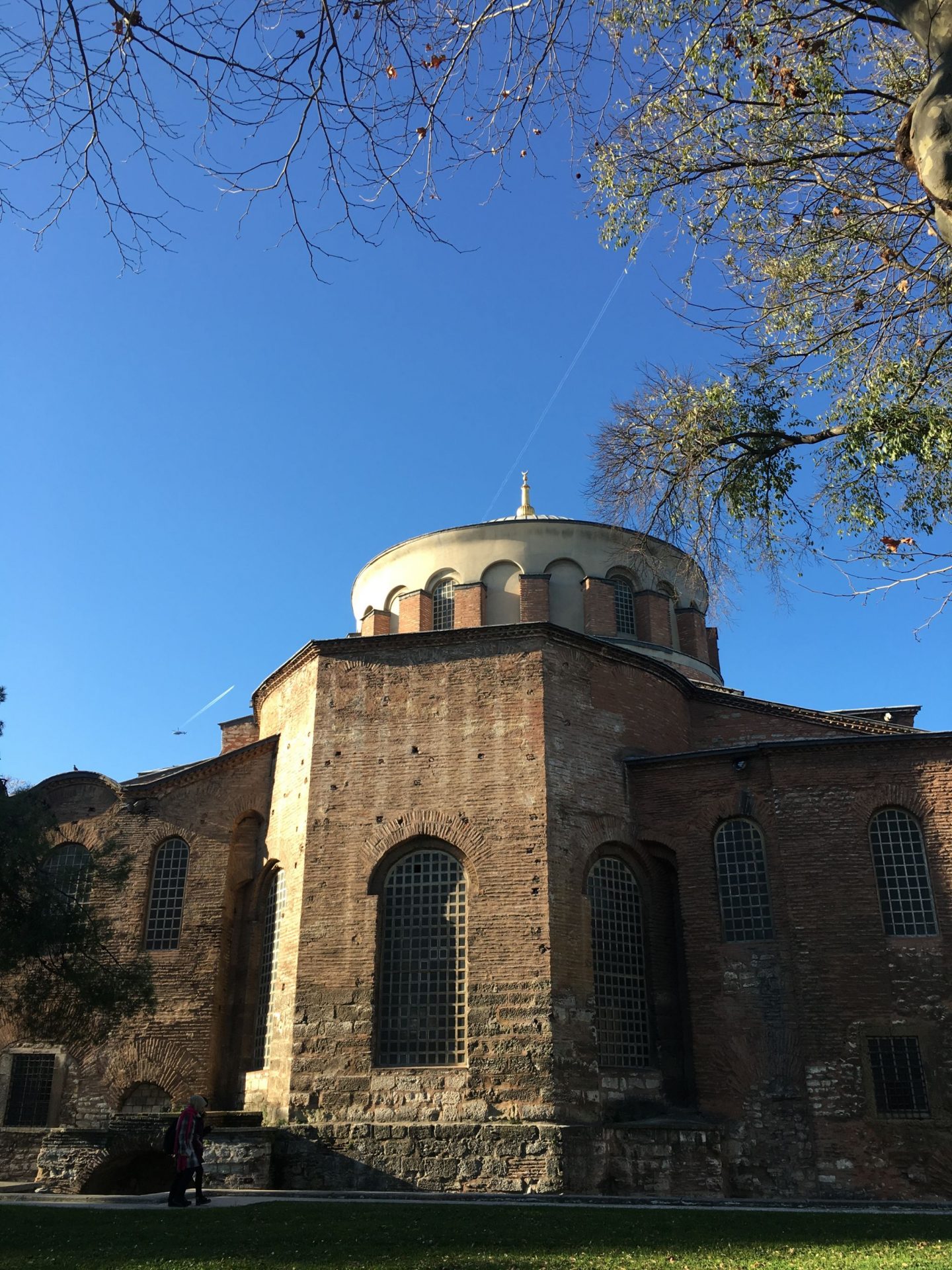 Pros:
Near the Historic sights so you can get there early and don't need to worry about transport (although if you're feeling lazy you can still get the tram!)
Lots of choice in terms of accommodation options
Cons
Not that lively in the evening. Although there's still enough choice for food after dark, this is not the area for you if you like to party.
The Guestbook's recommendation in Sultanahmet: Regie Ottoman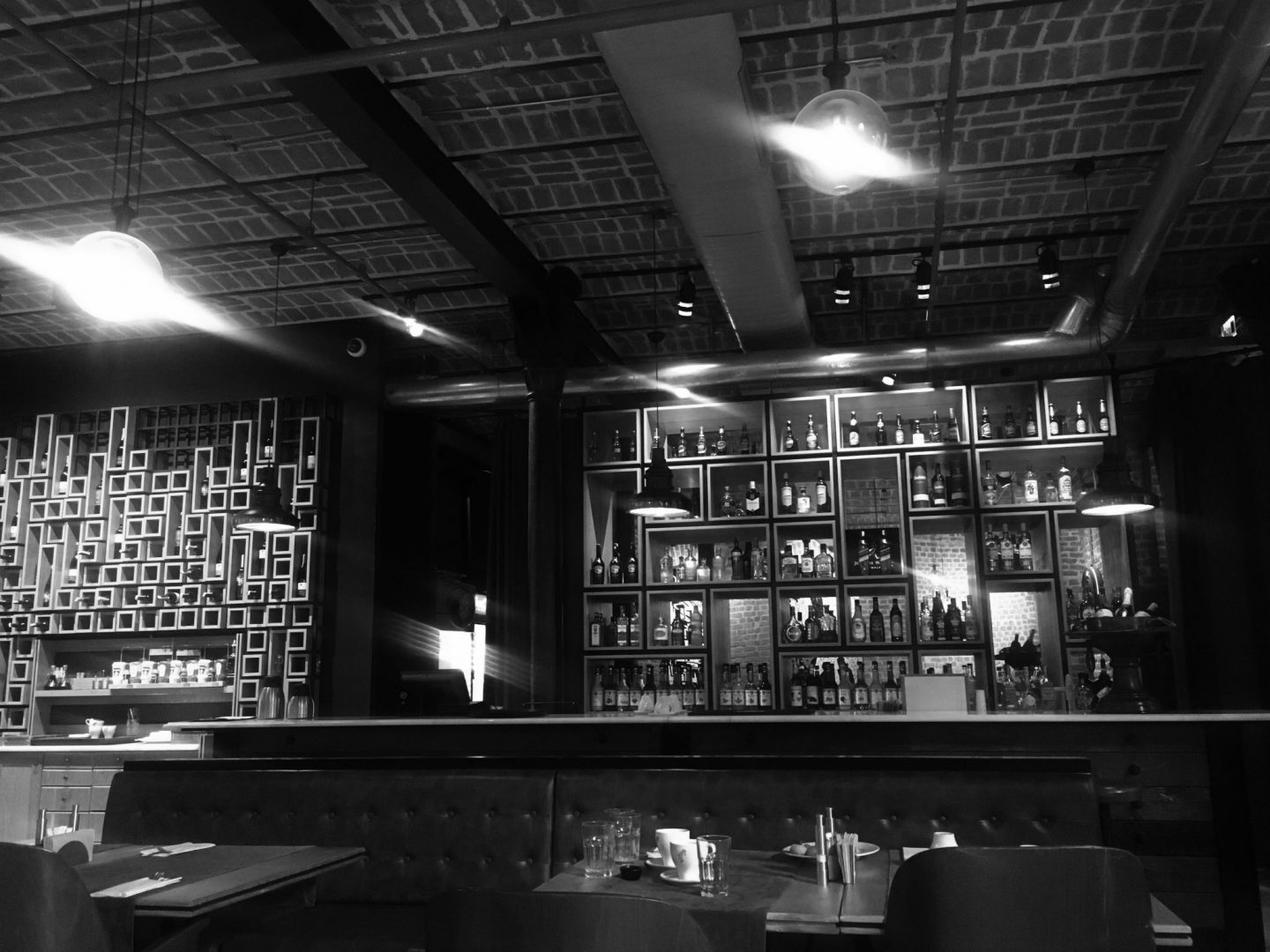 We stayed at the Regie Ottoman during our second trip to Istanbul and would definitely recommend. We opted for one of the cheaper attic rooms which was perfect, but if you want a bit more luxury then it's worth paying the extra for the superior rooms.
The hotel has a great location, minutes from the tram or a short walk from the historic sights. It's also got great interiors with brick exposed walls and quirky design features throughout. There's a good breakfast and they also serve food in the evenings if you don't fancy heading far although there's many options on your doorstep too.
Beyoğlu
After more of a party and want to see Istanbul come to life at night? Opt for Beyoğlu.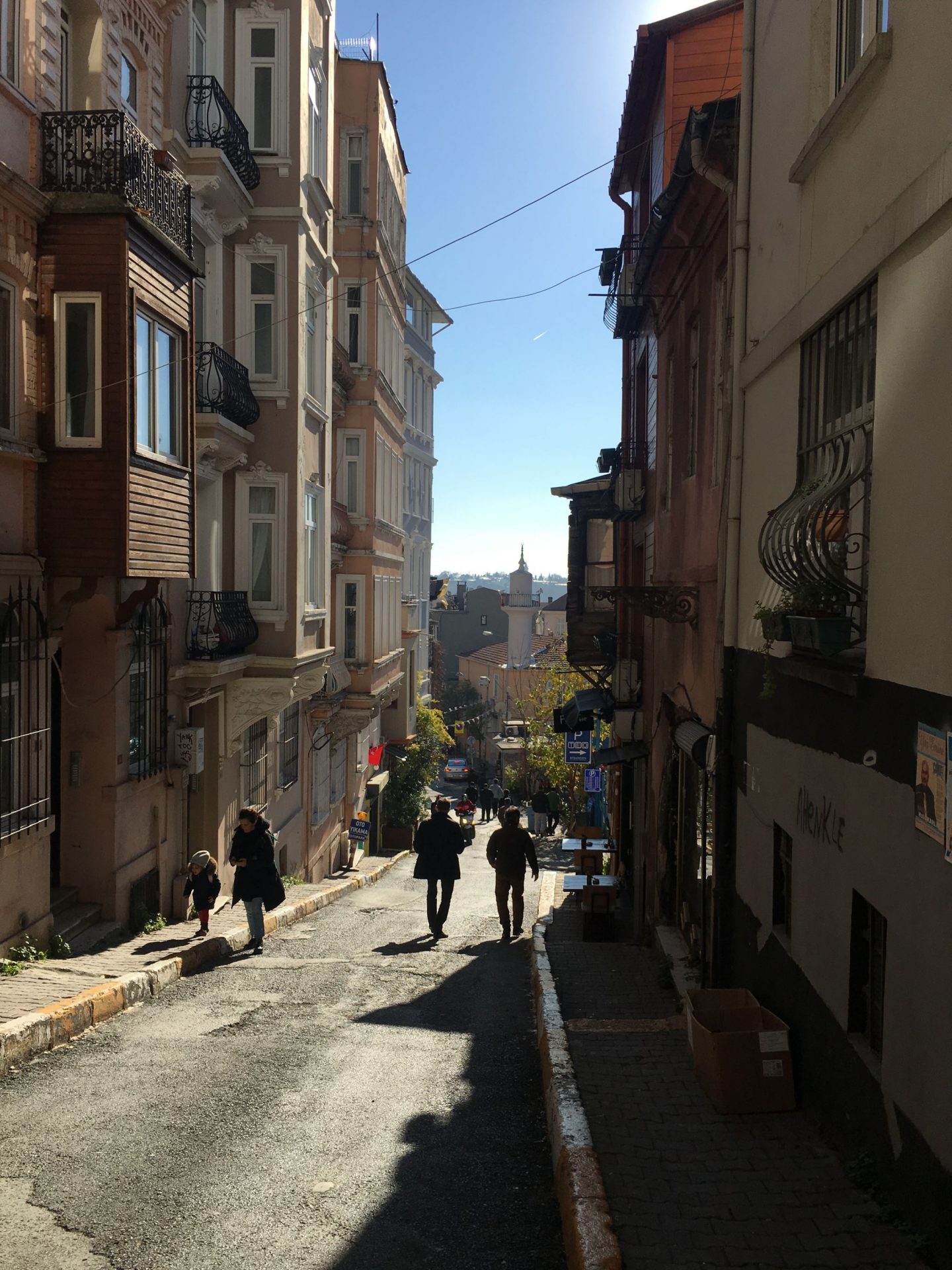 Pros:
Close to the modern sights of Istanbul such as Taksim Square
Perfect if you want to explore Istanbul at night and like a lively atmosphere after dark
Cons
Further away from the historic sights so you'll either need public transport or to take a taxi to get around
The Guestbook's recommendation in Beyoglu: The House Hotel, Karakoy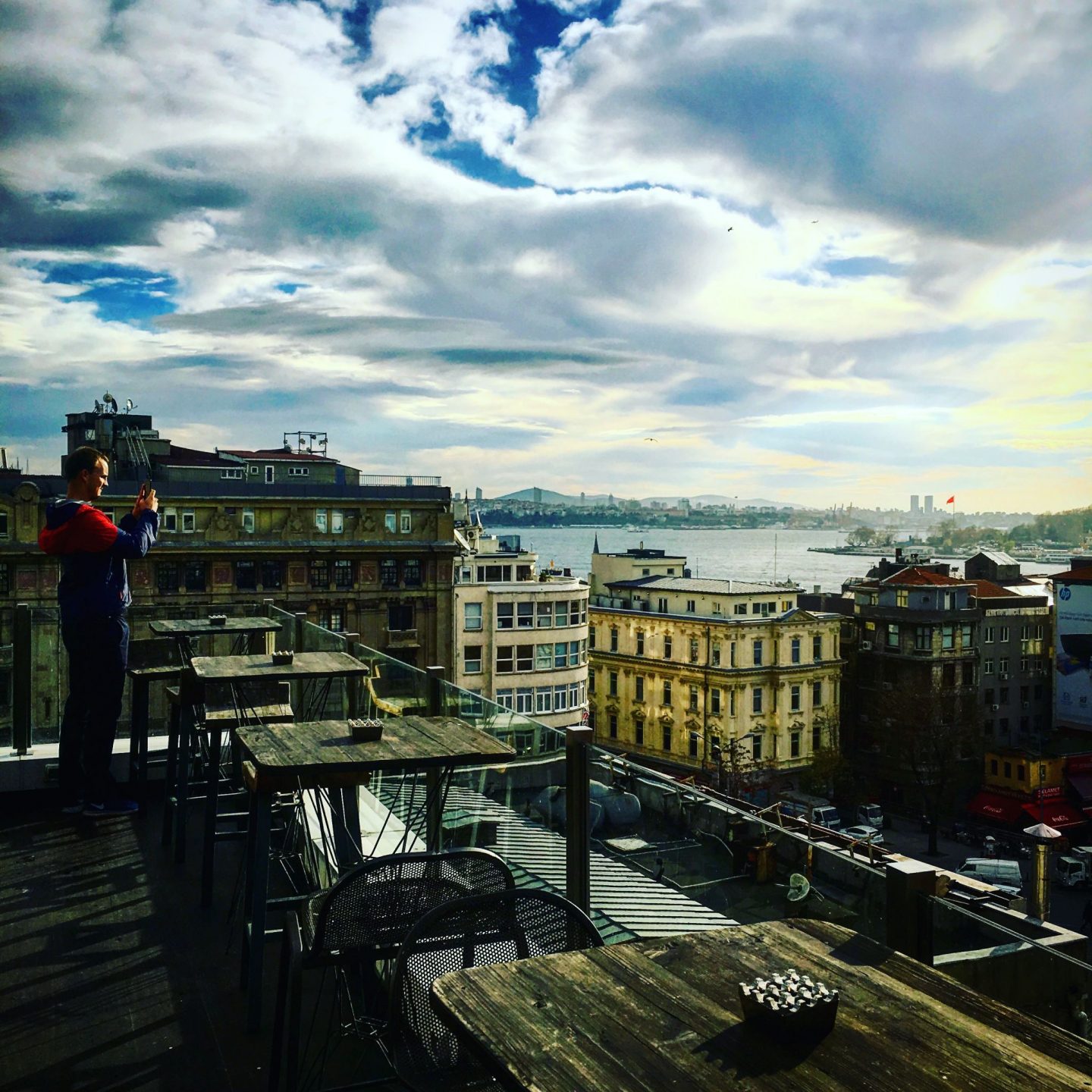 We stayed at The House Hotel Karakoy on our first trip to Istanbul and although it provided easy access to the night life, it was far enough away to still be relatively quiet in the evenings. The hotel is again a hit on the interiors with it's cool and stylish design throughout. It also benefits from a really lovely roof terrace making it perfect for sundowners before exploring the area after dark.
When to visit
Again there's pros and cons for when to visit Istanbul. We've done two trips now – one in December and the other in July so have seen both Winter and Summer and I can honestly say I really enjoyed them both.
Obviously Winter might be a bit less predictable weather wise, but if you're lucky (like we were) and get a sunny, crisp day it's actually a lot easier to get around in terms of walking when it's cooler. The walk along the Bosporus for example could get pretty hot in the peak of Summer. The other advantage of Winter is that prices are significantly less in hotels and there are plenty of bargains to be had. Alongside that, the sites are generally a lot quieter which makes it easier when planning your day but be aware that opening hours are shorter.
The main plus of Summer is the light nights and making use of the roof terraces and outdoor spaces (particularly if you don't get lucky with the weather in Winter!).
In summary, you can have a great trip to Istanbul all year round.
Getting there
Istanbul is a perfect getaway from both the UK and Dubai, with a similar travel time between the two. There's a number of cheaper airline operators that fly to the city so it's worth looking via Skyscanner or similar when comparing options.
Be aware that there's two airports in Istanbul – Sabiha Gokcen Airport and the main airport Ataturk. You'll find that many of the cheaper airlines fly into Sabiha Gokcen but you'll then have to factor in a more expensive transfer so look into this first before booking flights. We got very unlucky with traffic on our first visit and it took 2 and a half hours to get into Istanbul from Sabiha Gokcen when it should be under an hour. Ataturk is closer (around 3o minutes without traffic to Sultanahmet) so consider your options.
It's also worth considering booking a transfer so you don't have to worry about the meter with taxis. We used Safe Airport Transfer based on TripAdvisor reviews and found that they were good and reliable. They were significantly cheaper than the hotel transfer quotes too.
Getting around Istanbul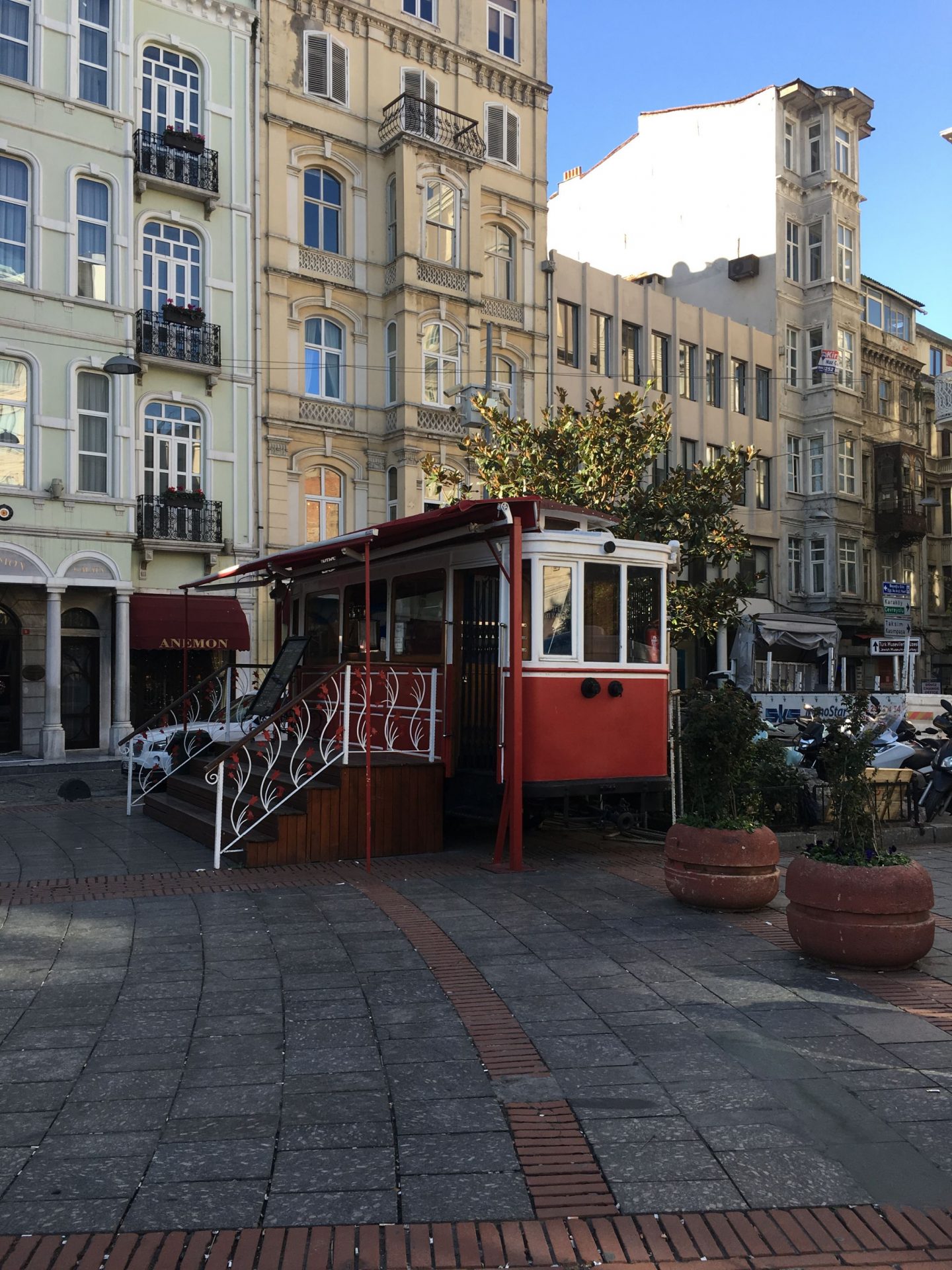 Depending on where you stay will affect how much you need to rely on public transport or taxis, for instance the Historic area is all relatively close together.
To travel further a field though such as across the Golden Horn to explore Modern Istanbul then it's definitely worth using the tram or metro. Both are cheap and reliable and relatively straight forward to use with a ticket purchased from machines at one of the stations ahead of boarding the train.
Taxis are also readily available but the tram can sometimes be a preference given the traffic in Istanbul. In addition, make sure your driver uses the meter when you get into the taxi. Generally all taxis are great but it's always best to double check this and avoid agreeing on a fare outside the meter.
Got more time in Istanbul?
Lucky you! There's so many sights to see in Istanbul if you have longer to explore, my top contenders would be…
Visit the Princes' islands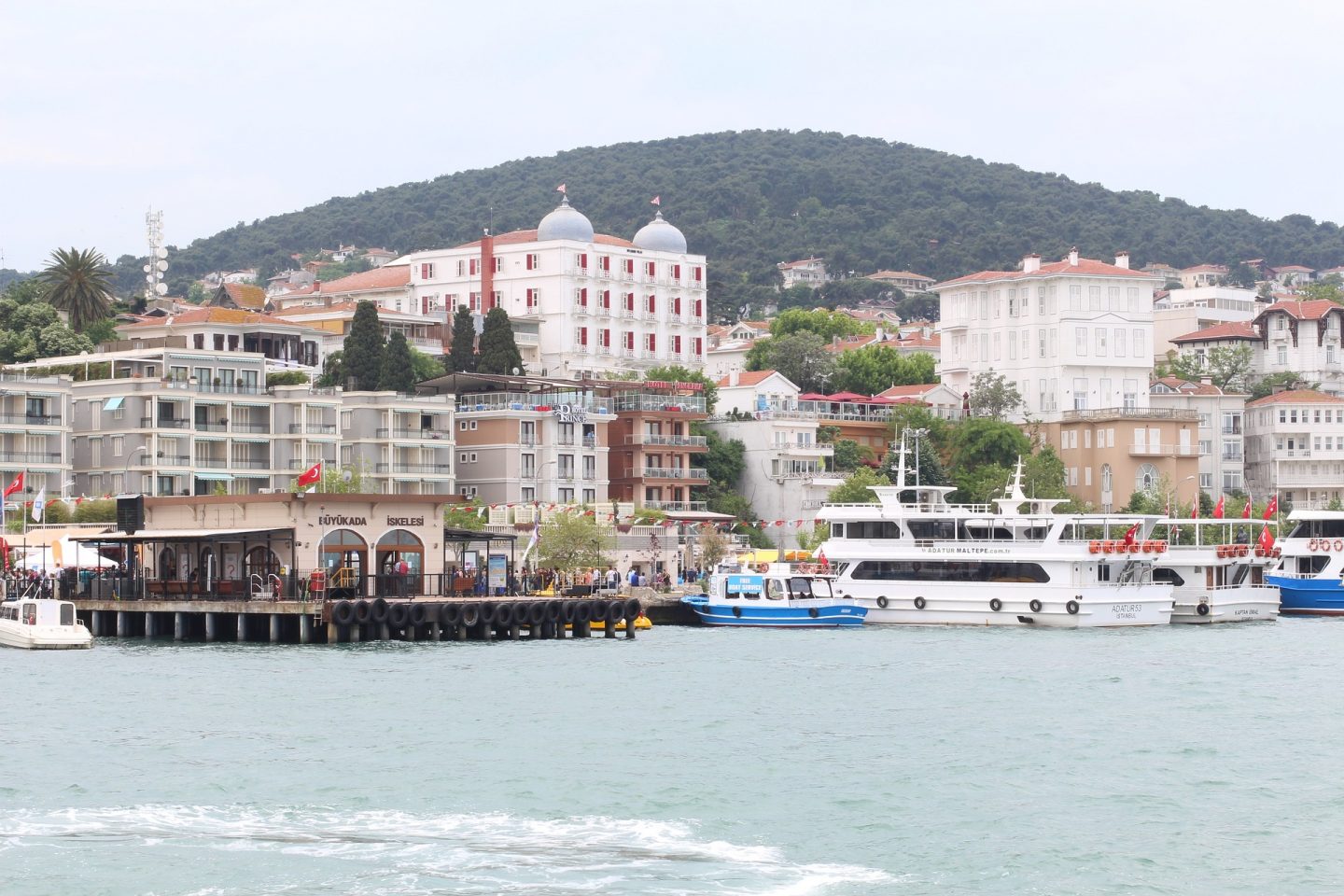 Being on the Bosporus, there's lots of excursions that you can add to your trip to explore further a field by boat. One of them includes visiting the Princes' Islands. There's nine islands in total positioned in the Sea of Marmara with four being open to the public for visits.
The islands came into existence in the Byzantine era when wealthy aristocrats were exiled here, but they soon became a favoured getaway spot for the Ottoman aristrocracy.
If the city sights get to much for you then the Prince's Islands should be high on your list of places to visit to escape the hustle and bustle of Istanbul.
Motorised vehicles are banned which provides a welcome relief from the traffic of Istanbul. Despite the peaceful nature of these islands, in summer they can get pretty busy with tourists and residents alike who have the same idea, so try and opt for a weekday during the warmer months.
You can get a ferry to the islands from Kabatas and then travel between the islands. There's also organised whole day tours available.
Take a boat tour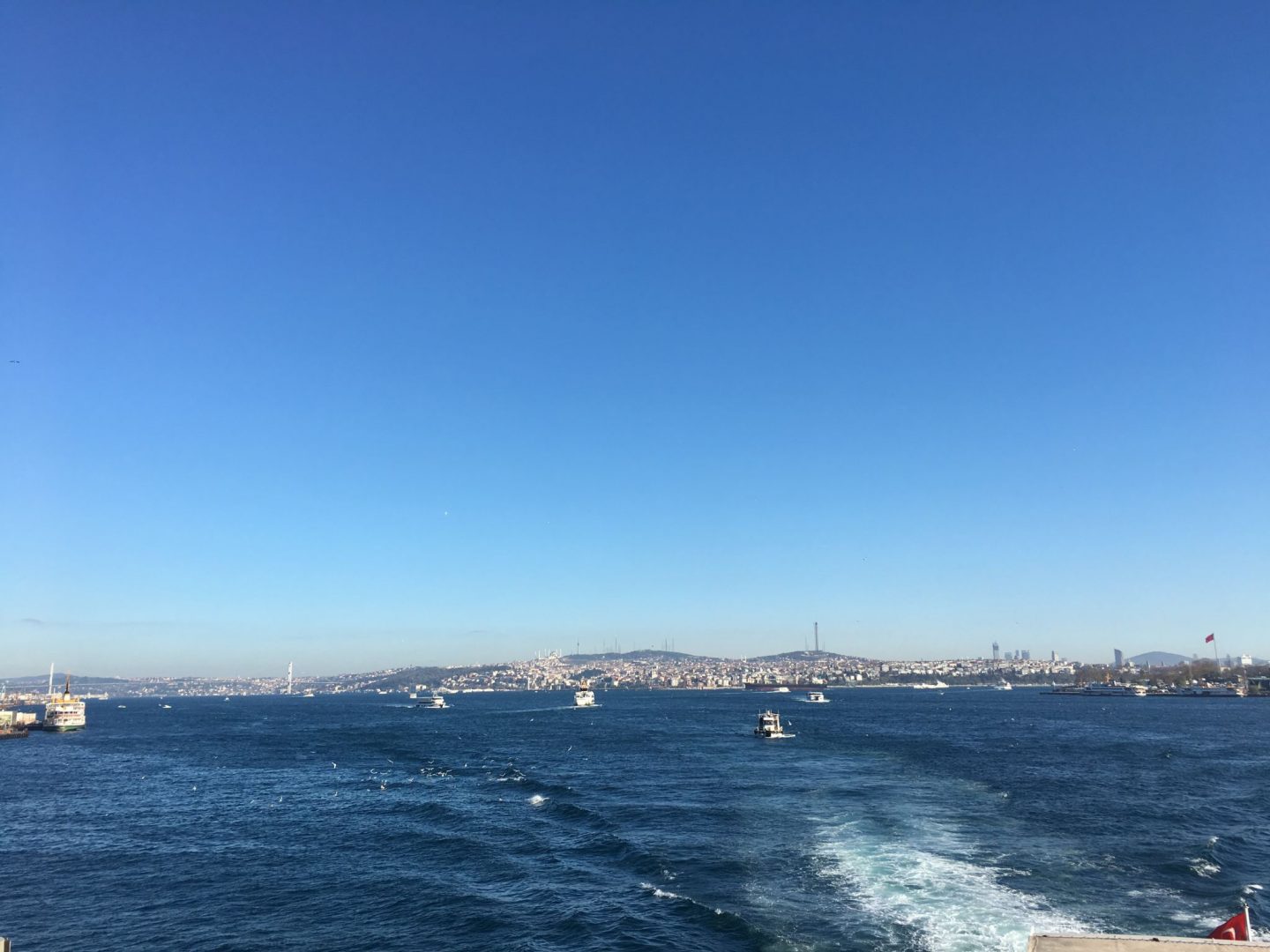 As well as taking a boat to visit the Islands or Kadikoy, a boat along the Bosporus to see the sights of the city from the water is also high on the list of things to do in Istanbul. There's a huge range of options here and something for everyone. Another popular option is a night time cruise which often includes dinner and allows you to take in the bright lights of the city at night.
Visit the Asian side of Istanbul – Kadikoy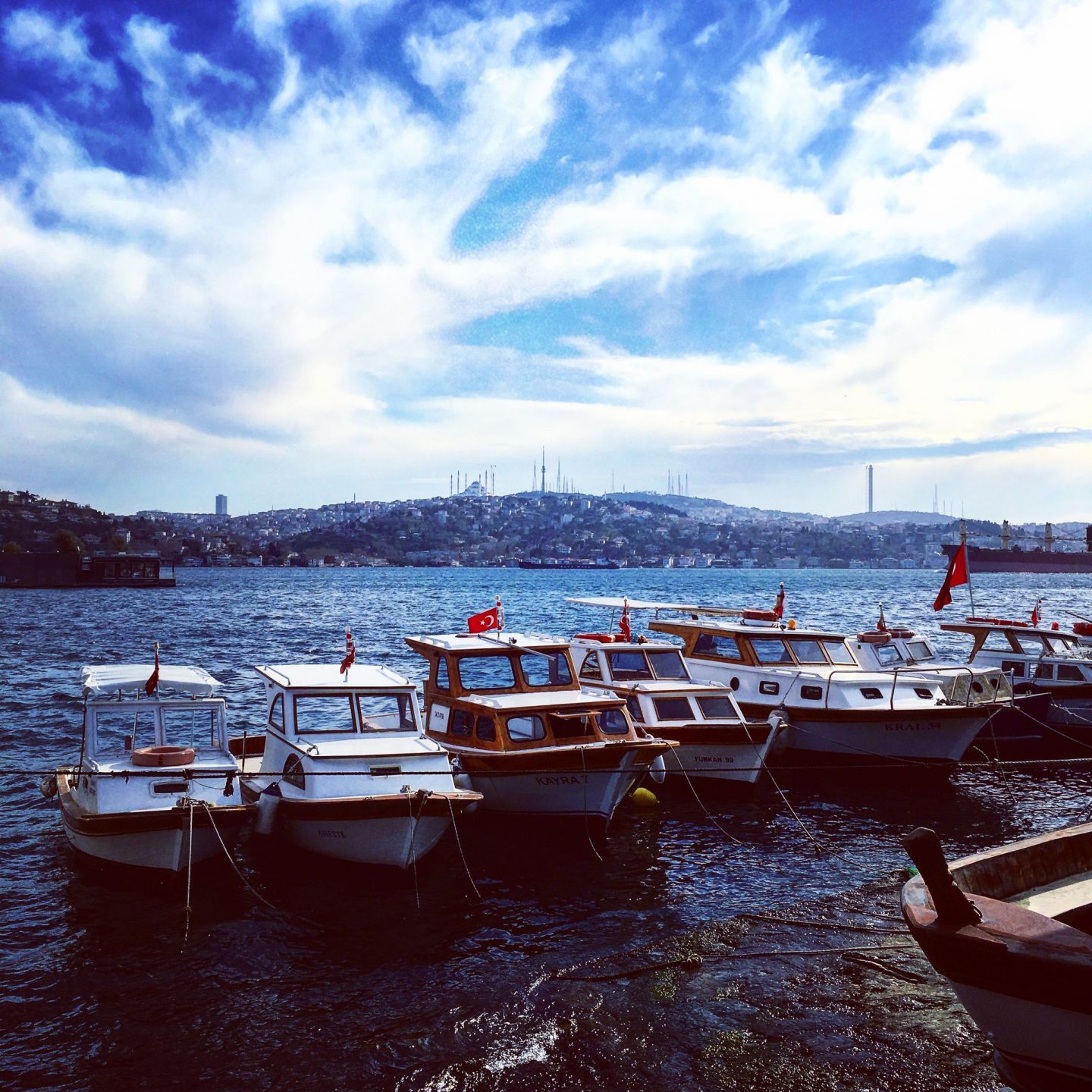 The above itinerary sadly only covers the European side of Istanbul due to the limited time we had available, but if you are in Istanbul for longer then a visit to the Asian side of the city and Kadikoy is a must.
Kadikoy much like Karakoy has had a sudden rise in popularity with a growing number of cafes, bars and restaurants making the area a must visit. Having said that for many it's always been a must visit in Istanbul. Make sure you explore Tellalzade Street (or Antiques Street) which is a beautiful street with (you guessed it!) lots of antiques shops to explore, as well as places to enjoy a good coffee. Ali Suavi Street is also worth a visit with plenty of handmade art work on offer if you're looking for something a bit different to take home with you.
Guestbook's message: "Even if you're limited on time you can cover a lot of ground in Istanbul. We did a lot by foot, but public transport (the tram & metro) is also very convenient (try and avoid reliance on taxis, traffic is bad!). Istanbul deserves more time but even in 2 days we managed to see a range of areas and sights. Although Historic Istanbul is beautiful, make sure you take the time to explore other areas too. This will give you a real taste of the variety Istanbul has to offer".
Feeling inspired for another city break? Have a look at our whistle stop tour of Budapest here.