Here's a question for you. Can you do Budapest justice in just over one day? 29 hours to be precise. We were about to find out!
We'd booked a flight from Dubai back to the UK and came across a bargain fare with Wizz Air. It would mean a long-ish flight on a budget airline, but for a fraction of the cost of alternatives. As well as the chance to throw in a stopover in Budapest. So with limited time to explore, we put together this action packed itinerary. It might be useful to anyone who is interested in a whistle stop tour of this wonderful city.
1 day itinerary for Budapest:
8.30am – start early (with coffee!):
 If you're going to do a day in Budapest then starting early is a must. Start the right way – with a coffee. We headed to the relatively new cafe – 9BAR on the Pest side of the city which is definitely recommended (check out the swan coffee art!). It's cosy and has lots of lovely personal touches (the map of where visitors were from was great!). We had a quick bite to eat and then set off to explore the city.
9.00am – Stroll the streets of Pest:
Stroll through the streets on the Pest side of the River (look out for the street art and the beautiful St. Stephen's Basilica) and then head to the impressive Parliament building. You can go in but it's pretty wow from the outside alone so save time and wander around and then head for the river.
9.30am – Walk along the Danube River:
Walk along the River Danube and take in the views of Buda on the opposite side. Margaret island (which has lots of lovely landscape gardens) is to the right and the Szechenyi lanchid (or Chain Bridge) to the left. Head towards the latter and stop at the Shoes on the Danube. This is a sculpture to honour those Jews from Budapest who were killed during WWII by fascist militia, and is a sombre spot on which to pause, reflect and remember.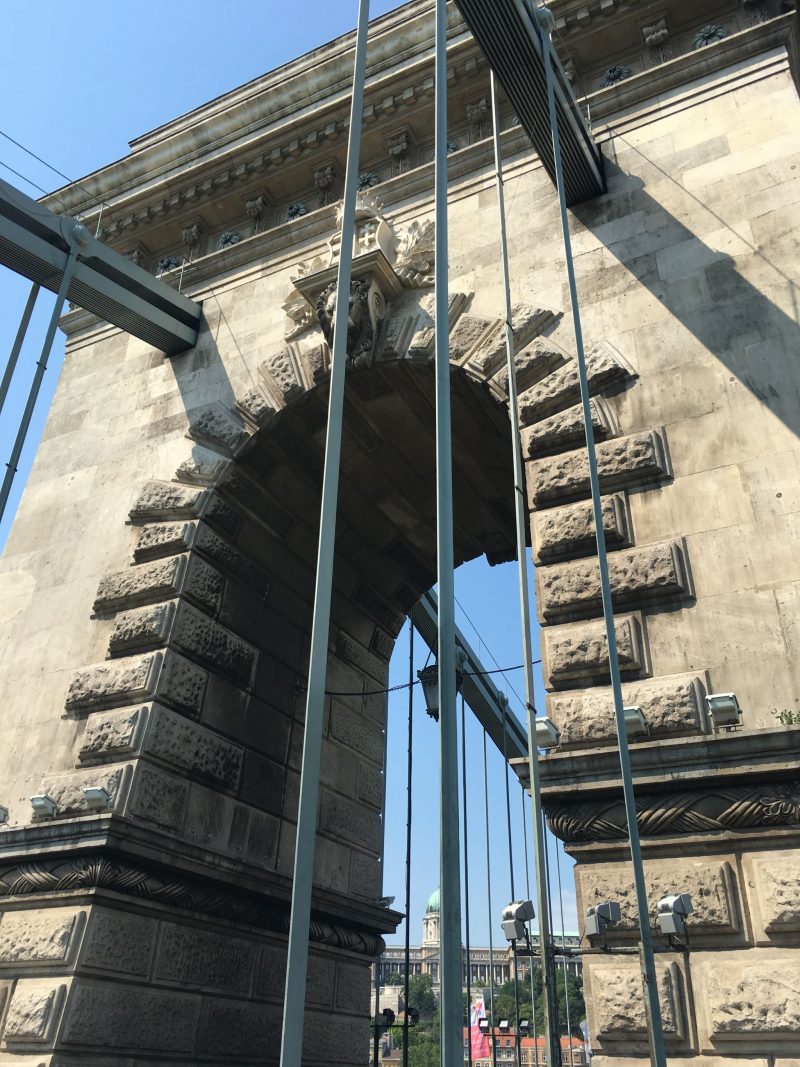 10am – See the beautiful Buda:
Over the bridge, head up the hill towards the Fishermans Bastion (a neo-Gothic Terrance surrounding Matthias Church). It offers amazing views back towards the Parliament buildings and Pest side of the city. You can pay to go on the walls but the view is pretty similar so leave this and instead walk towards the Vienna Gate. Take in the beautiful streets and roof of the Hungarian National Archives building on your walk. If you're feeling hungry stop at
Baltazar
Budapest for some food or grab a pastry at a nearby corner shop. Then keep walking to Buda Castle where you can wander around the grounds for free as well as take in the views over Pest and the Citadella Fortress in the distance.
12noon -Explore Pest:
Back down and across the river – take some time to discover Pest. Leaving the Chain Bridge, turn right into the streets of Pest. There's lots of shops here and if you keep going straight you can stroll to the food market which is a 20 minute walk away. This is a great place to visit if you are self catering and want some local food. It has mixed reviews as a place to eat on the go though, so save lunch for your next stop.
2pm – Time to dine (keep it traditional)
Lunch it has to be the traditional Goulash. Head to the renowned food and drink area of Gozsdu Udvar and have the beef stew at
Cafe Vian
served with dumplings and assorted pickles. We can recommend – it was incredible. There's lots of options throughout the city though and other recommendations include the
For Sale pub
near the market and
Hungarikum Bistro.
4pm – Spa, cake and coffee (or perhaps a power nap…!)
We cheated and opted for a power nap at this stage (we didn't land in Budapest until 2am and were feeling it!). But if you are still keen to explore then I'd definitely suggest opting for a bit of afternoon relaxation with one of the traditional spas such as Szechenyi or Gellert Spa. We couldn't fit this in (next time!), but it's very much a must visit location to relax like a local and check out the chess playing sessions taking place!! Alternatively if you've forgot your swimmers and are after a dessert then head to one of the beautiful cafes such as
Gerbeaud
and try a slice of a traditional cake. The Dobos cake looks amazing but be warned the cakes don't come cheap, but then it is your holiday after all!
5.30pm – Time to get "ruined" (checking out the Ruin Bars)
With a 4am start the next day, we headed out early doors to visit the much talked about ruin bars which are something of an institution in Budapest. The most famous is
Szimpla Kert
and it really is a feast for the eyes. There's everything from old TVs, dolls prams, through to a garden gnome featuring in the display. With a plethora of rooms, you're spoilt for choice in terms of where to enjoy a drink or two.
7pm – The bars of Pest
Before dinner, stroll the streets and take in the street art which seems to be everywhere in Budapest (some of my favourites are below). The Jewish Quarter has some incredible bars and if it's summer it's definitely worth taking advantage of the outdoor ones such as
Koleves
(which also has a separate restaurant attached too and comes recommended) . The atmosphere is so relaxed and it makes for great people watching.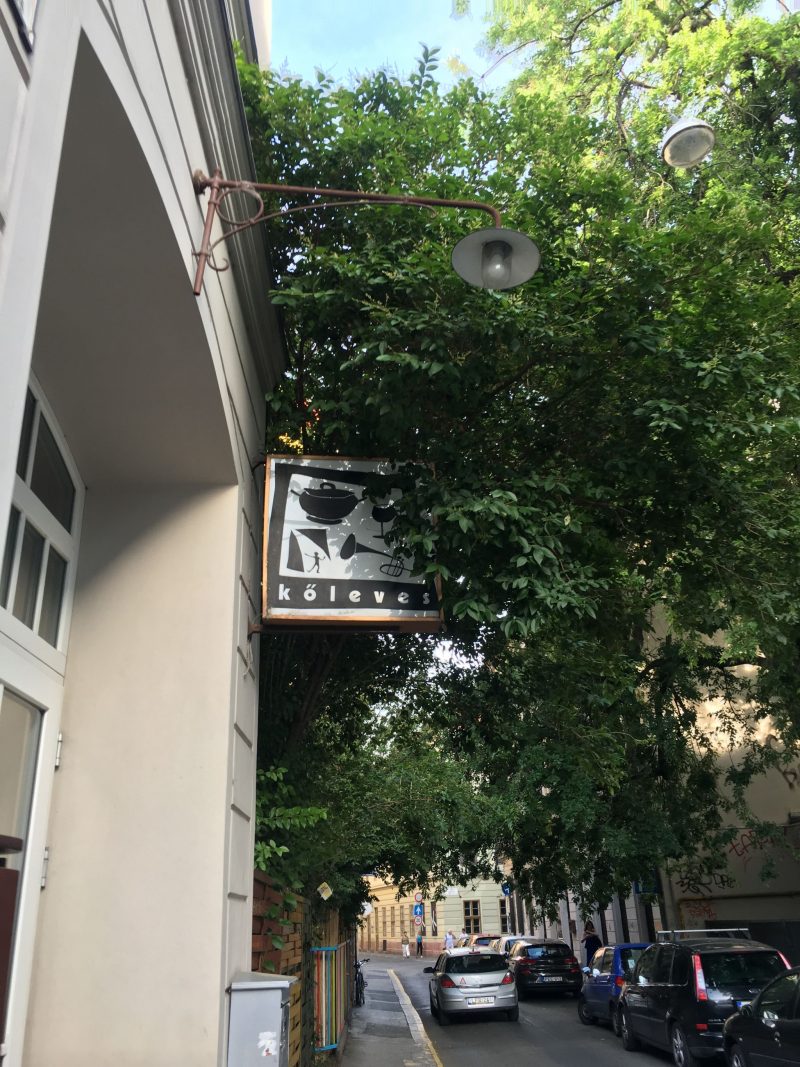 8pm – Take a trip to Gozsdu Udvar
There's so much choice in Gozsdu Udvar and the surrounding streets that we couldn't resist and headed back there for dinner. Although it's not a traditional option, I'd strongly recommend
Vicky Barcelona
 for incredible tapas in a beautiful and authentic bar. With the band playing and sangria flowing it's hard to believe you're not in Spain. If you have more hours to spare then this area is the place to be for evening drinks too and keeps going well into the early hours (we were witness to this when getting our taxi at this time to the airport!)
So there you have it, a day in Budapest. Yes inevitably you will miss some sites and activities with limited time, but I left feeling like we'd certainly made the most of it and had done it justice in terms of what we'd covered. I certainly gained a lot of love for this beautiful city.
The Guestbook's comment: Don't underestimate how much you can fit into a day. Ideally you'd come for longer but it makes a perfect stopover and it's easy to see a lot of the sites and get a feel for the city on foot in a short space of time. It might mean you leave tired but you'll be full of memories (and hundreds of photos!!)
Note. Also think about your location when booking accommodation, we stayed in a compact but beautiful airbnb smack bang in the middle of the trendy Jewish quarter on the Pest side of the city which was a great base from which to explore.