One of the things I love about Dubai is it's location. Not necessarily being based in the desert (that's not so fun in the summer), but more it's proximity to other destinations. Dubai as a stopover hub is great for ensuring we get a steady flow of visitors so we never feel too homesick, as well as providing a great base for some of our own exploring.
Whilst the location opens doors for more far flung locations such as Asia, New Zealand and Australia, there's also so many options for shorter breaks within a few hours of Dubai.
We've been lucky to travel to Jordan earlier in the year for a long weekend which is only a 3 hour flight away (more on our trip here) as well as Istanbul late last year so that's two off the list, but there's lots more. Here's some of the places that make my wish list for a long weekend trip all within 5 hours of Dubai:
Long weekend ideas from Dubai
Jaipur, India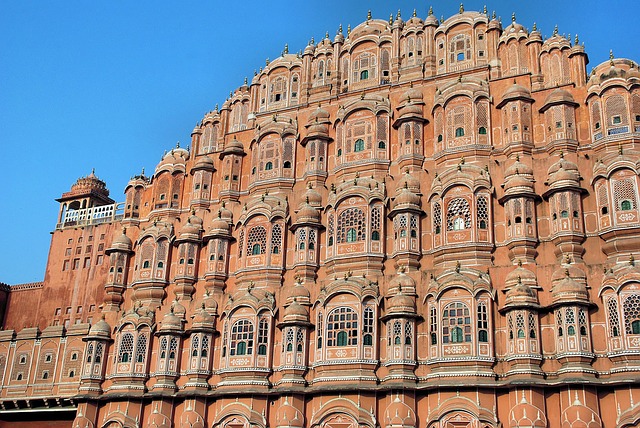 Why?
Cliche maybe, but the Taj Mahal is definitely on my list of places to visit. The more I look into visiting this area though, the more it becomes obvious that there's so much more on offer. As well as the famous landmark itself, there are plenty of other stunning locations and architecture to explore on your way between Agra (where the Taj Mahal is based) and the Pink City of Jaipur. The final piece in India's Golden Triangle is New Delhi. This has less appeal to me as I think it would be hectic to say the least, but many people rave about the city as a must visit to discover the real India so it could also be included. It's also the main airport for most flights to this area (more below).
How to get there
Dubai has regular flights to New Delhi, as well as less frequent flights direct to Jaipur. Flights are extremely reasonable and come in at under £200 for a return in most cases (note the Jaipur flights are a little bit anti social with their timings!!). In terms of getting around your best bet is hiring a driver which is usually very reasonable and avoids you having to rush for trains (although trains are an option). Driving yourself is not!
Where to stay
On my shortlist for Jaipur would be the Royal Heritage Haveli. This hotel is a converted 18th-century Rajasthani hunting lodge and the pictures and reviews have sold it for me. If you're looking for a relaxed setting with the wow factor and are happy to stay outside of the centre then the Alila Fort Bishangarh doesn't really get more wow. The Alilia brand is worth looking at more generally (I've got my eye on one of their resorts in Oman too!). In terms of Agra, location is king so choose one of the centrally located chain hotels. Boring perhaps, but this is all about visiting the Taj Mahal so practicality is important. Having said that, obviously if money was no object then look no further than The Oberoi Amarvilas, but otherwise make do with practical!
When to visit
Time your visit carefully to avoid the seriously hot Spring/Summer and monsoon season. Early November – February are the best times to make the most out of your visit.
Salalah, Oman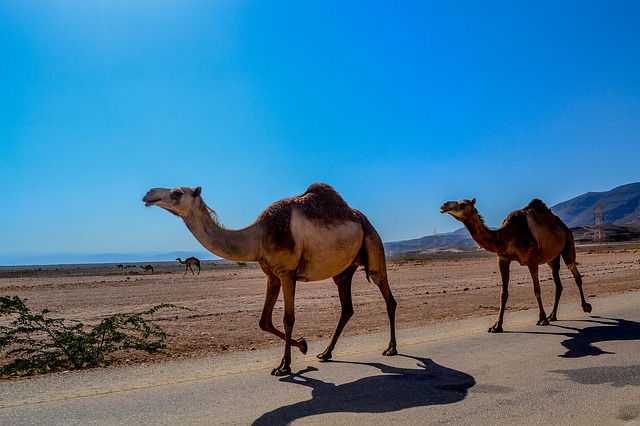 Why?
Located in the South Eastern part of Oman, Salalah offers something that might seem a million miles away from the Middle East that you see in the other popular destination of Muscat (more on that below). Renowned for its greenery, which might come as a surprise to many who only associate the Middle East with the dusty desert. To really see it at it's greenest then you need to time it with the monsoon (Kareef) which arrives in the Summer from mid June – August. As well as offering a welcome green escape, Salalah also offers beaches being along the coast so is perfect for a beach break too. And if you're looking for deserts? You don't need to look too far, the Ar Rub Al Khali (The Empty Quarter) provides the perfect desert experience to complete your trip.
How to get there
Salalah is an easy flight from Dubai or you could include it with a Muscat visit with flights regularly from the capital. Flights from Dubai are around £150 with Fly Dubai (there's also Oman Air too). The journey is a short flight, just over 2 hours, so perfect for a long weekend break.
Where to stay
Salalah isn't a huge tourist resort and in this respect might provide a welcome contrast to the tourist popular destinations of Dubai, but with that comes a lot less hotel choice. There's enough though and prices are pretty reasonable which is good as Oman can be quite expensive. You could get a hotel with pretty good reviews in the region of £50 – £80. If you really want to push the boat out though then opt for Al Baleed Resort Salalah by Anantara – this will be closer to £200 for the night, but looks pretty special if you can justify it.
When to visit
Unlike it's neighbour below, the summer is the best time to visit Salalah when the monsoon (kareef) arrives and is responsible for the green slopes and beautiful waterfalls it's famous for. Bear in mind prices are understandable higher though.
Muscat, Oman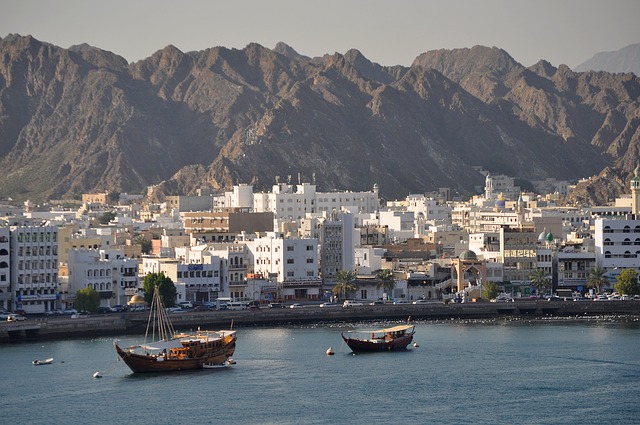 Why?
Interestingly Muscat seems to get a mixed response from people I know who have visited with many loving the city, whilst others saying that it's better to spend time in other places in Oman as there's so many amazing places on offer. Whilst the latter is definitely true, I've still got Muscat on my list as it offers a contrasting picture of the Middle East to the high rise version of Dubai. It's also convenient and apart from the sights in the city alone, it offers beaches and a number of day trips from within easy reach. On your list should be the wadis of Oman which are not too far from Muscat so can be added on as a day trip. Khasab, the Fjord area of Oman, isn't so easy so save that for a separate trip (more on why you should go in this post!), but there's lots to keep you occupied within easy reach of the capital.
How to get there
Muscat is a short flight from Dubai (1 hour) with lots of options and a return flight around £100. Visas must be purchased online in advance now, which is a recent change only just brought in. Oman generally isn't cheap, so consider this when thinking about how you'll get around. A car might be a good option if you're keen to get out and explore.
Where to stay
If you're after all out luxury then The Chedi gives you this but does come with a price tag to match! Other options that still provide luxury and aren't quite as expensive include Shangri-La Al Husn Resort & Spa. If you're not bothered about the beach or relaxing so much then there's a few good deals to be found such as the Centara. It is dry and a bit further out, but for under £50 a night you can't really argue. There's also an excellent Thai restaurant on site. If you're incorporating locations further a field then Wahiba Sands (a desert near Muscat) has some different accommodation options if you fancy an overnight stay such as Desert Nights Camp. If you're heading up to the historic areas and mountainous regions then the Alila Jabal Akhdar Oman which is literally in the mountains is a must. It's expensive but packages often include food as well as yoga activities to try and help justify it. Plus it's a lot cooler in the summer months than the rest of the Middle East due to the height advantage so it's a perfect time to visit.
When to visit
Sadly like it's neighbour Dubai, the summer can get very hot in Muscat. Leave a visit until November – March to make the most of it. The exception being if you are heading to the mountains such as the resort of Jabal Akhdar which, as mentioned, is often 15 degrees cooler so offers a good option for a getaway!
Baku, Azerbaijan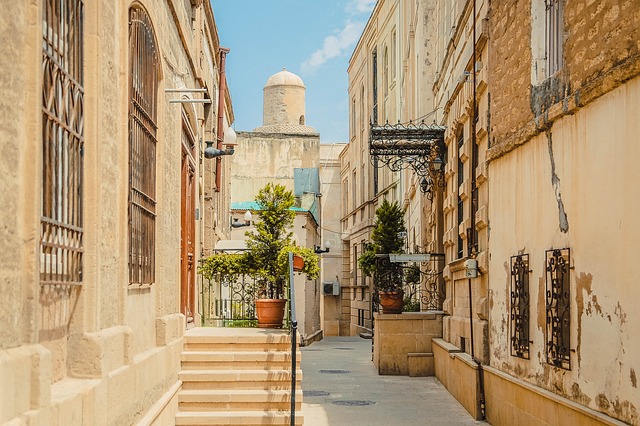 Why?
Only associate Azerbaijan with the Eurovision song contest? Probably me too until recently! Baku has lots to offer and you'd be forgiven for not knowing too much about it as it is rapidly developing. The city epitomises East meets West, with influences from the bright lights of Dubai but also Europe, in addition to traces from the Soviet era. It's a mix of old and new too so there's something for everyone with varied sights. The old city is perfect for strolling around, although the rate of growth of some of the new buildings and the architecture of them is probably likely to catch your eye too.
How to get there
Just under 3 hours from Dubai, a return costs just under £200. There's a few operators on this route but the cheapest is likely to be Fly Dubai. Once there you don't really need to worry about getting around with metered taxis, buses, and a metro available to navigate the city.
Where to stay
Really want to push the boat out? Then opt for the Four Seasons – although it will set you back at least £200 plus per night. There's plenty of cheaper, but very highly rated options though which will cost anything between £60 – £100 per night.
When to visit
End of Summer and early Autumn is a great time to explore the city. Summer can get hot (although it's probably still a welcomed relief from a Dubai Summer!!).
Tbilisi, Georgia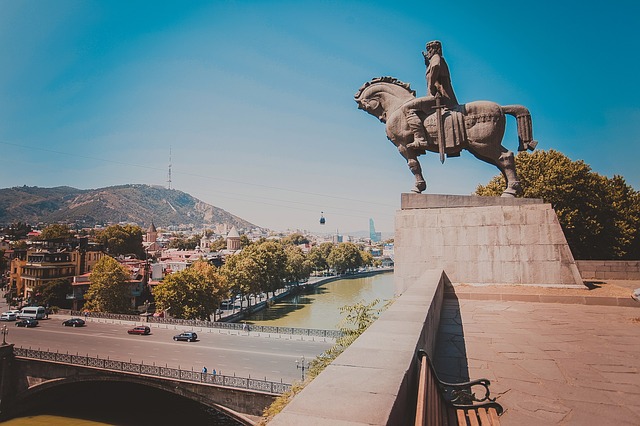 Why?
Next door to Azerbaijan, but in many ways very different is Georgia. You could combine a trip to both destinations but they are also stand alone as great options for long weekends. Whilst the capital of Georgia, Tbilisi probably doesn't spring to mind when selecting a destination, it's also a hidden gem with so much to offer. From the city itself next to the Mtkvari River to the countryside surrounding it, its the perfect place to combine both a city break, as well as an escape to the mountains for some spectacular views.
How to get there
An easy flight from Dubai, Tbilisi can be reached in just over 3 hours and there's relative cheap flights on offer too for around £250 per person.
Where to stay 
If you like your wine then the Vinotel Hotel is a great option with a dedicated wine cellar alongside it's 12 quirky guest rooms. If you're looking for ultra cool and luxury then the Rooms hotel struggles to be beaten and oozes style with a New York feel but without losing it's uniqueness of very much being in Tbilisi.
When to visit
All year round! Although it can reach quite high temperatures in the summer and get quite cold in winter (no snow like the rest of the country though). Opt for Autumn or late Spring to make the most of it.
The Guestbook's message: "You're spoilt for choice on a long weekend from Dubai and with plenty of cheap flights available, there's no excuse not to explore somewhere new!"