If like us you're limited on time but want to get the best out of Jordan, then our whistle stop guide for visiting some of the key sights in 3 nights (4 days) might be just the ticket! 
Day 1 – The Dead Sea
We took an early flight from Dubai to Jordan and landed with plenty of time to make full use of our first day. As much as it would have been great to see the capital Amman, we were limited on days so had to focus on 3 main sights – the first one being the Dead Sea.
Travelling from Jordan airport to the Dead Sea
We decided to drive ourselves (more on that here), and booked with Europecar getting upgraded to a Renault Duster. The drive from the airport to the Dead Sea was straightforward and we took Route 45 before joining the impressive Ma'in Street which I'd recommend. You avoid any busy towns or areas (to be fair outside of Amman the majority of Jordan's roads are quiet which is a welcome break from Dubai traffic).
Note though that this road isn't for those who don't have a head for heights!! Providing that isn't a problem you're rewarded with some breathtaking views as you make the descent down to the lowest point on earth. If you have time you'll pass the Ma-in hot springs which are recommended for a stop. Otherwise the journey alone is a treat in itself so just make use of the lay-bys to pull over and take in those views.
Making the ascent down to the Dead Sea via some seriously meandering roads you will continue to be wowed by the views. When we were there it seemed really misty with the sea and sky almost looking like it had effectively merged into one. Whether this was a one off or not it produced a pretty surreal view as we reached our hotel.
Where to stay
When staying in the Dead Sea you'll find that it's very much resort based and in my opinion is fairly similar with access across the board to the same stretch of sea. If you are looking for the most luxurious however, then you probably want to stay in the Kempinski. Looking for a budget option? The Ramada is competitively priced but note you do need to get a transfer to access the Dead Sea. I'd save your time and for a bit more money opt for either the Crown Plaza, Marriott or Movenpick which are next door to each other.
We opted for the Movenpick and were impressed. It is a mega resort covering a huge area, but it's spread out and done in a way that it doesn't feel overwhelming or too crowded. (The exception being breakfast which was very busy – you'll find yourself fighting for an Omelette!). Breakfast aside, there's quite a few restaurant options for lunch and dinner. Bear in mind that if you're travelling in low season like us then options will be more limited and a few restaurants might be closed. There was enough to keep us happy and we would definitely recommend the Italian restaurant for food. You should also have drinks at the Terrace bar for happy hour in the evening.
You'll find that the Dead Sea doesn't really have a resort centre so it's unlikely that you'll venture far from the hotel but this wasn't a problem and we were only there one night.
The other facilities at the resort are great with a range of pool options and the obvious access to the Dead Sea (more on that below). It's a bit of a walk and quite a few steps but there's golf buggies on hand to shorten the journey if needed.
Floating in the Dead Sea
Now to the main event itself and what we'd actually travelled all the way to sample – a dip in the Dead Sea. The still almost eerie landscape set the scene for a surreal experience. The floating sensation is stronger than I was expecting, good luck even attempting to stand up! But as long as you relax it is quite a novel and chilled out sensation. The Dead Sea was as still as anything when we visited so I was surprised to hear that there's actually times when the lifeguards won't let you go in when the currents are strong. Luckily for us we'd picked a good day.
Another thing that surprised me was how sharp the rocks are. If you have rubber shoes then definitely bring these. We went in with our flip flops but you're best bet is to enter the sea backwards and float rather than walk in (a technique shown by the expert lifeguard). Otherwise you could end up with a few cuts. Nothing major but add the salt to them and it is! Another top tip based on this is to avoid shaving before going to avoid any nasty ouch moments when you enter!
As well as being great for floating the Dead Sea is also renowned for its mud which is available and strongly recommend. You might feel a bit silly and it might smell a little bit strange but your skin really does feel lovely afterwards and it's all part of the experience. You can book spa treatments at the resorts but I think the DIY version is just as fun and certainly more memorable.
Verdict:
I'm so glad we included the Dead Sea in our trip. I don't think you need to spend long there and a night is plenty in my opinion, unless you're looking for a relaxing sun break for a few extra days. The resorts also offer day entry if you're really short on time so that's worth considering too.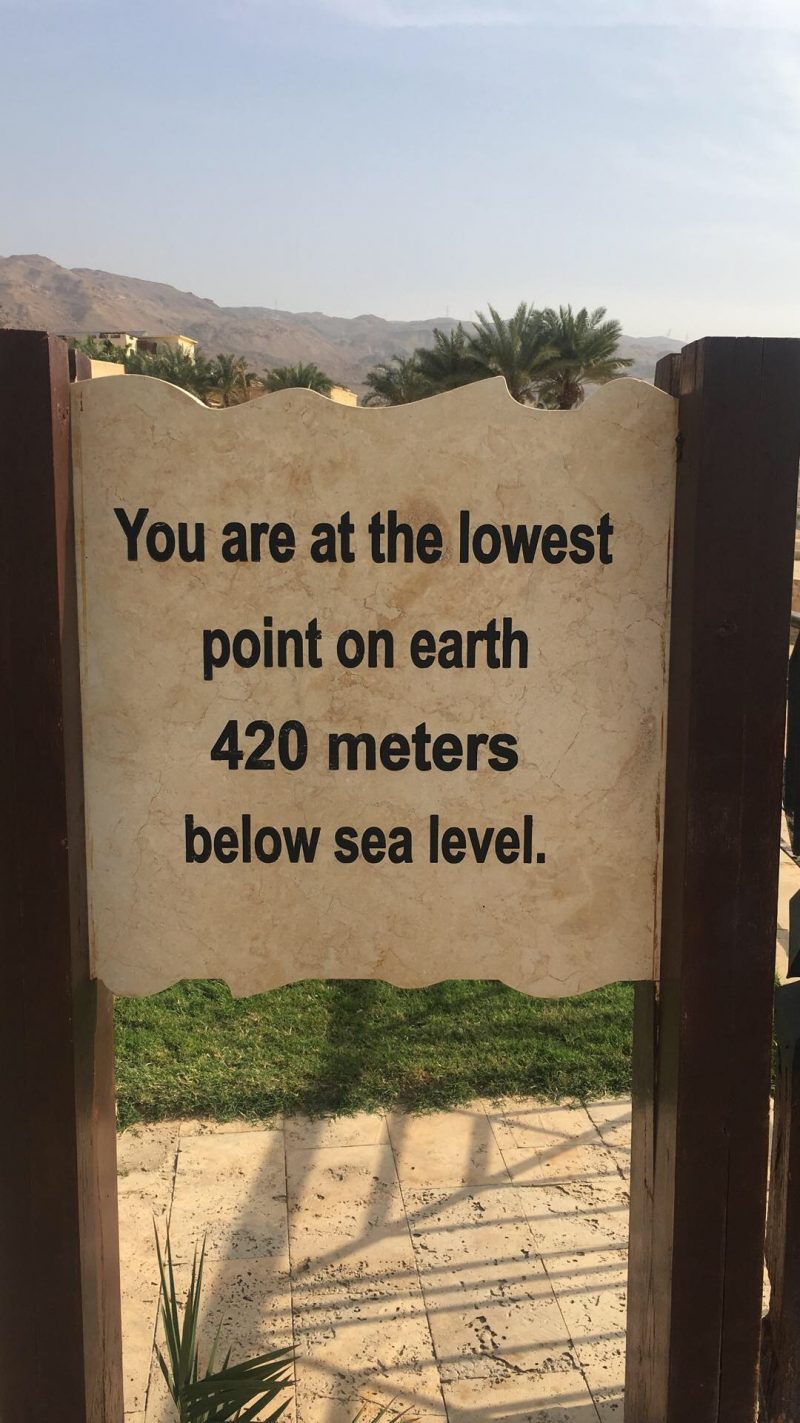 Day 2 – Petra
The drive from the Dead Sea to Petra
Feel fully relaxed and rejuvenated from our Dead Sea experience we continued our trip this time along the Dead Sea Highway to our next destination – Petra. I'd really recommend driving a bit of this route (as was recommended by our friends Seb and Sarah – thanks guys!) because the views across the Dead Sea towards Israel are pretty spectacular.
We were recommend to take the turn off for Karak so we could travel the famous Kings Highway for some of our route. Although longer, it is definitely worth it as it offers incredible scenery. The ascent is pretty steep so be prepared but the roads are easy to navigate otherwise.
We downloaded Google maps offline for Jordan in advance and they worked perfectly. Although keep an eye on it as it will keep trying to divert you to the quicker route via the Desert Highway It's definitely worth the extra time sticking with the Kings Highway though. There's lots of sights to see on this route such as the famous Karak Castle and Shobak Castle. Unfortunately we were limited on time and without breaks it was already a 4 hour trip. If you have time to play with then these would make perfect stops.
Exploring Petra
We arrived in Petra around 2pm (after leaving the Dead Sea shortly before 10am) and quickly grabbed some lunch as we were determined to make the most of our limited time and check out Petra. As we were travelling in Winter we didn't have light on our side and the winter hours means Petra closes at 4.30pm. I'm still a bit unsure how they do this as even on our way back near closing time families were still entering so who knows but I wanted to play by the rules!
Petra is huge! I definitely underestimated the size and you really could spend a week here exploring the trails. As soon as you enter there's lots to see, with Bab al Siq on the main descent from the main entrance as you walk down to the Siq. The Siq is is effectively a narrow gorge that runs for over 1 km caused by a geological fault line. With both sides extending up to heights of 80m plus, it makes for a very impressive entrance to the ancient city of Petra.
Your first glimpse of the world famous Treasury also comes into view at the end of The Siq. The walk in is downhill so prepare yourself for walking back!!
Where to stay and where to eat in Petra
We'd decided to stay in the centre of Petra but if you are looking for convenience and to save your feet (you will walk a lot!) then you'd be better to locate yourselves near the entrance. Petra Guesthouse, Crowne Plaza or the Movenpick are all located here. They are more expensive but you save yourself a walk up quite a steep hill or taxis each way. Having said this, a number of the hotels do run free shuttles in high season so it's definitely worth asking ahead of booking.
Petra centre itself seemed relatively compact and traditional with a few supermarkets to stock up as well as a couple of restaurants. We stayed close to our accommodation eating in Beit Al-Barakah and Al-Wadi restaurants which were both good. Both served great traditional Jordanians dishes which should be tried at least once during your trip. Petra town felt really authentic to me and what I imagined the Middle East to be like. I can't really explain why, but something about it seemed really authentic to me even though it's a very popular tourist destination.
Day 3 – More of Petra and a trip to the Wadi Rum desert
An early start was in order to maximise our final morning in Petra and explore areas we'd missed the day before. I'd really recommend purchasing the Jordan Explorer pass, for the slight extra cost you can get two days access to Petra which is definitely worth it. We didn't quite make sunrise but it was still great to see the place in a different light. If you really want to get a different perspective of Petra you can also go and see Petra at night on during certain nights of the week. Although it does have some mixed reviews so have a look first. It's not included in the Jordan Pass but could be something to consider.
There's so much to see in Petra in the day alone and I found this post from a fellow blogger (and previous Dubai resident!) really useful for planning the sights you want to see.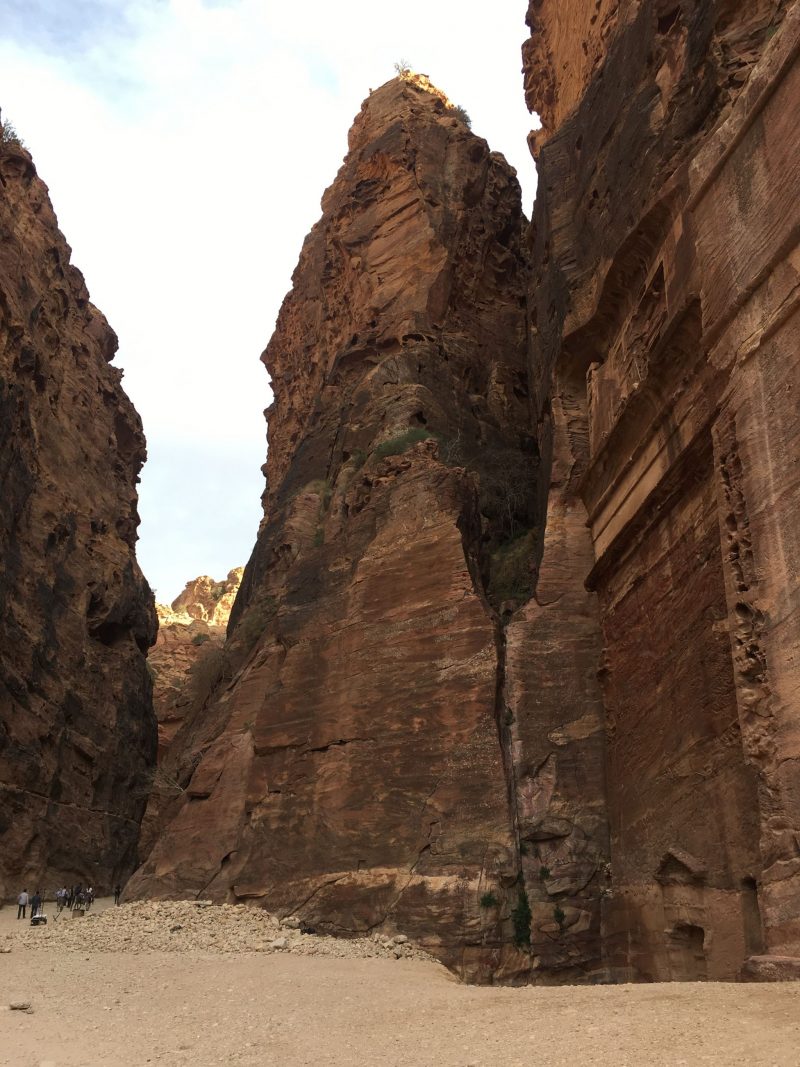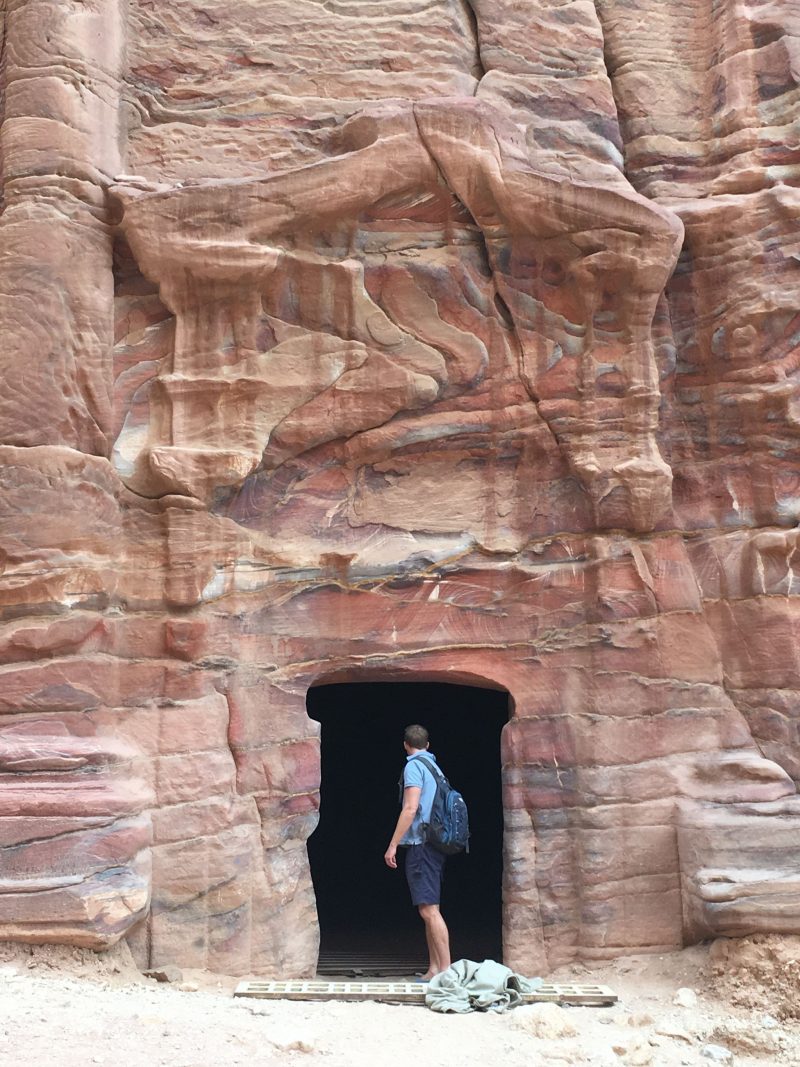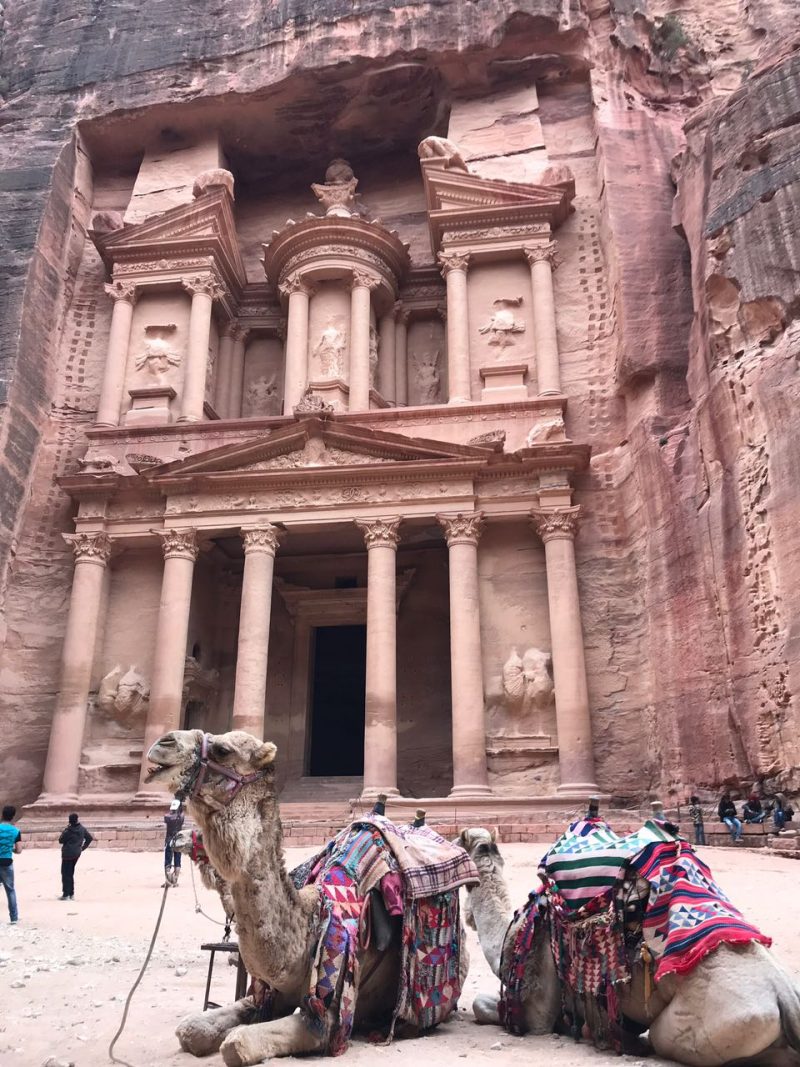 Driving from Petra to Wadi Rum
After some more awe inspiring moments looking around Petra it was back in the car for the journey to our final location – Wadi Rum. Continuing down the Kings Highway before joining the Desert Highway, Wadi Rum is just under 2 hours from Petra and again this route offers some amazing views. Definitely stop off at some of the parking spots to have a look out over the landscape into the Dana Reserve. This is another area that's worth a visit if you have more time and enjoy hiking.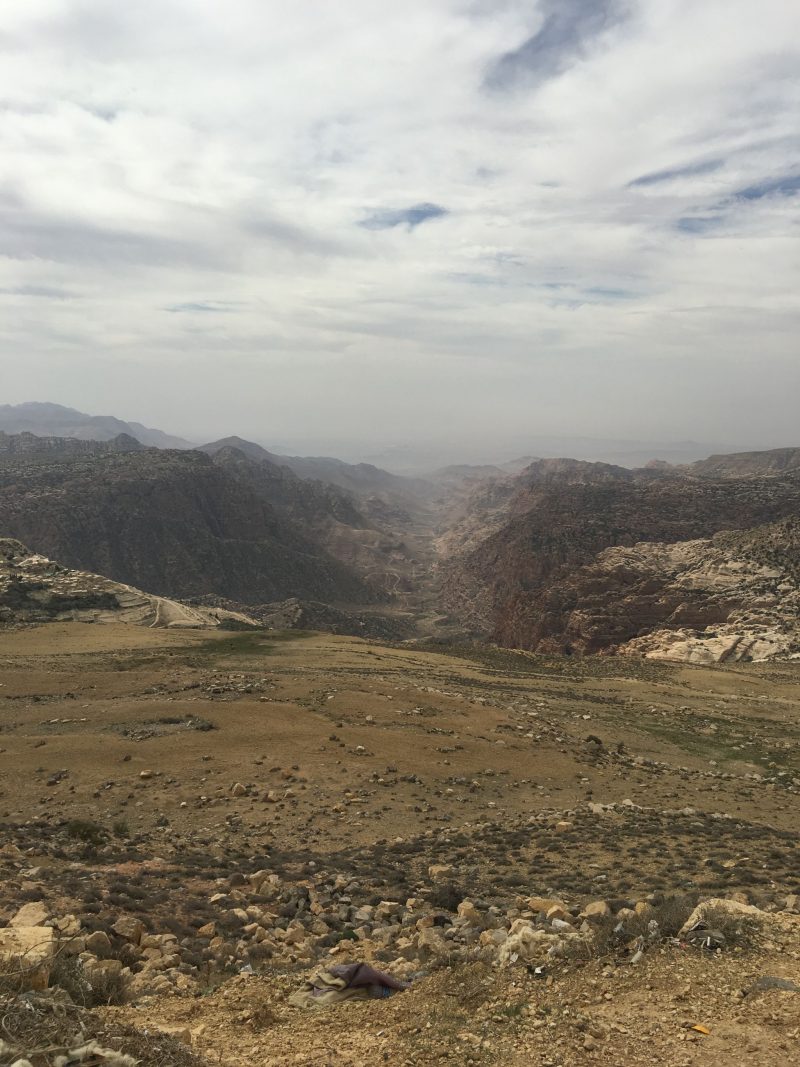 Entering Wadi Rum is something out of a movie set with the vast expanse of sands and huge mountain and rock faces breaking up the landscape. It's a different type of desert all together from Dubai and you can see why it's be used in a number of Hollywood films – it really does look like another world.
Arriving at Wadi Rum and where to stay
You need to pay to enter the Wadi Rum protected zone. If you have your Jordan Pass this is included. I'd recommend booking your guide and overnight stay ahead, although there's plenty of people offering both at the visitors centre. You're not going to have much idea on the availability or whether the camp has good reviews so book ahead if you can.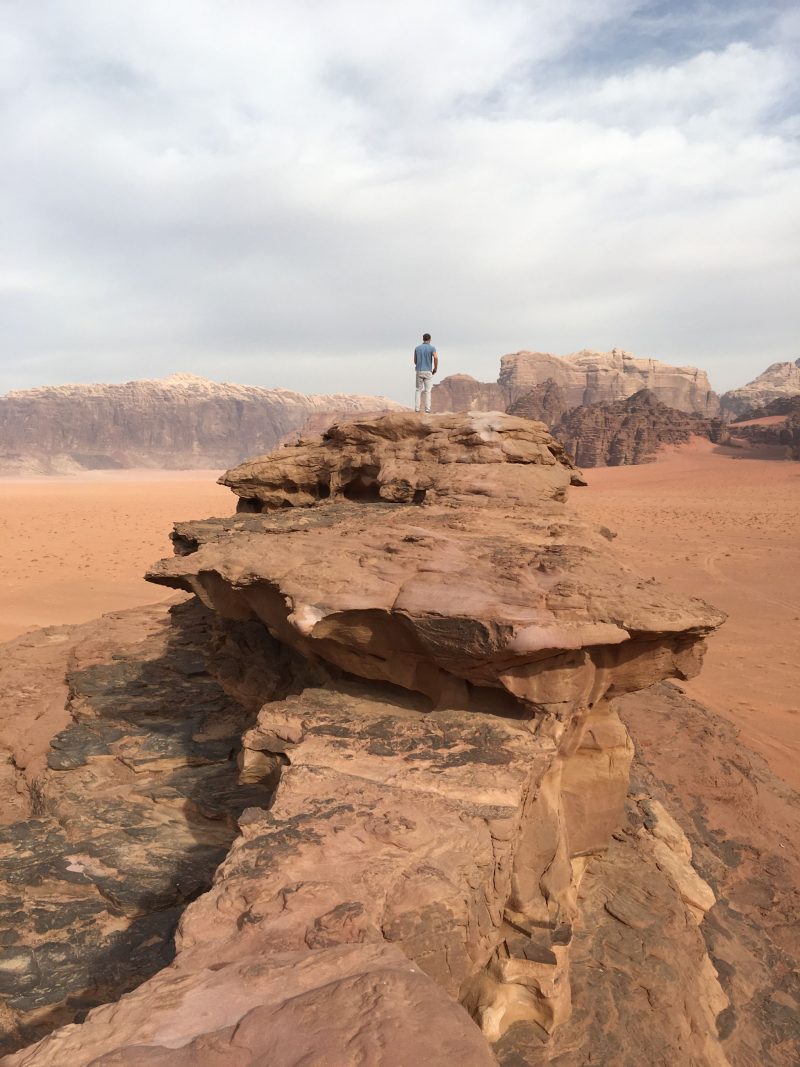 You can drive so far into the desert and then you will be met by your guide from one of the camps. We were staying at Wadi Rum Bedouin Camp to really experience desert life. If you want something a bit more luxury then you're catered for with Sun City Camp which has state of the art Pod cabins for added luxury.
Travelling across the desert to our new bed for the night was pretty amazing as is the silence when you get there. If you're looking for peace and quiet then you've come to the right place. Watching the sunset from the rocks above the camp will be up there with some of my favourite travel memories.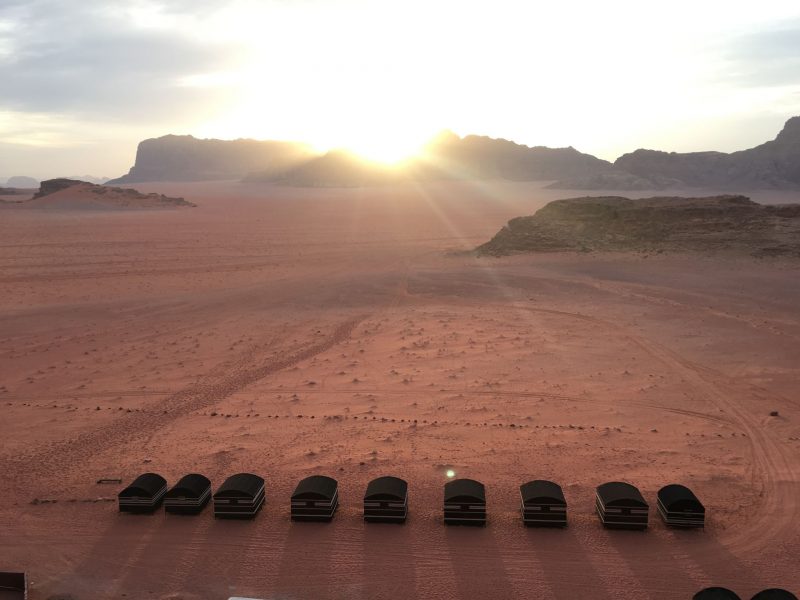 Dinner is also included in the stay and it's a group affair with a traditional fire and then a wide spread of Jordanian food on offer. It's early doors here so you can get up and make the most of the next day but that suited us. Make sure you look at the stars though before going to bed, they are pretty special! The bedrooms or tents are small but perfectly equipped with plenty of blankets as it does get cold at night. Toilet facilities are shared and a walk away so just have a torch or you phone to hand after dark!!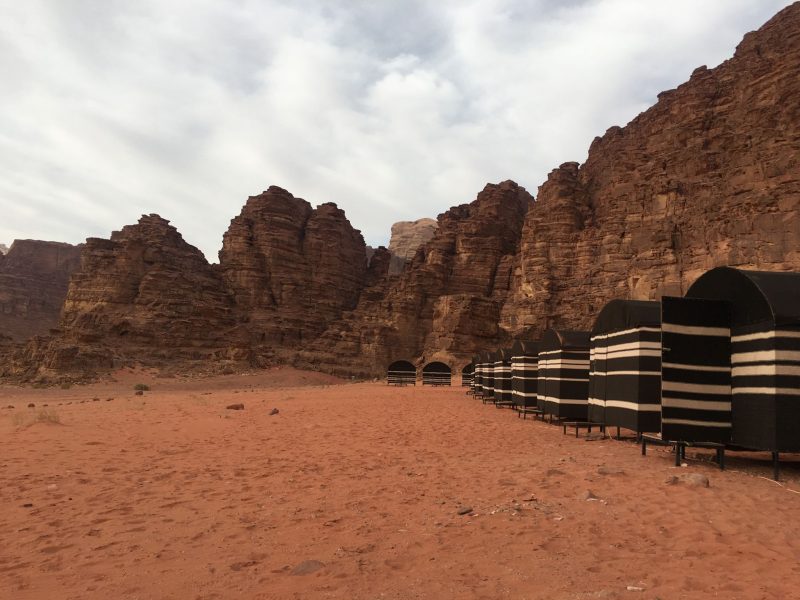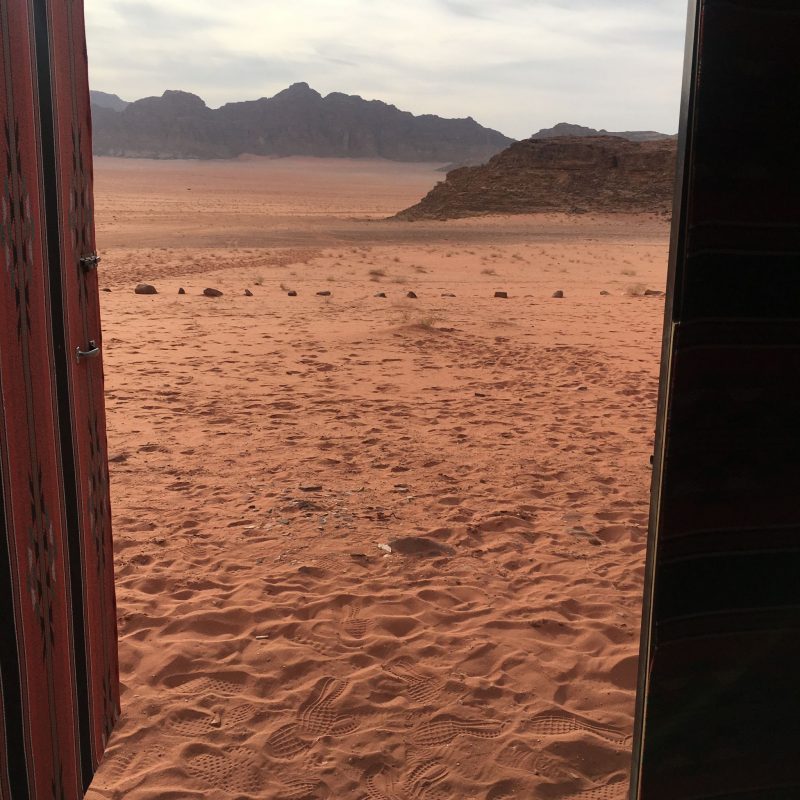 Day 4 – Exploring the sights of Wadi Rum
Breakfast is served early in the morning and if you fancy an alternative form of transport you can arrange for a camel ride back to your car! It was quite a novelty having camels join us for breakfast.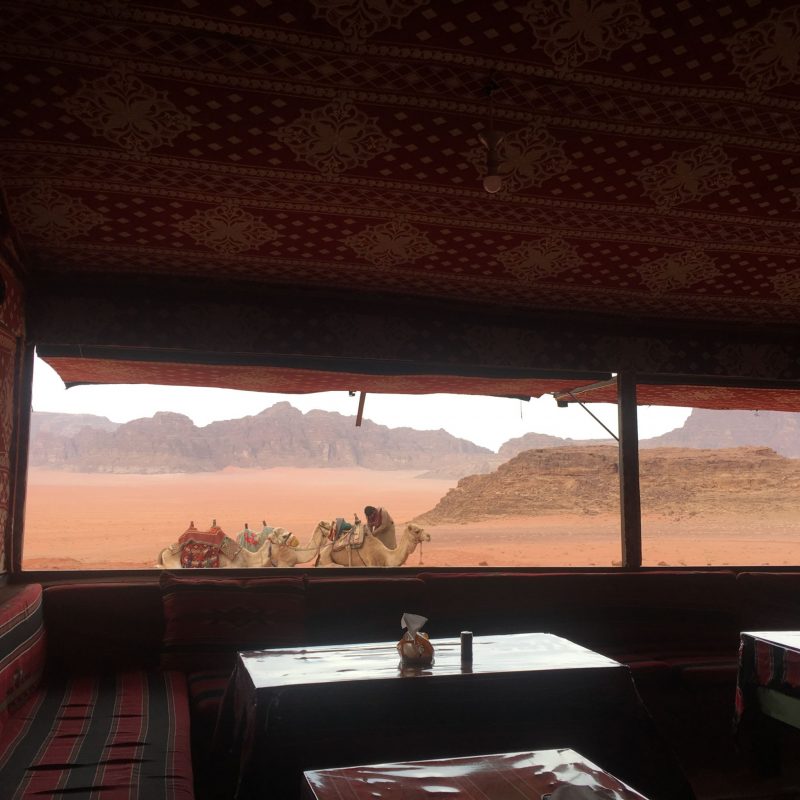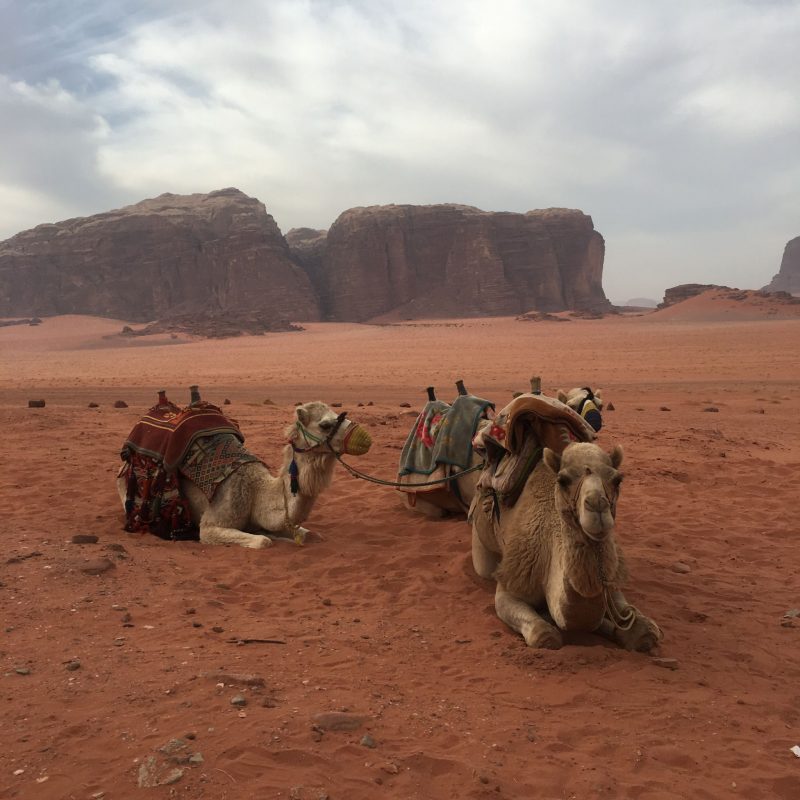 We didn't do the camel ride as we'd booked a half day tour to see some of the sights around the desert. More on our favourites coming soon. Staying over alone is worth it but if you're coming here I definitely think it's worth including this tour in your stay. You can also opt fo full day tours and treks depending on what your preference is.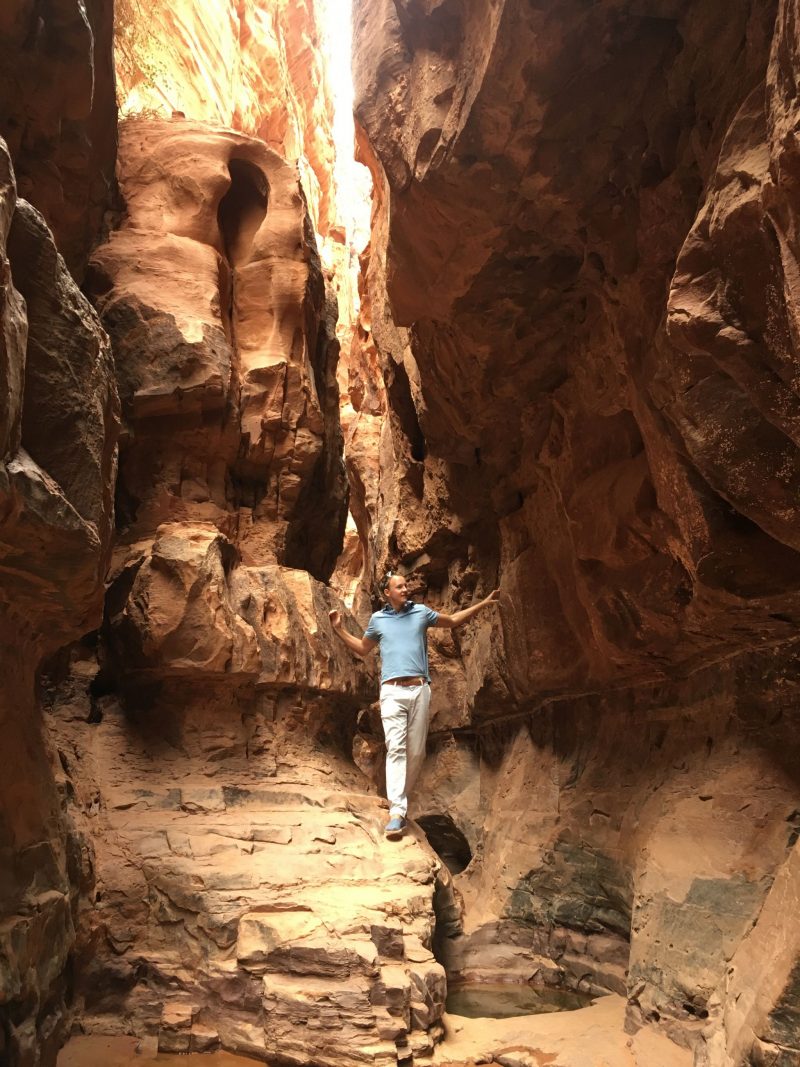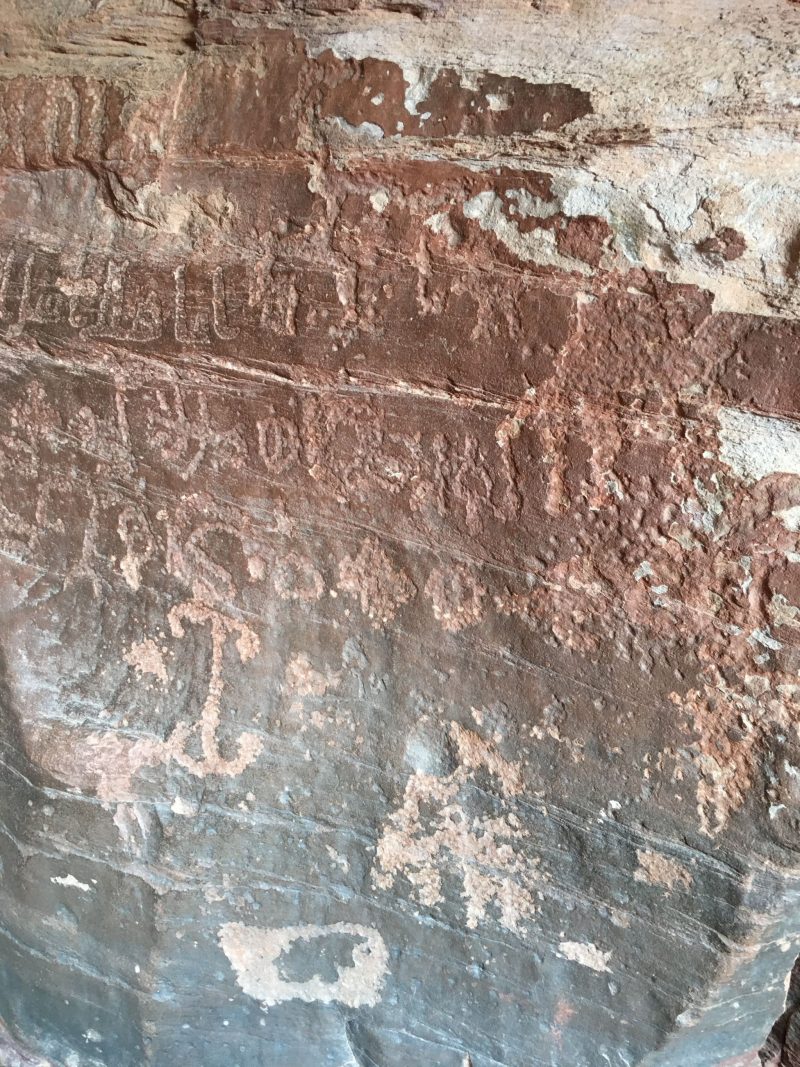 The drive back from Wadi Rum to the airport is best if you pick the most direct route along the Desert Highway. It's not the best of drives though after being spoilt with the previous scenic routes. It's a dual carriageway and popular for trucks with barren flat plains in both directions. (Hence the name Desert Highway). If you've got time you can consider another route back via the Kings Highway again, but for speed this one is best and takes just under 4 hours.
So there you have it – a very action packed and whistle stop tour of Jordan. We left tired, achy but so so happy!
The Guestbook's comment: "For those who love a sightseeing holiday – Jordan is the perfect destination. Although a busy schedule, it can definitely be done in a long weekend if you are limited on time!"