Barbados has an abundance of good restaurants at all price points. Last year I selected my 3 best Barbados restaurants click here. Following our 2018 trip in February I thought it would be a good idea to highlight this year's culinary highlights and see if it would change my Top 3!
You will see that all the restaurants featured are situated on the West Coast. This is because this is where we stay when visiting Barbados. The only restaurant I have eaten in on the South Coast is Champers and I loved it. I am sure there are many more of the same standard. For a link to my Tripadvisor Review of Champers click here.
So here is my summary of the best Barbados restaurants for 2018.
Lone Star
Number 1 in the best Barbados restaurants post last year. We always return here on our visits to Barbados. I just love the setting and ambiance of the place. It's chilled and relaxed with incredible views of the beach and Caribbean Sea. It's not as formal as some of the other West Coast restaurants but it is still very elegant and you feel you are in somewhere very special. Service is very good, even when we dined on a busy Valentine's night, the staff were attentive and friendly.
We visited twice in February 2018 firstly for lunch when the food was disappointing. I find the lunchtime menu is limited, I went for a pizza, I've eaten better in Pizza Express! My wife Jane's curry was also rather bland, even though she asked for it to be spiced up a bit! Dinner was far better. They do what I think is the best Shepherds Pie anywhere in the world and their banana doughnuts are delicious.
It's expensive but still one of the highlights and somewhere you must experience on a visit to Barbados. The view from the restaurant entrance down the stairs to the main restaurant floor with the beach and sea beyond is very special.
Average cost 3 course dinner per head excluding drinks £65. For their website click here
Carizma on the Hill
Carizma on the Hill is situated at Sugar Hill Resort. It's in a great setting next to a stunning pool with beautiful views of the Caribbean Sea and the luxurious Sugar Hill estate.
We have visited this place many times under many different owners. Although we have always enjoyed our visits no-one seems to have made a success of it, until now. Its under the same ownership as the popular Cafe Carizma in Holetown. We ate here 3 times on our recent Barbados trip, twice for the Saturday night barbeque and once for the Sunday Lunch. Every meal we had was excellent.
The barbeque had plenty of choice and everything was cooked to order. I would definitely recommend the ribs, absolutely delicious. Sunday lunch was a delight. My rib of beef was cooked to perfection with crispy roasters, fresh veg, huge Yorkshire pudding and tasty gravy, Jane's herb roasted chicken was also delicious. Their speciality dessert, the Rocky Road Kebab chocolate brownies, marshmallows and fresh fruit on a hanging kebab with chocolate sauce, was another historic dessert!
They also have a regular lunch and dinner menu with their speciality hanging kebabs appearing to be very popular. We thoroughly enjoyed our meals here this year. It was very convenient as we were staying at Sugar Hill but would definitely return if staying elsewhere.
Average cost 3 course dinner per head excluding drinks £40. For their website click here
Hugo's
Hugo's is a new restaurant from the same group as Cin Cin and Primo, so we were expecting great things when we visited for lunch, we weren't disappointed!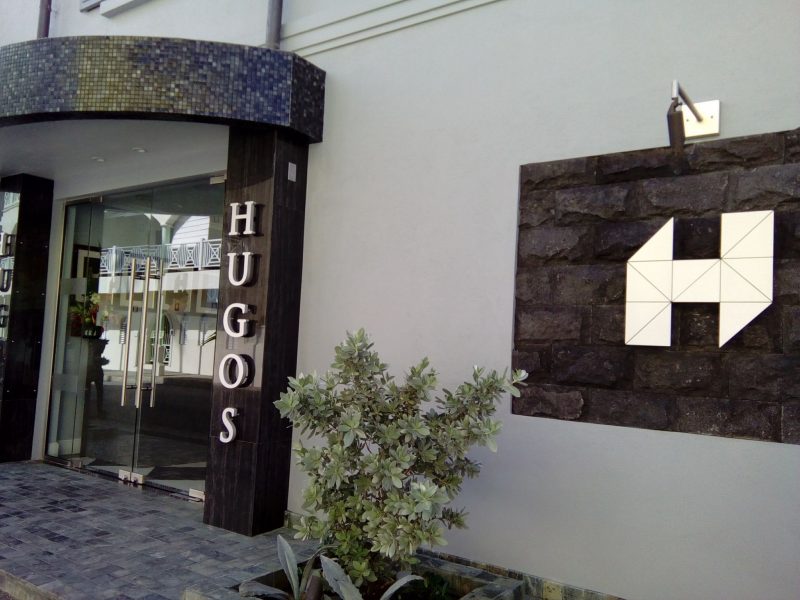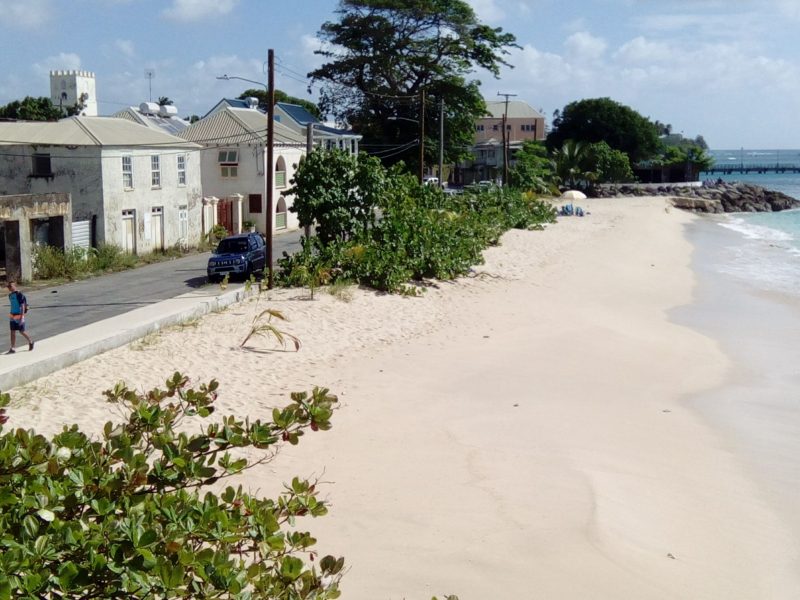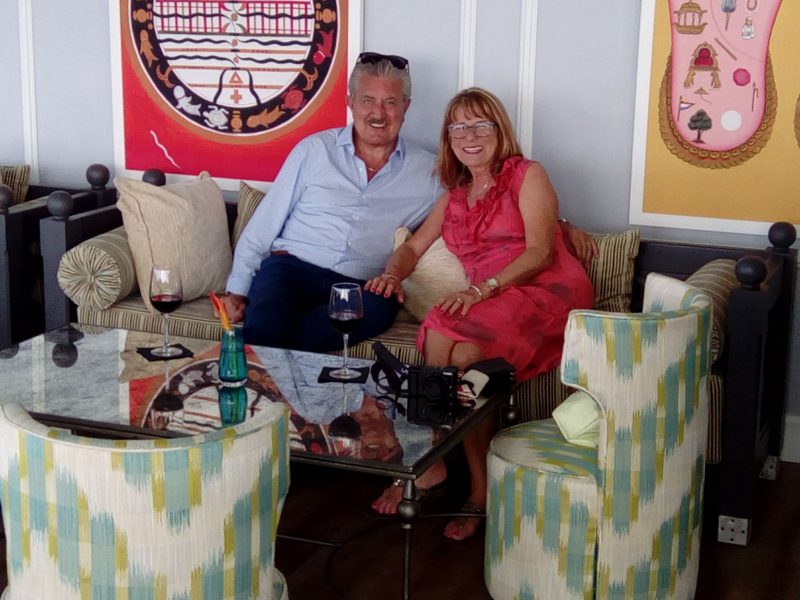 Its great to have a restaurant of this quality in Speightstown. Hugo's is situated on the beach with great views of the Carribean sea and the golden beaches from the upper terrace. Its a stunning restaurant, on two levels, light and airy, a modern design and elegant.
We shared a starter of Spicy Chicken Wings, beautifully presented and delicious, definitely enough for the two of us. For mains we both went for the old favourite, Fish and Chips. Again beautifully presented but unfortunately the batter on the fish was undercooked which was a shame as the fish itself was excellent. The dessert was amazing, crispy deep fried bananas served with banana ice cream, caramel and coconut. We followed our lunch with drinks in the air conditioned bar, a great spot for sundowners.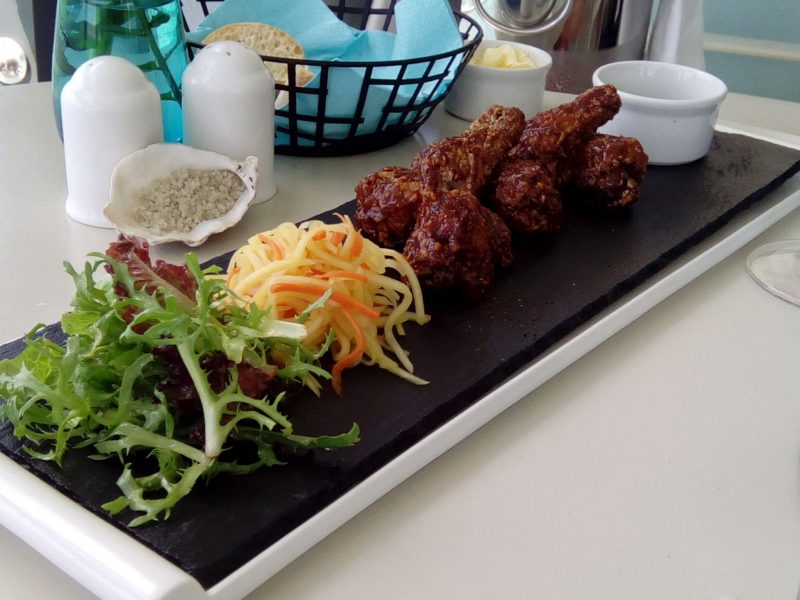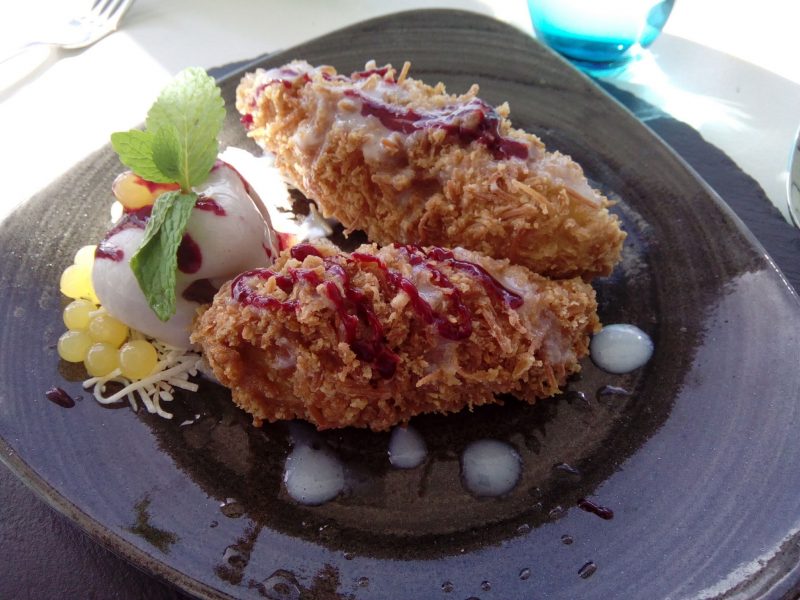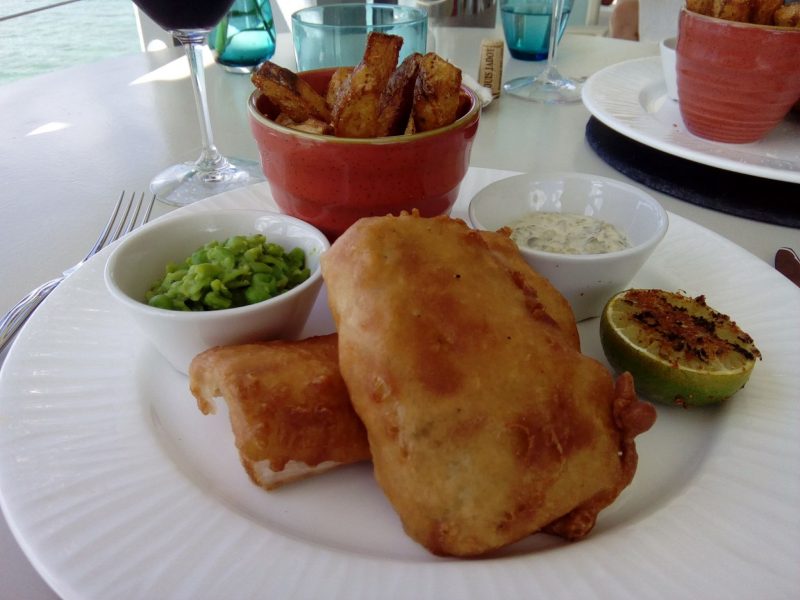 Despite the soggy batter, we thoroughly enjoyed our lunch and would definitely return.  When we visited we were not keen on the dinner menu and felt it was too fancy! I've noticed they have altered it a bit now offering some simpler dishes, so will probably give it a try on our next visit to Barbados.
Bombas
We have passed Bombas many times driving up to Speightstown but have never tried it previously. It will definitely be a regular haunt for future visits!
Bombas is in a stunning setting and even if you don't go to eat you must visit for sundowners, the sunset of the lower decking is amazing and the beachscape with the golden sand and palm trees isclassic Barbados.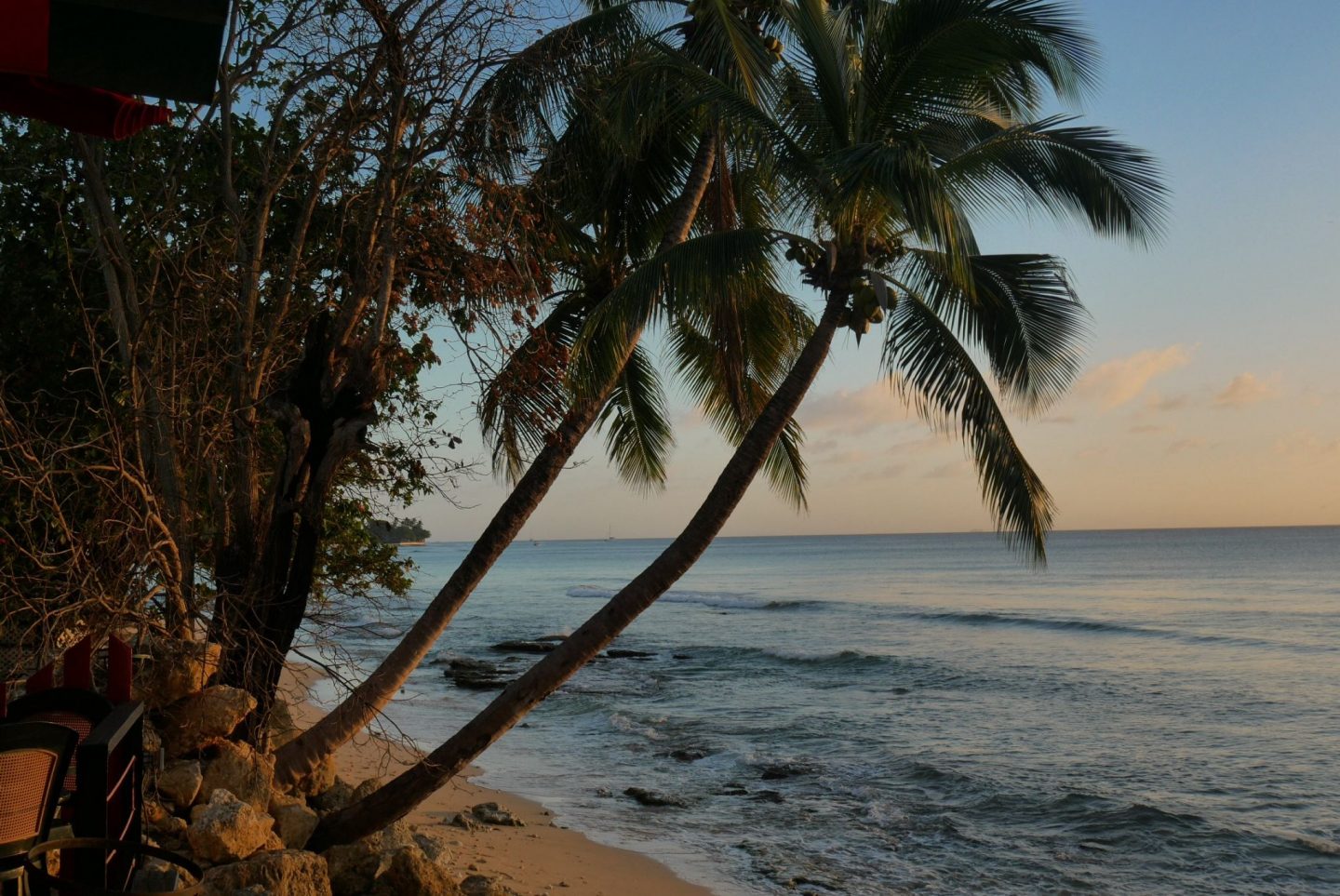 On our first visit we went for drinks, loved it so much returned for dinner a few nights later. We arrived in torrential rain and having booked a table on the lower terrace, which is open to the elements, we were worried we could get very wet. Fortunately we had been moved in to the main restaurant but still with a great view of the sea.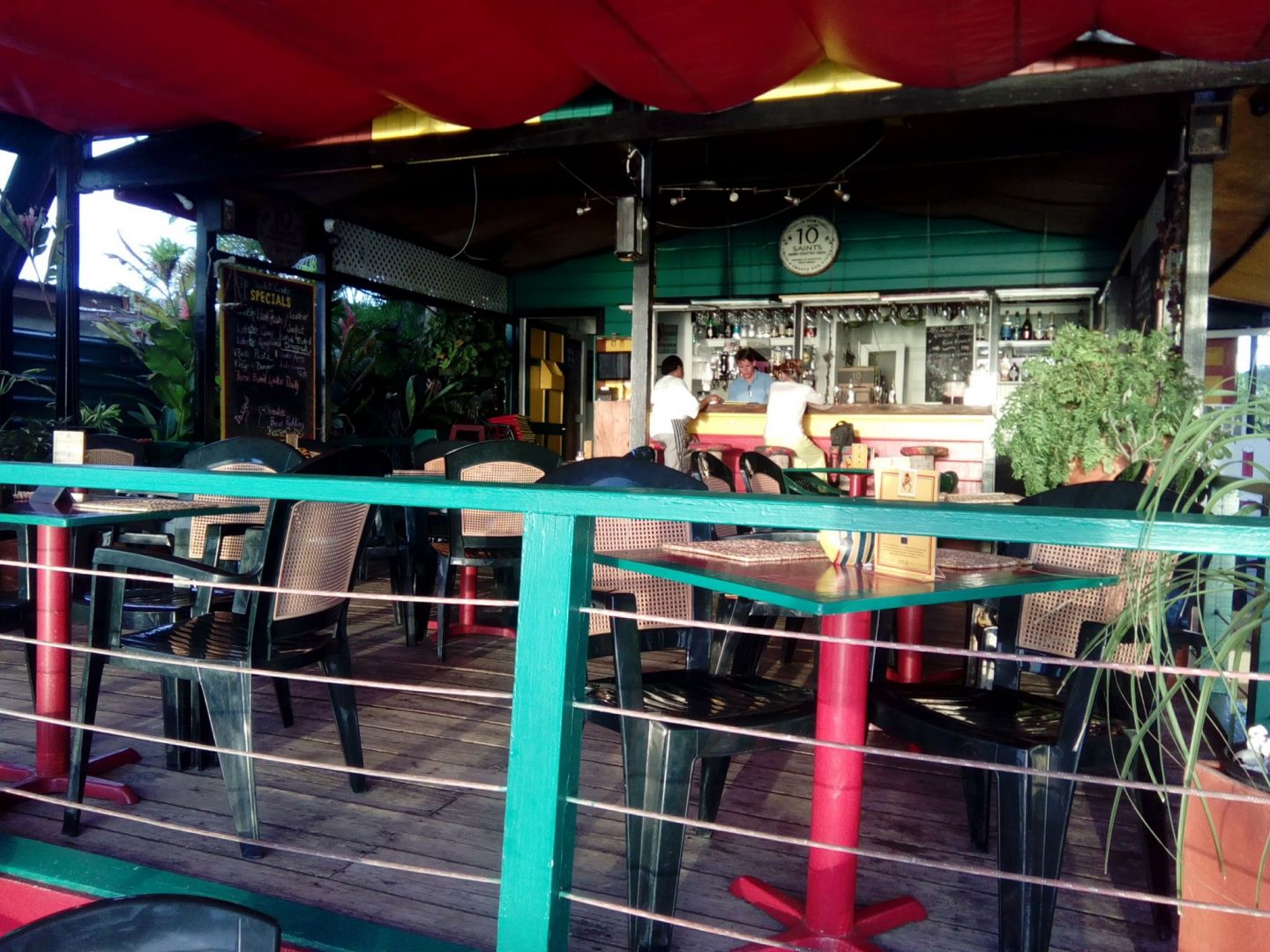 Dinner at Bombas will never be a quiet romantic dinner! Wayne the owner is a big character – some would say rude, I would say eccentric. It can get quite frenetic and I would definitely recommend booking an early dinner. After 7 pm you will probably be queuing even if you have a reservation.
Good choice of fresh fish, lobster is a speciality but you need to preorder. We both had the curry, in my case lobster, Jane chicken! Very good indeed. I followed with Cheesecake, sweets are not a speciality here!
Bombas is cash only, we saw several customers being directed by Wayne to the petrol station down the road!
Average cost 3 course dinner per head excluding drinks £40.
Port St Charles Yacht Club
We have stayed at Port St Charles many times and the Yacht Club is one of our favourite spots on the island. We love the setting, the service and their delicious West Indian Chicken Curry, it can't be beaten.
It appears that the restaurant has finally got the recognition it deserves. We ate here twice this year, once for lunch and once for dinner, on both occasions its a good job we had a reservation as it was packed with people queuing for tables.
Dinner on a Friday night is very popular as they have music from an excellent duo Fire and Ice and an opportunity for dancing. As usual Jane had the curry (you've probably guessed by now she certainly likes her curry!) and I had blackened Mahi Mahi. We returned later in the holiday for lunch and we both went for the curry. On both occasions the food and service was excellent.
I would highly recommend a visit to PSC Yacht Club and if you want to make a day of it diners are welcome to use the sun loungers and pool. There are also showers and changing rooms to freshen up before dining.
Average cost 3 course dinner per head excluding drinks £50. For their website click here
Nishi
Nishi is situated in Holetown on the busy West Coast highway, and was number 3 in last year's best Barbados restaurants post. Not the most picturesque of locations but convenient for the bars and nightlife of 1st and 2nd Streets. There are 3 eating areas – the outside courtyard, a low lit downstairs dining area, and upstairs a brighter area with a Sushi Bar.
The menu is quite quirky offering an extensive range of Sushi, grills, Asian dishes and traditional British pies! On Friday nights they have live music so we booked a table in the courtyard so we could enjoy the music and maybe have a dance or two.
The food is consistently good whether you go for the freshly prepared Sushi or the a la carte menu with dishes ranging from local fresh catch of the day, Thai Curry through to traditional homemade British pies. I have tried many of the dishes but must admit the pies are my favourite. They are served with chips or mash, garden peas and gravy, absolutely delicious!
On this visit I went for the seafood pie, a delicious blend of seafood in a creamy sauce topped with parmesan crusted mashed potatoes, highly recommended. The duo were excellent and we had a great night. As good as ever and not to be missed. I definitely would recommend a table in the courtyard, great atmosphere.
Average cost 3 course dinner per head excluding drinks £55. For their website click here
The Sandpiper
The Sandpiper is a small luxury hotel just outside Holetown. It's a sister hotel of the Coral Reef where we had eaten several times in the past. We had been meaning to try the Sandpiper for lunch but never got round to it on previous trips.
On a rare rainy day we were driving past decided to call in. After some discussion between reception and restaurant staff, we were escorted to a table on the terrace at Harold's Bar. They explained that as they were so busy with residents they were limiting walk ins for lunch and dinner, so maybe best reserve a table at peak times. The welcome and service we got was amazing, we were definitely not treated any different to the residents. The hotel is beautiful with 2 swimming pools set amongst lush gardens opening on to a lovely beach front setting.
There is a good choice on the lunch menu – salads, sandwiches and more substantial dishes. I went for the Chicken Roti, the best roti I have ever had in Barbados and I've had many! Jane chose the dish of the day a breast of chicken cooked in rosemary and garlic, beautifully presented and delicious. For dessert I went for the raspberry cheesecake, it was incredible probably the best cheesecake I have ever eaten, and so beautifully presented. Excellent choice of wine. The dinner menu is more fine dining but they do fish and grilled dishes should you want something more simple.
Expensive but worth every cent. Definitely on our 'must go to' list for our future Barbados trips. Can't wait to try dinner. If I was to stay in a hotel in Barbados, this would definitely be top of my list!
My Top Restaurants for 2018
So have my Top 3 changed?
Lone Star is still number 1, even though we had a disappointing lunch, I just love the setting and ambiance. For me it just has that wow factor and can't be beaten.
In second place it has to be the Yacht Club at Port St Charles. It has always been a favourite but this year it has definitely raised its game, the food and service were outstanding.
Third place is a cop out I'm afraid! It has to be a 3 way tie between Nishi (for atmosphere), Carizma on the Hill (for value for money) and the Sandpiper (for service).
The Guestbook comment: "If you love restaurants as much as I do Barbados is definitely an ideal holiday destination for you. Make sure you don't go All Inclusive!"
No freebies have been offered or provided by any of the establishments featured in this post!