I finished writing this trip report just over 2 weeks ago just as we saw an escalation in the dreadful Coronavirus across the world. I felt at the time it would be in appropriate to publish it. However although we are living through very worrying times at the moment I do think we need something to cheer us up, and I hope my 2020 Barbados trip report will help.
This trip was our 24th visit To Barbados and we enjoyed it just as much as ever.
In the main the weather in Barbados during our stay was excellent. Although in our third week we did see a fair bit of cloud cover, overnight rain and for Barbados it was windy. Probably the tail end of Storm Dennis, which gave the UK such a pounding.
As usual we stayed on the West Coast for 3 weeks. The sea was quite lively with high water levels this year which meant I couldn't do my regular beach walk from Alleynes to Holetown as often as usual.
Accommodation
Once again we stayed at CocoVilla at Heron Court.

Heron Court is a small gated community in Porters about 1 km from the beach and 2 kms from Holetown. We love it there because it's so peaceful and yet very convenient for beaches, restaurants and shops.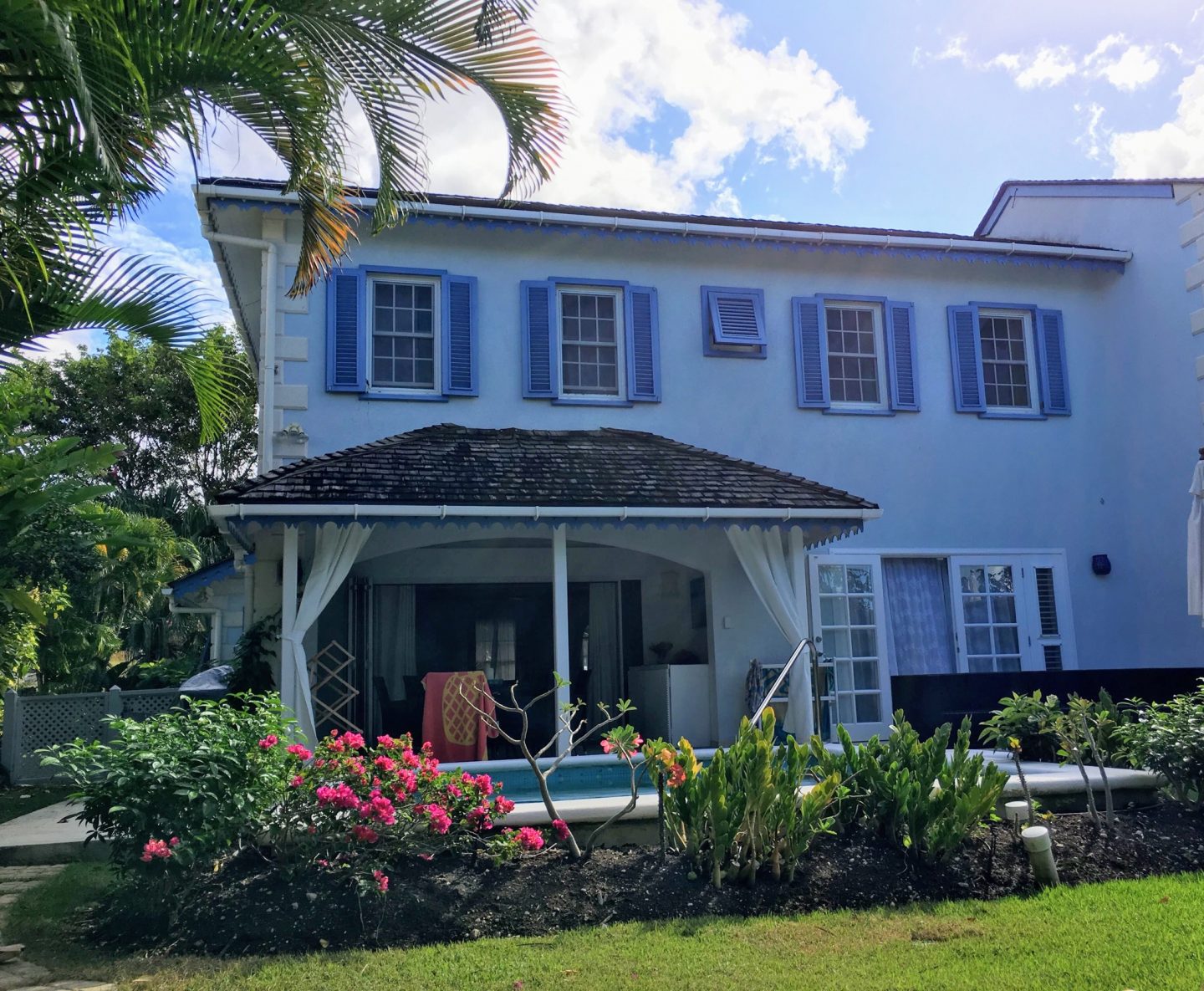 More information on CocoVilla can be found on their Facebook page here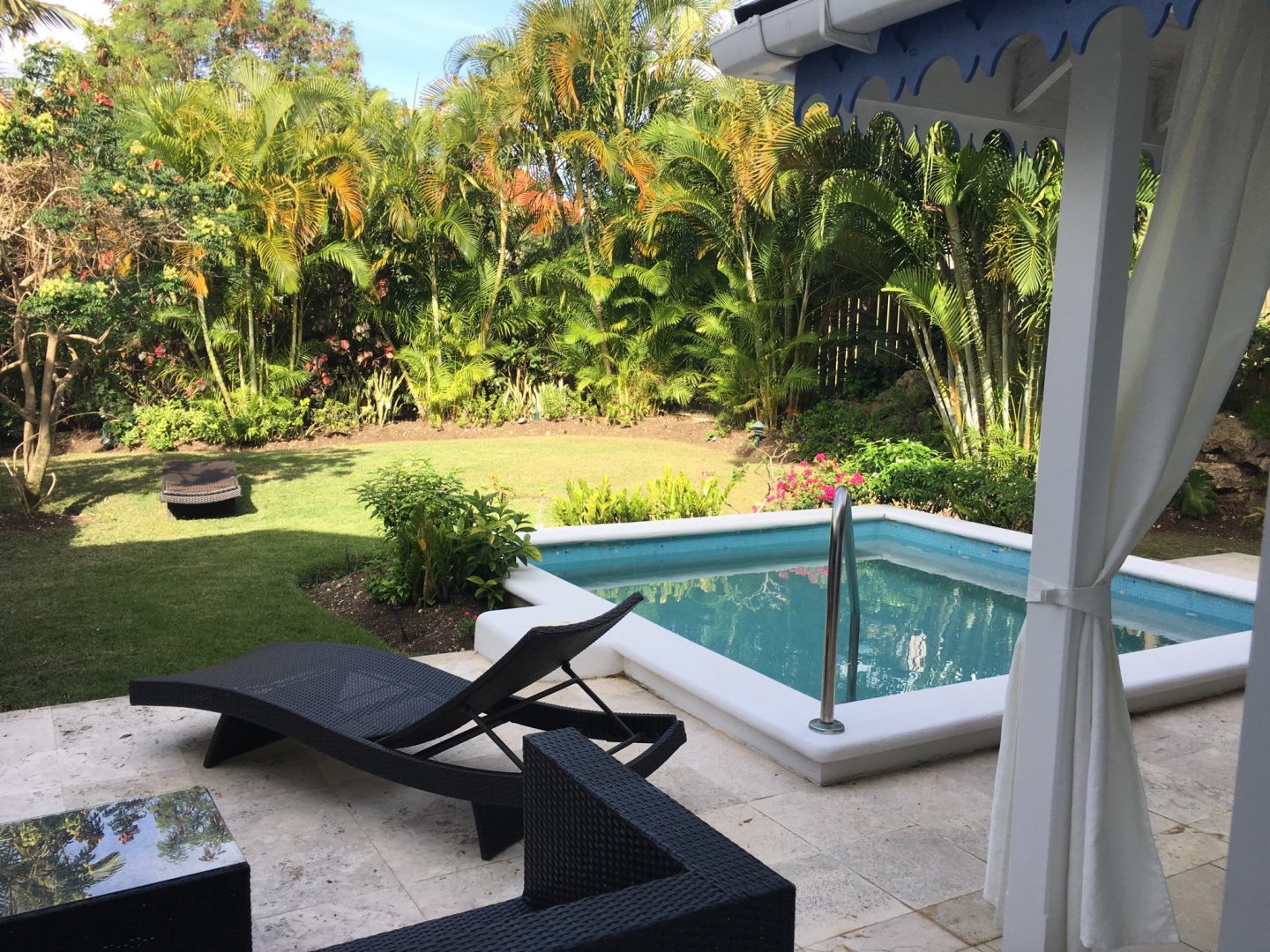 Flight
For the past few years we had flown with Thomas Cook from Manchester. Obviously with their sad demise we had to change our flights. We were fortunate to get alternative flights with Virgin, but we had to fetch our holiday forward a week. Fortunately the villa wasn't booked out so the owners could accommodate our date change.
With us booking late there were no Premium Economy seats available with Virgin. We upgraded on check in to Upper on the outward journey, a bit extravagant but it was worth it, we had a great flight. On the return flight there were no upgrades available as the plane was completely full. Not a great flight coming back overnight to Manchester. We were in a row of 4 in the centre of the aircraft, I just found it uncomfortable and couldn't drop off to sleep. Arrived back very tired! For next year's flights we will definitely book early to ensure we get Premium Economy with either Virgin or TUI.
Airport and Transfer
We were more or less first off the plane at Barbados. The new electronic arrival arrangements were excellent, no queues at immigration. As usual we got a Redcap to help with the luggage which arrived very quickly. We were fast-tracked by the Redcap through customs. Disembarking the plane to the taxi rank took about 30 minutes.
We had the same problem with the dispatcher as we had last year. He insisted we needed a van rather than car due to our luggage, 2 suitcases and 2 carry ons. This cost $96 BDS rather than than the normal fare to Porters about $60 BDS. It was so annoying but we didn't argue as we were tired after a long flight so just wanted to get to the villa. This is the second year running this has happened and again we felt as though we were being ripped off!
For our return flight, check in and security were a breeze with no queue. Hopefully the improvements to the arrival and departure experience will be maintained in future years.
Car Hire
We once again used MAH for car hire. Click here for their website. As always with MAH we had great customer service, the car was delivered to the villa promptly at 9:30am. I would definitely recommend MAH, this year the car cost $1950 BDS (£750) for 20 days.
Groceries and Provisions
We had preordered groceries via our villa manager. Watch out for the service charges. We normally pay 15%, this year however there was a minimum charge of $30 BDS plus a $10 BDS delivery charge, a hefty surcharge!
As usual we used Masseys in Holetown for our grocery shopping. We did think that prices had risen substantially this year. We just accept now that apart from a few items, groceries are more expensive than the UK. An example – $14 BDS that's £5.50 for a large bag of crisps!!!
Again this year we used a local wine merchant Platinum Wines. They provide free delivery and a great selection of wines, at fairly reasonable prices for Barbados that is! They are significantly cheaper than Masseys and Wineworld in Holetown. Visit here for a link to their website.
Trip Highlights
Rather than a daily journal which could get repetitive, it would read something like "breakfast, beach, swim, Banks beer, lunch, beach, snooze, rum sour, dinner, bed", I will once again share with you some of our highlights.
Beach Club
We again had membership at the Fairmont Royal Pavillion Beach Club with our villa rental which we love. This is where we spent most of our days.

The Beach Club is siuated at the Fairmont Royal Pavillion Hotel. On the fabulous Alleynes Bay it provides sun beds and umbrellas to members. For an additional cost there are water sports available and a beach bar offering food and drink.
Once again we were looked after by Ryan and his team. Ryan is a credit to the beach club, the hotel and Barbados. He has great customer service skills, always smiling and happy to help in any way he can.

We noticed this year that the beach club was a lot quieter than in previous years, particularly the beach bar. The choice of food and drink is limited, I don't think the menu has changed in the 5 years we have been using it. The prices are definitely not beach bar prices, with a bottle of Banks costing $12 BDS (almost £5) and a burger $44 BDS (over £17). These prices are double what you pay just yards up the beach at Jujus's, no wonder there are so few customers.

On Sunday afternoons they have live music from 3 pm until 5 pm. The group are excellent but I don't know how long it will continue as it doesn't seem to be attracting more customers. I'm convinced it's the poor choice of food and the very expensive drink prices, I just wish the hotel management would take note! If they changed the menu and reduced the price of drinks I am sure they would see an increase in customers.
Eating Out In Barbados
This year we ate out less than previous years. Like last year we were quite happy to return from the beach, have sundowners on the terrace and cook dinner at home. Saying that we still had some excellent meals out, both in long time favourite restaurants and also new venues. We did feel that generally restaurant prices had increased, this could be a mixture of factors, increased taxes, exchange rate, and just general price increases.

Beach Bars
With the villa being only 5 minutes from the beach club we mixed it up for lunch this year sometimes eating at the beach, a few special lunches, and eating in at the villa.
The first few days we were lazy and ate at the beach club. However with the limited choice plus the high prices, a one course lunch a couple of Banks and wine costing about $250 BDS ( about £95), we ventured further afield.
Around 11:30am most days we would take a leisurely walk up the beach to Jujus for a pre lunch Banks beer at half the cost of the beach club.

Our favourite place this year for lunch was the beach bar at Glitter Bay. We weren't sure whether it was open to non-residents but we were made very welcome. It's a lovely shaded spot with comfortable chairs overlooking the garden at Glitter Bay and the beach. The food was excellent and reasonably priced. The usual lunch items burgers, fish, roti, salads and sandwiches, plus a chefs special of the day. A main course with a couple of Banks and a bottle of decent Rose cost around $150 BDS (around £60).
A great find, they also do a BBQ buffet on a Thursday evening which we will definitely be trying next year. Just for information they don't take cash, only credit card.

Last year we went to Top Deck quite often at lunch time, a beer was $5 BDS, this year the price had increased to $9 BDS, quite a steep rise!!
2020 Favourite Restaurants
I said we didn't eat out as much this year but we still managed to eat in 10 restaurants in total, some for lunch, some for dinner.
The Lone Star
Lone Star has always been our favourite restaurant in Barbados. We ate their 3 times on this trip and it's still our favourite. The setting is amazing and a railside table is a must, if possible on the north side of the restaurant. We like to get their early for a pre dinner cocktail (another place were drink prices have risen steeply this year a Rum Sour $25 BDS up from $16 last year!). It's also a great place for sundowners out on the decking.

We ate there for dinner twice and also for Sunday lunch, which was also Jane's birthday celebration.

The food on all 3 occasions was excellent, highlights being The Lone Star classic Shepherds Pie and Chicken Curry and an excellent Fish Pie. A dessert is a must in Lone Star the Citrus Panna Cotta Poppyseed Cake and Passion Fruit Sorbet was to die for!
It's expensive but for us the setting is priceless. The service was faultless and I am sure we will be back next year celebrating Janes Birthday again, 20+ times now! A shared starter, main courses and desserts with cocktails and wine, around $500 BDS (approx £190).
The Sea Shed
A new restaurant, and a welcome newcomer at Mullins with the closure of the popular Mullins Beach Bar. We visited the Sea Shed twice, the first time for sundowners and then for dinner. It's a lovely place, I would describe it as being elegantly casual. During the day it's a casual beach bar and restaurant with sunbeds and umbrellas for rent. At night it reinvents itself as a stylish restaurant with a great atmosphere.

The all day menu includes tapas style dishes, stone baked pizzas and more traditional main courses. When we visited for dinner it was very busy, with some quite loud customers! However we had a lovely beach front table, the service was good (Barbados pace!) and the food was delicious. I tried one of their pizzas, thin and crispy just how I like it and Jane had the steak which was accompanied by 3 sauces, it was a large portion! Their banana Tiramisu was another memorable dessert. The cost with cocktails and a bottle of wine $300 BDS (around £120).
Next year we plan to try it on a Saturday as we heard good things regarding the live music. I understand Sunday is full on beach party, so will be giving that one a miss!
Camelot Restaurant at Cobblers Cove
We have eaten at Camelot restaurant at Cobblers Cove Hotel many times over the years mainly at lunch. It's in a beautiful location with lovely views of Goddings Bay. It's a very old school atmosphere quite formal, not everyone's cup of tea but the service and food have always been excellent.
This year we decided to try their BBQ lunch, which they serve on a Thursday and Sunday. The entrance to Cobblers Cove is quite inconspicuous however once inside it's a different story. To get to the restaurant you have to walk through the stunning hotel gardens which are the setting for the elegant guest suites. You then enter the old house which is just like a traditional British country house hotel. From here you walk out on to the ocean front terrace where the restaurant is located. It is a stunning hotel.

We arrived early, lunch service starts at 12:30. However there was a steelpan band playing and half price pre lunch cocktails were being served. We were given a rail side table which was lovely. The restaurant on a Thursday lunch time was very busy with a mix of residents and outside guests.
The BBQ was served buffet style. An array of fresh salads with lobster, mahi mahi, sirloin steaks and pork kebabs freshly grilled by the chef on request. This was followed by a selection of desserts, pastries and ice creams. You could replenish your plate as many times as you wanted to! It wasn't cheap $130 BDS (about £50) per head. However with lobster and steak included I thought it was good value. With cocktails, a bottle of wine and service the total bill was $450 (about £175). Definitely a one off special lunch!!!
The Restaurant at Animal Flower Cave
We made a special visit to North Point to try this place, so glad we did. We had a rail side table with great views of the mighty Atlantic ocean crashing on to the rocky coast line. It's a stunning spot. The food was pretty good too. I had the Black Belly Lamb Stew, I felt a bit guilty as we passed a flock of them driving in to the car park, they looked so cute. Jane had the home made Chicken Pot Pie, another good choice. This is an example of a very reasonably priced restaurant serving excellent local dishes, there were loads of dishes I would have liked to try. The bill with a couple of beers and a couple of glasses of wine, with a tip $125 BDS (about £50), great value.
I just wish there were more restaurants like this on the West Coast.
Other Restaurants for Lunch
Catch 22
On another day we drove up to Sunset Point near Archers Bay for lunch. We had discovered this place the previous year and thoroughly enjoyed it. This year Jane's meal of Lion Fish was spot on, my chicken dish was rather dry. However the Bread Pudding with rum sauce and ice cream was delicious.

We noticed here like in many other places priced had risen quite steeply. With a couple of beers and a couple of glasses of wine we paid $210 BDS (about £80). Still fairly reasonable for the lovely location, service and quality of food, but not as good as the Animal Flower Cave.
The Beach House in Holetown
We hadn't eaten at the Beach House for a few years after a couple of bad experiences. We love the location so whilst down in Holetown we decided to give it another try. I'm so glad we did it was excellent.
We visited on a Monday lunch and were surprised by how busy it was, particularly with local people rather than tourists. We managed to get a rail side seat, the view of the Holetown bay from here is pretty spectacular.

I chose the BBQ Spare Ribs, Jane went for the West Indian Chicken Curry. The food was excellent, the portions rather large for lunchtime. The service was rather slow but it was busy and we hadn't reserved a table. I'm glad we returned and will definitely go again in the future. For its location beach front in Holetown and including a couple of Rum Sours and a beautiful bottle of Fleurie it was excellent value at $230 BDS (about £90).
Cafe Taboras at the Fairmont Royal Pavillion
We have always loved the pizzas at Cafe Taboras, thin and crisp with delicious toppings. It's a regular lunch venue for us, very handy for the beach club. However this year they were thick and stodgy, undercooked and far too much cheese with the other flavours being completely overpowered. We were so disappointed. The Chef came to the table and told us that they were now served thick as they found that customers preferred them like this! So perhaps it depends on how you like your pizza?! Sadly it won't be on our list for future visits.
Other Restaurants for Dinner
Pier One at Port St Charles
Port St Charles has a special place in our hearts having stayed there for many years before moving nearer to Holetown several years ago. The previous year under the new management we had been disappointed with our meal there, but decided to give it another try.
We love the location, the staff are lovely and so welcoming, it's just a shame that the there was no improvement on the food. We both had the West Indian Chicken Curry which has been a favourite of ours over the years. What we were served was more like a spicy soup than a curry, it had very little flavour, in fact all you could taste was coconut milk. We skipped dessert had a few more drinks and a few dances to the live entertainment.
It was a pleasant evening, a nice atmosphere, it was good to catch up with some of the long serving staff. Will we return? We will wait and see. For two main courses, a few drinks and a bottle of wine we paid almost $310 BDS (about £120), not good value.
Zaccios
Another regular haunt of ours, went for the happy hour ( it lasts for 3 Hours!), stayed for dinner. We were lucky once again to get a rail side table, a lovely beach front spot with the beach illuminated and the sea lapping the shore.
Jane had her usual, yes you've guessed it, the West Indian Chicken Curry. Her favourite on this trip, even better than the Lone Star curry at almost half the price! I went for the Roti, a favourite of mine at Zaccios. It was a good job I was hungry, it was huge!

Zaccios is a great spot for a casual lunch or dinner, nothing fancy, just good reasonably priced food in a great location. Two mains and a bottle of wine $165 BDS (about £65). We were disappointed to hear it would be closing for redevelopment later in 2020. Subsequently this has been put back to March 2021, so hopefully we will be back next February.
Lemongrass Noodle Bar & Grill
Lime Grove, the upscale mall in Holetown, is not somewhere I'd choose to eat dinner, I'd rather be near the ocean. However we had been in Holetown for sundowners and decided we were hungry and fancied Asian food. It was either a takeaway from Jins on First Street (very good by the way), or Lemongrass for noodles. We decided on the latter.
Lemongrass is situated on the ground floor of Lime Grove in what's becoming quite a foodie section of the mall with 4 restaurants now in situ. We visited around 7 pm at the weekend and they were all busy. There was live music and a great atmosphere. We secured the last table at Lemongrass overlooking the attractive water feature.


For casual Asian food it was very good, we started off by sharing some fresh and spicy summer rolls and then both had noodle dishes. Large portions, delicious and spiced up on request! With a very nice bottle of Californian Pinot Noir the bill was $185 BDS (About £70).
Sundowners
We ate in more on this trip than in previous years but we did venture out out on a few evenings just for sundowners.
We went to Zaccios in Holetown for their happy hour a couple of times, its actually a happy 3 hours, from 4-7 pm. Very popular with tourists and locals, great bar staff and cheap drinks.
Again we visited the Drift Ocean Lounge next to the Beach House in Holetown. Great sunset but very quiet, only 6 customers on a Saturday night in February.

We paid a couple of visits to the West Bar in Lime Grove. Another popular Holetown venue, we love to sit by the bar here and chat to the bar staff.
Unfortunately the jazz nights at One Eleven East in Speightstown were booked up. I highly recommend these nights, held on a Tuesday and Thursday. You do need to book well in advance as they are very popular.
We visited for sundowners, we really love this bar, such a beautiful beach front position. This year they have their own catamaran for private hire, looks lovely but no prices advertised!! They rent sun beds and umbrellas now at One Eleven East, I was told that although rental is expensive you get it credited against purchases from the bar.
Other Activities
As usual we had a couple of trips out in the car. The usual places Cherry Tree Hill and the East Coast, not to be missed. A couple of new openings on the beachfront in Cattlewash looked interesting for lunch on future trips.
Another day we drove over to River Bay on the North East Coast. Unfortunately the Atlantic was very lively which mean we couldn't walk over cliff tops, where I am told you get some superb views of the East Coast. It's a lovely spot to visit.

From there we decided to look for Little Bay and Cove Bay, we got hopelessly lost! I know Barbados is only a small island but road signage is pretty poor, to say the least. We ended up in someone's garden at one point. Never mind we got to visit Pie Corner, I still don't know why it's called Pie Corner though!!! We never did get to Little Bay or Cove Bay, maybe next year.
Huntes Garden
We have read a lot about Huntes Gardens and friends have recommended it to us, so this year we decided to pay a visit. I didn't have a clue how to find it but just followed the signs from Holetown and got there eventually. It's only 12 km, it seemed a lot longer to me!
Its definitely worth a visit. It is stunning. A beautiful array of flowers, shrubs and trees set in a tropical garden in what was a 150ft sinkhole which was formed by a land slide.
There are numerous pathways winding through the garden with places to sit, relax and marvel at the beauty of the place. The classical music playing in the background adds to the magic of this very special place.
The gardens are a labour of love of Anthony Hunte, a local Barbadian who took over the site in 1997. He maintains the gardens himself with the help of just one employee! He is very proud of what he has achieved describing it as "the most enchanting place on earth". That may be an exaggeration, but it is certainly a beautiful place. Anthony also invites you to join him in his home. Here you can sit on the veranda overlooking the gardens and sample the local ginger beer with lemonade or as we did a rum punch made with Huntes own label rum. Anthony is a great host and obviously loves talking to visitors, regaling them with tales of the island, the development of the gardens and his family history. He is a very interesting guy and passionate about the gardens and Barbados.

Huntes Garden is a must for visitors to Barbados. Now we have discovered it we will definitely return. I would recommend that you get there just after opening at 10 am, that way you get the garden almost to yourself and you can get a parking space. When we left around midday it was very busy and parking was a nightmare.
Cool Runnings IV
Last year we did a catamaran trip on Seaduced, we definitely enjoyed the smaller catamaran experience.
This year we decided to try Cool Runnings IV. The main reason we decided to have a change from Seaduced was that Cool Runnings IV sails out of Port Ferdinand, north of Speightstown rather than from Bridgetown. Rather than sailing north like all other catamarans you sail south and get to see parts of the coast which you wouldn't see with other operators.
The whole experience was amazing. CR IV takes a maximum of 18 people. It is luxuriously appointed with plenty of space for sunbathing or if you prefer in the shade.
You leave Port Ferdinand at 11 am and return at 4 pm. We were fortunate that there was a good breeze on our journey south so we were able to travel under sail as far as Batts Rock.
It was lovely to see Speightstown, Mullins, Gibbes and Reid's Bay from the sea, you get a completely different perspective and glimpses of some of the spectacular beach front properties that you don't get to see from the coast road.
The crew had the knack of getting to stops just as the other
cats were leaving, making the trip feel exclusive. It also avoided any snorkelling scrums which we have had the misfortune to experience on other catamaran trips, when multiple cats moor at the same stop at the same time. On our final stop of the day at Six Men's Bay north of Speightstown we had the best experience ever snorkelling with turtles, it was truly amazing.
Food and drink onboard
The drinks flowed from the moment we got on board, quality wines and spirits. The crew were superb led by Doug the captain, nothing was too much trouble for them, attentive, good fun and professional.

The freshly cooked food prepared by the on board chef Ryan was some of the best we ate during our time in Barbados, delicious and beautifully presented.
We met some great people on board, some of them came from Chester only 6 miles from our home in the UK, it's a small world isn't it!
The trip cost $340 BDS (about £130) per person. Yes it does seem expensive, but this includes all your food and drink, so it's not much difference in price to dinner in a high end West Coast restaurant. Looking forward to next years trip already.
St James Church Flower Festival and Fete
An annual event held on either the first or second Saturday in February. This year was our first visit and it was a lovely afternoon.
The flower displays in the church are beautiful. There are loads of stalls selling local hand made crafts and produce. Local fresh food is available if you get hungry, and of course a beer stall selling Banks at $4 BDS.
Its a very popular event with both locals and tourists, with everyone making an effort in their "Sunday best". The entertainment included a steelpan band, local school children performing dance routines and the Royal Barbados Police Band who were brilliant. Everyone was expecting a guest appearance from Cliff Richard who in the past has performed at the event, unfortunately this year he wasn't there. There were a lot of very disappointed Cliff fans, including Jane!
it was still a lovely afternoon and an opportunity to support a local event and the local parish church. If you happen to be visiting Barbados in early February I would highly recommend attending, you never know Cliff may appear next year!
Farewell Barbados for 2020
Another great trip. This year once again we were seriously considering an alternative destination for next year. However while we were out on the catamaran trip during the second week we knew we hadn't cured that Barbados addiction. It is such a special place and ticks all the boxes for us the weather, the beaches, the scenery, the people and that unique Barbados magic ingredient that is difficult to put into words.
Click here for previous trip reports and other information on Barbados
The Guestbooks' Comment: "I hope you have enjoyed my 2020 Barbados trip report. Again I hope its a good read for Barbados regulars, helpful for those of you planning a trip to Barbados, and will tempt those who haven't tried Barbados to give it a try. You won't be disappointed I'm certain!"

No freebies have been offered or provided by any of the establishments featured in this post!