As well as what to see and do in Florence (see this post), here's a guide with tips on how to plan your visit to this beautiful city…
Getting There
Although Florence has its own airport, daily direct flights are only available from London. Most visitors from the UK fly to Pisa with regular flights from both London and regional airports. From Pisa you can get the bus direct from the airport to Florence or alternatively get the Pisamover. The Pisamover is a new driverless train service from Pisa Airport to Pisa Central, from where you get the train to Florence Santa Maria Novella Station.
The bus journey takes about 70 mins and costs 7.50€. The train takes about 1 hour for the express or 1 hour 40 mins for the slow train and costs 13.75€. Italian trains are punctual, not too busy and very clean and comfortable. Remember don't forget to validate your train ticket before the journey. If you don't you risk being fined by ticket inspectors. If you do use the train just be aware that Florence Santa Maria Novella station is extremely busy.  Expect queues for taxis and ticket desks/machines.
Getting Around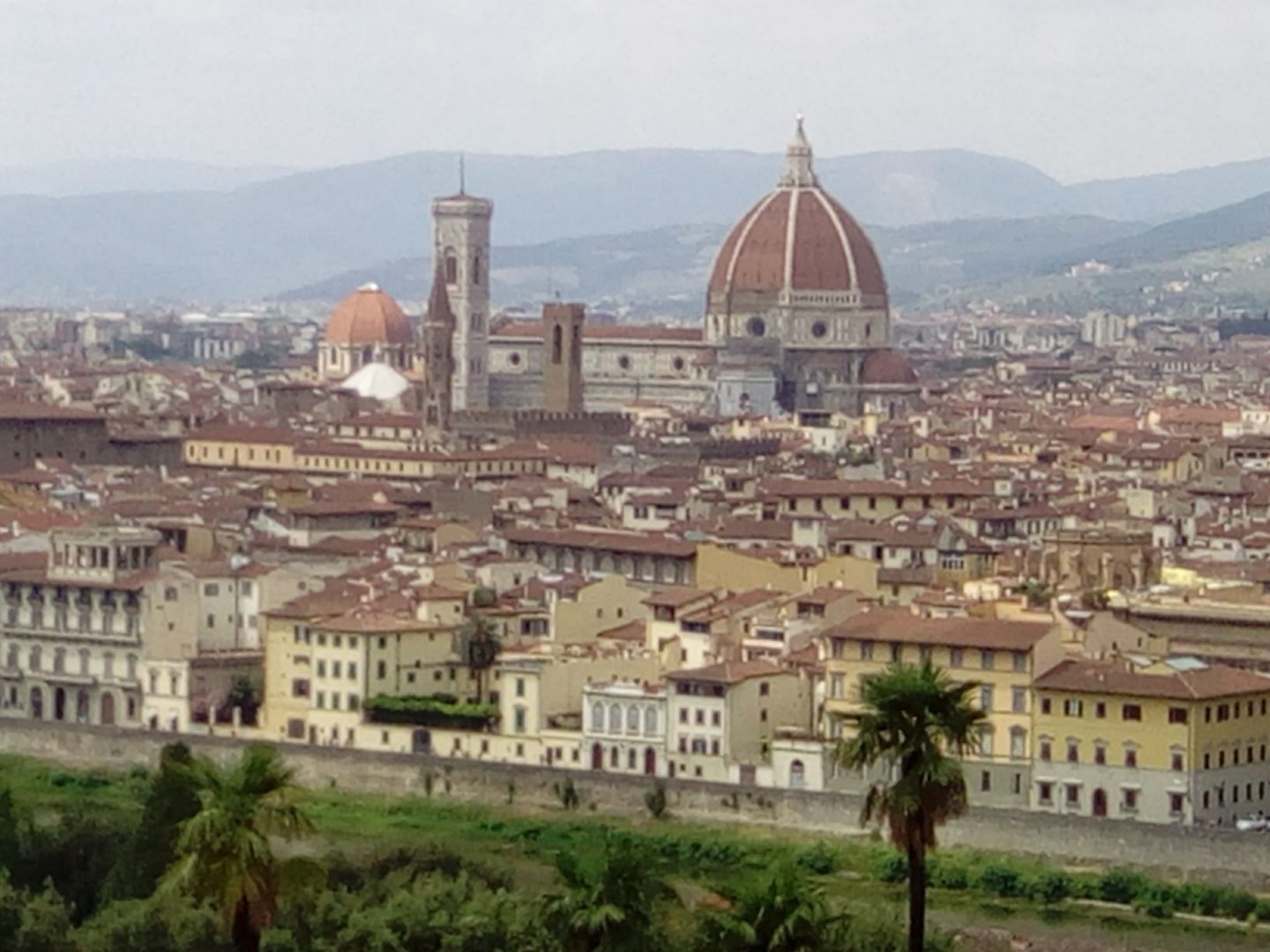 The main historical central area is best explored on foot. Driving is not recommended, unless you know Florence very well. There is an excellent local bus service to outlying sites such as Piazalle Michelangelo. Great hop-on hop-off bus service is also available and runs regularly covering all major places of interest. Be aware that it can be difficult to get a taxi. We had to walk from our hotel to the station when we were leaving Florence as no taxis were available! There are also more unusual forms of transport available such as horse drawn carriages in the historical central area and even tuktuks.
Eating and Drinking
There are a huge number of bars and restaurants in the city centre. From fine dining restaurants, pizzeria, trattoria to snack bars. A lot of the restaurants open for dinner only, and many of those that open for both lunch and dinner close between 3pm and 6:30pm. Reservations are necessary in the more popular restaurants and busier locations. Bars tend to provide free snacks with drinks which can range from nuts & crisps to more substantial items such as crostini, seafood, cold meats and cheeses. Generally both food and drink is good value with prices below what you would pay in a major city in the UK. See my post 3 Best Places to Eat in Florence for my own personal favourites.
Where to Stay
You are spoilt for choice when it comes to choosing accommodation for your stay in Florence. There are the grand 5 star hotels, the smaller boutique style Palazzo's, tourist hotels and B&B's particularly around the station and lots of self catering options. There are options to suit all tastes and budgets. We stayed in the Oltarno district which is on the opposite side of the river to the main historic centre but less busy with a great choice of restaurants, bars and quality shops, workshops and studios to explore.
The Guestbook's Comment: "I would highly recommend the Oltarno district as a base, although its on the other side of the river the main sights are still all within walking distance."
Fancy adding on a beach stay to your city break? Consider Viareggio which is only 1 hour 15 minutes from Florence. See this post to find out more about this bit of Tuscany by the sea!
No freebies have been offered or provided by any of the establishments featured in this post!