I love Italian food and Florence has loads of restaurants to choose from. From Michelin starred, the traditional Osteria, family owned Trattoria, and of course the casual Pizzeria! On a recent visit we tried a range of places and generally were very happy with the quality and value for money. These are my top 3 places to add to your list for places to eat in Florence…
The Golden View
The location
This was the restaurant we ate at to celebrate our 20th Wedding Anniversary. It had been recommended by friends who are regular visitors to Florence. It is situated near to the Pritti Palace and as the name suggests there are amazing views from the restaurant of the Arno River and one of Florence's iconic sites the Ponte Vecchio. I was keen to get a good view of the bridge and booked a riverside table well in advance. We were not disappointed having probably the best view in the restaurant. Our table was on the terrace so we had a a lovely breeze from the river on what was a very warm Florence evening.
What to eat
We started off with champagne, a lovely surprise present arranged by Kate and Josh for our anniversary. For starters we had spotted the Bruschetta al Pomodor0 at another table, it looked delicious but rather large so we decided to share. As suspected it was delicious with beautiful ripe tomatoes, fresh basil and fragrant olive oil. There was certainly enough for two!
For main course Jane went for the Florentine steak. Rather than being the traditional huge T-bone style, this was just the fillet served with a flavorsome red wine jus. It was extremely tender and was accompanied by roast potatoes and a ratatouille type dish. (Although we didn't actually order the latter, but ended up paying 10 euros for it!) I had a delicious pasta dish, ravioli stuffed with cod, served with octopus in a tomato broth. It was beautiful both to eat and to look at. For desert we resisted the rich chocolate deserts in favour of a refreshing mango mousse with passion fruit jelly, which again we shared. To accompany dinner the waiter recommended an Italian Pinot Nero, a light fruity red wine which was served slightly chilled.
Certainly a memorable anniversary dinner, the service, the setting, and quality of food were outstanding. Not surprisingly this was the most expensive meal we had in Florence but at €140 I still think it was good value. I would thoroughly recommend it for a special meal in Florence.
Osteria Del Chinghiale Bianco (The White Boar)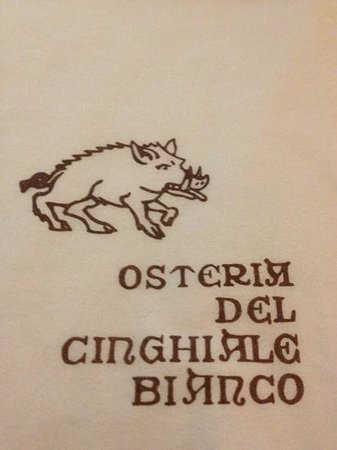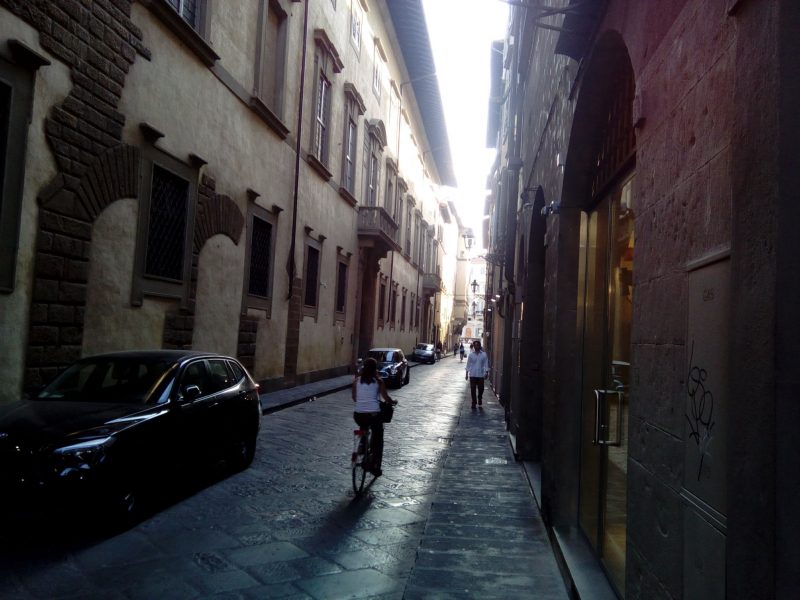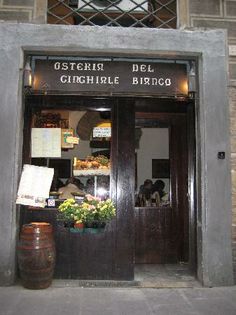 The location
The Osteria Del Cinghiale Bianco is a traditional osteria we discovered while walking around the Oltarno district. This area is just across the river from the main historic centre of Florence. It is a beautiful area and  a warren of narrow streets and alleyways opening up on to some beautiful squares. It has an abundance of bars and restaurants, traditional shops, galleries and workshops selling art, leather, fashion and antiques. It also makes a great place to stay during your trip to Florence (more details on that here).
Book in advance!
What drew us to the White Boar initially was the queue outside! We thought there must be something special about this place when within 100 metres you had about 10-15 more restaurants to choose from. We booked for the next evening. The restaurant is situated in a centuries old tower and courtyard, with original stone walls and wooden beams on show. We sat in the inner dining room with views into the kitchen. This was a spectacle in itself with chefs rushing around in what looked like chaos, but every plate coming out was piping hot and looked delicious.
What to eat
Every seat was taken, there was a real buzz to the place, from both the customers and the waiting staff.  We started off by sharing a selection of bruschetta. I then went for the suckling pig and Jane for braised beef. Both were accompanied by roast potatoes and baked vegetables. Although the portions were huge, we both managed to clear our plates. I decided to go all out for desert and went for the mixed platter. This consisted of tiramisu, profiteroles, almond tart, and lashings of cream and chocolate sauce – naughty but very nice. To accompany the meal we had a beautiful Tuscan red wine from Montalcino. A great meal with a great atmosphere, and total cost around €75, making it amazingly good value. A restaurant not to be missed when in Florence.
La Pizzeria Sud
The location
In the 5 Must Do's in Florence post I recommended visiting Mercato Centrale, a must for food lovers. La Pizzeria Sud is situated in the fabulous food court situated on the first floor of the market. You can queue up at the counter and get your pizza served on paper plates with plastic cutlery and to be honest most people seemed to do this. However we decided we wanted a bit more comfort and ate on the upper Terrace area where you get table service. It's exactly the same food and choice as you get from the counter downstairs too.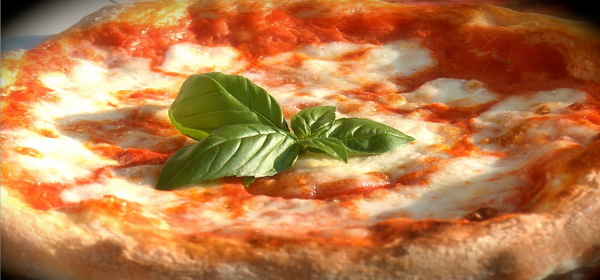 What to eat
The menu is very limited. For starters you can get a meat or veg antipasti, there is a choice of 4 pizzas and one desert of the day. We had a simple Magherita and a Napoli with anchovies and capers. The pizzas were amazing, with an ultra thin base, a  crispy crust and delicious toppings. Even though they were huge, we again cleared our plates. The bill with 2 beers and a carafe of house red was a very reasonable €30. With a great birds eye view of the busy food court below,Pizzeria Sud was a great choice for a leisurely people watching lunch as a break from the sightseeing. 
The Guestbook's Comment:  "Although there is a huge choice of restaurants in Florence, they all seemed to be busy, so if  possible book in advance even if you just pop in the day before as we did at Osteria Del Chinghiale Bianco. If you don't you could be disappointed and not get a table or have to queue for a very long time!"
Hungry for more Italian culinary delights? Have a look at Kate's guide to 5 must try food and drink options in Palermo, Sicily.
No freebies have been offered or provided by any of the establishments featured in this post!