The highlight of our recent trip to Kenya was without a doubt the wildlife. I wanted to share with you some of the best bits of our safari and some of the great shots taken primarily by Jane.
The Safari Experience – Bushtops Style
As well as being a great place to stay, Mara Bushtops certainly knows how to provide an amazing safari experience. For more about Mara Bushtops click here
Safari Vehicles
The vehicles used are specially built Land Cruisers with 9 seats, however Bushtops limit the number of passengers to 6. This means that everyone has an outside seat for uninterrupted views. The comfort of guests is ensured with specially designed leather and canvas bucket seats.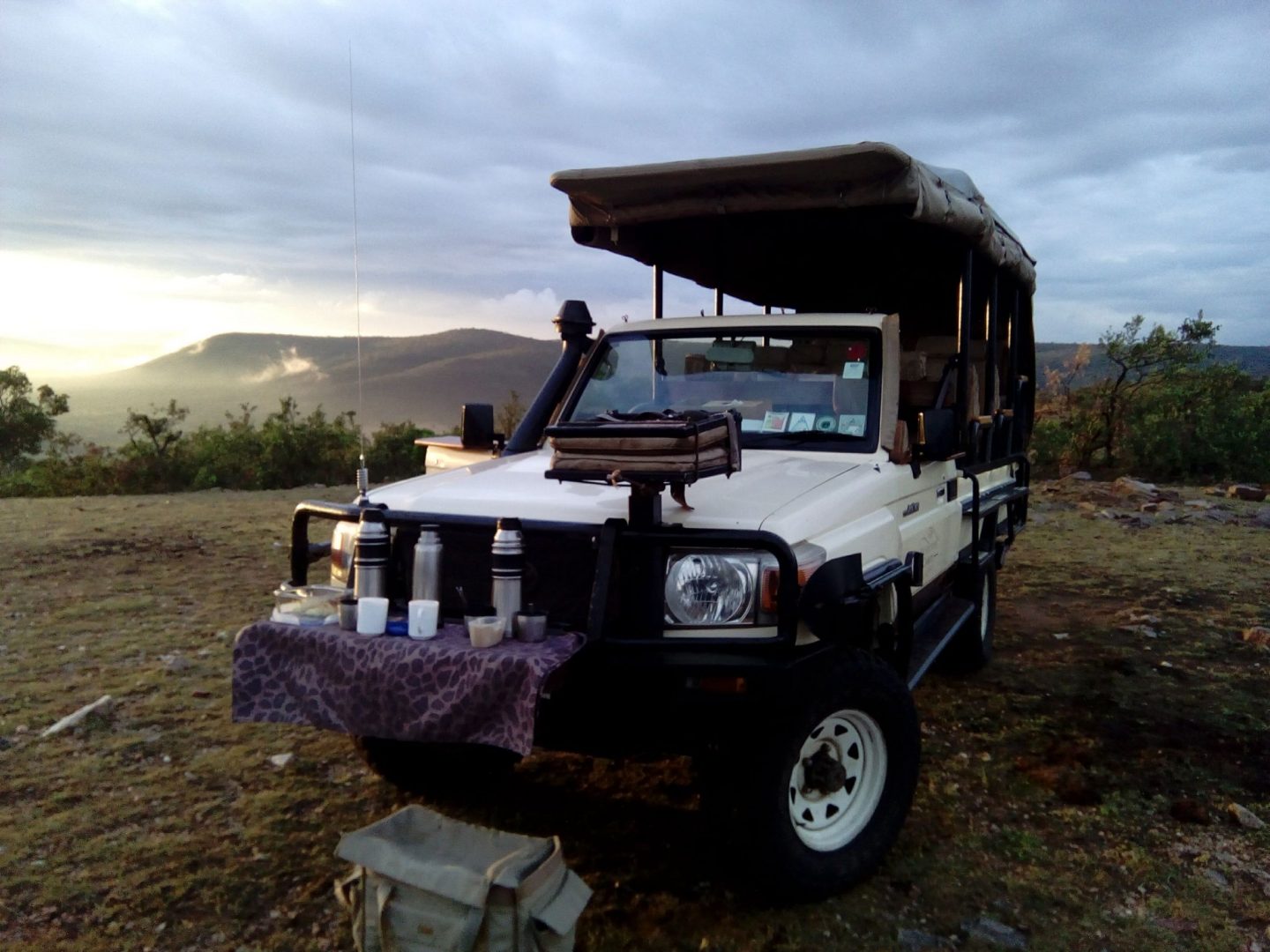 Each vehicle is equipped with binoculars, wildlife books, charging points and WiFi, even way out in the bush. There are blankets for the cold mornings and on our sunrise drive there were even hot water bottles waiting for us. There is a fridge for cold drinks and the pantry, more about that later.
Game Drives
Bushtops do not have set itineraries for their safaris, they cater for the preference of guests. In our case there were only 4 of us in our vehicle for the first 3 days, and then we had a vehicle to ourselves for day 4. Fortunately the other couple were also on their first safari so we all were keen to maximise our time out on game drives amongst the animals.
You are allocated a qualified guide on arrival, Alex in our case. His knowledge and experience of the Masai Mara and its wildlife was incredible.
Each vehicle also has a local Masai spotter, Dennis was ours. His role was to detect wildlife either by sight, behaviour and even the characteristics of animal poo!!!! Dennis was an expert. They both definitely made our trip very special. From the moment they picked us up from the airstrip to our departure they were a pleasure to be with.
We agreed a programme for our safari with Alex. We decided on a couple of full day game drives and some shorter early morning and evening drives.  Be prepared for very early starts, so its not the type of holiday for someone who likes to party!
Our Safari
Day 1
You actually start your safari on arrival! On the drive from the airstrip to the camp we saw several varieties of antelope including impala and Thomson gazelle.
We also had our first encounter with buffalo and wildebeest.
An evening game drive with sundowners
We arranged to meet Alex at 4:15pm for an evening game drive with sundowners, we didn't know what to expect! We set off and within 5 minutes saw our first giraffe, silver backed jackals, more antelope including topi and eland and the comical warthog.
After about an hour we pulled in to a clearing in the bush and our sundowner venue was revealed. There was a camp fire surrounded by camp chairs, a bar with a selection of wines, spirits and beers and a selection of delicious canapes.
It was a surreal experience to be sitting out in the Kenyan bush with good company, eating and drinking, with wildlife only yards away.
Day 2
The Masai Mara National Reserve
An early morning call at 5:45am with breakfast served on our balcony while the sun rose across the Masai Mara. We left the camp at 7am and drove to the Sekenani gate of the Masai Mara National Reserve. Once you are through the gates and turn off the main "highway" you really see the scale and majesty of the Masai Mara, with the savannah stretching as far as the eye can see.
Initially we saw more antelope, buffalo, warthog and wildebeest.
However within 30 minutes we came across a pride of lions feasting on a buffalo. Not a pretty sight but none the less a magnificent site that showed the size and power off these magnificent animals.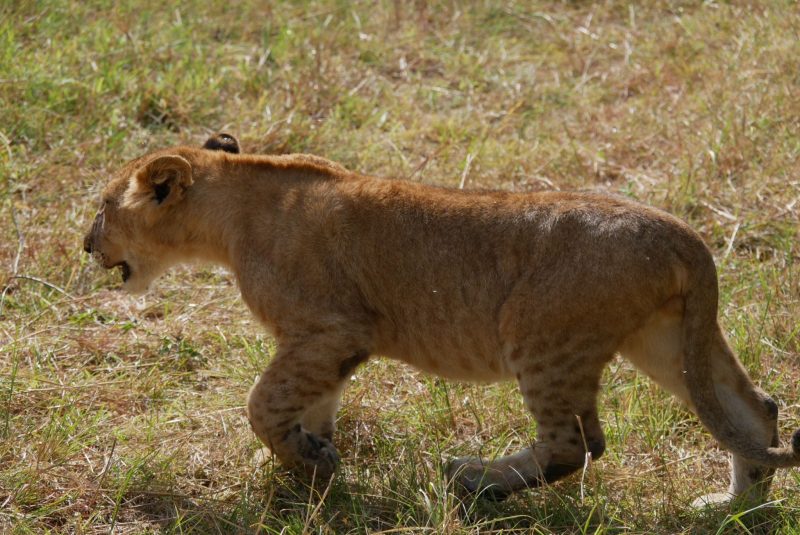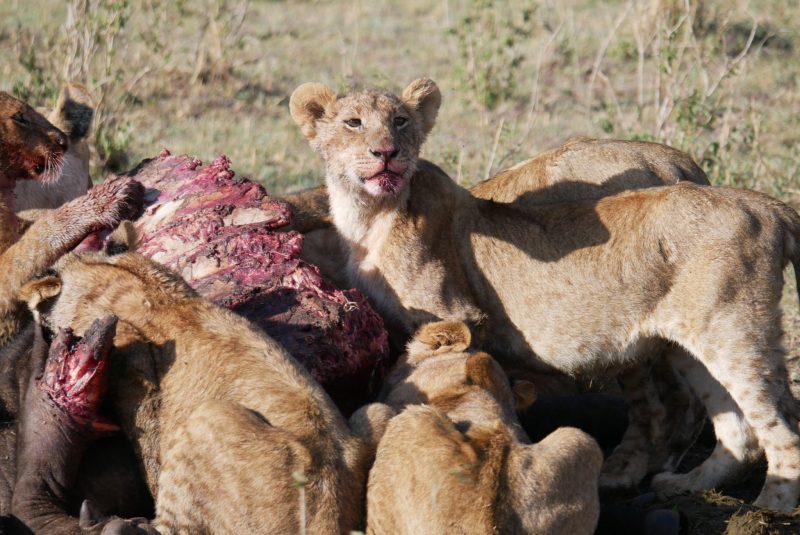 After that it was one highlight after another;
an encounter with a herd of elephants at a watering hole,
a rare sighting of a leopard in a gulley
a pair of cheetahs sheltering under an acacia tree
giraffe being stalked by hyena
zebra taking a dust bath and drinking at the watering hole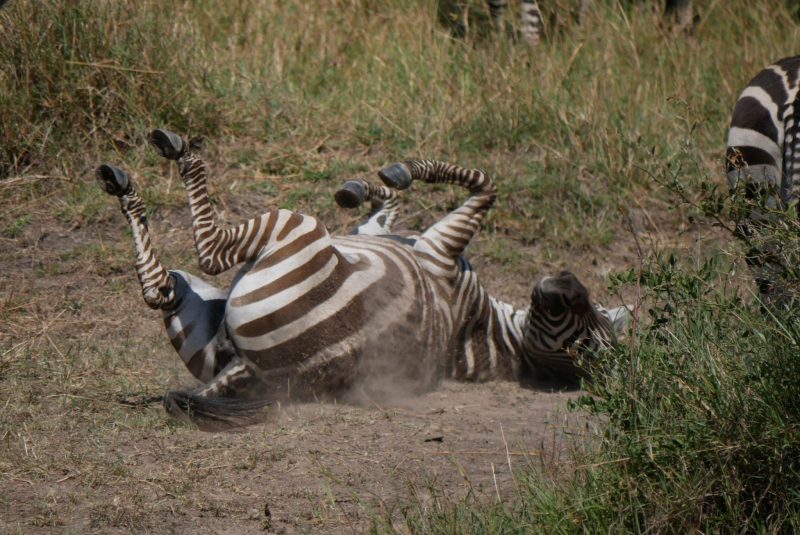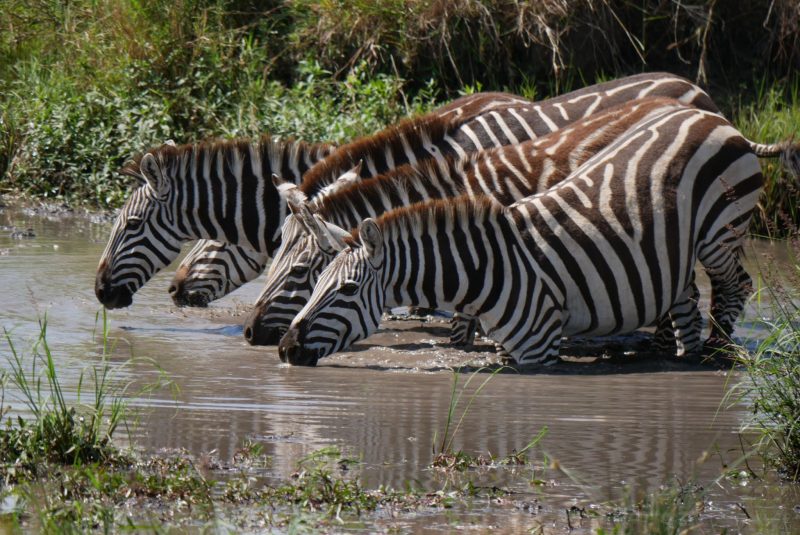 another pride of lions feasting, this time on wildebeest
Two male lions sheltering under a bush – a very close encounter
The Bush Lunch
By lunchtime we had seen more than I had anticipated seeing on the whole trip but there was more to come! We found a spot and stopped for lunch.
Alex and Dennis performed their magic again. Table and chairs laid out under a tree, cold Tusker beers out of the fridge while the lunch was prepared. This is were the pantry came in, it held a cold buffet of quiche, rare roast beef, chicken and salads, accompanied by a lovely bottle of South African Merlot.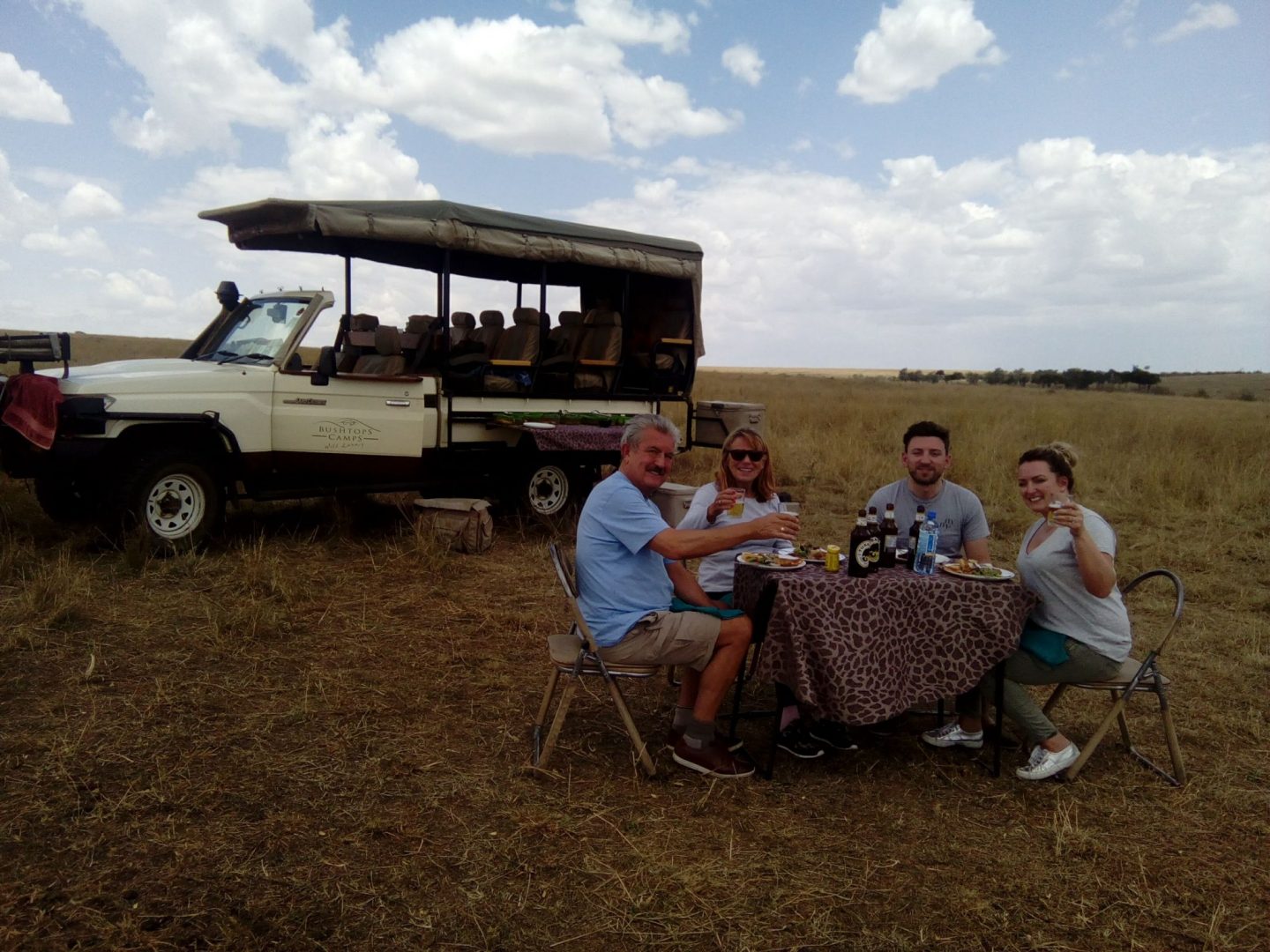 Definitely a lunch to remember, we were also joined by an inquisitive baboon keen to share it with us. Seemingly they can get aggressive so Dennis had to chase it off across the savannah!
The Mara River
We drove on to the Mara River where we hoped to see the famous wildebeest migration. This is one of natures true wonders, where hundreds of thousands of wildebeest and zebra move between the Serengeti and the Masai Mara following the rain. Unfortunately due to irresponsible drivers they were frightened off and decided to stampeed off in the other direction!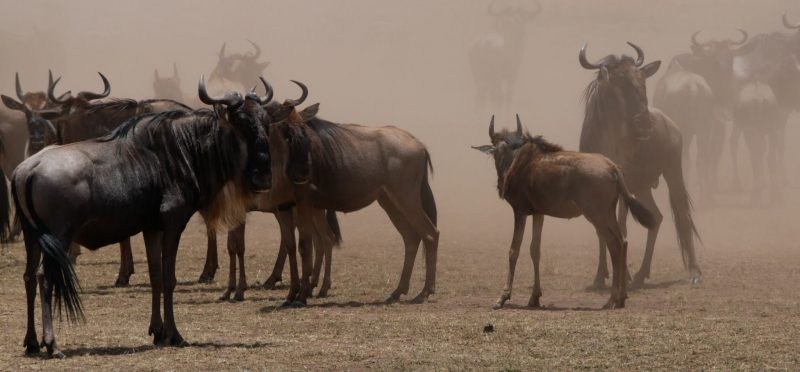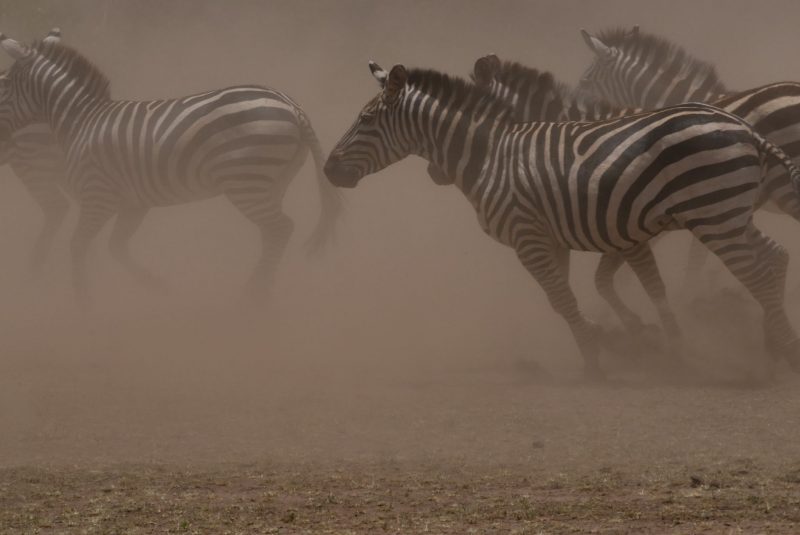 However its wasn't a wasted visit as we had our first encounters with hippopotamus and crocodile.
This first day was certainly a day to remember, but there was more to come.
Day 3
Up, up and away!
A 4 am call today as we had to leave the camp at 4:45 am to embark on a hot air balloon safari. We were driven to the middle of the Masai Mara where our balloon was waiting to take us up in the air to greet the sunrise. There were 16 people in our balloon, to start the ascent you had to slide in to the basket lying on your back. As the balloon moves forward the basket is tipped so you are standing, quite an experience.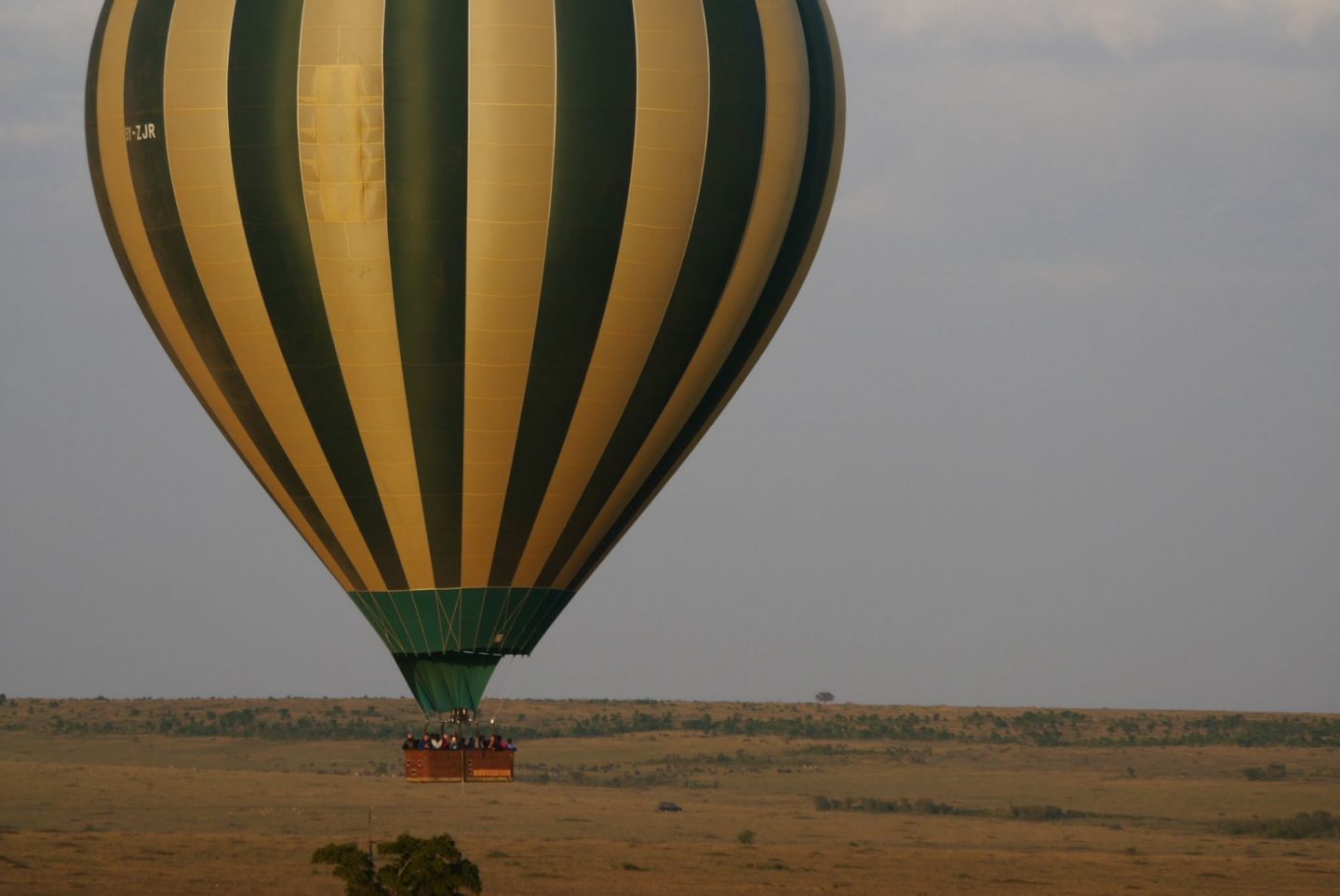 However once you are afloat above the Masai Mara, the uncomfortable take-off is forgotten. Experiencing the amazing sunrise, with the shadow of the balloon on the savannah and wildlife waking up or returning to their dens below you is incredible.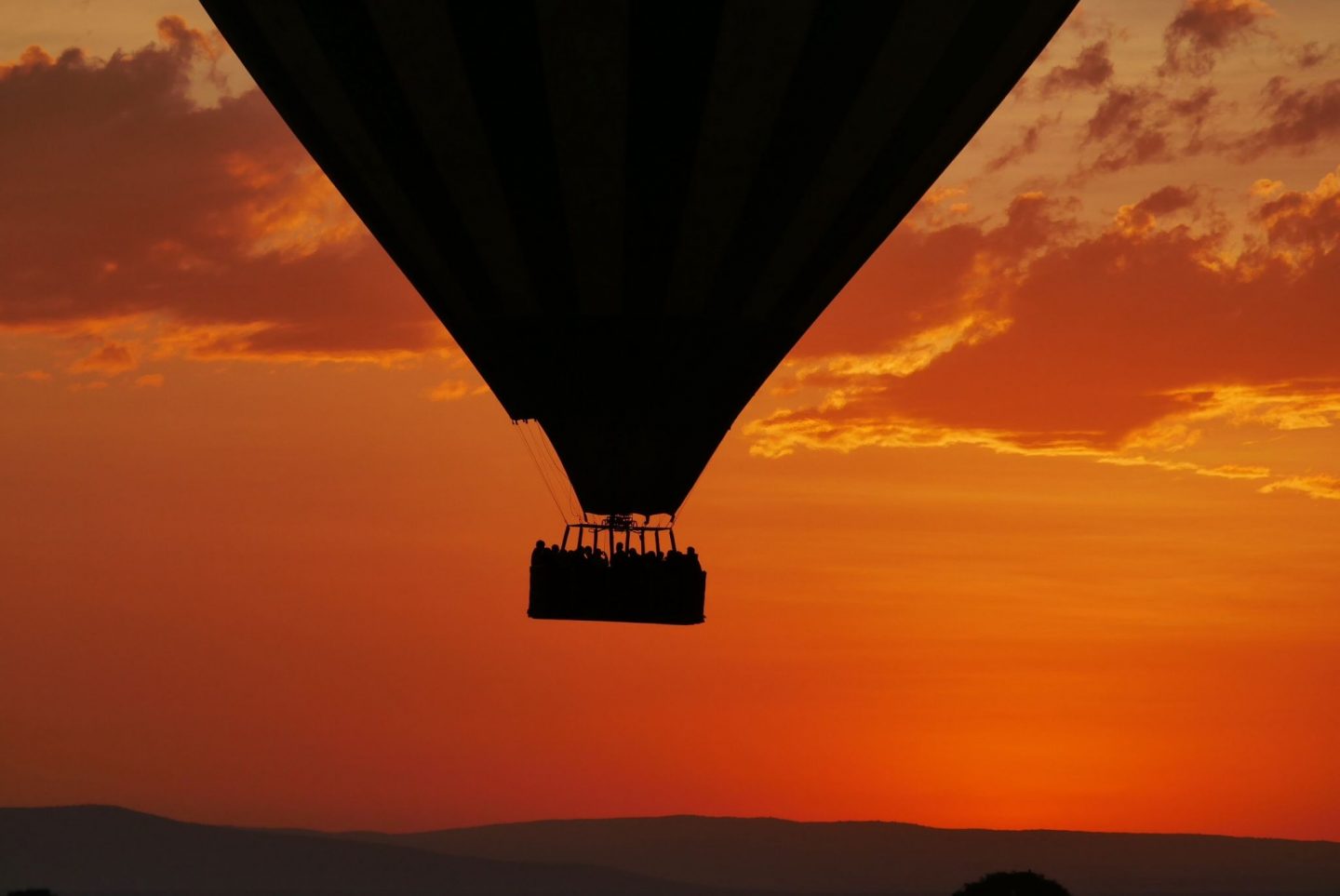 We saw elephants, lions and giraffe from above, and the rare sight of a hippo out of the water crossing the savannah.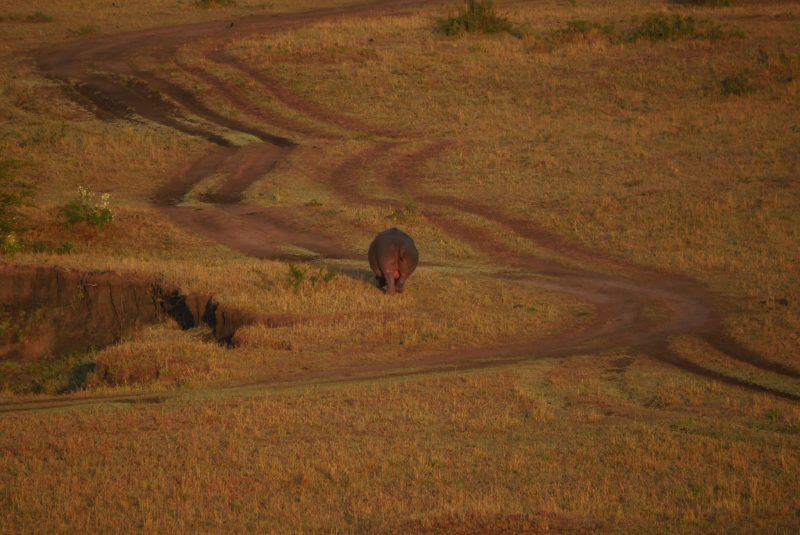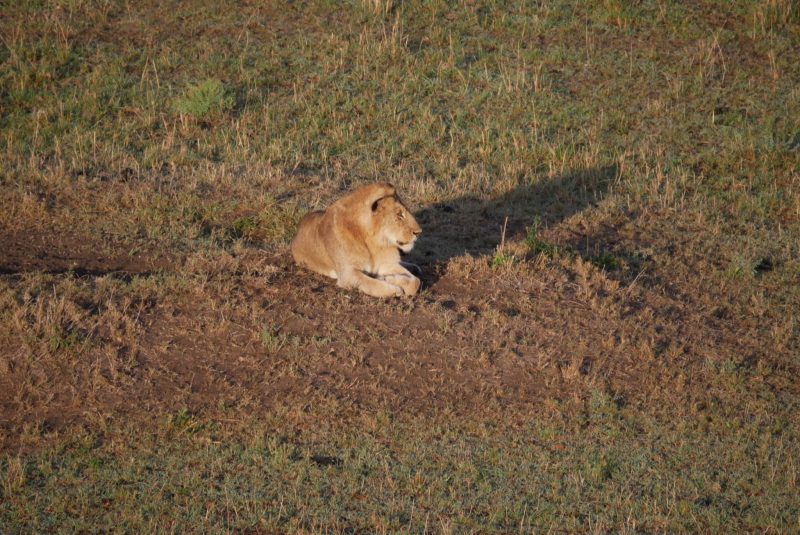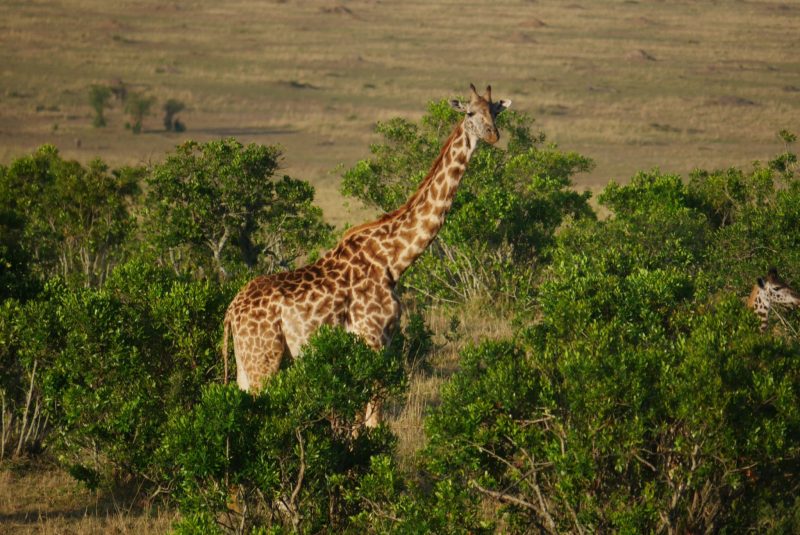 The ultimate breakfast
After about an hour we landed to be greeted by vehicles to take us to breakfast. What a breakfast location, on top of a hill with 360 degree views of the Masai Mara. There were waiters offering chilled champagne, Bloody Mary or orange juice. There was also a brigade of chefs in their whites preparing breakfast, full English and freshly cooked omelettes and pancakes, another first for me! It was probably the best breakfast I have ever had!
The Great Migration
After a leisurely breakfast Alex and Dennis were there to pick us up for another full day game drive. This time we went to the southern part of the Masai Mara on the border with Tanzania. We had another great day of sightings. Our first major one which was actually spotted by Jane rather than Dennis, was a pride of lions relaxing in the bush. The shots Jane got here were fantastic.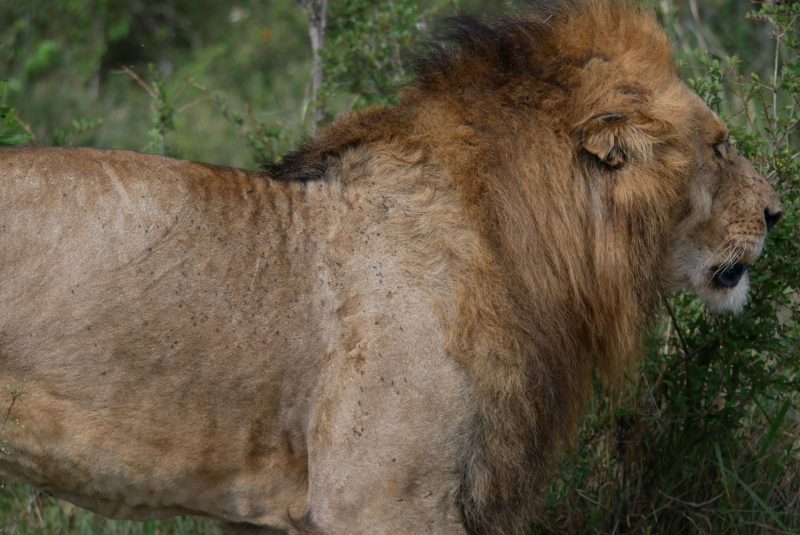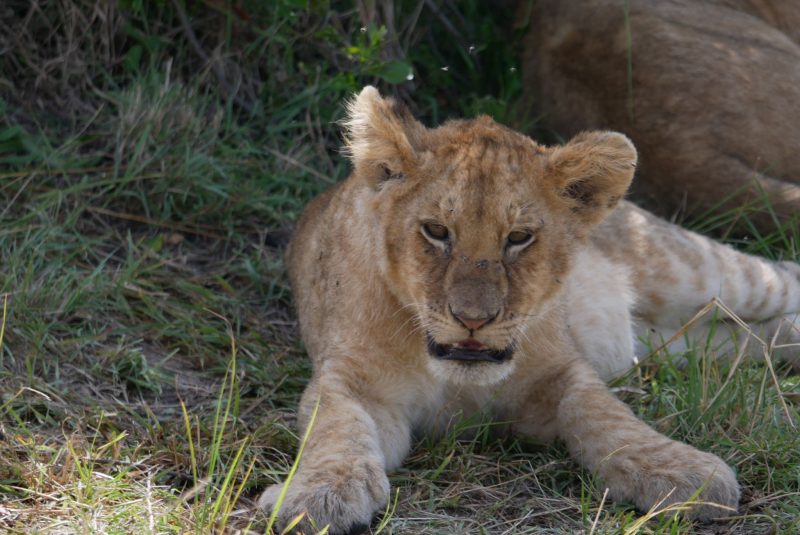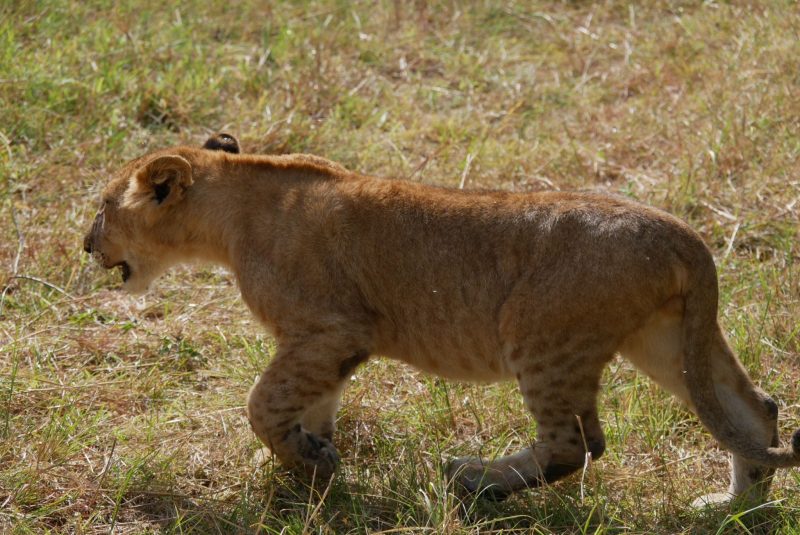 Following this we saw another elusive leopard this time up a tree, again Jane can claim the credit for this spot.
We then saw a cheetah, loads of giraffe, hippopotamus and elephants.
However for me seeing thousands upon thousands of wildebeest and zebra waiting to cross the river which forms the border between Kenya and Tanzania, was the highlight of the safari.
It was the Africa that I had seen on television but never imagined actually existed. Seeing these animals standing in a queue stretching for miles and miles, patiently waiting for those in front to have the courage to cross the river was an amazing sight.
They are so at risk of injuring themselves. Either on the steep river banks, rocky river bed or worst of all being attacked by hungry crocodiles!
It was time to return to the camp after another action packed day, another early night ready for our sunrise game drive.
Day 4
Sunrise Game Drive
Another early start! We set off at 6 am to do a game drive within the Bushtops conservancy and see the spectacular sunrise. As soon as we set off the headlights was picking up the wildlife antelope, jackals, hyena and warthog. This was a real off road experience! We literally drove through the bush and up a mountain in the darkness, how Alex knew where he was heading I just don't know! We came in to a clearing just as the sun started rising. It was the most beautiful sunrise I have ever seen, with the clouds below us it was an amazing sight.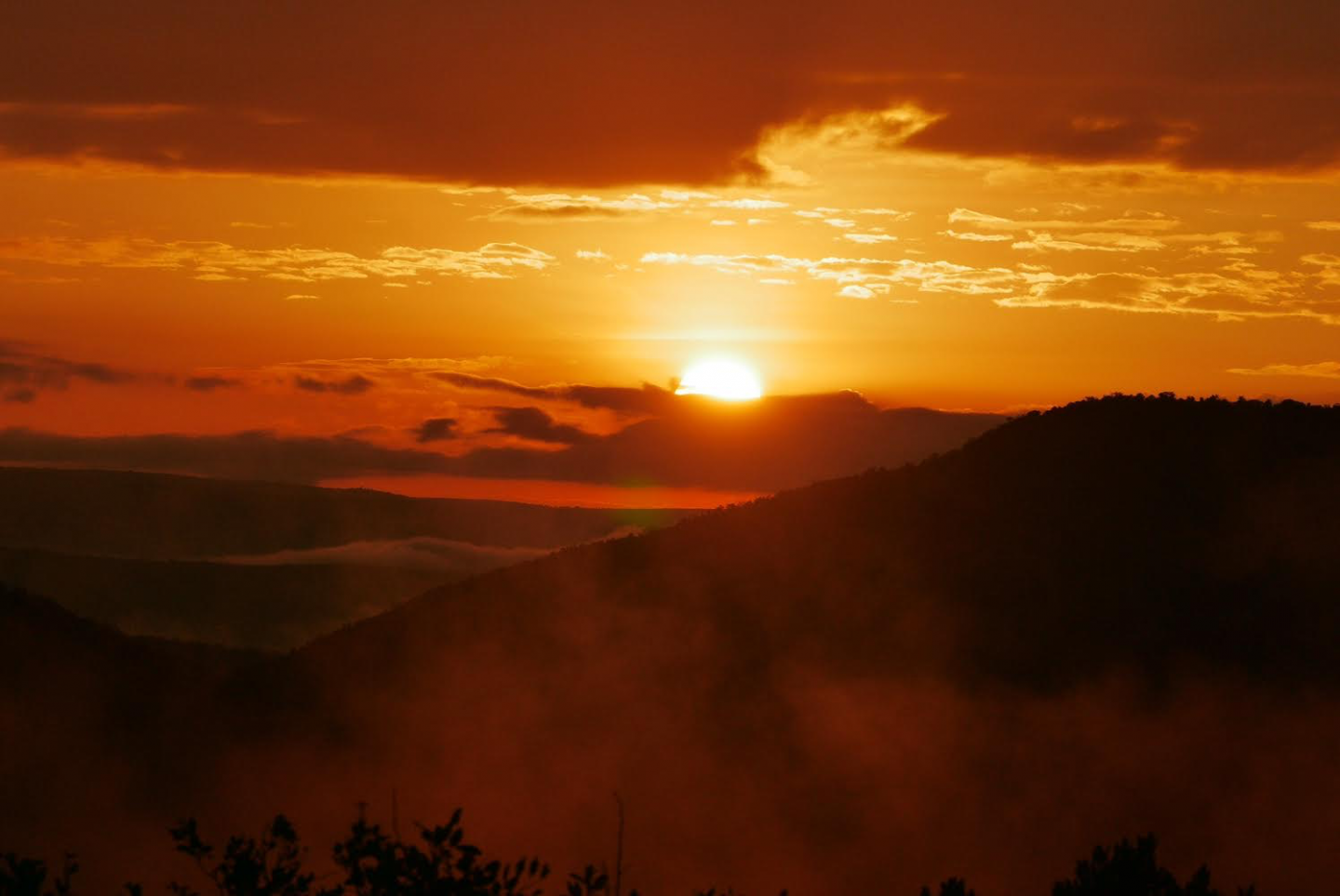 As ever Alex and Dennis came prepared with hot drinks and pastries for us. We then went searching for the resident elephants. There was plenty of evidence that they were around with trees stripped of their bark and fresh dung. However that morning they were elusive, which is surprising considering their size!
We were a bit disappointed and started heading back to camp. Suddenly we came across a cackle (group) of hyenas feasting on the carcass of a domestic cow.
The power of these animals jaws is phenomenal, the sound of the bones being crunched showed this. No wander the hyena alongside the lion is considered the ultimate predator!
When we got back to camp we got to see the elusive resident elephants from our tent balcony!
Night Drive
Staying in a conservancy allows to do do game drives at night in the pitch dark. These are not allowed within the national parks, all vehicles must leave below nightfall, We set off from the camp at 6:30 pm. By now we were becoming rather blase about the wildlife, but we saw jackal, hyena, antelope, giraffe and warthog within a few hundred yards of the camp reception.
The vehicles were equipped with powerful headlights down the sides of the vehicle. This meant had great views of the animals in the bush even though it was pitch black. At one stage Alex brought the vehicle to a halt, turned of the engine and headlights. We literally couldn't see a thing! The sounds of the animals close by particularly the hyena made for an extremely nerve racking few minutes. But we felt safe with Dennis our Masai warrior there to protect us! Of course they had come prepared with Tusker beers and Merlot to calm our nerves.
Time to Leave!
Day 5 our final day. We had a leisurely breakfast overlooking the salt lick and were visited by warthog, eland, impala, wildebeest and Thomson gazelles.
We even saw giraffe and hyena on the journey to the airstrip to catch our flight to Nairobi.
A truly amazing experience, a safari was not top of my bucket list but it surpassed all expectations and gave us memories that will stay with us for the rest of our lives.
Other animals we saw but not mentioned above – ostrich, mongoose, bushback, dikdik, vervet monkey, vultures and numerous other species of bird.
The Guestbooks Comment: "If a safari is not on your bucket list, add it near the top. I promise you will not be disappointed. A truly magical experience. For some practical tips on taking a safari click here."
No freebies have been offered or provided by any of the establishments featured in this post!