Jane and I have eaten in some amazing restaurants this year. Our recent dinner at Palé Hall has to be up there with the very best.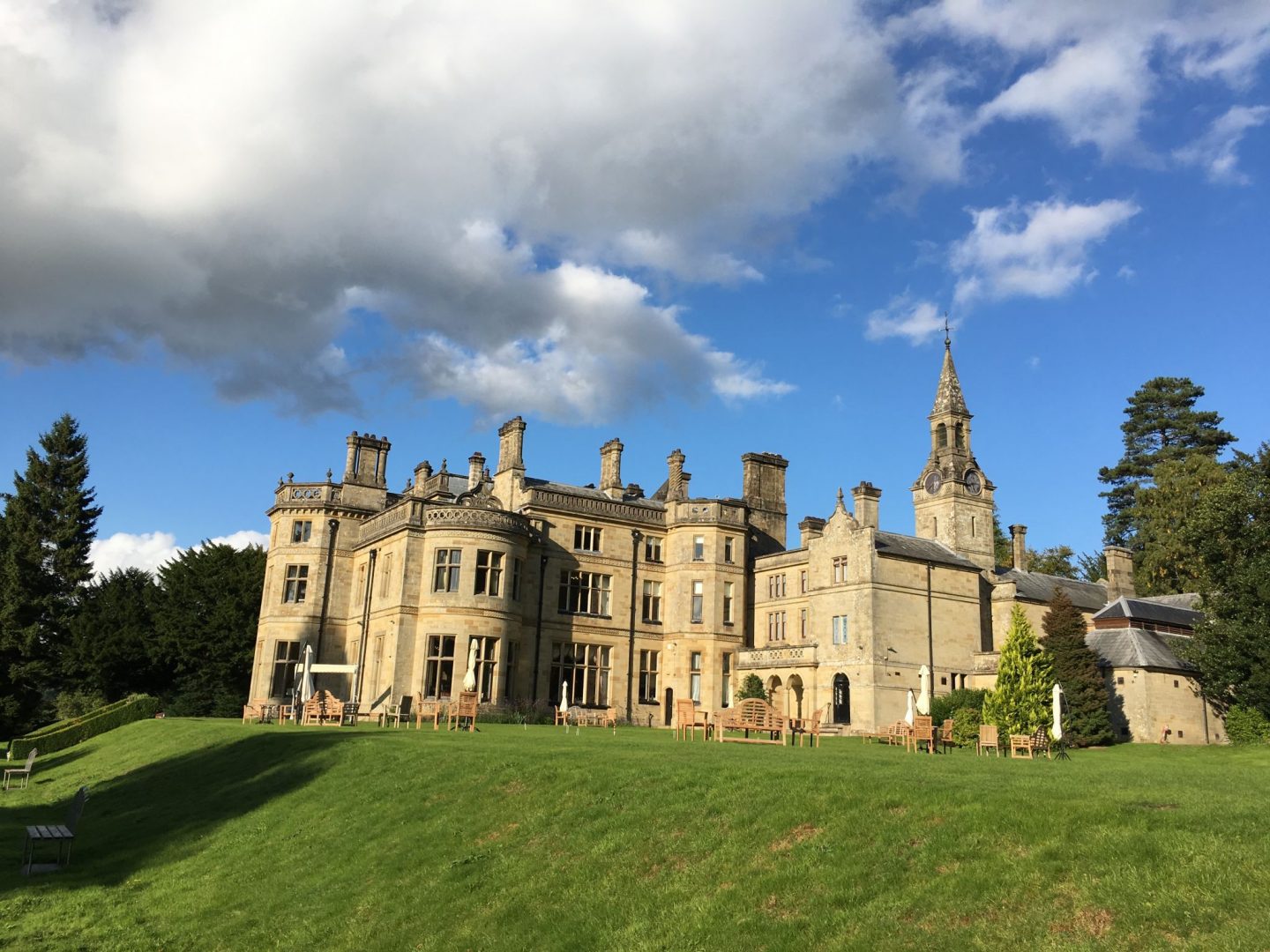 Where is Palé Hall
Palé Hall is situated in Llandderfel just outside Bala on the edge of Snowdonia. It is in a stunning setting in the upper Dee valley surrounded by lush countryside.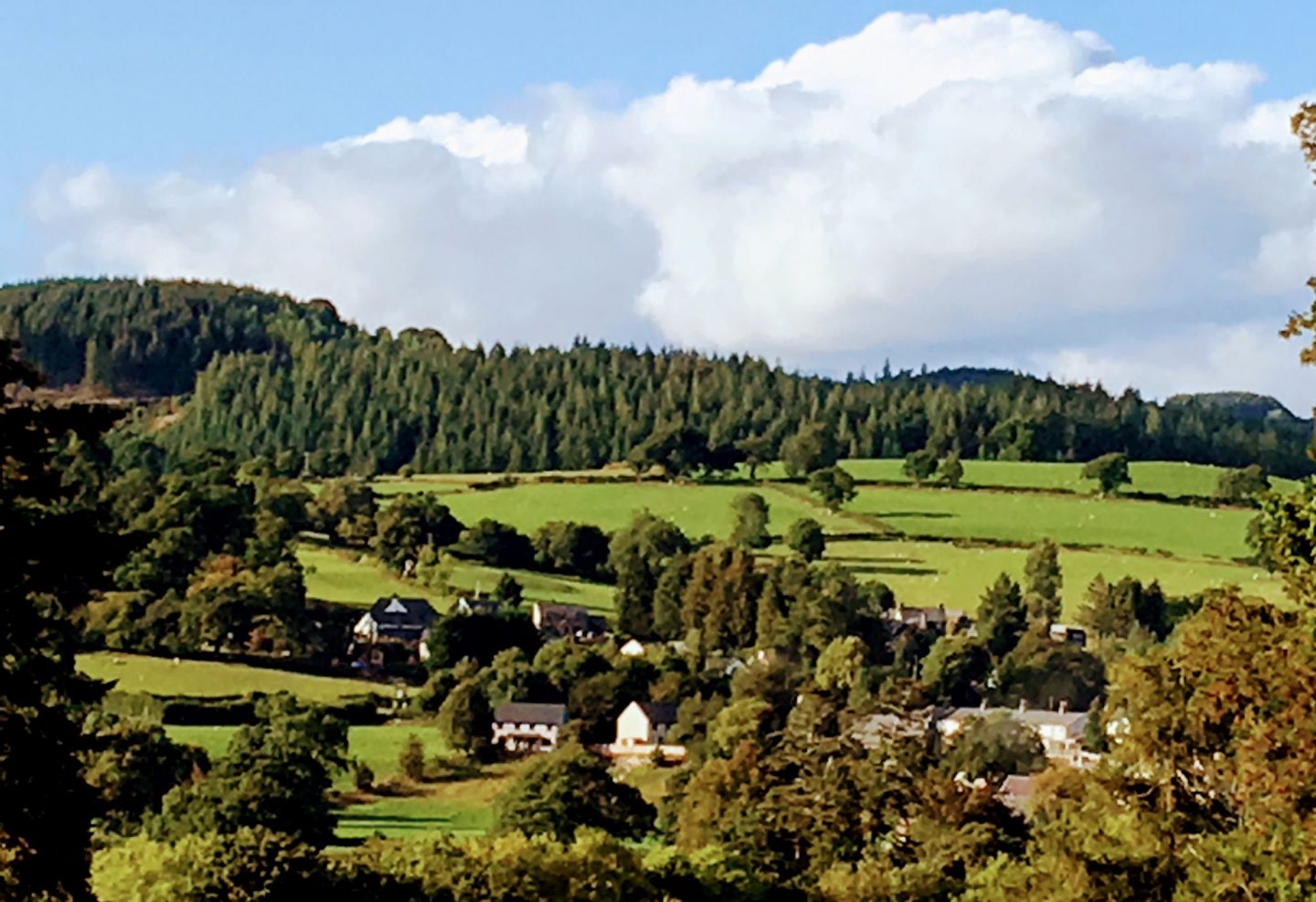 It is a place I have always been curious about. As a young boy I often visited this part of the world with my parents on our regular Sunday afternoon outings. I always used to ask "I wonder who lives in a place like that?" I now know that at the time it was one of the Duke of Westminster's country estates. Since then it has passed through various owners as both a hotel and private residence. However it is only recently that I had read about its reopening as a 5 star country house hotel and fine dining restaurant. I just had to pay it a visit.
The Restaurant
We decided to have an overnight stay so we could relax over dinner and enjoy the wine list too! For a full review of the Hotel click here.
We ate in the Henry Robertson's Dining Room. A stunning room, very opulent just like the rest of the hotel. Although it has a smart casual dress code it is definitely somewhere that merits getting dressed up for dinner.
We had heard that when the restaurant first opened the Michelin Starred Michael Caines was Executive Chef with some of his signature dishes featuring on the menu. The menu now showcases the cooking of head chef Gareth Stevenson.
The Menu
There was a choice of 3 menus. The Classics, a short a la carte menu, a six course tasting menu or the signature 10 course tasting menu. It was interesting to note that all the dishes on each menu were unique to that menu. If you were a resident eating on consecutive evenings you could experience the six and 10 course menu without having the same dish twice.
Since our visit to L'Enclume earlier in the year  (click here for the review) Jane has become a convert to tasting menus. So there was no contest it had to be the 10 courses!
The wine list was comprehensive with a good selection of "reasonably" priced wines alongside some big names with big prices to match.  There was a good choice of wines by the glass. There were also wine pairings available with both tasting menus. We had a reasonably priced bottle of Brouilly and a couple of glasses of a very good New Zealand Pinot Noir.
The Food
Canapes were served with our pre dinner drinks in the elegant drawing room. A selection of light flavoured pastries, the tapenade twist was particularly good if like me you love olives.
First Course
The first thing to arrive at the table was the bread. A delicious warm soda bread flavoured with onion, and served with freshly churned butter and an intensely flavoured olive butter. A course in itself.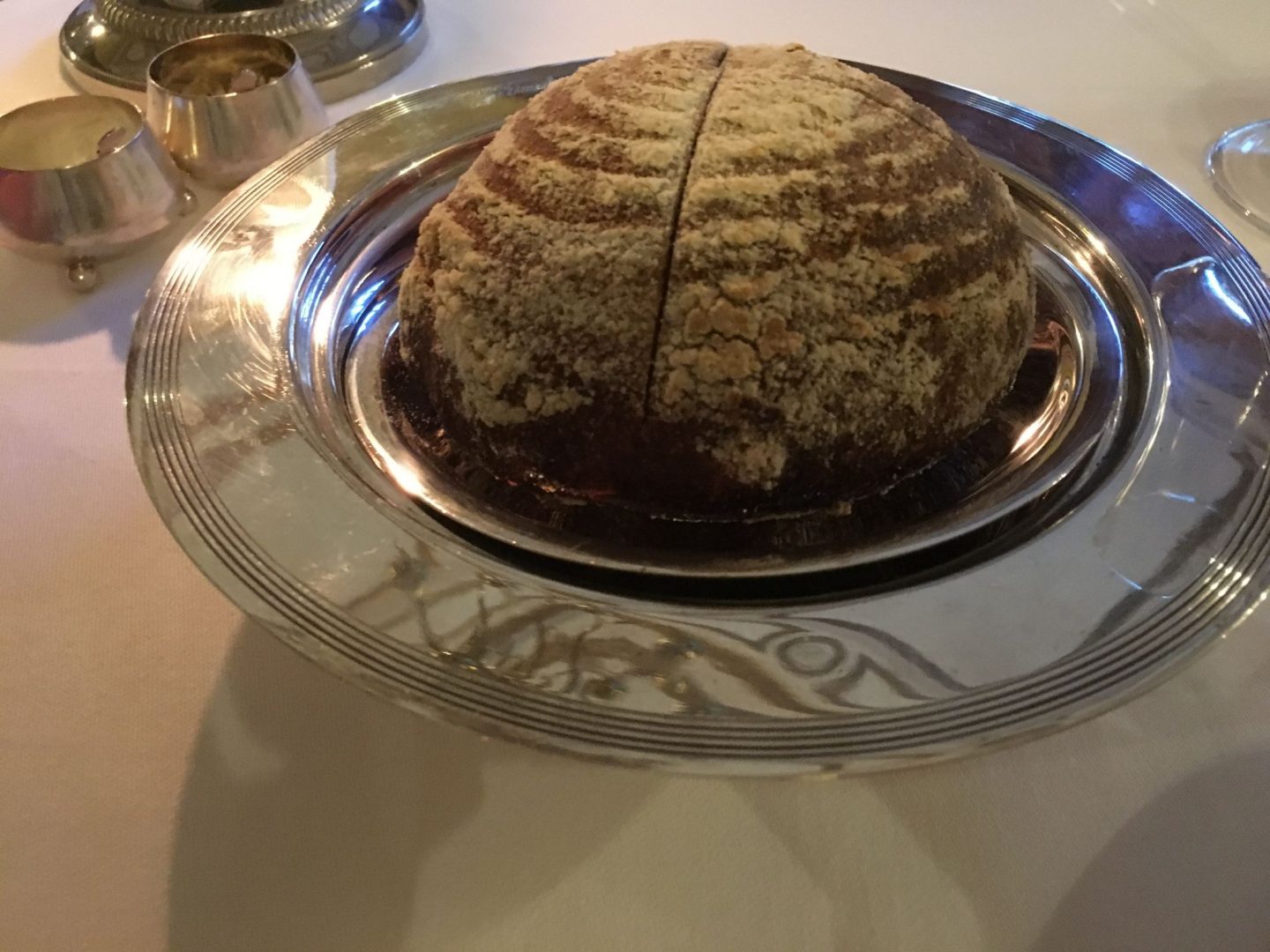 It was difficult not to eat the whole loaf before our official first course arrived!  This was roasted scallop served with shiso, carrot and ginger. Shiso is a Japanese herb with a flavour somewhere between mint and basil. It is used extensively in sushi dishes. It definitely added to the flavour of the sauce coating the delicately flavoured roasted scallop. A great start to the meal.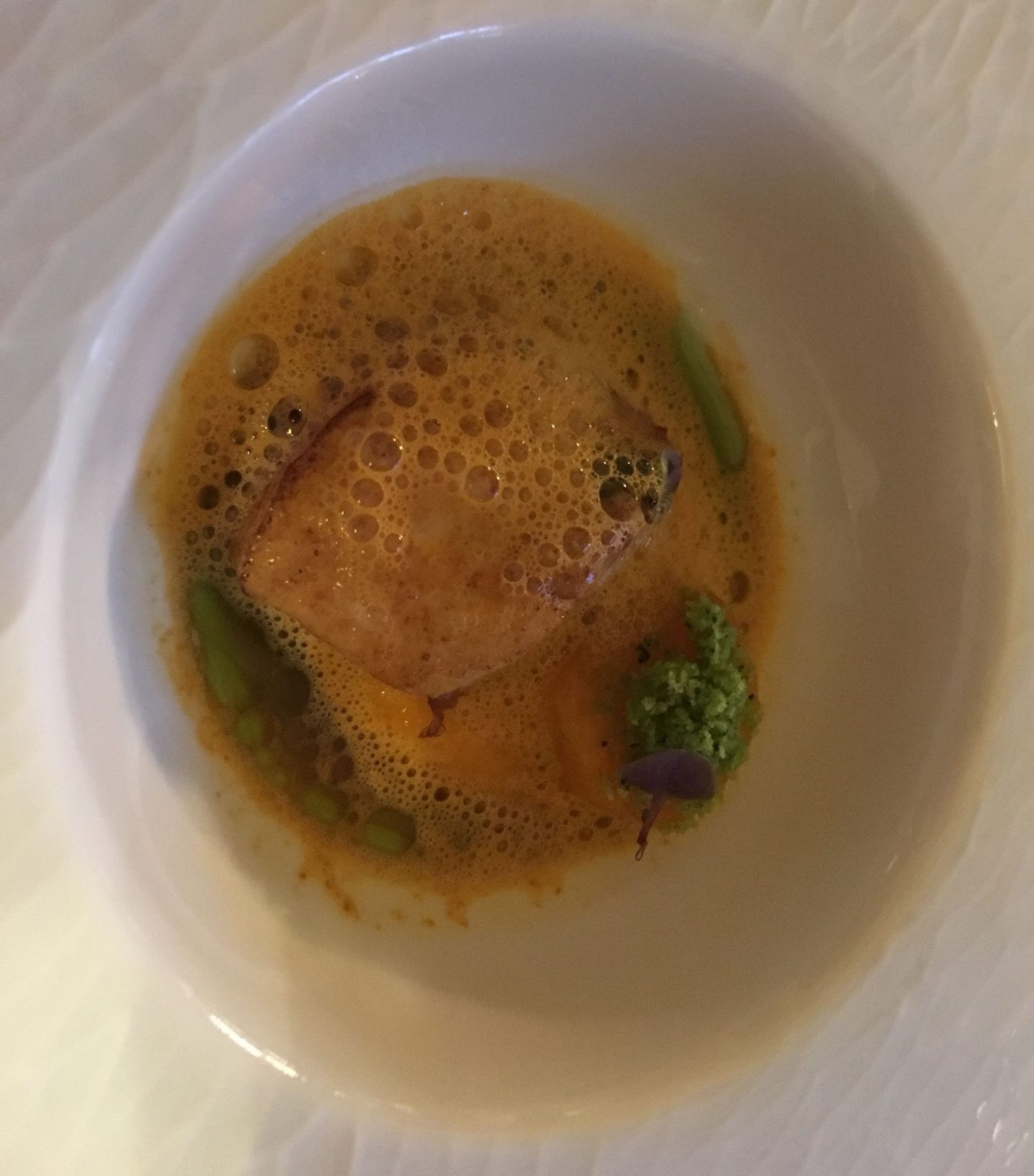 Second Course
The next course was a duck liver terrine served with apple,  five spice, a Sauternes jelly and Thai shallot. Both Jane and I are not usually fans of terrines finding them too rich. However the combination of flavours particularly the tart apple and sweet sauternes jelly resulted in a beautifully balanced dish, we could have definitely eaten more particularly with the soda bread.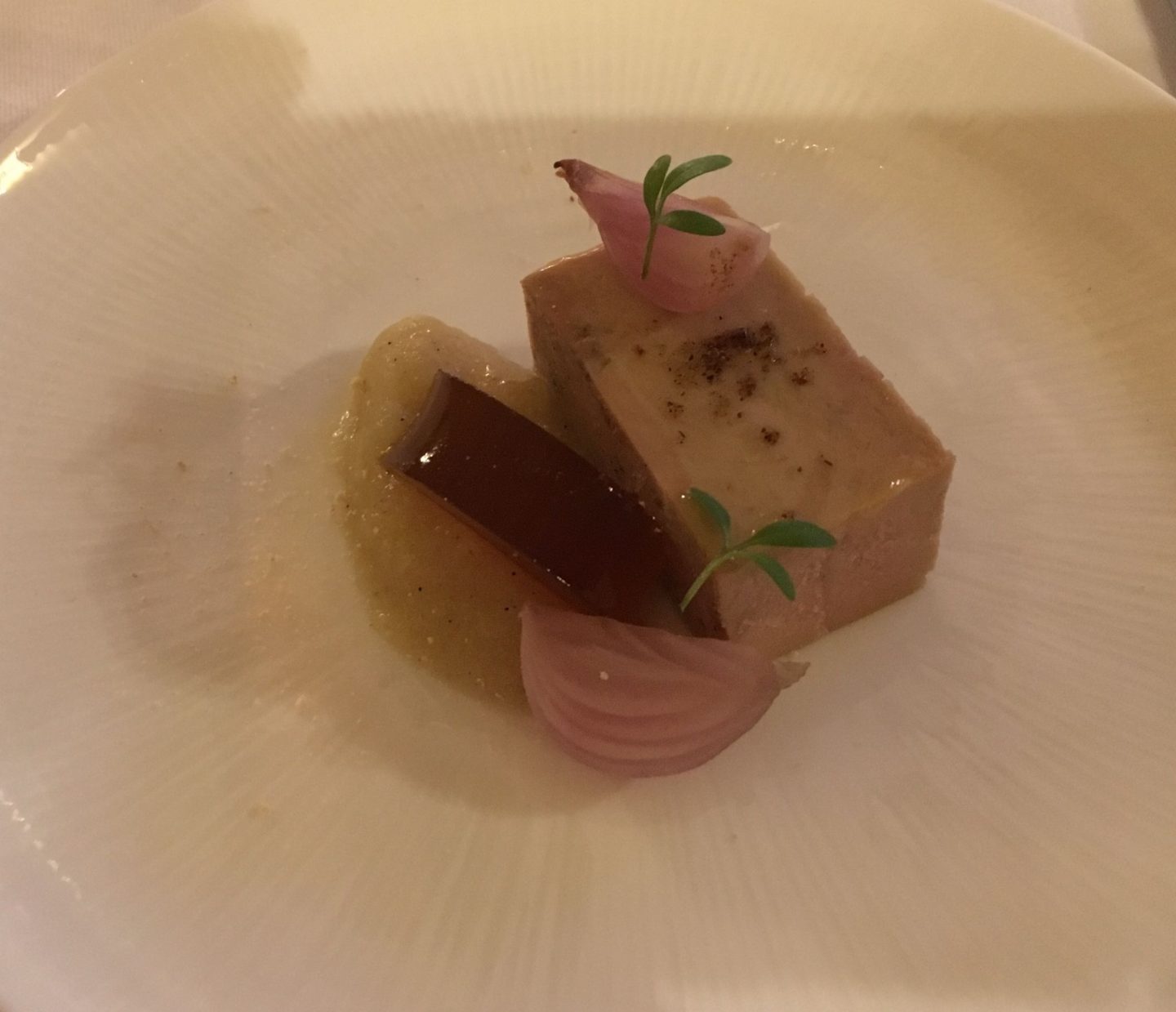 Third Course
I was really looking forward to the next course as it was lobster one of my favourite foods. I was not disappointed. The lobster was poached and accompanied with an intense yuzu gel, spiced coconut and bok choy. By the way the Yuzu is a Japanese citrus fruit somewhere between a lemon and a lime, it you didn't know already! I certainly didn't. A mix of flavours that complemented rather than masked the delicate flavour of the lobster, which melted in your mouth.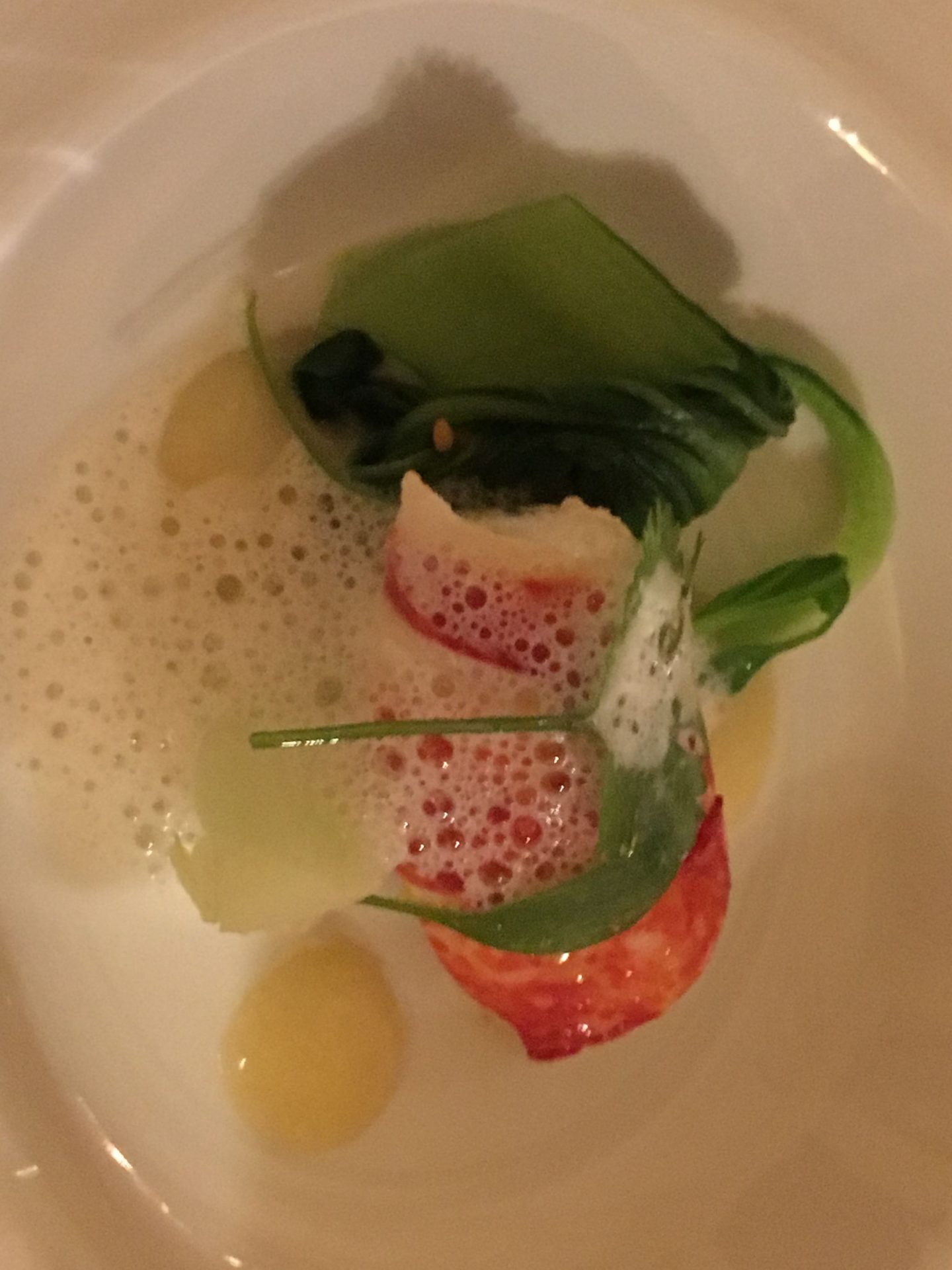 Fourth Course
What I have found with tasting menus I have sampled recently is that sometimes the simplest ingredients create the best taste sensation. This was the case at Palé Hall with the fourth course the salad of baby beetroot with linseed, hazelnut and tofu. A stunning dish! The textures with the creamy beetroot sorbet, the earthy baby beetroot and the hazelnut crisp were just sublime. It was beautiful to look at too!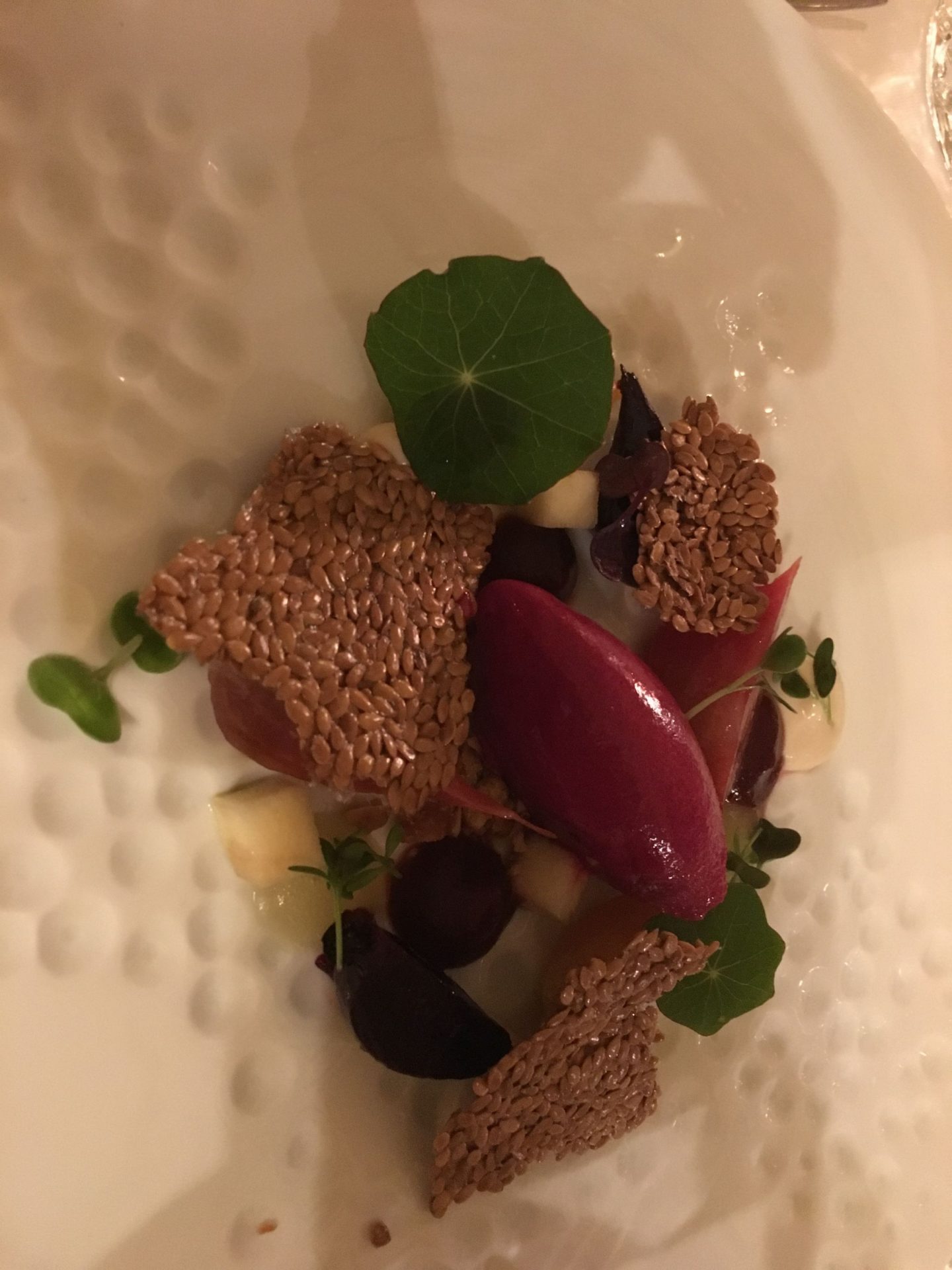 Fifth Course
The next course was one of Jane's favourite foods, pigeon. It was roasted squab pigeon cooked very pink, served with sweetcorn and mole poblano. It was safe to say we had never experienced pigeon cooked and served this way before! The sweetcorn came raw, chargrilled and pureed. The mole poblano is a Mexican chilli and chocolate sauce and to complement this there was also a spicy jalapeno sauce. A beautiful dish both to taste and to look at, it was a work of art on a plate. Jane's favourite dish without a doubt!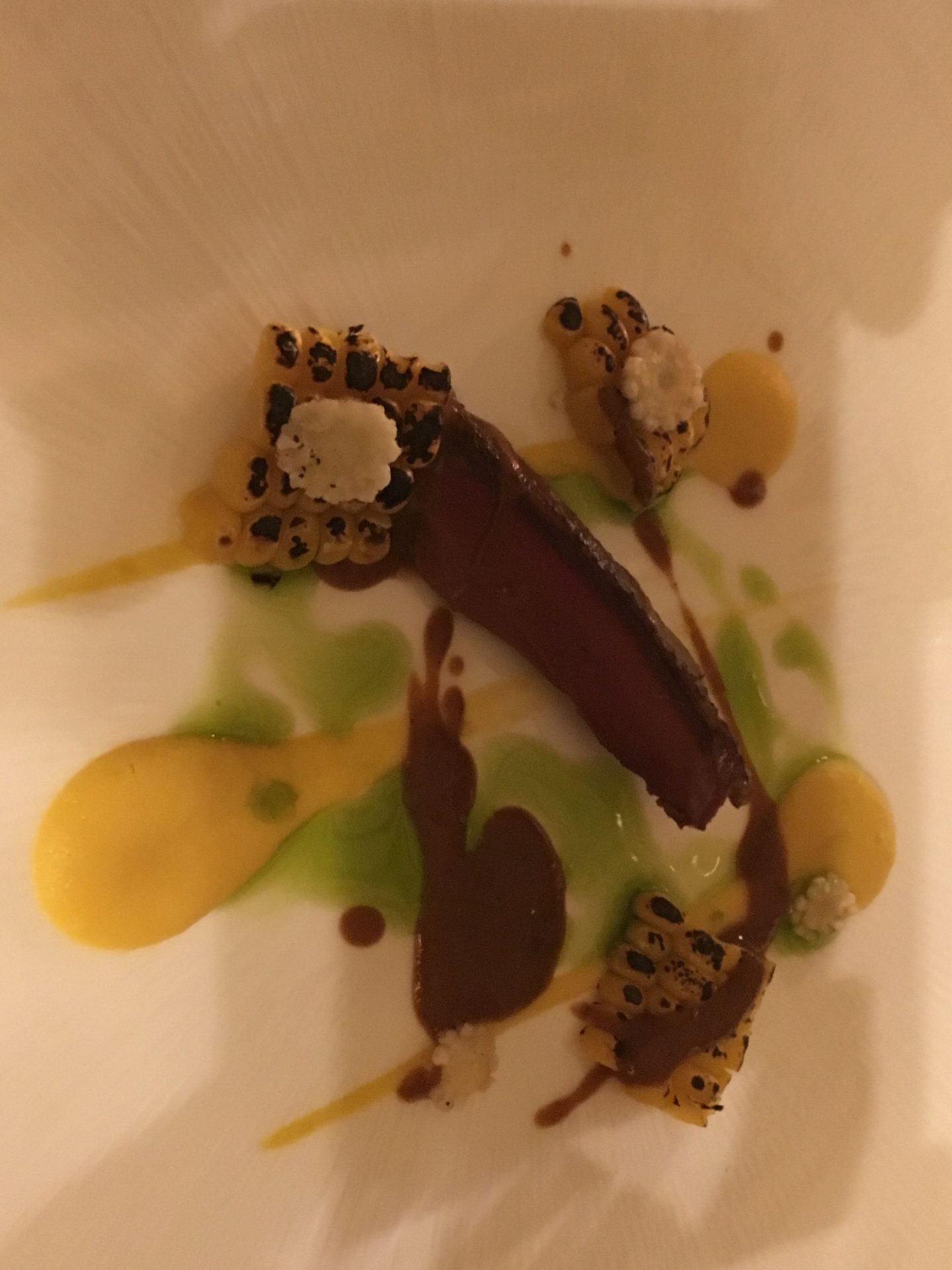 Sixth Course
I know you don't have main courses on tasting menu but this was probably the closest you could get. Welsh black beef fillet and cheek, served with girolle mushrooms and summer trufflle. I am not a great lover of beef personally but this was delicious. However it was very rich with the intensity of the truffle flavour, so a tasting menu portion was just right!
Seventh Course
The next course was the cheese course. Being in Wales it had to be a Welsh cheese, Angiddy! A new one on me, Angiddy is produced in the Wye Valley and is similar in style to a Brie or Camembert. The cheese was served slightly warm and accompanied with textures of grape and apple. Just right to follow the richness of the previous course.
Eighth Course
The next course was I think intended as a palate cleanser and it certainly succeeded. The dish was called Gin and Tonic. It comprised of a lemon sherbet, with compressed cucumbers and topped with a gin and tonic based foam. It tasted just like a Hendricks gin and tonic and was certainly very refreshing.
Nineth Course
Time for desserts!!! I am a big fan of desserts, Jane isn't. They have to be very special to gain her praise. The desserts served at Palé Hall certainly were! The first dessert and definitely my favourite was an apricot and hazelnut parfait with salted caramel and white chocolate. It was truly scrumptious and I don't normally like apricots or white chocolate!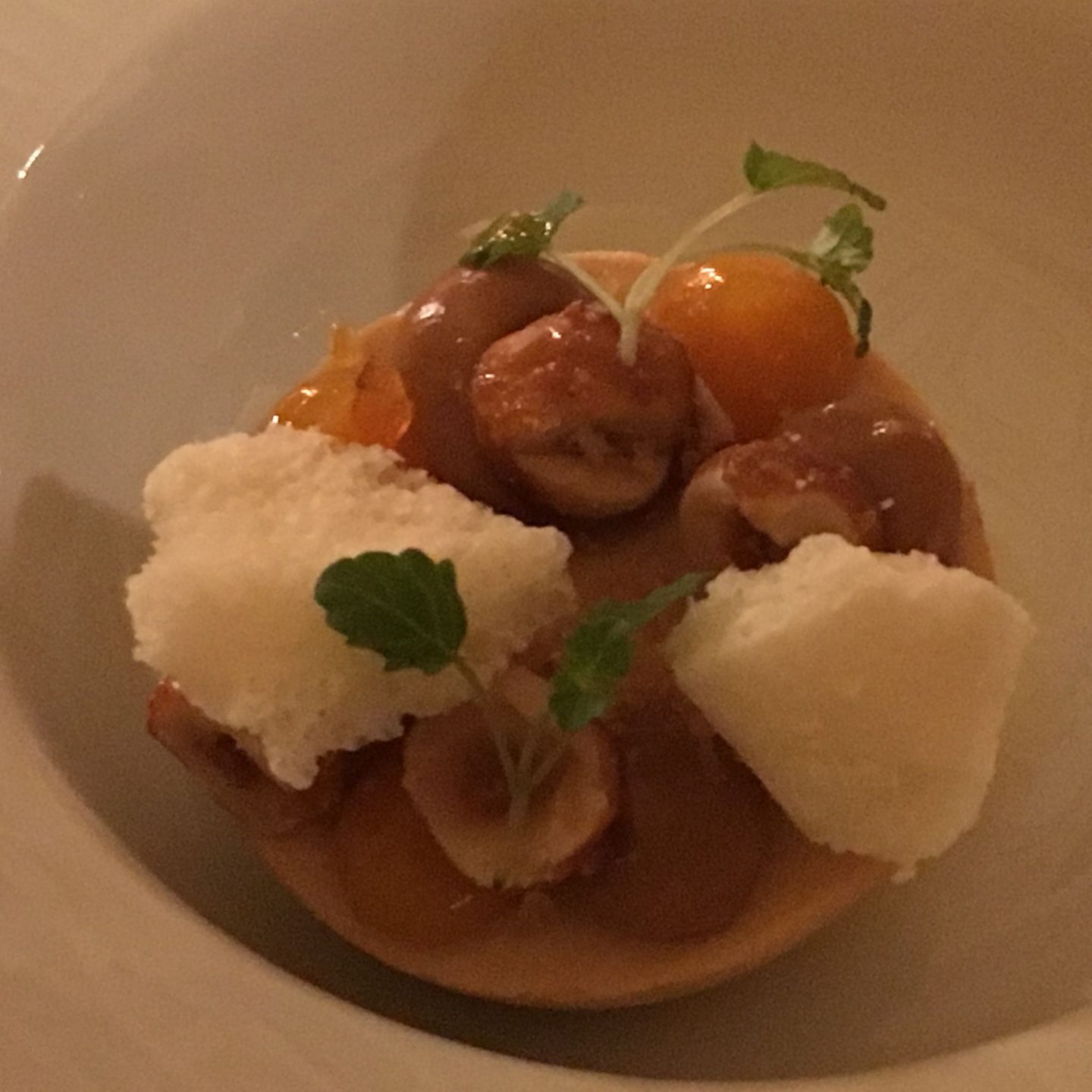 Tenth Course
The second dessert was another triumph, macerated strawberries with sansho meringue and citrus curd. Sansho is a Japanese pepper that can seemingly have a numbing effect on the tastebuds. Thank goodness it didn't with this dish, the intense strawberry flavour won through. It definitely was a fitting end to a truly memorable meal.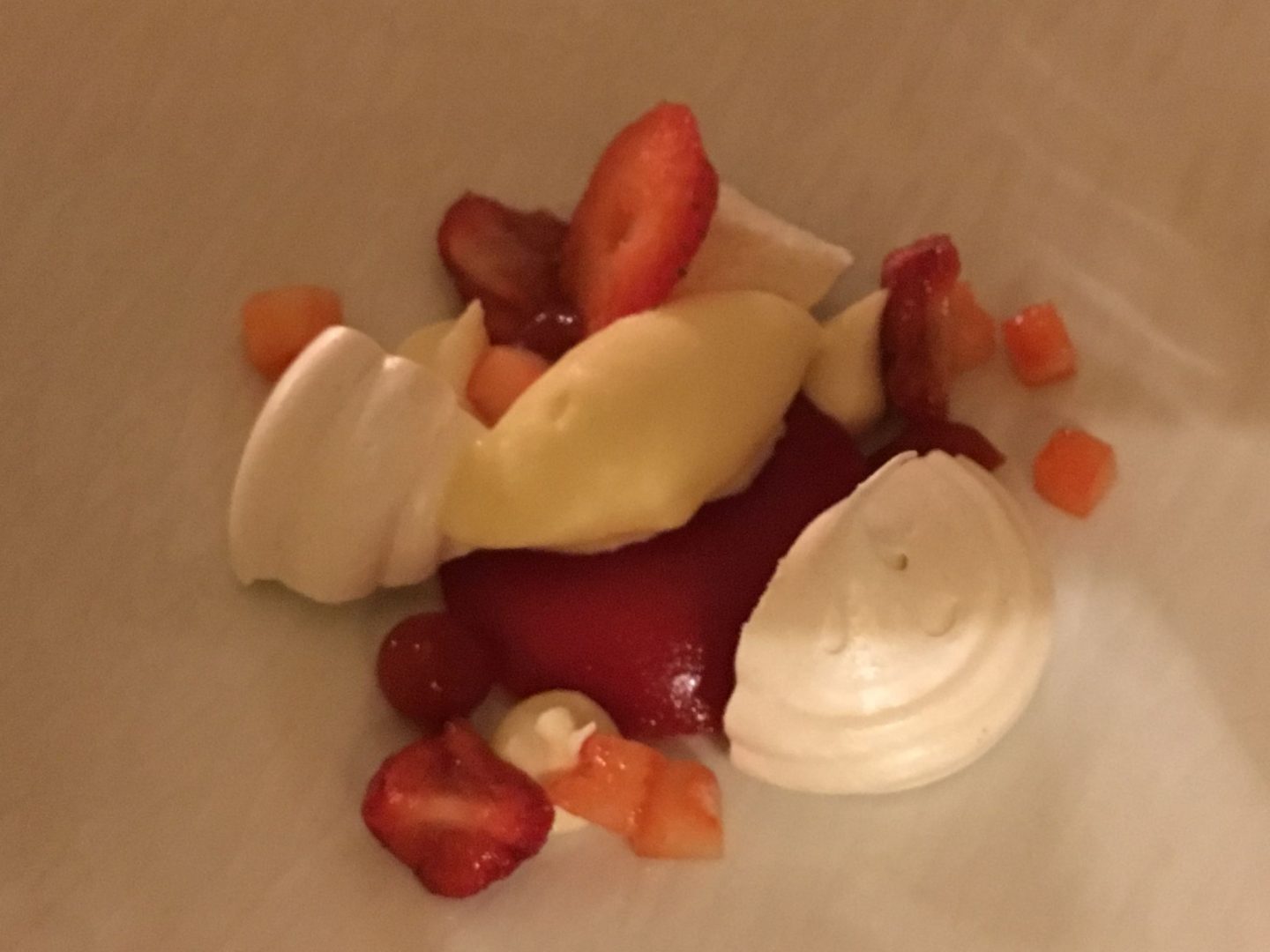 Overall Verdict
Palé Hall promises "an exceptional culinary experience" and it certainly succeeded on our visit. The food was superb. My favourite dish? Difficult to choose, but I would probably go for the baby beetroot salad, the lobster or the pigeon, with the apricot dessert not far behind!
It is expensive at £90 for the 10 course tasting menu and £70 for the six course. However for that special occasion or to treat yourself to a truly memorable meal its definitely worth it. If you want a more affordable option Sunday Lunch is excellent value at £32 for 3 courses.
For more information on Palé Hall visit their website here.
The Guestbooks Comment:- "Palé Hall already has 3 AA rosettes I would be very surprised if it doesn't get a well deserved Michelin star very soon."
No freebies have been offered or provided by any of the establishments featured in this post!