What's the story?
It's been 18 months and I still haven't done an afternoon tea in Dubai so I thought it was about time to tick this one off the bucket list. Having been to the Ritz Carlton JBR for Friday brunch and their Dim Sum nights at Blue Jade, I saw another offer (on the Entertainer of course) for 2 for 1 afternoon tea at Lobby Lounge. With a special occasion of a baby shower, it's the perfect excuse to visit!
Location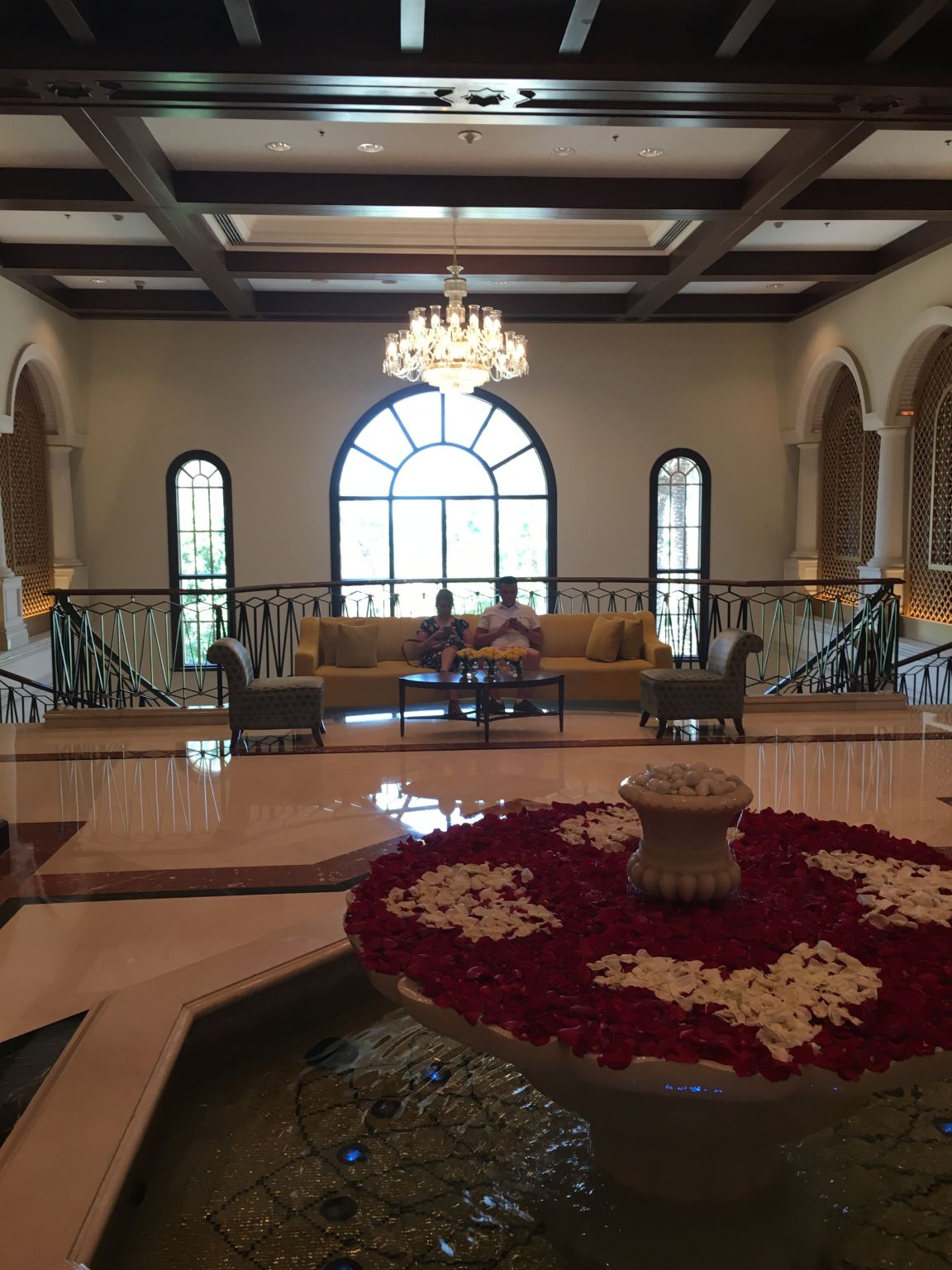 Based along The Walk in JBR, the Ritz Carlton offers a contrast to the other hotels in this area. For starters it's low rise and set back away from the main road behind greenery and shrubs. (Always a welcomed sight in Dubai). It does mean that if you're not looking for it then you could easily miss it.
As anyone would expect from a hotel with "Ritz" in the name, the driveway and entrance are grand and luxurious. Having visited the other Ritz Carlton in Dubai in DIFC and the Ritz Carlton near the Grand Mosque in Abu Dhabi, I definitely think this one is more impressive and a favourite out of the three.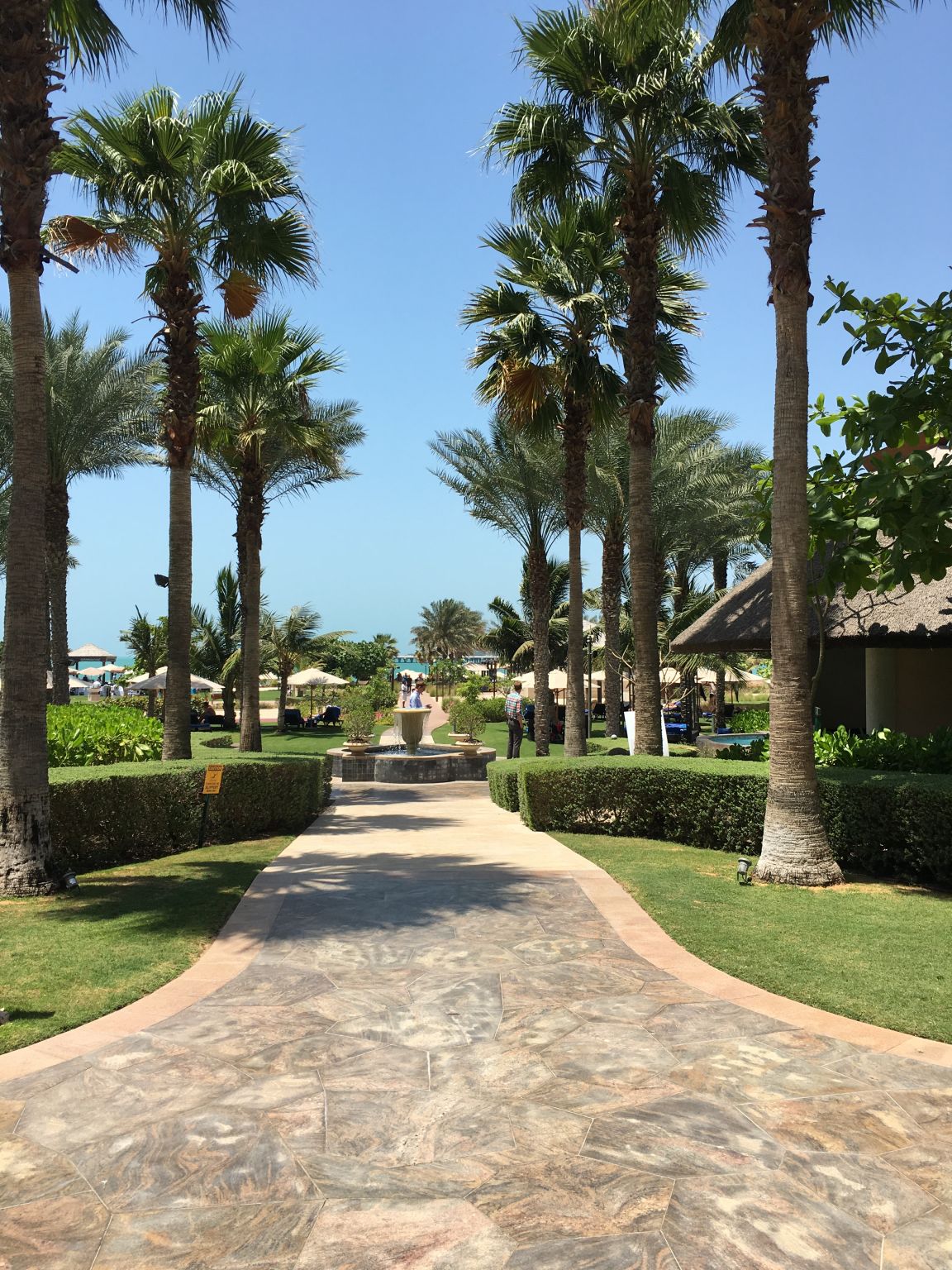 Inside there's an opulent reception area with a large window providing views out to the pool and beach. To the right is the (recommended) Blue Jade Asian restaurant which does a great Dim Sum night on a Wednesday (also on the Entertainer!). To the left is Lobby Lounge, where afternoon tea is served.
Afternoon Tea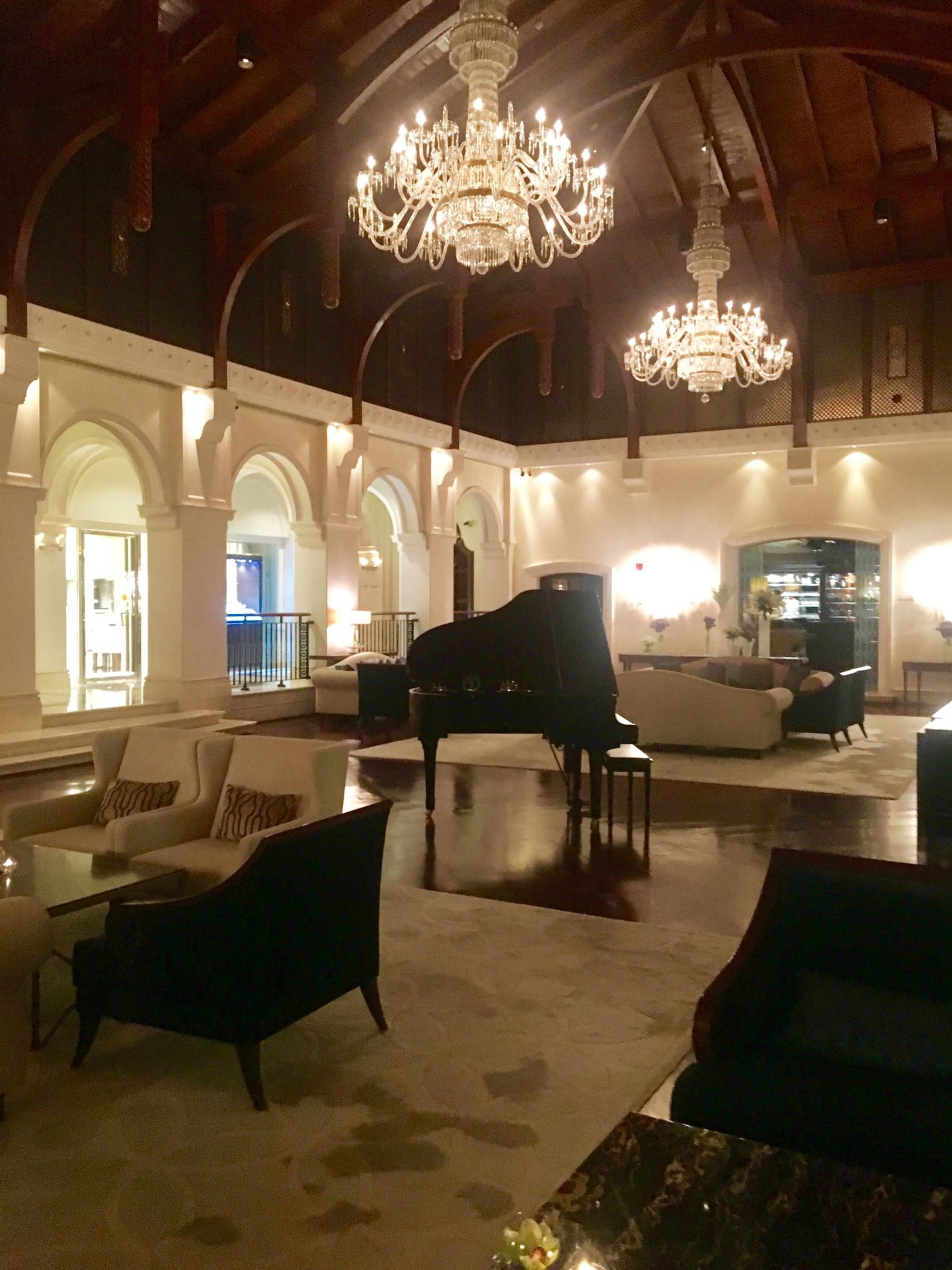 Lobby Lounge provides an impressive setting for afternoon tea with large ceilings and a grand wooden roof. There's of course the obligatory chandeliers that are common place in Dubai hotels but still spectacular. There's a grand piano thrown in for good measure too. In terms of seating, you can choose from a sofa area or a more traditional dining area. We opted for the sofa area and I'd recommend this over the dining. Although both are in the same area so there's not a huge difference just a preference on seating!
The afternoon tea is set up beautifully from the crockery to the added details if it's a special occasion such as ours which was a baby shower. The staff check gender in advance to colour theme the decorations so the attention to detail is a lovely touch.
We opted for the Traditional Afternoon Tea as this was included on the Entertainer 2 for 1 offer. However there's lots of options available, from the traditional all the way through to the deluxe options such as the Millionaire Treat. You will need to be a Millionaire or close for the latter as it comes in at an eye watering AED 2,920 for 2 people. You're paying for the Beluga caviar and glass of Dom Perignon though! Luckily the Traditional Afternoon Tea option at Lobby Lounge is a much more affordable AED 195 per person (and even less with the Entertainer 2 for 1).
Drink selection
A wide range of drink selections are on offer as part of the Traditional Afternoon Tea. There's a range of coffees through to a variety of traditional and exotic afternoon teas. The teas in particular are lovely in the way they are served in their own tea pot on a lighted candle to keep them warm. Bear in mind that if you opt for the Traditional Afternoon Tea then you can only have one drink included. I think this is a little bit steep, especially as water is also additional and an extra charge. With this in mind it might be better to opt for tea over coffee which will last longer and can be refilled with hot water.
The food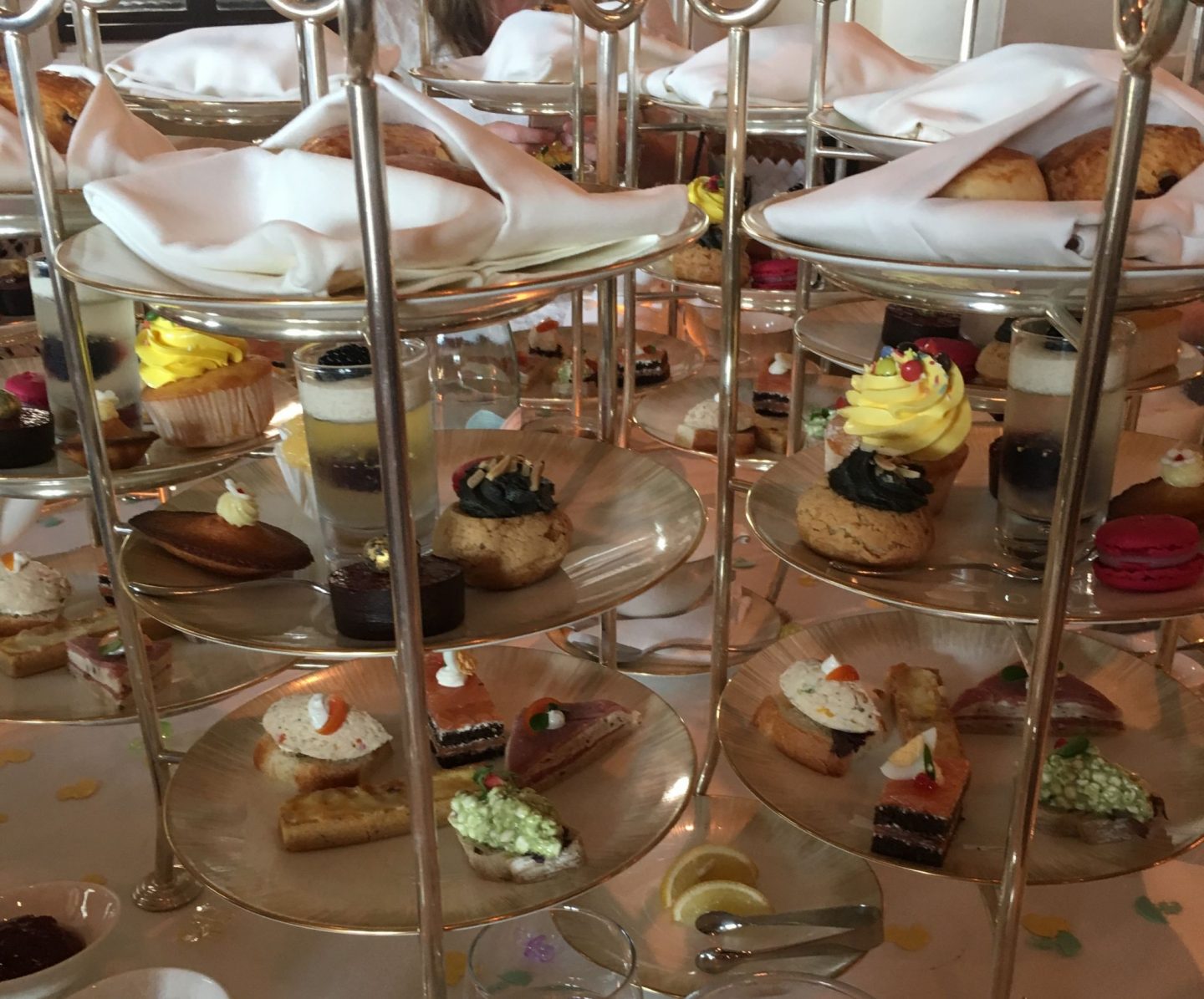 Whilst I was a little disappointed with the lack of drinks refills at Lobby Lounge, the same can't be said for the quantity of food on offer here. It's extremely generous, especially in terms of the sweet options. You'll definitely be running on sugar.
In true afternoon tea style, you get a cake stand (one per person!) with three layers. 1 savoury, 1 sweet and the top layer my favourite, the all important scones. The latter is not always easy to find in an afternoon tea in Dubai so it's a definite bonus.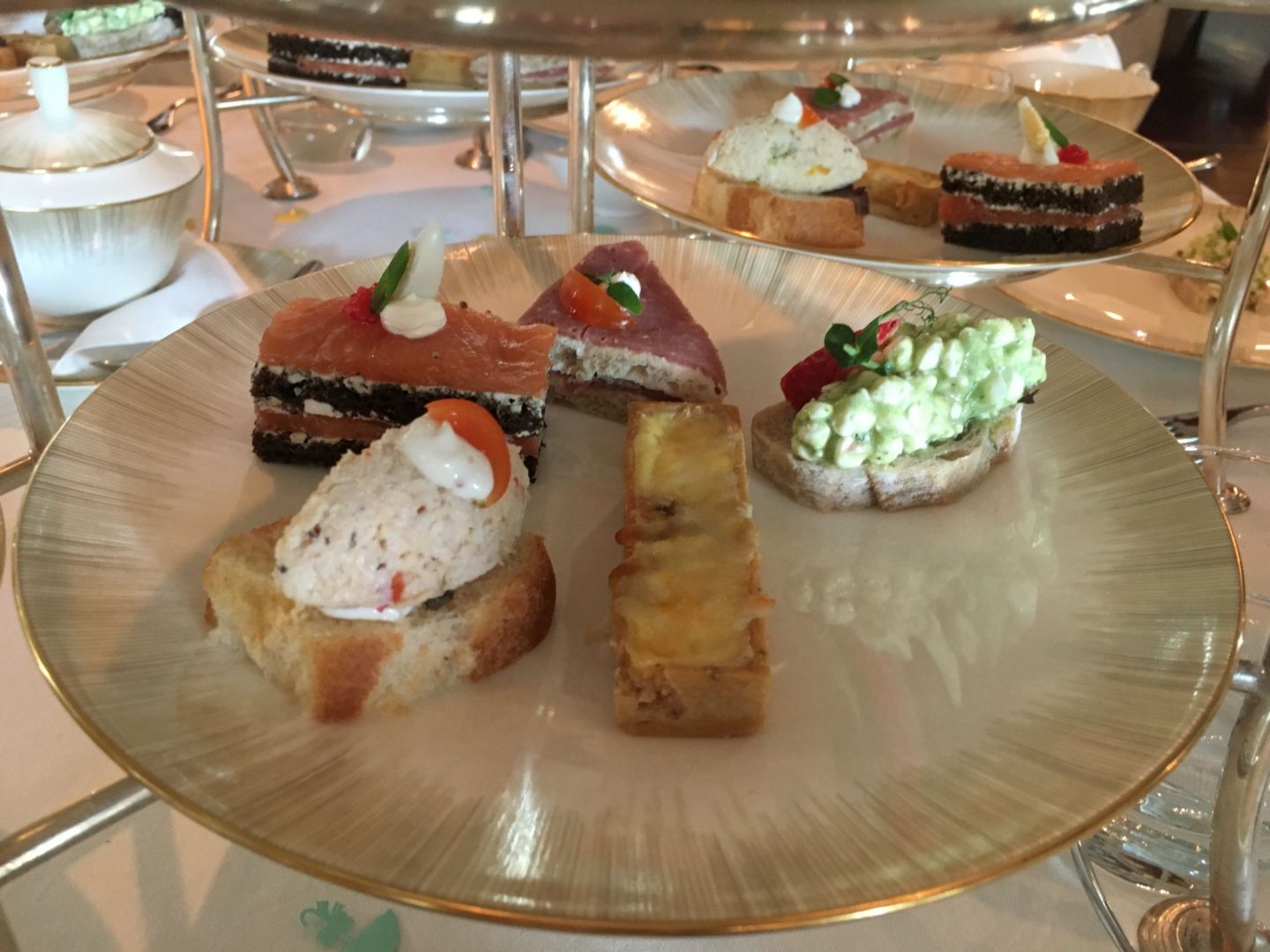 Starting with the savoury – there's a delicate display and selection of beautiful presented sandwiches, from open Salmon and cream cheese, through to smoked beef. It's small so won't fill you up but that's probably wise based on the sweet selection.
This isn't quite so dainty but is still beautifully presented with some ununsual offerings such as the sesame style bun and the dessert topped with tapioca. Although these are probably a bit too unusual for me! Firm favourites include the rich but very delicious chocolate and raspberry tart. The other treats are a lemon cake and a gender themed cupcake, as well as a raspberry macaron.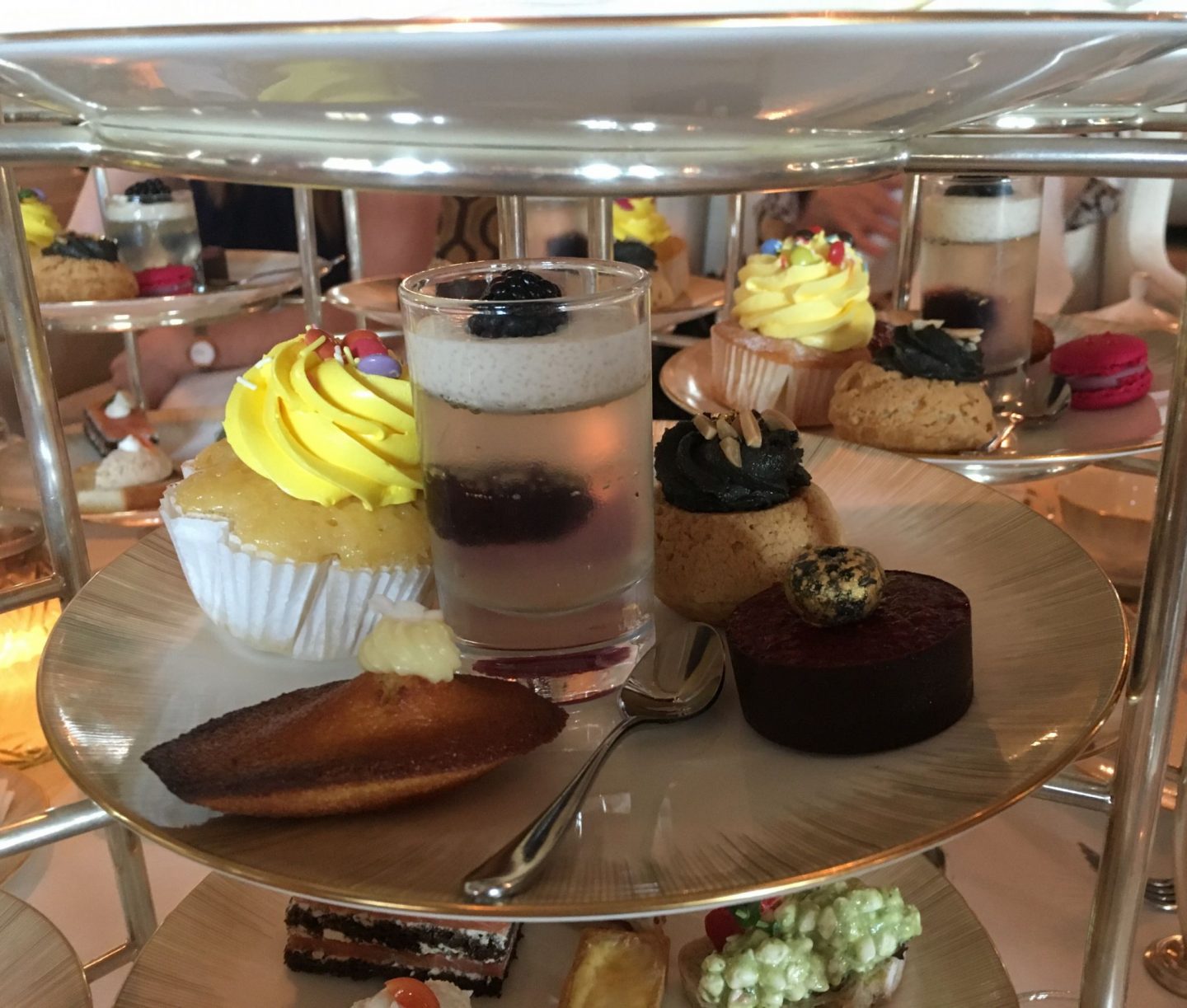 Finally my favourite – the scones served with two choices of fruit jam and of course cream. A staple for afternoon tea and delicious.
Needless to say many of us failed to finish all that was on offer but I gave it a good go! Make sure you ask to take the cakes home with you too and they will gladly put them in a box for you.
The cost
There's a wide range of afternoon teas on offer at Lobby Lounge so it depends on your selection. We opted for the Traditional Afternoon Tea at AED 195 per person because it was included on the Entertainer at the time. Check in advance though as the current offer has expired. Even at the full price, for a special treat it's still not bad value in terms of what's on offer and the setting. Although refills on food or drink aren't available with this offer, they do have offers on throughout the year. At the time of our visit another offer valid without the Entertainer was unlimited drinks and food for AED 195. This would have been too much for us but could be good if you have a hearty appetite!
The Guestbook's comment: "Lobby Lounge offers a lovely setting for afternoon tea and a special occasion. Whilst the lack of refills with the traditional afternoon tea is disappointing, the quantity of food on offer makes up for this, as does the attention to detail offered".