Just returned from a great week in Cartmel situated on the southern edge of the beautiful Lake District National Park, for more on our trip click here. One of the reasons we chose Cartmel as a base is because its home to the famous 2 Michelin Star Restaurant, L'Enclume. We arranged a dog sitter for Odie, our Patterdale Terrier, and visited L'Enclume for lunch.
The Restaurant
L'Enclume is French for anvil, a fitting name for this beautiful restaurant as it is located in an 800 year old former smithy in Cartmel. It was opened in 2002 by the chef Simon Rogan and has been awarded the Good Food Guide's best restaurant in the UK 5 times from 2013 until 2017. In 2018 it came second to Nathan Outlaw's restaurant in Cornwall.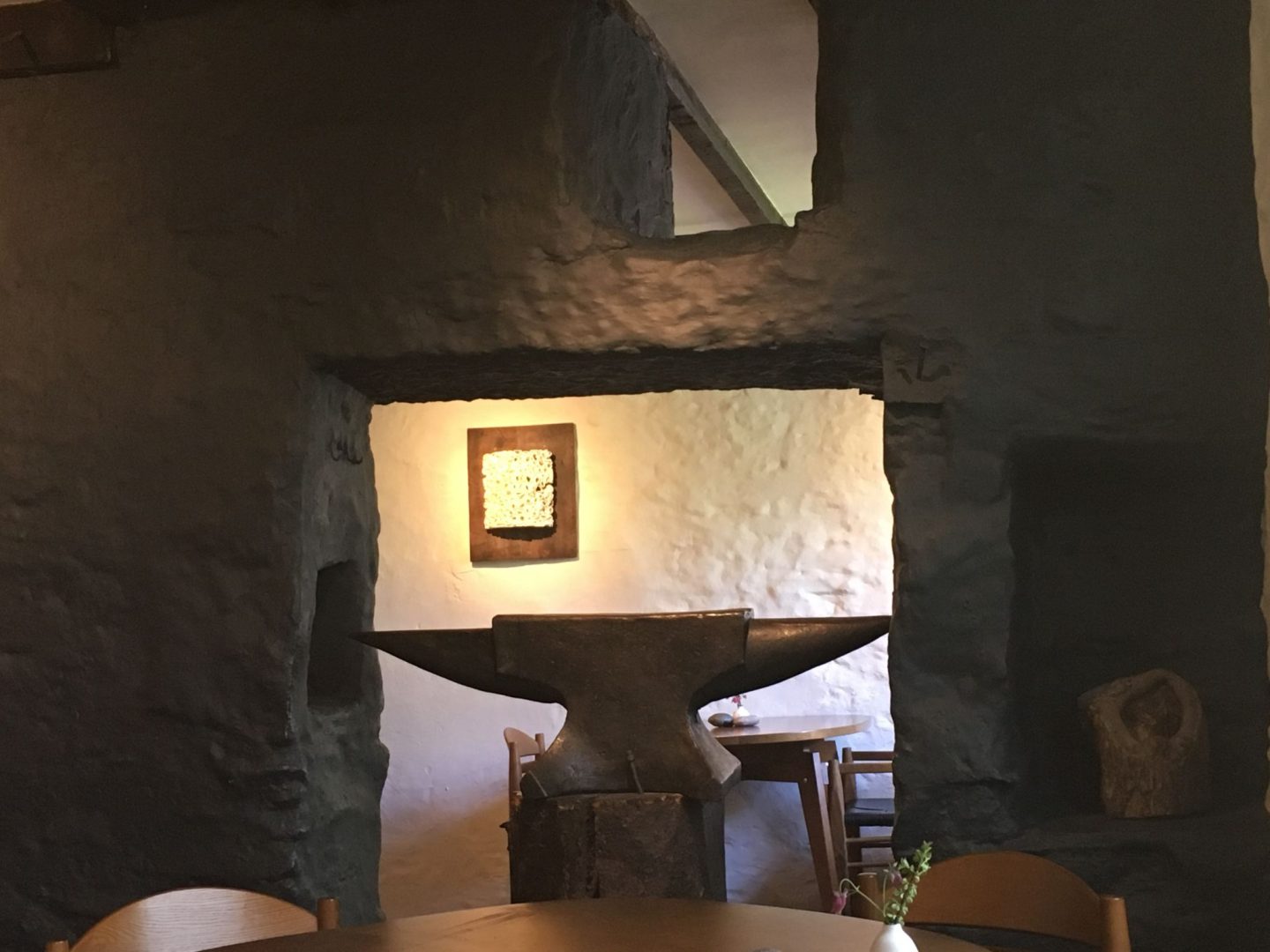 It is situated in the centre of the beautiful village of Cartmel near the magnificent Cartmel Priory. Although the restaurant is 800 years old it has a very modern minimalist feel about it. Tables are generously spaced, if possible get one overlooking the gardens. The kitchen is open on to the restaurant so you can see the brigade of young chefs preparing the beautiful dishes. The day we visited although the restaurant was full, there was a very relaxed and peaceful ambiance. It was elegantly chic but in no way overly formal or ostentatious.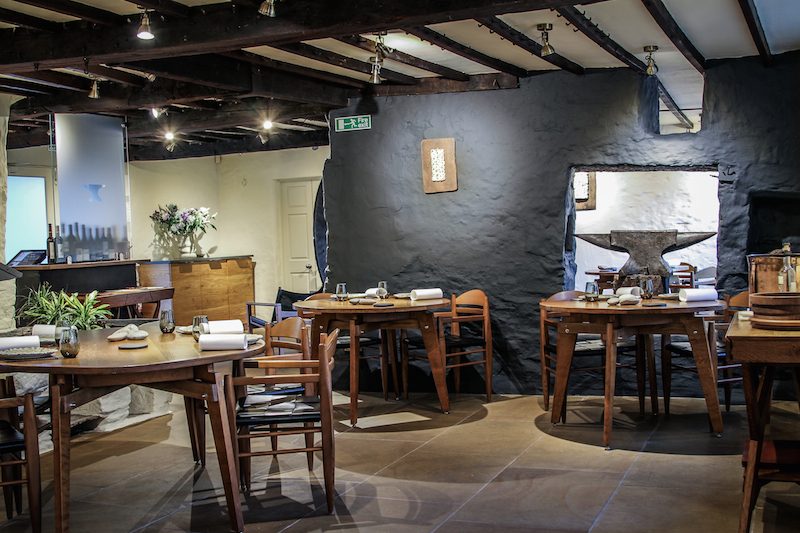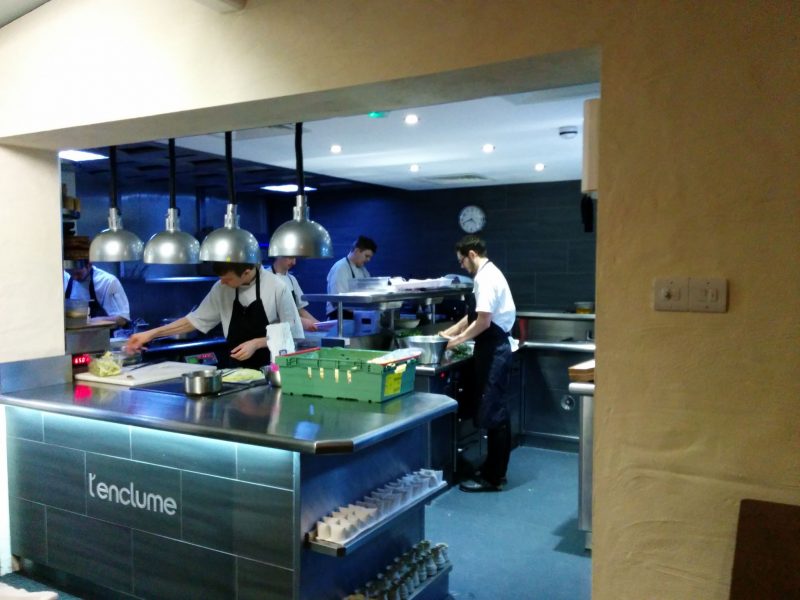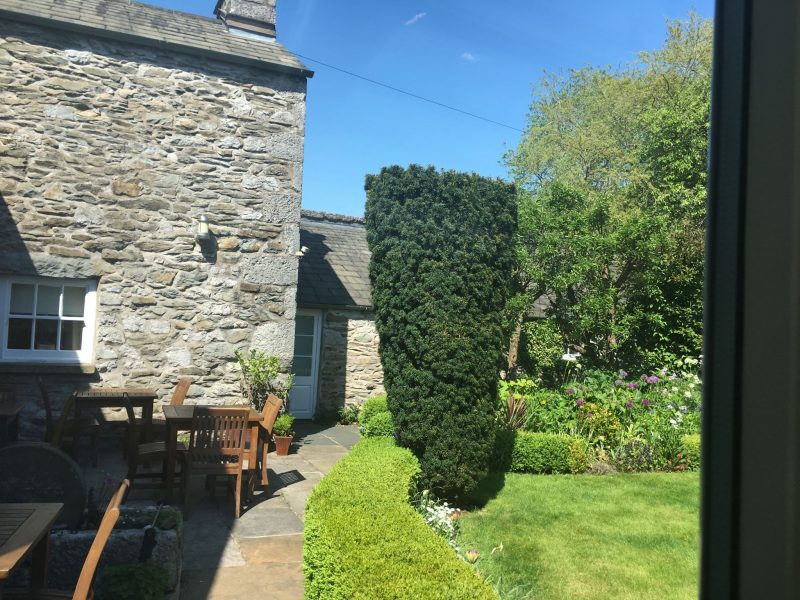 The front of house team were superb, very welcoming and attentive, without being intrusive.
The Menu at L'Enclume
At lunchtime you have a choice of 2 menus.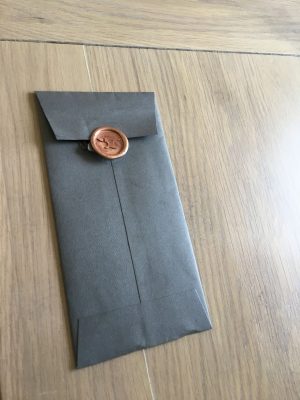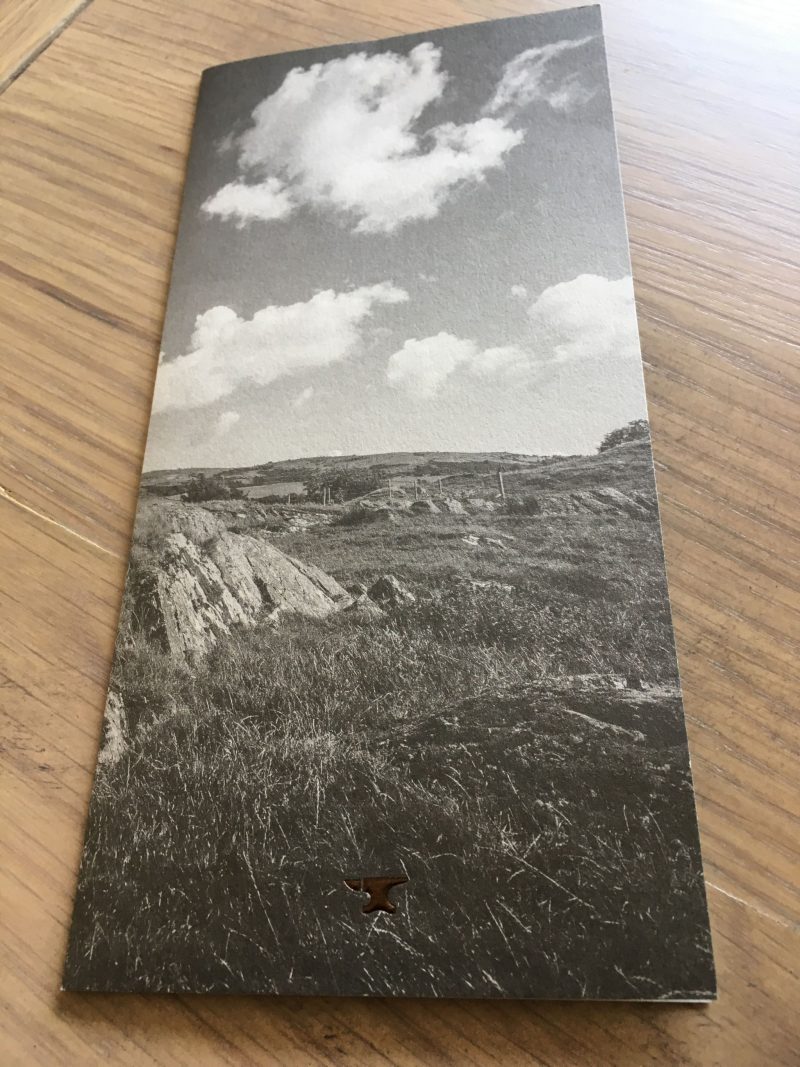 The L'Enclume signature 20 course tasting menu which is served at both lunch and dinner, and a 9 course lunch tasting menu. We decided on the lunch menu as this was our first visit and we were unsure what to expect. The menu is brought to the table in a sealed envelope and it is up to you whether to open it or to not. As my wife Jane generally prefers plainer, more traditional food, we decided to leave it sealed, in case she was put off by any of the ingredients!
There is a comprehensive wine list with some big names, and big prices! There are also 2 wine pairings on offer – the classic or signature selection. We had a glass of house champagne before our meal, a delicious (but expensive) bottle of Morgon to accompany the food, and a a couple of glasses of Pinot Noir with the cheese.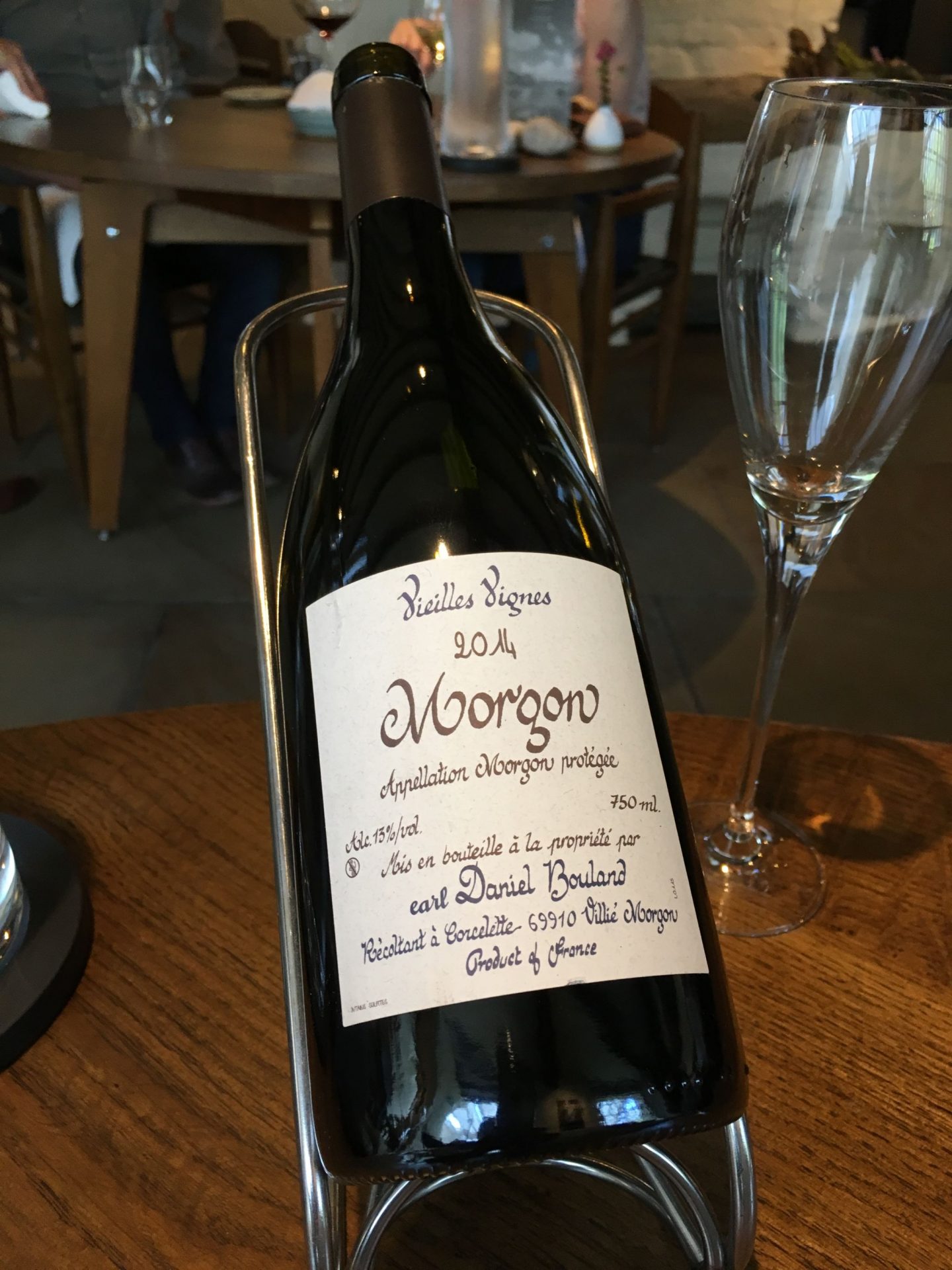 The Food
The food is amazing, at a different level to anything I have experienced previously. Simon Rogan has what he calls "farm to table philosophy" using the best seasonal and local ingredients. Most of the vegetables, herbs, fruits and flowers are grown on the restaurant's own farm just outside Cartmel, and wherever possible the the produce is sourced from local Cumbrian suppliers. Menus change regularly depending on the availability and quality of ingredients.
Appetisers
We started with beetroot! Beetroot leaf with an intense beetroot jelly – pine smoked beetroot served on pine skewers and a fermented beetroot juice. How someone can make something as plain and basic as beetroot taste so delicious I will never know!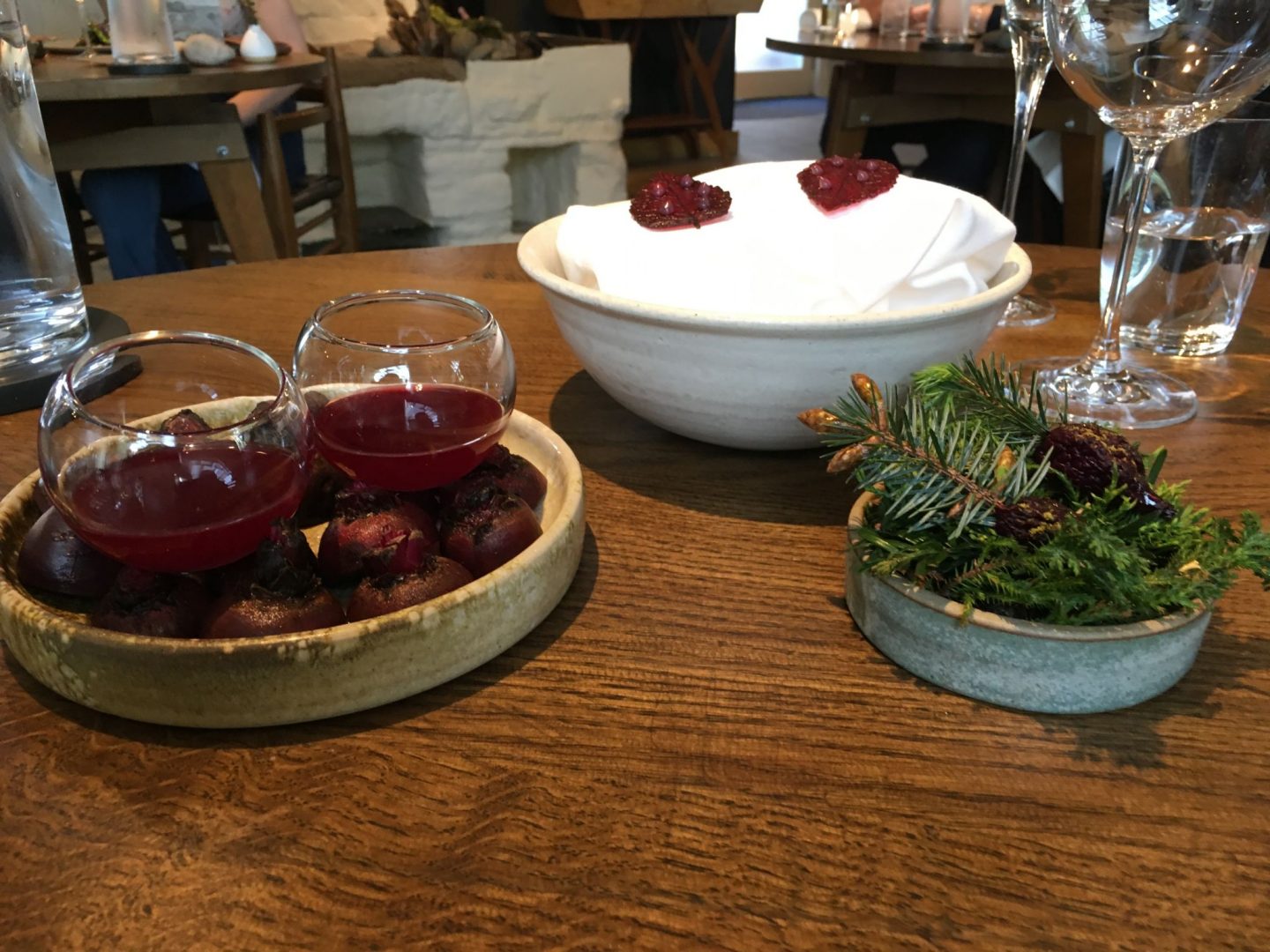 Next up was pork, eel and sweetcorn. This is where Jane would have panicked if she had seen the menu beforehand, the very thought of eel would have put her off completely. The dish was a mixture of smoked eel and pulled pork encased in a crispy sweetcorn casing, served on a bed of corn kernels. Amazing to look at and the taste was just something else. Jane now loves eel!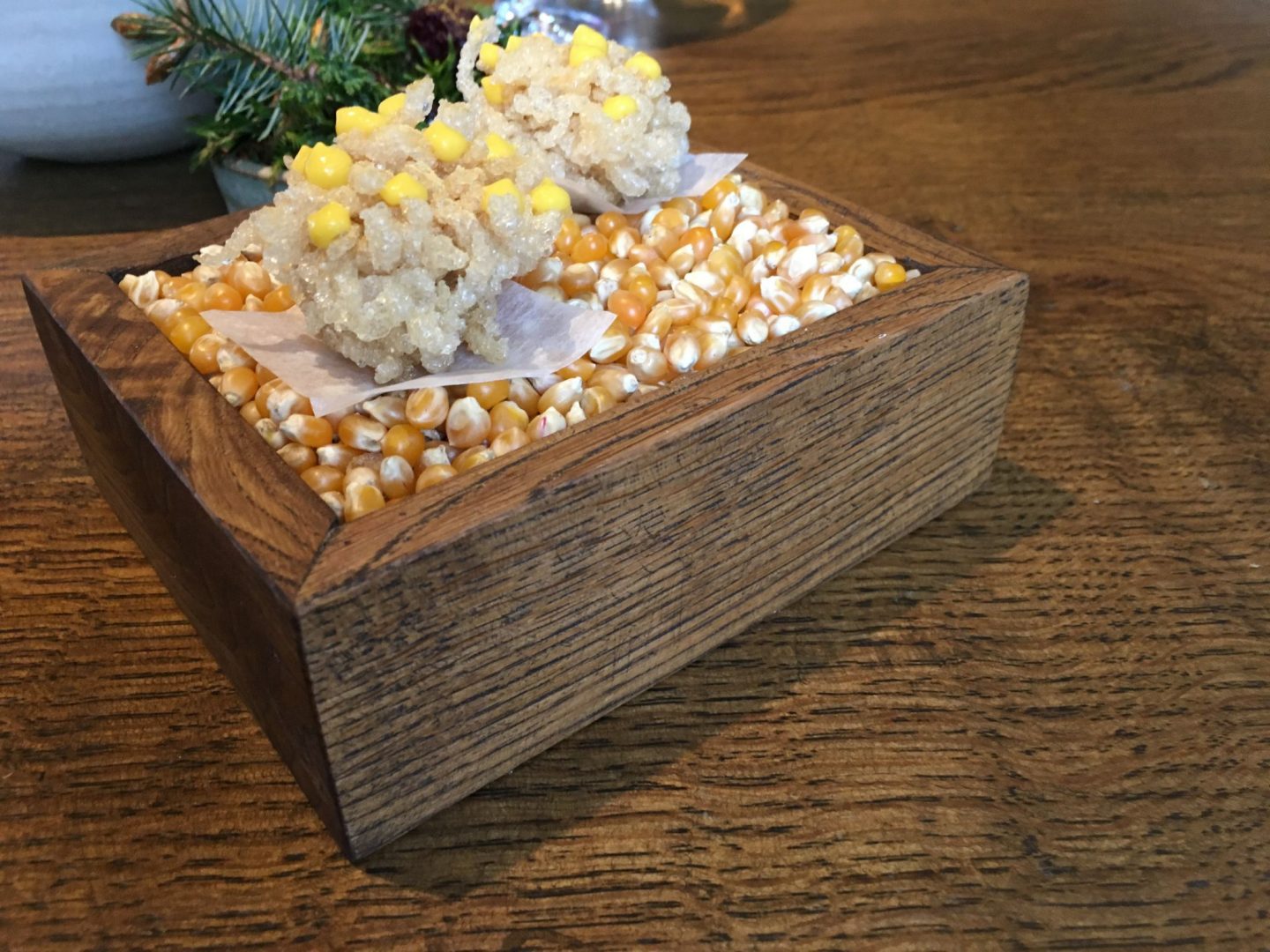 Every dish was brought to the table by either one of the front of house team or one of the chefs, and the ingredients and cooking techniques were described in detail.
Starters
Next up was the bread, a dish in itself. A homemade sourdough loaf accompanied by raw butter and pork dripping with crispy pork fat, naughty but very very nice!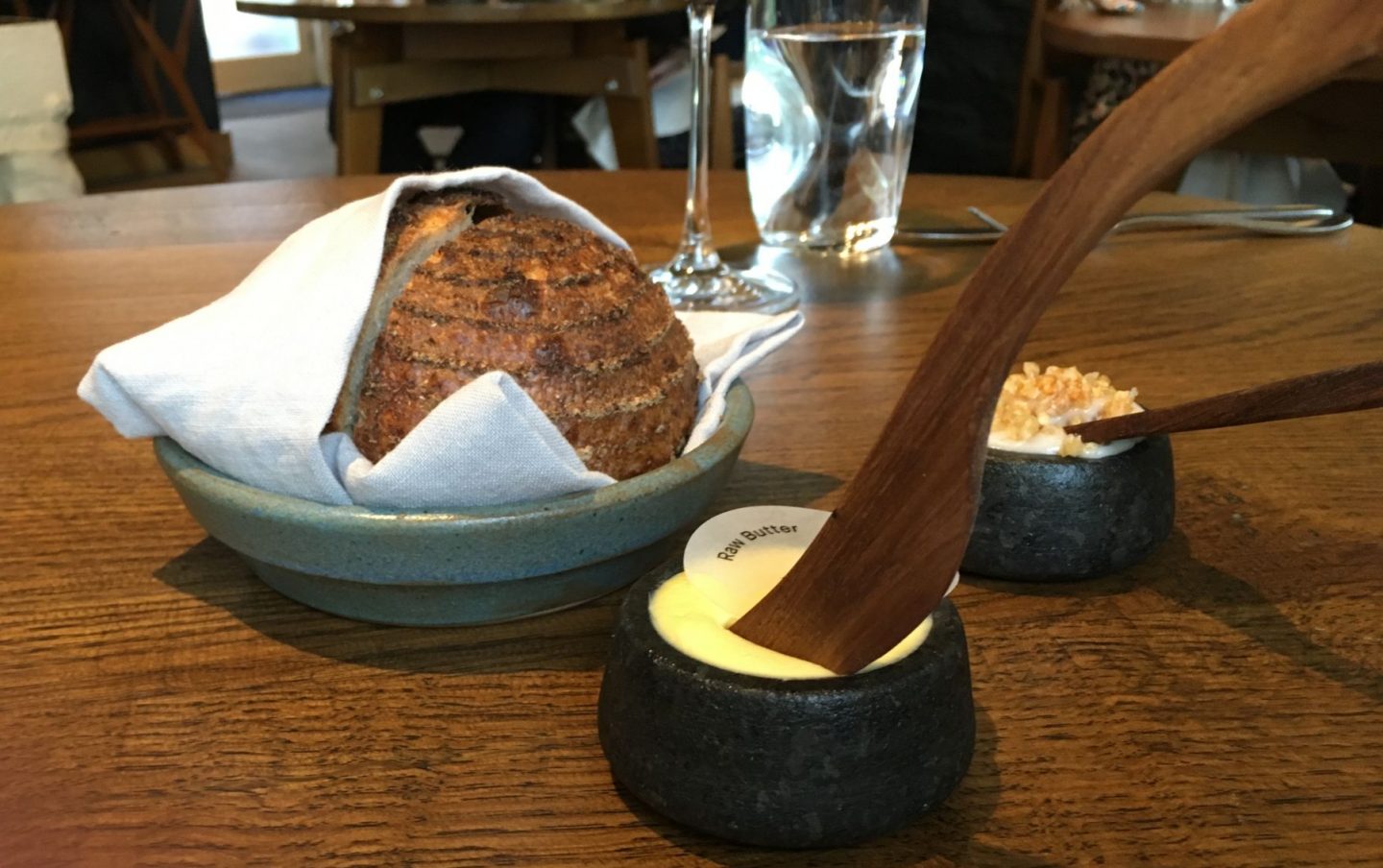 Then for the healthy course, Aynsome Spring Offerings. A salad of vegetables, flowers and herbs picked on the farm that morning. If only all salads tasted as good as this.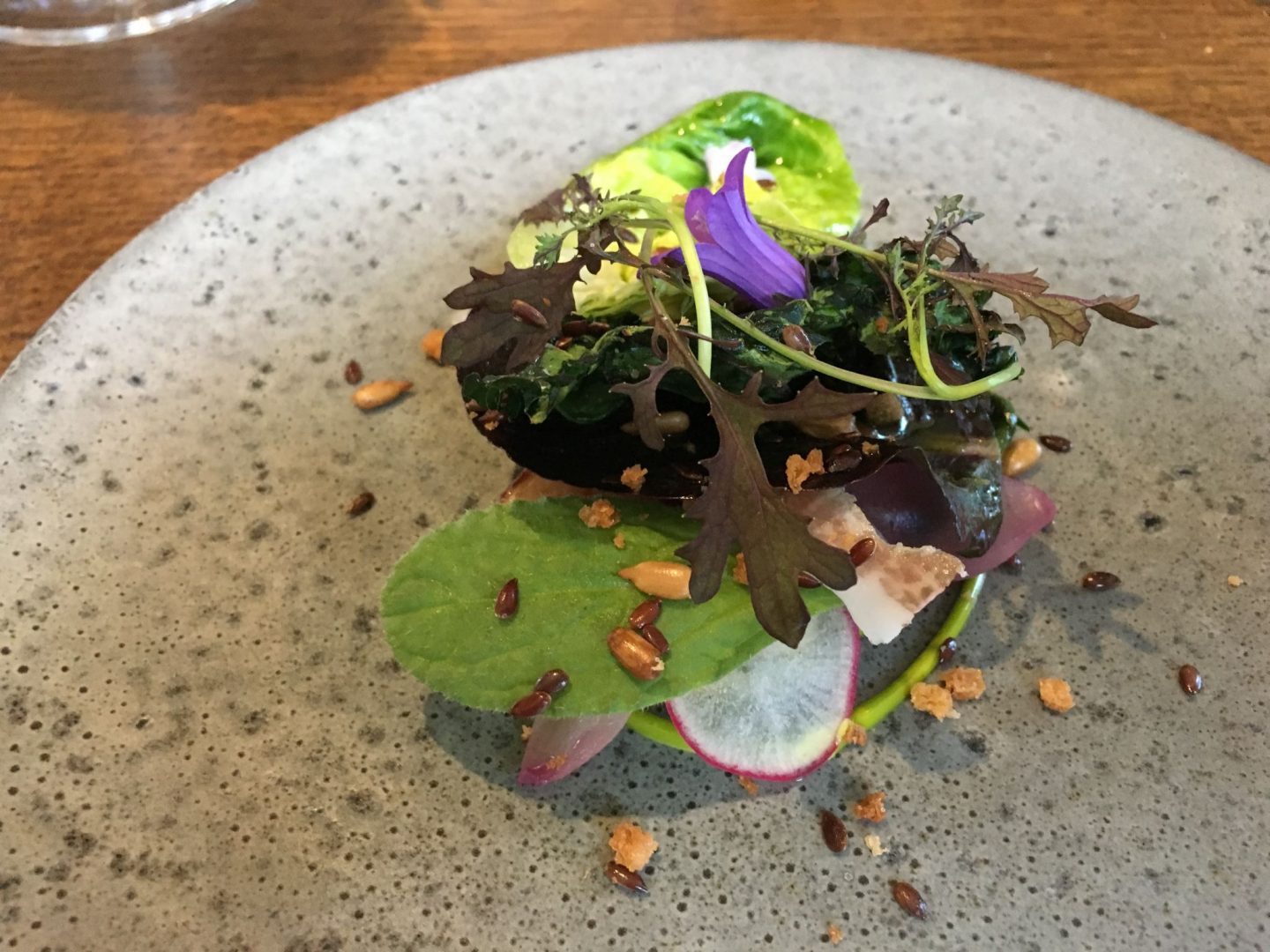 Then it was the fish, turbot, turnip and pike perch roe. Turbot, my favourite fish, with an intense but not overpowering sauce, accompanied by freshly picked baby turnips and nasturtium leaves, another incredible dish.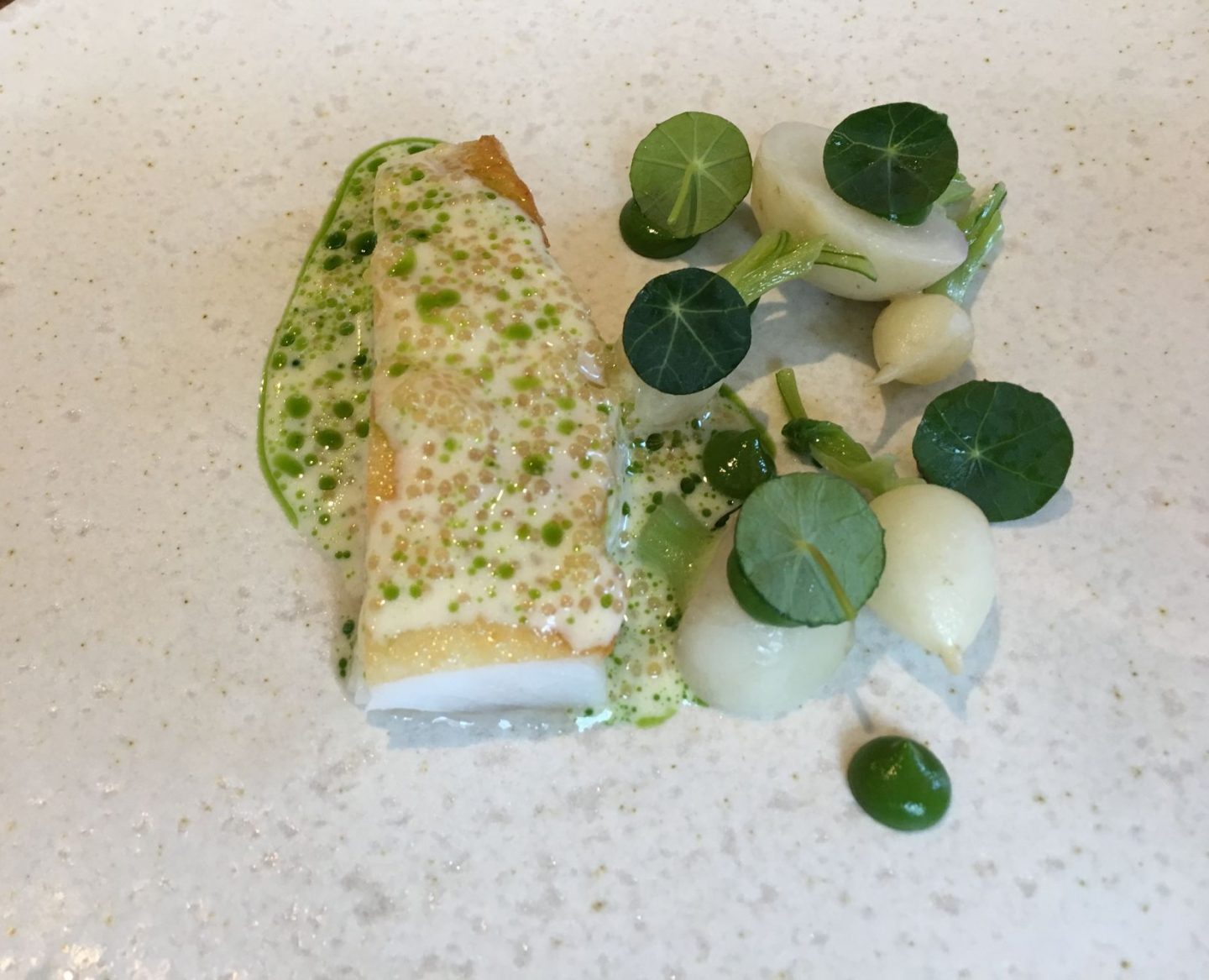 Mains
I was slightly disappointed that both main courses were lamb dishes. I needn't have been as they were so different!
First up was spring lamb with asparagus. A beautiful piece of local lamb, succulent and tender, it literally melted in your mouth. This was served with fresh asparagus and an emulsion of wild garlic and asparagus. The flavour was so fresh and delicate.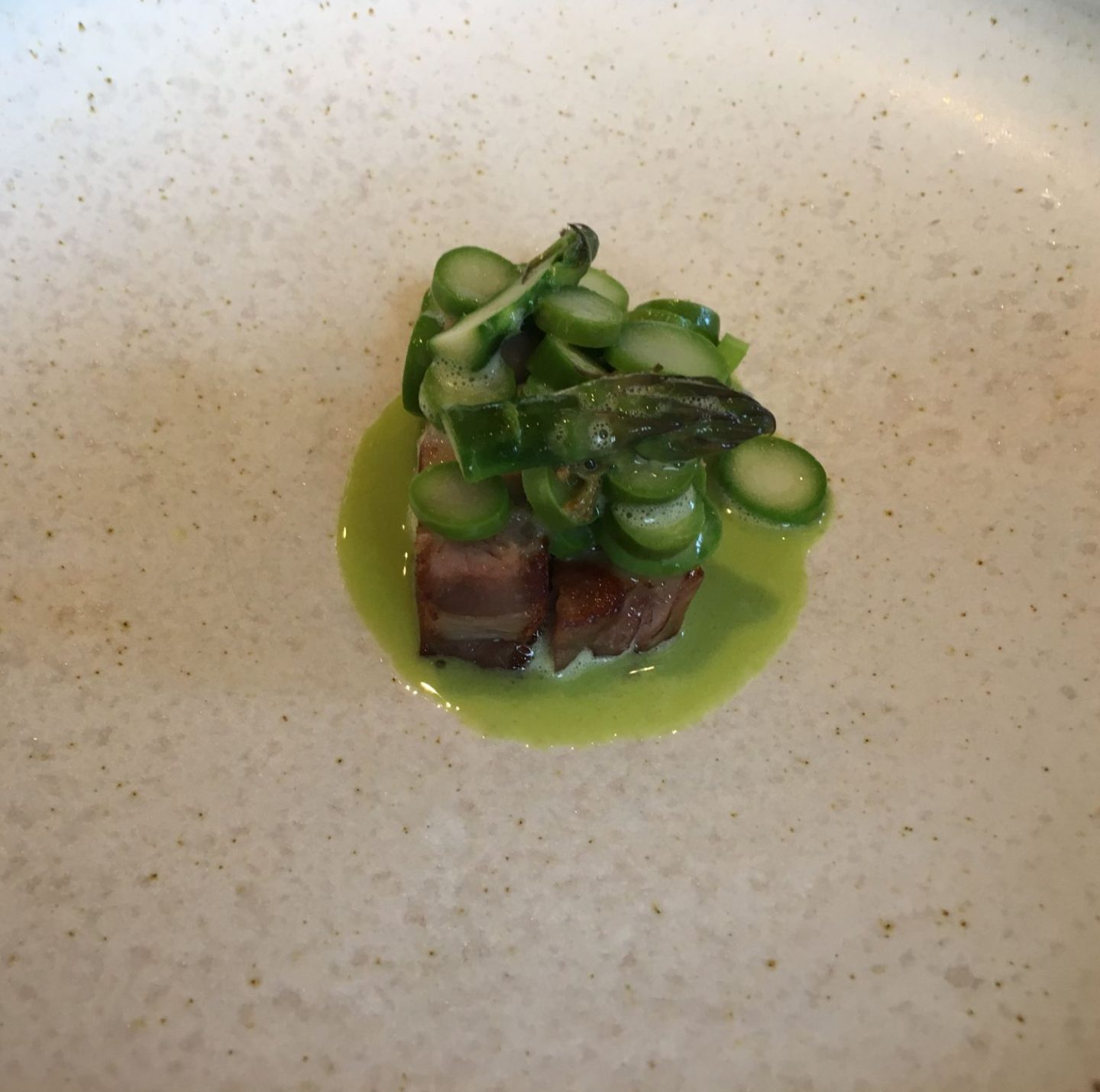 On the other hand the tunworth, black garlic skewer dish was very rich and intensely flavoured. It was described as deconstructed lamb kebabs, by the Maitre d' when he prepared it at the table! It was lamb fillet, offal, and sweetbread on a pine skewer glazed in a sticky black garlic jus, served with Tunworth cheese (a camembert style cheese) and crispy lamb fat. Very different but absolutely delicious.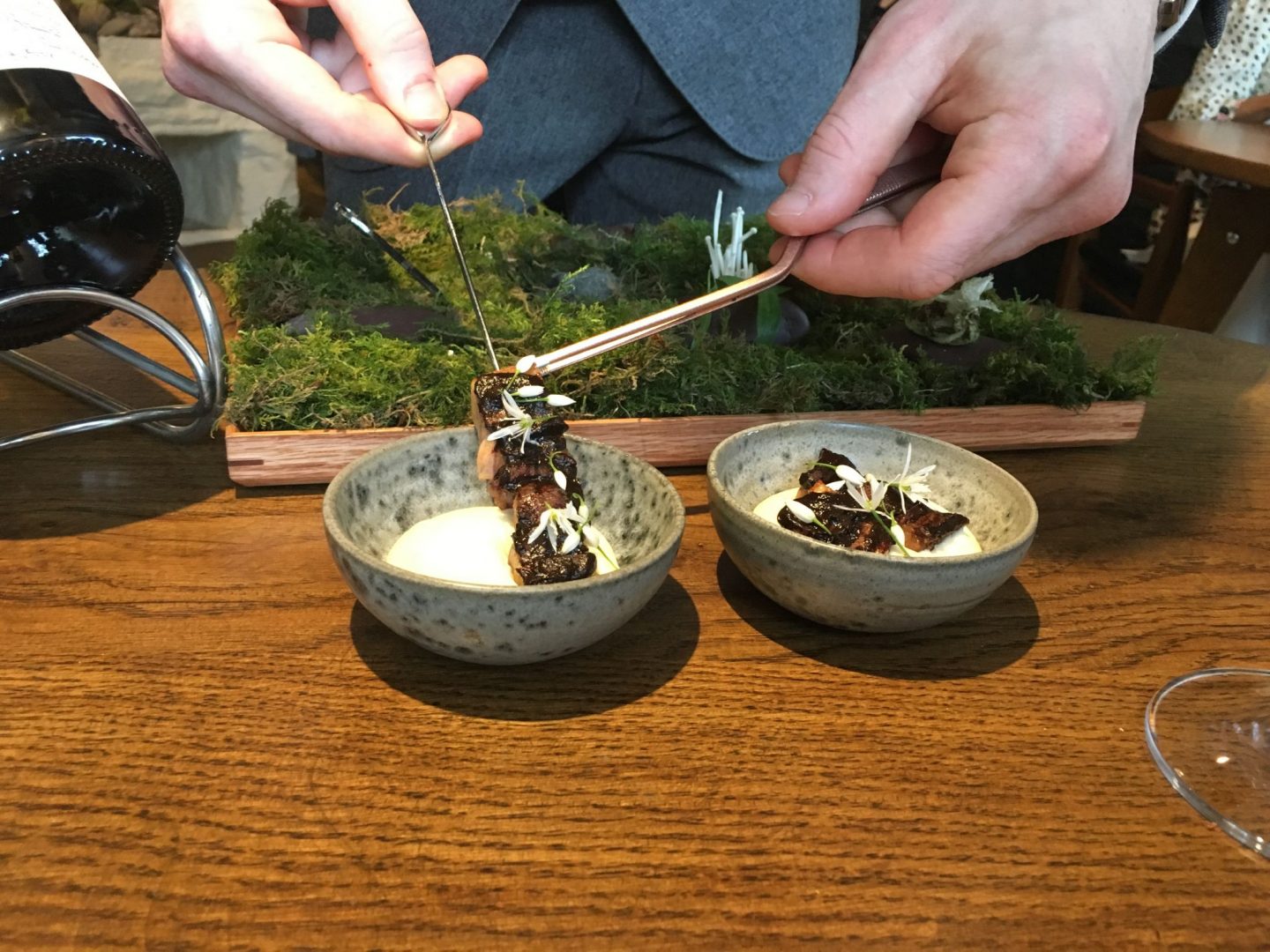 Desserts
Next up the desserts! Jane doesn't normally eat desserts but it was L'Enclume!
First was spiced rhubarb with apple marigold. Apple marigold is a herb with an intense apple flavour which you rarely see used by chefs. This dessert was a refreshing dish to follow the rich lamb main.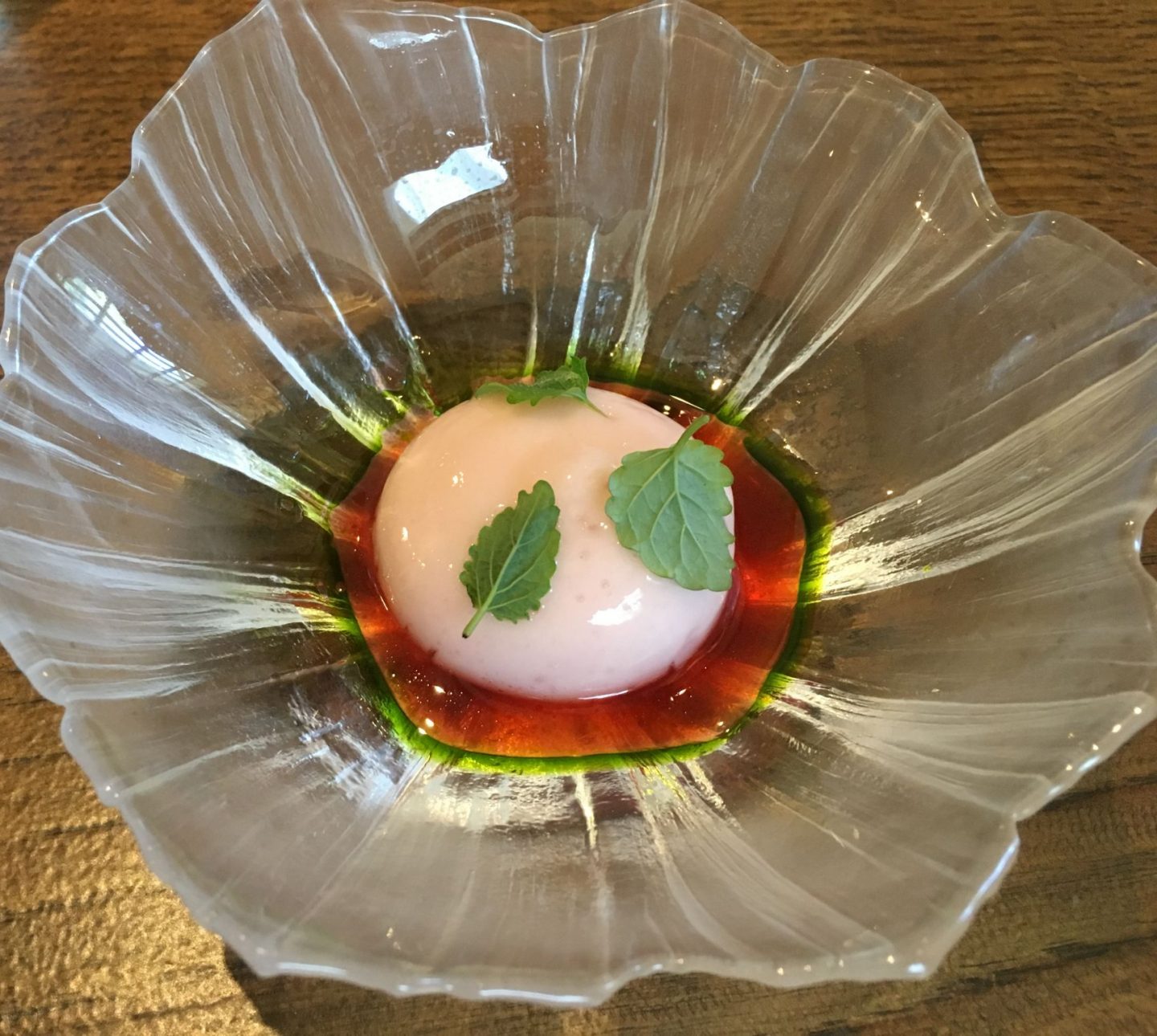 Next another unusual combination – pear, preserved blackcurrant with eucalyptus ice cream! Again amazing flavours and so light and refreshing.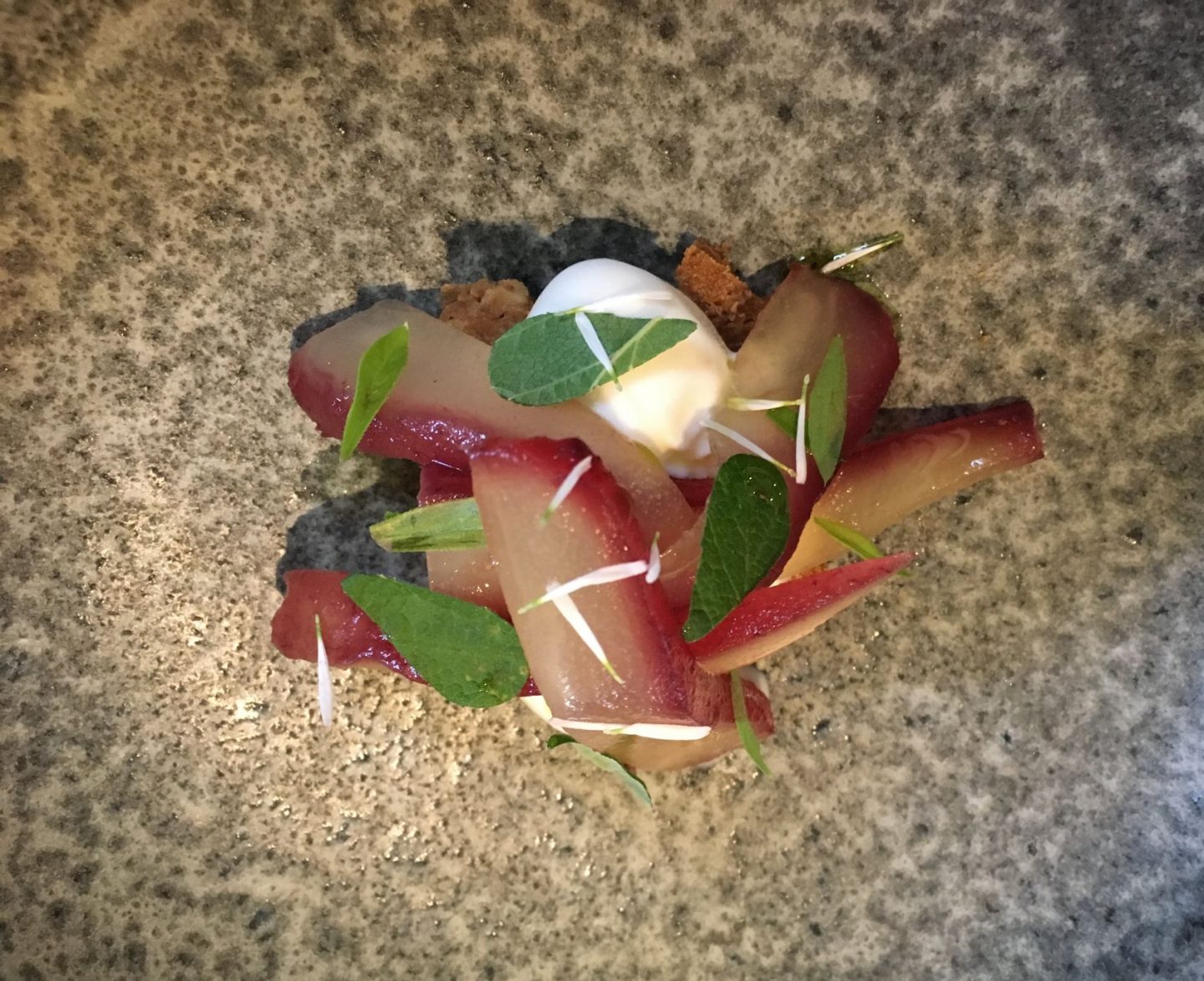 We then decided to go for the extra cheese course. An array of cheeses sourced from local cheese makers, with homemade oatcakes, fruit loaf and chutneys.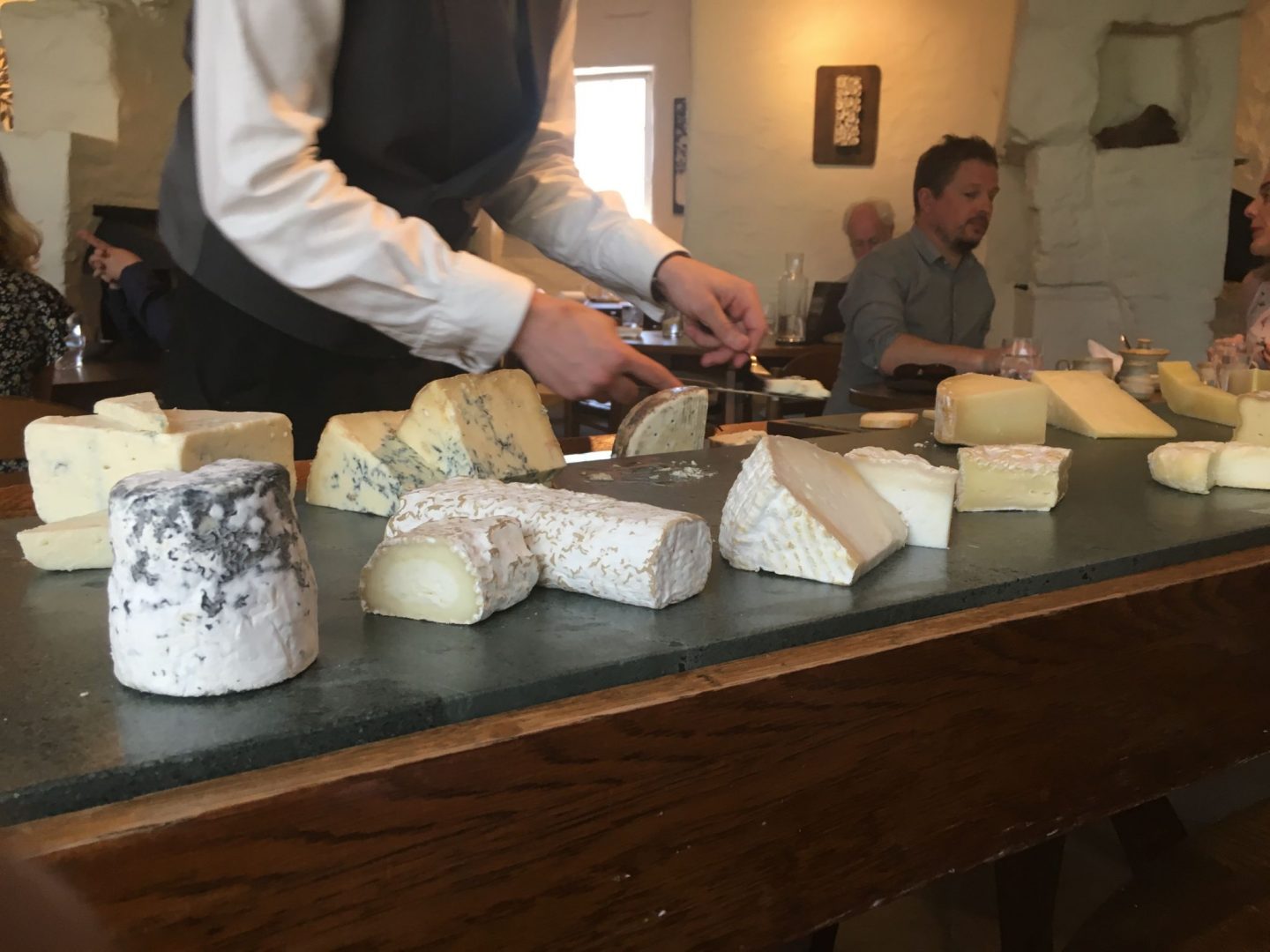 Finally it was apple caramel and kendal mint! This was a caramel apple tart served with what looked like a dish of pebbles! Amongst the pebbles were chocolate covered pieces of kendal mintcake ice cream. A great finish to a truly amazing culinary experience.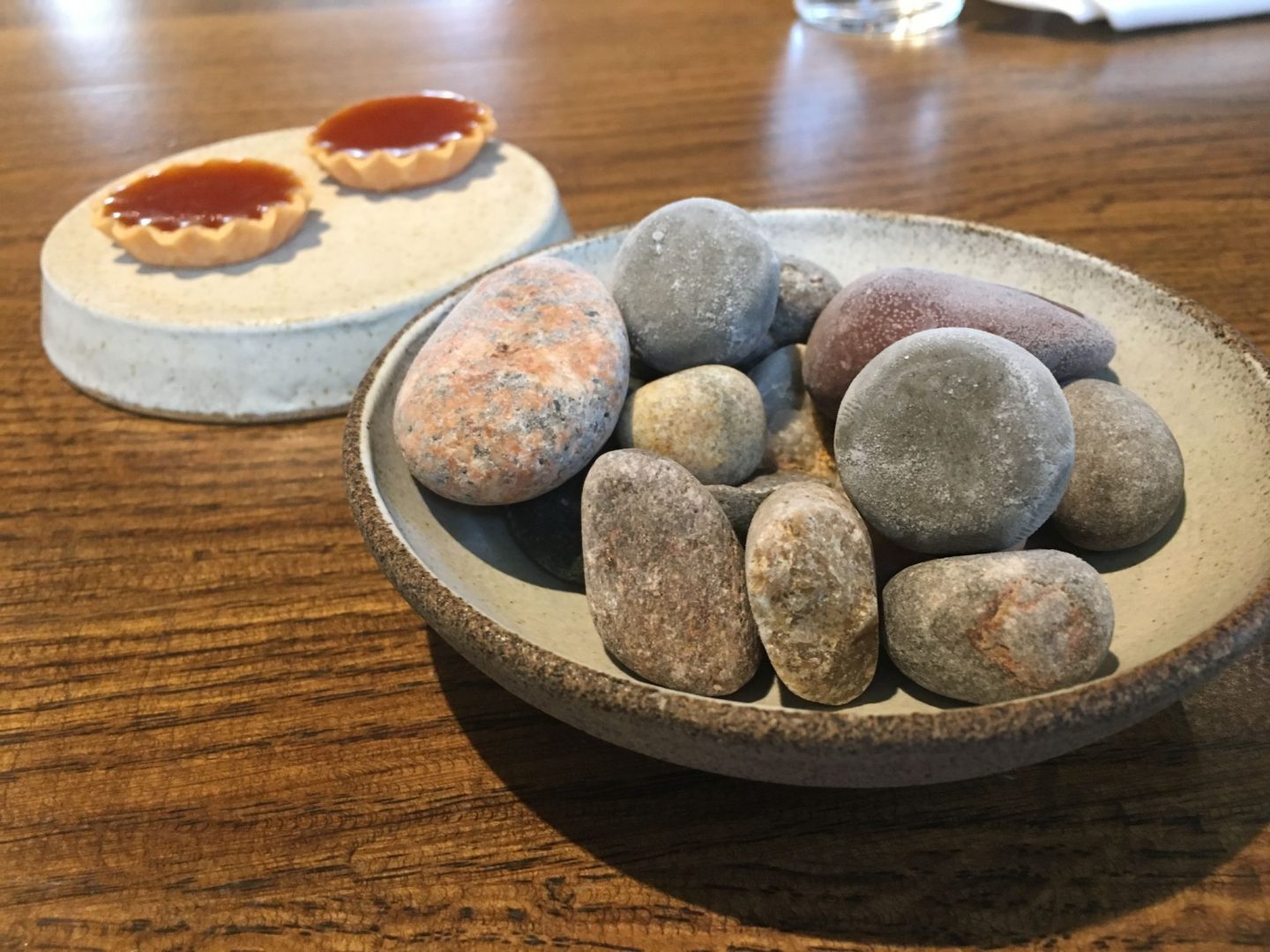 Overall verdict on L'Enclume
This was one the best dining experiences I have ever had. Jane had her doubts before our visit but she was also blown away by the food and the whole L'Enclume experience.
The food, service and setting were outstanding.  We had the 9 course lunch menu this time, but can't wait to return for the 20 course L'Enclume Signature menu.
It's expensive, but for £59 per head (updated price for June 2020 is £65) I would say the lunch menu is excellent value for money, the signature tasting menu is £155 per head! The wine and drinks can soon see the final bill mount up though!
For more information on L'Enclume visit their website here.
The Guestbook comment: "For that special occasion you can't go wrong with a meal at L'Enclume. It's worth considering an overnight stay. L'Enclume have rooms at the restaurant or in other locations in the village with breakfast served in Rogan and Co, it's more informal sister restaurant. If you decide to stay make sure you visit Unsworth's Yard. Its a family affair here with superb wine and gin bar, an site brewery, and the Cartmel Cheese Shop. Here you can buy the cheese served at L'Enclume to take home with you. "
No freebies have been offered or provided by any of the establishments featured in this post!