Planning your first trip to New York
There's so much information out there for planning a break to New York so after scouring the internet, stealing top tips from friend's and family, and picking the best bits from my previous trips, I came up with the following plan. Hopefully it might help if you are planning a trip to Big Apple for the very first time.
Day 1:
Start with a traditional breakfast
In a traditional NYC diner (I'd recommend blueberry pancakes). There's often a queue to get into the best places (a good sign), so get there early and grab yourself a seat at the counter if you can for an all American experience. Some of them might not look much but they are all the more special for it. My all time favourite, Evergreen, closed last year after 25 years in business following the non renewal of their lease : ( but the Time Square Diner & Grill is another great option.
See the sights of Manhattan
Set up for the day after the massive sugar rush, it's time to hit the town and do a circuit around some key sights. Start with New York Library and Bryant Park which has a ice rink during the winter months. If you're out early and haven't dawdled then see if there's not much of a queue to head up the Top of the Rock at the Rockefeller Centre just nearby. Take in the stunning St Patricks Cathedral on the way nestled between the skyscrapers.
Take in the sights from above
I'd recommend getting the "Sun and Stars" ticket for the Top of the Rock (an extra $15 on top of the standard $39.20) so you can go up in the evening too. It's open until midnight (last elevator at 11.15pm). Deciding between this and the Empire State Building (and the more recently opened One World Observatory) is tricky. I've done the Empire State Building and loved it, but Top of the Rock just edges it for me as you get to view the iconic Empire State Building too.
Grand Central Station & shopping!
Back down again and you can head a few blocks to Grand Central Station. You can have a quick pit stop here depending on what you fancy. Grab some lunch at the UrbanSpace Vanderbilt food hall which has lots of great options (I'd recommend Roberto's pizza). Or for a sit down affair try the Grand Central Oyster bar which has been going since 1913. Or maybe time for a cheeky drink (it is your holiday). If you're feeling thirsty then check out the classy Campbell Apartment (named after millionaire financier John W. Campbell who used it as his private office in the 20s). It reopened last year and is the perfect place for a cocktail.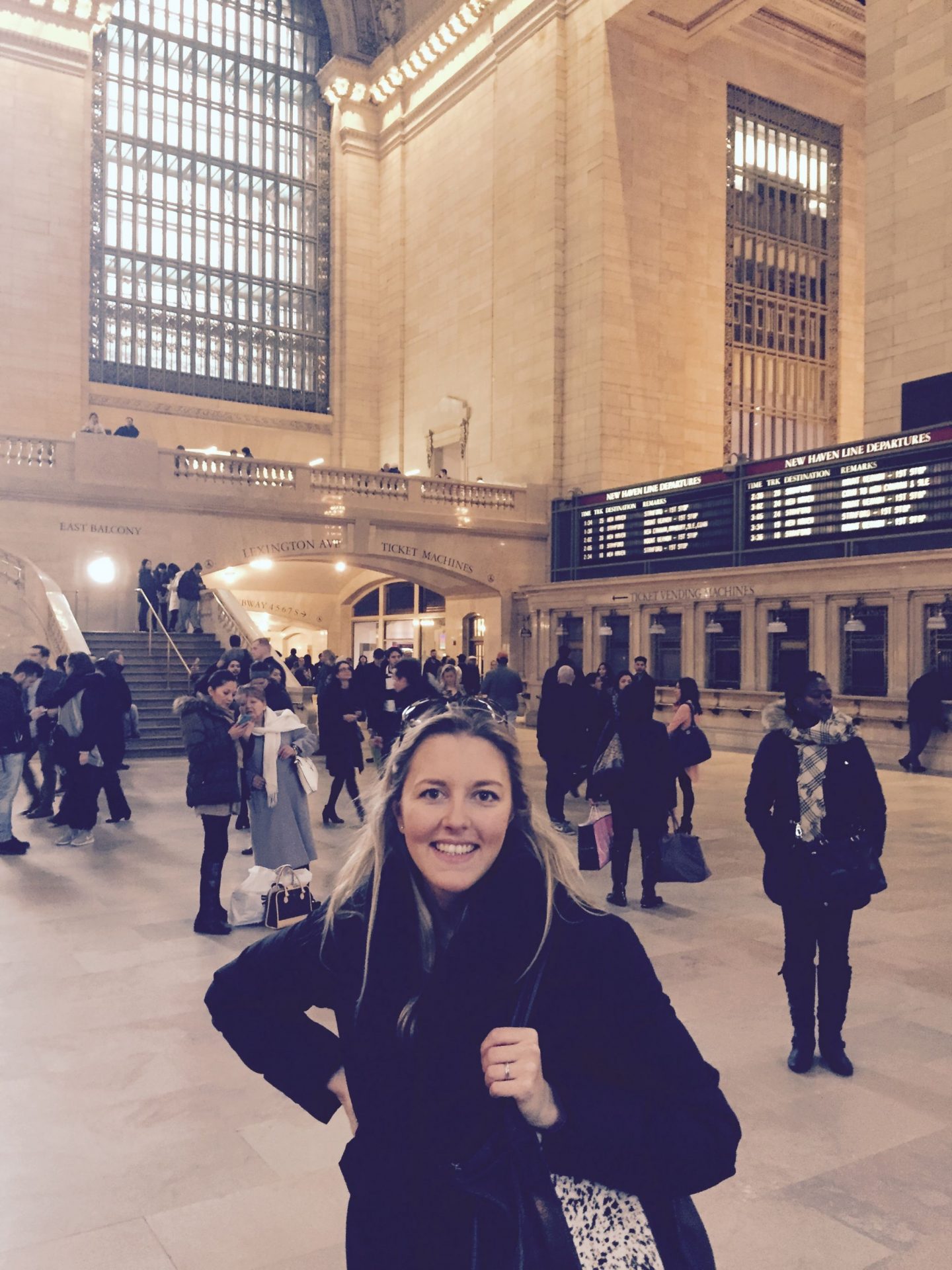 Grand Central station ticked off you can take your time and hit the shops nearby in 5th and Madison Avenue.
More views, dinner & cheesecake!
Then back to the hotel for a well deserved break before further sights at night. You'll want to stay fairly central if you've opted for the "Sun and Stars" ticket so try Tony's Di Napolo for dinner. Portions are massive so make sure you share! Although dessert is tempting (it takes huge willpower to say no to Tiramisu), be strong and walk off the pasta and head to Juniors to try their cheesecake (it's worth feeling horribly full after for). If you fancy some drinks go to the Rum House a few blocks away for a cocktail.
Leave it until late to go up the Rockefeller Centre to see that famous skyline at night. Now for a well deserved sleep before starting all over again!
Day 2:
Visit Time Square (early!)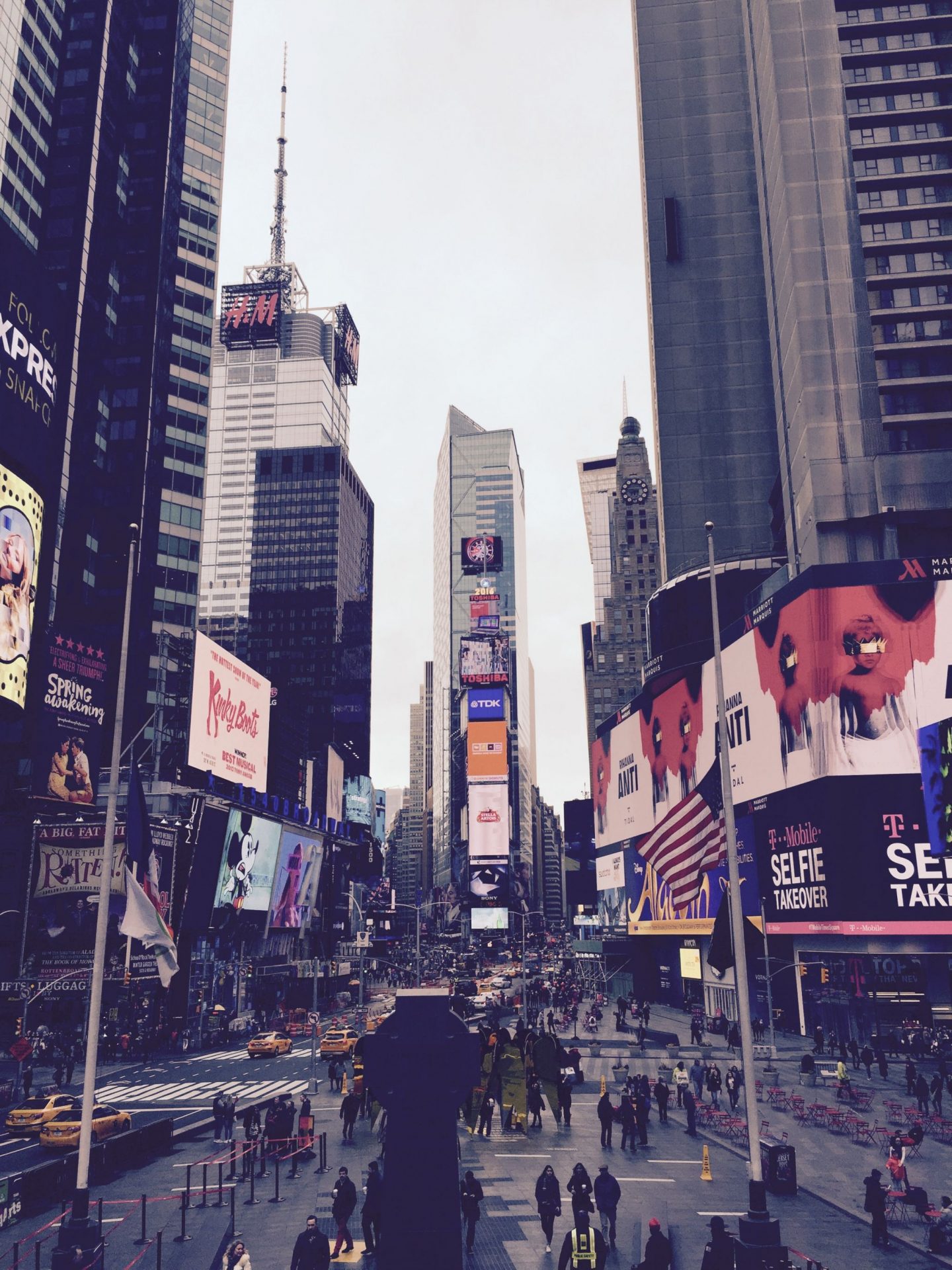 To get the best of NYC it really is good to start early so grab some breakfast (maybe try a traditional NYC bagel today), and hit the streets and see the sights. Go to Times Square early (you'll be going back again to see it at night) to see it without the crowds. This is one of the best times to get theatre tickets too. If you want to see a show head to the TKTS booths to see what's available. You can also look online on their website or the app in advance.
Walk the High Line
Today is made for walking but first take the metro down to 34th St Penn Station (depending on where you are coming from) and hit the High Line.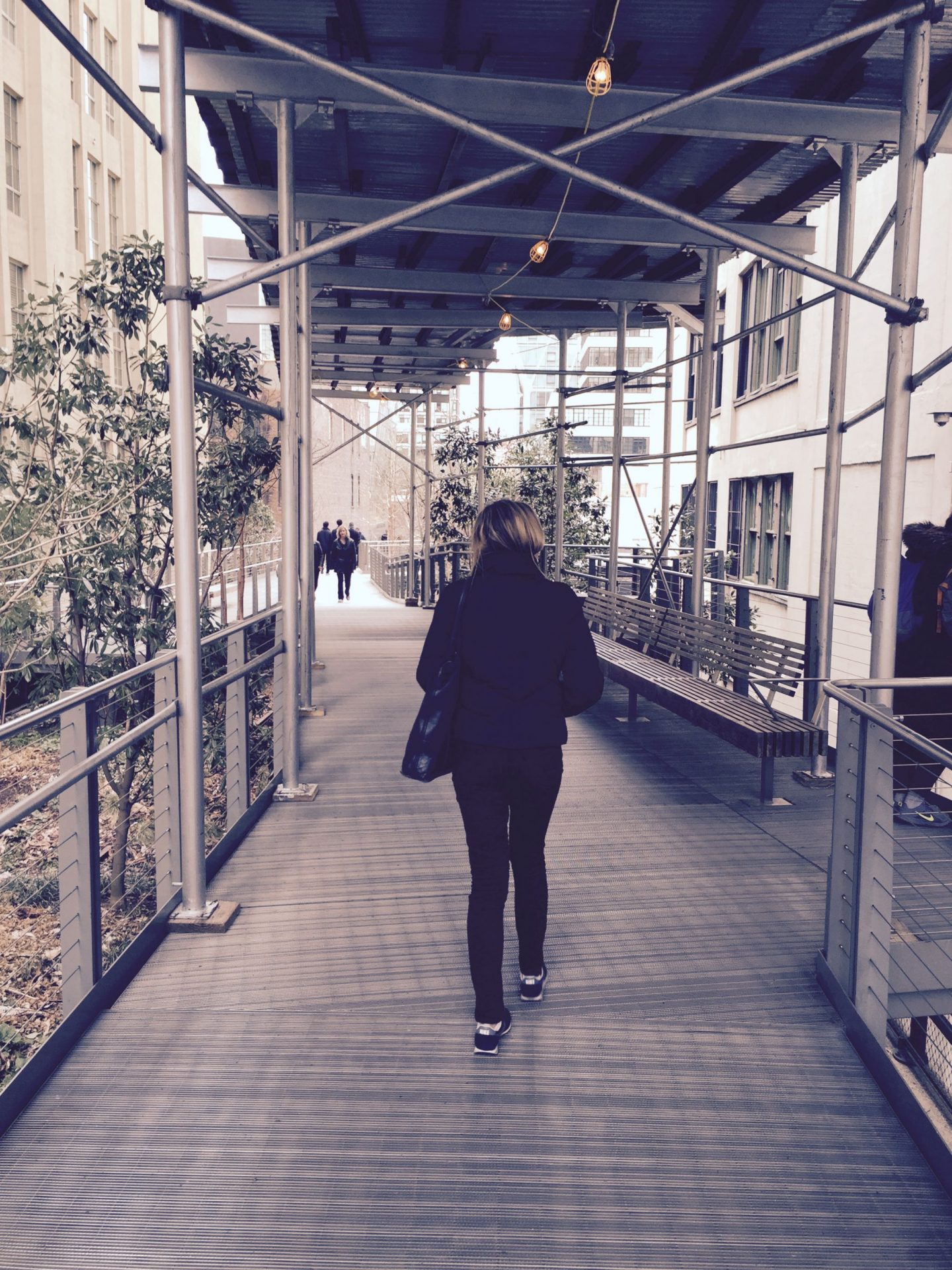 The High Line is an old railway track that has been turned into a public walkway in the Chelsea district. Start at 30th Street W/11th Avenue and take your time to take in the architecture, street art, and performers along the way.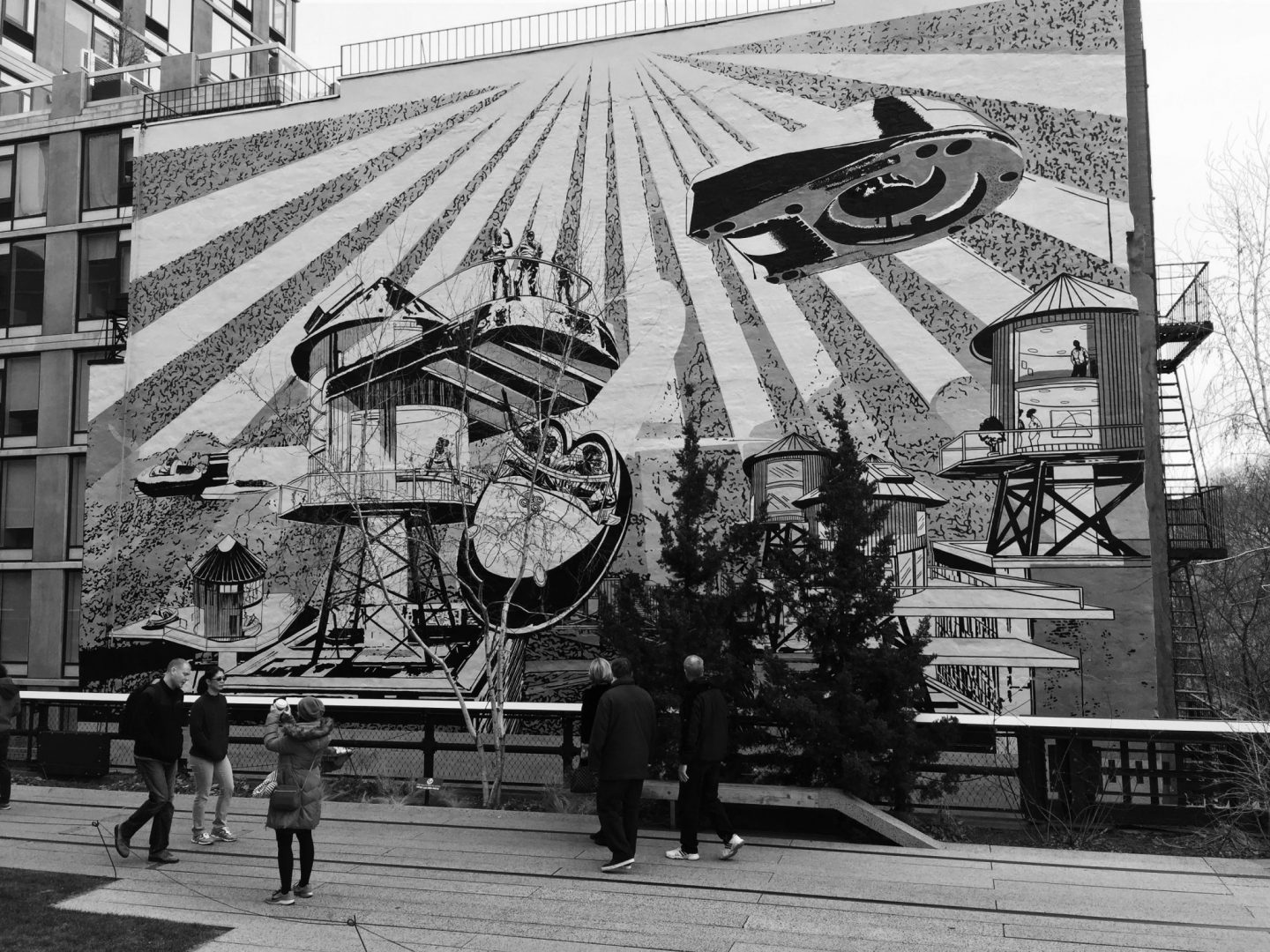 Once you've worked up an appetite, stop at Chelsea Market just off the High Line. I'd recommend the Lobster Place for a Lobster roll or Sushi. Replenished, stroll around the very cool Meatpacking District checking out the Art and pop up stalls and shops.
Visit the neighbourhoods of Greenwich Village
I hope you didn't overdo it on the Lobster, you need to fit in the legendary Magnolia Bakery cheesecake in nearby Greenwich Village. Again take your time and check out the shops in the trendy Bleecker Street. Or take a seat in one of the small green spaces in Greenwich Village or nearby West Village to watch the locals doing their own thing, it makes for great people watching.
Feet still there? Stroll towards Washington Square, the university district, and onto the Flatiron district named after the famous Flatiron building (mandatory photo required).
There's lots of cool interior shops here if you are interested so it's worth an explore. It's definitely time to give the feet a rest so hail a yellow cab back to your accommodation for a power nap.
Time Square at night (minus the crowds)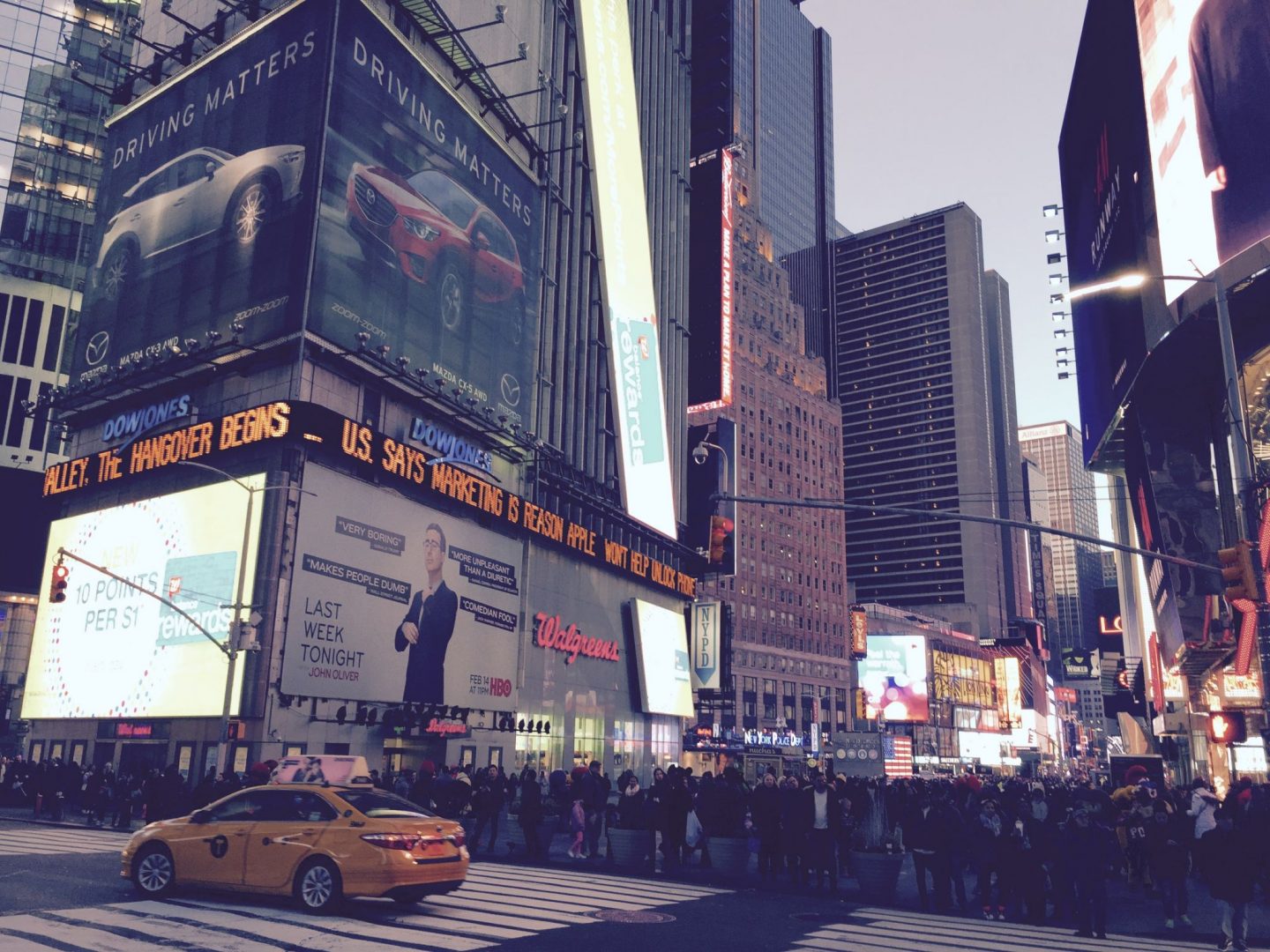 Ready to go again? You'll need to be for Times Square in the early evening. Start with a drink in R lounge in the Marriott, number 2 Times Square. You are literally seeing Times Square through the adverts and can feel pretty smug with your view.  Book a table to make sure you get a good spot although early doors you should get a table.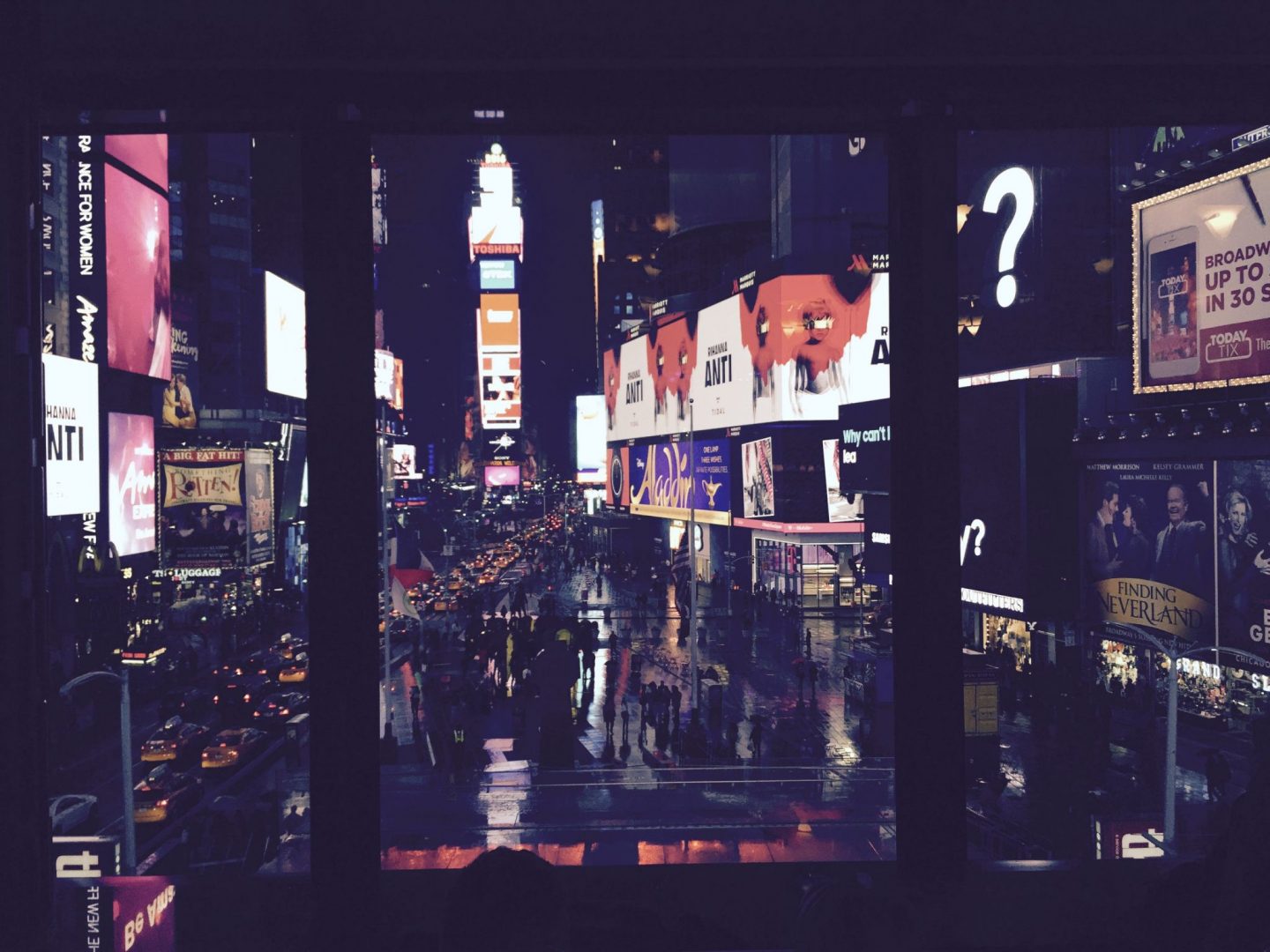 Dinner in Hell's Kitchen
Head for dinner nearby but off the tourist trap in Hell's Kitchen which is only a few blocks from the hustle and bustle. There's lots of options here, including 5 Napkin Burger or Totto Ramen with either providing a great dinner.
Didn't get theatre tickets? Still wander around the theatres ideally around 10.30pm/11pm and see the stars. We saw Jennifer Hudson leaving The Colour Purple after we walked back from dinner!
Day 3:
Statue of Liberty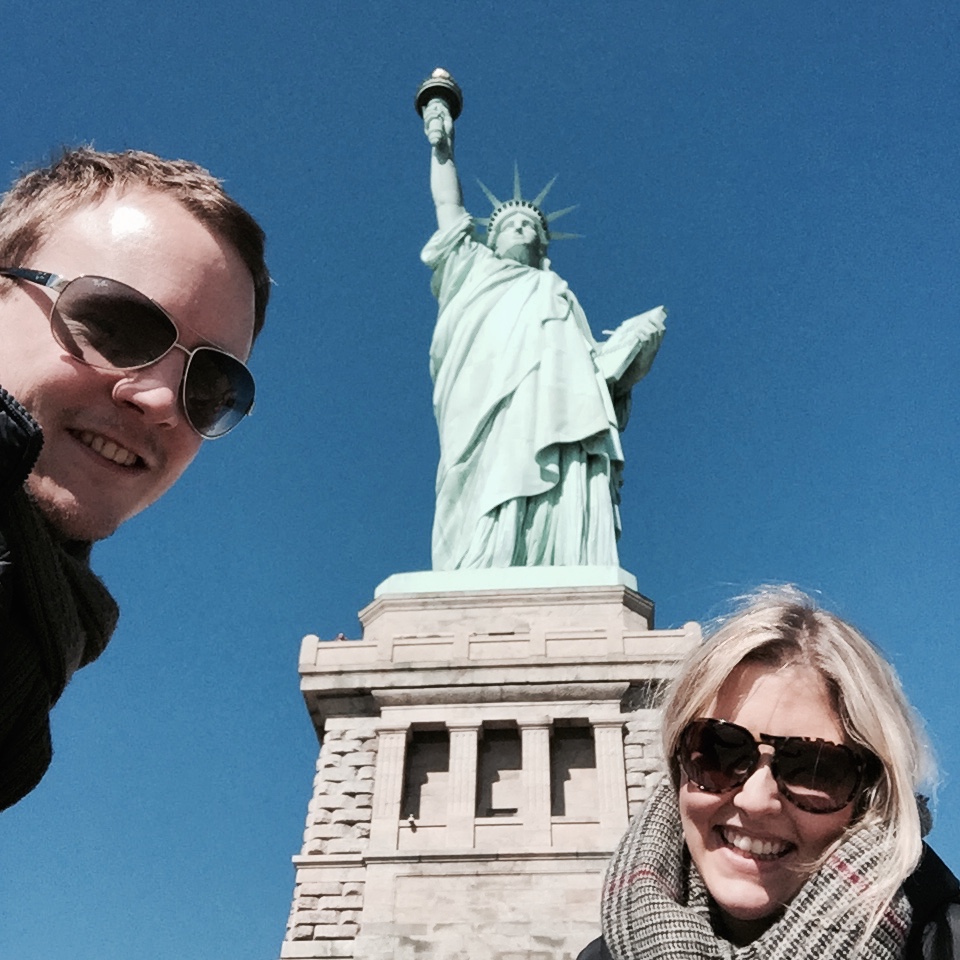 If you want to do the Statue of Liberty (especially if you want to go up to the Crown), then book early. It's best to book a month or more in advance for the Crown as tickets get booked up quickly. Give yourself plenty of time for your allocated entry time if you've pre booked, security is thorough and it takes time to get through. Bear in mind that you can't take any bags up with you but there are lockers that you can use. Again this is specifically if you are going up to the Crown rather than just visiting Liberty Island generally.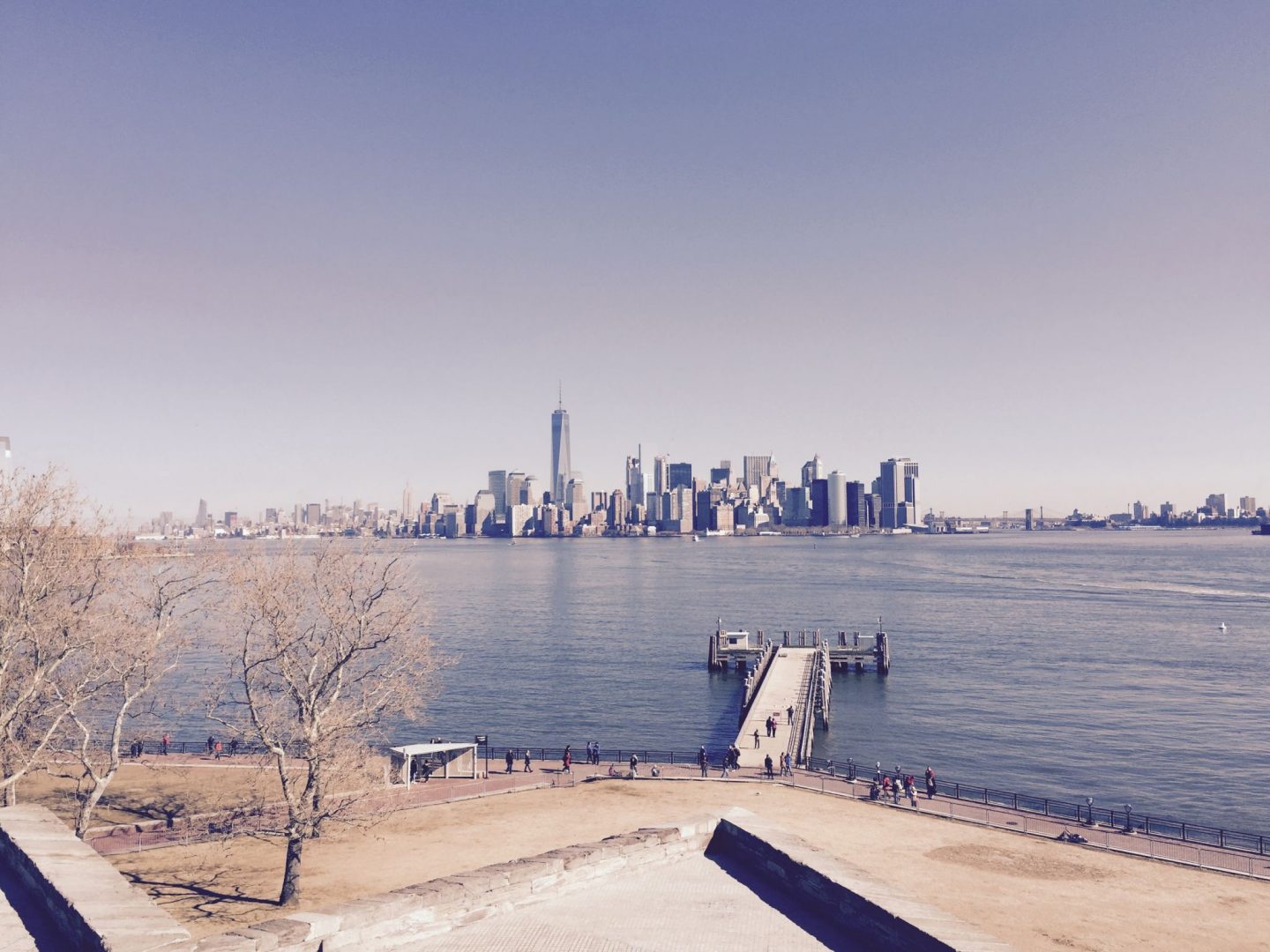 The Crown is not for the faint hearted. I have no issues with heights or small spaces and this even tested me. It's also steep, so you need to be relatively fit to do the stairs up and back down again.
It is pretty cool to say you've been in the crown of the Statue of Liberty but besides the bragging rights I'm not sure it's worth it. If I was doing it again I'd probably just stick with a trip to the island.
Or the Staten Island Ferry
A free alternative that I'd recommend is the Staten Island ferry, this is a commuter ferry that runs back and to between Manhattan and Staten Island and provides you with the same amazing views across the Hudson as being on the ferry and Liberty Island. Unless you want to check out Ellis Island Immigration Museum, then I'd stick with the Staten Island Ferry.
Wall Street & Designer bargains
Back on Manhattan, this is a good opportunity to explore the Financial District and Wall Street which are nearby. For all the bargain hunters then there's a Century 21 department store here and it's worth a look (think TK Maxx but 100 times that scale). Hungry? Husdon Eats foodcourt is a great choice with lots of options. A bit tricky to find initially, you are looking for Brookfield Place and Hudson Eats is within there.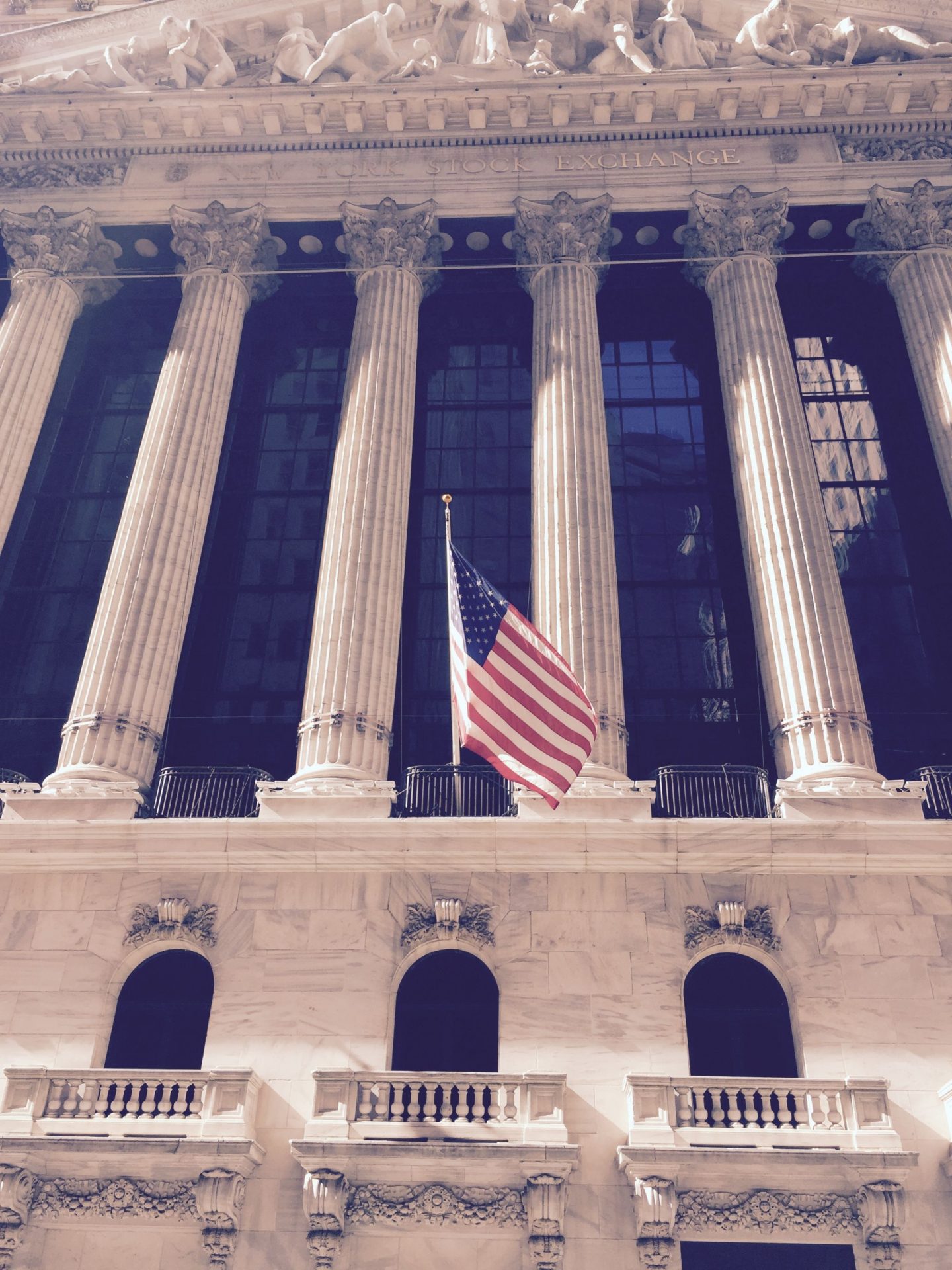 World Trade Centre Memorial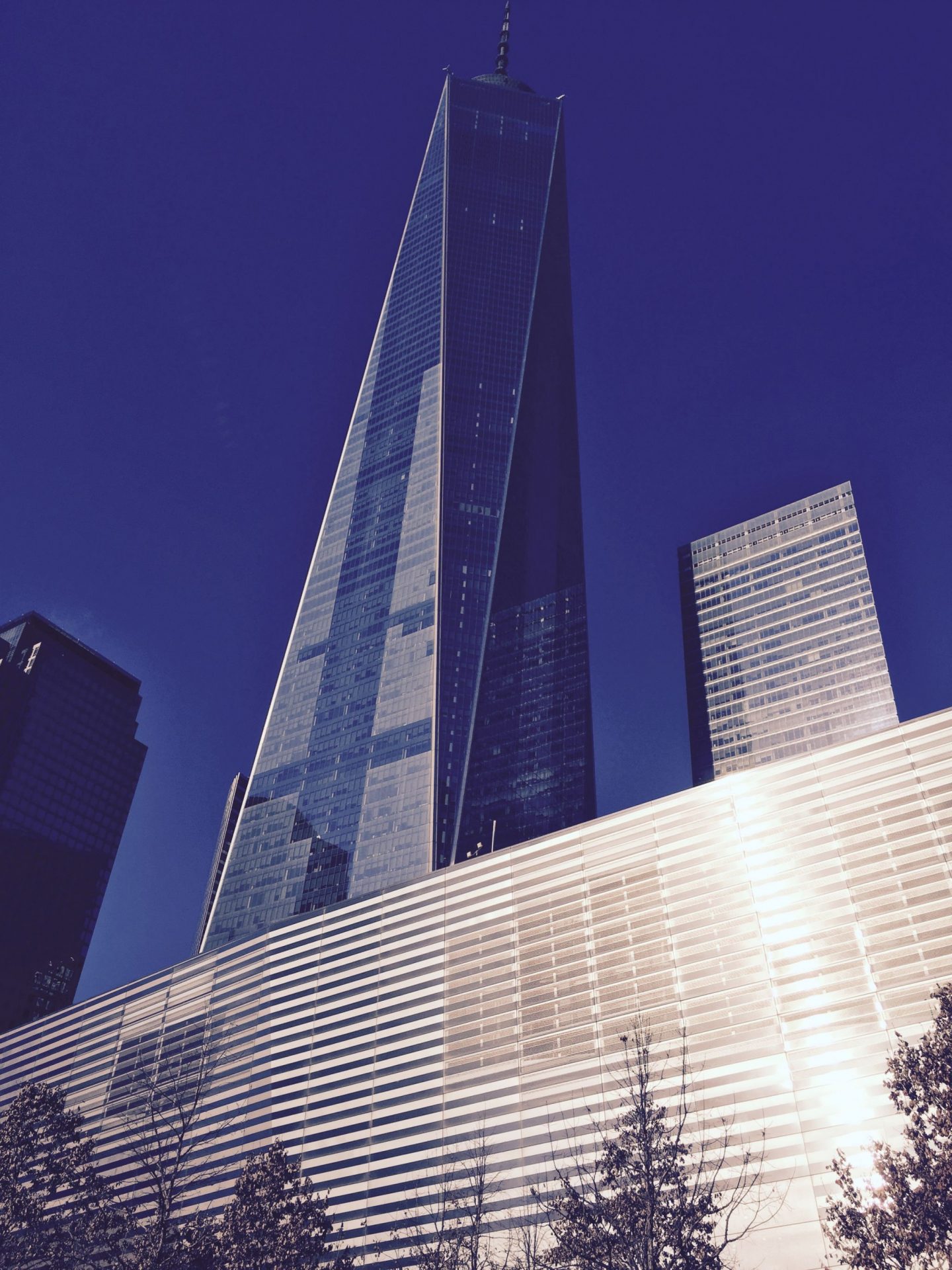 Head back across the road to the National September 11 Memorial and Museums. The memorial gardens feature two water sculptures where the World Trade Centre twin towers stood inscribed with the names of the victims. It is emotional visiting here and we were silent for some time after, but I think it should be part of a visit. We didn't go to the Museum but it's here as well as the new observation deck at the One World Trade Centre.
Brooklyn Bridge & Dinner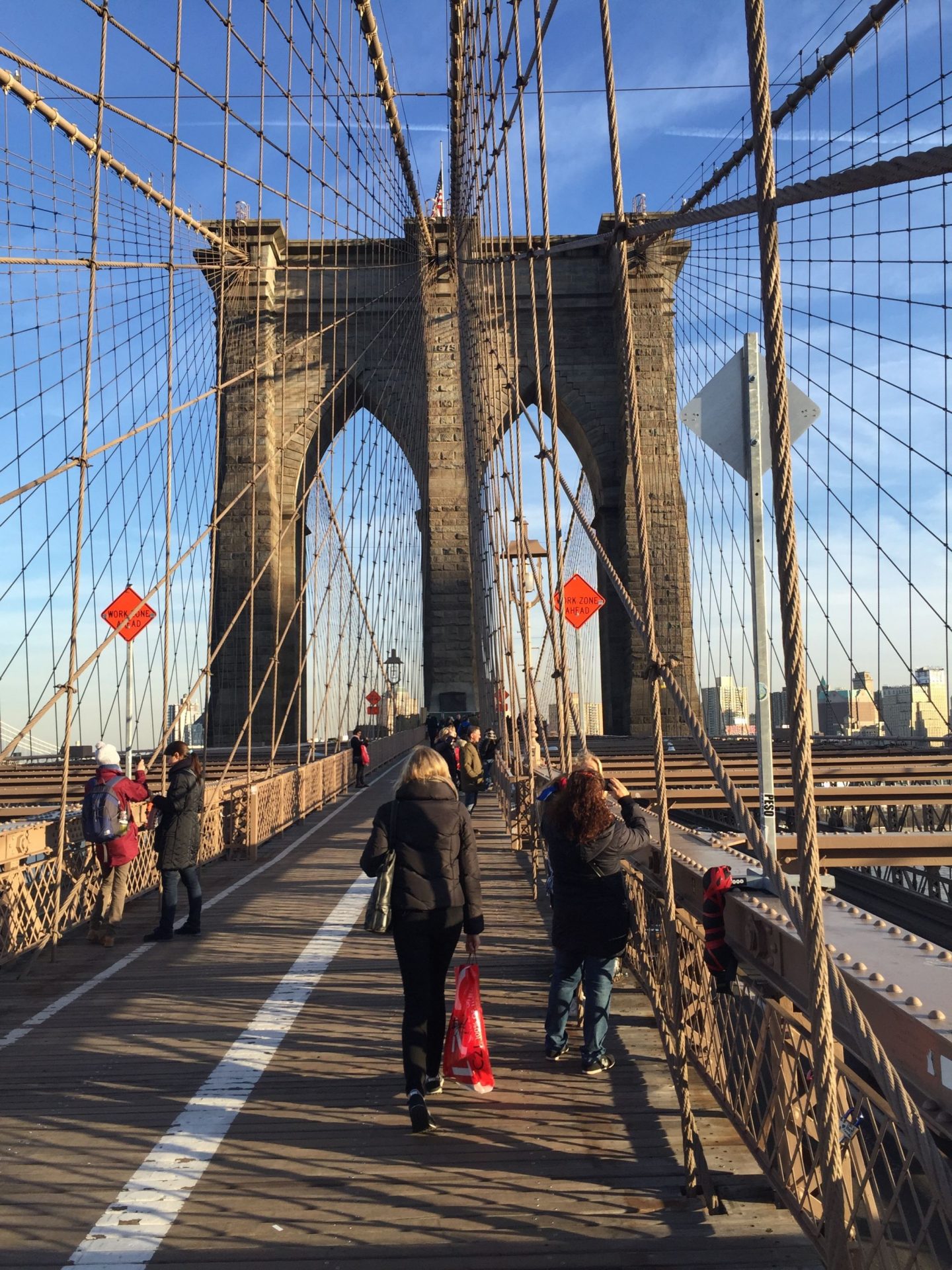 Finish your day off with a walk over the iconic Brooklyn Bridge. Constructed in 1883, it's pretty special and should be on your list of sights to see. If you have more time then Brooklyn is definitely worth a longer visit with many different areas to explore. For a quick visit check out the Dumbo area and Brooklyn Bridge Park which are both close by. Grab an early dinner in the stylish River Cafe (you'll need to book and check the dress code here). For a more casual grab and go affair try Grimaldi's Pizzeria (it's renowned and extremely popular so be patient!) before getting the Metro back to Manhattan.
Day 4:
Central Park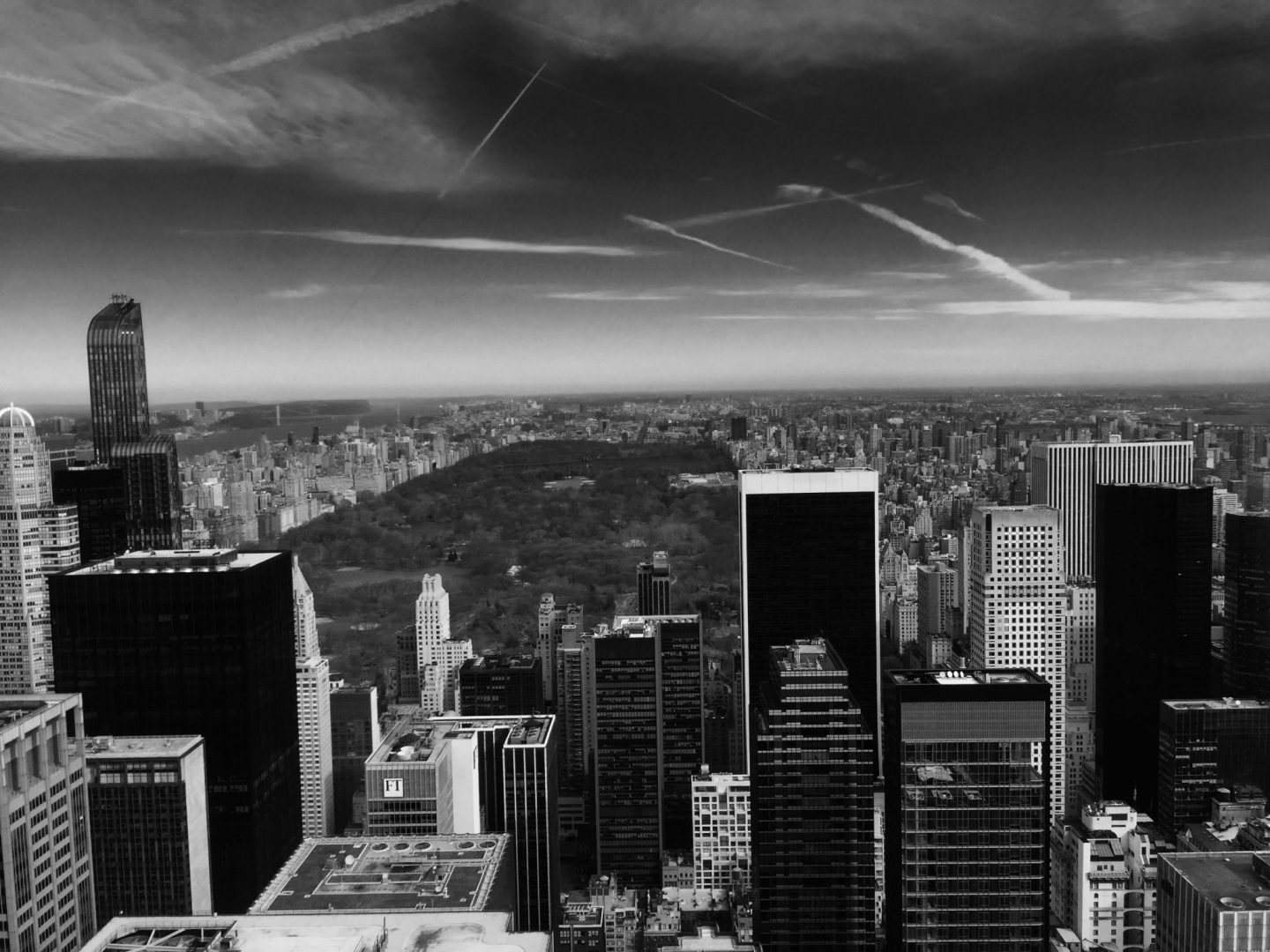 You didn't think I was going to forget Central Park did you?! Hit the park and hire bikes if you want to cover a greater area or alternatively stroll around the key sights (remember it's two and a half miles in length!). If its Summer then definitely hire boats on the lake and look out for the turtle inhabitants. Rowing boats are really fun and you can get some amazing photos from the lake of the beautiful Bow Bridge.
Other key sights in the Park include Strawberry Fields (the John Lennon memorial gardens), the Central Park Zoo and the Mall – the main walkway, perfect for strolling. Hours can be spent in Central Park and it's a perfect destination whatever the weather. I've been in July when it's 28c and February when it was snowing and -2c and loved it in both extremes.
Shop till you drop!
Now you've had your nature fix it's time to really hit the shops. You might want to check off the big department stores such as Macys, Saks on Fifth Avenue, Bloomingdales, Bergdorf Goodman and Barneys (there's many more shops that will probably make your list too!). Lots of stores are located on Fifth Avenue and Madison Avenue (you had a brief sample on Day 1). Don't forget other neighbourhoods have brilliant shopping options too for the keen shopper. NOlita is renowned for shopping alongside nearly SoHO so it's definitely worth a trip here. There's lots of great food options in both as well including Parm NYC (amazing meatball sandwiches), Rubirosa (pizza is king here) or Cafe Habana (great Mexican/Cuban dishes).
Finish with a cocktail and a view
Shopping over it's time to relax before one final dinner and drinks. Go to the Top of the Standard for the latter to toast your trip and plan your next one, I'm sure you'll be back!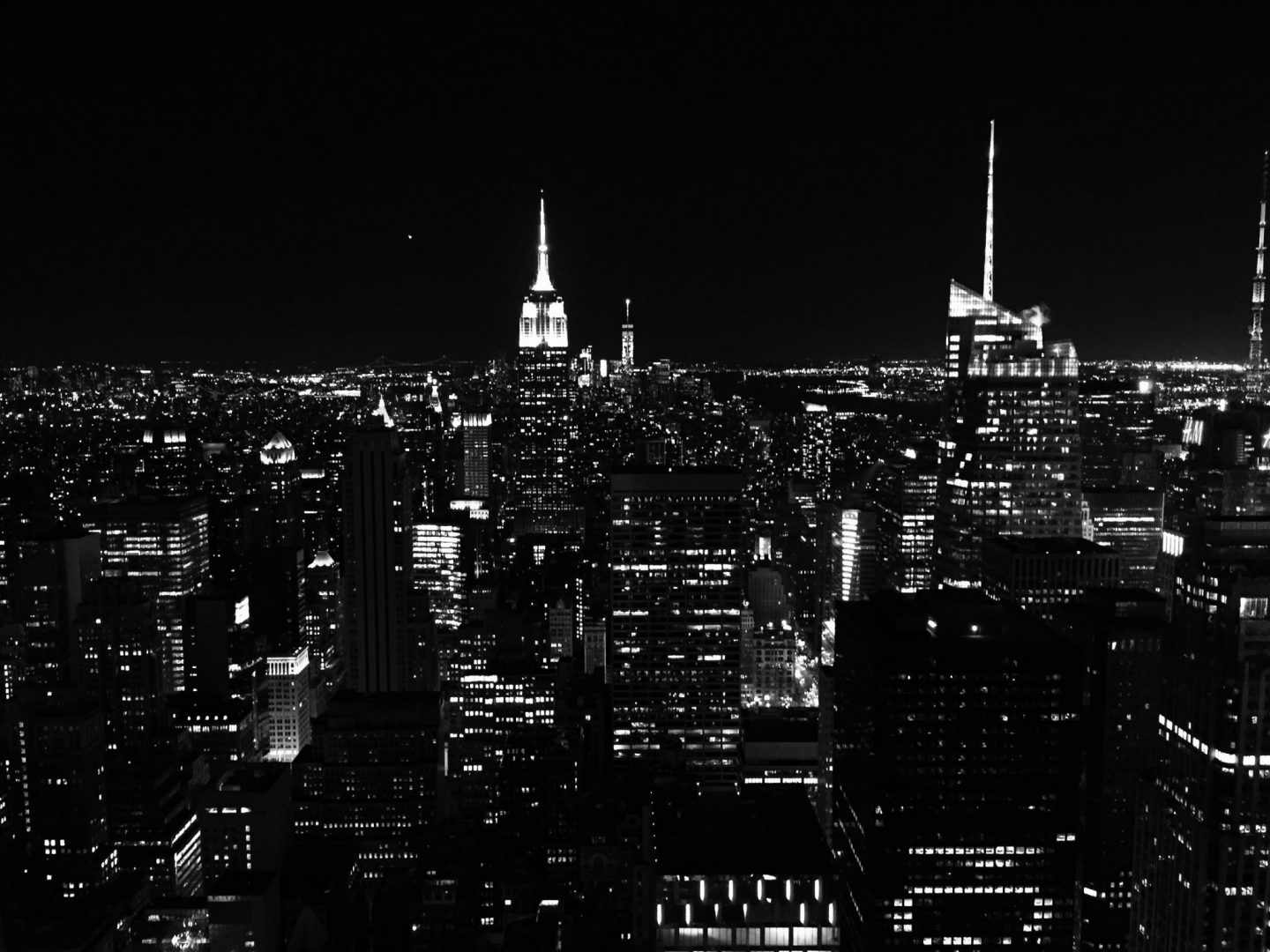 The Guestbook comment: "As you'd expect there's lots to see and do in New York City so make sure you have a plan of the places you want to see and try and dedicate days to different neighbourhoods. Take sensible shoes! Although you can get taxis and the metro is brilliant, some of the neighbourhoods are made for walking and it's often the best way to fully appreciate New York. So grab a map and explore!"
No freebies have been offered or provided by any of the establishments featured in this post!