Dubai is constantly changing, amazing new buildings seem to appear ever month, new hotels, luxury apartment blocks and shopping malls. We have just returned and I wanted to share with you my Impresions of Dubai.
First impressions
My first visit to Dubai was 10 years ago in 2007, with my wife Jane and daughter Kate (who readers of The Guestbooks will already know). We chose it for a luxury short break to celebrate our 10th wedding anniversary and an early 21st birthday treat for Kate. It certainly delivered with business class flights with Emirates, 5 nights at the 5 star Jumeirah Beach hotel in an executive suite, a privately chartered speed boat around the Palm (under construction at the time) and Dubai Marina and a special anniversary lunch, at the iconic Burj Al Arab.
We loved it but didn't really see Dubai! First impressions luxurious, bling central, expensive, amazing customer service and a building site! So what are our second impressions 10 years on.
Second Impressions
This time the trip was to visit Kate and her husband Josh in their new home in Dubai. Kate and Josh moved out to live in Dubai just after Christmas 2016. We were keen to visit them as soon as possible and decided that Kate's 30th birthday was definitely as good a reason as any. What a difference 10 years have made! Travelling from the airport to Dubai Marina where Kate and Josh now live, you could immediately see the changes. Burj Khalifa partly built when we last visited, now complete, towering above the Downtown area, with the Dubai Mall and new 5 star luxury hotels.
Travelling along Sheik Zayed Road you pass one luxury hotel after another, the Shangri La, St Regis, Conrad etc etc. We glimpsed the Burj Al Arab and Jumeirah Beach hotels as we traveled towards the Marina, some things hadn't changed, the Sail and the Wave iconic Dubai landmarks.
Dubai Marina
Kate and Josh live in one of the six original Dubai Marina Towers, there are probably more like 106 towers in the Marina and JBR (Jumeirah Beach Residences) now! The Dubai Marina Towers are set in beautiful gardens with each tower having its own pool and a larger communal pool and gym. You just walk out of the apartments in to the lift and you are on the Marina front, with the amazing mega yachts moored in front of you. Around the Marina there are a plethora of restaurants, cafes and shops, and more 5 star hotels.
What is difficult to get used to is that restaurants and cafes outside of hotels do not sell alcohol, dinner without wine is definitely not for me! Fortunately there is an abundance of licensed restaurants  and bars in the luxurious hotels overlooking the Marina.
The Famous Dubai Brunch
Dubai does brunch like nowhere else in the world. Don't forget that the weekend in Dubai, is Friday and Saturday, Sunday is a normal working day. On Fridays and increasingly on Saturdays, most of the hotels offer a lavish brunch, with unlimited food and drink! Although this happens every week (except at Ramadan where some brunches close), it is still a special occasion with people making the effort to dress up in their finery. We were brave and did consecutive brunches on Friday and Saturday.
Hoi An Brunch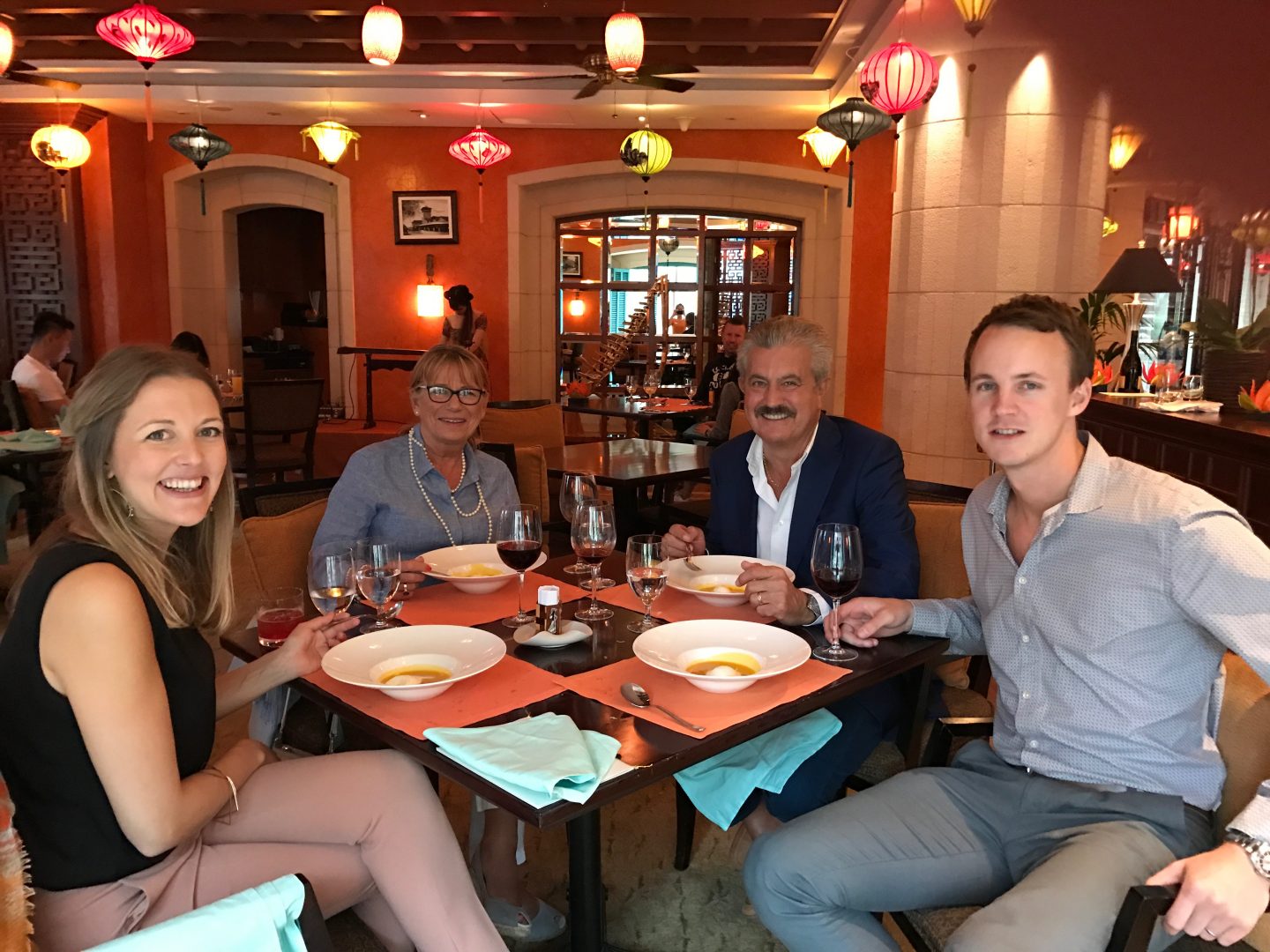 The Hoi An Brunch at the Shangri La Hotel on the Friday a multi course Vietnamese tasting menu, where you try a small portion of every dish on the menu (30 plus dishes) and then decide which dishes you want full portions of, accompanied by unlimited beer, wine, bubbly and cocktails. This was priced at around £60 per head but Kate had 2 for 1 vouchers making it fantastic value. You start eating and drinking at 12:30 and finish at 4 pm. It was amazing! Kate has written a full review of the Hoi An brunch, click here.
Imperium Brunch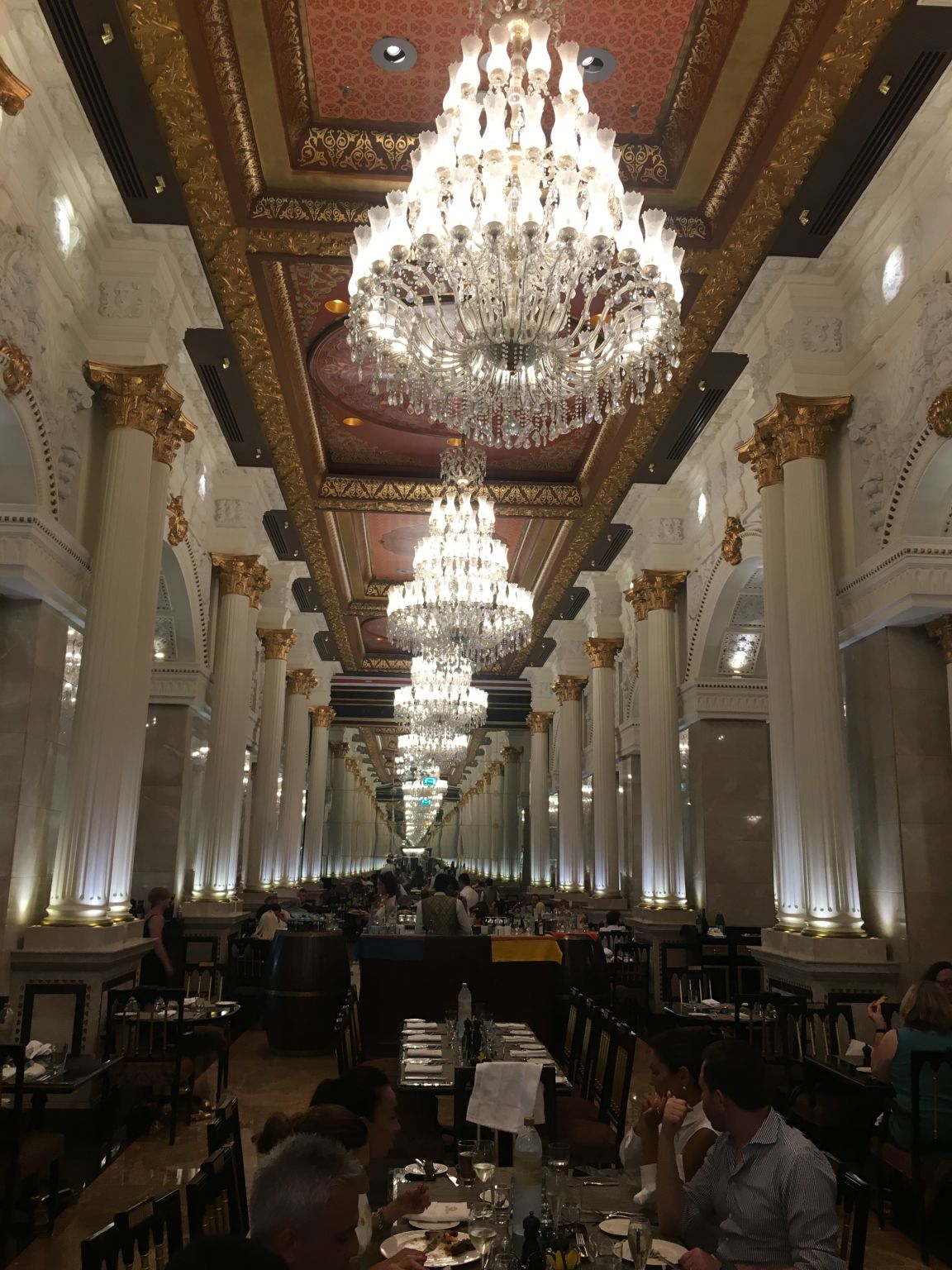 On the Saturday we went to the Jumeriah Zabeel Saray  hotel on the Palm for their Imperium Brunch. This was altogether a grander affair, in opulent surroundings with crystal chandeliers, polished wood and gilt gold fittings in abundance. Imperium was a more traditional brunch with huge displays of fresh seafood, exotic salads, roast meats, Asian and Creole dishes, cheese, cold meats and deserts, it was stunning. The only place I have been to that you could compare it with is Sandy Lane in Barbados who serve amazing themed buffets, at a much higher price than here!
To accompany the food again there was red, white and sparkling wine served at the table, with drink stations situated throughout the restaurant and the outside terraces serving cocktails, beers and spirits (with one dedicated to gin, which really pleased Jane!). The Imperium Brunch is normally £85 per person but once again Kate and Josh had 2 for 1 deals so as with Hoi An amazing value. Kate has done a full review of the Imperium Brunch, click here.
Dubai Creek
We decided one day to pay a visit to Dubai Creek and the Souks. We travelled to the Creek from Dubai Marina on the public ferry, a great trip in itself. You get to see the Palm up close from the water and the coast line with Burj al Arab and Jumeirah Beach. The ferry only runs each way a couple of times a day so unless you want to spend all day at the Creek you need to do the return using the metro or taxi. See more info on the ferry by clicking here.
What to see
When you arrive at the Creek you feel as if you have arrived in a different country. The area has many traditional houses, cafes and restaurants. There is a busy water front with the abras (water taxis) and commercial dhows going about their business. We didn't cross over to the Gold and Spice souks on the abras, we saved this for another visit. We did however visit the Textile Souk. It was fascinating  with an array of textile shops selling beautiful fabrics with the owners plying there wares and encouraging you to to buy. At first this can feel intimidating as they are very persistent but a firm no and they back off. However there are definitely some bargains to be had. We also visited some of the fascinating free to enter museums.
We ate at a traditional waterfront restaurant on the Creek. Fresh fish and other local dishes, at much lower prices that the other parts of Dubai. However so you know there is no alcohol served whereas smoking is not restricted at all! The Creek is definitely worth a visit and we will go back to see the gold and spice souks next time we visit. Kate has done a more detailed guide on visiting Dubai Creek, click here
Changed Impressions?
Just to remind you first impressions 10 years ago, luxurious, bling central, expensive, amazing customer service and a building site. So have these impressions changed? Without a doubt and for the better. Dubai is still all about luxury and there is still a lot of bling, the people, the cars, the shops and hotels. It is definitely expensive, but with Kate and Josh living there they have the insider knowledge on the 2 for 1 offers, the happy hours, transport options and good value must see sites. See Kate's tips on how to save money in Dubai by clicking, here.
The customer service is still amazing, some of the best I have experienced anywhere in the world. There is still a lot of building work going on but there are so many new developments to 10 years ago that it no longer feels just like a building site!
We saw far more of Dubai than we did the first time. Staying with Kate and Josh we experienced what its like to actually live in Dubai. Dubai has grown so much bigger and taller in those 10 years, particularly the Marina, Downtown, the Financial District, there is more to see and do. We used the public transport so clean and efficient, the UK should take some lessons. We sampled the famous Dubai brunches. We saw the older traditional Dubai on our visit to Dubai Creek. We experienced the happy hours in the Dubai Marina hotels and ate in some fabulous restaurants.
However I still feel we have just touched the surface. There is so much more to see in Dubai and we will be definitely be returning very soon!
The Guestbook comment: "Dubai gets very hot, avoid visiting between June and September to avoid the highest temperatures."
No freebies have been offered or provided by any of the establishments featured in this post!