Looking for 2019? See this post for updated prices and timings!
With the Christmas season upon us it's that all important question – where are you having your Christmas lunch?
As it will be my first Christmas in Dubai I've been doing my research and here's some favourite options for the big day to help with your decision making. Some are very popular and others already sold out so get your skates on if you haven't already booked yours…
For the wow and 'only in Dubai' factor…
Al Qasr, the Madinat – SOLD OUT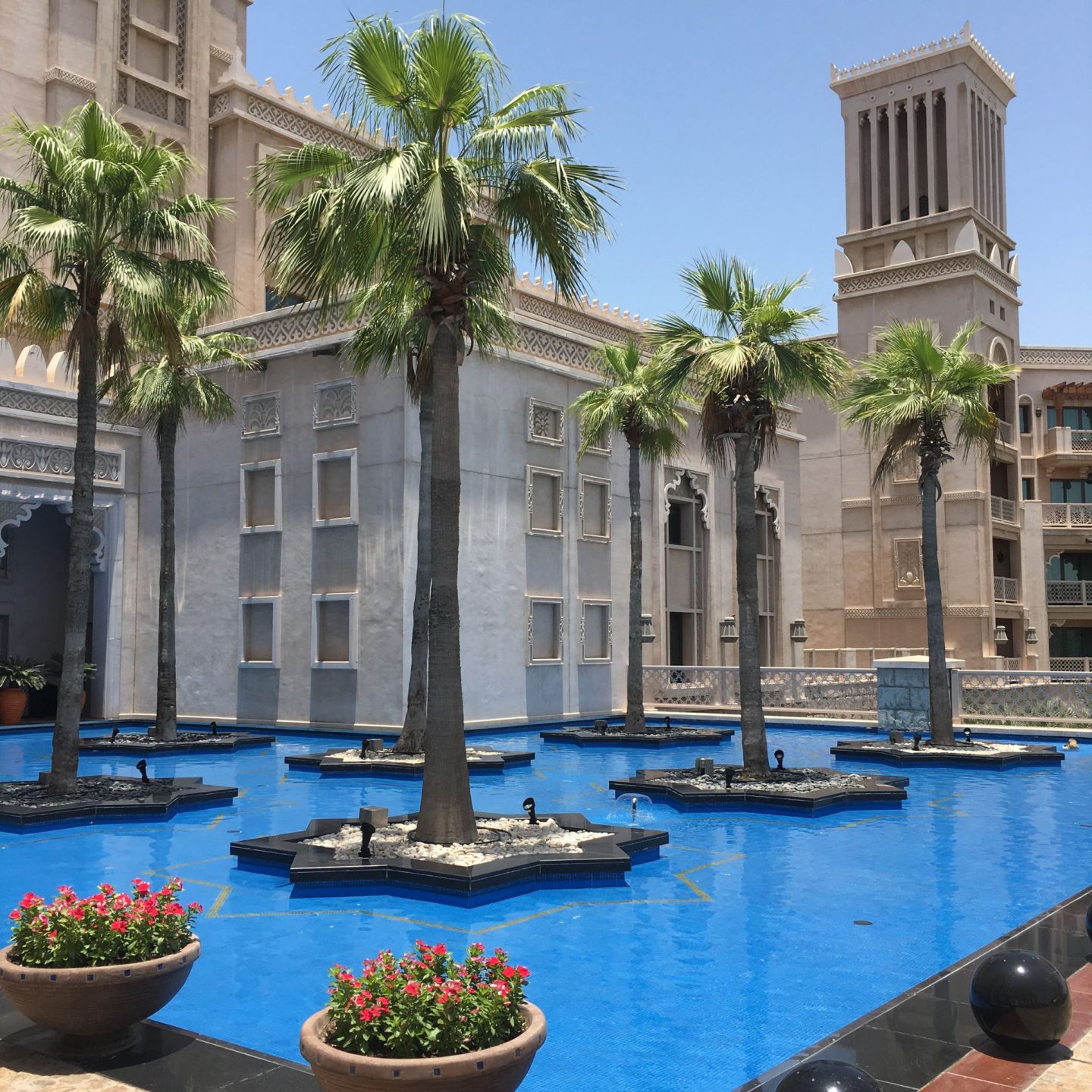 The Al Qasr Christmas brunch is similar to their famous Friday brunches (see our review here) with extra Christmas cheer and dazzle. This has the wow factor in abundance with food from across their three restaurants –  The Hide, Arboretum & Al Hambra. The setting alone is enough to impress. This is the perfect choice if you want to do Christmas in true Dubai fashion but you'll be lucky if you bag yourself a table, it's a popular (and pricey!) one.
Price
AED 895 per person including Champagne | AED 795 per person including alcoholic beverages | AED 695 per person including soft beverages | AED 350 for children aged 4 to 11 | Children below 4 years of age dine with compliments.
Mina A'Salam (indoor still available)

Another great option if you've missed out on the above is it's neighbour – the Mina A'Salam Christmas brunch which features their two restaurants Tortuga and Hanaaya. This is another favourite Friday brunch for the wow factor (full review here) and is very impressive both in terms of food and location.
Price
This brunch is ever so slightly cheaper coming in at AED 850 per person including Champagne or AED 750 per person including alcoholic beverages. The soft drinks package is AED 500 per person and it's AED 200 per person for children aged 4 to 11. Children below the age of 4 dine with compliments. Both brunches run from 12:30 to 16:00.
Kitchen Connection, Jumeirah Beach Hotel
Newly opened, the revamped Jumeirah Beach Hotel is offering a Christmas day brunch at their Kitchen Connection restaurant (previously Latitude). As with all the Jumeirah options expect high quality offerings and a wide range of choice here. There's also views of the Burj Al Arab and at time of writing outdoor seating was still available.
Price
Soft drinks package is AED 545, house beverages AED 720 and bubbles AED 785.
For the party lovers…
Wanderlust, JW Marriott Marquis – Business Bay
If you're looking to see Christmas in with a party then Wanderlust brunch in Business Bay might be the perfect choice. It also has a wide range of food options with live cooking stations, as well as a good selection of drinks of course. It's also a reasonable price for a Christmas Day brunch.
Price
At AED 425 for house beverages this is a reasonable option. It runs from 1-4pm.
For a taste of Britain…
The Scene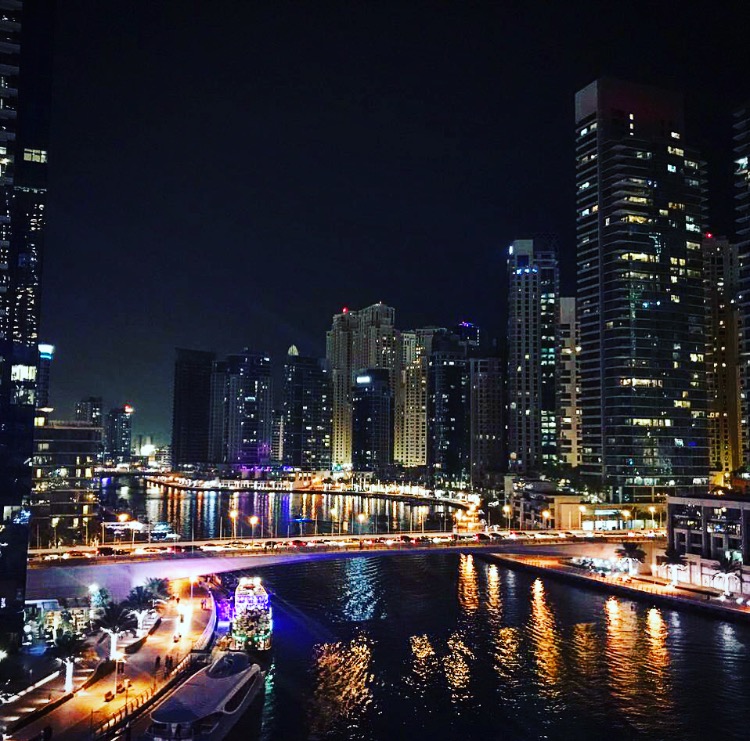 Always a popular one if you're missing home at Christmas time. This Pier 7 restaurant by Brit Simon Rimmer will bring the UK to you with some great British fare plus amazing Marina views! The Christmas Day menu is a 5 course affair with all the classics you can expect from a British Christmas Day.
Price
The price starts from AED 375 for 5 courses and soft drinks, with the house beverage package coming in at AED 550 or AED 650 for bubbles too.
The Croft
The Croft is another option if you're looking for a British option and a traditional Christmas choice. This is a set menu rather than a brunch with a choice of starter, main and dessert. There's the traditional roast as well as Beef Wellington or Salmon to take your fancy. Although the view isn't quite as spectacular as The Scene (with the current building work opposite!), it still has an outdoor area if you wanted to take advantage of the weather or sit inside to see the chefs in action with the open plan kitchen.
Price
This is a really reasonable option at AED 195 for food only or AED 299 for 2 hours of house beverages. As it's not a brunch as such there's also more flexibility on when you dine with servings from midday until late.
If you want to ditch the Turkey for something different…
Pai Thai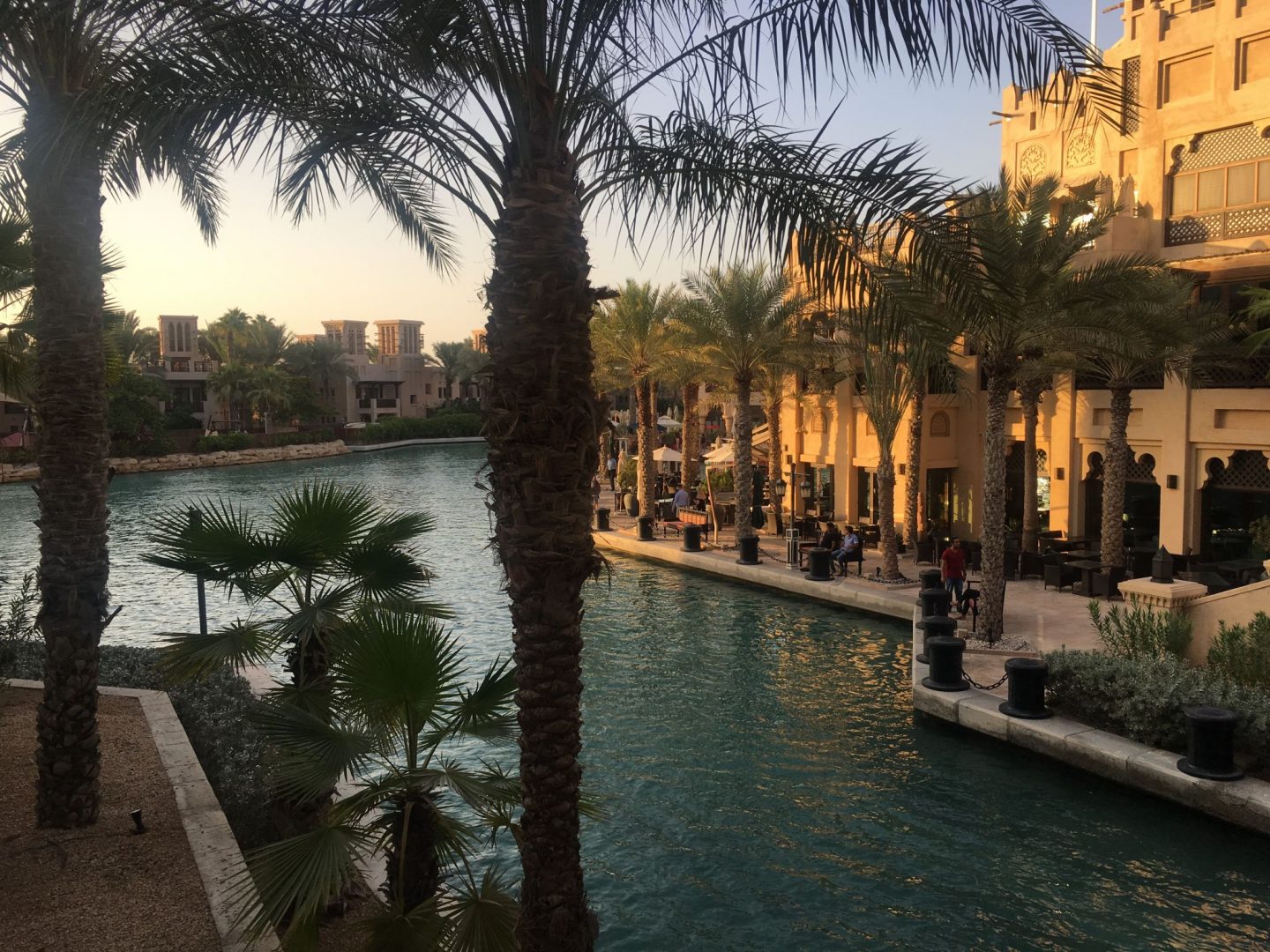 If you're looking for a Christmas Day with a difference and want to ditch the turkey then the Feast of Xãhãr Christmas Day lunch might be a good choice. Another Madinat option, you'll get the Christmassy feel from the Christmas market and impressive decorations on offer here – plus you can guarantee lots of very tasty Thai food. The brunch runs from 12.00 – 15.30.
Price
The feast starts at AED 295 for food only or AED 650 per person for bubbles. Its AED 495 per person for the house beverages package.
Prime 68 Steakhouse, JW Marriott Marquis – Business Bay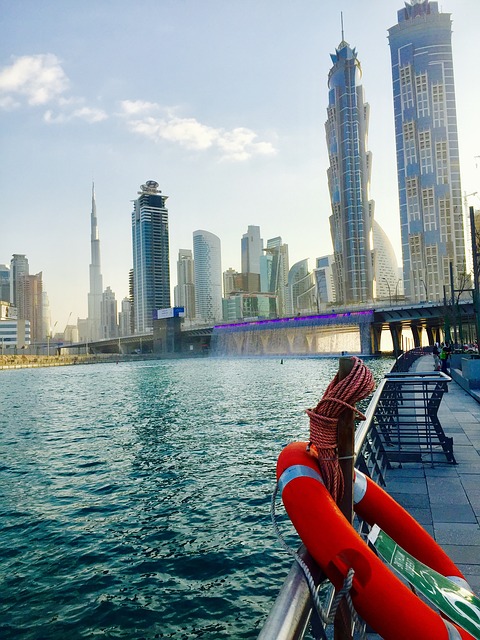 For the wow factor and excellent steak Prime 68 is the perfect choice and offers a six course set menu to tempt diners with. If you haven't visited you're in for a treat not only from the food but also from the amazing views as the restaurant is situated at the top of the JW Marriott Marquis Towers. This is an evening affair running from 6pm – midnight. It's also available on Christmas Eve.
Price
AED 750 with house beverages.
Hakkasan
A new addition at Atlantis joining Nobu and Yuan is the famous Hakkasan. If you like your Christmas with a Cantonese twist then this could be the perfect choice.
Price
Again this is an evening option from 6-11.30pm and prices vary.
The kid pleasers…
Flow Kitchen, Fairmont – The Palm – SOLD OUT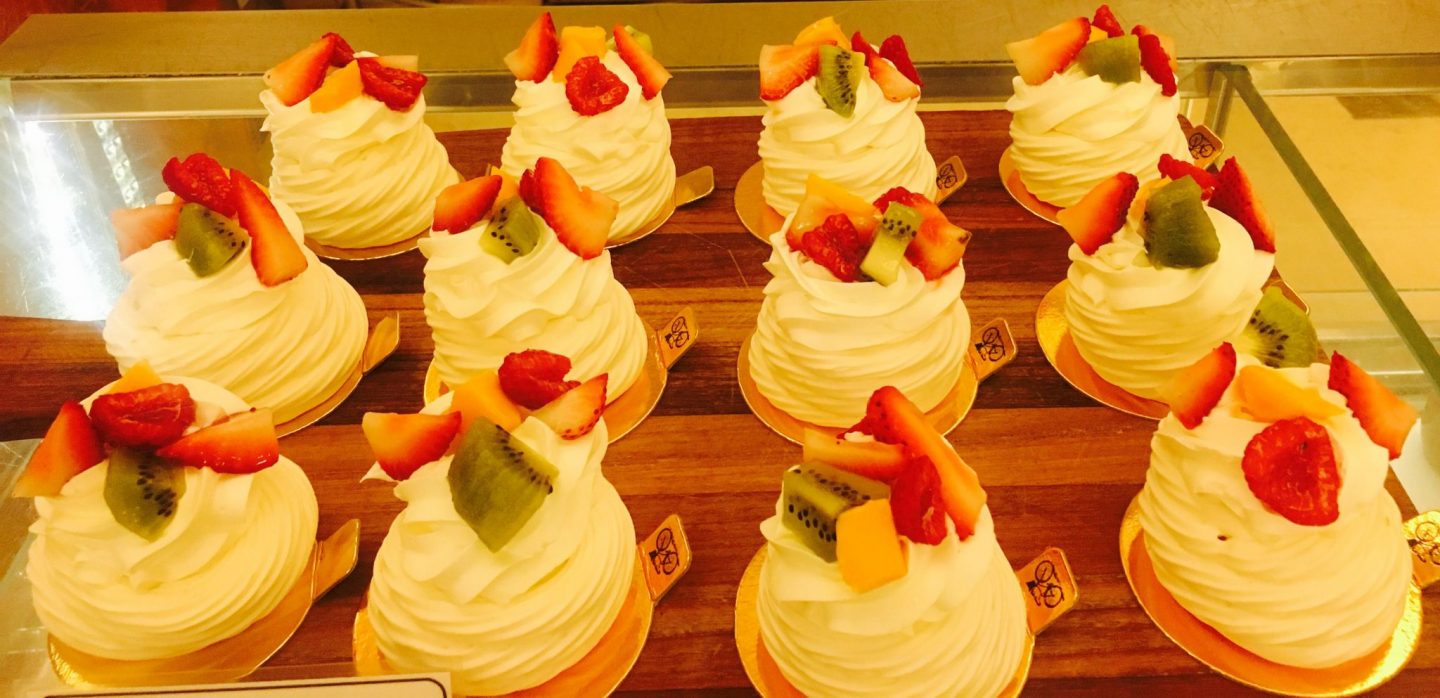 A popular one for all the family. There's excellent food on offer in the form of a traditional Dubai style brunch here as well as a wide range of entertainment for the kids. It's a great option on the Palm as an all rounder and crowd pleaser. It's on 12.30 – 3.30pm.
Price
AED 395 (soft drinks), AED 495 (for house beverages). AED 195 (6-12), and free (below 6 years).
The Irish Village, Garhoud – SOLD OUT
The Irish Village is another traditional option and a very reasonable one at that. The kids are covered too with a visit from Santa and a gift. There's also live music to keep everyone entertained.
Price
AED 199 for food and AED 99 for children.
Other favourites…
Eat & Meat – No. 1 Sheikh Zayed Road (H Hotel), World Trade Centre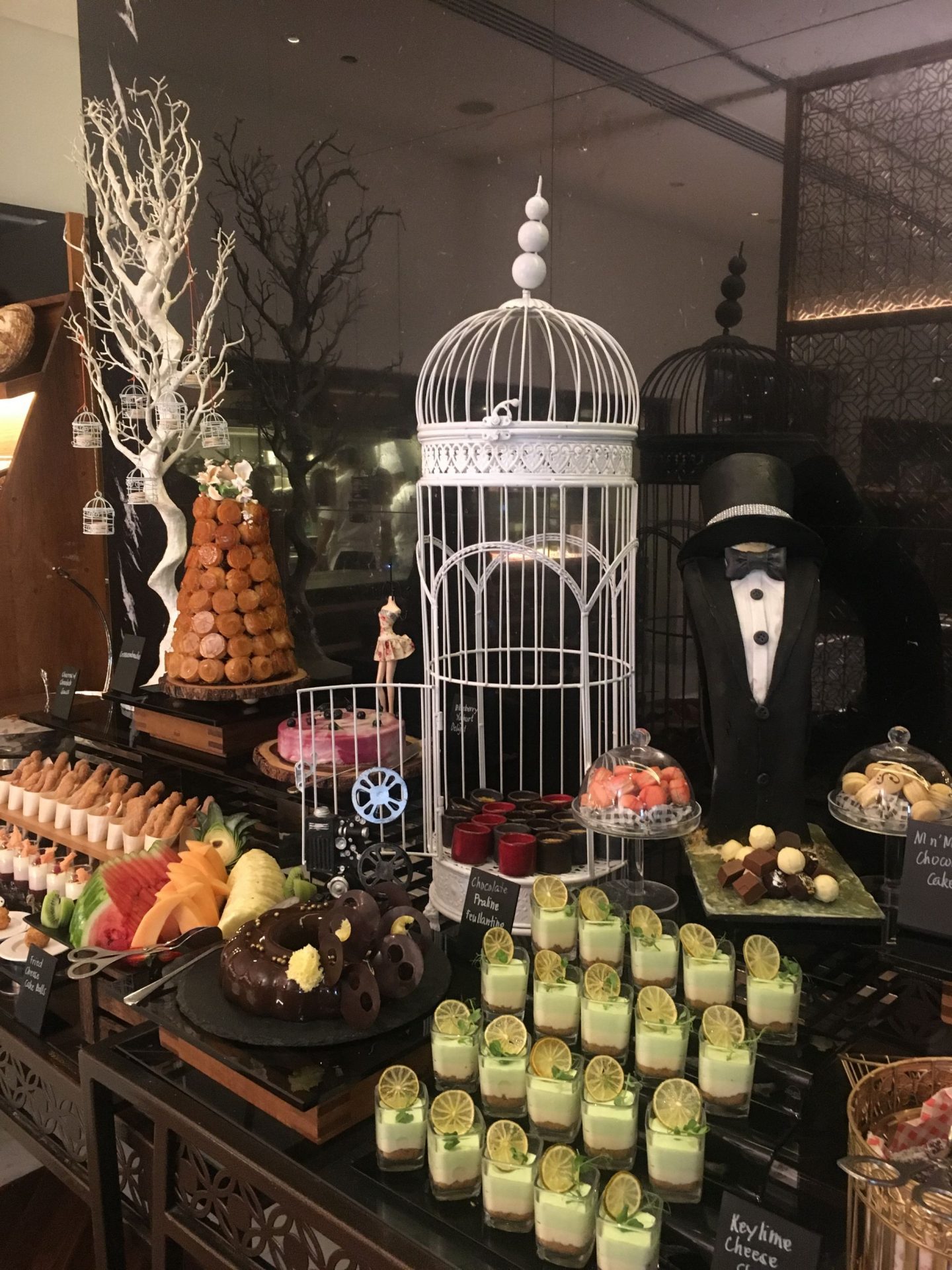 One of my favourite Dubai brunches. The Hollywood Brunch is offering a Christmas Day brunch with  a great buffet selection plus a wide selection of set menu options. Make sure you save room for the desserts! There's brilliant live entertainment on offer too. Plus the decorations are amazing!
Price
AED 549 for food and bubbly package or AED 299 for soft drinks package.
Nineteen, The Address Montgomerie Emirates Hills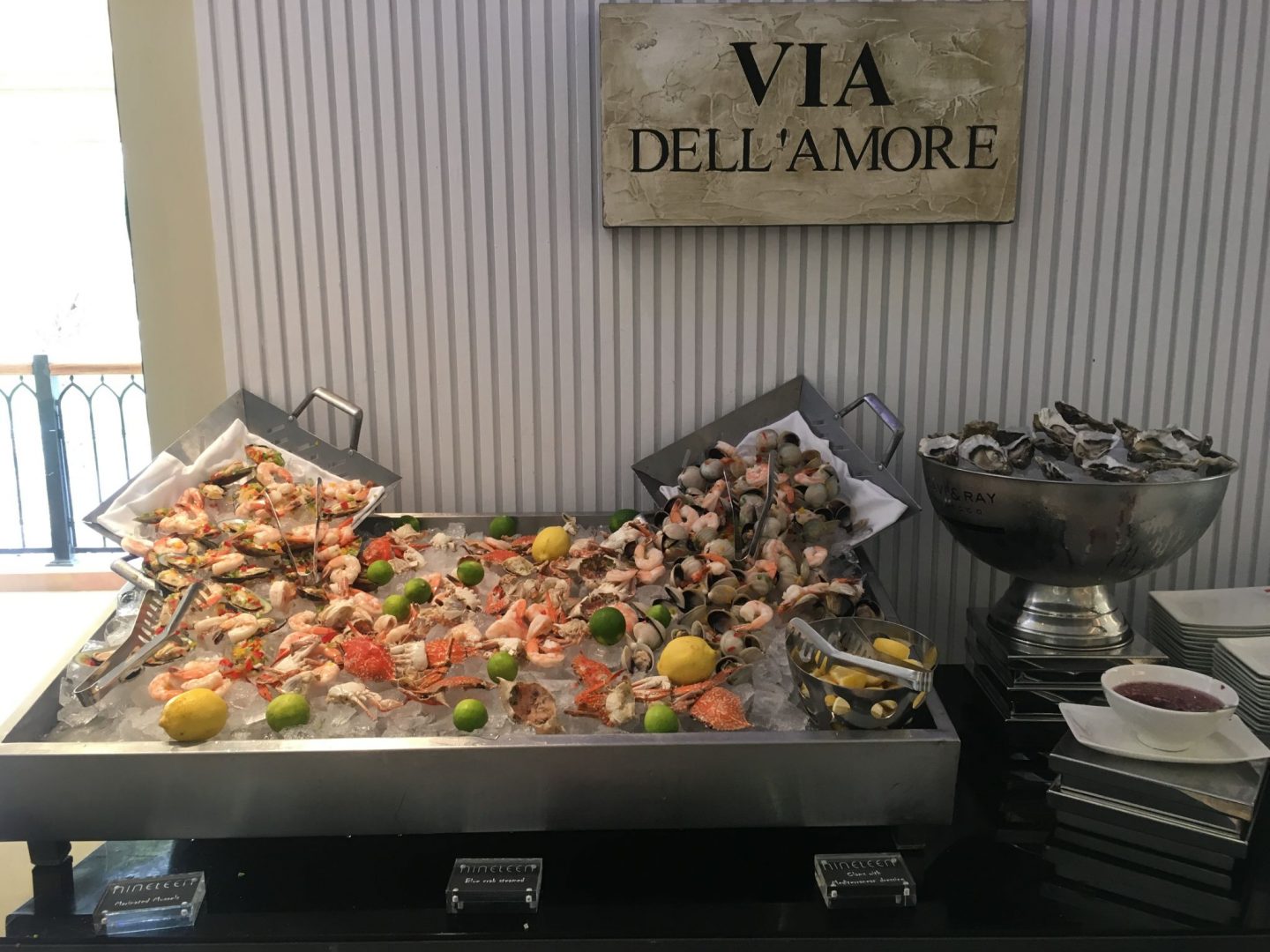 Another favourite, this venue is a welcomed oasis with beautiful terrace views although the interior is pretty as well (note that indoor seating is only available as outdoor is sold out). It's a relaxed affair for all the family with visits from Santa too. You can expect all the traditional fare here as well as a few Italian classics thrown in for good measure!
Price
AED 590 (house) or AED 450 soft drinks.
Whatever you decide to do we wish you a very Merry Christmas!