Perhaps slightly less well known than the famous garden route, R62 is equally (if not more) stunning. It can easily be added to a trip along the garden route or if, like us, you want to do the whole thing then it makes a perfect drive.
We set off from Cape Town early and within 30 minutes we were taking in the spectacular mountains and baboons(!) and monkeys casually sitting on the side of the road. We even saw a tortoise!
Travel further and soon fellow travellers become far and few between and it's just you and the open road and what a road it is…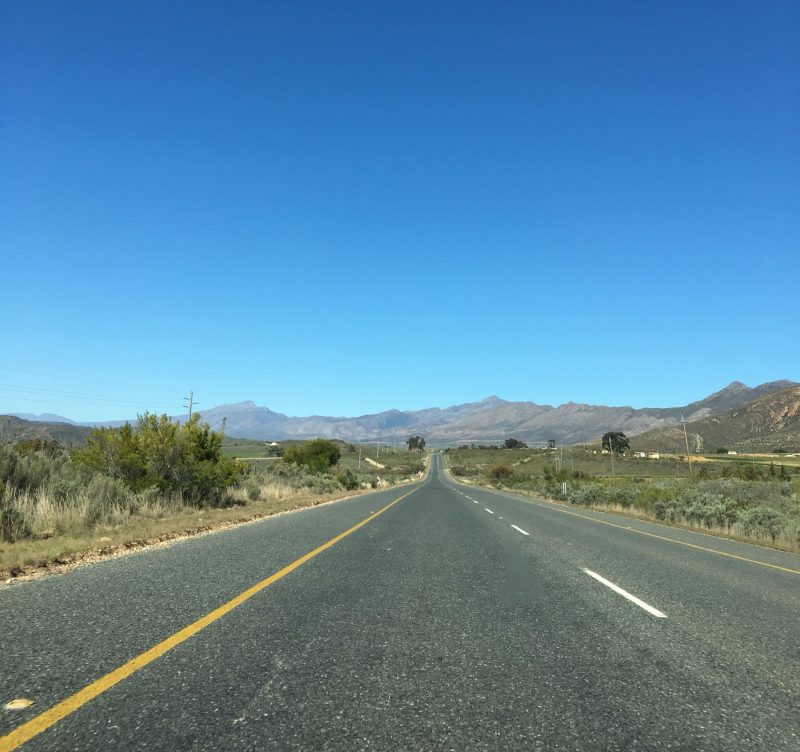 Roads here are in great condition and although the road works on this stretch will delay you, they don't cause too much of a problem. 
Montagu
We were covering quite a big distance in a day and stopped at Montagu for a well deserved break.
I'm going to be honest here, for all my praise of South Africa I was actually a little bit underwhelmed by the actual towns but the stunning scenery makes up for any disappointment. If you're just passing through then there's a few good places to stop here. I'd recommend the Barn on 62 which is a cute little cafe with lovely indoor as well as outdoor areas to relax before the next drive. If you have more time on your hands you might decide to stay in this area and explore further afield but we didn't have that luxury so carried on our journey.
R62 – Montagu – Oudtshoorn
The route from Montagu to our final stop of this leg in Oudtshoorn is even more breathtaking with little traffic and open stretches of road. You literally feel in the middle of nowhere in terms of the feeling of expanse. Lots of wows were said at every bend and I'd recommend a favourite playlist to accompany the route.
The famous Ronnie's Sex Shop is on this stretch too. Made famous by a practical joke where Ronnie's (so called) mates decided to add the word sex to Ronnie's Shop sign. It was probably the best present any friend could give, as it's been famous ever since with many a tourist stopping by to grab a drink at the now renowned location (don't worry it is just a bar!!). 
On this route you will also see many an Ostrich – this is the home of Ostrich in South Africa after all.  Although having an Ostrich feather in your hat is no longer all the rage, there's still lots of farms in the surrounding area where you can go and find out more about these unusual creatures.
Oudtshoorn
In terms of Oudtshoorn as a town, we can't really give a verdict on it as it was such a flying visit and we didn't stay in the centre.  Although some other visitors we met during our trip were a bit underwhelmed by it. Having said that, the nearby Cango Caves are a must see attraction here so that might change your view if you visit.
Interestingly this actually turned out to be one of our favourite stops of the whole trip but this was purely down to where we stayed – Thabile Lodge. If we're honest we were pretty dubious approaching the place which was down a dirt track but we couldn't have be more wrong.
Firstly we were greeted by 6 dogs (a winner in my book everytime) and then there was the view. This place deserves a full review for hospitality alone so there will be a separate post on this place.
Oudtshoorn – Addo
The next day we set off again for the open (and single track) road to Addo. This road is very surreal being single lane but used by both directions (which shows you just how little it is used). We (luckily) only saw one other driver during a good 30 minute drive. It's incredible due to this isolation (although also slightly scary if you think about the prospect of breaking down!!). We didn't need to worry and made it to Addo for the next stage of our trip.
So in summary, this part of the route was a lot of driving and if you have more time it would definitely be worth dedicating more time to exploring this area, but it can also be done in a whistle stop tour and we wouldn't have wanted to miss it from our itinerary for the roads alone. 
Guestbook's comment: "Definitely worth a drive for the contrast in scenery it offers. If it's too much driving for you it can also be an add on from the Garden Route – there's also a number of shorter passes, such as the Swartberg Pass, which offer exceptional views."