Although relatively compact, Dubai can often be confusing for the first time visitor (and expat alike) with the number of different areas that exist and decisions around where to stay. Obviously factors will differ depending on whether you are looking for a holiday location or a permanent home in Dubai, but either way hopefully this guide will help you get to grips with some of the areas and what they have to offer…
Deira & Bur Dubai (Old Dubai)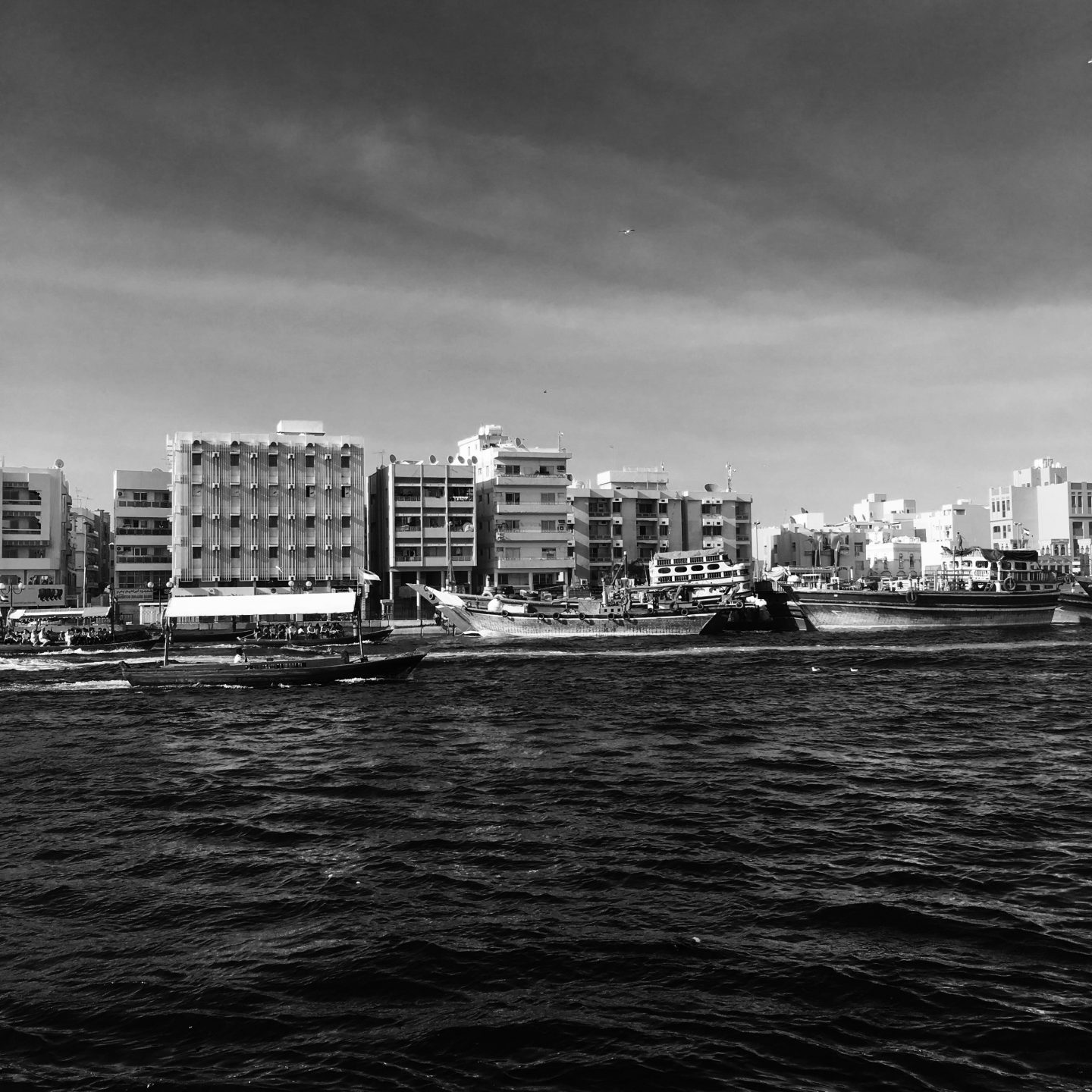 The closest area to the airport and the heart of old Dubai as far as Dubai does old. Deira and Bur Dubai are two distinct areas separated by the Creek. Both have lots of options in terms of places to stay. They are particularly popular as they can  offer more affordable accommodation options. As mentioned, they also very convenient for the airport. Although this shouldn't be a huge factor given that Dubai is relatively small.
What's it like?
These areas don't have the glitz and glamour of new Dubai and in comparison are relatively low rise. A high proportion of the Indian expat population live in Deira and you're well catered for in terms of food options from this region as well as the Middle East. Historically the commercial centre of Dubai, Deira seems a lot more 'real'. It's certainly not the squeaky clean Dubai of Downtown with the marble floors of Dubai Mall. It does have a lot to offer though if you're happy being in the hustle and bustle.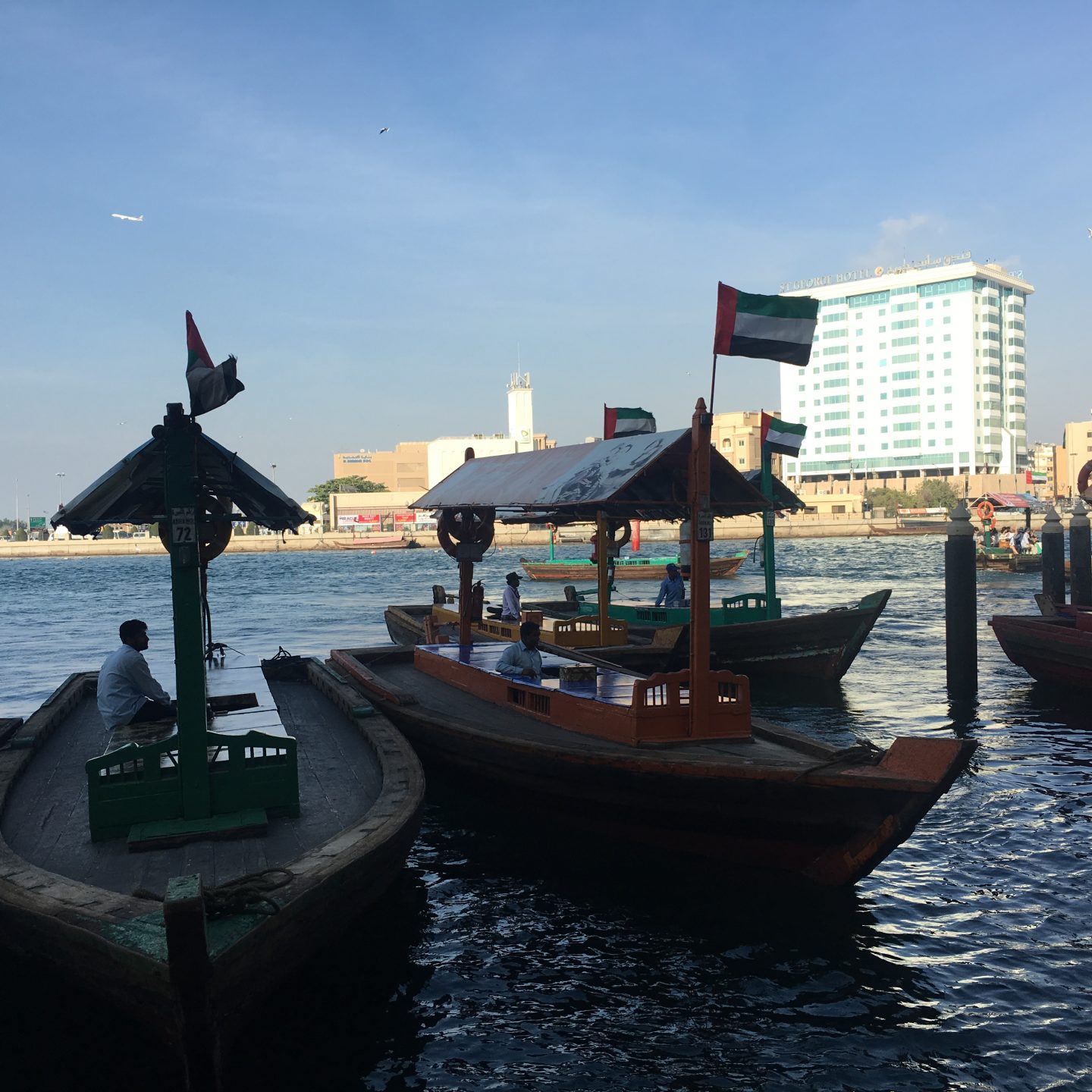 Bur Dubai is the opposite side of the Creek, closer to new Dubai and is home to a high proportion of historic attractions (more below). Again accommodation here is reasonably priced for Dubai, but you can still find some 5* hotels here too such as the Hyatt Regency, Hyatt Grand and Raffles. The majority of these hotels are situated slightly away from the Creek close to Healthcare City. A strange location perhaps, but if you're looking to fly and flop by a pool, or don't mind getting a taxi to sights without it being on your doorstep then they are worth considering as options.
What's there?
This area is categorised by the souks of Dubai including the gold, spice and fabric souks on the Deira side. The Creek, the main internal waterway of Dubai, is also a must see with it's hive of activity and abras travelling between the two sides. (Hop on one for AED 1 to experience this!). It can be quite hectic so escape to the Al Fahidi district which offers a welcome break. It's traditional buildings and hidden coffee shops make it one of my favourite places to visit.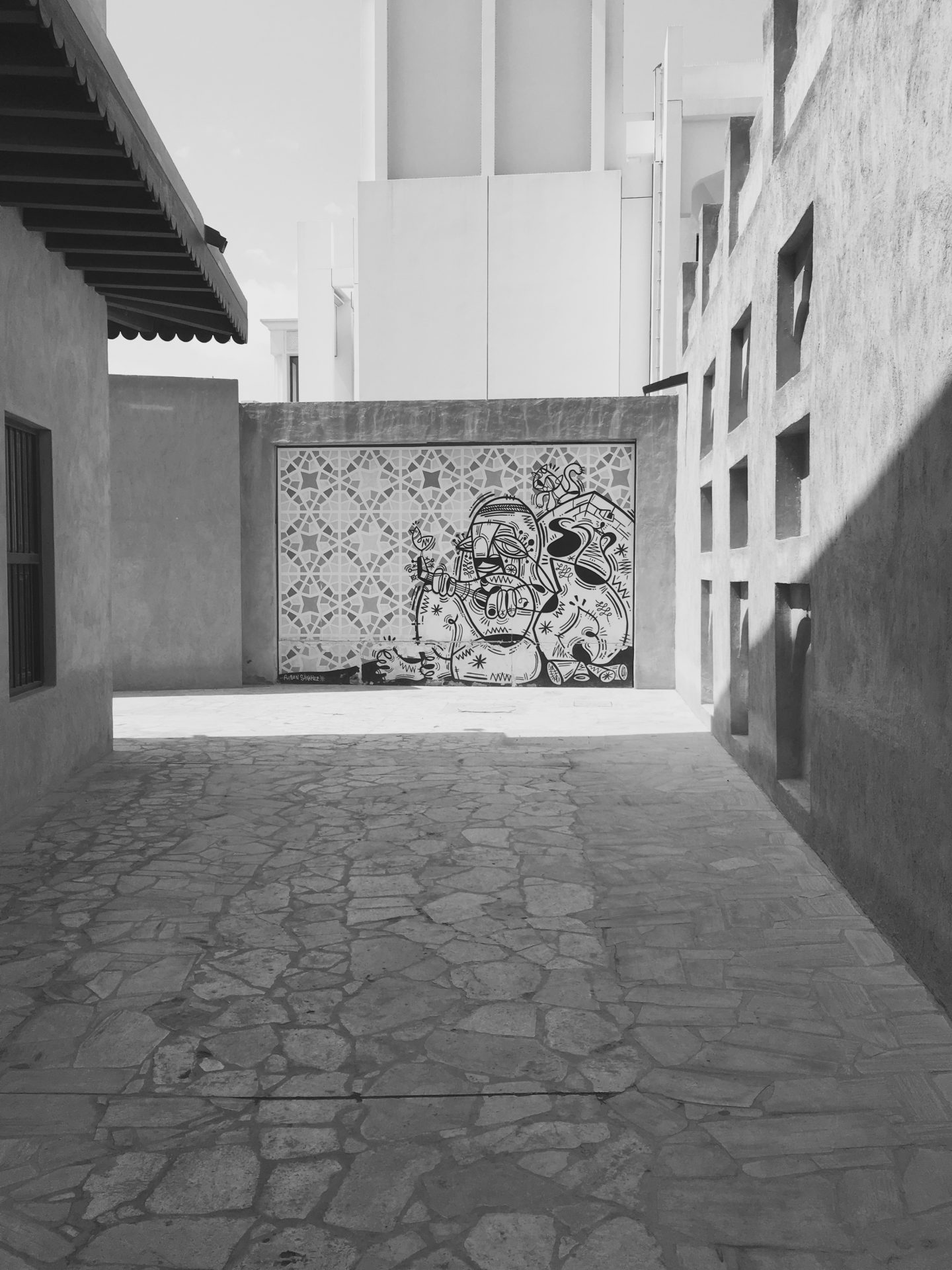 Stay if…
…you enjoy culture and want a good value option. But be warned it can get hectic so if you're looking for a more peaceful destination perhaps visit this area as part of your stay and look elsewhere for accommodation.
Downtown Dubai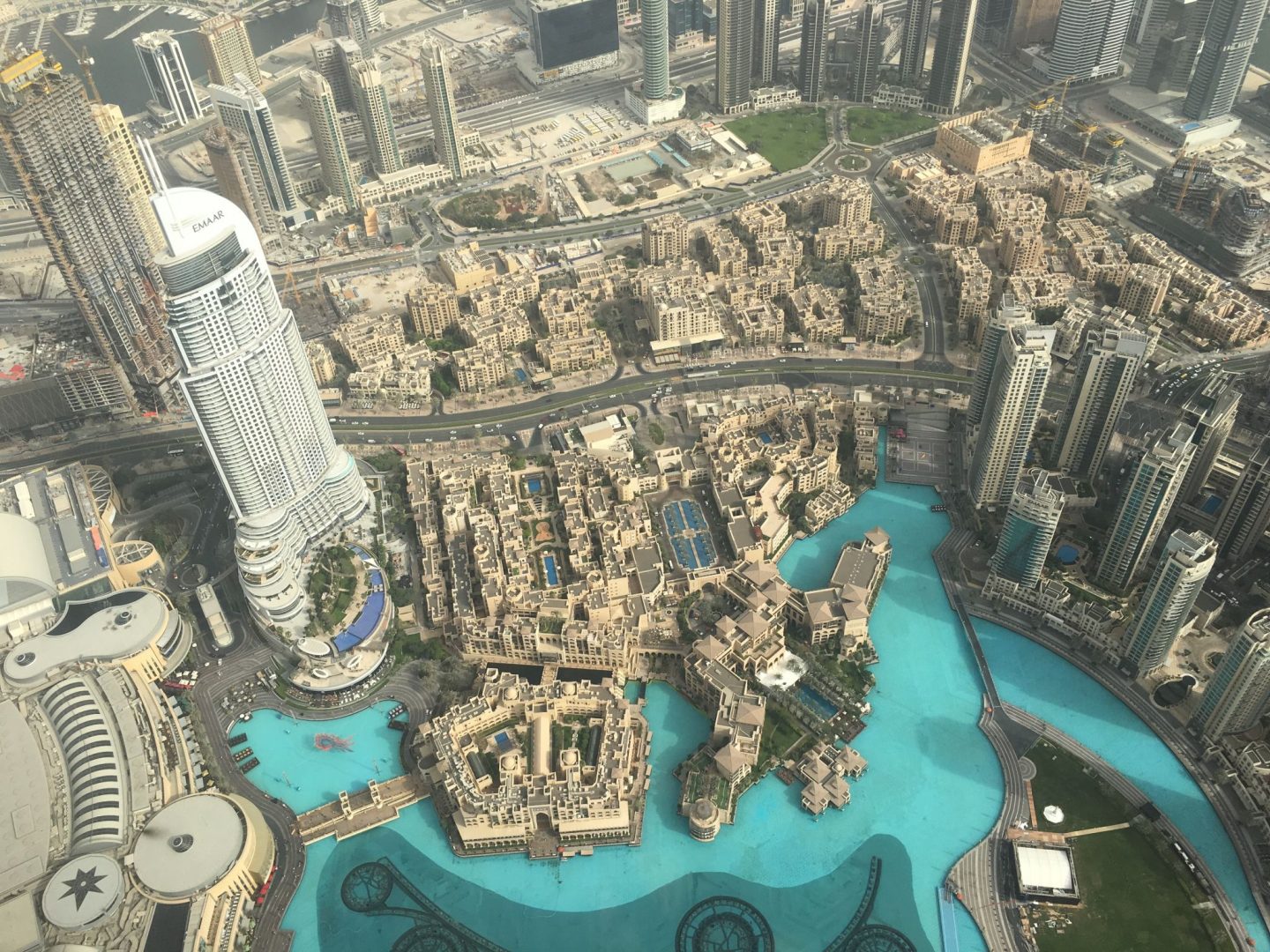 Downtown Dubai is the heart of "new Dubai" centred around the very impressive Burj Khalifa and the enormous Dubai Mall. Still in construction in places, Downtown Dubai keeps growing.  It's neighboured by other popular areas including Business Bay and DIFC/World Trade Centre. These areas also offer good options for places to stay.
What's it like?
Downtown Dubai feels very much like a city with it's high volume of impressive skyscrapers which continue to appear. This area has the Dubai wow factor so expect a high proportion of 5* hotels on offer. Popular options include the Address chain. The chain includes The Boulevard, The Address Downtown and The Palace Hotel. The latter is my favourite!
There's a few good options for a more modest budget though such as Rove. Perhaps not the perfect location next to a busy road, it is moments from Dubai Mall and offers some great packages.
Business Bay also has a wide range of hotels on offer and is worth considering if you're happy to go a bit further from the heart of Downtown. DIFC and World Trade Centre are popular along the Sheik Zayed Road as areas to consider. They boast a number of luxury chains including the Shangri La, Fairmont, Conrad and H Hotel. There's also  more affordable options with the Sheraton and Crowne Plaza. Again not picture postcard, this is the city heart of Dubai and it's a great location for exploring further afield. There's easy access to taxis as well as the very reliable and convenient metro.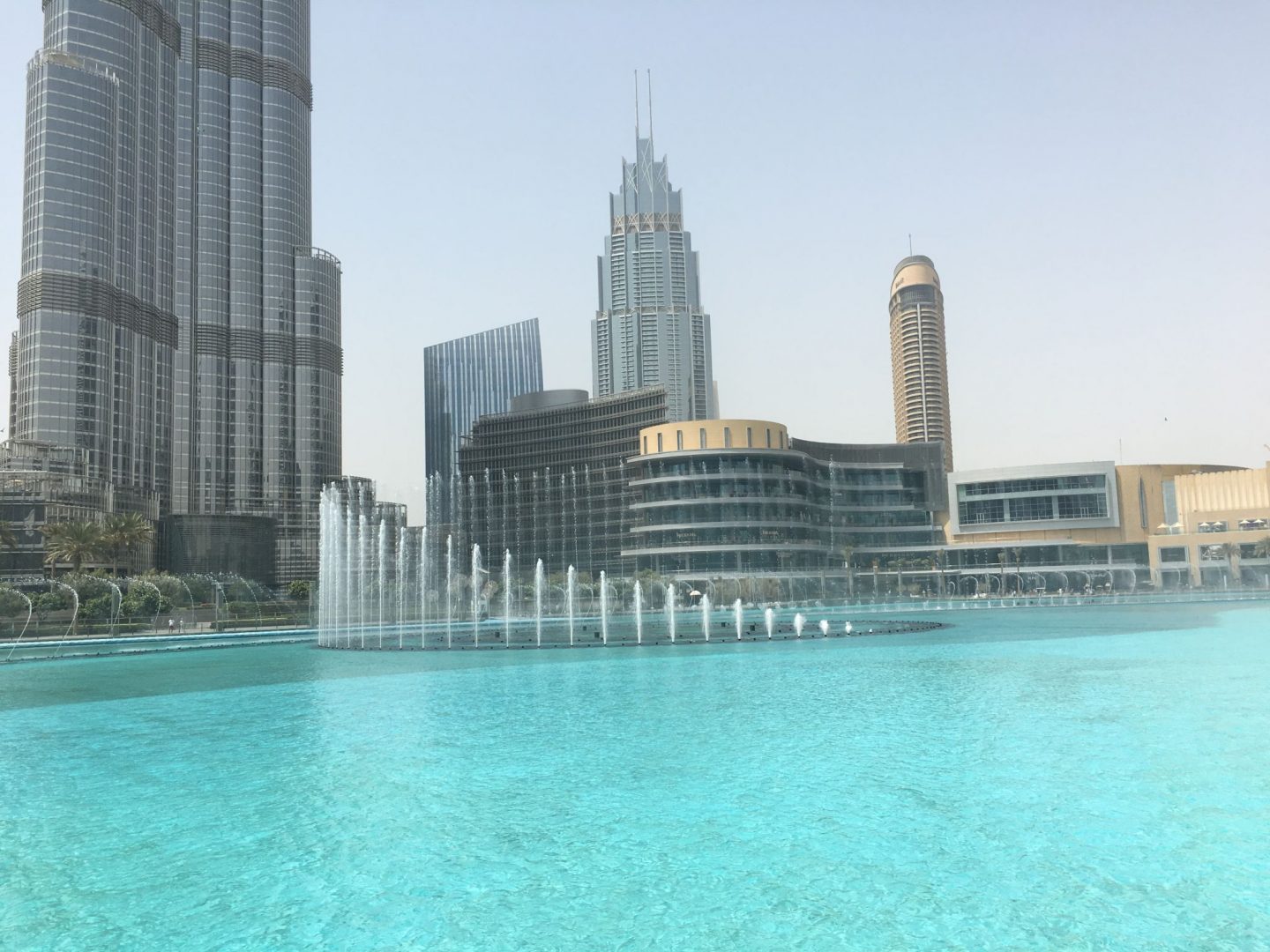 What's there?
In Downtown itself the centre point is Dubai Mall which is staggering. If you're a keen shopper then you could probably spend a week here. Don't be put off if you're not though, there's plenty of other things to see and do in the Mall and the surrounding area. See this post for the top 10 non-shopping related things to do there! Downtown is also home to the Burj Khalifa and the impressive Burj Lake and fountains. You have a wide selection of restaurants in Dubai Mall itself as well as in the nearby Souk Al Bahar. DIFC is your place for fine dining with a high proportion of award winning restaurants hidden amongst the office tower blocks.
Stay if…
…you want to be in the heart of Dubai. Being centrally located, this area offers convenient access to both Dubai Creek, as well as the Marina and Palm. It's very cityscape in appearance so be prepared for this. If that's not an issue then there's a wide selection of accommodation and amenities on offer here.
Dubai Marina (and JLT)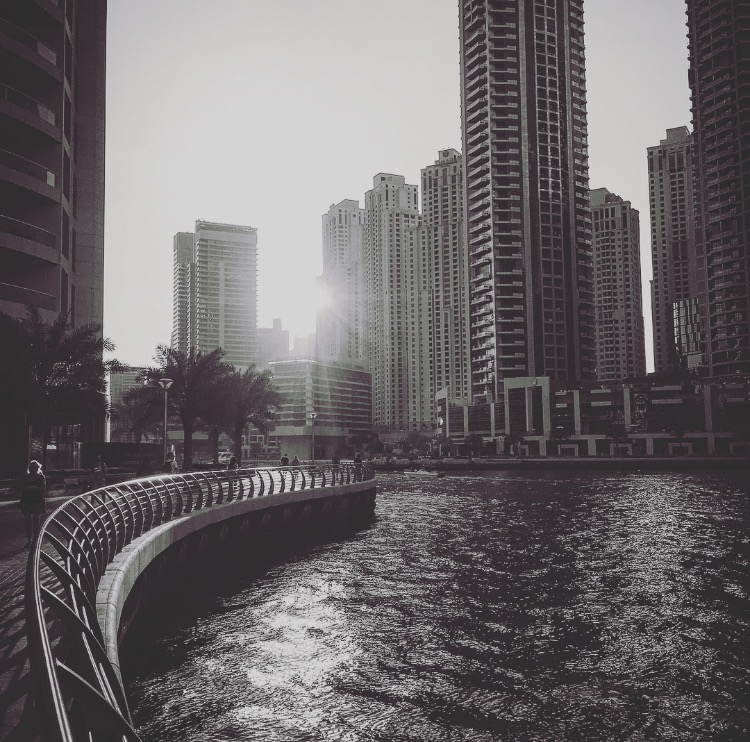 My home so I'm potentially a bit biased on rating this one as a great area to visit but also stay in! Dubai Marina is the opposite end to the airport but still within an easy 20-30 minute taxi ride. Dubai Marina is one side of the Sheik Zayed Road separated from the sea by Jumeirah Beach Residences (JBR). More on the latter below. On the other side of the Sheik Zayed Road is another popular area, Jumeirah Lakes Towers (JLT). The latter is a quieter option and more residential but has a few reasonable priced hotels to consider. It isn't far from the action of the Marina, as well as nearby beaches of JBR.
What's it like?
The Marina area centres around (as you might have guessed) the Marina. It offers a pedestrian walkway with a 5 mile loop. Again there's lots of skyscrapers here, but you also get the waterfront of the Marina. (Not the beach though, that's in JBR which is within walking distance). There's a good selection of hotels that occupy the Marina/JBR. These include the highly recommended Grovensor House and Address Dubai Marina. Cheaper options also exist though. Rove has just opened a location in Dubai Marina. Although based at the quieter end of the Marina, it's still within walking distance (in cooler months) of most things.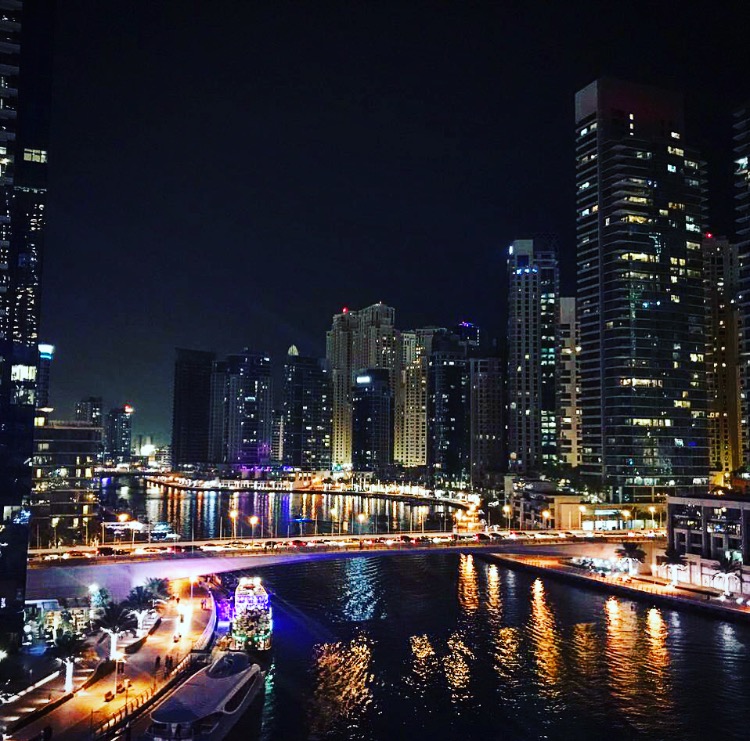 What's there?
The Marina is the perfect place to explore in cooler months with a wide selection of restaurants. You'll find lots of traditional restaurants along Marina Walk but they can be a bit hard sell and hit and miss so are not always recommended. The Marina is also home to Dubai Marina Mall which is a lot less daunting than Dubai Mall in size. Pier 7 is also close by with a good selection of restaurants. JLT offers more unique, one off casual dining options for the foodies. The Marina is also the place to get your boat trips from. The Yellow Boats in particular are highly recommended for tours of the Marina and the Palm.
Stay if…
…you don't mind the skyscrapers but would like more of a holiday vibe too. Less centrally located than Downtown, it's still on the metro so access to other areas of Dubai is convenient. 
Jumeirah Beach Residences (JBR)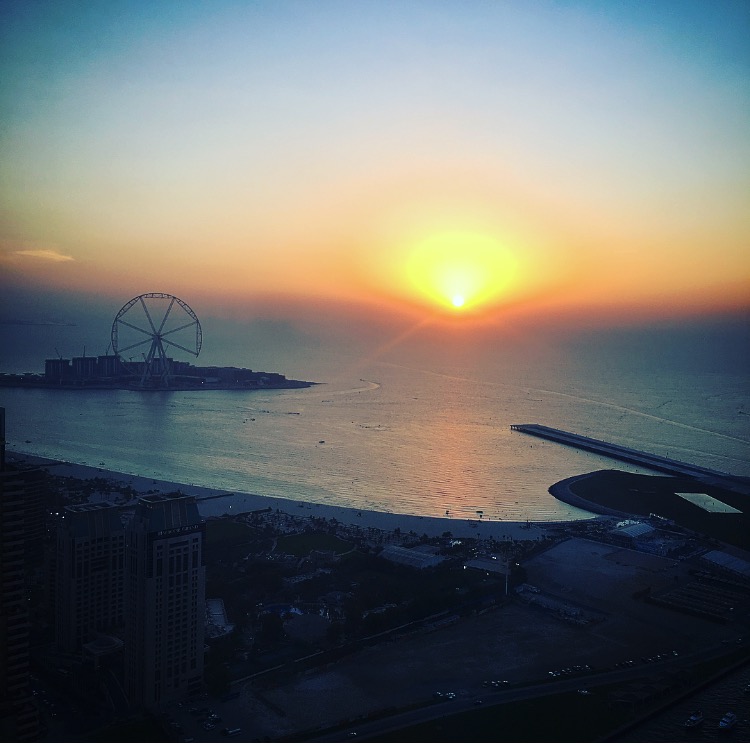 Although recognised as distinct areas, JBR and the Marina overlap and are neighbours so it's very easy to walk between the two in cooler months. If you're looking for a beach and a complete holiday vibe then this area is a great option and has a range of hotels on offer.
What's it like?
As mentioned this has it all as far as holiday is concerned with beach access, as well as access to a wide variety of amenities and restaurants. The Walk, which runs parallel to the beach front, has a whole host of restaurants.  Along the front you'll find a range of hotels including the two Hilton brands, Sofitel, Amwaj Rotana, as well as the recently opened Rixos Premium. Further along there's the very plush Ritz Carlton and the original Dubai hotel – the Le Royal Meredien. So you should be well catered for both in terms of places to stay, but also restaurant options offered across all these hotels.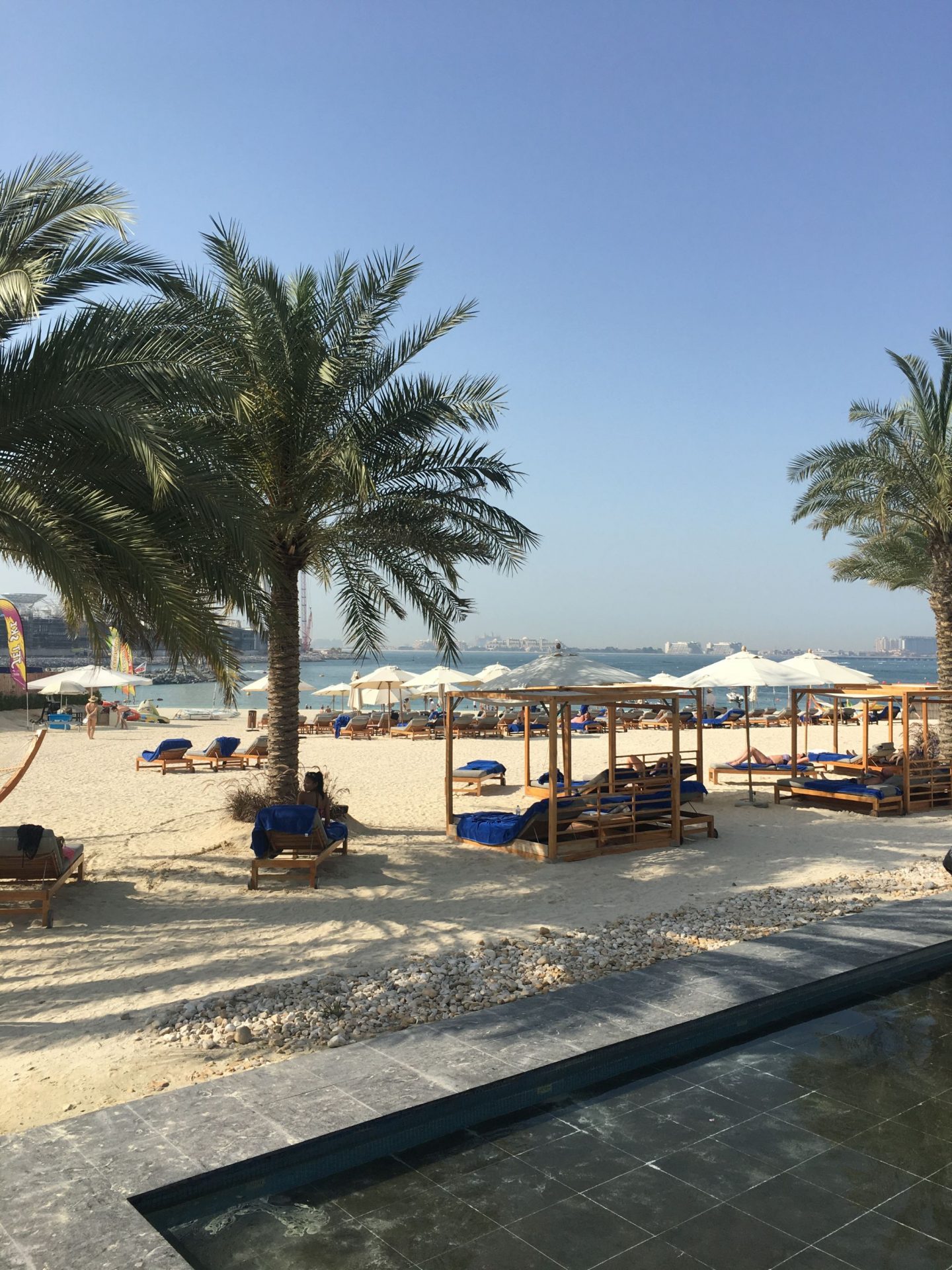 What's there?
This has everything for a holiday. (Maybe minus a mall which isn't really a requirement and there's one within walking distance in the Marina). There's a public beach, but a lot of the hotels have their own beach access too. As already mentioned there's a wide choice of restaurants here so you don't need to venture far. There's also plenty for children including a small outdoor fair area in cooler months and outdoor shops and markets. This area is dominated by the yellow buildings that make up the Jumeirah Beach Residences, so again you've got the skyscrapers Dubai is famous for!
Stay if…
…you want the beach as well as a wide choice of restaurants. The tram is also a great public transport option close by that connects to the Metro.
Jumeirah Beach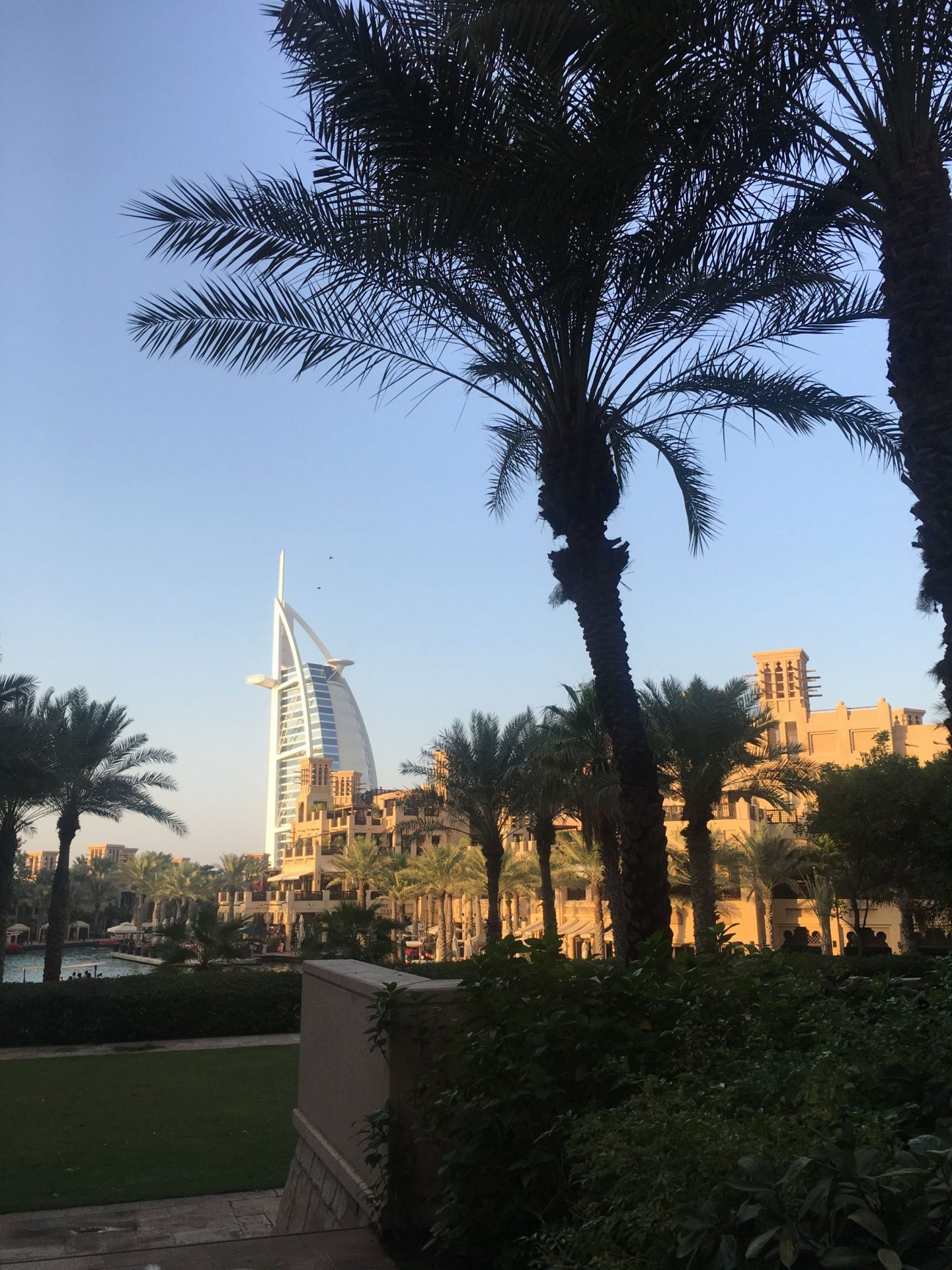 Possibly quite confusing for the first time visitor, Jumeirah Beach isn't just restricted to JBR mentioned above. The whole stretch of beach that occupies a large proportion of Dubai's coast is Jumeirah Beach (not Jumeirah Beach RESIDENCES though). Clear?! Although confusing, the other area referred to as Jumeirah Beach is a good 15 minutes from JBR so make sure you're clear with your taxi which Jumeirah Beach you mean! This other area is also a strong contender and a very popular choice for an area to stay in.
What's it like?
Dominated by the Jumeirah chain which seems appropriate given the name, this area is home to a selection of luxury 5* (as well as 7*!) hotels. This area is perfect if you are looking for a resort based, luxury holiday. The area is centred around the Madinat, home to four distinct hotels. The Madinat also hosts over 40 bars and restaurants so is a destination in itself for food and drink options. It is low rise and has a series of canals that connect the different resorts making it a pretty destination and a nice change from Dubai skyscrapers. Other hotels close by include the 7* Burj Al Arab and the Jumeirah Beach Hotel (due to reopen in October 2018).
What's here?
This is perfect if you want a resort based holiday. (Although you can still easily explore via taxis but you will probably just want to make the most of staying here!). Each hotel has access to private beaches, as well as numerous pools. As already mentioned, you'll be well catered for as far as food is concerned so whilst there's limited amenities on the doorstep, there really is no reason to leave the hotels with the variety and choice on offer.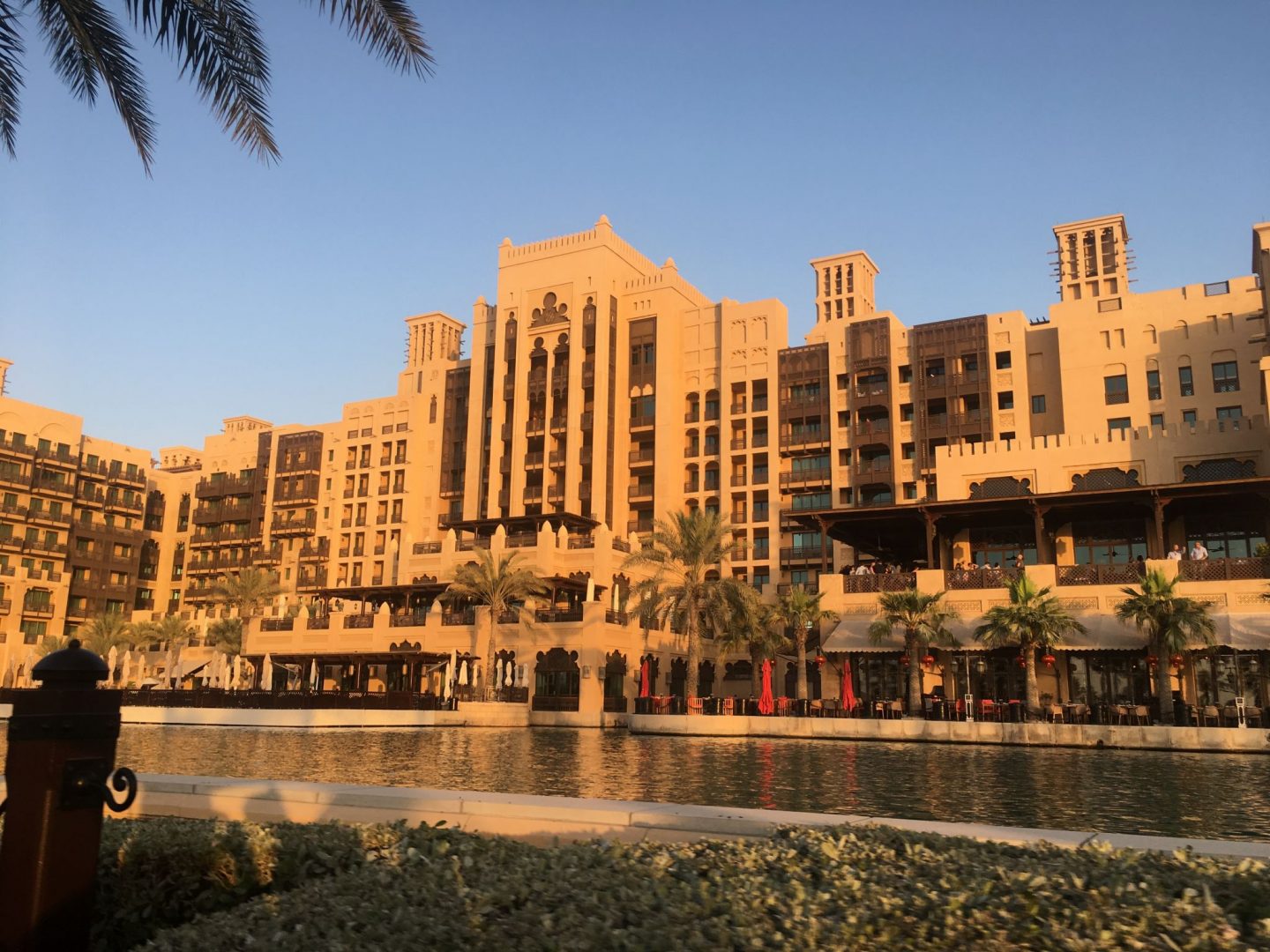 Stay if…
you're after a luxury resort with pool and beach access. This isn't near a metro and whilst taxis are easy and affordable, this would be more a resort based holiday than exploring Dubai.
The Palm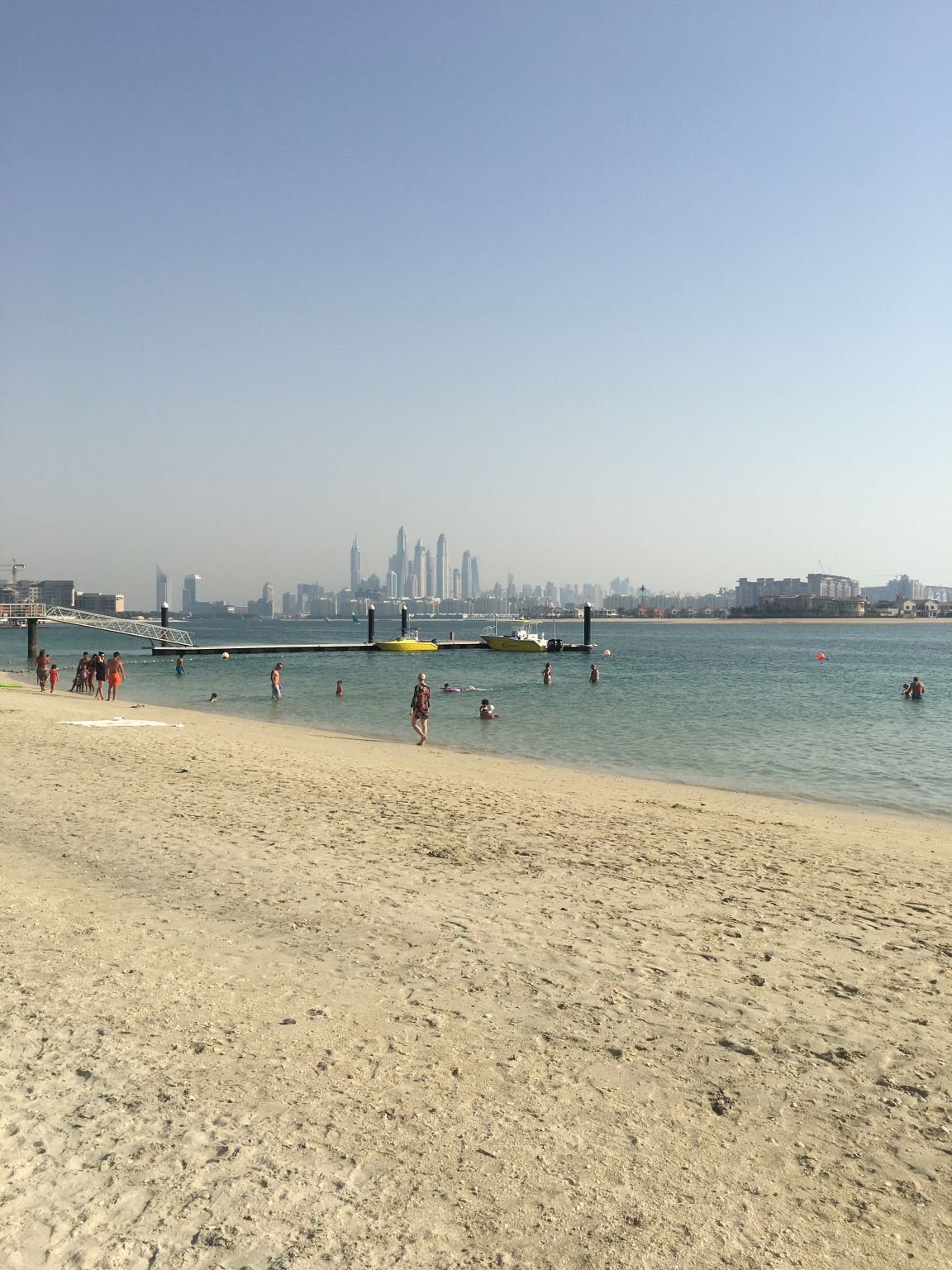 The Palm is always a popular choice for visitors who are often keen and intrigued to visit this man made island. Although bear in mind that it doesn't really feel any different to being anywhere else in Dubai due to it's sheer scale! To really appreciate the Palm you need to see it from above in a rooftop bar such as the Marriott in the Marina which provides incredible views. That said, it's still a great option if you're looking for a resort based holiday.
What's it like?
It's still a work in progress in parts with a large amount of building work taking place, but it offers a broad range of hotels including the Rixos, Waldorf Astoria and of course the famous Atlantis which is the mega resort (and waterpark) at the end of the Palm's main trunk. The Palm offers beautiful beaches alongside these luxury hotels so is the perfect place for a proper beach holiday and pure relaxation.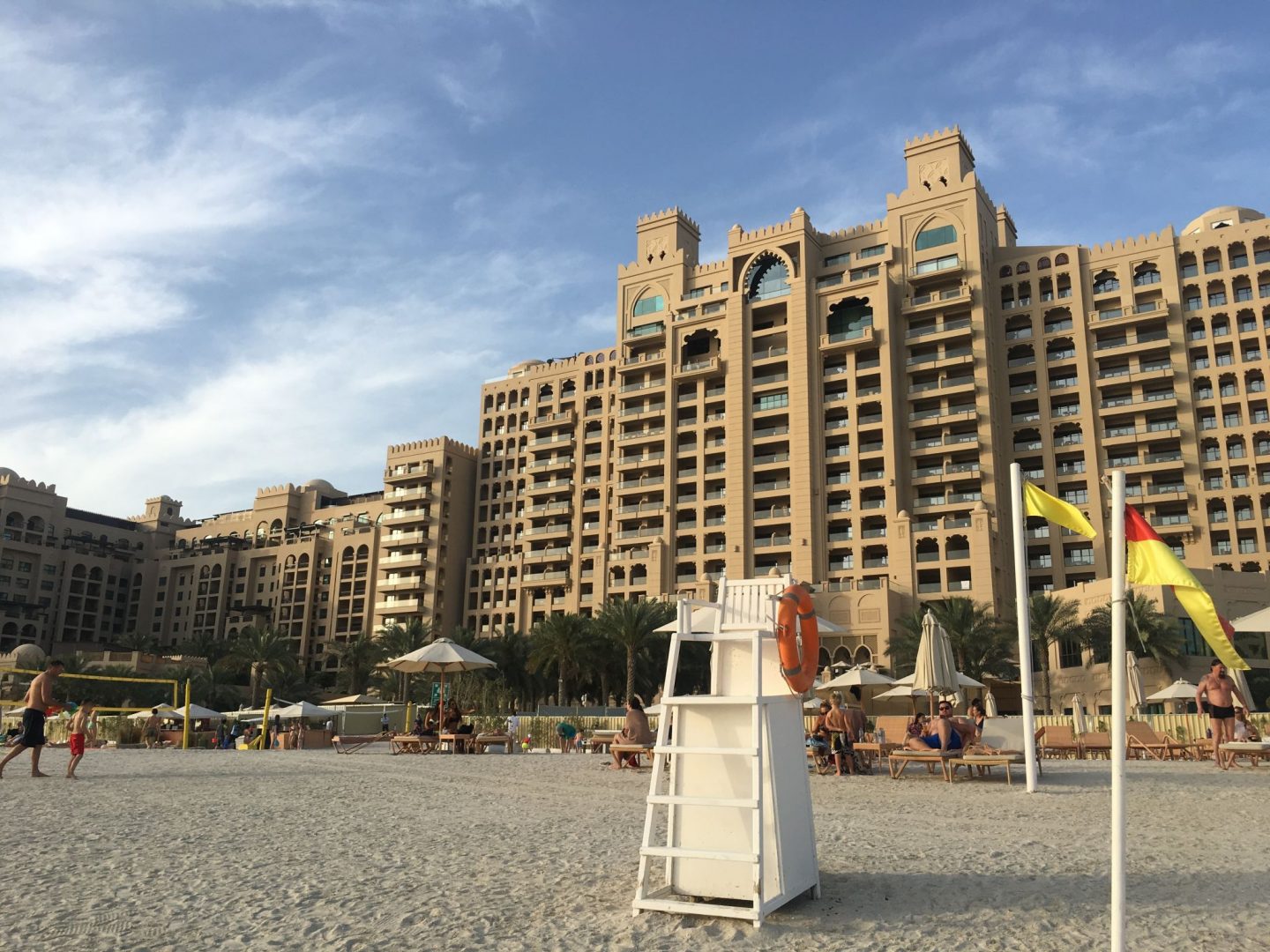 What's there?
Mainly hotels or residential towers at the moment. A mall is a work in progress along the main trunk. There's a few areas for shops such as the Golden Mile, but you're really coming here for the beach and holiday atmosphere. It's also quieter than JBR/Marina (unless you happen to be near construction, so check this in advance!!) Also bear in mind where you choose to stay. If you are happy to fly and flop and be resort based then the outer frond resorts are fine. But if you want to explore  then the Palm isn't quite so convenient. If you've still got your heart set on being here, then choose a hotel on the central trunk ideally, or closer in on the outer fronds to avoid long taxi rides if you do want to head out and about.
Stay if…
…you're looking for good beach options and just want to relax and enjoy the Dubai sunshine and are happy with a resort centred holiday for the most part.
Internet City and Al Barsha
Perhaps not the most obvious of choices based on the name, but if you are looking for a good value option then this area between the Mall of the Emirates and the Marina is worth considering.
What's it like?
Probably not the most attractive of Dubai neighbourhoods, nevertheless this area has a good range of reasonable priced hotels if you're looking for more affordable options. It's also great if you don't mind just using your hotel as a base and are keen to get out and explore as the area is really well positioned for visiting other attractions.
What's here?
Whilst the area might not have as many restaurant options, each hotel usually has a wide selection. You're also within an easy taxi ride (or metro depending on your location) from a wide variety of options in terms of bars and restaurants.
Stay if…
…you just want a convenient base for your Dubai trip and a good value option from which to explore more of Dubai. Most hotels will still offer excellent pools so you can combine the sun too!
Further a field…
As well as the areas above, there's lots of other options further a field. Check locations before booking – bargain deals in places such as Silicon Oasis or Sports City are bargain for a reason! Whilst great options if you're living here, they are quite out of the way for anyone with limited time and visiting as a tourist. Avoid unless you are really happy to travel. Even with this, you'll also find limited options in the evening meaning that an affordable price could end up as not so affordable by the time taxis etc. are factored in.
The Guestbook's comment: "Dubai has a wide selection of areas to stay in depending on what sort of trip you are looking for. It's size and transport options mean that wherever you stay it's always easy to explore what Dubai has to offer."