On my day off in LA I was determined to go to the beach. Malibu was a bit too far without a car, so I opted for Venice Beach and Santa Monica which were both on my list of places to visit and a 25 minute drive (roughly $10 in an Uber) away from Beverly Hills.
Here are some of my highlights from the trip…
Abbot Kinney
This street is back from the beach in Venice and epitomises cool. With plenty of unique stores, cafes, and street art on every corner – this road is not to be missed. It's a perfect place to wander around and explore the vibrancy that is Venice. You get a sense of Venice's laid back beach vibe straight away here and how it's a different world from Beverly Hills.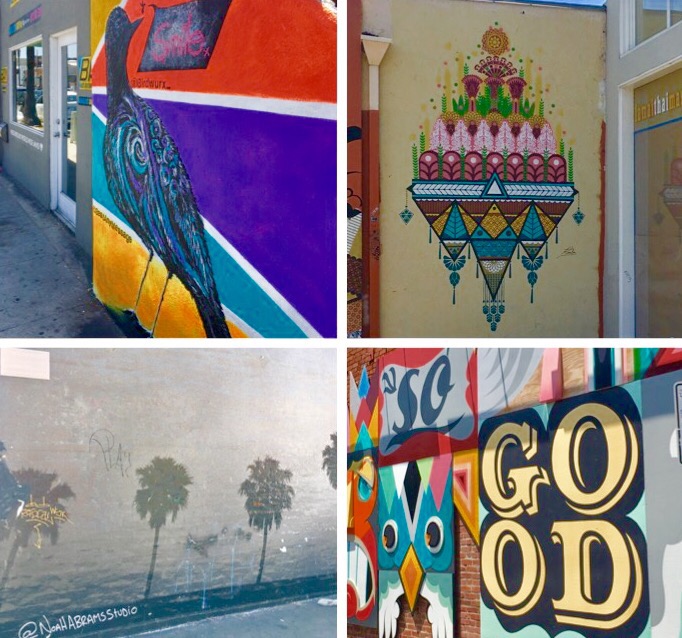 The little bit of Italy – Venice Canals
You can't visit a place called Venice and not expect to find a canal can you? Actually you probably can. This comes as a welcomed surprise when you walk towards Venice Beach and you could easily miss it but make sure you don't. A bit different from its namesake equivalent in Italy, it's never the less beautiful. This is a definite oasis from the people watching party town on the beach so take it in and enjoy exploring (and checking out the incredible houses that back onto the canals!)
Venice Beach
Well what can I say. This is people watching at its absolute best. Expect every walk of life and assume everything and anything goes. There were dogs with sunglasses, an older crowd of very enthusiastic rollerskaters, the muscles (obviously) and that's without mentioning the green doctors (remember Marijuana is legal in California and Venice is recognised as the undisputed capital for this). So it makes for a very interesting walk and I don't think I've ever been anywhere quite like it. And bear in mind I haven't even mentioned the beach! It gets very busy so have your wits about you but do enjoy it, it's certainly unique!
Santa Monica
It's a bit of a walk from Venice beach to Santa Monica but you could always do what everyone else does and cycle. There's plenty of options along the way to hire a bike. Santa Monica is a different story from nearby Venice and a more traditional affair with your pier, fair, and then a large shopping area a few streets back from the pier too. It's a bit tame after Venice, but it probably offers a welcomed break. Having said this, it was very busy when I went on a sunny weekend, but I'm sure it's a real kid pleaser with the selection of activities and the beach. Venice probably won it for me between the two though with all it's quirky charms (and dogs with sunglasses).
The Guestbook's comment: "Venice and Santa Monica might be along the beach from one another but they are world's apart and are both definitely worth a visit offering welcome contrasts to one other".