Most of my time in LA was spent in the glamorous Beverly Hills so I thought it was only right that I did a post dedicated to my highlights for anyone spending time here (you lucky thing if so!)
Interesting fact before we start – did you know that Beverly Hills is it's own city separate from LA? That's why there's a separate police operation (the famous Beverly Hills Cops). This might be well known but it was new to me!
Now onto my favourite street: Beverly Drive South
Perhaps overlooked outside the official golden triangle of Beverly Hills and therefore possibly all the better for it, this street is full of restaurants and cafes and it's where I spent most of my time sampling the options.
Here are some of my favourite places…
Chaumont
Possibly the prettiest avocado on toast I've ever seen. It was almost too pretty to eat but luckily tasted as good as it looked. I went to this venue a number of times(twice for the avocado on toast!), and each time it impressed. Renowned for its bakery, freshly baked sweet treats are the order of the day here and I can strongly recommend the raisin swirl, but everything looked delicious. Grab one to take away or take some time over one of the other breakfast or lunch options with a table inside or out front for perfect people watching.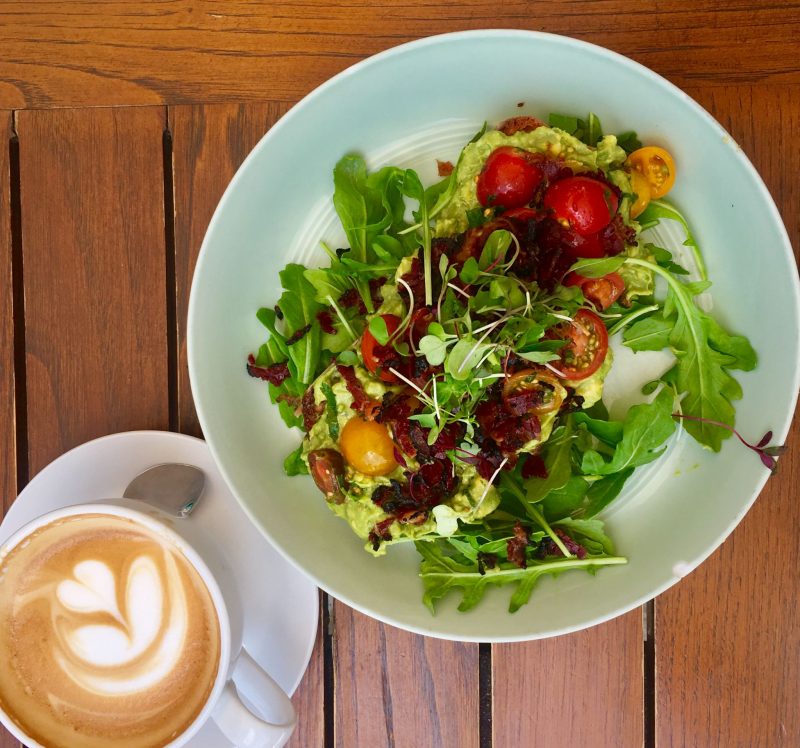 Poke Shack
This was a new cuisine for me and in case, like me, you're unfamiliar then it consists of a raw fish salad and is a Hawaiian speciality. Sceptical? Don't be, it's delicious. It's all made to order and really a pick n' mix as you can pick your protein (salmon, tuna, shrimp) and your base (often a type of rice), and then go to town on lots of amazing toppings from mango, edamame, kale, avocado and everything else in between. (As you might have guessed it makes for quite a healthy affair). I'm sure for the poke pro there's probably lots of recommendations for places in LA, but as a beginner this fitted the bill perfectly.
Urth Caffe
The place in be in Los Angeles. Whether you go first thing in the morning or last thing at night it will be packed. One of a few branches (you'll find the original on Melrose Ave), this place is all about organic and given that LA definitely bucks the trend of "burger and fries USA", you can guess why it's so popular. It's worth the wait though. Warning, the portions are massive. This particular branch catches your eye as it looks almost like a quaint cottage and stands out on against the other buildings on the street. Try and get an outdoor table and you never know you might well join a celeb or two.
Brooklyn Water Bagel
If you're in America then personally I think it's mandatory to try a bagel and whilst I wasn't in Brooklyn, I thought this place still fitted the bill. This is a perfect quick and cheap meal option for breakfast or lunch. I kept it simple with a cream cheese bagel and wasn't disappointed.
Tarte Tartin Cafe and Bakery
This is a really cute cafe with great indoor and outdoor seating. I'd recommend coming for breakfast (like everywhere else it gets busy though). The Shakshuka (a dish of poached eggs in a sauce of tomatoes, chilli and onions and another new one for me) is highly recommended. Again it's a hearty portion! The sweeter options here and lunch choices look equally as inviting.
Mulberry Pizza
For a quick and cheap dinner head here. Pizzas are available by the slice to take away, or sit in and get the biggest pizza you've ever seen. Make sure you don't come alone or opt for a slice or two like me if you do. This place feels very traditional American diner with the game on in the background and seating around the bar so go to experience your all typical American meal with an Italian twist.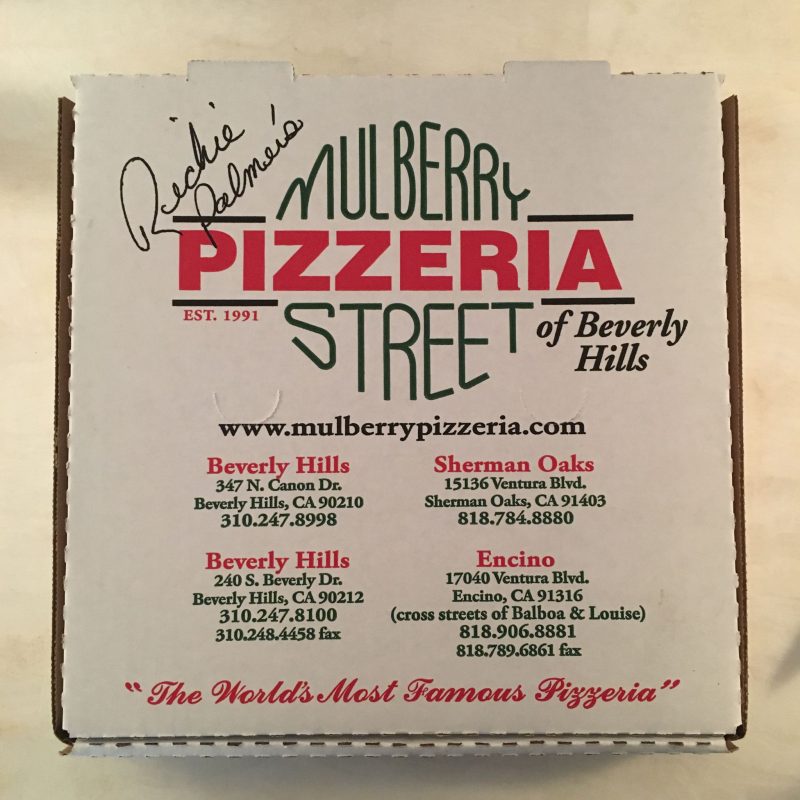 That's just a few of the many highlights, there's lots more to try on this one street alone including…
Walters – I didn't make it here but Walters comes highly recommend for great breakfasts and lunch at reasonable prices for Beverly Hills.
Coral Tree Cafe – delicious pancakes, I had the blueberry ones and they were perfect!
The South Beverly Grill and Honor Bar – the place to be so book ahead particularly on a weekend and people watch away.
Piccolo Paradiso – an authentic Italian affair with awesome reviews. Try and reserve a table out the front in the summer months.
Cabbage Patch – great for organic foods and salads.
Kreation Organic Juicery – just off the Main Street this place is a good choice for the health conscious serving juices as well as food.
Aharon Roastery – perfect coffee here!
California Pizza Kitchen – a chain but it just seems to be nicer when you're in California!
Chin Chin – fancy a Chinese? This chain is a reliable option for good Chinese fare.
Momed – Med style deli, great for a chilled out lunch or a casual dinner.
Frida Mexican – grab a cocktail and a high stool table out front and while away an hour or two.
Sushi Kiyoni – popular and authentic sushi joint in the middle of all the action on the street.
Creamistry – satisfy a sweet tooth with ice cream with a scientific twist.
Burger Joint – great for a casual bite to eat and all organic so you don't need to feel too guilty for grabbing a burger here.
Beverliz Cafe – a cute traditional cafe serving breakfast and casual lunches.
Cafe Istanbul – for a taste of the middle east in LA, this place is a popular one.
Sushi Sushi – a low key and quaint sushi place at the very end of Beverly Drive.
Vivianne- technically on Olympic Boulevard but I'm adding it in anyway as it's where I stayed! Great bar with ultra cool interiors, definitely recommended for a drink or two around the pool.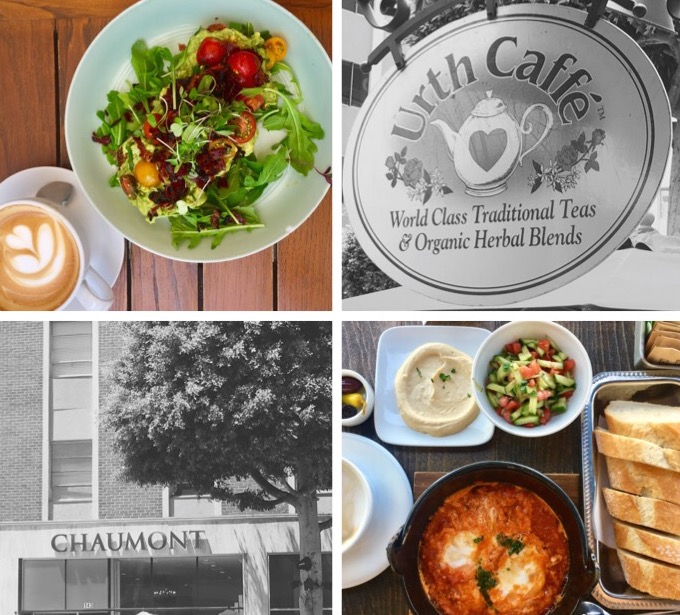 Can you see why it's my favourite street?! Just goes to show how one street alone in Beverly Hills can provide plenty of amazing options!
Guestbook comment: "Beverly Hills has so many brilliant food options to explore that don't have to break the bank (as well as many that do). Make sure you wander outside the golden triangle too for some great choices such as the above. The problem is which one to pick!!"