What's the story?
Imperium is one of a number of restaurants in the grand (being an understatement) Jumeirah Zabeel Saray and alongside another (highly recommended) restaurant next door, the Rib Room, offers a brunch. This used to be on Friday and Saturday, but for 2018 it's only on a Friday which is a shame because the Saturday brunch scene is lacking and this was a great addition. I shouldn't let this detract from Imperium though, which is stunning and really delivers on opulence with a huge dining hall with painted ceilings, mirrors and many a chandelier. There's also the option to sit outside where there's a band (playing Jazz) but I'd opt for the grand interiors indoors instead which can't be matched (and you're closer to the food, always a plus).
Location
The positioning means this is quite a way out on the Palm so don't underestimate timing, but it's definitely worth it. On the West Crescent, the Zabeel Saray stands imposing with its domed rooftops and that's even before you've stepped inside. If you want to impress visitors or friends with traditional Dubai grandeur you've come to the right place. From the entrance to the walkways through the hotel, all that glistens is probably gold. Make sure you have an explore around the hotel and head outside to the beach for sunset (if you plan to hang around that long!)
Food
The brunch is buffet style and there's a focus on quality over quantity making it not too overwhelming. There's still plenty on offer though from oysters to mussels cooked to order. There's also a separate selection of seafood from prawns, tuna tartare through to a whole poached salmon which is worth a second helping. There's a foie gras station as well as a dedicated pork area if that's your thing too. The main courses focus on traditional roasts for the most part with huge joints of beef and lamb carved in front of you. There's other options too in terms of main dishes with the jambalaya going down well. Desserts are as good as ever with a fabulous hot chocolate mini pud and thick chocolate sauce. And don't forget the cheese! Again not huge but a pretty good selection that would keep most cheese fiends like myself happy.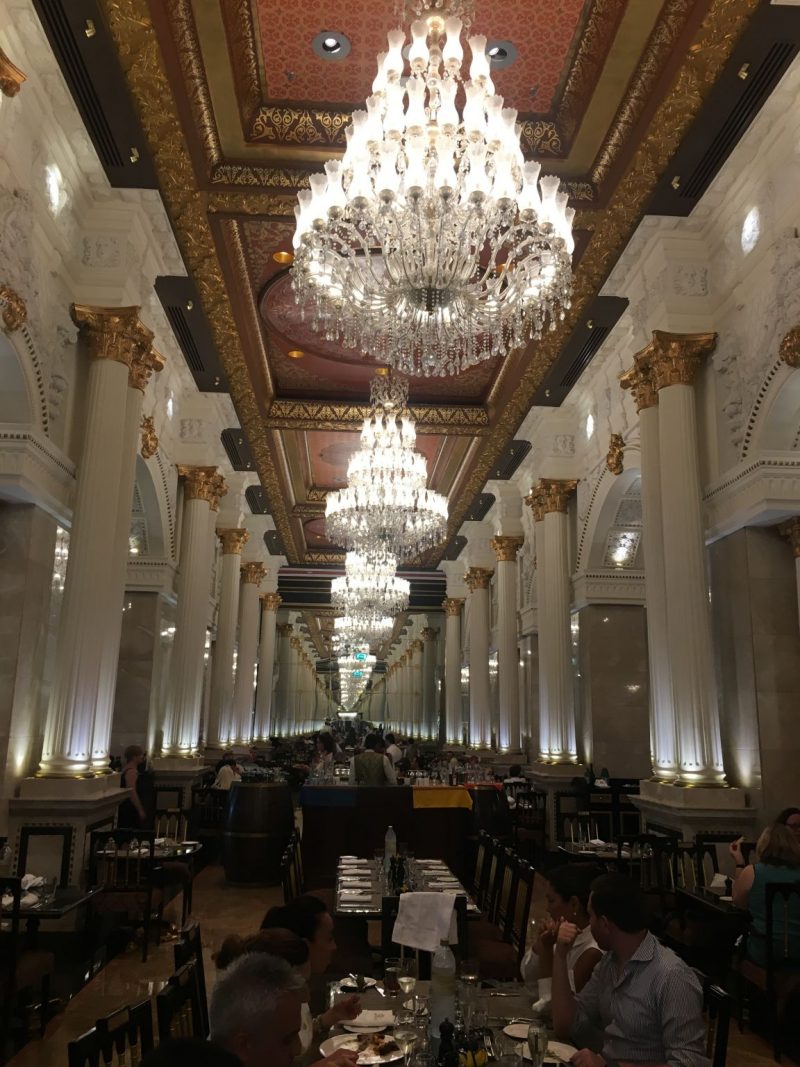 Drinks
There's three options available with Classic Jazz (soft), Blues (house alcoholic beverages) and Swing (champagne) available. We opted for the house package at AED 475 which is on the Entertainer. The house package included Prosecco when we went which is always a bonus. I'd really recommend the Rose wine too. Make sure you leave enough room for the cocktails though, there's a Hendricks gin bar outside as well as a cocktail station in the middle of the main hall, both producing very good cocktails, often lacking at brunches.
Overall
Good value when you consider the setting and the quality on offer and you never feel rushed. I've been twice and on both occasions our drinks were filled up right until the very end and we were able to finish the wide selection of drinks we'd acquired afterwards outside.
The Guestbook comment: "For the wow factor and opulence that is true Dubai then this brunch is an excellent option. It's not a party brunch by any means but has a great selection of quality food and drinks to please even the most discerning guest (my Dad in one of these cases!)."
Want more brunch suggestions? Have a look at our updated 2018 Entertainer brunch guide here!
No freebies have been offered or provided by any of the establishments featured in this post!