Another Friday, another brunch and we were going for a big one as far as reputation goes – Bubbalicious at the Westin.
We'd heard a lot about this brunch since arriving in Dubai and were eager to try it and with friends visiting for their 30th birthday it was the perfect excuse to deviate from my faithful Entertainer app to see if all the fuss and acclaim was worth it.
Location
In the giant super resort that is the Westin, Bubbalicious sees the joining together of 3 restaurants (so a bit like Al Qasr), with Hunters Room and Grill, Spice Emporium and Blue Orange coming together to form a brunch of massive proportion. On arrival we waited in the lobby watching incredible acrobatics being performed whilst we checked in. Everything was pretty straightforward and organised which is impressive when considering just how big this brunch is. You've got the option of sitting in any of the three restaurants and all have indoor and outdoor seating. We opted for outdoors so were in the Hunters restaurant area which was quieter as it was further away from the live band who are also outside. For the most part the outdoor tables have shade (but do check) and overlook the gardens and pool area of the Westin.
Food
Well well well, to say there were a lot of options would be a huge understatement. As well as indoor offerings spread across the three restaurants there's also a wide selection of street food assortments outside too in a similar fashion to Al Qasr (I can see why they are often compared). The Hunters restaurant was probably the smallest of the three specialising in good old fashion roast and traditional selections such as mac n cheese and chicken pie, as well as a sneaky chocolate fountain thrown in for good measure.
The next room (or rooms should I say) are full of cheese – it's the most extensive cheese selection I've ever seen. There's also a hidden sweet shop which is very well stocked if you need a sugar rush. The main fare is in the Blue Orange restaurant area with a vast selection of seafood, oysters – served from a decorative boat, as well as numerous food stations including fresh pastas and arabic offerings.
The sweets are beautifully displayed (walk through early to see the cupcake unicorn and other sweet treats before it gets demolished later in the brunch).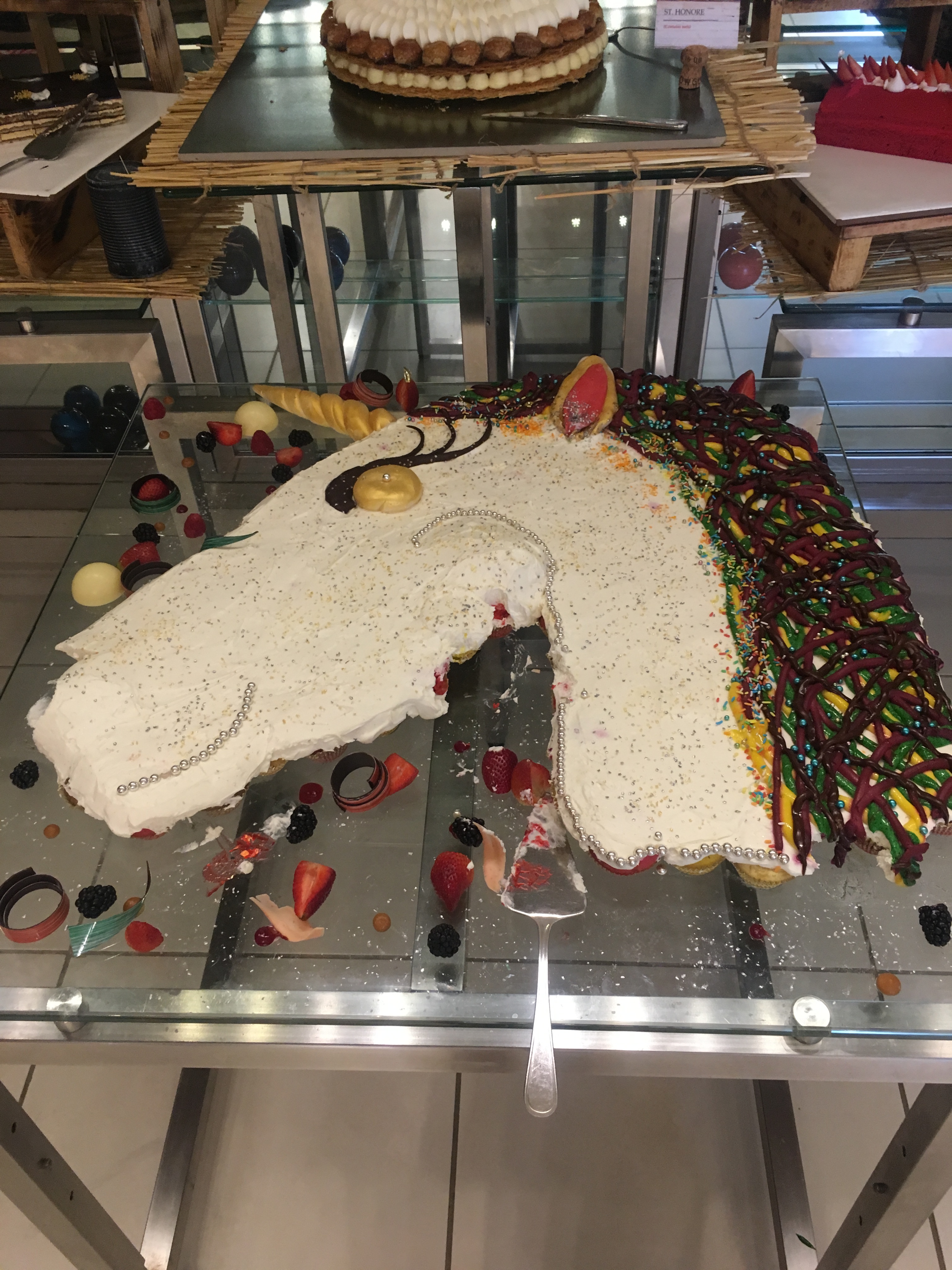 The final (indoor) section is Thai dishes which are served by the Spice Emporium restaurant and are delicious so are definitely recommend. Outside the street food is varied from pizzas to tacos to duck pancakes. Even the fussiest of eaters can't fail to find something to please here. Although all the food was excellent, to some extent there was almost a bit too much choice. This brunch is slightly shorter than others (1 – 4pm) and I spent a lot of time panicking that I wouldn't get to try everything, especially when it's so spread out. I spent 20 minutes just checking everything out before even starting to eat!
Drinks
If food was varied, drinks matched. Table service was for bubbles only (the name Bubbalicious being a giveaway here). We'd opted for the house beverage package which included sparkling (AED 550) but there's also the champagne option (AED 680). The rest of the drinks are dotted around both outside and inside including the wine. There's so many options and most spirits are covered. My friend attempted to try every drink (a bold move) and failed (which was probably a blessing). Again the only problem with the choice and the spread of drinks is that you often spend most of your time wandering around getting drinks. I usually enjoy this at brunches but the scale here made it not so easy. Be warned about last orders too, the staff are great and you are not rushed at all but the queues at the pop up bars start to get long in the last 20 minutes of brunch. We stocked up and stayed outside until we were asked to leave around an hour or so after brunch had officially finished and even then we were told that we could take two drinks each upstairs to the after party bar.
On that note, I didn't really think the brunch was as party mad as I was expecting (our table choice being further away from the band might be partly why), but the upstairs after party certainly reaches a new level with the bar a full on dance floor by 5pm. We left afterwards but I imagine it goes on for quite a while!!
Atmosphere
As mentioned above, I thought there would be more of a party vibe but I think because it's so spread out (and we were further from the band and street performers), there wasn't the atmosphere I was expecting. This wasn't a problem and we still had a great time but I wonder if seating can make a big difference here.
Overall
An impressive brunch on scale alone that literally has every option of food and drink you could wish for but for me it was probably too much over too big an area. It's interesting because I loved Al Qasr for this very reason but I didn't really enjoy the set up so much here. For the price I'd definitely say Al Qasr wins on the wow factor in terms of layout and location with the Burj in the background. Bubbalicious is still excellent value if you want to go all out considering the choice available, but I do think some of the smaller brunches give it a good run for it's money in terms of overall experience even if they don't have the same variety.
The Guestbook comment: "A definite wow for scale and variety alone with good quality offerings from all over the globe. Although to some extent perhaps too much going on and too spread out which means the atmosphere is a little bit lost and a lot of time is spent walking!"
No freebies have been offered or provided by any of the establishments featured in this post!