Liverpool has a great choice of restaurants from the cheap and cheerful through to fine dining. Bacaro sits somewhere in the middle, but is definitely at the top in terms of atmosphere, food and service.
Lad's Quarterly Night Out
Once a quarter I have a lad's night out in Liverpool with friends. Its not a boozy do, just a few drinks followed by dinner. We have tried many restaurants and have rarely been disappointed. However we try to find somewhere new to eat every time. This time it was my turn to select the restaurant.
Bacaro
I love tapas. Its an ideal style of eating for me as I hate being over-faced with huge portions of food. Bacaro is different in that in the main it serves Italian tapas. There are just a few traditional Spanish tapas on the menu, such as croquettes, more about these later.
The Restaurant
In Venice, a bàcaro is a traditional workingman's pub where snacks called cichetti are served on small plates. Historically, bàcari were simple establishments, small, dark cafes where a Venetian could get a glass of wine and something to eat at any time to suit their working hours. Nowadays, though some bàcari have become quite elegant, and cicheti include more sophisticated dishes sought after by local Venetians and tourists in the know.
Bacaro is definitely not small and dark. Occupying a corner block on Castle Street in the heart of Liverpool city centre. It is large, light and airy and like in Venice it is obviously very popular with both locals and visitors.
The night I visited Bacaro was the first day of the Aintree Festival and the restaurant was packed with "very happy" racegoers! It was very noisy but there was a buzz about the place, and staff were very friendly and welcoming, which you usually do find in most Liverpool restaurants. When we arrived our table wasn't ready but they found us a seat near to the bar to have a pre-dinner drink, a great spot for people watching!
The Menu
The menu is in sections. Spuntini, small snacks or appetisers. Charcuterie, offering a selection of Italian meats and Spanish Chorizo. The next section contains a selection of Pizzettes, small pizza with some traditional and some very unusual toppings! There is then a Fish section, I particularly liked the sound of the Roast Cod with seaweed emulsion, pickled grapes and roasted shallot, next time maybe! Then there is a meat section, which is what we majored on! An extensive Vegetarian section includes several vegan options. Finally the Puddings section, which unfortunately we never got round to sampling, again a reason to return. For the full menu just click here
Our waiter explained that the food is cooked to order, there are no courses as such, when dishes are ready they come to the table. When I next return I will take this on board and order a few dishes at a time, otherwise you could be overfaced and food may go cold.
The Food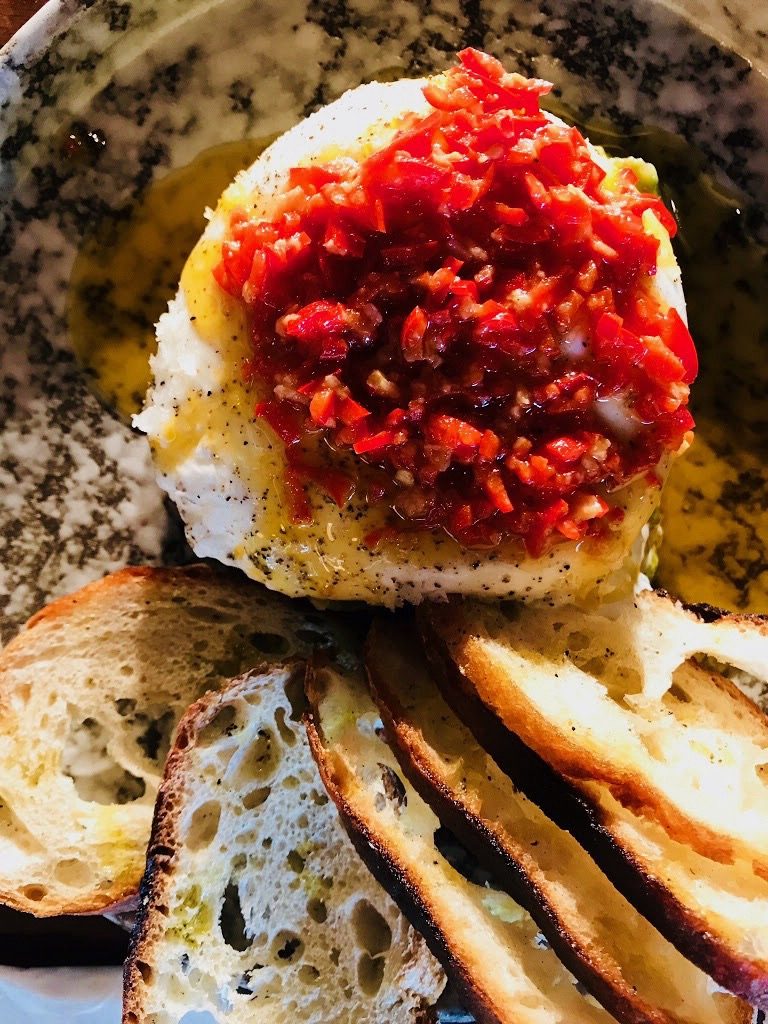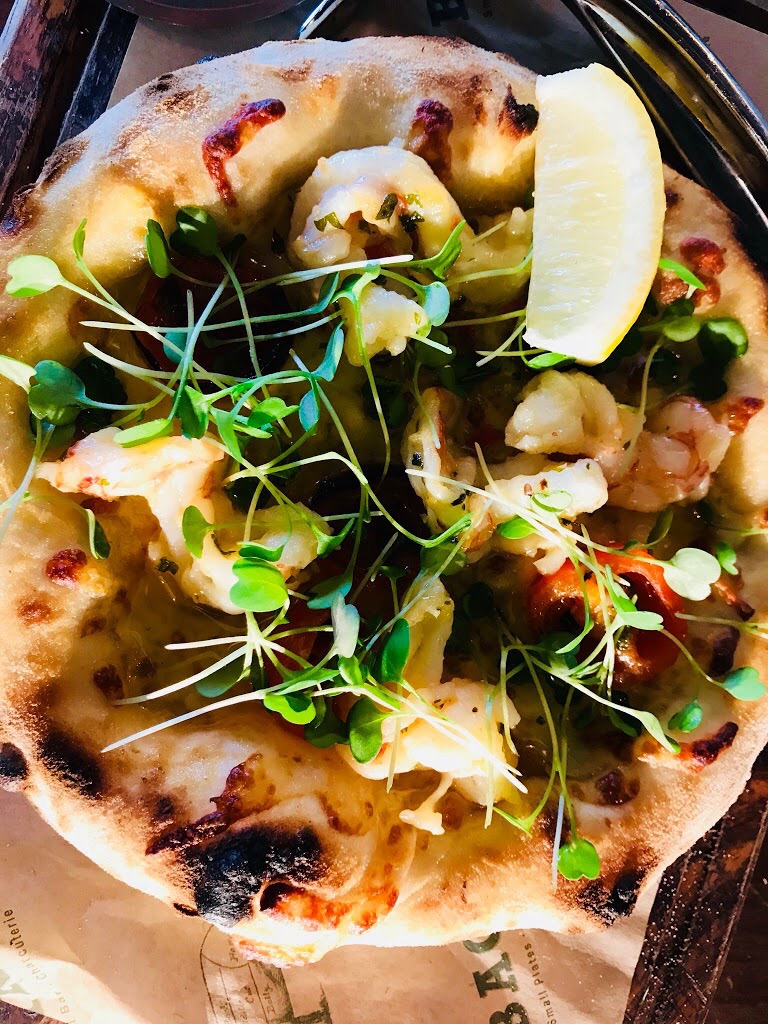 On this first visit we started off with Spuntini. We had the Pancetta Croquettes, smokey pancetta in a creamy cheese sauce, encased in a crispy golden breadcrumb shell. Absolutely delicious, almost as good as the croquettes served in Barafina in London, the best in the world in my opinion (including Spain). We also had some Crostini topped with watercress mousse and white crab meat, a small portion but very tasty.
Next we went for a selection of Pizzettes. One with a more traditional topping of salami, mozzarella and red cherry peppers. The next had a more unusual topping of blue cheese, crispy potato, caramelised onion and rosemary. Then we went for an "out there" topping of slow cooked harissa lamb with yoghurt and watercress, definitely not your typical pizza topping! They were all delicious with a crispy base and generous toppings.
Next we went for the meat dishes. The highlight for me here was the Buttermilk Chicken Milanese topped with macaroni cheese and spicy Nduja sausage, definitely one of the best dishes I have tasted for a long time anywhere. We also tried the Italian Sausage with home made pasta and pecorino cheese and a beef dish with fillet steak, mushrooms and a rich sauce. I have noticed that these 2 dishes are no longer on the menu so they much change the menu on a regular basis. I just hope they don't take the Chicken Milanese dish off before I revisit!
You could not fault the food and even though they serve "small plates", our appetites were definitely satisfied!
The Drinks
The drinks list is very Italian.
A speciality of the house is the Campari Bar offering Aperol Spritz and the famous Negroni cocktail, alongside other more unusual Campari based drinks. Keeping with the Venetian theme there is also a selection of Bellini cocktails available, ranging from the traditional peach flavour to rum and raisin!
Unfortunately with limited time we never got to sample the house cocktails and stuck with the house red a fruity Sangiovese which definitely complemented the food. There is an extensive wine list as you would expect predominately of Italian origin.
There is also a good selection of draft and bottle beers, spirits and cocktails. For the non-drinkers there is a good choice with some unusual Italian fruit based drinks, including blood orange and lemon and mint.
Overall
A great new find and somewhere I will definitely return to. I couldn't fault any part of whole Bacaro experience. Superb food & drink, excellent service, smart decor and a great atmosphere. Its reasonably priced too, For the three of us including 2 bottles of wine and a tip £90.
The Guestbook comment: "If you are in Liverpool give Bacaro a try, I am sure you will not be disappointed. Just be careful when ordering small plates, it doesn't necessarily mean small portions!"
No freebies have been offered or provided by any of the establishments featured in this post!